Please note:  I am slowly moving to another hosted photo sharing site, Fotki, as Photobucket has gone insane.  After 12/2018, they want to charge their subscribers $400.00 a year for third party sharing on sites like blogs and chatboards.  Err, no.  After putting up with Photobucket's many down time issues, broken images, deleted images (they actually have issues with skincare product swatches ~ they have dirty minds), I am switching, so that means all of my reviews will have to be updated with the new links after I migrate all of my photos from Photobucket to Fotki.  However, before I make that switch, I want to make sure that Fotki is stable, so please let me know if you are having issues seeing the photos or get a weird bandwidth message.

W2Beauty is a K-Beauty online shop, where Alice, the owner, provides deep attention and care to the products she curates, as well her commitment to her customers, by recommending products and helping customers with questions ~ as well as giving a lot of freebies with your order!  I enjoy shopping at W2Beauty, due to the personal touch that she brings to her store and I hope that never changes.  Recently, W2Beauty did undergo some changes, which means new and exciting brands, lower prices, a community board and a W2Beauty Blog.
Late last year, I was very honored to be chosen to review some SanDaWha items from W2Beauty.  I was familiar with the brand, but it was not a very Western accessible brand ~ there were no shops that carried their products that shipped to the USA.  W2Beauty now carries SanDaWha, which looks like the full range of products, including their famous camellia skincare products.  They just recently released some new items and I received two of them for review purposes ~ Aqua Natural Mild Cleansing Gel, a plant based mild cleanser which is great for oily skin and Seaweed Mud Mask. (review here)


SanDaWha is made by Skincure, founded in 2004 and located in Yongin City. This company has three Research and Development centers ~ Jeju Island, Osan City, Yongin City ~ and they develop new cosmetics while discovering new natural ingredients to use in their products. They have 11 patents registered and 10 published, with a cGMP certified factory in Osan City. Their mission is to use only natural ingredients ~ including pigments, fragrances, preservatives, surfactants and plant-extracted oils ~ follow EWG standards and use only level 1-2 safe ingredients ~ formulate their products with innovative and scientifically proven complex ingredients ~ incorporating the One-Stop System: from soup to nuts, Skincure controls the entire scope from selecting ingredients, making the product and final sales.
SanDaWha is one of several brand lines Skincure produces and I was keenly interested in it, as its main concept is natural skincare with ingredients sourced from Jeju Island. It is safe and eco-friendly, free from mineral oils, alcohol, synthetic pigments, fragrances, phthalates, dioxane, formaldehyde, PEGs, synthetic detergents, harmful chemicals and artificial preservatives. It uses hypoallergenic ingredients, with pure natural plant oils and plant based substances.

My skin type and concerns:  oily, aging, blemish prone, hyper-pigmentation issues, clogged pores, fine lines and wrinkles around my eyes

Description:  This mild cleansing gel with plant-based natural formula removes impurities and light makeup without any irritation. It helps control sebum production while leaving the skin moisturized, clean and fresh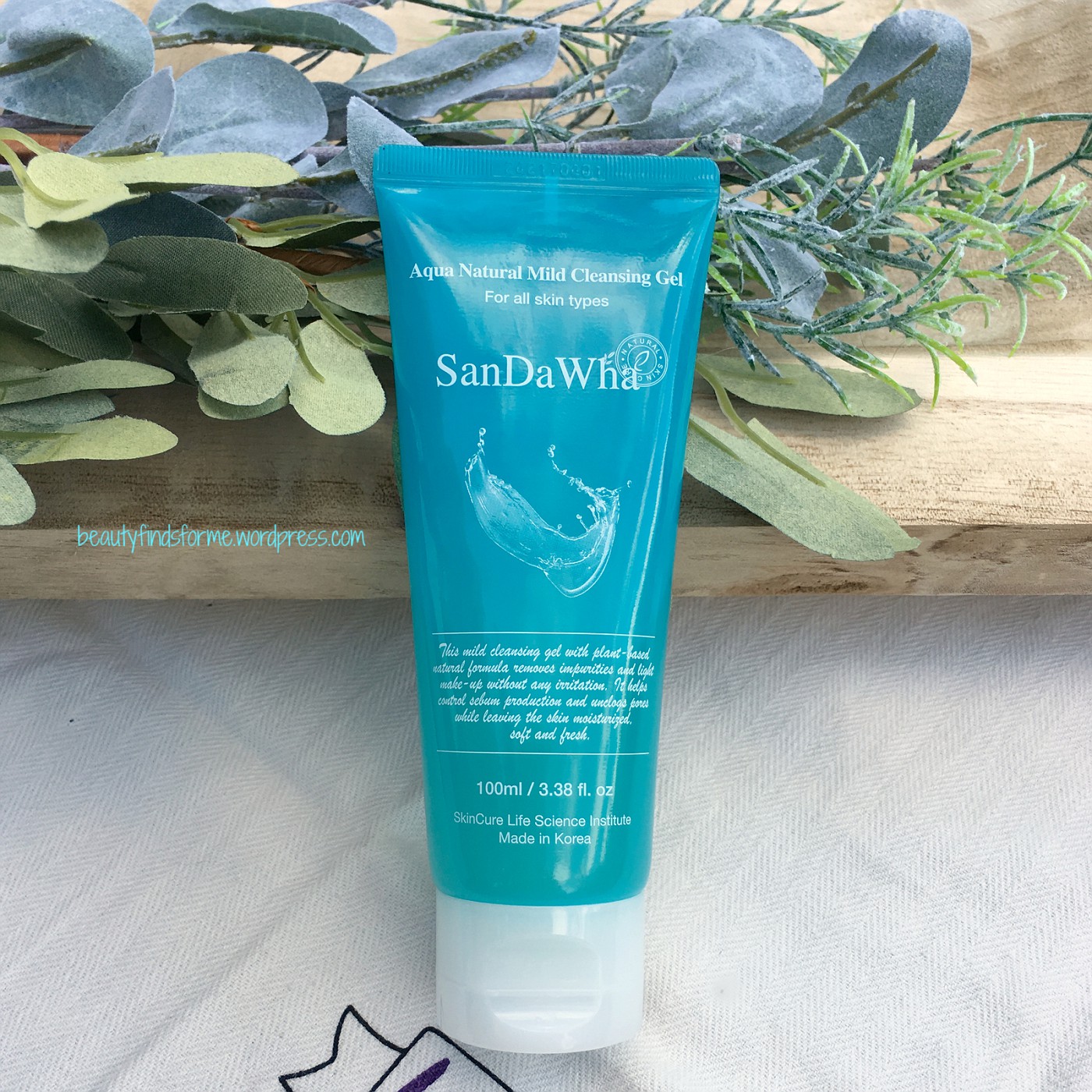 According to the description, SanDaWha Aqua Natural Mild Cleansing Gel is a gentle but effective cleanser that removes dirt and makeup, doesn't strip your skin as it provides hydration, strengthens and protects your skin barrier, controls oil production and unclogs pores, suitable for all skin types and is dermatologically tested.  This is a plant based cleanser whose star ingredient is blueberries!  Blueberries are a superfood and are full of phytochemicals  and antioxidants, which help suppress oxidization and therefore, inhibit the free radical production.  Blueberries are good for blemish prone skin, as it contains salicylates and that will remove dead skin, dirt and debris from pores and also is anti-bacterial.
For surfactants, this contains olive oil derived disodium cocoamphodiacetate, a mild and gentle foaming agent and it cleanses without stripping your skin of their natural oils.  ~ gentle enough for babies!  Lauryl glucoside is another foaming agent, producing tons of bubbles, derived from coconuts and is biodegradeable. Sodium lauroyl glutamate is a mild amino acid surfacant, derived from glutamic acid, lauric acid and sodium. It is designed for sensitive skin, is non-irritating and leaves skin smooth.
To keep your skin hydrated and not dry, this contains sorbitol, which prevents moisture loss as well as cetearyl olivate and sorbitan olivate, which are both olive oil derived ingredients  and known for their moisturizing and long lasting hydrating properties. Of course hyaluronic acid, one of the best humecants to keep your skin soft, supple and hydrated, makes an appearance as well.
SanDaWha loves their essential oils, so it is important to note that this cleanser has it in case you are sensitive to EO's.  That said, I am not and the geranium, orange, lemon and pine oils are added mainly for scent, but they do have some skincare benefits, namely with the lemon and pine as astringents and antibacterial.  So based on these ingredients, this is a very mild cleanser, full of oil controlling and skin healing ingredients.
Ingredients: vaccinium angustifolium (blueberry) fruit extract, disodium cocoamphodiacetate, lauryl glucoside, sodium lauroyl glutamate, propandiol, cellulose gum, sorbitol, citric acid, sorbitan caprylylate, cetearyl olivate, glycerin, sorbitan olivate, caprylyl glycol, niacinamide, pyridoxine HCL, purified water, aloe barbadensis leaf extract, bioflavonoids, brassica oleracea italica (broccoli) extract, hyaluronic acid, pelargonium graveolens (geranium) oil, citrus aurantium dulics (orange) oil, citrus medica citrus limon (lemon) peel oil, pinus sylvestris oil cosDNA analysis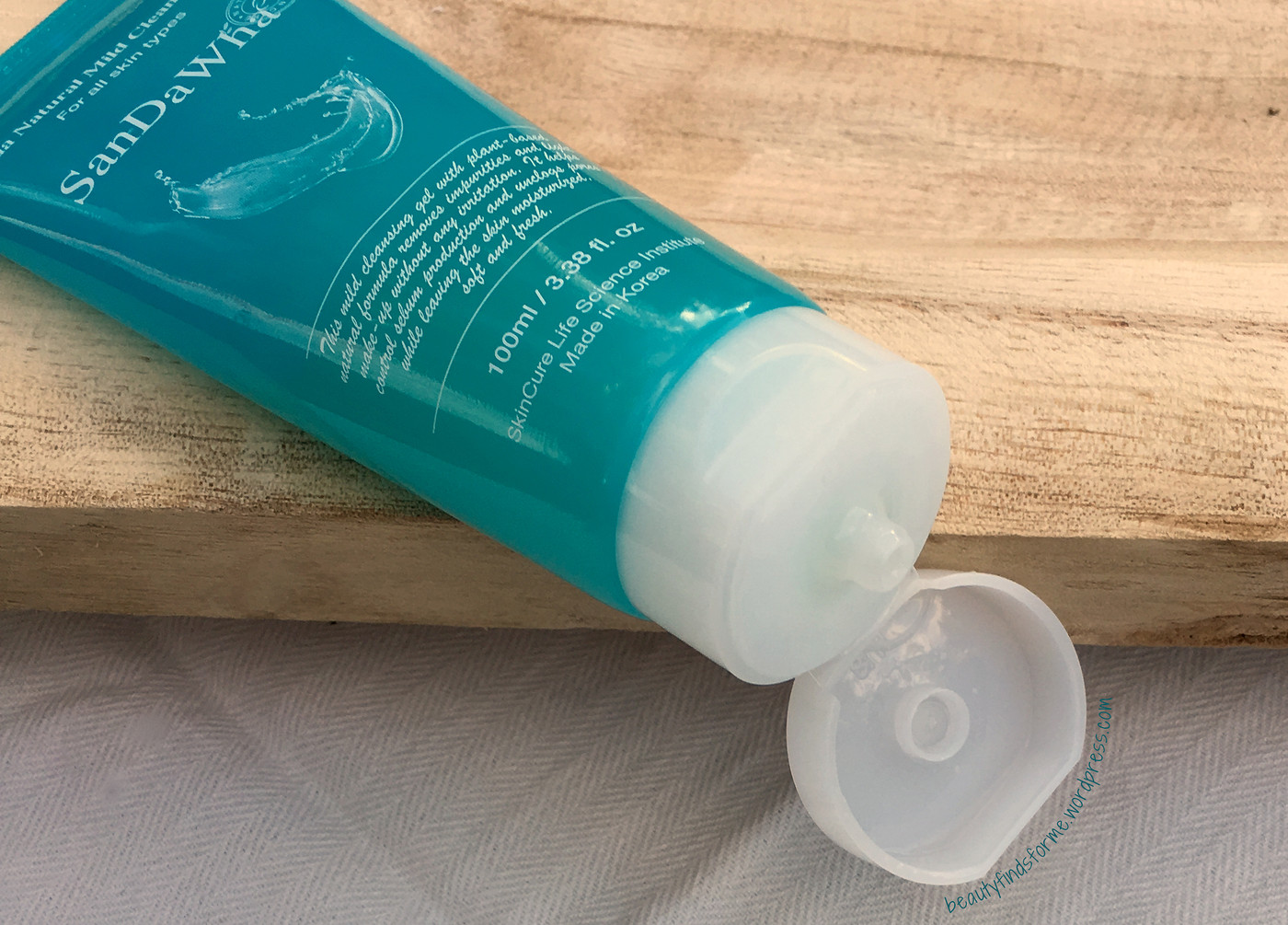 This cleanser comes in a soft bright aqua colored squeeze100 mL tube, with a flip cap applicator.   The tube is slightly translucent so you can hold it up to the light and see how much product you have left.  I really love the color and packaging of this cleanser ~ anything in the green/blue family makes me happy!  The gel is a viscous soft gelly and it has a very faint scent to it ~ SanDaWha describes it as floral, but I smell more of a fresh, slightly pine scent. YMMV, of course.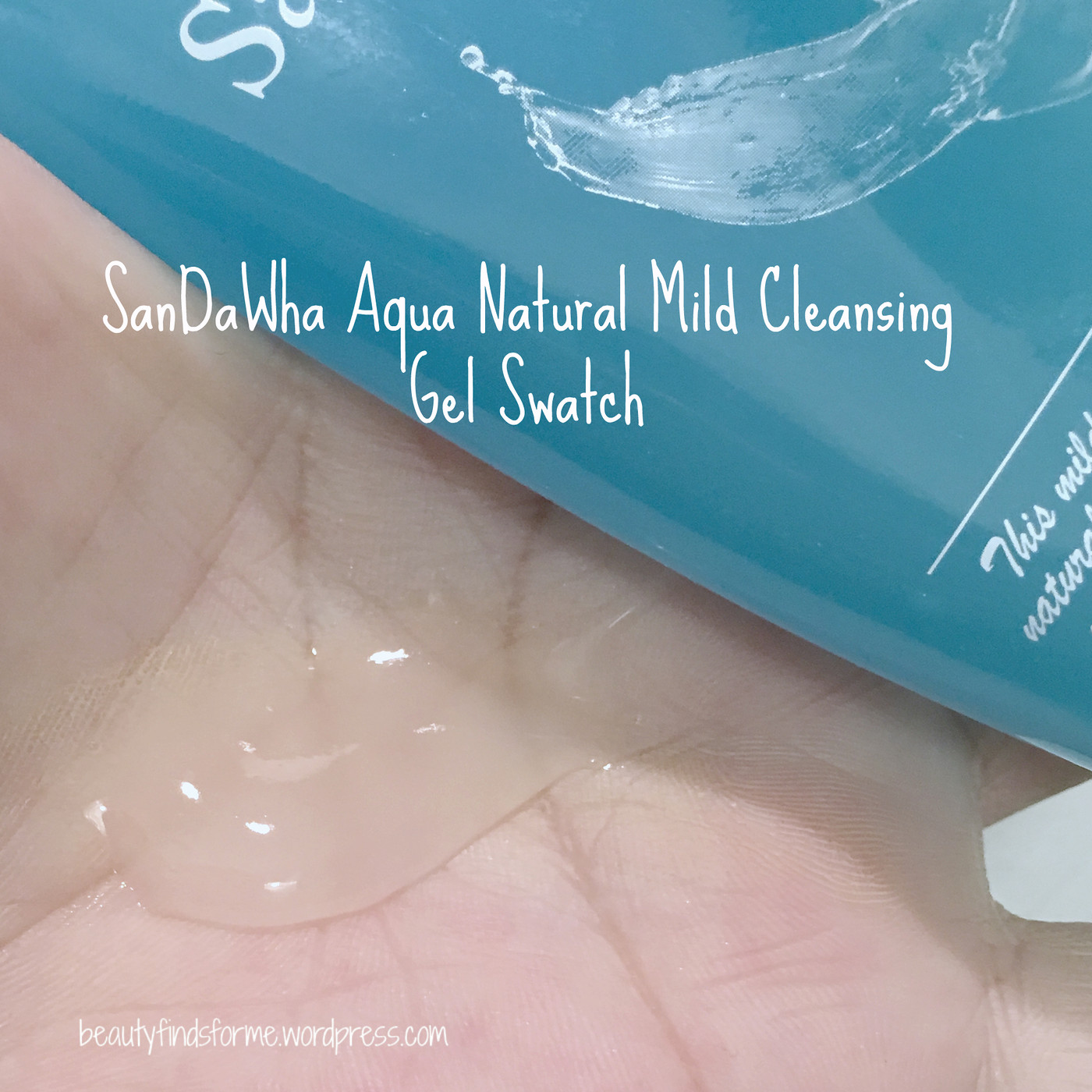 For those who require a low pH cleanser, you are in luck!  Normally, if a cleanser is low pH, the brand will make it a huge selling point, sometimes even putting the pH level in the name of the product.  Even though this cleanser stated "mild", that doesn't mean it is low pH ~ trust me, I have tried a lot of cleansers in my lifetime!  However, SanDaWha did deliver a low pH ~ it is 5.5 and so its claims of gentle and mild are tied back to a low pH value.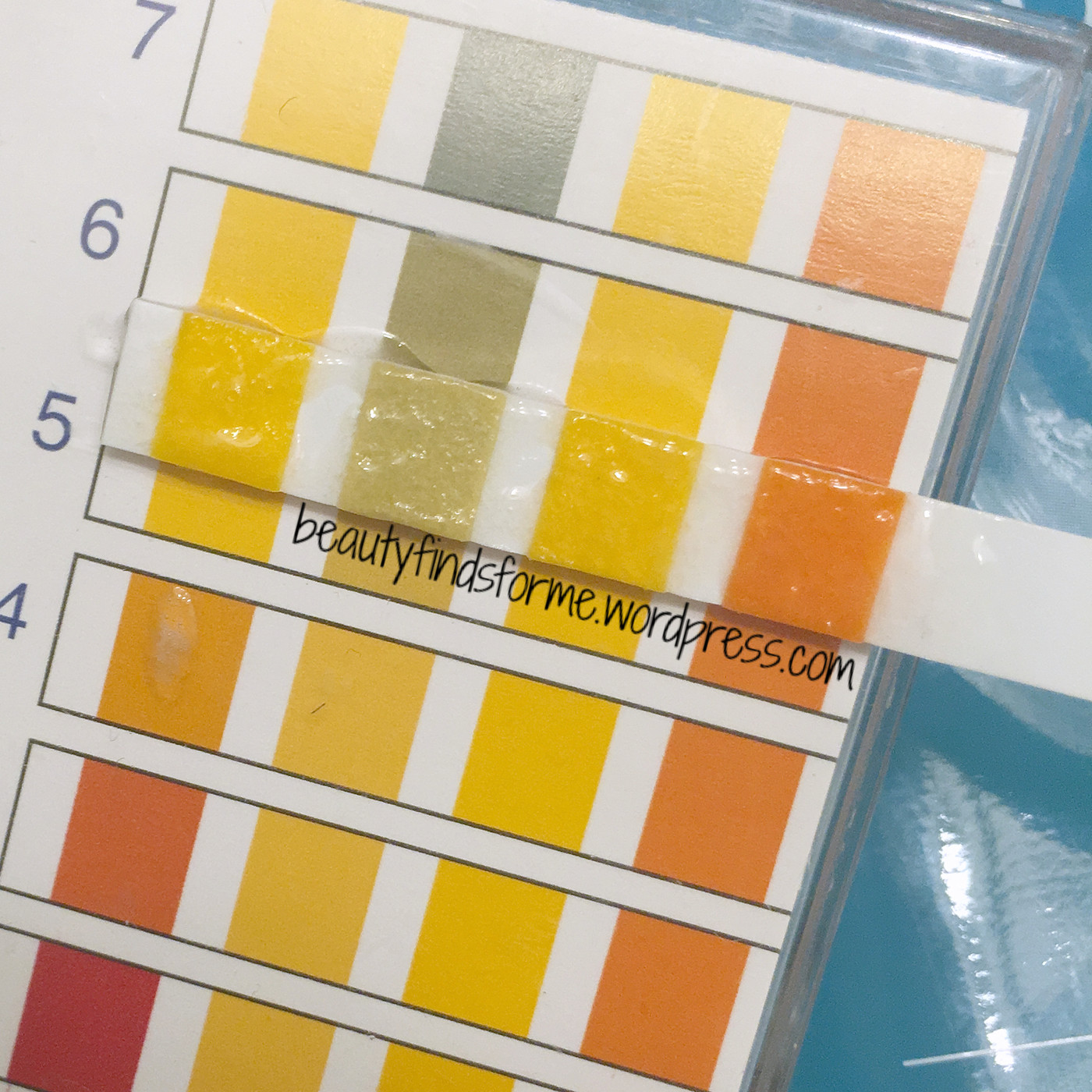 This cleanser is non-drying and doesn't strip my skin, nor did I experience any irritation or issues using it.  It doesn't foam as nicely as other cleanser, but that is to be expected from a low pH gel cleanser ~ they usually do not create a ton of bubbles, but you don't need a lot of bubbles to clean effectively.  I was worried that because it so mild, that it would not remove my makeup effectively.  I was worrying for no reason.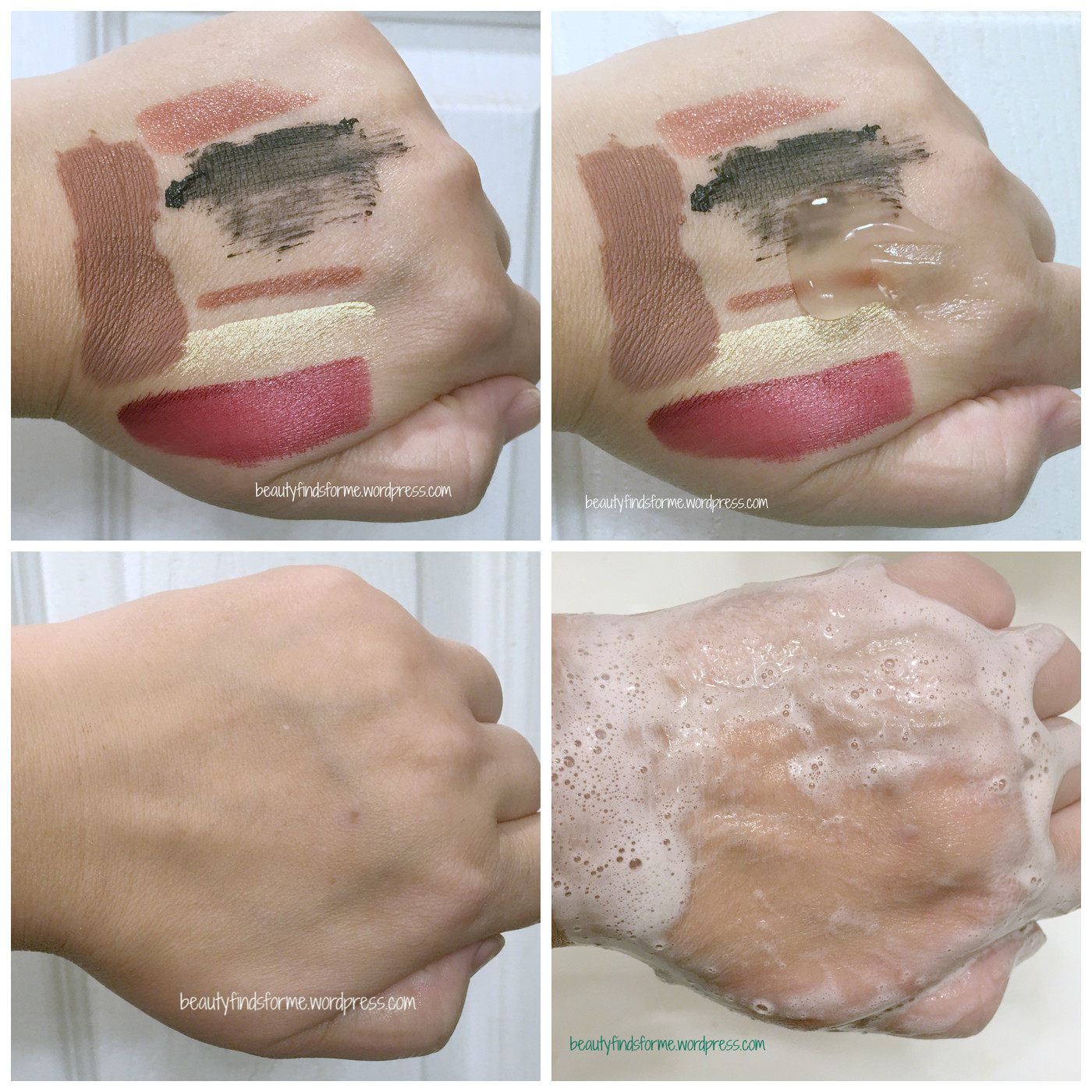 As you can see, it removed every speck of makeup, including my mascara and lip tint.  I used a pore brush to create the lather shown in the photos ~ that really helps boost the foaming action!  e.l.f. makes a great one and so does the now defunct I'm MEME, which you can still find on Amazon. 

Final Thoughts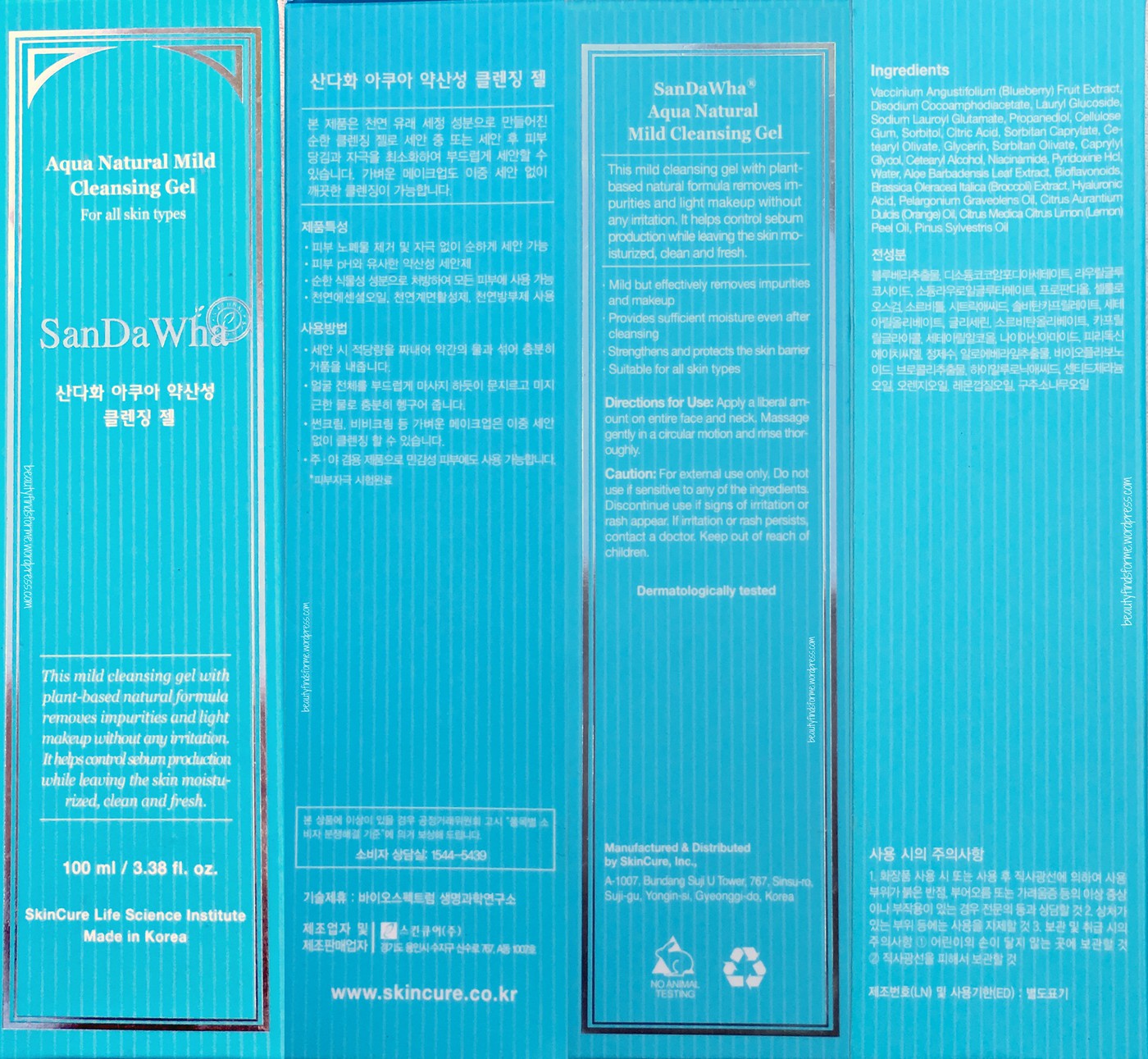 This is really an unassuming little gel cleanser that delivers on its claims ~ it hasn't gotten a lot of love, but I rate this much higher than the popular cosRX Good Morning Cleanser ~ and it is a 5.5 pH level, gel, smells much better than Good Morning PLUS it is made with ingredients that are not only for oily, blemish prone skin, it is safe for all skin types, including sensitive skin!   SanDaWha is a bit more costly than lower range brands, but they use quality ingredients and their skin care always delivers ~ I have yet to be disappointed with SanDaWha so far.

Have you tried any of SanDaWha products?  Which item have you tried and what did you think of it?

Where To Purchase

W2Beauty carries the SanDaWha line, including the 100 mL  tube of the Aqua Natural Mild Cleansing Gel (click here to purchase) for $24.00.   What is exciting is that currently they are 40% off, so it is now $14.00 AND I have a coupon code, where you can get an additional 25% off this cleanser ~ use unboxing25 at checkout ~ so you will save a lot of money if you get this cleanser!  My code expires at the end of October.  If you are interested in my past SanDaWha reviews, check them out here.

I have some additional promo codes (affiliate based) with W2Beauty and these are good thru the end of October 2017.  One coupon per cart and each coupon can be used once per customer.
W2Beauty has now implemented a flat rate shipping fee based on your country and if you purchase $60.00 or more, you will get free shipping as you get free samples. Check out their shipping changes and rates here.

[ this product was complementary for review purposes ~ all opinions are my own and are unbiased.  Blog post contains affiliate links ]
[ descriptions in italics from product site ]