Klairs is fast becoming a brand that I have yet to hate ONE item from.  I have reviewed a lot of their products and most of them work very well for my skin type and concerns.  As I am an affiliate with Wishtrend and Klairs is one of their own house brands, I was lucky enough to get an advanced press sample of their brand new sleeping mask pack and have been using this for the month of September.  I have reviewed several Klairs products by now, and I have really enjoyed all of them ~ you can read my reviews here.

Skin Type/Concerns:  Oily, blemish prone, aging skin with hyper-pigmentation and fine lines/wrinkles.

The KLAIRS Freshly Juiced Vitamin E Mask is incorporated with vitamin E, which is well known as an excellent antioxidant. Did you know that Vitamin E is the ultimate skin care booster that not only delivers an excellent antioxidant power, but also has various effects in benefiting dry, sensitive, and aging skin? Feel the ultimate effect of vitamin E for yourself!

Ingredients of Note
Klairs focuses on 3 major ingredients.  Their ingredient description is in italics and my own research is in non-italics.
Vitamin E (tocopherol acetate):  A major lipid-soluble antioxidant in the skin. It is found in most of the skin's epidermis, dermis and stratum corneum, and protects against peroxide and pro-oxidants (prevents oxidation in cosmetics). The skin's protective function will be weakened if Vitamin E levels are insufficient, allowing harmful foreign substances to invade and promote aging of the skin. Prevents cell aging by keeping the cell membrane from lipid peroxidation. Possesses skin softening properties, and soothes inflammation. Protects skin against damage caused by sunlight.  Vitamin E is "the antioxidants of all antioxidants" as it prevents free radical formation, protects the upper skin layer from initial harmful UV radiation and prevents the deterioration of fats in your cell membranes.
Niacinamide (2%): Reduces pigmentation by preventing melanin pigment from migrating to the epidermis. Suppresses sebum secretion, and improves acne caused by oily skin. Helps stabilize vitamin C, having enhanced effects when used with vitamin C.  Formulated with an adequate concentration of 2%, as it may induce burning when used at high concentration. Niacinamide (vitamin B3) is a powerful antioxidant that acts as an anti-inflammatory, improves your skin elasticity, enhance the skin barrier function and also it helps to even out skin tone and reduce post-inflammatory hyper-pigmentation.
Adenosine: Active ingredient prescribed in maximum dose, to serve the function of improving wrinkles. Strengthens fibroblast proliferation in dermal layer, and promotes collagen synthesis. Possesses powerful anti-inflammatory properties, making it effective in wound healing and regeneration. Effectively improves acne caused by oily skin. Adenosine is yeast derived and has anti-aging, anti-wrinkle and anti-inflammatory properties
This also has some other really nice ingredients ~ humectants glycerin and sodium hyaluronate will attract moisture to your skin, and then locking it in, leaving your face soft and smooth.  Antioxidant arginine is essential amino acid and will help promote collagen production to combat aging. Betaine is another amino acid that is a humectant and anti-irritant, providing silky smooth skin and soothes and calms skin. Algin, aka alginic acid, comes from phaecophyceae brown algae.  It is an emulsifier and its polysaccharide gelling properties help absorb and bind water, helping this sleeping mask have a spreadable texture.  Mannan comes from konjac plant and it is used to as a moisturizer, due to its high polysaccharide content and it has a silky texture.

Ceramides are a lipid found in our skin cells and as we age, those ceramides decline, leading to dry, flaky skin. Introducing ceramides back to our skin via skincare products helps lock in moisture and create balanced skin. Centella asiatica is a common herbal ingredient that is used medicinally to help speed up wound healing, such as blemishes and skin rashes. It also helps minimize the appearance of pores, and since it stimulates collagen production, it will make your skin more supple and firm. Blackberries are used to help boost collagen and elastin in your skin, creating soft and supple skin. Its antioxidants are similar to those in  green tea.  Salicornia herbacea (glasswort) is a salt marsh, beach plant and it has antioxidant properties as well providing hydration and locking in moisture.
This sleep pack also contains a bunch of essential oils, in case you are sensitive to them.  For those who are not, I am appreciative of the mix of healing and blemish controlling oils ~  lavender for soothing, calming and healing, eucalyptus for its antibacterial and invigorating benefits; lemon peel has astringent, detox, antiseptic properties, helping to treat blemish prone skin and also rejuvenates.  It also helps reduce excess oil. Orange peel helps tighten pores, brighten your skin's complexion, while controlling hyper-pigmentation, while providing antiseptic and anti-inflammatory, boosting the absorption of vitamin C and aids in collagen production, making this an anti-aging oil as well.  Geranium oil helps help blemishes and is an anti-inflammatory and ylang ylang oil is an antiseptic, so it is an effective wound and blemish healer.  All of these oils have aromatherapy benefits as well ~ uplifting, soothing, relaxing and calming.  
Ingredients: Water, Glycerin, Butylene Glycol, Tocopheryl Acetate, Niacinamide (2%), Sodium Hyaluronate, Carrageenan, Gellan Gum, Betaine, Algin, Mannan, Ceramide NP, PEG-60 Hydrogenated Castor Oil, Acrylates/C10-30 Alkyl Acrylate Crosspolymer, Chlorphenesin, Arginine, Ethylhexylglycerin, Centella Asiatica Extract, Rubus Fruticosus (Blackberry) Fruit Extract, Salicornia Herbacea Extract, Phragmites Communis Extract, Adenosine, Lavandula Angustifolia (Lavender) Oil, Eucalyptus Globulus Leaf Oil, Pelargonium Graveolens Flower Oil, Citrus Limon (Lemon) Peel Oil, Citrus Aurantium Dulcis (Orange) Peel Oil, Cananga Odorata Flower Oil  cosDNA analysis

Klairs Vitamin E Mask Pack comes in a nice little white glass jar with a bright silver lid.  The lettering is in this cool holographic print ~ same with the box as well.  This gel-cream is one of those "shape memory creams"  ~ it has that bouncy pudding texture that will "remember" so it never loses it glossy shape in the jar.
According to Wishtrend, this memory texture will help the mask adhere to your skin closer and tighter. 
The scent is a lovely light aromatherapy scent of lavender and herbal due to its essential oils. It applies easily on my skin and absorbs well ~ there is a slight filmy feeling after it dries down.  Klairs mentions this can be used as a daytime moisturizer if applied thinly, but because of this filmy feeling, I didn't not feel it was suitable for my oily skin type. This sleep pack has a lovely cooling and refreshing sensation on my skin as well.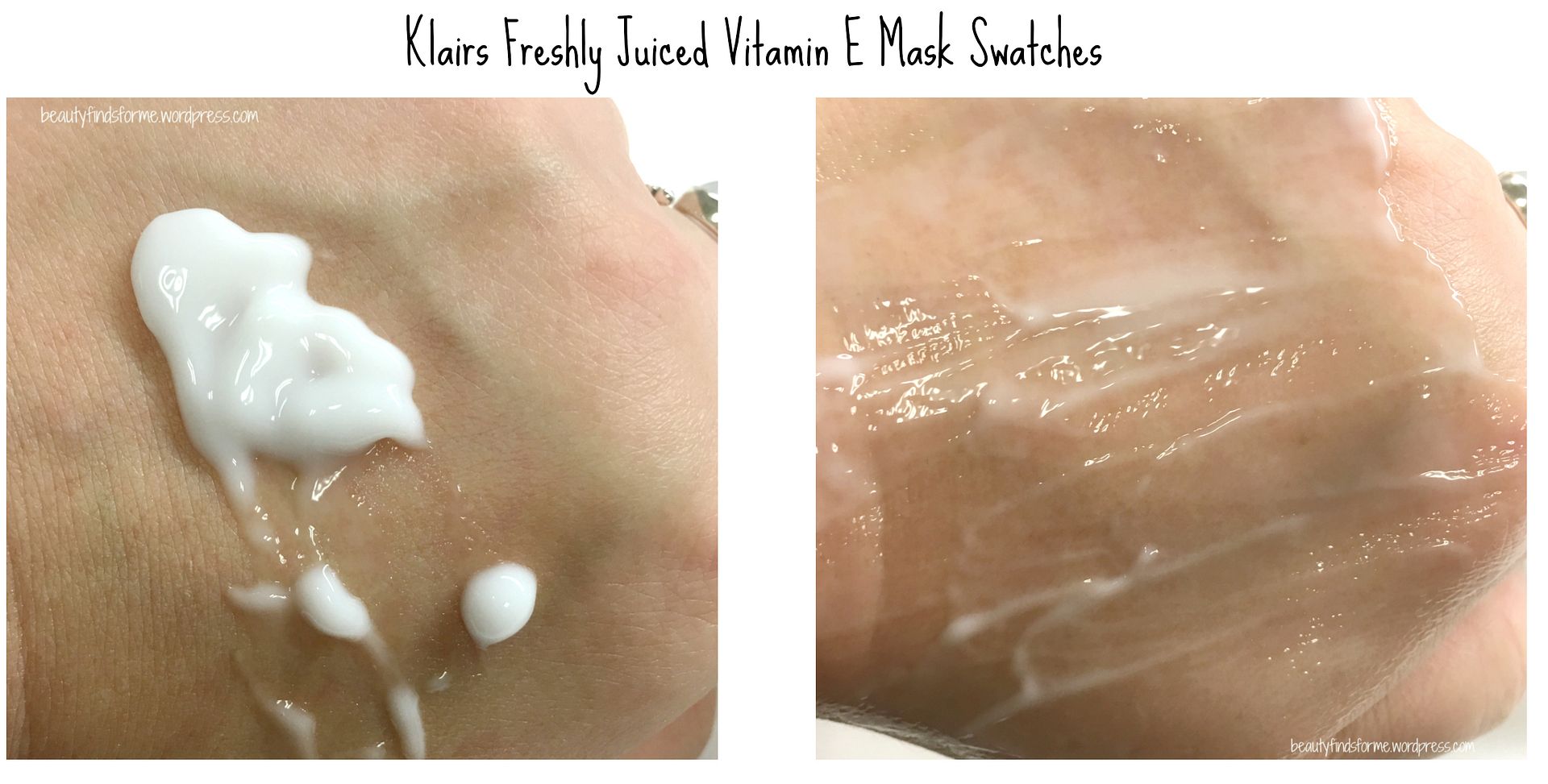 This increases my moisture level by 40% and decreases my oil levels by 34%, so it is a good moisture/oil balancing product, bringing my oily skin to a normal state.  In the morning, my skin is soft, supply and smooth, and does still feel hydrated without a sticky feeling ~ the filminess on my face is also gone too.  I have noticed over the several weeks that I have been using this sleep pack that my skin looks more radiant and fresh, which at my age, I am happy to get these results!  This sleep pack is full of antioxidants, amino acids, hydrators and healing ingredients, so it is no wonder that my skin seems to really like this a lot.  I have not experienced any breakouts or clogged pores using this product and it helps heal and reduce redness overnight, while rejuvenating my skin.
Wishtrend Tip: Now, if you have the Klairs Freshly Juiced Vitamin Drop Serum with 5% ascorbic acid, Klairs recommends that you mix some of this serum into your Vitamin E mask to make it a more effective and potent antioxidant, skin-improving product.  The vitamin E will prevent the vitamin C from oxidizing before it gets absorbed by your skin.  I have not tried this as I have not purchased the Klairs Freshly Juiced Vitamin Drop Serum ~ Vitamin C and me are not a good mix as it causes my skin to break out for the most part.
Final Thoughts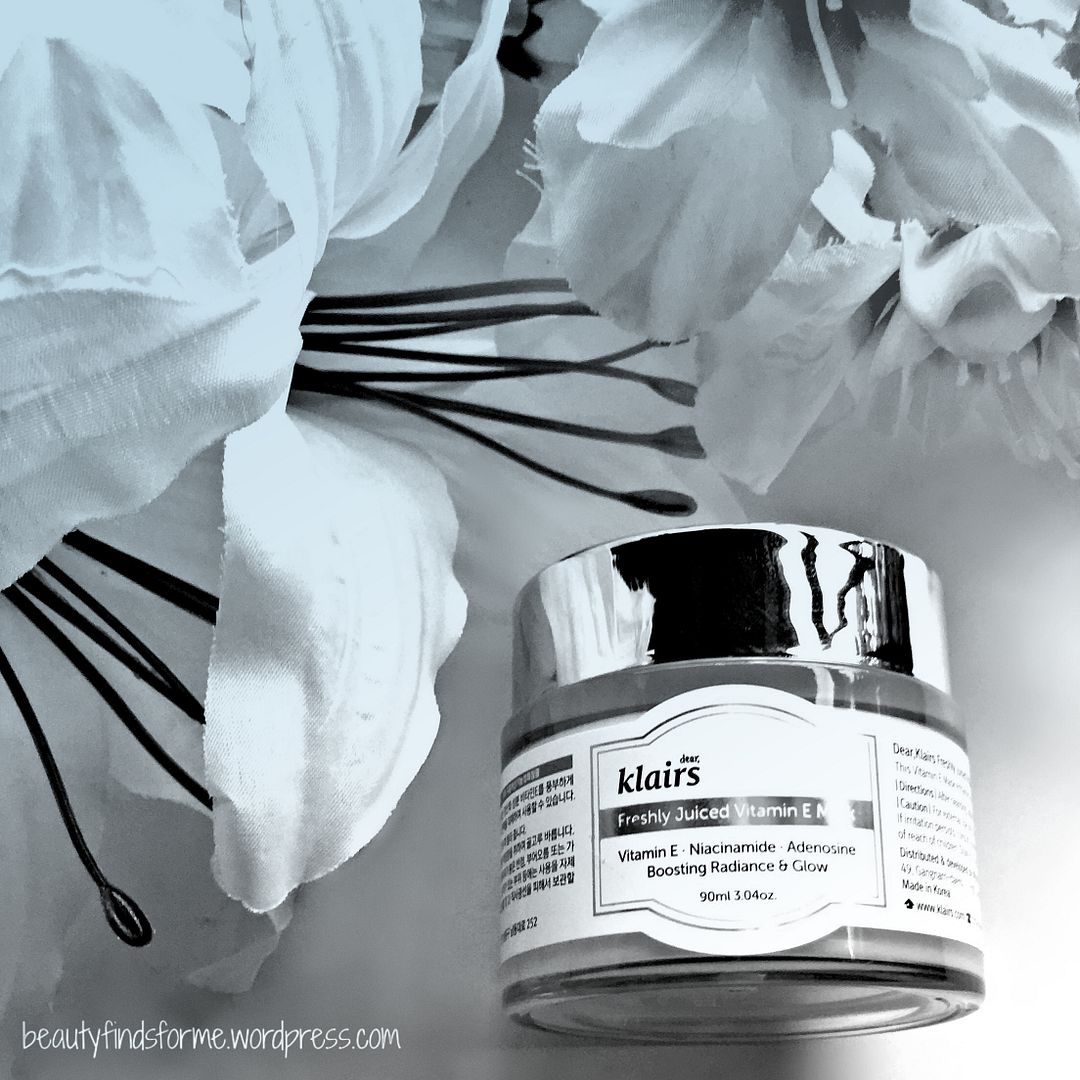 I found that the Klairs Freshly Juiced Vitamin E Mask pack is a great transitional sleep pack from the hot summer months and before the cold dry winter months.  For my oily skin, it is only to be used at nighttime, but if you have drier skin, you can use this as a daytime moisturizer.  I felt that this mask pack really helped keep moisture in, while energizing and healing my skin overnight.  For blemish prone skin, if you are not sensitive to any of the ingredients in this product, I recommend giving this a try ~ it did not aggravate or irritate my skin, helped reduce blemishes and left my skin soft, supple and glowing in the morning.  I also loved the added benefit of the aromatherapy feature with all of those lovely essential oils ~ lavender is so calming and relaxing that it is perfect for a night time skincare product.  The scent is not overpowering either ~ it is a soft light scent.

Are you looking for a new sleep mask pack?  Have you tried this yet from Klairs?

Where to Purchase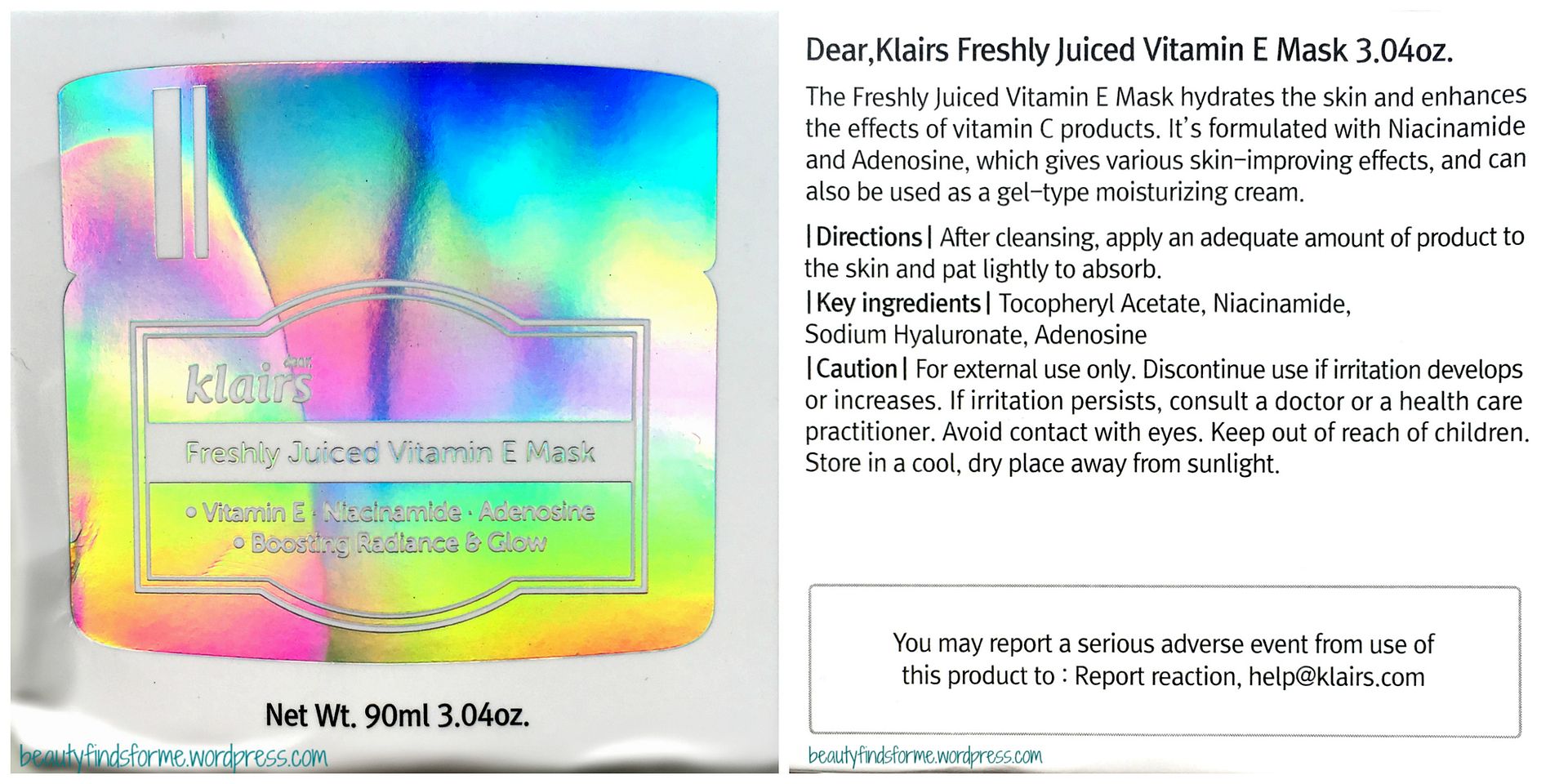 You can purchase the 90 mL (3.04oz) jar of  Klairs Freshly Juiced Vitamin E Mask (click here) at Wishtrend for $27.00 USD.  However, until the end of October 2017, you can get it for 10% off using promo code WISHVITE10.  This product doesn't have free shipping, but if you add on any item from their free shipping section, your shipping will be free.

You can get this bundled in a really nice set as well
Klairs Freshly Juiced Brightening Package: The Freshly Juiced Brightening Package is specially  designed to bring liveliness back to your exhausted skin.   Includes Gentle Black Sugar Facial Polish (review), Rich Moist Foaming Cleanser, Supple Preparation Facial Toner (review), Freshly Juiced Vitamin Drop and Freshly Juiced Vitamin E Mask ~ 34.8% off retail price
Check out my monthly Wishtrend specials for more deals and coupons ~ click here.  If this is your first time shopping with Wishtrend, you can save $5.00 off your purchase by using my friends referral number ~ 092847308  ~ and you will receive the coupon. Register first and enter the my code in the form labeled "friends invitation program" and wait for the coupon before you place your order.  Also, remember to save your welcome and any order emails from Wishtrend.  They usually have discount and free shipping codes just for your use in them, so you can save even more money on your next order!
You automatically receive Free Shipping with purchases $69.00 USD and over
Don't forget to check out Wishtrend's Free Shipping Product Selection

Wishtrend ships globally
[ product received in exchange for a review. contains affiliate links for a small commission ]
[ descriptions in italics from wishtrend ]