I was recently picked to review several products from the brand iUNIK from e-Tailer unique4u, which is a new K-Beauty online store ~ however, they are new to selling K-Beauty.  I have purchased their products from their top rated Platinum, very popular eBay seller at blueprint21.  They have opened up their own online store now and sell a variety of brands, including IsNTree, Alive:Lab, Ciracle, Graymelin, Mizon, Nakeup Face, Natural Pacific, Zymogen and many others.  I have since learned that iUNIK is their house brand, and I have to say, I have been very impressed by their products so far! Very affordable, with high quality natural ingredients. 
iUNIK doesn't have a huge lineup right now, but what they have is quite interesting and solid.  They have serums, toners, peeling gel and cream.  I have reviewed their bouncy Vitamin Hyaluronic Acid Vitalizing Toner (here) and I have some more products after this to test and review ~  Beta Glucan Daily Moisture Cream and Black Snail Restore Serum, courtesy of unique4u and I have purchased their Tea Tree Relief Serum ~ almost time to do a Tea Tree products post again!  They also have a Rose Galactomyces Toner and Serum and Propolis Vitamin Synergy Serum.  iUNIK stands for
i = Ideal Skin Over Dreamy (I think they mean ideal skin over unrealistic skin goals)

U = Unique products

N = Natural occurring ingredients, mild and raw materials from natural origin.


I = Ingredients ~ less bad and harmful ingredients, more good ingredients

K = Know how knowledge to create the best products thru continuous Research & Development
Skin Type/Concerns: Oily, blemish prone, aging, fine lines/wrinkles, hyper-pigmentation
iUNIK Lime Moisture Mild Peeling Gel  Why don't I first explain what a peeling gel is?  Some of my long time readers will know, as I have talked about peeling gels several times in other reviews, but for those who do not know, this might be of interest to you. 
What are peeling gels? Peeling gels are not peels ~ they are actually non-physical exfoliators that use fruit enzymes to dissolve dead skin cells and unclog pores, which you can see as you massage it onto your skin. They revitalize and refresh the skin and only remove a small amount of superficial skin.  Peeling gels must be applied to clean, dry skin, otherwise, they do not work as well.  Peeling gels should also have an alpha hydroxy acid (glycolic, citric, lactic) as this acid helps in removing dead skin cells ~ lemons and papayas naturally contain alpha hydroxy acids.  Another common ingredient is hyaluronic acid, as that will increase moisture and hydration and improve your skin's texture and tone.  Your peeling gel should have clumps of white or greyish balls of material when you massage it into your skin.
However, there are some peeling gels out there on the market that I consider bogus and the way you can test if a peeling gel is actually working to remove dead skin cells is really simple.   Just put some of your peeling gel on a counter top or dish and rub it in.  If you see clumps of white or greyish balls of material, then it is bogus.  Sorry, but counter tops and dishes do not slough off dead skin cells.   You should only see the clumps when it is applied to skin, as the oils from your skin is what should activate the fibers and enzymes in a peeling gel.  Those clumps are part product (listed as acrylates/C10-30 alkyl acrylate crosspolymer or carbomer or cellulose), part your skin cells, held together with the oils from your skin.  If the clumps are greyish-white in color as well, don't worry ~ that just means that your skin was dirty!
Does iUnik Lime Moisture Mild Peeling Gel meet the definition of a peeling gel?  Let's see..
Alpha Hydroxy Acid ~ Check!  This product has three AHA's ~  citric, malic and tartaric acids.  Citric acid is found in lime, orange and lemon, malic acid is found in apples, and tartaric acid is found in grapes. 
Clumping Materials ~ Check!  It contains acrylates/C10-30 alkyl acrylate crosspolymer as its clumping material.
Increase Moisture and Hydration ~ Check!  iUNIK doesn't have hyaluronic acid, but it does have another humecant in glycerin.  Glycerin helps seal in moisture, while maintaining the skin's water balance on an intercellular level, making skin look healthy and moisturized
This product also has a patented compound called MultiEx Bsasm Plus, which is a combination of  seven botanical extracts ~ green tea, centella, licorice, rosemary, chamomile, scutelaria baicalensis and  polygonum cuspidatum root ~  that are anti-inflammatory, anti-oxidant, soothing and healing ingredients, making this peeling gel ideal for even those with dry or sensitive skin.
Ingredients: water, glycerin, steartrimonium methosulfate, acrylates/C10-30 alkyl acrylate crosspolymer, butylene glycol, 1,2-hexanediol, citrus aurantifolia (lime) fruit extract, vitis vinifera (grape) fruit extract,  citrus aurantium dulcis (orange) fruit extract, pyrus malus (apple) fruit extract, citrus limon (lemon) fruit extract, caprylyl glycol, allantoin, hydrolyzed collagen,  polyglyceryl-4 caprate, centella asiatica extract, polygonum cuspidatum root extract,  scutelaria baicalensis root extract, camellia sinensis leaf extract, glycyrrhiza glabra (licorice) root extract, chamomilla recutita (matricaria) flower extract, rosmarinus officinalis (rosemary) leaf extract, ethylhexylglycerin, dipotassium glycyrrhizate, lavandula angustifolia (lavender) oil, pentylene glycol,  aspalathus linearis extract cosDNA analysis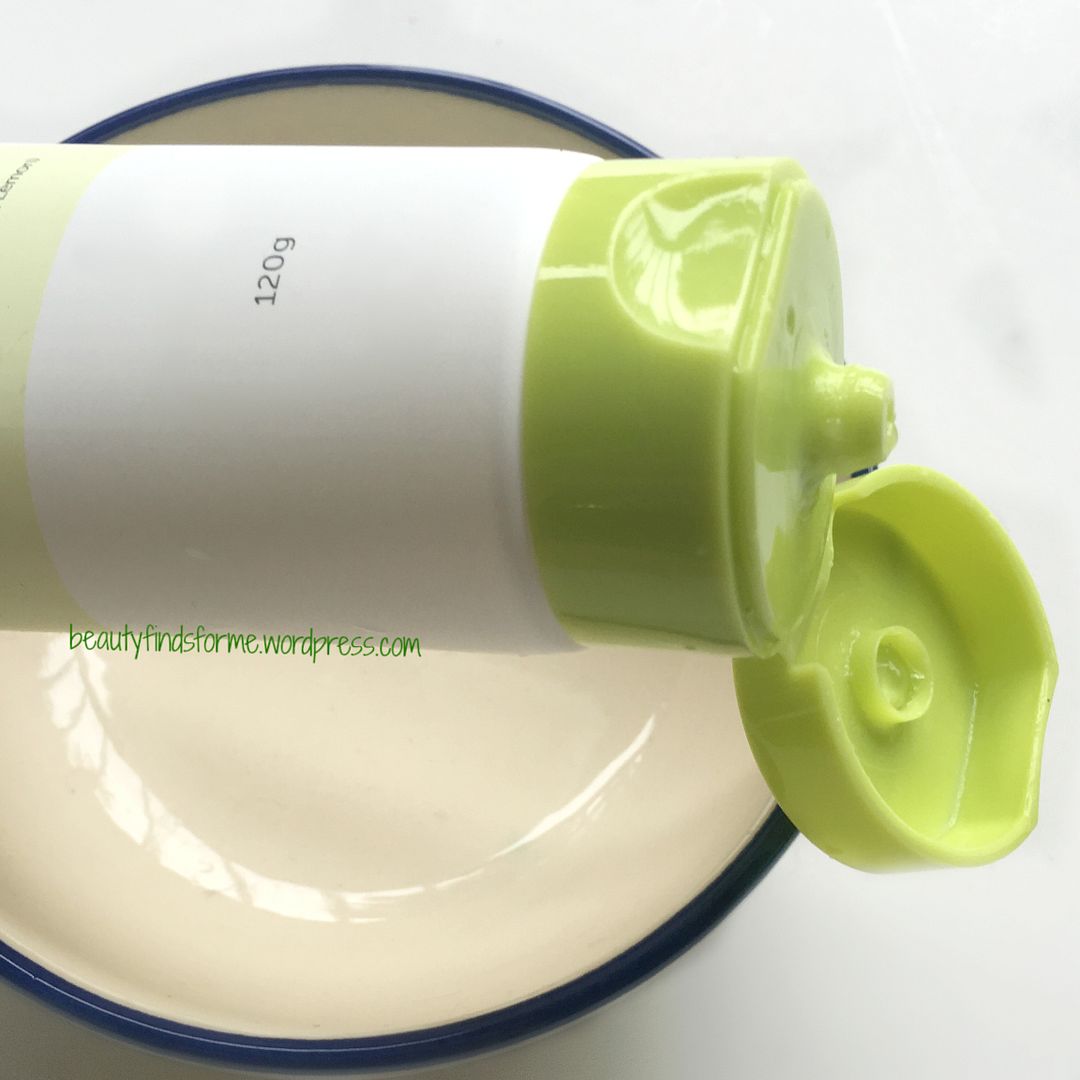 iUNIK Lime Moisture Mild Peeling Gel comes in a soft white tube with a lime green colored flip cap.  The gel is not the traditional creamy looking gommage I am used to seeing in a peeling gel, but a clear jelly that crumbles as I start to massage it into my skin.  This has a light lime scent to it as well and I just apply to my dry skin,  gently massage in a circular motion.  As I am concerned about my pores, I concentrate around my T-Zone, but this is so mild and gentle, I am also able to apply this all over my face.  It does clump up in nice big jelly bits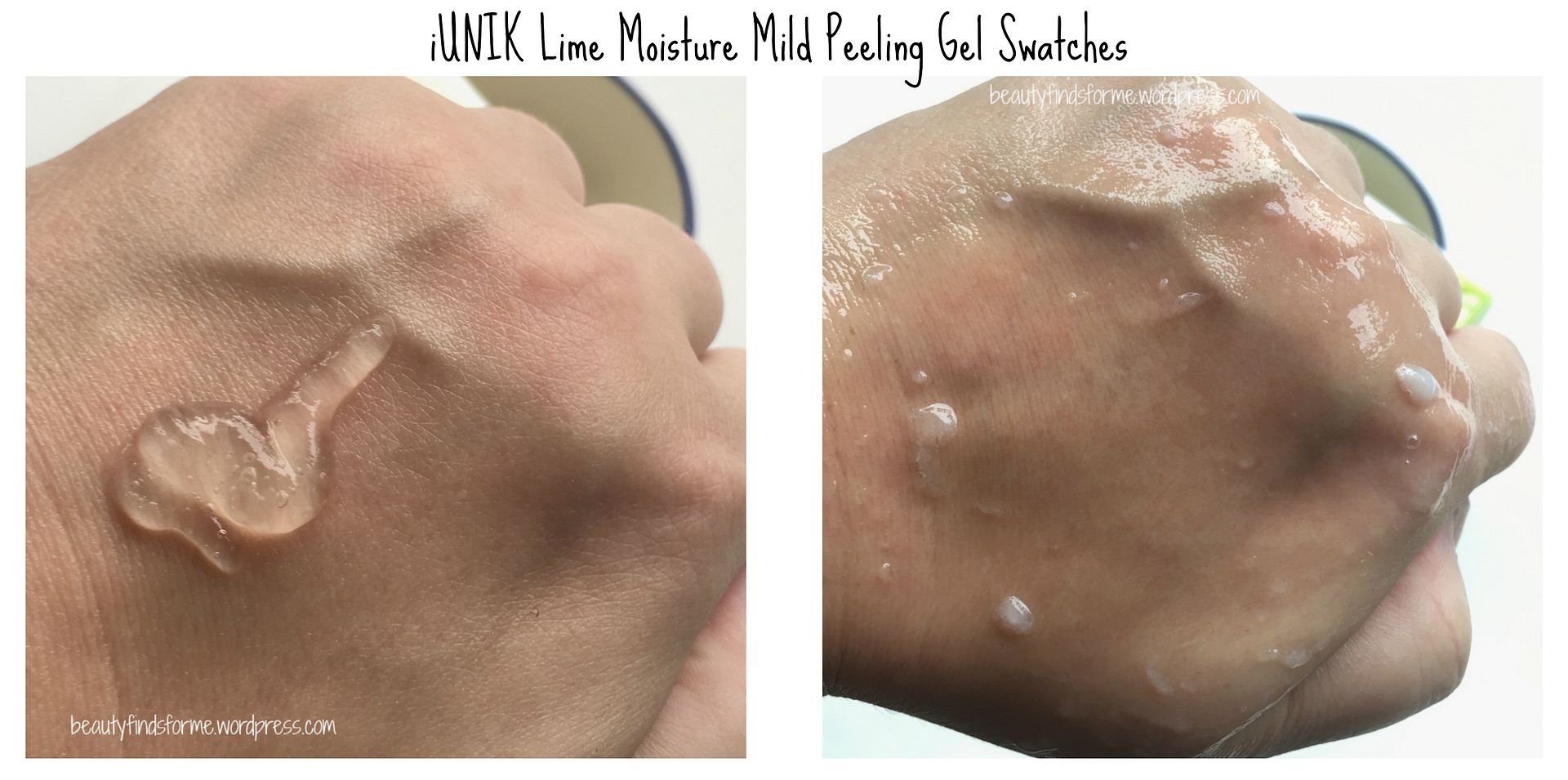 My skin does feel smoother, cleaner and refreshed, which I was a bit surprised as I thought this would be too mild for my oily skin.  This does have a pH level between a 2 and 3, which makes it a good exfoliator for my skin, as it is on the acidic side, but it doesn't sting or irritate my skin. 
I did do the plate test and this does not ball up when I rub it into a ceramic dish, which means that this product is not overloaded with the cross-polymer fibers, which is a good thing.   You cannot see the clumping action on the plate, just the crumbling bits of jelly ~ I even took some of that jelly and then applied it to my hand and you can see the difference between the normal crumbling bits of jelly and the actual clumping of dirt, oil and other stuff on my skin.

Since this is so mild and gentle, all skin types can use this peeling gel ~ but I would say that based on your skin type, you should use it accordingly.  Oily skin types can use peeling gels 2 to 3 times weekly, as it helps with pore and sebum management.  Dry and sensitive skin types should use this once or twice a week and make sure that you use a moisturizer afterwards.  Sensitive skin types should also use a gentle massaging action, not too hard. 
Final Thoughts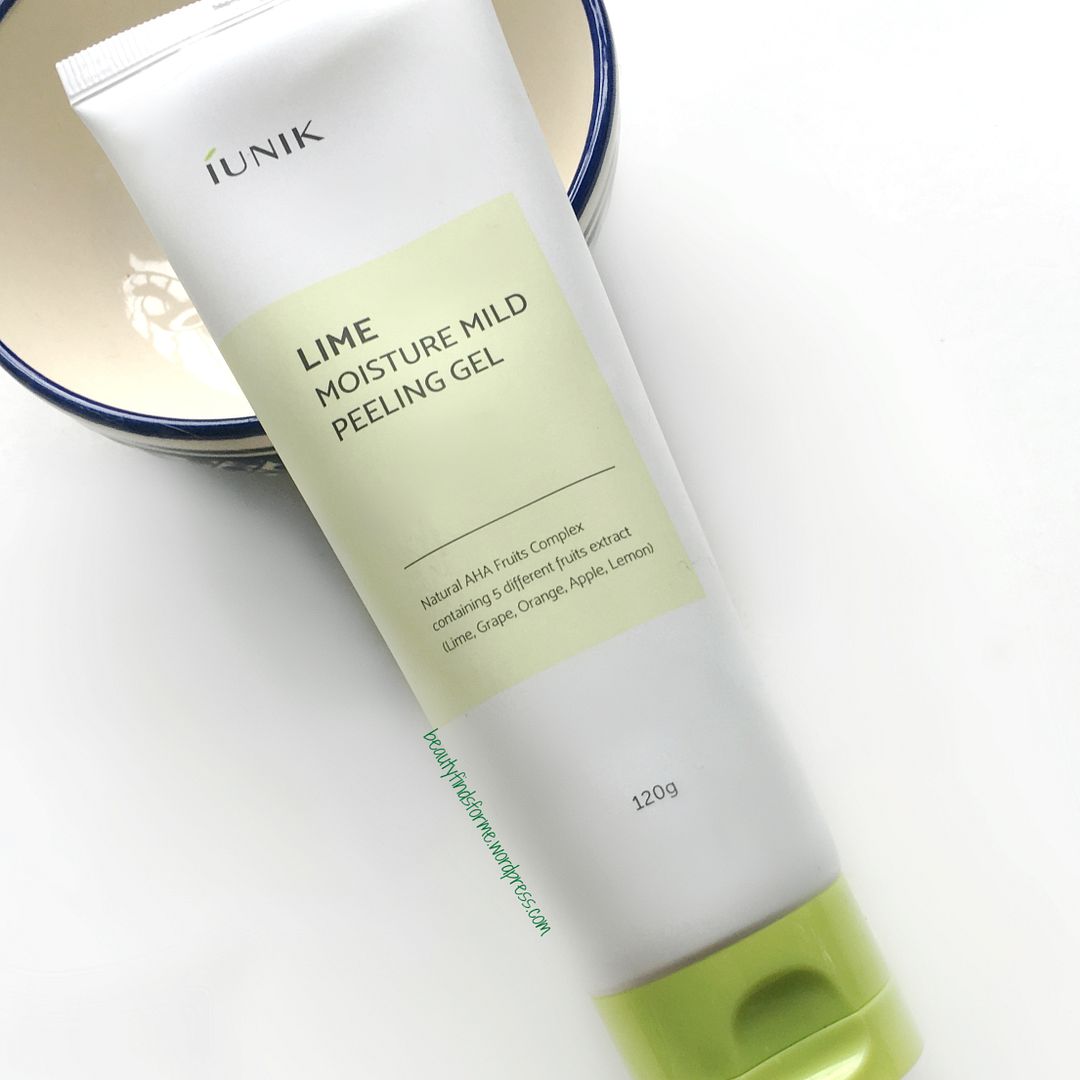 What I really like about this peeling gel by iUNIK is that not only does it exfoliate your skin gently, but they made this a soothing care product as well with the addition of the MultiEx Bsasm Plus compound.  At the risk of sounding like a broken record, I have been really using a lot of acid creams and toners this summer and I am looking for more soothing skin care products to work with those AHA products.  This peeling gel is very gentle, has a low pH so it will help unclog pores and remove dirt, debris, oil and dead skin cells, without irritating my skin. Have you tried iUNIK Lime Moisture Mild Peeling Gel?  Or any of the iUNIK products?  What is your favorite peeling gel?

Where to Purchase
You can purchase iUNIK from either unique4 online shop or their eBay store, blueprint21.  This 120 mL tube is $10.99 USD.  Both sites have free shipping and give samples with every purchase. 
Use Promo Code ROSE to get 10% off your purchase of $20.00 or more at unique4.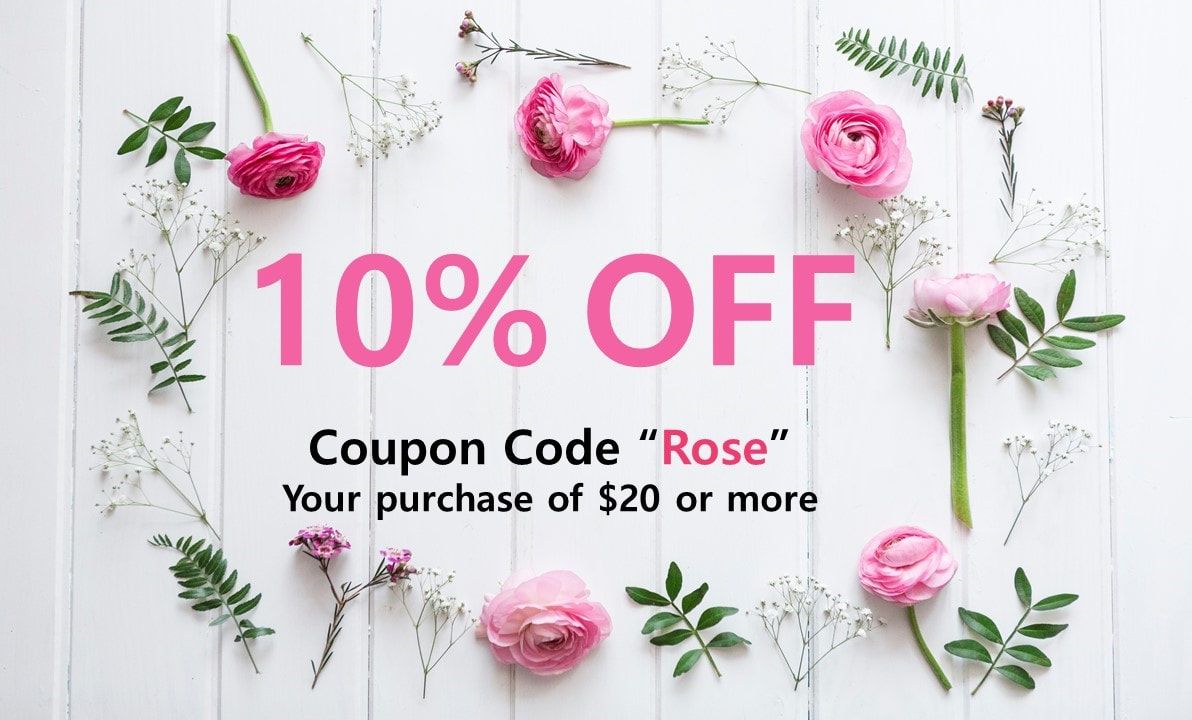 [ disclosure: product received complementary for review purposes.  blog post contains affiliate links ]