[ this blog post contains referral & affiliate links ]
Woops!  I've had this box for a week or two, but I am really late getting the unboxing up!  I always enjoy getting my Yogi Surprise Lifestyle box ~ even if you do not practice Yoga, this is a great eco-friendly, green lifestyle subscription box.  What is Yogi Surprise?   

Yogi Surprise Lifestyle Box
6-8 full-size yoga lifestyle items

Vegetarian and GMO-Free

$70+ retail value in every box

$44.95/month + free shipping
This month's theme is "Giving Back" ~ every item in this box is from a brand that supports a related cause ~ providing food to children, supporting women's equality, keeping harmful waste out of our environment and more.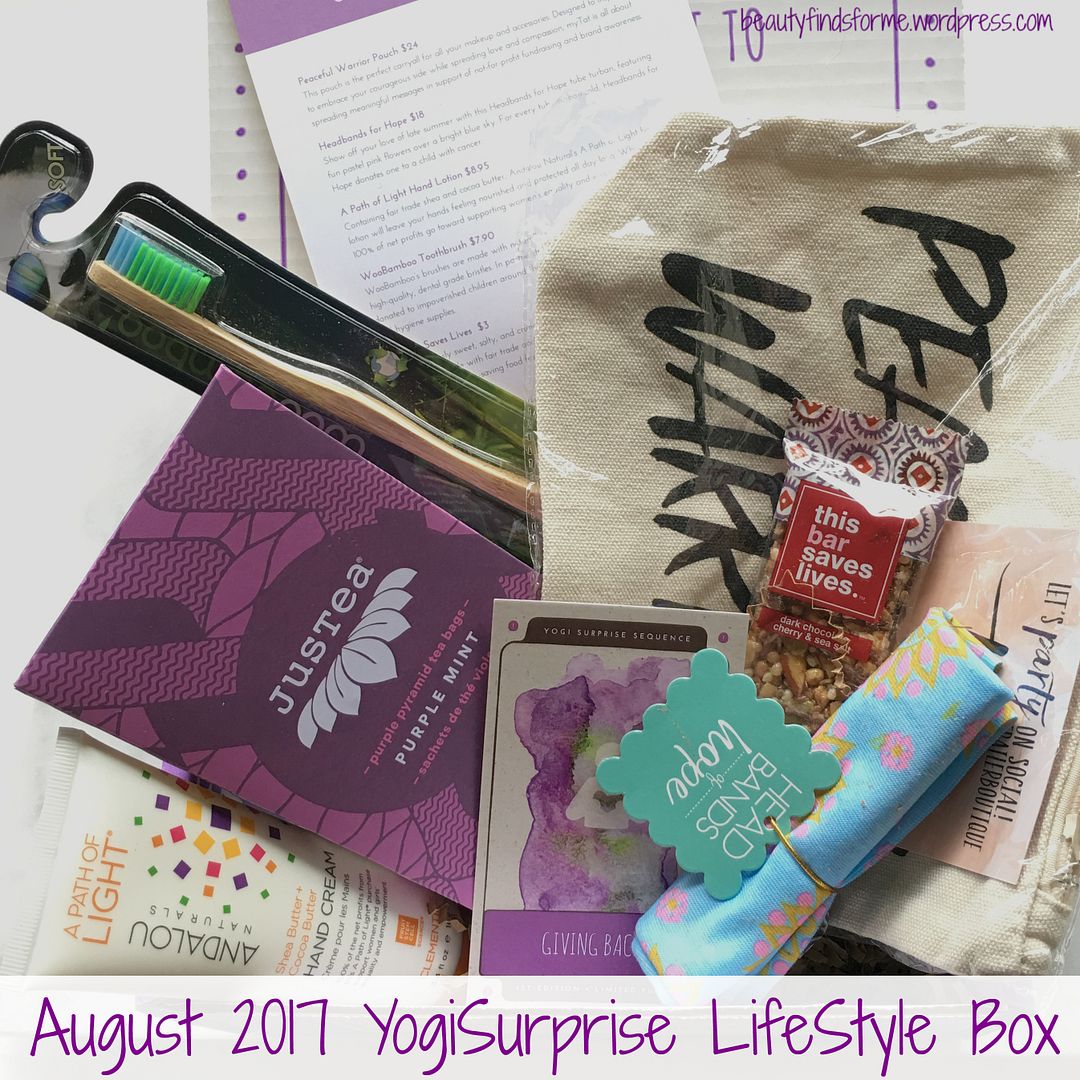 Informational Card
this bar saves lives in dark chocolate, cherry & sea salt  This is a great tasting snack bar, packed with chewy dried cherries, crunchy nuts and dark chocolate plus a salty taste to its sweetness. This is made with fair trade and non-GMO ingredients and every bar helps support donations towards life-saving food, Plumpy Nut, for children in need.  Gluten free, dairy free, Kosher, bee friendly with 6 grams of fiber, 3 grams of protein, 160 calories per bar. RV $3.00
Description: The Dark Chocolate Cherry & Sea Salt bar is packed with crunchy almonds, tart cherries and cranberries, and drizzled with antioxidant rich dark chocolate. The bars are non-GMO, gluten free, kosher, Fair Trade, and just plain awesome. For every bar you buy, we give life-saving food to a child in need.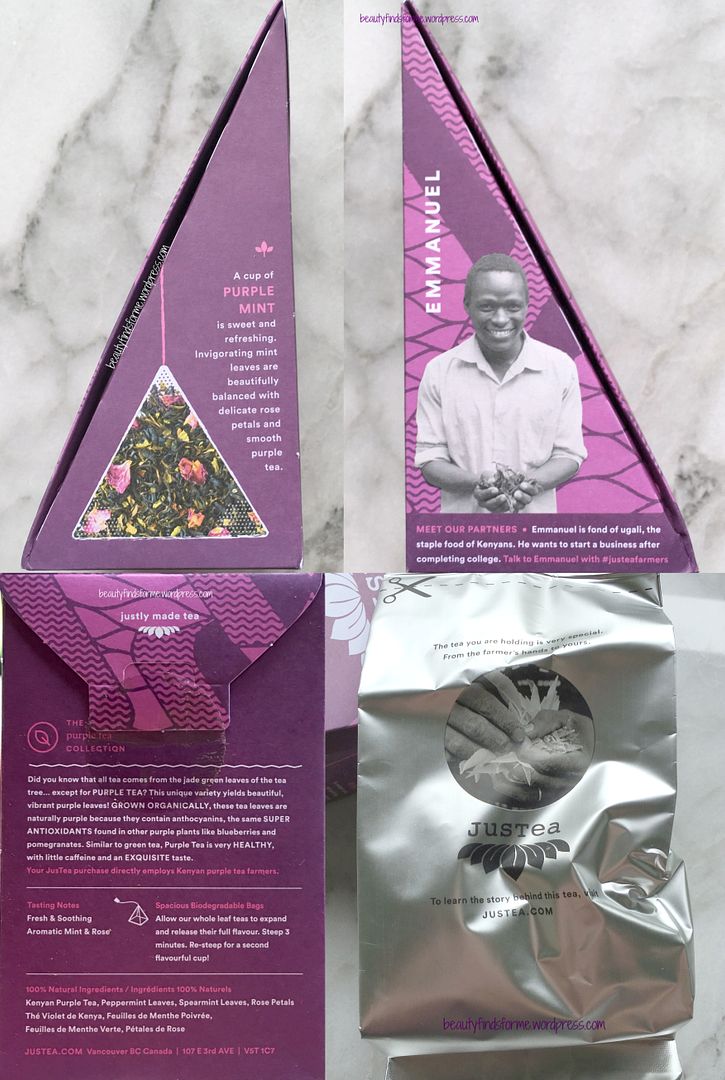 JusTea Purple Mint Tea This is a mint and rose petal tea, which sounds divine, but since I cannot drink rose petals, I will gift this to a friend. It sounds amazing,though. This is made with purple tea, which is a unique variety of tea that produces vibrant purple leaves.  This tea is grown organically and are naturally purple because they contain anthocyanins,  an antioxidant found in other purple/red fruits and berries and it is naturally low in caffeine. It comes in a biodegradable bag that you steep for 3 minutes and you can reuse the bag one more time as well! JusTea directly employs Kenyan purple tea farmers (a woman's tea co-op)  15 whole leaf tea bags  RV $18.00  Promo Code:  Save 20% on your purchase at JusTea with code YOGI
100% natural ingredients: Kenyan purple tea, peppermint leaves, spearmint leaves, rose petals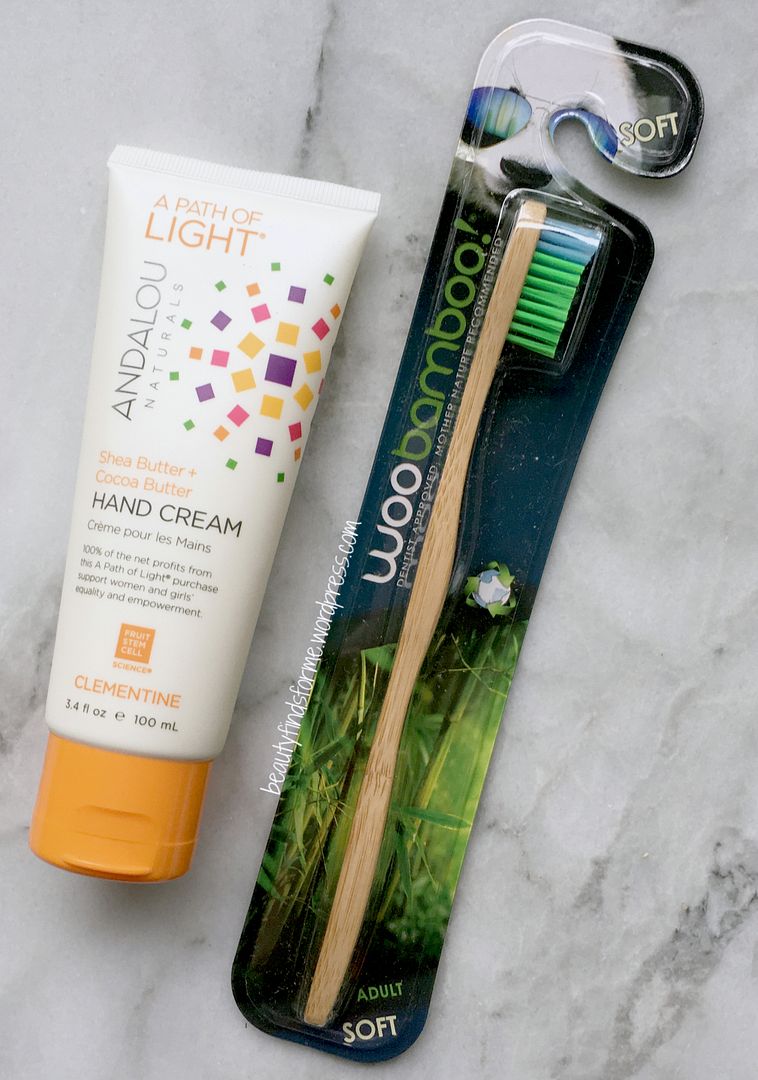 Andalou Naturals A Path of Light Hand Lotion in Clementine Made with fair trade shea and cocoa butter, along with organic sea buckthorne, with a fantastic scent of citrusy clementines, this is a nice hand cream ~ light weight, moisturizing and absorbs quickly.  It is made with Andalou's patented "Fruit Stem Cell Science" and it is 99% naturally derived, non-GMO and verified gluten free and is vegan, as well as cruelty free. 100% of net profits with the purchase from any of their "A Path of Light" products will go towards supporting women and girl's equality and empowerment. 3.4 oz RV $8.95

Ingredients: Aloe Barbadensis Leaf Juice*, Purified Water (Aqua), Helianthus Annuus (Sunflower) Seed Oil*, Vegetable Glycerin, Stearic Acid, Prunus Amygdalus Dulcis (Sweet Almond) Oil, Butyrospermum Parkii (Shea) Butter*†, Theobroma Cacao (Cocoa) Seed Butter*, Glyceryl Stearate, Fruit Stem Cells (Malus Domestica, Solar Vitis) and BioActive 8 Berry Complex*, Hippophae Rhamnoides (Sea Buckthorn) Fruit Oil*, Cetyl Alcohol, Stearyl Alcohol, Tocopherol, Allantoin, Citrus Clementina (Clementine) Fruit Extract*, Glyceryl Stearate Citrate, Hibiscus Sabdariffa Flower Extract*†, Camellia Sinensis (White Tea) Leaf Extract*†, Oenothera Biennis (Evening Primrose) Oil*, Prunus Armeniaca (Apricot) Kernel Oil, Ethylhexylglycerin, Phenethyl Alcohol, Citrus Aurantium Dulcis (Orange) Peel Oil*, Cymbopogon Martini (Palmarosa) Leaf Oil*  *Certified Organic Ingredients †Fair Trade Ingredients
WooBamboo Eco-Awesome Oral Care Tooth Brush I have used bamboo brushes before and I love the mission statement and how eco-friendly these products are.  I do use manual tooth brushes for special care ~ if I am using a charcoal powder, for example.  WooBamboo brushes are made from organically grown sustainable bamboo, so its brush handle is biodegradable, and it has high quality dental-grade tooth bristles. They are naturally anti-microbial, non-toxic, BPA free and lightly coated with natural Chinese white wax, while its packaging is made from recycled materials.  WooBamboo partners with Operation Brush, where toothbrushes are donated to impoverished children around the world who don't have access to basic oral hygiene supplies.  WooBamboo can be also found at selected CVS stores ~ I will have to see if they are at my local CVS's!  They also make pet toothbrushes as well.  RV $3.95 (the $7.90 cost is for a two-pack)  Promo Code: Save 25% at WooBamboo with code yogi2525 and 25 cents goes to children in need.  Expires 12/31/2017
Description:  Why Bamboo Toothbrushes:   There are over 7 billion people in the world, most of which brush their teeth with a typical plastic toothbrush. What is overlooked, however, is that most of these people go through several toothbrushes a year, equaling an incredible amount of waste in our oceans and landfills. Your WooBamboo won't be one of them!   The bamboo used is completely sustainably harvested. As you may know, bamboo is known to grow over 4 feet a DAY in the right conditions. Pretty awesome. Also, pandas don't eat Moso bamboo, so we're not taking away from the pandas' food sources.  Our toothbrush handles are completely biodegradable, so they won't last forever in a landfill like every other brush! You can literally recycle the bristles, then throw the handle into your compost pile, where it will decompose naturally!  Not only is this toothbrush excellent for the environment, plants, and animals, but it's also good for you! The WooBamboo toothbrushes all feature high quality dental grade bristles, just like your plastic toothbrush at home. You'll get the same clean, healthy teeth without any of the waste.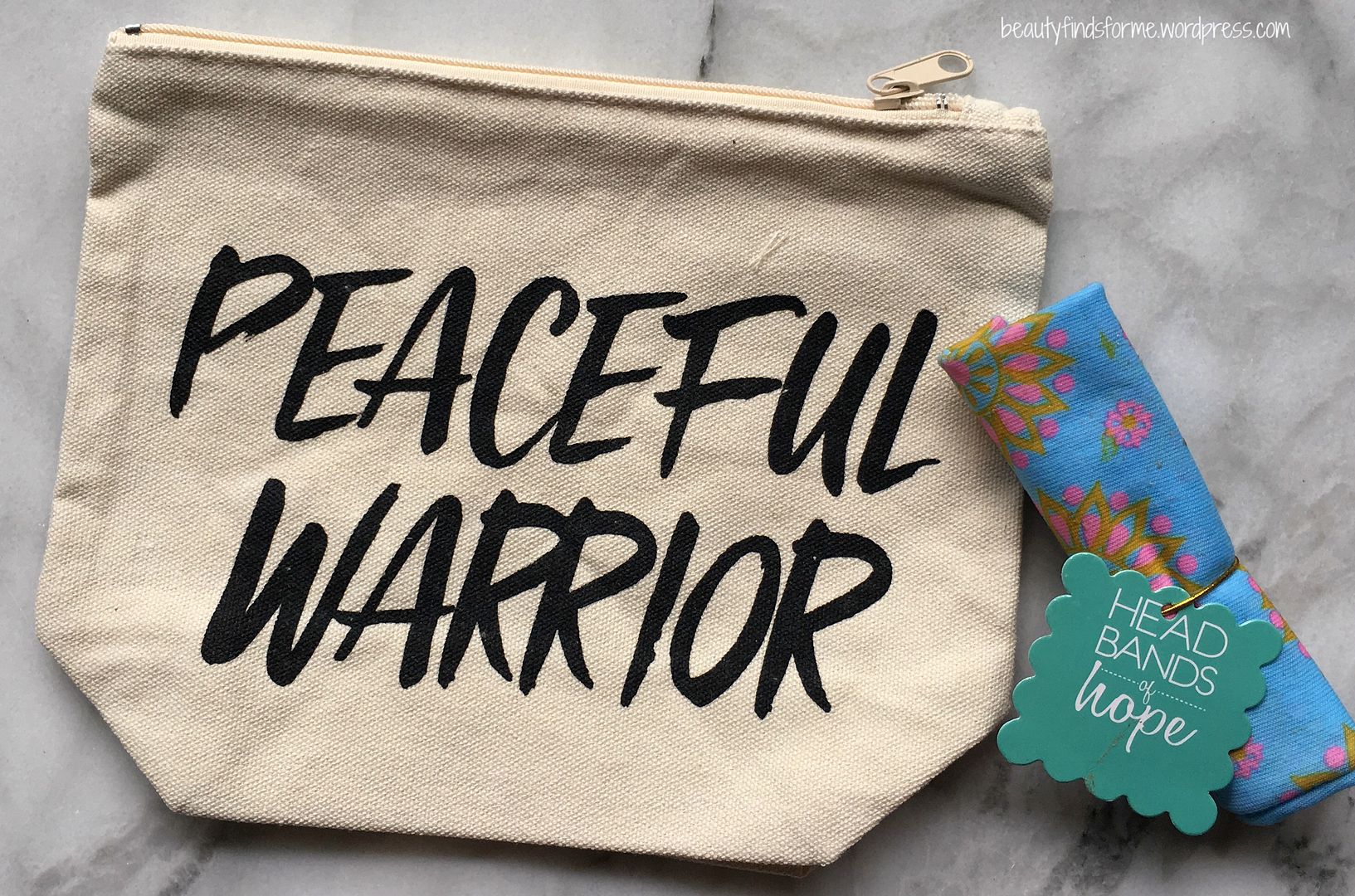 MyTat Peaceful Warrior Pouch This is a nice canvas pouch for my makeup and other skincare items, very large and roomy at 9 x 7 inches with a 3 inch bottom gusset.  This is a custom design by Trailer Boutique and myTat supports not-for-profit fundraising and brand awareness.  RV $25.00  Promo Code: Save 15% at myTat with code yogisurprise15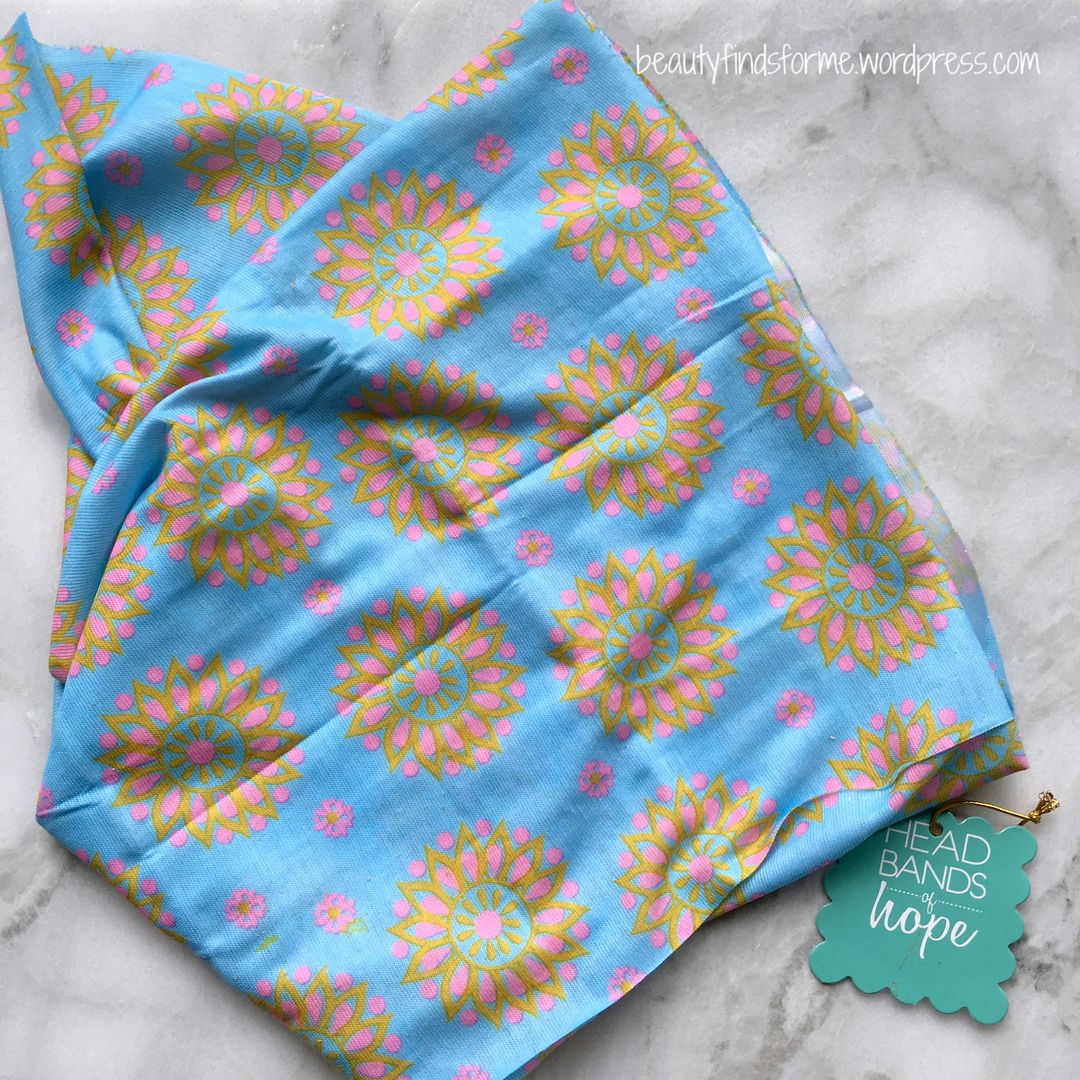 Headbands for Hope Sky Flower Tube Turban  I was not sure if I would like this headband but I totally am in love with it! This is a beautiful blue headband with pink-gold mandala-like flowers.  This is a tube turban, so it is wider and more comfortable than a regular headband.  I have already purchased a couple of new designs as these are fantastic, I love mine and wear it all the time.  This is made from 100% polyester, seamless and is  10 inches across and 20 inches high.  You can wear it like a traditional headband by rolling it up  or unroll to cover more area on your head and cover your ears. For every tube turban sold, Headbands for Hope donates one to a child with cancer.  RV $18.00 Promo Code:  Save $5.00 off your first purchase at Headbands for Hope with code FIRSTTIMER

Bonus Item: Yogi Surprise Yoga Sequence Series Card:  Giving Back: Connect with yourself wholly in this sequence to inspire the desire to give back to people, organizations and groups that are meaningful to you.  Yogi Surprise always has a sequence card in every lifestyle box with poses and positions that reflect the theme of the box.

Despite my late unboxing, this is a fantastic box!  I do think that Yogi Surprise's prices were just all over the place this month, as I found the tea to be only $10.00 and the tooth brush to be 1/2 the price, but for the most part, all of the value was there.  The headband is fantastic and my favorite item in the box and I do love the orange scented hand cream as well.  All of the items are great in here and I love how Yogi Surprise curated a box with brands that give back to some very important causes.  This box has a retail value of almost $77.00. Do you subscribe to Yogi Surprise Lifestyle Box?  What was your favorite item this month?

If you are interested in signing up to Yogi Surprise for either their Lifestyle or Jewelry box, I would love it if you used my referral link   They are currently running a 10% off special for the first month, no promo code needed.   Check out the spoilers for next month's boxes below!    If you sign up for the Lifestyle box, use YOGILOVE to get 15% off the life of your subscription!

Next Month Spoilers

If you sign up now, you get a free gift worth $20.00 ~ Chakra Healing Stones  (these came in the May box ~ see my unboxing here)
Jewelry Box   True Purpose Mala  Our True Purpose Mala will inspire you to celebrate your journey through your practice as we look forward to National Yoga Month this September. Featuring stunning African turquoise and garnet beads, this mala will help you stay grounded and connected to the Earth as you welcome positive change and growth in your life. Its evolutionary power will support your meditation practice to help you become your true self throughout the upcoming seasonal transition from summer to autumn and beyond. Retail Value: $82
Lifestyle Box   Yoga to the Rescue Book Learn how to harness the power of yoga by tailoring your practice in ways that keep you looking and feeling as young as ever, regardless of your age. Whether you're dealing with pain and fatigue, or wrinkles and varicose veins, this book will teach you everything you need to know about giving yourself an ageless beauty boost. Retail Value: $15
[ all descriptions in italics from linked website.  this blog post contains referral & affiliate links ]