Flickerbox is now starting to change it up with their boxes.  In addition to their monthly theme and have a variety of different vendors contribute to that theme, every once in a while they will pick one vendor and do a spotlight on them.

image credit armadilla wax works
Let's dive in ~ this month's Spotlight Vendor is Armadilla Wax Works ~  this brand is a Flickerbox favorite and the company is located in Flagstaff, AZ.  They are known for their layered candles, double fragrances and floating floral candles and have been artisan candles since 1971.  All of their candles are made in the USA in their workshop in north central Arizona.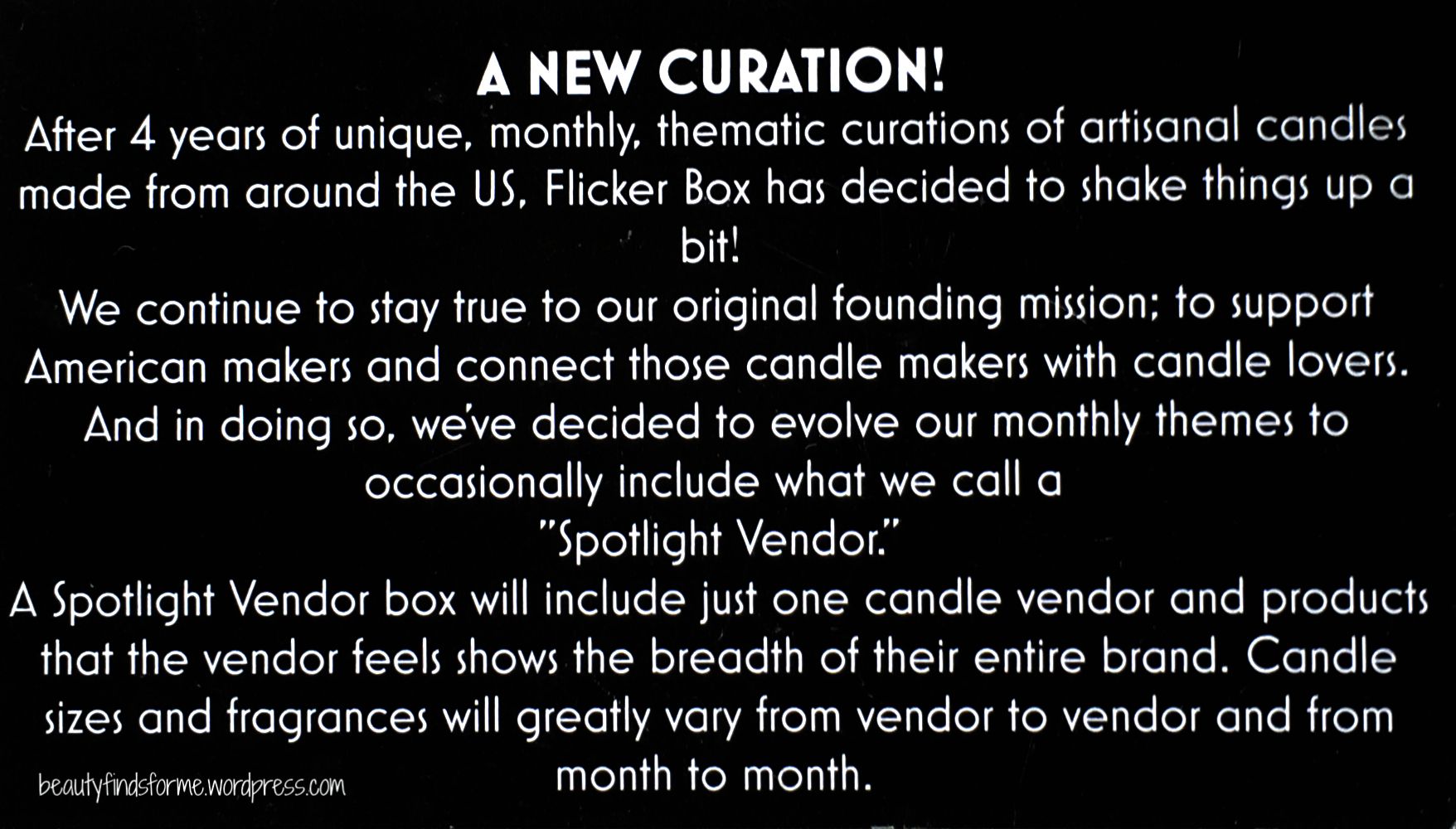 What is Flicker Box?
Flicker Box is inspired by a love and appreciation for handmade candles. We believe that people appreciate products produced by quality artisans made in the United States. We want to connect candle lovers with people who love to make candles. Each Flicker Box contains a variety of artisanal candles made from candle artists from around the United States. We share their story and ship subscribers a delightfully curated box right to their doorstep. Flicker box can be purchased as an automatically-renewing monthly subscription or 3, 6, or 12 month term subscriptions.  from myflickerbox
Information Card
Another View Starting on the left:  Lemon Drop, Sweet Pea & Sage, MinTea Lavender, Floating Sunflower

Lemon Drop,  Sweet Pea & Sage and MinTea Lavender These three 3 x 3 inch pillar candles are from the Double Fragrance collection and are folks who love a rich, strong scent!  These candles just a single color, based on the scent and has a nice rustic finish ~ pebbly. They are poured with a special wax blend that is designed to have twice the fragrance ~ hence the name Double Fragrance ~ than their other candles while cleanly burning.   The bright lemon yellow Lemon Drop  (aptly named) has a nice pure lemon scent whereas the spring green Sweet Pea & Sage is a complex scent of a delicate floral with a herbal twist.  My favorite is MinTea Lavender, a beautiful aqua shade, where I really can pick up the lavender scent with just a hint of mint.   3 candles   ~ Armadilla Wax Works has a special that you can purchase 3 of these candles for $25.00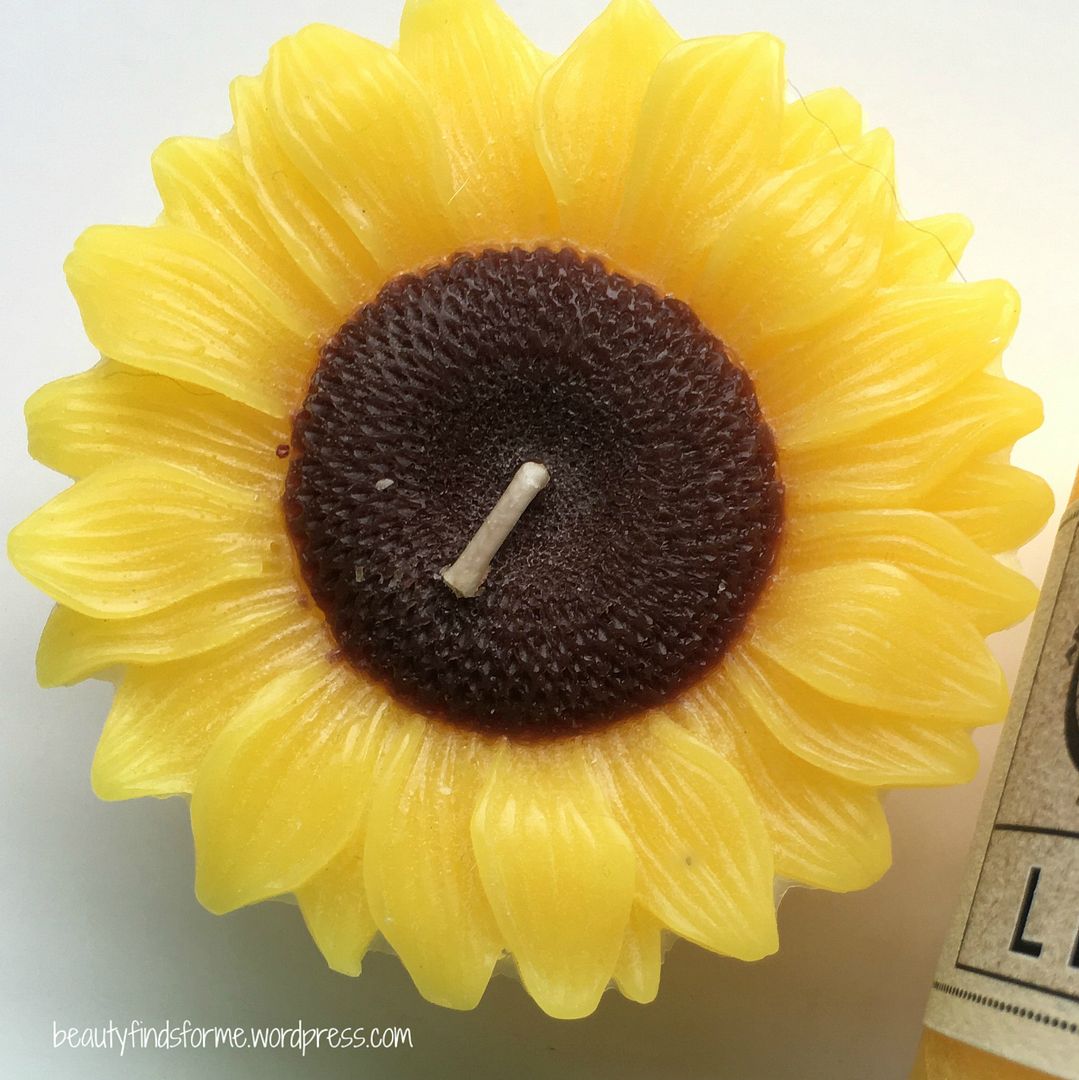 Floating Sunflower Candle ~ this is a handcrafted candle that is one of their more popular candles year round.  You just add this candle to a dish or glass cylinder, accent the bowl with glass pebbles or river stones and light the candle!  It is quite pretty and I have seen people put floating candle in pools or lakes.   This is unscented and has a burn time of 7 hours.  3 inches RV $3.60 
This month had some nice scents in it with the Double Fragrance candles ~ I especially love the MinTea Lavender and Sweet Pea & Sage.  I also love the colors of the candles and the sunflower candle is a nice surprise too ~ I will gift this, as I don't really use floating candles.  This box's value is $28.60 and I paid $34.00 for my box, as I am on a month to month subscription and I am grandfathered in, so my shipping is included in the price tag.  I have very low expectations with Flickerbox, but this month's value is very low indeed. I always mention this in each review, as I think you should have the proper expectation if you subscribe to FlickerBox.  I never expect to have a huge value placed on it.   Shipping costs for candles is expensive and the products are made by artisans, making their eco-friendly candles with their own scents and hand crafted, it is a great deal.  Also, some months are well over $40.00 in value, so it does even out in the end.

Flickerbox also has a store, where you purchase candles that were featured in their past boxes.

Do you subscribe to Flickerbox?  What did you think of this month's candles?  Let me know in the comments below!
Sneak Peak for Next Month
https://www.instagram.com/p/BX5pd_0A-mM
September's box theme is 'Open Bar' with bourbon vanilla, merlot, and mint julep🍾🍷🥂 featuring all Flicker Box favorite vendors Bridge Nine Candles, Ecoc and Leco and Lit And Co Candles.  Looking forward to that theme!
[ descriptions in italics from the product linked website ]