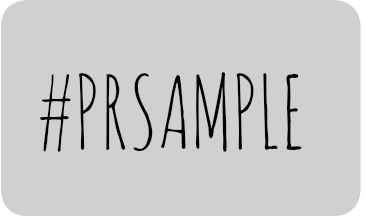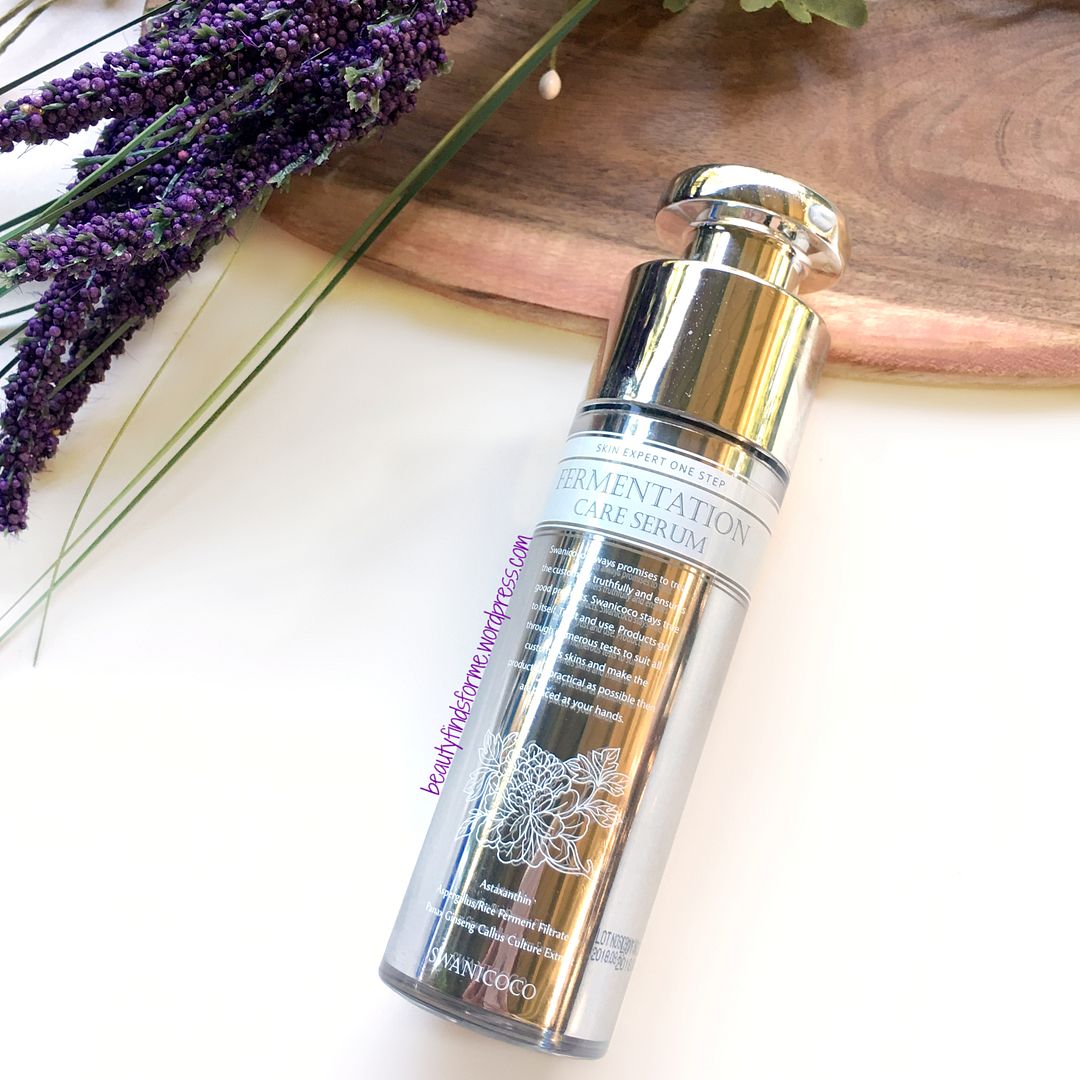 Swanicoco is a South Korean cosmetics company that began making naturally fermented soaps back in 2005.  They have been producing eco-friendly skincare, makeup and body care products, using their trademarked anti-aging fermentation process.  Swanicoco uses organic herbal and botanticals from all over the world ~ Korea, Europe, Australia and United States, and these ingredients are selected to create their products, which range from Pore Care to Anti-Aging Care lines.  The brand name combines elegance ~ swan ~ with natural botanical ingredients ~ coco.    
I received items from Swanicoco, tailored to my skin type and my issues and I have reviewed several items already.   I am focusing on brightening and refining my skin texture, with products ranging from an AHA peeling cream to targeted brightening ampoules. Many thanks to Kevin, who patiently worked with me to come up with a routine and answering all of my questions.  I chose the Fermentation Serum, based on Kevin's recommendation and also Vanity Rex's review on the brightening aspects of this product.

Skin Type/Concerns:  Oily, blemish prone skin with aging concerns  ~ fine lines and wrinkles around the eyes, hyper-pigmentation
image credit swanicoco
Swanicoco Fermentation Care has a complete line of products, including the toner, serum, emulsion and a cream.  I have read reviews on this skincare line and the standout product seems to be the serum, so based on that, I was very interested in only trying this item.  I used this serum in both day and night time routines.  This serum will help address the following concerns

Soothe skin quickly

Blemish and hyper-pigmentation care

Reduce the appearance of wrinkles and improve overall skin condition

Smooths and improves elasticity of skin
image credit swanicoco
Oh there are SO many ingredients packed into this serum, that I will just focus on a few

Aspergillus/Rice ferment filtrate is full of amino acids, over a 100, organic acids, saccharides, vitamins, nucleic acids and esters. Fermented rice filtrate helps keep your skin clear and moisturized, while helping to even out your skin tone by reducing hyper-pigmentation. Due to its own natural alcohol content (think sake), it is an astringent and also contains antibacterial properties to help control blemishes.
Peptides! Peptides are anti-aging proteins that will help stimulate collagen product, while repairing and renewing your skin.  This serum contains 4 peptides ~ rh-oligopeptide-1 is an EFG and it is a Nobel Prize winning ingredient.  This anti-aging peptide is a single chain protein composed of 53 amino acids and it is found naturally in our bodies, but it does decrease as we get older.  Adding it to skincare products will help strengthen and repair the damaged skin barrier, while smoothing skin. caffeoyl tripeptide-1 is a natural phytochemical-fused peptide made from caffeic acid (coffee) and is effective for anti-aging skincare, as it has strong antioxidants that will provide anti-inflammatory and rejuvenating benefits  and is a very stable peptide.  sh-octapeptide-4 is a synthetic neuropeptide EFG , made from the fermentation of E.coli and containing 3 amino acids for anti-aging, healing and regeneration of your skin. Nano encapsulated nicotinoyl tripeptide-1, also known as the Vitamin Peptide, is derived from Niacin (vitamin B3) ~ known for its brightening properties, it is a strong anti-oxidant that combats free radicals with anti-inflammatory and cell detoxifying benefits. 
More fermented goodness in ginseng, soybean, mistletoe and more ~ ginseng callus culture, lactobacillus/soybean, saccharomyces/viscum album, saccharomyces/imperata cylindrica, saccharomyces/asparagus cochinchinensis root/lycium chinense root/ophiopogon japonicus root/panax ginseng root/poria cocos/rehmannia glutinosa root ~ fermented ingredients can penetrate deeper into your dermal layers and are highly moisturizing, with anti-bacterial benefits. 
A couple of strong brightening ingredients are included in this serum ~ Astaxanthin is an anti-oxidant, anti-inflammatory carotenoid, usually harvested from marine algae. Asataxnthin is supposed to be the latest new thing in antioxidants.   A clinical study performed at Creighton University displayed that astaxanthin destroys free radicals 6000 times better than vitamin C, 800 times more than CoQ10, 550 times more than vitamin E and green tea extracts, 75 times more than Alpha Lipoic Acid and 20 times more than beta carotene (source)  Other studies have shown that it can reduce melanin (which causes hyper-pigmentation) by about 40% and over time, will fade hyper-pigmentation (source).   Niacinamide is a powerful antioxidant that acts as an anti-inflammatory, improves your skin elasticity, enhance the skin barrier function and also it helps to even out skin tone and reduce post-inflammatory hyper-pigmentation.

Sodium hyaluronate is a humectant that bonds water to keep skin hydrated. It is a natural substance found in the human body and it made up of amino and uronic acids, and helps retain 100 to 1,000 times its own water weight in our skin cells;   Aloe is a powerful moisturizer that doesn't leave your skin feeling oily or greasy. It soothes, treats inflammation, helps speed up skin healing and also has a plethora of antioxidants ~ beta-carotene, Vitamin C and Vitamin E, which help improve your skin's firmness and keeps your skin moist and hydrated.  It also contains over 75 different nutritious ingredients, including minerals, enzymes, amino acids, salicylic acid and much more.
Ceramides are lipids (fats) which are important in helping to repair and protect your moisture barrier. They will  keep your skin hydrated and plump as they retain water. Ceramides are found naturally in your body and you lose the ability to produce as you age, so adding them to skincare products helps with anti-aging
Ingredients: Aspergillus/Rice Ferment Filtrate, rh-Oligopeptide-1, Ginseng Callus Culture Extract, Astaxanthin, Sodium Hyaluronate, Butylene Glycol, Caffeoyl Tripeptide-1, sh-Octapeptide-4, Nicotinoyl Tripeptide-1, Lactobacillus/Soybean Ferment Extract, Saccharomyces/Viscum Album (Mistletoe) Ferment Extract, Saccharomyces/Imperata Cylindrica Root Ferment Extract, Aloe Barbadensis Leaf Extract, Ceramide EOP, Saccharomyces/Asparagus Cochinchinensis Root/Lycium Chinense Root/Ophiopogon Japonicus Root/Panax Ginseng Root/Poria Cocos/Rehmannia Glutinosa Root Ferment Filtrate, Niacinamide, 1,2-Hexanediol, Saccharomyces/Lycium Chinense Fruit/Rehmannia Glutinosa Root/Cuscuta Chinensis Fruit/Cistanche Deserticola/Zanthoxylum Piperitum Fruit/Chrysanthemum Morifolium Fruit/Poria Cocos/ Cinnamomum Cassia Ferment, Polysorbate 60, Allantoin, Carbomer, Hydrolyzed Collagen, Arginine, Magnolia Kobus Bark Extract, Camellia Sinensis Leaf Extract, Scutellaria Baicalensis Root Extract, Rhus Semialata Gall Extract, Polygonum Cuspidatum Root Extract, Saccharomyces/Angelica Dahurica Root Ferment Extract, Glycyrrhiza Glabra (Licorice) Root Extract, Adenosine, Rosmarinus Officinalis (Rosemary) Leaf Extract, Chamomilla Recutita (Matricaria) Leaf Extract, Citrus Grandis (Grapefruit) Fruit Extract, Thujopsis Dolabrata Branch Extract, and Rosa Damascena Flower Oil cosDNA analysis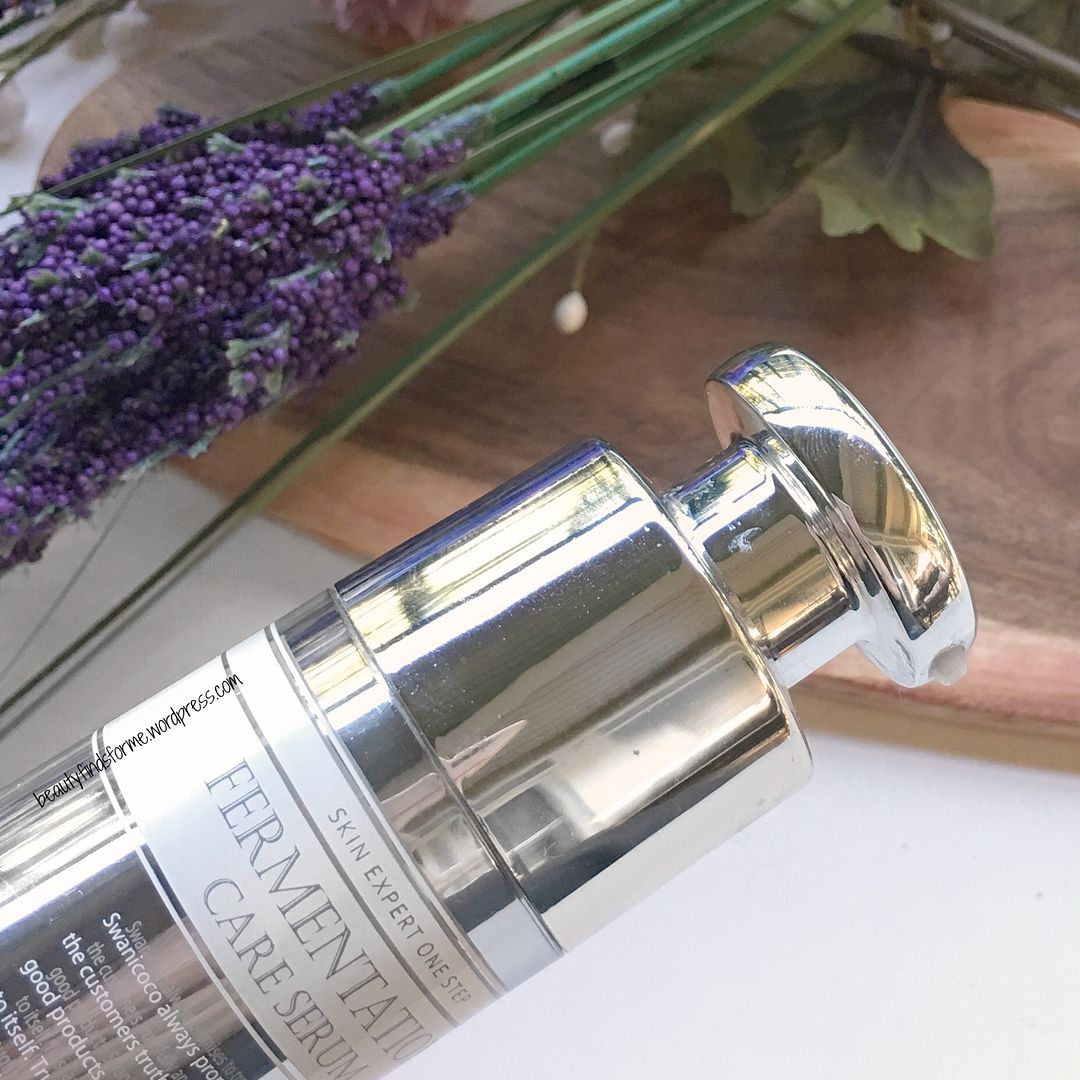 The serum is packed in a tall silver bottle that is so reflective that it is difficult to capture it without it reflecting everywhere!  It reminds me of old time-y mercury glass, but don't worry ~ this is made of plastic, so you don't need to worry about it breaking if you drop it.  This has an airless pump with a uniquely shaped flat round cap ~ it does a nice job dispensing a good dollop of a milky white serum.  Now, one of the first things that happened was that the cap did pop off.  I immediately checked Vanity Rex's review to see if she experience this issue and she had ~ this is normal, I guess.  I just snapped it back on and it worked fine.
As I mentioned, the serum is a milky white gel, and despite what I had read, I do not detect a scent with this product.  I had read that this had a strong scent, but I honestly cannot smell anything with it!  The serum spreads easily and absorbs quickly ~ don't use too much, though.  Its rate of absorption won't be as quick if you apply too much too quickly.


This does increase my moisture levels by 24% and it decreases my oil levels by 42%, so I was really happy that it worked on my oily skin.  Most of the reviews I have read have been for drier skin types than mine own, so I was initially concerned this might be too rich for me.  As it turns out, this formula seems to work on many different skin types.

So, how did this work on my skin?  I have been using this for a couple of months now, along with Swanicoco AHA Peeling Cream at night and Swanicoco Sunscreens during the day ~ reviews coming soon ~ and I have to say this is a very soothing and hydrating serum.  It doesn't clog my pores and newer blemishes seem to fade faster without long lasting scarring.  I do not notice an immediate brightening, but I do notice a subtle, long term effect with healing and rejuvenating my skin
Final Thoughts
It took me a while to warm up to this serum from Swanicoco ~ the results have been so gradual, that I didn't think that this serum was doing much for my skin.  It wasn't until I went thru my skincare journal that I realized that this product is a sleeper success for me. It is a solid key player in my skincare routine and the only down side with this serum is that it is SO expensive ~ for 30 mL, it sells for $62.00, making this quite pricey.  However, I have been using it for 2 months now and I have found that one pump is good for my whole face, so it does last a while.  It plays well with my other skincare products, doesn't clog my pores and helps heal my skin ~ however, please note ~ this is not an oil controlling product.  If you have oily skin, this will not help control oil, but it will help heal blemishes.  I make sure to use a mattifying product to help control my oily sheen.

Have you tried any Swanicoco products?  Which ones and what did you think about them?  Let me know in the comments below as I would love to read your thoughts!
Where to Purchase
Currently, W2Beauty is the authorized retailer and they do ship internationally.  They carry a huge line of Swanicoco ~ not just the skincare lines, but body and makeup lines as well.
W2Beauty is very generous with free samples, which vary depending on availability.  The more you order, the more (and bigger) freebies you get.  FREE shipping for purchases $60.00+ OR if you include any products from Benton (which is amazing, check out my reviews here), Klairs (reviews here) ~ the supple toner is fantastic ~ and Troiareuke.  If under $60.00, there is a one flat rate fee ~ for example, for USA, it would be $12.50.  You can check out the rates here.
What is Next
I was fortunate enough to get a second PR package from Swanicoco that will be targeting my need to improve and brighten my skin tone, reducing hyper-pigmentation. From the lower left and going clockwise

Kevin also thoughtfully added two sunscreens for me to try as I am going a bit hard core with the AHA product ~ Daily UV Shield Perfect Sun Block Cream SPF50+ PA+++  with green tea and Bio Cool Mint Sun Gel SPF50+ PA+++.   I am currently using the Fermentation Serum, AHA 10% Peeling Cream and Bio Cool Mint Sun Gel.  I will be releasing the sunscreen reviews this week and I will start using the two Revol products starting in September.  I am still using the AHA peeling cream and hope to have that review completed by the end of September, as I really want to provide a longer test period for this item.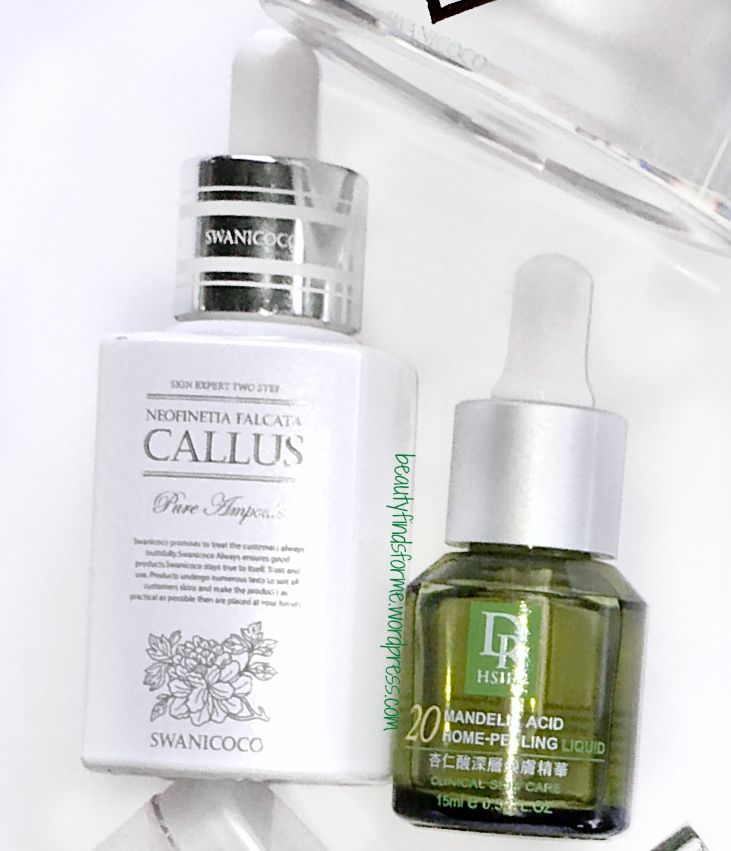 I also had purchased Swanicoco Neofinetia Falcata Callus Pure Ampoule on my own and that was languishing until I started using it with Dr Hsieh 20% Mandelic Acid Peel ~ I will review those two products together in the near future as I feel that they really work well together to get the best results.   I do not use the AHA 10% Peeling Cream nightly, as it is very intense on my skin. I use it a couple of times a week and then on 4 other nights, I split the time between Dr Hsieh 20% Peel with Swanicoco's Neofinetia Falcata Callus Ampoule and Pixi Overnight Glow Serum with 10% Glycolic Acid (affiliate link).  As you can tell, I am getting really serious about trying to lighten some of the sun damage that I have on my face. I am tired of seeing these blotches and am hoping for long term results with these products.

[ disclaimer: products received for review purposes. contains affiliate links.  all opinions are my own & unbiased.  ]