Last summer month before fall… August's Yogi Surprise Jewelry box is here! What is Yogi Surprise?   

Yogi Surprise Jewelry Box
2 handmade pieces + 1 organic treat

Handcrafted in Bali. Fair Trade

$65+ retail value in every box

$24.95/month + free shipping
The Jewelry box will contain two handcrafted yoga inspired jewelry pieces, that are fair trade, sustainably harvested materials, nickle-free, lead-free and cadmium free.  These are made in Bali, Indonesia and 10% of all proceeds will be given to education the Balinese families to make these beautiful pieces.   It also contains an organic chocolate treat.

This month's theme is "Giving Back" ~ A heightened sense of passion and purpose is what drives us to live up to our fullest potential during the summer season. As we enter late summer, we have the opportunity to reflect upon our actions to determine how we can benefit the world around us while we continue to strive toward reaching and fulfilling our personal goals The universal law of exchange states that by giving more to others, we open ourselves to receiving more of what our hearts desire. For the month of August, we're bringing you two unique summer  jewelry pieces that will help align your heart with the law of exchange to attract more abundance. Adorned with bright citrine beads, these pieces will help you open your solar plexus chakra – your center of will  May your spiritual fire burn bright in a way that naturally touches the spirits of others as you work toward your own goals.
Informational Card
Citrine Basket Necklace Ohh, this is so my style!  This is a citrus inspired pendant cradled in a woven basket made of a deep dark chocolate brown string.  This has antiqued bronze beads and a simple tassel finishes the necklace.  The necklace is a 34 inch long brown faux suede cord, then the 1 inch rough-cut citrine-in-a-basket pendant with a 3 inch tassel with bronze beads.  In total a 37 inch long necklace, which you can double around or untie the cord to shorten.  I love the long length myself.  So fall like and I love the neutral colors. RV $35.00

Citrine: Solar Plexus Chakra

Citrine doesn't contain negative energy, but it transmutes and grounds it, so it is very much a protective stone for the environment.  It changes negative thoughts to positive thoughts and feelings and it a crystal that nevers needs to be cleared or cleansed after use.  Natural Citrine is a premier stone of manifestation, imagination, and personal will. Carrying the power of the sun, it is warm and comforting, energizing and life giving. It stimulates the chakras like the sunlight of spring, clearing the mind and stirring the soul to action. Its frequency awakens creativity and imagination, and sustains the process of transforming dreams and wishes into tangible form. With its pure yellow energy, Citrine encourages fullness of life, fresh beginnings and new pursuits. source
Citrine Bracelet  This is a beautiful matching bracelet with bright honey colored citrine beads with darker wood beads and textured antiqued bronze spacer beads.  They needed more spacer beads.  This is so tight on my wrist. This is absurd ~ last month, the bracelet was tight and now, this month's offering cuts off my circulation on my wrist! I don't have a HUGE wrist – it is 6 1/2 inches, so I would like a nice 7 to 7 1/4 inch bracelet. I would love a larger size, as I stack my bracelets and the more you have, the larger they have to be, but I would be happy with a bracelet THAT FITS. I am upset as I love the shades but I cannot wear this. Once again, Yogi Surprise NEEDS TO OFFER an option on the bracelet sizes if they are going to wildly swing on the wrist sizes.  You cannot easily restring from small to large ~ missing beads and you need to purchase the elastic string to do so, whereas larger to smaller just needs to snip the bracelet, remove a few beads and then re-knot.  sigh.  RV $29.00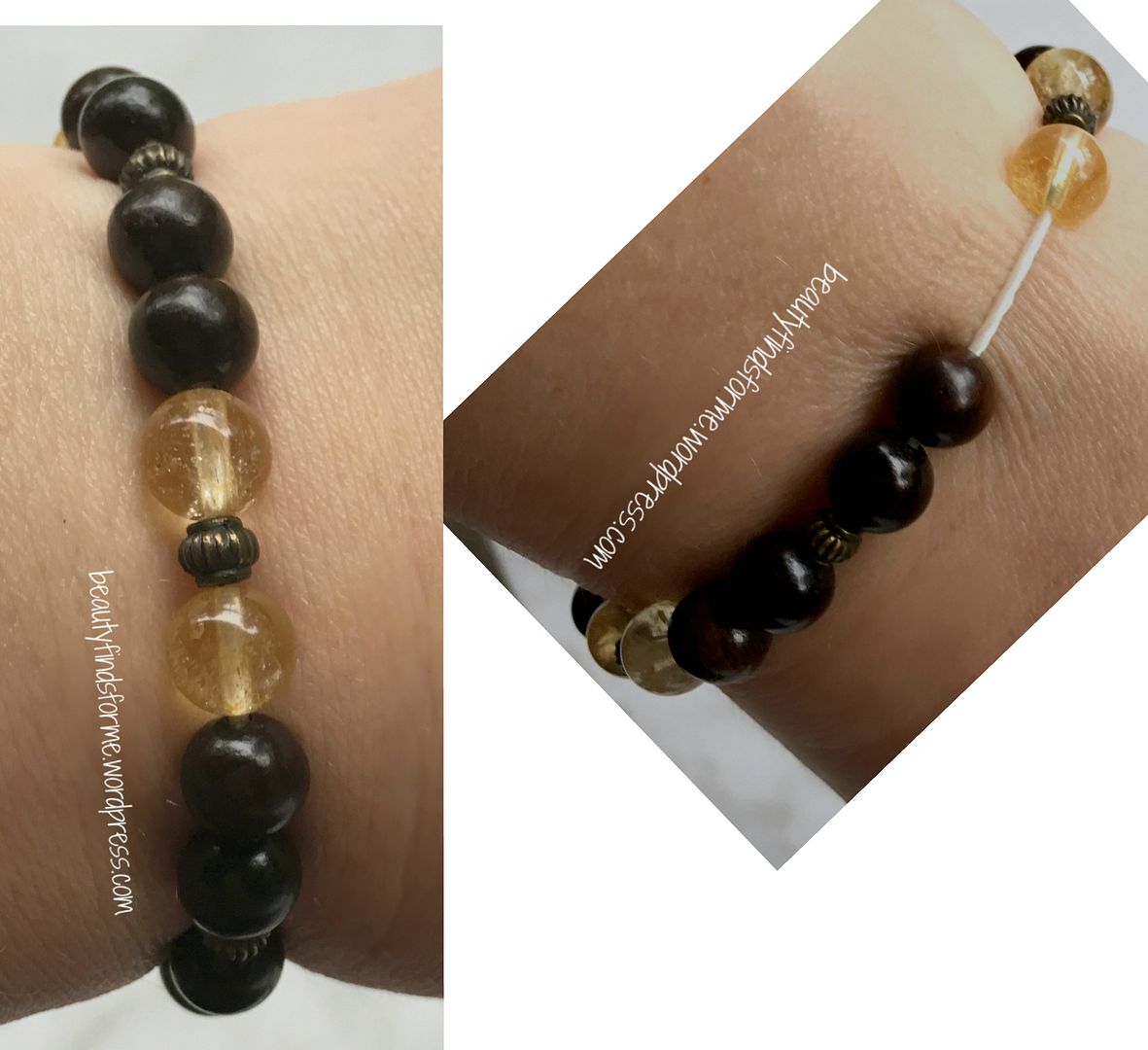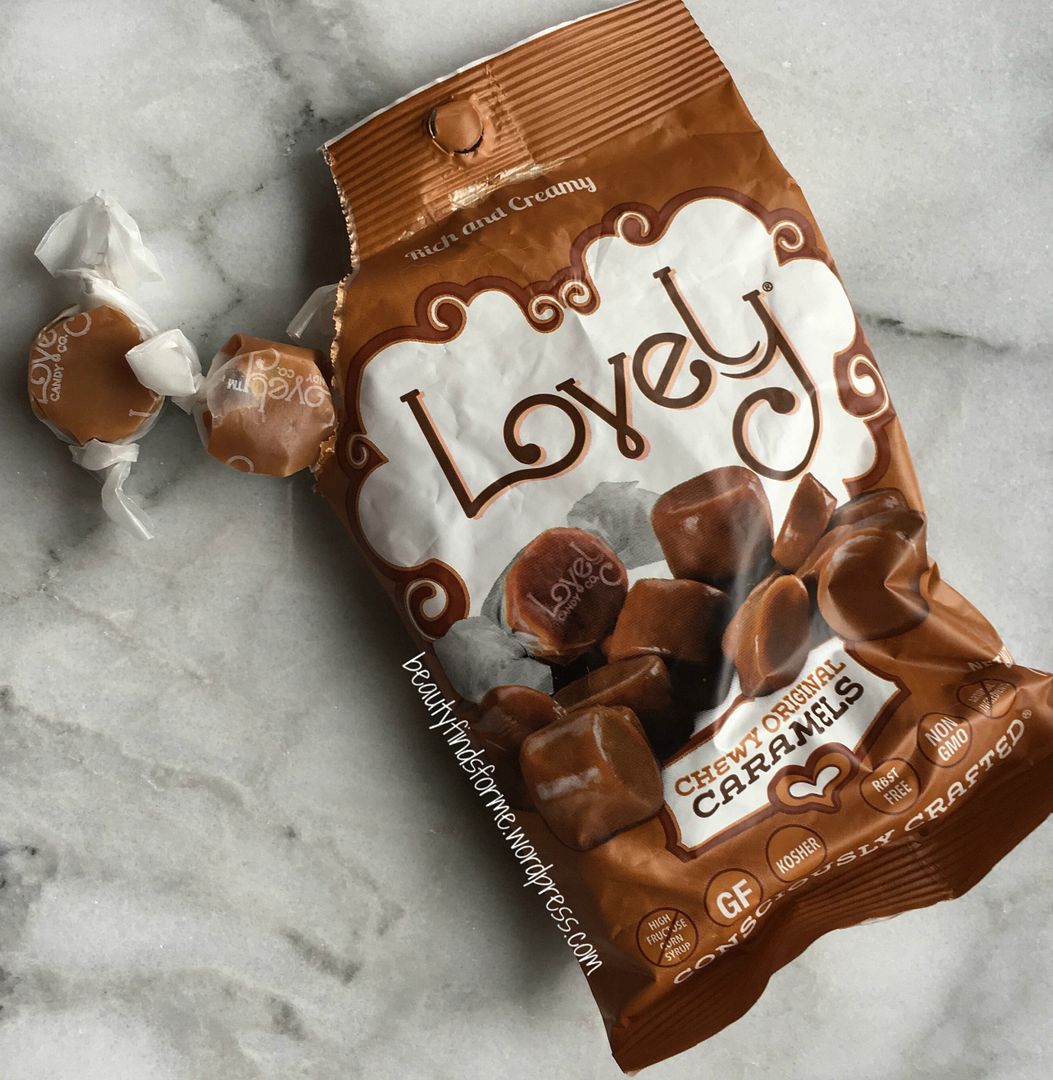 Lovely Caramels I have tried their fudge candies and they are so good ~ so are these ~ very much a rich vanilla buttery taste!  Made with  all natural ingredients and these don't stick to my teeth!  These are dairy free, non GMO, soy free, gluten free, no HFCS, Kosher and GF cerified and made in the  USA.   2 oz bag (about 11 candies)  RV $2.00 
Ingredients: Brown rice syrup, sweetened condensed whole milk (milk, sugar), butter, dried cane syrup, molasses, vanilla and sunflower lecithin

Nutrition Information: Serving Size: 4 pieces (40g) Serving Per Container: about 5  Calories: 160  Calories from Fat: 50  Total Fat: 6g, (9% DV)  Saturated Fat: 3.5g, (18% DV)  Trans Fat: 0g  Cholesterol: 15mg, (6% DV)  Sodium: 135mg, (6% DV)  Total Carbs: 25g, (8% DV)  Fiber: 0g, (0% DV)  Sugars: 17g  Protein: 1g  Vitamin A 4% , Vitamin C 0% , Calcium 4% , Iron 0%
Once again, I cannot wear the bracelet this month and I am now beyond sad but a bit ticked off. I have giving Yogi Surprise feed back over the years to create a profile for subscribers.  You aren't going to make everyone happy with a stretchy bracelet, so why not let people select a size range?  I don't understand why it cannot be done. Now, I have been told that next month will be larger, so I am hoping!!  I love the necklace a lot and I would love to see more like this style in the future.   This box has a Yogi Surprise retail value of $66.00~  I go by the value of the pieces to me and once again, I feel that this box is worth it just for the necklace.  Part of the proceeds from this box will go back to the local artisans that made these items and help educate their community.

Do you subscribe to Yogi Surprise?  Which box do you get and what was your favorite item this month?  Let me know in the comments below, I would love to read them 🙂
If you are interested in signing up to Yogi Surprise for either their Lifestyle or Jewelry box, I would love it if you used my referral link   They are currently running a 10% off special for the first month, no promo code needed.   Check out the spoilers for next month's boxes below!    If you sign up for the Lifestyle box, use YOGIFRIEND to get 20% off the life of your subscription!

Next Month Spoilers



If you sign up now, you get a free gift worth $20.00 ~ Chakra Healing Stones  (these came in the May box ~ see my unboxing here)
Jewelry Box   True Purpose Mala  Our True Purpose Mala will inspire you to celebrate your journey through your practice as we look forward to National Yoga Month this September. Featuring stunning African turquoise and garnet beads, this mala will help you stay grounded and connected to the Earth as you welcome positive change and growth in your life. Its evolutionary power will support your meditation practice to help you become your true self throughout the upcoming seasonal transition from summer to autumn and beyond.  Retail Value: $82
Lifestyle Box   Yoga to the Rescue Book   Learn how to harness the power of yoga by tailoring your practice in ways that keep you looking and feeling as young as ever, regardless of your age. Whether you're dealing with pain and fatigue, or wrinkles and varicose veins, this book will teach you everything you need to know about giving yourself an ageless beauty boost.  Retail Value: $15
[ all descriptions in italics from linked website.  this blog post contains referral & affiliate links ]