[ disclosure: product received for review purposes. contains affiliate links ]

June Peaches & Petals didn't come until the the first weekend in August!  It looks like they are shipping out later in the month, so I am playing catch-up with this review.  The theme this month is "Girls… We Get Stuff Done!",  focusing on products that will make your day Smooth Sailing!    Peaches & Petals is a subscription service that is focused on lifestyle and beauty products.  From their website  "Experience our world of fun, flirty and fashionable vintage-modern lifestyle in a hand-curated box delivered to you each month"  This box was sent to me for review purposes from Peaches & Petals and I thank them for their generosity as always 🙂  I am always appreciative of companies who look for honest feedback on their services.
Informational Card
Explanation on valuing products:  Since Peaches & Petals does not give a value on their products,  I normally will use the Retail Value from the vendor's site or an average if I find the product on multiple sites with varying prices.  Subscription boxes are usually basing their value on Retail Value, not Markdown or Sale Values.  With that in mind, you can usually find products for less, just like anything else in the marketplace.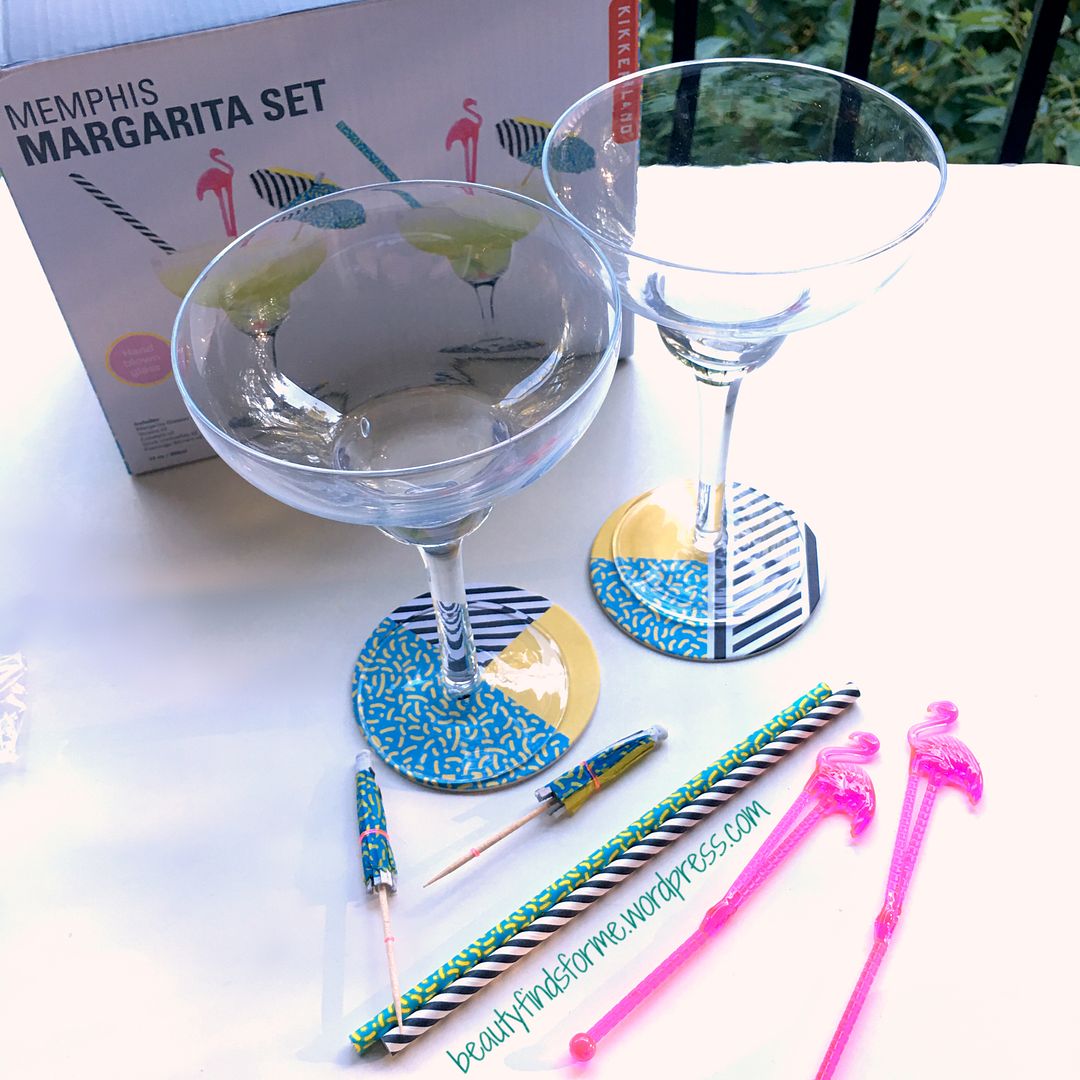 Kikkerland Memphis Margarita Set  Kikkerland is a Netherland company and I was shocked to see this in my box this month.  This is a full set of retro and kitcshy margarita glasses ~ not plastic, but hand blown glass.  The glasses were bubbled wrapped inside the box to prevent breakage.  There are also accessories to the glasses ~ Memphis designed paper straws and coasters, drink umbrellas and hot pink plastic flamingo stirrers.  All I need are limes, tequila, triple sec, ice and salt!  Plus chips and salsa 🙂  This is so cool and I do love it a lot ~ I am still blown away that these made out of glass!  These have a retail value of $29.99, but you can pick up another set for $12.99 
Bright Ideas Weekly Organizer by Tri-Coastal Design This weekly organizer is designed by Paula Scaletta and the cover is decorated in white and black polka dots with a floral design.  It opens up to display a ton of memo and sticky pads to help keep yourself organized ~ 240 sticky notes in 3 designs, 70 memo pad sheets, 70 weekly note pad sheets and 1 accordion envelope.  It has a hard front and back cover and measures 6 1/2 inches x 7 1/4 inches.  Designed in the USA  RV $12.00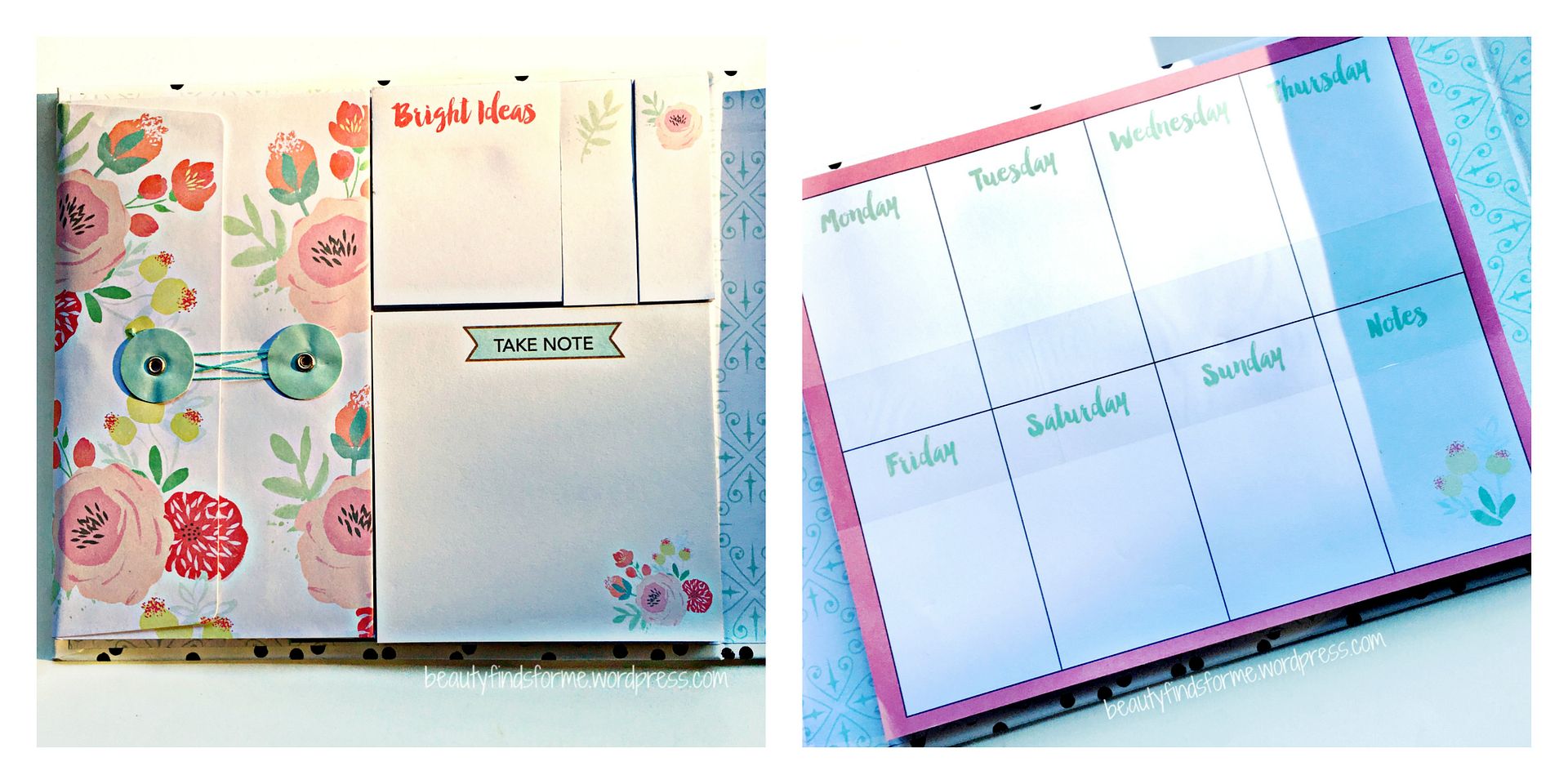 Outdoor Handheld Portable Water Cooler Mist Sprayer, Personal Atomizer in Blue Keep yourself cool and also your friends and pup!!  This is a mist sprayer that you fill with clean water and pump 10 to 15 times to pressurize.  Press the button and a fine mist of water comes out, instantly cooling you.   I love this has a strap handle on it, so it makes it easy to carry ~ this is great for whether you are sight seeing, at an amusement park, the beach or any place where it is hot and you need some hydration!  RV $16.99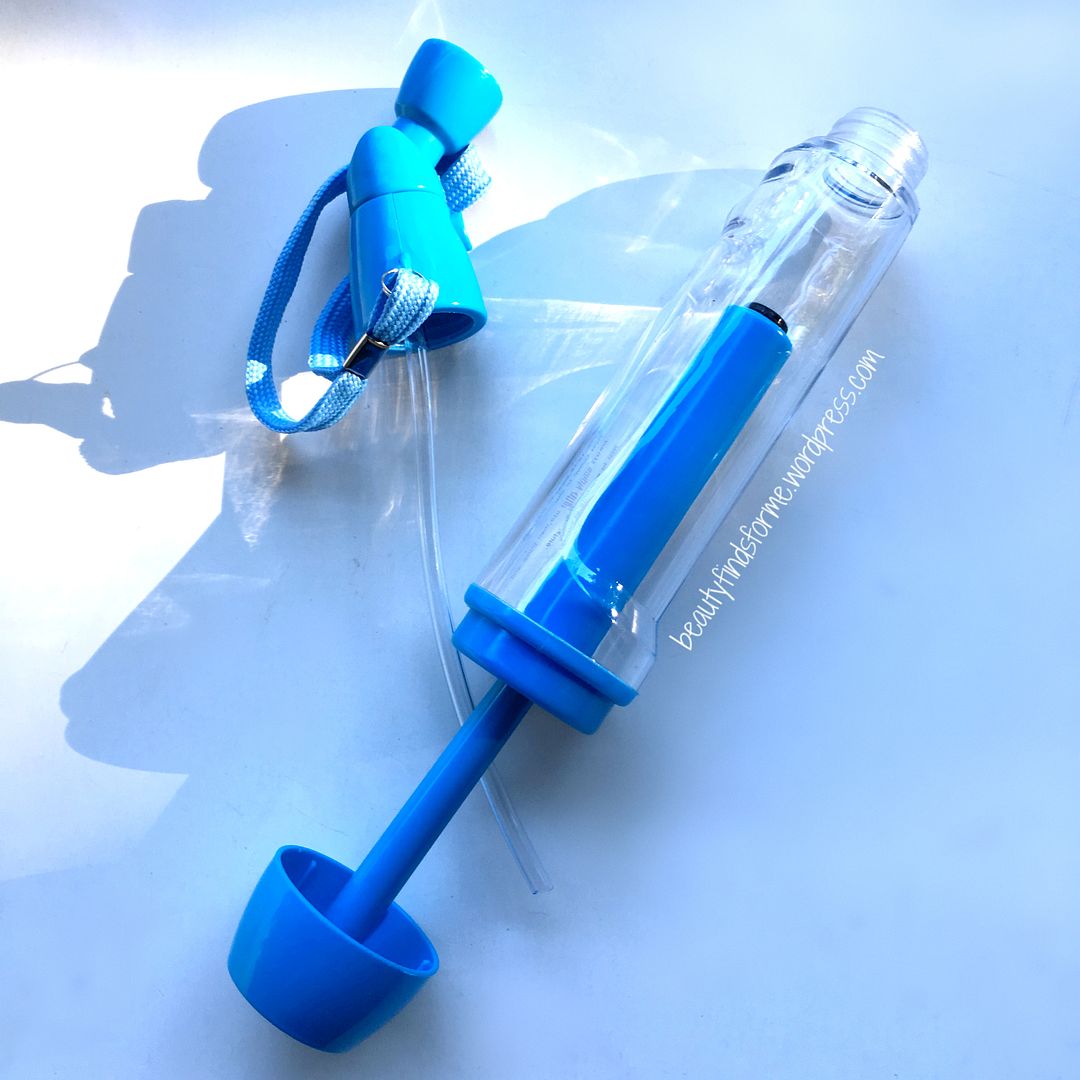 Paladone Café Lunch Box  with Chalk Pen  Designed in the UK, this cute green plastic lunch box has a black writable menu lid and using the chalk pen, you can write in the contents and who the lunch is for.  You do have to press down on the ben tip to activate it, but once activated, the liquid chalk flows smoothly.  It doesn't smudge once dry, and to remove, just use a wet cloth.  This is SO darn cute! I do bring my lunch into work many times, and this is a great size for a salad, fruit, sandwich and snacks.  I would not microwave this and I would only hand clean, due to the lid.   I love this items!  It measures 190 x 120 x 55 mm  RV $5.44
Description: Personalize your lunch and grab something straight from the specials with this café themed Chalkboard Lunch Box. Designed like a classic menu board, you can add in today's specialty and any extra treats for a professionally presented homemade lunch. A conveniently sized portable lunch box ideal for daily use, this is just the thing for work, college or school, or even for long commutes and journeys away. Smartly designed in the style of a restaurant or café specials menu, this is a quirky spin on the standard lunch box. The Chalkboard Lunch Box also comes with a chalk pen so you can customize your own menu and fill in the name of the lucky diner. A great personalized gift, perfect for the office Secret Santa or as a back-to-school necessity, the Chalkboard Lunch Box is a fun everyday essential, and adds a professional touch to lunch and snacks. The Chalkboard Lunch Box is part of the Noki range from Paladone. Noki aims to create humorous quirky gifts for everyday use at home. With a focus on being fun and functional, Noki gifts are a great way to liven up the kitchen, making everyday accessories more enjoyable.
Final Thoughts
This month is unusual but I will find uses for all of the items!  There is something in here for everyone, whether you need to cool down with a portable mister, drinks up with a really cool retro margarita set, take your snacks on the go or just write down your to-do lists.  Peaches & Petals monthly subscription boxes are $19.99 a month and that includes shipping.   This month, the box looks to be of  a retail value over $47.00.  Many thanks to Peaches & Petals to sending this me for review purposes ~ I always look forward to seeing what P&P puts in their boxes! Did you receive this month's Peaches & Petals box?  What was your favorite item and what do you think of it?

If you would like to subscribe to Peaches and Petals, I wold love it if you used my referral links!

[ products were received complementary for review purposes.  All opinions are my own and are unbiased.   ]
[ Blog post contains affiliate links and referral links. Descriptions in italics from linked site ]
Save
Save
Save
Save