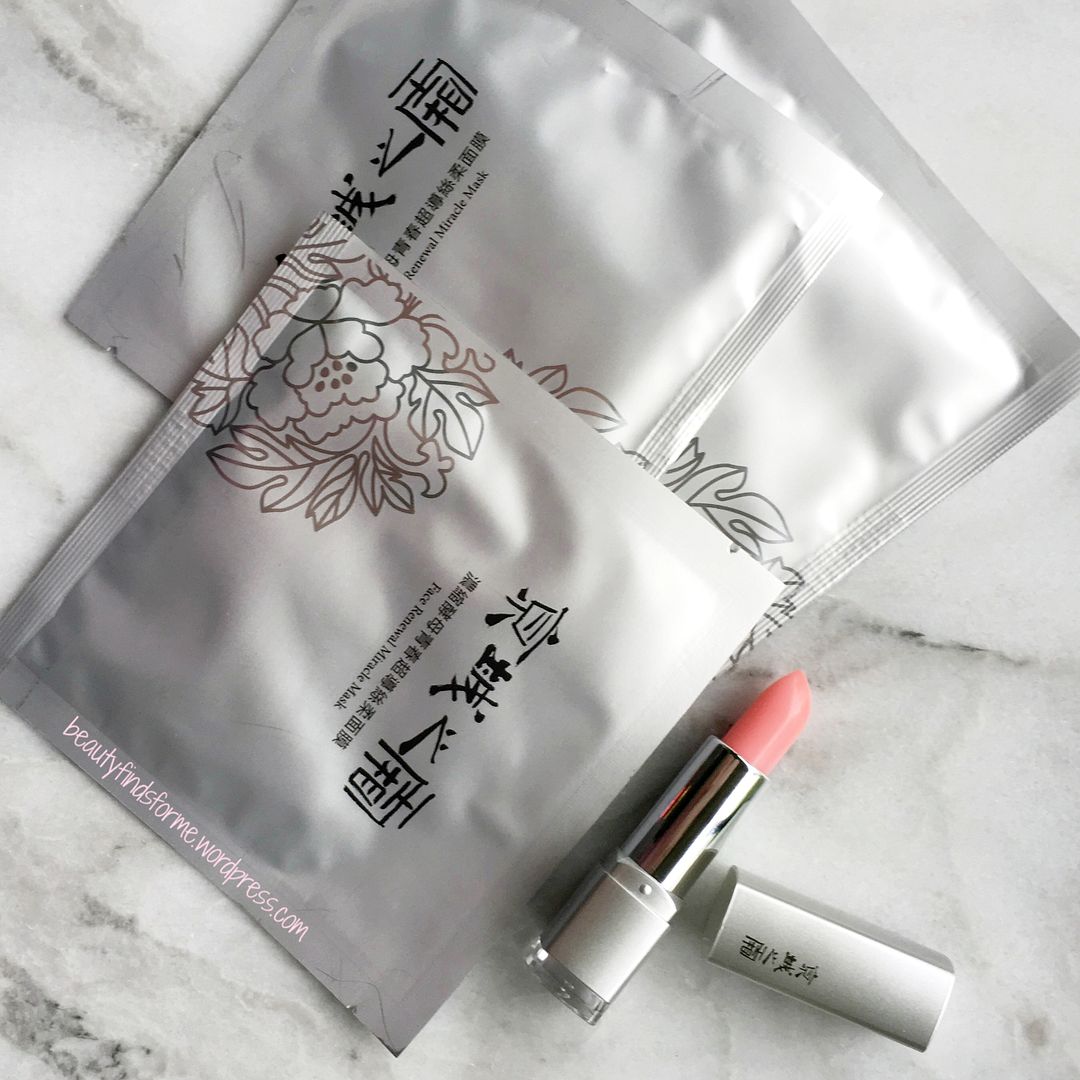 Naruko was busy this summer, releasing four new products ~ La Creme Rouge De Couture lipstick in 3 shades,Tea Tree Blemish Clear Mattifying Toner (review here),  La Creme Chiffon Lip Hydrating Essence and La Creme Face Renewal Miracle Mask.  Rachel at Naruko was SO generous and sent me 3 of their new items.  If you follow my blog, you will notice that I love Naruko and have written several reviews on their products already, so to have some of their newer releases to test and try out was just fabulous.

Skin Type/Concerns: Oily, blemish prone, aging skin with fine lines/wrinkles and hyper-pigmentation (both sun damage and PIH)
La Creme Face Renewal Miracle Mask  When I found out that Naruko was releasing a mask made from their Miracle Essence, I was so excited!  Not too many products make it to my HG (holy grail) status, but this one is in my HG list ~ you can read the full review here. I not only have a backup bottle, I have a backup bottle for the backup bottle!  This is a favorite of a lot of people in the AB Community (Asian-Beauty Community ~ skincare and cosmetics) and for a good reason ~ it takes about a month, but it does show results of radiance and my oily skin loves it ~ it is hydrating without being moisture overload and leaves my skin soft, supple and feeling fresh.
Naruko La Creme Face Renewal Miracle Essence is a First Treatment Essence (FTE) and is also known as First Essence, Treatment Essence  and/or Treatment Toners ~ these are very watery concentrated formulas with fermented ingredients, very nutrient-enriched and it preps your skin, while providing benefits that will help reduce/prevent fine lines and wrinkles, dull and uneven skin tones.  These are boosters and provide an instant shot of hydration and nutrients to your skin and prep your skin to accept your other skincare products.  Now, Naruko has taken that FTE and made a facial sheet mask!  You might ask yourself, can't you just use the Essence and make a DIY mask? Sure, and I have done that.  But since the Essence is so watery, the masks dry out very quickly.

This mask is about 95% the same ingredients as the essence, but with a few ingredients added to make this a long wearing and hydrating treatment for your skin.  Just like the Miracle Essence, this made with natural ingredients originally from Taiwan and it will help rejuvenate your skin, along with cellular renewal and bring a radiant glow back to your skin.  This has an intense concentration of fermented proprietary formulas.  As this does share similar ingredients, I will repeat the main ingredients information that I wrote up for the Miracle Essence.

It contains Ystract™, an anti-oxidant blend of amino acids, vitamins and minerals which will help inhibit melanin production ~ the dark spots ~ help reduce hyper-pigmentation and aid in cellular renewal.  It is known for hydration and will keep your skin moist, smooth, bright and firm.  Ystract is actually fermented rice extract or lees, and is produced from Nantou, Taiwan.  Rice ferment filtrate is a byproduct from making sake.  It contains more than 100 amino acids, organic acids, saccharides, vitamins, nucleic acids and esters. Rice ferments, diluted with water, has been used for centuries in Japan as part of a skin care routine, due to its moisturizing abilities from kojic acid. It also will suppress the performance of melanin so that hyper-pigmentation is reduced and your skin tone is brighter. Ferulic acids, a powerful antioxidant, are also found in lees and it helps absorb UV light, which helps prevent skin aging. Due to its own natural alcohol content, it is an astringent and also contains antibacterial properties to help control blemishes.  This also has rice bran extracts in it and that is obtained when rice is polished and it comes from the hard outer layer of the rice seed and contains 15 to 20 percent oil. It has a vast amount of lipids and contains phytic acid, squalene, vitamin E, phytosterols and ferulic acids, which help eradicate free radicals and it contains 44% of omega 6 and 2% omega 3 essential fatty acids, which help reduce inflammation.   More fermented goodness in yeast extracts, which will keep your skin moist and will repair your skin while helping protect it, as well as providing oil control and brightening effects.
Actuat E60™ is a blend of 60 natural botanic ingredients, which many are used in Traditional Chinese/Asian Medicine. Many of these ingredients have been researched extensively and studies produced to prove their skincare benefits ~ such as skin tone brightening licorice and mulberry, soothing and anti-inflammatory centella asiatica and chamomile, anti-oxidant and anti-aging ingredients of green tea, ginseng, peony and ginger ~ and these are just to name a few!  These ingredients will help with brightening,  hydrating, firming and toning of your skin.
To help with gentle exfoliation, there are two ingredients in here that specifically serve that purpose ~ Papain is an anti-inflammatory and anti-bacteria enzyme derived from papaya. It will exfoliate your skin without irritation by gently loosening dead skin cells and removing them from your skin. Pineapple is rich in anti-oxidants, vitamin C and amino acids. It also contains manganese, which aids in strengthening your connective skin tissues. Pineapple helps keep skin elastic and firm as it aides in collagen production and is also an anti-inflammatory, helping reduce redness and swelling from blemishes. Pineapple is also a gentle exfoliator as it contains bromeliad, an enzyme similar to papaya's papain. This helps remove excess dirt, dead skin cells and oil, leaving your face fresh and clean. Pineapple can also reduce hyper-pigmentation and fine lines, due to the vitamin C content and leaves your skin hydrated, soft and supple.
There are a few new ingredients in this mask as well.  Caffeine helps reduce puffiness, by stimulating and improving blood circulation  Mannitol is a humectant, which means it can attract moisture.  This sugar alcohol can come from trees, marine algae or mushrooms. Panthenol helps cellular renewal and is an effective moisturizer. It is derived from plants and this ingredient comes from Vitamin B5.  Panthenol is a natural humectant, which retains moisture and hydrates the skin. It also is a good lubricant on the skin, making skin look soft and smooth. It is also an anti-inflammatory.  A new ferment is included, sinorhizobium meliloti ferment filtrate ~ also known as Subliskin™.  This is a bacterium (rhizobium) that has a symbiotic relationship with legumes (source) and the bio-fermented result of this bacterium will hydrate and moisturize, while smoothing your skin and improving skin elasticity. 
Ingredients: purified water, Ystract™  (oryza sativa lees extract), bis-PEG/PPG-20/5 PEG/PPG-20/5 dimethicone, methoxy PEG/PPG-25/4 dimethicone, sodium lactate, glycerin, propanediol, dimethicone, phenoxyethanol, dimethiconol, hydroxyacetophenone, panthenol, caprylic/capric triglyceride, xanthan gum, acrylates/C10-30 alkyl acrylate crosspolymer, mannitol, sodium hyaluronate, allantoin, chlorphenesin, sinorhizobium meliloti ferment filtrate, ammonium glycyrrhizate, erythritol, yeast extract, lecithin, caffeine, soy amino acids, zinc gluconate, aesculus hippocastanum (horse chestnut) seed  extract, achillea millefolium extract, actinidia chinensis (kiwi) fruit extract,  aesculus hippocastanum (horse chestnut) extract, alchemilla vulgaris extract, aloe barbadensis leaf extract, ananas sativus (pineapple) fruit extract, arctium lappa root extract,  arnica montana flower extract, artemisia umbelliformis extract, calendula officinalis flower extract, camellia sinensis (green tea) leaf extract, centella asiatica (gotu kola) extract, chamomilla recutita flower extract, chondrus crispus (carrageenan) extract, citrus grandis (grapefruit) peel extract, corallina officinalis (algae) extract, cucumis sativus (cucumber) fruit extract, dioscorea opposita (wild yam) root extract, epilobium fleischeri extract, equisetum arvense (horsetail) extract, equisetum hiemale (horsetail) extract, gingko biloba leaf extract, glycyrrhiza glabra (licorice) root extract, hamamelis virginiana (witch hazel) extract, jobs tears (coix lacryma-jobi) water, kalanchoe pinnata leaf extract/kalanchoe spathulata leaf extract, ledebouriella divaricata (fang feng) root extract, leontopodium alpinum (edelweiss) extract, malva sylvestris (mallow) extract, melissa officinalis (lemonbalm) extract, mentha piperita (peppermint) leaf extract,  morus alba (mulberry) root extract, narcissus tazetta bulb extract, oryza sativa (rice) bran extract, panax ginseng root extract, papain, peony (paeonia suffruticosa) root extract, peucedanum ostruthium (masterwort) leaf extract, pisum sativum (garden pea) extract, plantago major seed extract,   polygonum cuspidatum extract, poria cocos extract, pueraria lobata root extract, rhodiola rosea extract, rosa damascena flower water, rosmarinus officinalis (rosemary) leaf extract, sakura (prunus yedoensis) leaf extract, salvia officinalis (red sage) leaf extract, sambucus nigra (elderberry) flowers, saxifraga sarmentosa extract, scutellaria alpina flower/leaf/stem extract, snow fungus (tremella fuciformis) extract, thyme (thymus serpillum) extract, tilia cordata (linden) extract, triticum vulgare (wheat) protein, undaria pinnatifida (wakame/seaweed) extract, veronica officinalis (common speedwell) extract, vitis vinifera (grape) fruit extract, willow (salix alba) bark extract, zingiber officinale (ginger) root extract, potassium sorbate, cetyl hydroxythylcellulose, sodium benzoate, homarine HCL, trisodium EDTA, tocopherol  cosDNA analysis
The claims for this mask are
Intensely brightens and lightens lackluster skin tone and improves dullness
Gently exfoliates and softens the skin, by stimulating surface cell renewal
Revitalizes, repairs and reduces signs of aging
Replenishes skin's hydration, promotes translucent texture
Smooths away the fine lines, maintaining skin's elasticity
Enhances the skin's barrier, restores natural hydration system and prevents moisture loss and dehydrated skin
Soothes and comforts skin, revealing the skin's natural healthy glow
Maintains oil-water balance and minimizes the appearance of large pores.
Removing the mask from the beautiful matte silver package, I notice two things right away.  There is no pearl paper ~ that plastic paper that protects the thinner masks and also helps aid in the application of the mask to face, as it stabilizes thinner sheet masks.  I also noticed the scent!  This is the same scent as the Miracle Essence, but stronger, in my opinion. Sake IS alcohol, so you will pick up those alcohol notes ~ that said, I love the Miracle Essence scent, so I am pleased with this scent too. 
Description: This is a gentle, seamless masks that provides full coverage. It is a beauty energy drink that helps remove aging hyper-pigmentation, giving the skin a radiant vitality and rich hydration, while softening skin.
The sheet mask is made from featherweight "4-D Silkara" fabric, which is silky smooth,thin but not too thin and seamless.  I thought I was going to have a problem unfolding the mask and adhering it to my face with out the pearl paper, but I didn't have an issue.  The sheet mask is thin, but not so thin that it stretches out of shape or folds in on itself and when I unfolded it, it was so easy to apply and set on my face.  The fit is FANTASTIC for my larger face!  It covers everything that needs to be covered without any skimpy strips ~ my nose, the area between my nose and upper lip and to the top of my forehead and sides of my face and it adheres nicely too.   I love this fit ~ I wish more masks fit like this one.  This is full of watery, slippery, slick essence ~ it is almost slimy in its feel.  I think this is the panthenol ingredient, as panthenol has that slip feel to it.   Lot of leftover essence in the package, so I just apply to the areas that dry out quicker than the rest ~ chin, nose and forehead, as well as my neck. 
Did I mention on nice this mask fits and how it feels?  This Silkara fabric is pretty awesome ~ it almost feels like it is lifting my skin up!  I get a very cooling, slight tingling sensation as I wear this mask and I wore it for 40 minutes with  no problems.
After removing it, my face is SUPER hydrated and has that "bouncy" feel, my skin is plumped up and refreshed. My face also looks a bit more radiant, which is to be expected ~ using the Miracle Essence over time caused my skin to look more radiant as well. This will be a purchase going forward with Naruko.   This mask is not only hydrating, but also provides oil control as well, as  love their hydrating masks that also seem to provide oil control once the essence is absorbed into the skin.   I don't know how this will work on skin drier than my own, but for oily skinned types, this is a winner!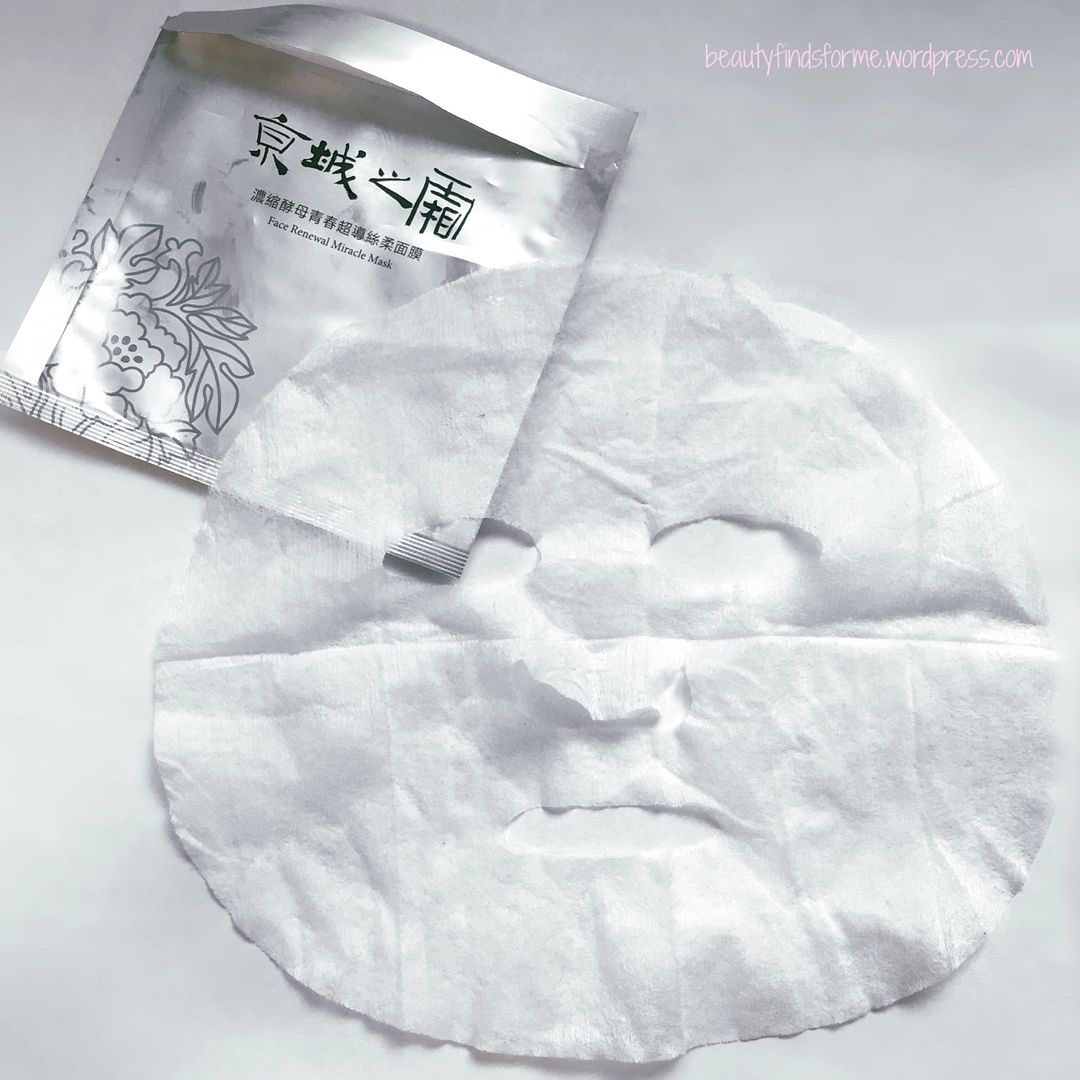 La Creme Chiffon Lip Hydrating Essence  Okay, so I have tons and tons of lip balms already ~ I am a bit of a closet lip balm junkie ~ so why on earth would I want another one? Yes, this has a fancy name ~ Chiffon Lip Hydrating Essence ~ but what it is a luxurious and nourishing lip balm.  This balm will help hydrate and moisturize your lips, soothing chapped lips by softening and repairing them.  It has nourishing ingredients and because it moisturizes, it will plump up fine lines around your lips, so they aren't as noticeable.  

The key ingredients in the brochure are candelilla wax is extracted from the waxy coating from the stems of the northern Mexican candellia shrub.  It has a fine and smooth texture that provides moisture. Shea butter contains phytosterols and vitamin E to provide deep moisturization. She butter repairs the outer layer of your skin to prevent peeling and dryness.
It wouldn't be a Naruko product without one of their compounds!  Beracare ARSOU Essence Oils Compound is made from the oils of passion fruit, rice bran and palm oils.  This formula is rich is phospholipids, phtyosterols and plant lipids ~ all are fatty compounds, providing skin repair, long term moisturization and enhances your skin's defense layer, for full and moist lips.  Wild mango oil is extracted from the African rain forest and it has excellent moisturizing, nourishing and repairing properties. This oil will help soothe dryness and discomfort, while moisturizing.
Jojoba oil comes from the Jojoba shrub, which is native to southwestern USA and northern Mexico ~ it contains oil in its leaves and seeds. It is both a moisturizing and skin softening, an emolliating oil and is used in many skin care products. It helps skin cells attract and keep moisturize and it helps penetrate your skin easily, aiding in your skin's increased flexibility and elasticity.   Vitamin E is a powerful antioxidant and will help reinforce skin elasticity, moisturizes and protects skin while reducing damage caused by UV rays. 
Ingredients: hydrogenated polyisobutene, caprylic/capric triglyceride, phenyl trimethicone, trimethylsiloxyphenyl dimethicone, stearyl dimethicone, polyethylene, ceresin, silica dimethyl silylate, euphorbia cerifera (candelilla) wax, butyrosperumum parkii (shea butter) extract, passiflora edulis seed oil, oryza sativa (rice) bran oil, euterpe oleracea (acai) fruit oil, phenoxyethanol, simmondsia chinensis (jojoba) seed oil, fragrance, caprylyl glycol, tocopheryl acetate, irvingia gabonensis (wild mango) kernel oil, hydrogenated coco-glyerides, titanium dioxide (CI 77891), D&C red no. 6 barium lake (CI 15850), FD&C yellow no.5 aluminum lake (CI 19140) cosDNA analysis

The packaging on this lip essence is beautiful to me.  It is simple, but really makes a statement and people think you are taking out an expensive lipstick but then are surprised to see the fancy balm!  It comes in a silver-toned matte finish rectangular tube, made from plastic. It has what I assume to be the Chinese lettering for Creme of Jing Cheng 京城之霜, vertically printed on the side and is in a shiny silver tone.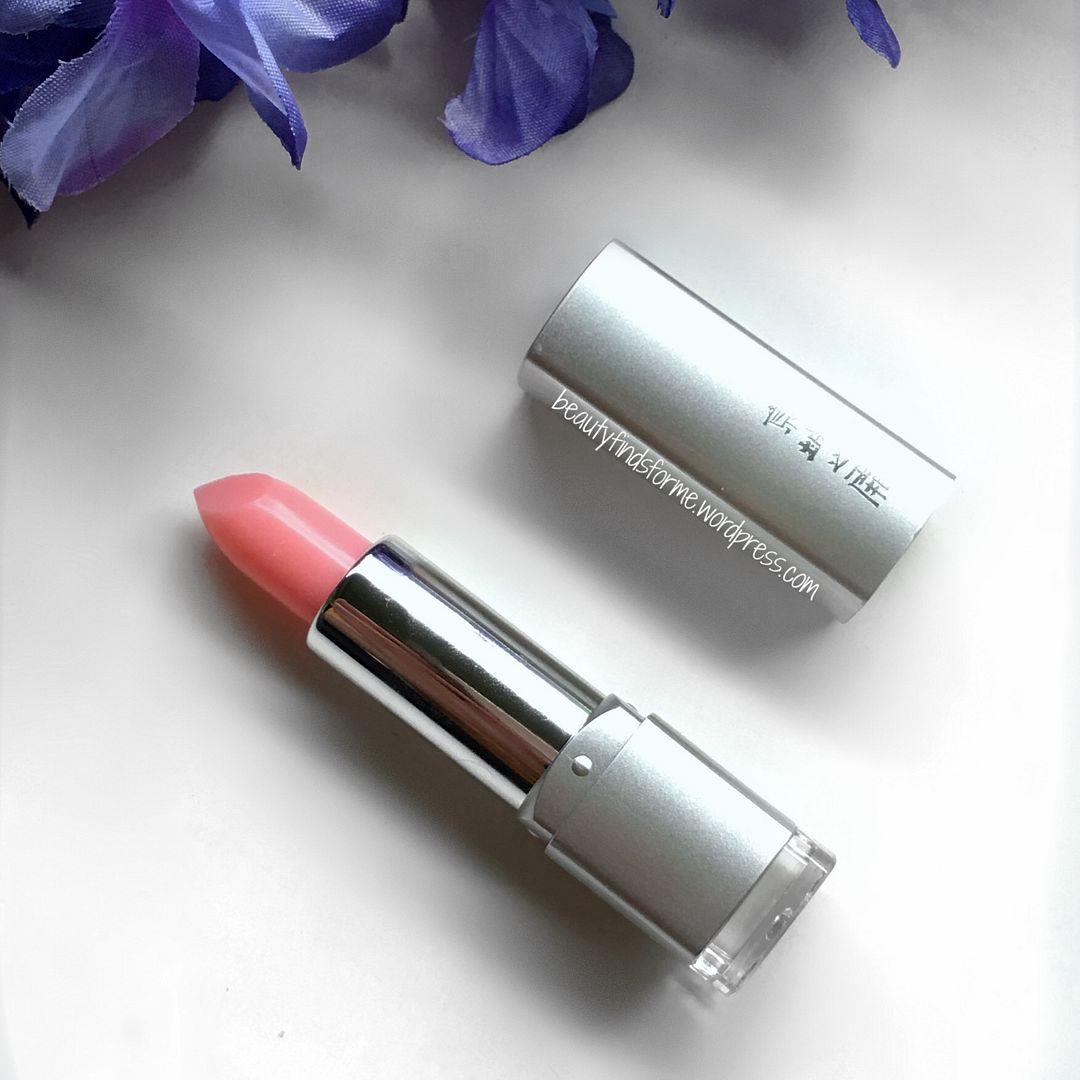 Remove the cap and a salmon pink waxy product appears ~ now, this is hard, not soft ~ which is good, as it won't mush down like a lot of lip balms tend to do.  This does smell like rose, but there is no rose ingredients in the lip product, so I assume this is just the added fragrance.  The scent goes away quickly and my nose thanks Naruko for that.  Honestly, I don't know why lipsticks should smell like a flower.  They sound smell like vanilla or chocolate! haha

This does glide on smoothly without tugging and leaves a nice glossy finish without being sticky or tacky.  The description stated that this had a tint to it, so in the photo below, I actually used a lip concealer first and then applied the Chiffon Lip over it, in order to see the tint more clearly.  Hmmm.. I don't think this is a tinted product.  It is very clear on my lips
As you can see, the Chiffon Lip does melt from a solid to an oil pretty quickly but only when applied to skin.  It states solidified in the tube.   I do not even notice that I am wearing a lip product, as it is so lightweight, but I do know that my lips feel soft and smooth.  
Final Thoughts
I need to purchase stock in Naruko.  Seriously, all of the new releases I tried are now on my purchase list.  I love the masks and just ordered another box of them, as I do think they really work well on my face.  My skin just feels so hydrated without a sticky dewy feeling, and I love the cooling sensation while I am wearing them.  The Chiffon Lip Essence is really a lovely product.  It looks so chic and I love the simple, elegant design ~ but more importantly, I really enjoy how this softens, locks in moisture and soothes my lips, while repairing damaged skin.  It may be just a glorified lip balm, but it is worth the money to me.  I also purchased one for my mother, as she suffers from dry lips and would really enjoy this product.  This would make a great little gift for that woman who has everything ~ it is just a nice classy looking product.

Are you excited about the new releases from Naruko?  Which items are you getting?  If you love the Miracle Essence,  GET THE MASKS!! 
Where to Purchase
Naruko, of course!  Naruko has several different stores around the world too
Naruko USA  Naruko USA will also give free gifts and you earn points when you purchase at their store.  These reward points then can be converted to spend on any product you want.  They sell this essence in different configurations. Don't be alarmed by the prices in the actual link ~ once you add it to the cart, you will see the discounted price that I have listed here. For USA orders, if you order $40.00 or more, you automatically get free shipping.  Naruko USA will ship internationally, so check here for more information.

If you are interested in the Miracle Essence to go along with your Miracle Mask, Naruko sells it alone and in some great sets.
[ complementary product received for review purposes. contains affiliate links ]