[ disclosure: contains referral & affiliate links. some products were complementary for review purposes ]
Continuing on with my Shangpree experience, I was fortunate enough to get a really lovely PR package from Shangpree a few months ago.  They tailored the products to my skin needs plus they gave me a full box of the Gold Modeling Mask, which I have reviewed here.

Shangpree is an internationally renowned  spa in Seoul, South Korea and has been around since 1990. All of their estheticians must complete Shangpree's training process which is a 3 year long ordeal!  It doesn't matter if you have 20 years experience or 2 years ~ they all have to be trained the Shangpree-way before they can offer client services.  Shangpree started their own skincare line and that same attention to detail and offer some of their most popular products to customers all around the world.  A portion of proceeds from Shangpree sales is donated to the Korea Green Foundation to assist climate change refugees.

Skin Type/Concerns:  Oily, blemish prone, aging with fine lines/wrinkles and hyper-pigmentation.
Shangpree AC Balancing Serum  This is a serum specially for acne and oily skinned types.  The description states that it will help mattify your skin, reduce oil and enhance moisture levels. It will help heal blemishes while preventing them and leave your skin balanced and smoother.  Shangpree highlights three ingredients for exfoliation, pore-refining and soothing care ~ yuzu, pine and mint.

Yuzu extracts are used to help exfoliate your skin ~ Citrus Junos (yuzu) contains Vitamin C, a powerful antioxidant, that will help keep your skin smooth and silky. It contains a natural saccharine that will help brighten your skin tone, while reducing hyper-pigmentation and the appearance of wrinkles.  Pinus Densiflora or Korean Red Pine needles are used for pore-refining ~ pine needle extracts has anti everything ~ antimicrobial, anti-septic, anti-fungal, anti-inflammatory and is rich in antioxidants such as carotenoids and vitamins A, C and E, which help combat free radicals.  Vitamin C also plays an essential role in producing collagen, which helps keep your skin firm and smooth. Pine extracts contains tannin, so this will have a natural pore tightening effect as it is an astringent.  It has been used to help treat skin issues, such as acne, eczema and itching.  Since it is an anti-inflammatory, it will aid in reducing redness and swelling and as an anti-septic and antimicrobial, it will help speed up healing on wounds . It will help reserve skin damage caused by free radicals, helping to tone and lessen the appearance of fine lines and wrinkles.
Korean mint (agastache rugosa) is used for soothing care ~ This is an aromatic herb and is known as the "Queen of Korean herbs".  It is one of the 50 fundamental herbs used in traditional Chinese medicine, called huò xiāng.  It is known to have antibacterial properties, so it will help quickly heal your skin.  This also has restorative and soothing olive oil glycereth-8 esters, which is derived from olives.

Oil controlling zinc PCA will help reduce excessive oil production on the skin.  AHA lactic acid gently unclogs your pores and increase cellular renewal, which means it can also help even out your skin tone, by revealing new skin. This is an anti-inflammatory compounds and will help reduce inflammation and redness, while healing acne blemishes. Walnut extracts is used for soothing and anti-itching and has anti-septic and astringent benefits.  More nutty goodness ~ chestnut extracts have a high tannin content and therefore, has an astringent benefit for your skin.  This also has another astringent ingredient in witch hazel, which also refreshes and rejuvenates skin, refines the pores and seal in moisture.  Cedarwood (cedrus atlantica) oil is commonly used for blemishes, dermatitis, eczema and oily skin and has astringent, anti-inflammatory and anti-septic benefits.

Ingredients: water, 1,2-hexanediol, arginine, alcohol, carbomer, butylene glycol, olive oil glycereth-8 esters, caprylyl glycol, saccharomyches/rice ferment filtrate, sophora japonica flower extract, hydroyethylcellulose, allantoin, lactic acid, juglans regia (walnut) shell extract, zinc PCA, propanediol, castanea sativa (chestnut) shell extract, PEG-60 hydrogenated castor oil, portulaca oleracea extract, camellia sinensis leaf extract, citrus junos fruit extract, pinus densiflora leaf extract, agastache rugosa extract, sea water, lavandula angustifolia (lavender) oil, citrus medica limonum (lemon) peel oil, glycyrrhiza uralensis (licorice) root extract, citrus aurantium dulcis (orange) peel oil, phenoxyethanol, cedrus atlantica bark oil, hamamelis virginiana (witch hazel) leaf extract, scutellaria baicalensis root extract, rosa damascena flower oil, rhus semialata gall extract, benzyl glycol, ethylhexylglycerin, aloe barbadensis leaf juice powder, raspberry ketone cosDNA analysis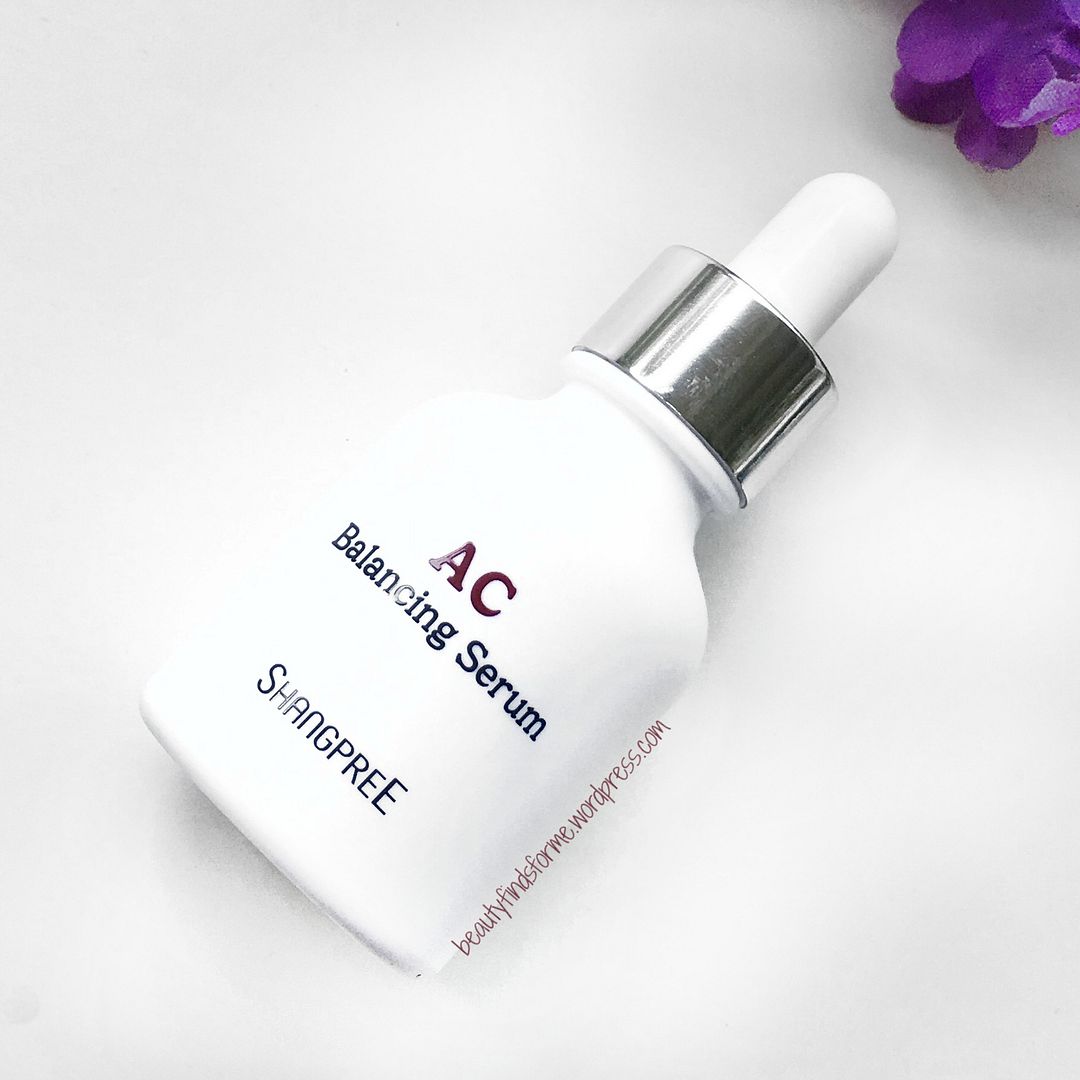 I was really excited to try this serum as I have used the LJH Teatree 90 Essence in the past with no luck.  LJH, which is a HG for many people, just didn't do anything for my skin ~ although it was soothing, it didn't help heal my acne and it certainly wasn't oil controlling on my skin ~ my red pimples were MOIST and DEWY looking.  Really not a good look.  It really is a fine line with acne products ~ I want to heal my blemishes, control my oily shine and reduce excess oil, all without drying my skin out.   I don't want my face to be a shiny mess and oily skinned peeps already have dat glow naturally, so for me, I just want to make sure that the glow doesn't turn into a sweaty, hot mess.  Enter Shangpree AC Balancing Serum…
This serum comes in a small,  plastic squat 30 mL bottle, in a pristine white with simple lettering.  It has a glass eye dropper applicator and it is very minimalist in its design.  The serum is clear with a slight ~ and I do mean slight ~ tint of yellow and has a faint, but lovely herbaceous scent ~ I think it is the lavender I am picking up.  The serum is almost gelly like as it comes out of the dropper, but immediately puddles on my skin and turns watery, absorbing quickly into my skin.  I only need one or two drops, as a little goes a long way.
My skin feels cool and hydrated, but not moist ~the finish is a satin type, so this doesn't make my face dewy.   It does balance my skin nicely with an increase of 33% in moisture, while decreasing my oil by 38%
That said, I still saw my oil break thru during the day after a few hours, so it does control oil initially, but not as the day progresses.  However, unlike LJH, Shangpree did not contribute to adding shininess to my skin and it did add hydration, leaving my skin soft and smooth.   It helped with healing of blemishes, but I did not notice that this controlled or prevented blemishes.  However, where this product really shines is as a soothing skin healing product for oily skin.  I am currently using Swanicoco 10% AHA Peeling Cream twice weekly as a night time treatment and it is very strong.  My skin is always slightly sensitive the next day and my other blemish and AC controlling products actually sting my skin when I use them.  Shangpree AC Balancing Serum does not sting my skin at all and is quite soothing.  It takes any redness and sensitivity I might have and just relaxes and calms my skin
I purchased three more modeling masks by Shangpree ~ Snail-Gel Green, Charcoal Black and Silver Brightening.  I chose their latest modeling mask ~ Snail-Gel Green ~ as it is a soothing mask, since this blog post is about soothing care. This also gives me the opportunity to use my gold bowl, courtesy of Shangpree. The Snail-Gel is not only a soothing mask, but also helps reduce inflammation and redness.  A perfect mask for after acid treatments!  If you don't know what modeling masks are, they are also commonly known as rubber masks and are a pretty interesting and fun concept.  Shangpree has taken the traditional rubber mask idea ~ mixing water with a powder ~ to providing the actual liquid with nourishing ingredients and mix that pouch into the liquid.  No need to worry about how much liquid to add anymore!  You apply this this thick liquid-gel on your face, let it set until it is like rubber and leave it on for 30 minutes to an hour, in which your skin will not only become very hydrated and moist, but the nourishing ingredients will condition your skin with their benefits.   The Snail-Gel Green modeling mask has some very moisturizing ingredients with castor oil, jojoba oil, macadamia seed oil, along with ceramides, which helps lock in moisture and create balanced skin.

Snail secretion filtrate will increase skin elasticity and increase firmness, while helping repair skin from blemishes, reducing acne and working to lighten hyper-pigmentation scarring. Niacinamide (vitamin B3) is a powerful antioxidant that acts as an anti-inflammatory, improves your skin elasticity, enhance the skin barrier function and also it helps to even out skin tone and reduce post-inflammatory hyper-pigmentation.
Tea tree is used for many infections and diseases due to its healing and disinfectant properties ~ antibacterial, fungicide, antiseptic, antimicrobial, antiviral and can help speed up wound healing and reduce scarring. It helps with preventing dry, flaky skin and because of its antibacterial properties, can help heal current blemishes while reducing future blemishes and control excess oil. It helps with rashes, allergic skin reactions and fungal infections.  Artemisia absinthium (wormwood) has been used in traditional European herbal medicine to help heal skin wounds and contains a rich source of antioxidants.
Centella asiatica is a common herbal ingredient that is used medicinally to help speed up wound healing, such as blemishes and skin rashes. It also helps minimize the appearance of pores.  Spirulina platensis is a micro algae which has powerful anti-aging, antioxidant benefits. It contains high sources of vitamin E and carotene, along with vitamins B complex and C, minerals, essential amino acids and enzymes, all which help with premature aging. (source Natural Actives)
Chlorella vulgaris is a green algae that has anti-aging benefits, as it contains carotenoids.  It helps prevent the disintegration of collagen and elasticity in your skin, and it actually aids in the production of collagen.  It helps tone nad firm your skin.  It also contains amino acids, which are protein building blocks and it is believed that chlorella can help refine and smooth your skin's texture, while detoxing your skin.  Aloe vera is a powerful moisturizer that doesn't leave your skin feeling oily or greasy. It soothes, treats inflammation, helps speed up skin healing and also has a plethora of antioxidants ~ beta-carotene, Vitamin C and Vitamin E, which help improve your skin's firmness and keeps your skin moist and hydrated. It also contains over 75 different nutritious ingredients, including minerals, enzymes, amino acids, salicylic acid and much more. 
Glycyrrhiza glabra root (licorice) will soothe and calms the skin, while acting as an anti-inflammatory and also reduces hyper-pigmentation.  Green tea is full of powerful anti-oxidants, due to its high concentration of polyphenols and will help reduce the appearance of fine lines and wrinkles. Ginger contains anti-bacterial, anti-inflammatory and antioxidant compounds and can be used both internally and topically. Ginger contains 40 antioxidant compounds that help with anti-aging, removes toxins and stimulates your blood circulation. It combats and prevents damage from free radicals, helping improve elasticity which makes your skin firm, toned and less wrinkles.

Description (from box):  Infused with green botanicals, calming & refreshing Snail Gel and Active Spirulina Powder work together to relax your skin and revitalize your complexion with our trademark Esthetician Formula.  Spa Treatment At Home: Calming/Revitalizing/Refreshing.  Snail Gel: Strengthens skin barrier while preventing blemishes, dryness and fine lines. Active Spirulina Powder: Fights free radicals, aging, allergies and blemishes for healthier, smoother and more revitalized skin
Shangpree sent me their famous Antibacterial Gold Bowl and Spatula and this is my favorite mixing bowl!  I use it for every mask that needs mixing (DIY, powder sets, and my Shangpree masks, of course!)  It is made from non-toxic rubber  that is antimicrobial.  It is easy to clean, sanitary and reusable.  Also, it is is a beautiful shimmery gold color, so all masks mixed in this bowl look so fancy!  I have learned to ignore the "steps" on the pouches and I first put the powder in the bowl.  You can see little green dots of the spirulina platensis and chlorella powders in there.  Then I add the gel pouch, which has a very thick bright green color that reminds me of algae ponds.  The reason why I add the powder first is to prevent it from making a mess when I mix it. Having the powder under the gel liquid reduces the chance that the powder will fly up and out of the bowl while I stir the products together.  
This mask was so hard to apply as it kept wanting to slide down my face (and off my face!).  I guess if you have someone to help you, you could lie down on a bed or couch and have them apply the mask on your face.  One it "sets" and I use that term loosely, you could get up. If you don't have that option, you would do what I did ~  I kept rearranging the mask back up on my face until it sets, which doesn't mean it hardens.  It just "sets" and has the texture of rubber.   This mask has a light herbal-soapy scent and it is very cooling and moist while I was wearing it.

Shangpree modeling masks seem to never dry out and when I touch my face and remove my fingers, I can see a watery layer on them. The mask always feels slick and watery, so you might think it is not set, but in fact, you can remove it after 20 minutes.  I actually like keeping my masks on for 40 minutes, as it is so hydrating ~ in fact,  Shangpree masks will stay moist for 72 hours without drying out.  The mask peels off easily, although I can never peel it off in one big chunk.  My face had a watery and tacky essence on my skin, so I just patted it in ~ this is very similar to the gold mask as well.  Once patted in and after 10 ~ 15 minutes, the essence had absorbed completely into my skin, leaving no residue. My skin had a nice moist glow to it, but most importantly, my skin was less red and looked brighter, due to that.  My skin was smooth and felt refreshed, my pores were clean and looked smaller.  The next morning, I did notice a few small whiteheads, which probably was due to the "detox" effect of this mask. They were quite small and easy to "pop" with a gentle exfoliator. My skin still looked very clean, less red and still quite hydrated
Snail Gel Ingredients:  Water, Glycerin, Glucose, PEG-75, Algin, 1,2-Hexanediol, Potassium Chloride, Niacinamide, Butylene Glycol, Glycyrrhiza Glabra (Licorice) Root Extract, Centella Asiatica Extract, Zingiber Officinale (Ginger) Root Extract, Schizandra Chinensis Fruit Extract, Coptis Japonica Root Extract, Camellia Sinensis Leaf Extract, Propolis Wax, Caprylyl Glycol, PEG-60 Hydrogenated Castor Oil, Trisodium Phosphate, Tetrasodium Pyrophosphate, Cellulose Gum, Simmondsia Chinensis (Jojoba) Seed Oil, Ceramide 3, Cetearyl Alcohol, Squalane, Macadamia Seed Oil Esters, Lecithin, Chlorphenesin, Sodium Ascorbyl Phosphate, Aloe Barbadensis Leaf Extract, Snail Secretion Filtrate, Achillea Millefolium Extract, Artemisia Absinthium Extract, Arnica Montana Flower Extract, Melaleuca Alternifolia (Tea Tree) Leaf Extract, Chromium Oxide Greens, Allantoin, Disodium EDTA, Fragrance cosDNA analysis
Active Spirulina Powder Ingredients: Glucose, Calcium Sulfate, Zea Mays (Corn) Starch, Tetrasodium Pyrophosphate, Spirulina Platensis Powder, Chlorella Vulgaris Powder, Sodium Hyaluronate, Phenoxyethanol  cosDNA analysis
Final Thoughts
This review took a while to complete because I was struggling with how Shangpree AC Balacing Serum would fit into my routine.  It does control excess oil somewhat and my skin is soft and hydrated, but it didn't prevent blemishes for me.  However, once I started using it as a treatment to my peeling acid treatments, that is when I started to really appreciate this little bottle of botanicals.  This really helped soothe my skin, provide added moisture, while providing some AC control.  If you use acids on your skin as an overnight treatment and need some AC control, this serum is quite calming and doesn't irritate already sensitized skin.  I save this bottle for those days where my skin needs extra calming and oil control when I over-do it with my peeling treatments.   I also wanted to review the Snail-Gel mask as that is also a soothing, calming product and I think out of the two Shangpree masks I have tried, I really like this one better than the gold ~ the gold is very nice, but I would rather use that during the winter months, as it is so moisturizing.  This Snail-Algae mask is perfect for those of us who need pore and soothing care, while reducing oil. I also recommend the gold bowl too!  Even if you don't like modeling masks, you can use this to mix your other powder masks and DIY skincare products.  Have you tried any of the modeling masks by Shangpree?  Which ones and what did you think of it? 
Shangpree has some new items coming out in the mask department ~ they have 3 new premium ampoule modeling masks ~ Gold, Platinum and Black Pearl, which combines moisture and oil, keeping your skin moisturized and hydrated for 72 hours.
Another product that they are coming out with are a new version of their hydrogels ~ I saw this on their story on IG and did a screen shot of it ~ Ginseng Berry Eye Hydrogels.  I don't know much other than that!


Where to Purchase
As far as the AC Balancing Serum, I am not sure where you can purchase this yet, unless you visit their spa in Korea.  I do know that back in May, they posted this product on their Instagram feed,so I am wondering if they will be launching their AC line fully soon.
It might be good to request it from Peach & Lily as well ~ from all accounts, this looks to be about $75.00 for a 30 mL bottle of serum ~ or at least that is what I find on eBay. I am not linking the eBay sites as I am not sure if those are authorized sellers or not.   This might be expensive, but this is so hydrating and spreads easily, I don't need more than one or two drops and I use it as a calming treatment after my acid peels.

Peach & Lily only sells this currently in a 5 pack, so it is expensive.  I suggest hauling with some friends!!   USA + International Shipping.  Free USA shipping for orders over $50.00.  First time customer?  Use my referral link (click here) and save $10.00 off your order of $50.00 or more.
Shangpree Anti-Bacterial Gold Bowl & Spatula Set  sells for $10.00

For Barneys, use eBates to earn money when you spend money!  Use my referral link to earn $10.00 with your first purchase using eBates.
[ disclosure: contains referral & affiliate links. some products were complementary for review purposes ]