Dog day afternoons and ocean breezes ….  July's YogiSurprise Jewelry box is here! What is Yogi Surprise?   

Yogi Surprise Jewelry Box
2 handmade pieces + 1 organic treat

Handcrafted in Bali. Fair Trade

$65+ retail value in every box

$24.95/month + free shipping
The Jewelry box will contain two handcrafted yoga inspired jewelry pieces, that are fair trade, sustainably harvested materials, nickle-free, lead-free and cadmium free.  These are made in Bali, Indonesia and 10% of all proceeds will be given to education the Balinese families to make these beautiful pieces.   It also contains an organic chocolate treat.

This month's theme is "Freedom" ~ The month of July brings some of the hottest days seen all year. As we become charged with more light,love and power during this time, a stronger push towards new adventures may be felt in our hearts.  The jewelry pieces you'll find inside our July box have been inspired by the free flowing waves of the ocean that are pushed up onto the sandy shores by the ocean breeze. Featuring bright, balmy blue and white jasper beads, these  jewelry pieces will help you stay balanced throughout the summer season while leaving you feeling uplifted, hopeful and optimistic about having great new experiences. Just like the ocean breeze that guides each wave up onto the  beach, your spirit will lead you in the direction of your desires
Informational Card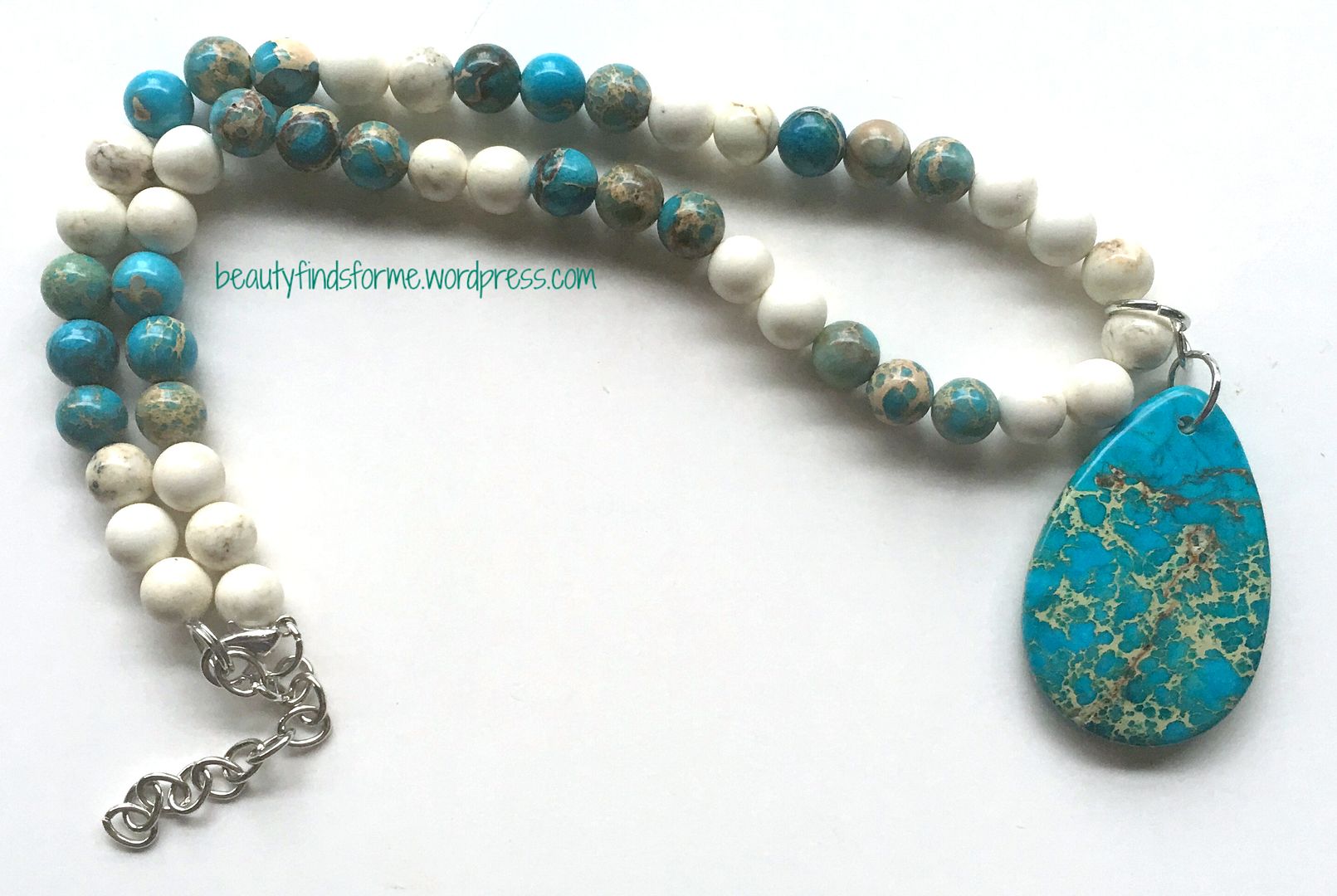 Summer Inspiration Blue and White Agate (Jasper) Necklace  I love this necklace!  It is very simple, so it will go with a lot of styles ~ at first I thought this was turquoise, but the stones are blue and white jasper~ the blue agate is such a lovely aqua shade.  The coolness of the blues stones, with some earthy mossy green inclusions, against the white beads is so summery.  Unlike last month's necklace, this shorter necklace does fit comfortably around my neck.  The necklace is 15 inches of beads with a 2 inch silver-tone extender and the tear drop pendant measure almost 2 inches in length.  This is just a great necklace to wear! RV $48.00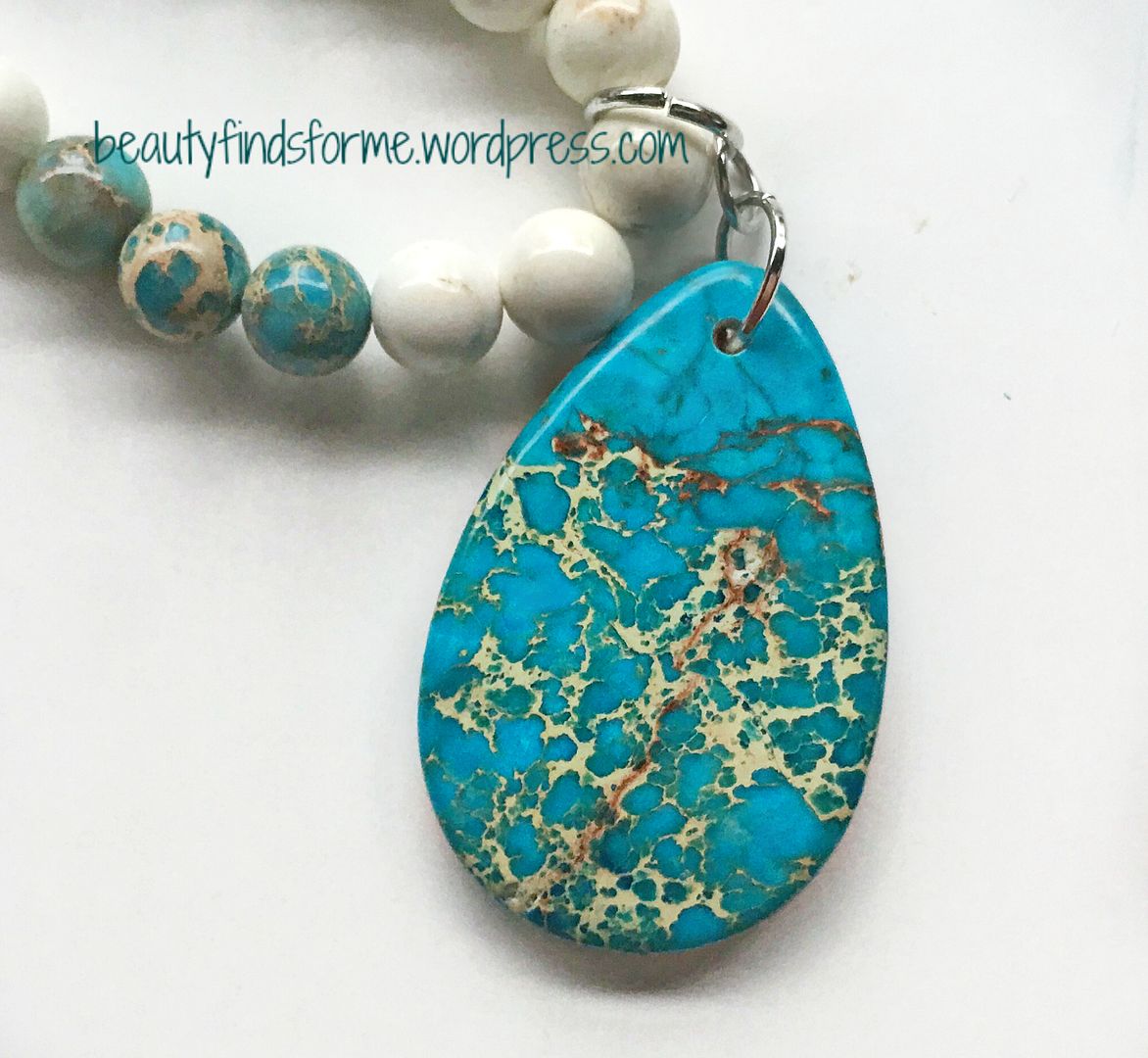 Jasper: The Supreme Nurturer, Base & Sacral Chakras
Jasper is considered a Power Stone and a stone that accepts intense responsibility as a Protection Stone. Jasper gives one the courage to speak out and have personal independence.  Its a stone of the earth, and therefore a very "grounding" stone.  All Jaspers  have excellent protective energies. Jasper helps to re-align all chakras, in integrate those energies for our greatest good.  source
Jasper helps to align the chakras and facilitate dream recall. It is a balancing stone that works to align the physical, emotional and mental bodies with the etheric realm. Placing jasper in a room helps to eliminate negative energies. It also helps one to accept responsibility and become more grounded in the stabilizing energies of the earth. Metaphysically jasper helps to balance the yin and yang energies and stabilize the aura.  source
Ocean Inspired Beaded Bracelet   This is the matching blue and white jasper beaded bracelet to the necklace ~ it is very simple, but I love to stack my beaded bracelets, so I like these types of  designs.   Alas, this bracelet is so small ~ it is less than 5 1/2 inches and even when stretched, it is still tight ~ it needs 2 more beads to  make it right.  When I wore this, the beads pressed so hard into my skin that it left indentations into my skin.  Oh well, I guess I will save all of these too small bracelets and unstring them to make something else!  I hope YogiSurprise goes back to either adjustable or larger sizes. Smaller wrists can restring their bracelets, but if you have a medium or large wrist, you cannot do much with it.   Agate and Jasper are from the same chalcedony family ~ YogiSurprise used them interchangeably here, but the difference is this ~  jasper is opaque, where as agate is translucent to semitransparent and is usually banded.  What we have here is jasper as the stones are opaque.  I love how the blue beads look like little planet earths.  RV $22.00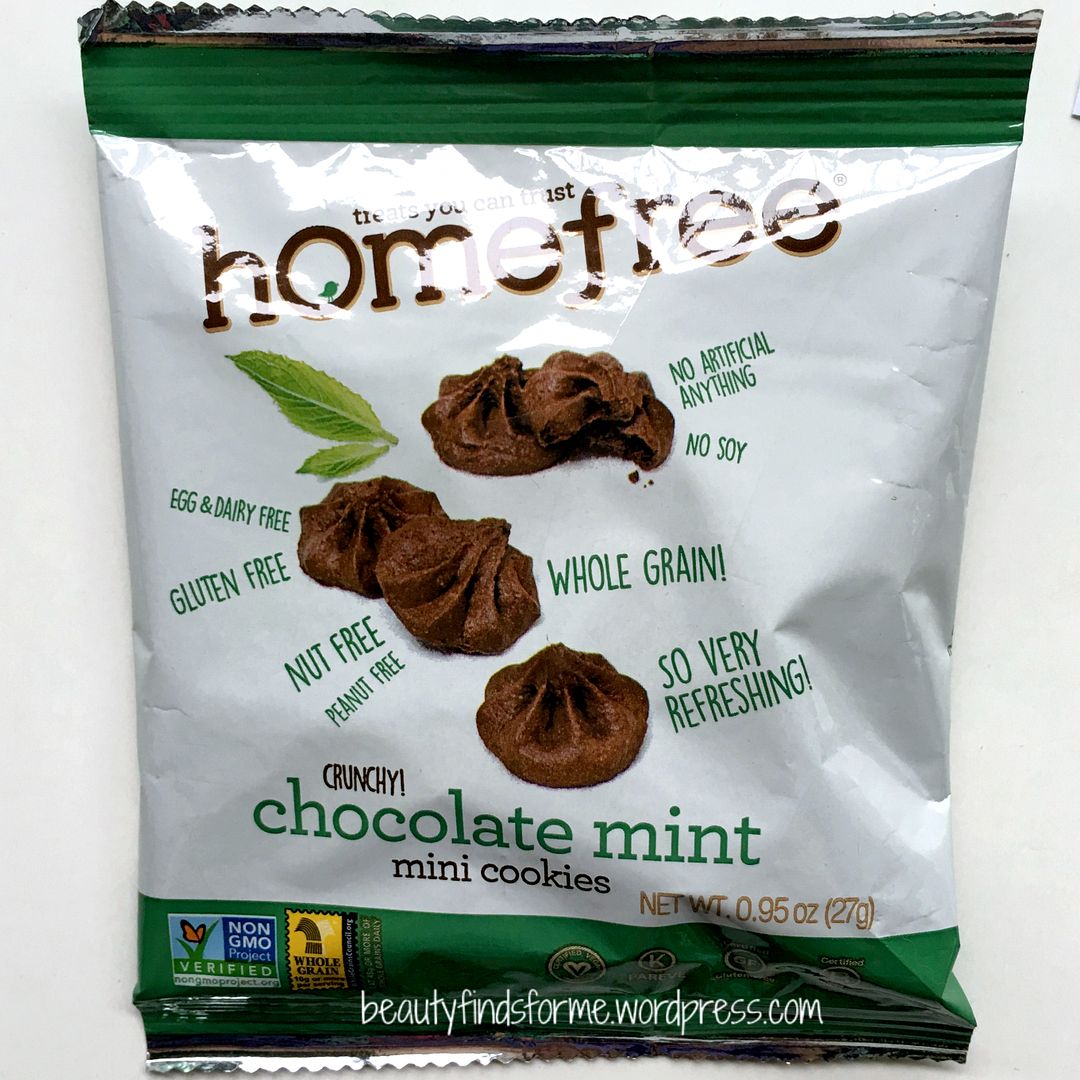 Home Free Chocolate Chip Mint Mini Cookies I have had Home Free cookies before ~ these are very crisp and crunchy, with an  initial chocolate taste followed by a burst of mint. These are free from peanuts, tree nuts, eggs, dairy, wheat, soy, fish and shellfish (I would hope so on the last 2 items!!). Gluten-free, vegan, Kosher, low sodium, non-GMO verified, these mini cookies are a great way to satisfy my chocolate cravings.  RV $2.00
Ingredients: Gluten free whole oat flour, evaporated cane sugar, high oleic safflower oil, demerara sugar, non-alkalized cocoa powder, organic tapioca starch, apple juice concentrate, peppermint extract, baking soda (sodium bicarbonate), pure vanilla extract, salt, xanthan gum, sunflower lecithin [an emulsifier], cream of tartar, rosemary extract.
I am sad that I cannot really wear the bracelet, but I do really love the necklace, so I guess I will just have to suck it up and chalk it up to another "I love half the box, so it is better than hating it all" experience ~ haha.  Believe me, there have a one or two times that my boxes from YogiSurprise were awful, so I am just happy I am overall pleased with it.  This box has a Yogi Surprise retail value of almost $77.00~  I go by the value of the pieces to me and once again, I feel that this box is worth it just for the necklace.  Part of the proceeds from this box will go back to the local artisans that made these items and help educate their community.

Do you subscribe to Yogi Surprise?  Which box do you get and what was your favorite item this month?  Let me know in the comments below, I would love to read them 🙂
If you are interested in signing up to Yogi Surprise for either their Lifestyle or Jewelry box, I would love it if you used my referral link   They are currently running a 10% off special for the first month, no promo code needed.   Check out the spoilers for next month's boxes below!    If you sign up for the Lifestyle box, use YOGIFRIEND to get 20% off the life of your subscription!

Next Month Spoilers



If you sign up now, you get a free gift worth $20.00 ~ Chakra Healing Stones  (these came in the May box ~ see my unboxing here)
Jewelry Box  Citrine Basket Necklace For our upcoming August theme on Giving Back, we're bringing you our Citrine Basket Necklace to help you manifest abundance and prosperity. Known to stimulate the solar plexus, citrine can help you harness your personal power and expression of will. The more you give toward others by aligning your emotions, thoughts, and actions with abundance, the more abundance you will attract back to you.
Lifestyle Box     Peaceful Warrior Canvas Pouch  Get a powerful reminder to be kind and courageous every time you zip open this Peaceful Warrior canvas pouch. Let its simple message inspire you whenever you reach into it for your makeup, jewelry, hair accessories, or anything else you want to keep tucked away in there.
Headbands of Hope Sky Flower Tube Turban  Embrace the light and airy colors of late summer with this Sky Flower tube turban from Headbands of Hope. Designed to comfortably fit everyone from children to adults, one headband goes to a child with cancer for every headband that is sold.
[ all descriptions in italics from linked website.  this blog post contains referral & affiliate links ]