Ahh, I decided to try another subscription Japanese snack box as my other one never got to me once they started to ship directly from Japan 😦  They were a fantastic subscription box, but it is frustrating not to get your boxes (for both parties involved).  So, I saw Bokksu, which (used to ~ they just changed..grr) shipped out from the USA with a tracking number. 
About Bokksu:  Bokksu is the only Japanese snack box that sources directly from snack makers in Japan, so many of our artisanal products cannot be found anywhere else. Start your cultural journey through Japan by subscribing to Bokksu and receiving a curated box of premium Japanese snacks and teas delivered to your door every month.  They do ship internationally, but you should read their FAQ first.
Classic Bokksu will take you on a gourmet journey through Japan each month. From Hokkaido white chocolate butter cookies to Kyoto handground matcha to Kyushu mango chiffon cakes, get the experience of tasting authentic Japanese snacks delivered right to your door. Each box comes with 18-20+ delicious Japanese snacks and a tea pairing curated around a cultural theme.  Starts at $39.00 USD monthly.  Save $10.00 off your first Classic Bokksu box with promo code FAM10 
Tasting Bokksu is the scrappy but equally adventurous younger sibling of Classic Bokksu. This little explorer will take you to the highest mountains in Hokkaido and the whitest beaches in Okinawa. With Tasting Bokksu, you'll get a sampling of most or all products each month. Please note that this means you may not receive a full assortment each month. Each box comes with  8-10 delicious Japanese snacks and a tea pairing curated around a cultural theme.  Starts at $19.00 USD
Okay, let's get on with the snacking!!  Inside my shipping box, was a huge bright orange box

June'17 Bokksu: Citrus Summer 柑橘サマー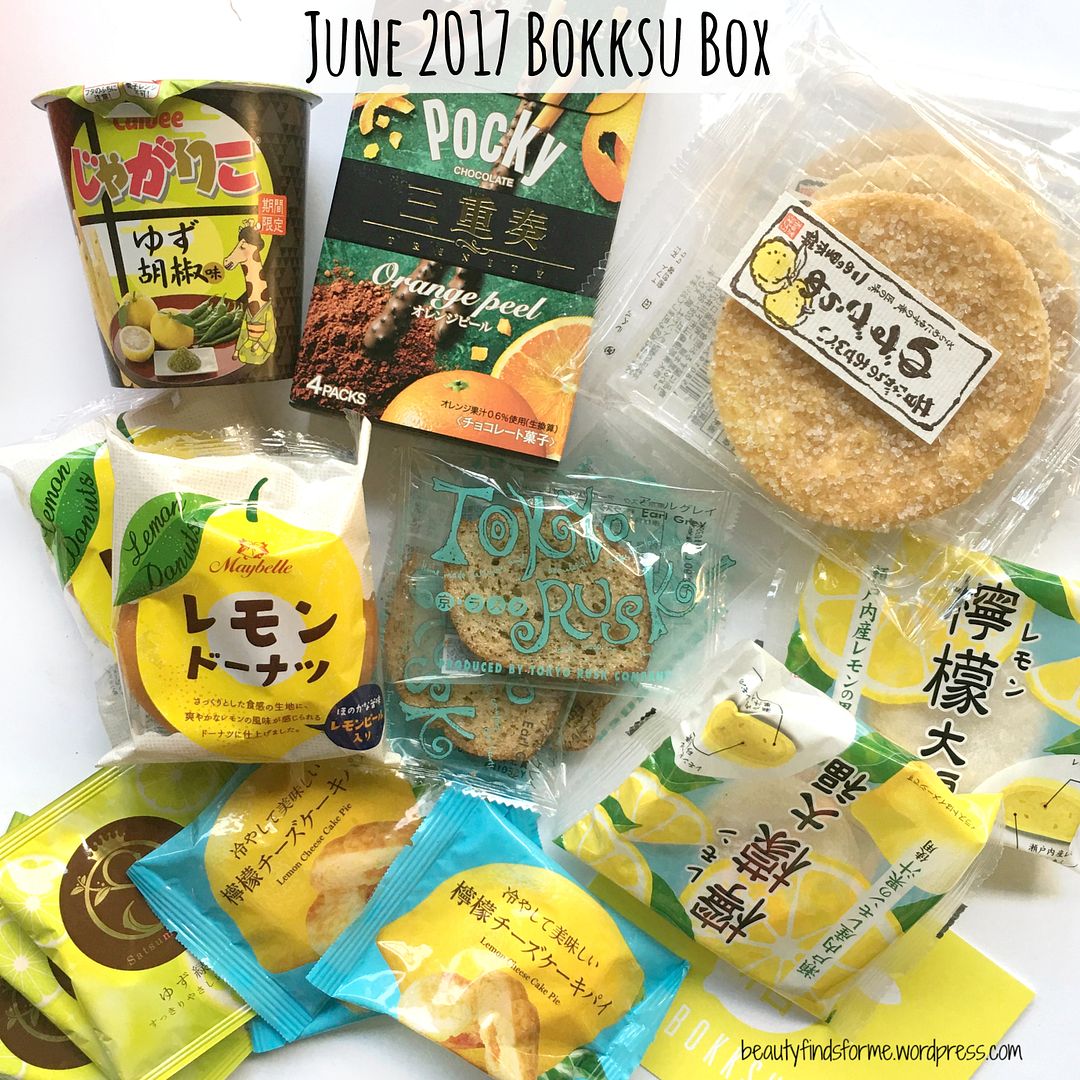 With summer just around the corner, we felt that June would be the perfect month to curate a refreshing box full of delicious, citrus-flavored snacks! Japan may be a small island nation, but there is a surprisingly wide variety of kankitsu (citrus fruit) grown throughout the country (over 25 kinds in fact!). One such citrus is Yuzu, a yellow, tart fruit that is packed with Vitamin C. Yuzu is often used for seasoning sauces (such as ponzu) and sometimes even used for bathing! Taking a hot bath infused with floating Yuzu fruit on Winter Solstice Day is a Japanese winter tradition that can help guard against colds and the flu. Like Yuzu, other citrus fruits are said to have the power to heal and boost your appetite, which is perfect during the summertime when many people experience Natsubate (summer fatigue). In addition to being delicious and pretty, citrus fruits come with so many health benefits, which is why we are thrilled to kick off summer with you through this month's "Citrus Summer" Bokksu!
As I took each panel of the pamphlet separately, when I put it back together, some of the images are off centered ~ that is me, not Bokksu.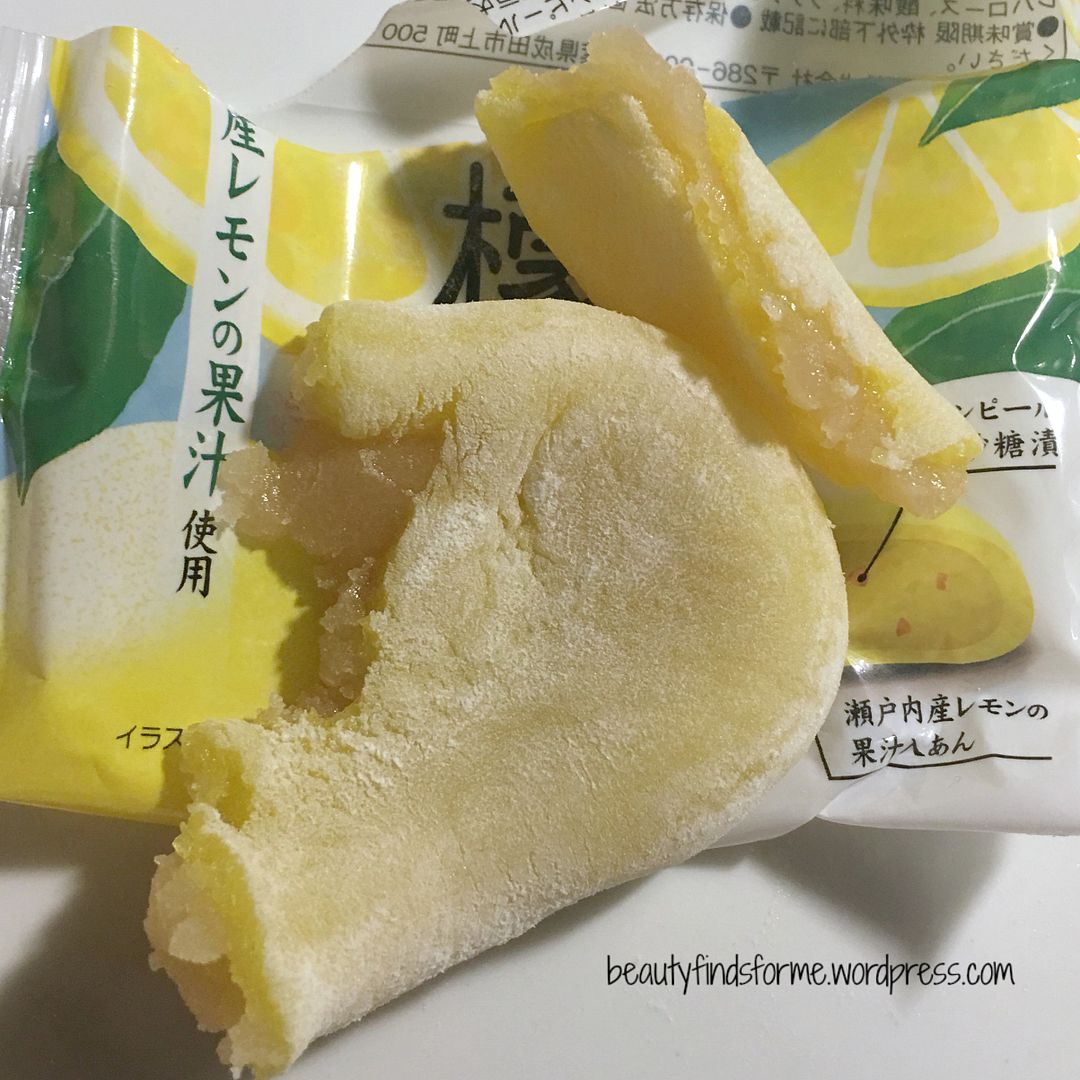 Lemon Daifuku 檸檬大福 By Yoneya; Product of Chiba Prefecture "Daifuku literally means "Big Luck" and is a traditional mochi confection usually stuffed with red bean. This delicious Lemon Daifuku uses white beans and real lemon peel to give a zesty, smooth finish."  UnboxingBeauty TasteBuds:  Let's face it, this is a SUPERSIZED mochi.  It is very big, soft and bouncy and not rubbery ~ some mochi can be  This one has been kept fresh and is lightly dusted with confectioners sugar on the outside.  The inside has a nice creamy lemon paste with bits of peel in it. The taste reminds me somewhat of Trader Joe's lemon tarts (another lovely lemony tasting treat – try it frozen!) and I really love these – one of my faves and it was excellent if chilled first!
Lemon Doughnut Cake レモンドーナツ By Marunaka Seika; Product of Gunma Prefecture "This doughnut cake is sweet and buttery with a moist, dense texture. It has a tangy and refreshing lemon flavor that comes from adding lemon peel to the doughnut batter."  UnboxingBeauty TasteBuds: Very dense donut cake, so it makes it seem dry, but it isn't ~ it is just really dense and thick. There are little bits of lemon zest in this donut and it does have a nice smooth sweet lemon taste. Very yummy with a nice smooth cup of chai!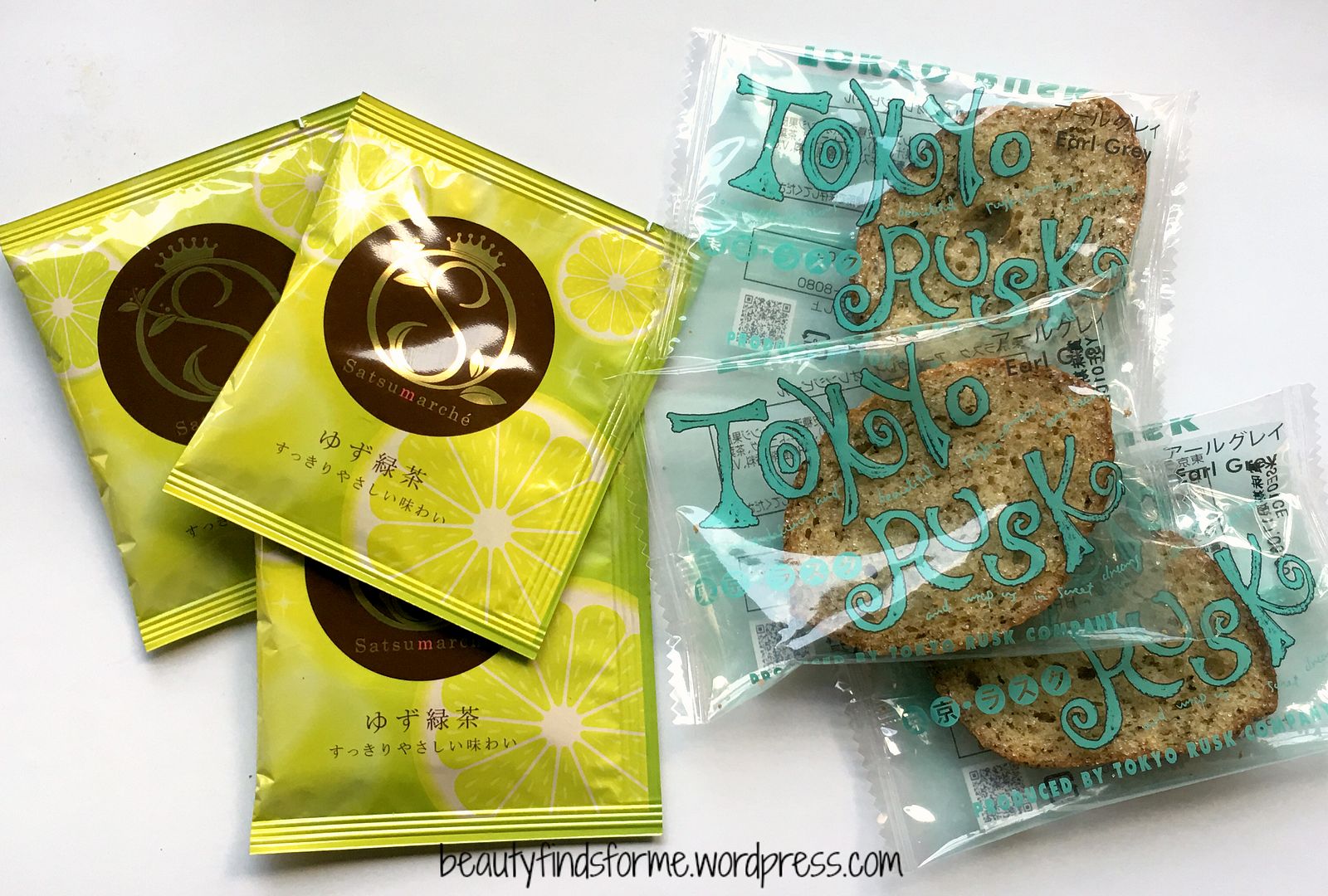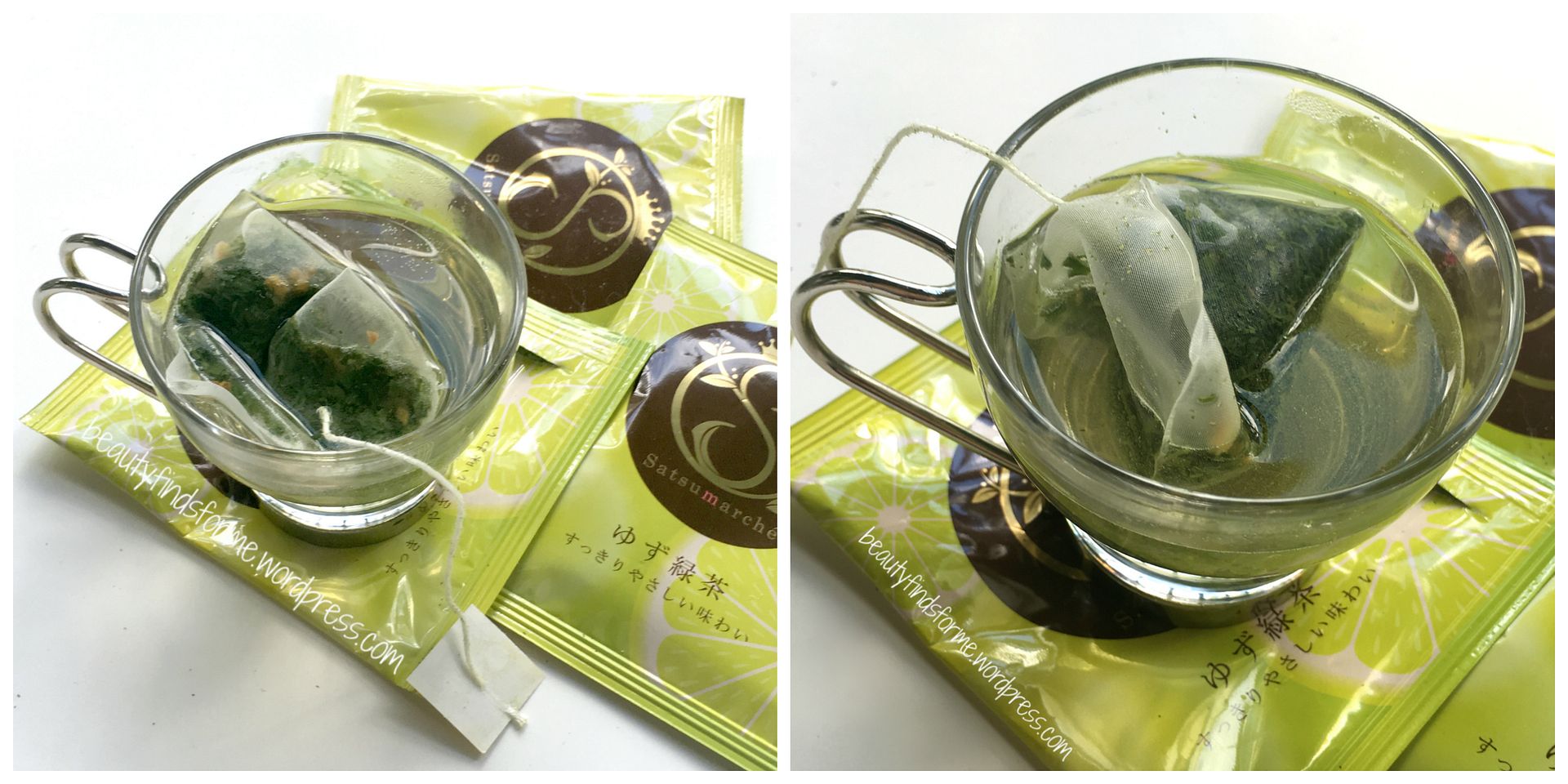 Yuzu Green Tea ゆず緑茶 By Kagoshima Seicha "Yuzu peel from Soo City in Kagoshima Prefecture adds a fresh, fruity aroma to this premium tea. Each sip of smooth green tea is deliciously balanced by light citrus notes." UnboxingBeauty TasteBuds:  This is a delicate green tea and honestly, I couldn't pick up any citrus notes.  However, I love the green tea taste ~ do not over-brew this as it will be bitter.  This is a great tea to cut thru the really sweet snacks in this month's box.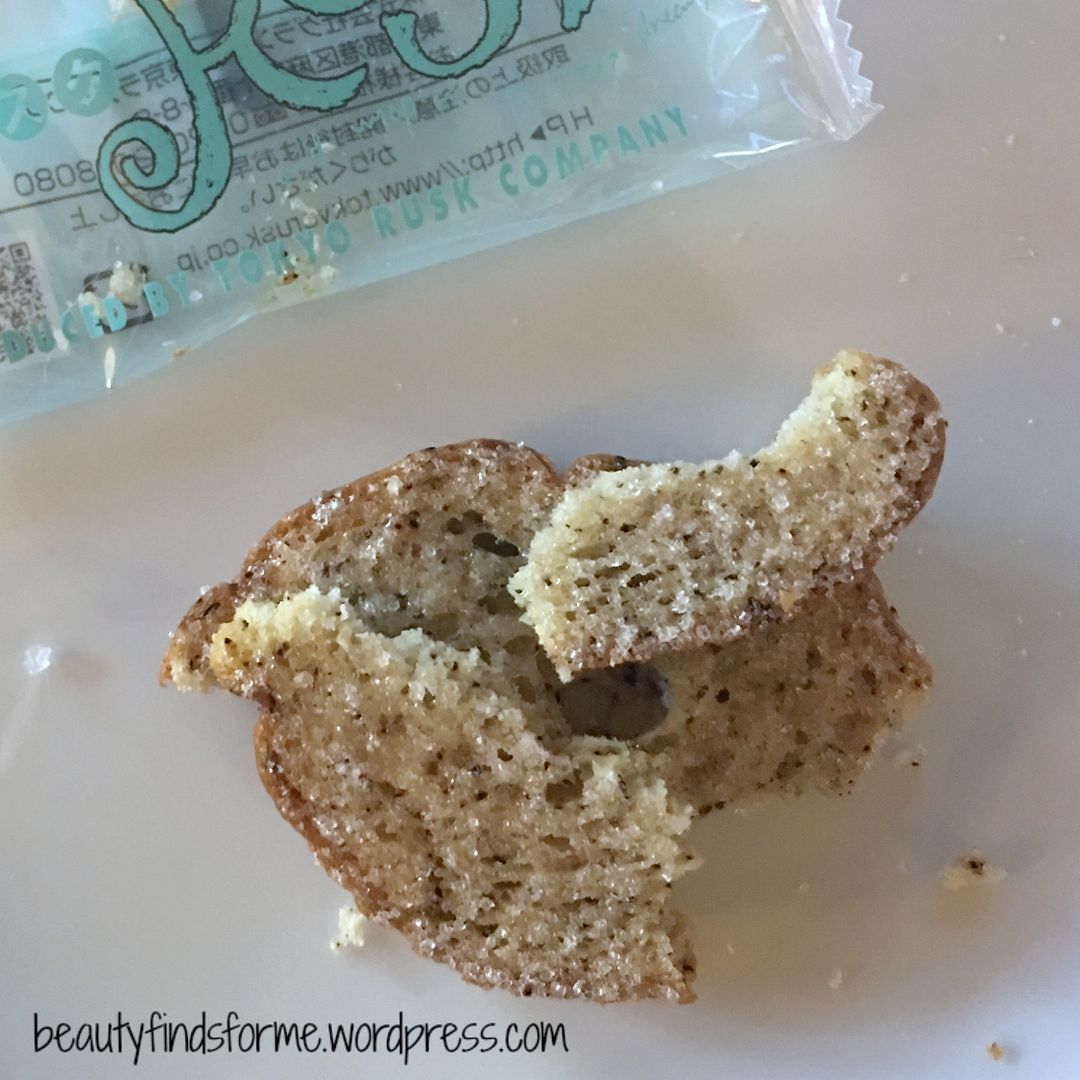 Earl Grey + Orange Peel Rusk アールグレイ+オレンジピールラスク by Tokyo Rusk "This delicate baguette slice is twice baked in the oven with a generous amount of Earl Grey tea and orange peel layered on top. It's deliciously crunchy with the relaxing aroma of Earl Grey and just a hint of citrus. It's a match made in heaven!" UnboxingBeauty TasteBuds: These are wonderful! The baguette crisps are, well, crisp and the  taste is so subtle ~ I can pick out the tea and then a hint of lemon. Nicely sweet too – not too much sugar, but just enough. one of my favorites in the box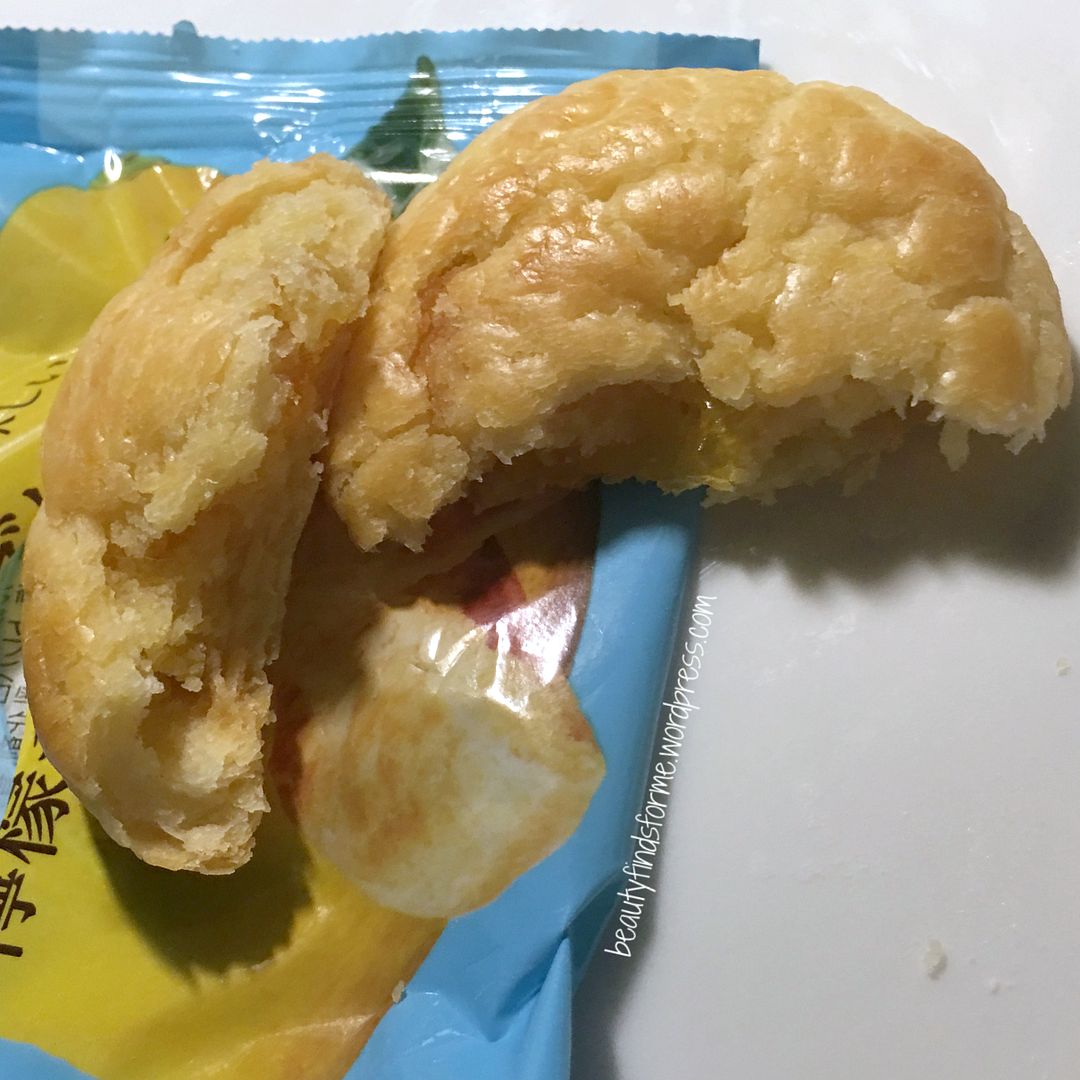 Lemon Cheese Cake Pie 檸檬チーズケーキパイ By Nakajima Taishodo; Product of Osaka "Wrapped in a buttery pie crust is lemon cheese cake mixed with apricot jam. This flaky delight becomes even more refreshing when refrigerated!" UnboxingBeauty TasteBuds:  Its filling is not like cheesecake, but of a ricotta cheese pie ~ it has that crumbly texture. The pastry is so buttery tasty and is a good complement to the lemon and apricot cheese filling. I didn't eat this chilled and it was delicious. I have one left so I will put that in the frig and save it..hahah This is my favorite sweet treat in this box – I love ricotta pie, so this was a nice twist to it that classic dish
Pocky Trinity Orange Peel ポッキー三重奏 オレンジピール By Glico; Product of Osaka "This premium Pocky stick is coated in chocolate and sprinkled with orange peel, creating a delicious trio ensemble. Each bites opens with a rich flavor and finishes with orange zest!" UnboxingBeauty TasteBuds: Orange and chocolate are a classic, sophisticated pairing and I pleased to report that these Pocky did do it justice! Very good, crisp 'breadstick" covered in milk chocolate and orange zest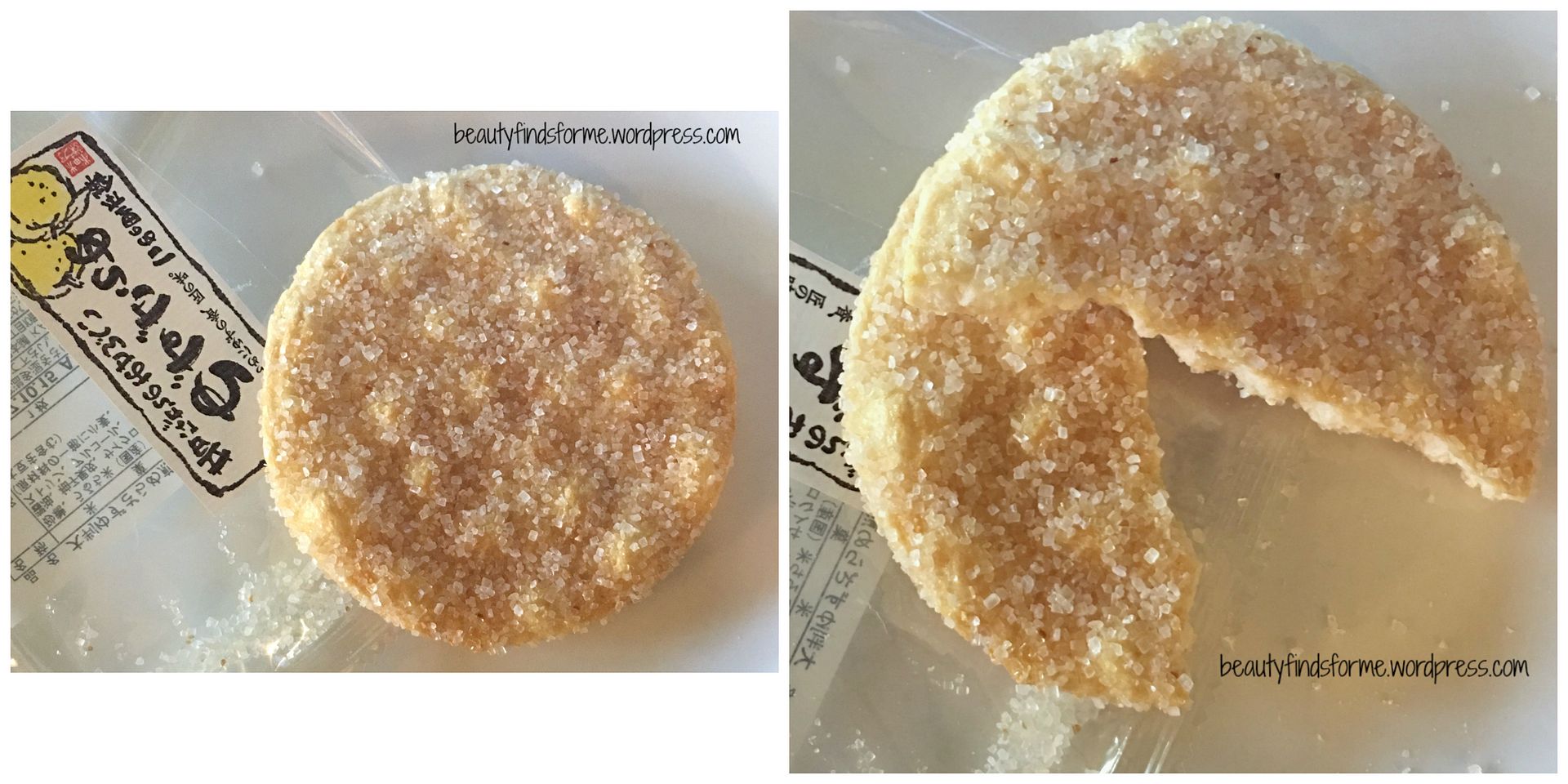 Oban Yuzu Zarame Senbei 大判ゆずざらめ煎餅 By Komeno Sato "This flavorful, crunchy rice cracker is sprinkled with small bits of Yuzu from Tochigi Prefecture and Yuzu-flavored crystal sugar. One zesty, sweet bite will leave you wanting more!"  UnboxingBeauty TasteBuds: This is a HUGE rice cracker! It starts out tasting like a normal rice cracker, but as the yuzu lemon sugar crystals melt in my mouth, the citrus taste comes out. This is sweet,  but the lemon taste tempers that so it isn't too sweet. This is VERY crunchy too, because of the dense coating of sugar crystals paired with the cracker. I love this one as well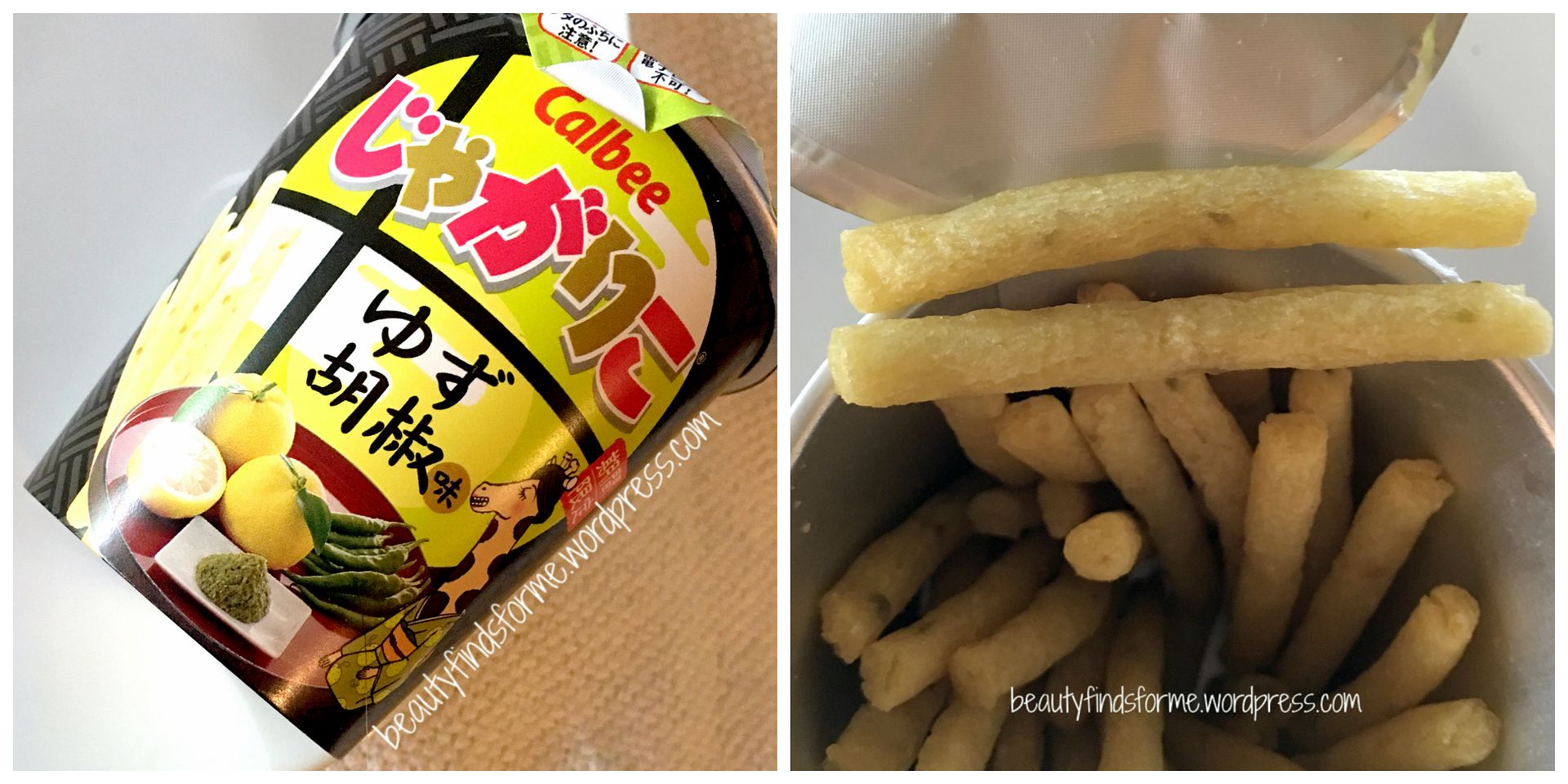 Jagariko Yuzu Pepper じゃがりこゆず胡椒味 By Calbee "These crispy potato sticks first debuted in 1995 and rapidly grew in popularity to become one of Japan's bestselling snacks. The Yuzu Pepper adds a delightfully spicy kick to the usual savory potato flavor"   UnboxingBeauty TasteBuds:  This was the only savory item in the box this month.  This potato sticks are much more of a thicker cut, crispy and crunchy than USA sticks which are thinner and easier to break. These had a great potato taste with a hint of citrus and spicy pepper. Very good and I haz sad when I finished off this snack!

Final Thoughts
Two thumbs up with my first box with Bokksu!  I actually still have one of the HUGE mochi in my freezer as I wanted to savor that one ~ haha ~ but I finished off all of the other snacks and enjoyed them all.  I wish my taste buds could have picked up the citrus notes in the tea, but all in all, great start for me with my journey with Bokksu. Now, I just got my July box and I will try to have that unboxing and tasting up before August ~ but one thing they are changing is the shipping.  They are now shipping directly from Japan, which might be a problem if they do not have tracking.  We'll see ~ I don't have issues with NMNL at all and that ships directly from Japan, but I do know that my other snack box, which I cancelled, never got to me once they changed the shipping. 
Have you tried Bokksu yet?  What did you think of the goodies in this month's box?