[ product was provided for review purposes ]
I have fine lines and wrinkles under and around my eye area.  It is a major concern for me ~ when I was younger, I was outside a lot ~ at the beach, mountains, even with the sunroof down on my car ~ and I didn't always wear sunglasses or sunscreen.  The squinting and sun exposure has caused a lot of the damage and whereas I don't mind my laugh lines that radiate out of the outer corner of my eyes, I do mind the crinkling and lines that appear under my eyes.  Jolse, a premier online K-Beauty store, generously sent me the Missha Geumseol Giyun Eye Cream and Filling Patch Kit for review purposes ~ Jolse supplies me with a store credit and allows me to have complete autonomy for what I wish to test and review.

Skin Type/Concerns: Oily, blemish prone, aging skin with hyper-pigmentation and fine lines/wrinkles.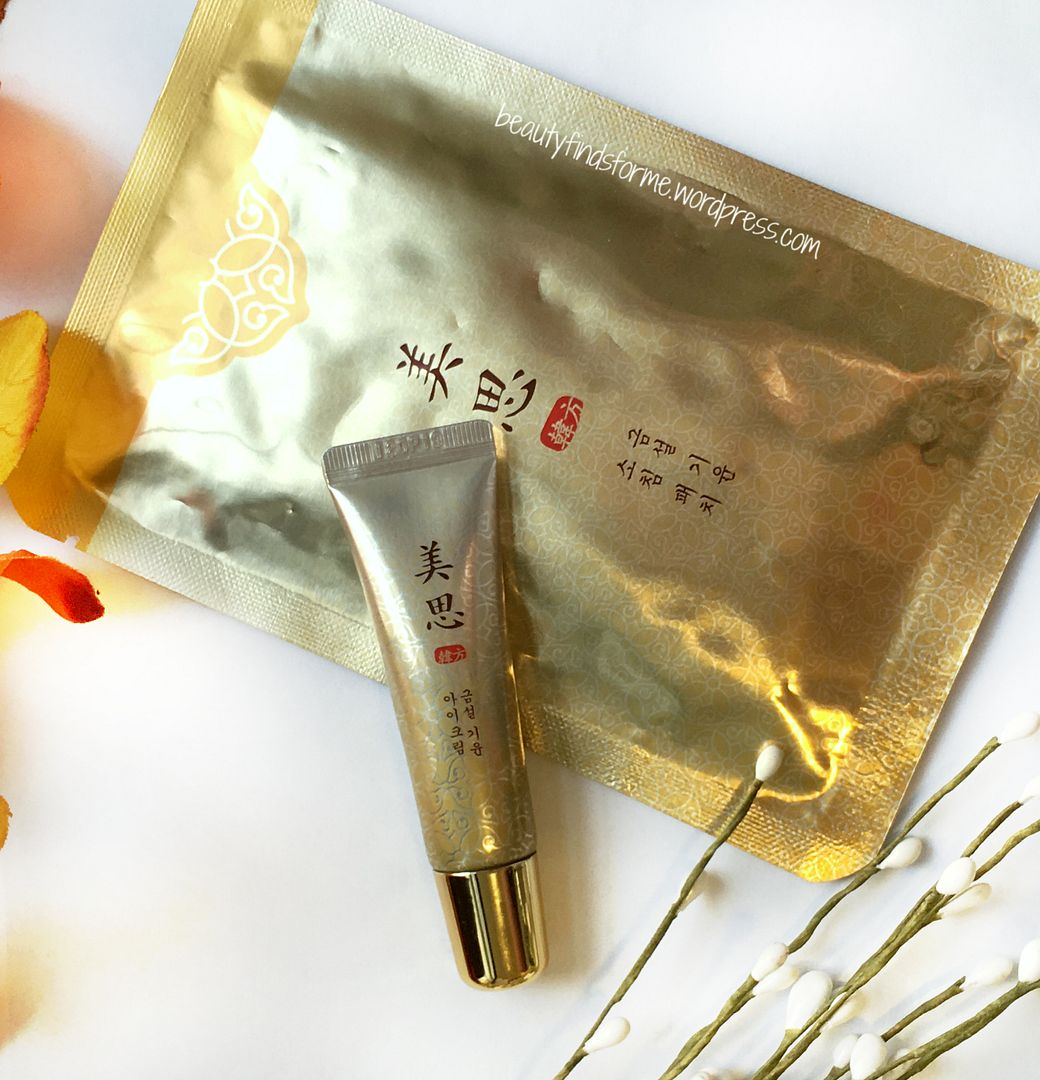 I was really curious about this product as I am very familiar with derma-rolling, which are those rollers that have micro needles ~ you roll that across your skin and it is supposed to help with speeding up cellular turnover.  I have tried it, but I could never do it on a regular schedule as I kept forgetting to do it!  This kit contains the best selling Missha Geumsoel Giyun Eye Cream and 4 packs of Filling Eye Patches ~ the eye patches are actually micro needle patches, made up of  about 750 compact hyaluronic acid needles per eye patch (Patent no 10-1549086). This allows for better and effective absorption into your skin and hyaluronic acid not only adds hydration but will attract moisture to your skin as well. . These patches will help refine wrinkled and sagging skin (that's me!) around the eye area and improve skin tone and elasticity.  The eye patches also contain anti-aging, anti-oxidant skin revitalizing ginseng, anti-aging acetyl hexapeptide-8, binding water to your skin, regenerating skin cells and reducing the appearance of fine lines and wrinkles and then finally, calming, soothing and healing madecassoisise, also helping reduce redness and inflammation.  I did a close up of the patches below, and you can see that there are little raised needles on the patch.  That side will go towards my skin


Missha Filling Patch Ingredients: sodium hyaluronate, lactose, panax ginseng root extract, butylene glycol, acetyl hexapeptide-8, madecassoside  cosDNA analysis

The Geumseol Giyun Eye Cream is in a 10 mL tube, more than enough for 4 treatments and will help brighten and treat aging eye signs ~ such as fine lines, wrinkles and dark circles.   This is quite the hanbang eye cream, containing ginseng, an herbal medicine whose properties and usage date back over 5,000 years.  It is used in anti-aging skin care products, as ginseng can stimulate the skin and activate the blood flow. This will increase toning and production of new skin cells. It also has anti-oxidant and anti-inflammatory properties, due to natural carbohydrate called saponin, and will help reverse damage caused by free radicals, such as hyper-pigmentation and also combat free radicals to prevent new skin damage of fine lines and wrinkles. Applied topically, it helps stimulate collagen production to promote cellular renewal.  Reishi mushroom, which along with ginseng and cannabis, it is one of the more researched herbal ingredients ~ they are called "The Queen of Mushrooms", due to their antioxidant and anti-aging beneficial properties and its usage dates back over 4,000 years and is one of the more commonly used medicinal mushrooms.  Applied topically, it reduces swelling and puffiness, as it is an anti-inflammatory, promotes cellular turnover which will help smooth fine lines and wrinkles. 
Deer antler extracts have anti-aging benefits and will help in cellular turnover when applied topically.  Deer velvet antlers contain hormone growth factors that help with skin healing and growth of skin tissue ~ IGF-1 (insulin-like growth factor), EGF (epidermal grown factor)  and  TGF-β1 (transforming growth factor).  Missha only uses the discarded antlers, as stag antlers regenerate naturally and there is no harm done to the deer when they obtain the extract.  There is also 5,478 other ingredients in here (no, not really but the list is long), and in a nutshell, this is a very intense eye cream.  The eye cream is free of parabens, triclosan, mineral oil, colorants and GMO's.  
Missha Geumseol Giyun Eye Cream Ingredients: Ginseng Root Water, Panax Ginseng Root Extract, Ethylhexyl Methoxycinnamate, Glycerin, Butylene Glycol, Butylene Glycol Dicaprylate/Dicaprate, Caprylic/Capric Triglyceride, Titanium Dioxide, Arbutin, Hydrogenated Polydecene, Cetyl Alcohol, Cetyl Ethylhexanoate, Polysorbate 60, Sodium Hyaluronate, Phellinus Baumii Mycelium/Panax Ginseng Root Ferment Extract, Coptis Japonica Root Extract, Coptis Chinensis Root Extract, Aquilaria Agallocha Stem Extract, Velvet Extract, Glycyrrhiza Glabra (Licorice) Root Extract, Allium Sativum (Garlic) Bulb Extract, Tussilago Farfara (Coltsfoot) Flower Extract, Asparagus Lucidus Root Extract, Asparagus Cochinchinensis Root Extract, Laminaria Japonica Extract, Astragalus Membranaceus Root Extract, Saccharomyces Ferment Filtrate, Schizandra Chinensis Fruit Extract, Rehmannia Glutinosa Root Extract, Paeonia Lactiflora Root Extract, Chidium Officinale Root Extract, Triticum Vulgare (Wheat) Flour Extract, Morus Alba Bark Extract, Oryza Sativa (Rice) Extract, Ginkgo Biloba Nut Extract, Terminalia Chebula Fruit Extract, Honey Extract, Sesamum Inidicum (Sesame) Seed Oil, Ophiopogon Japonicus Root Extract, Poria Cocos Extract, Lycium Chinense Root Extract, Cynanchum Wifordi Root Extract, Polygonum Multiflorum Root Extract, Curcuma Longa (Turmeric) Root Extract, Psoralea Corylifolia Fruit Extract, Trichosanthes Kirilowii Root Extract, Lycium Chinense Fruit Extract, Citrus Unshiu Peel Extract, Zizyphus Jujuba Fruit Extract, Codonopsis Lanceolata Root Extract, Lilium Candidium Bulb Extract, Chaenomeles Sinensis Fruit Extract, Raphanus Sativus (Radish) Seed Extract, Santalum Album (Sandalwood) Wood Extract, Zingiber Officinale (Ginger) Root Extract, Acorus Gramineus Root/Stem Extract, Nelumbo Nucifera Seed Extract, Ganoderma Lucidum (Mushroom) Extract, Polygonatum Officinale Rhizome/Root Extract, Castanea Sativa (Chestnut) Seed Extract, Eugenia Caryophyllus (Clove) Flower Extract, Scrophularia Buergeriana Root Extract, Corydalis Turtachaninovii Root Extract, Scutellaria Baicalensis Root Extract, Foeniculum Vulgare (Fennel) Fruit Extract, Magnolia Officinalis Bark Extract, Papaver Rhoeas Petal Extract, Trifolium Pratense (Clover) Flower Extract, Pueraria Thunbergiana Flower/Leaf/Stem Extract, Carthamus Tinctorius (Safflower) Flower Extract, Hibiscus Sabdariffa Flower Extract, Theobroma Cacao (Cocoa) Seed Extract, Cordyceps Sinensis Extract, Artemisia Princeps Leaf, Morus Alba Fruit Extract, Cinnamomum Cassia Bark Extract, Chrysanthemum Indicum Flower Extract, Camellia Sinensis Leaf Extract, Alpinia Officinarum Root Extract, Abies Koreana Leaf Extract, Lactobacillus/Nelumbo Nucifera Seed Ferment Filtrate, Adenosine, Gold, Pueraria Lobata Root Extract, Diospyros Kaki Leaf Extract, Glyceryl Stearate, Sorbitan Stearate, Polyacrylate-18, Tocopheryl Acetate, Polyisobutene, Aluminum Hydroxide, Palmitic Acid, Stearic Acid, Acrylates/C10-30, Alkyl Acrylate Crosspolymer, Tromenthamine, Sorbitan Isostearate, Polysorbate 20, Glyceryl Acrylate/Acrylic Acid Copolymer, Disodium EDTA, Ethylhexylglycerin, Caprylyl Glycol, Chlorphenesin, Phenoxyethanol, Fragrance cosDNA analysis
This kit comes in a beautiful, highly reflective (and therefore, hard to photograph!) gold box which lifts  up to reveal the compartments for the 4 gold foil pouches containing the eye filling patches and the small tube of eye cream.
To use these products, first apply the eye cream to your clean skin under your eyes, letting it absorb into your skin.  The tube has a nice slanted applicator, which makes it easy to just dot directly onto your skin.  The eye cream is quite thick from the tube and heavy ~ but it does absorb nicely into my skin after a few minutes.  I did not notice a scent with it.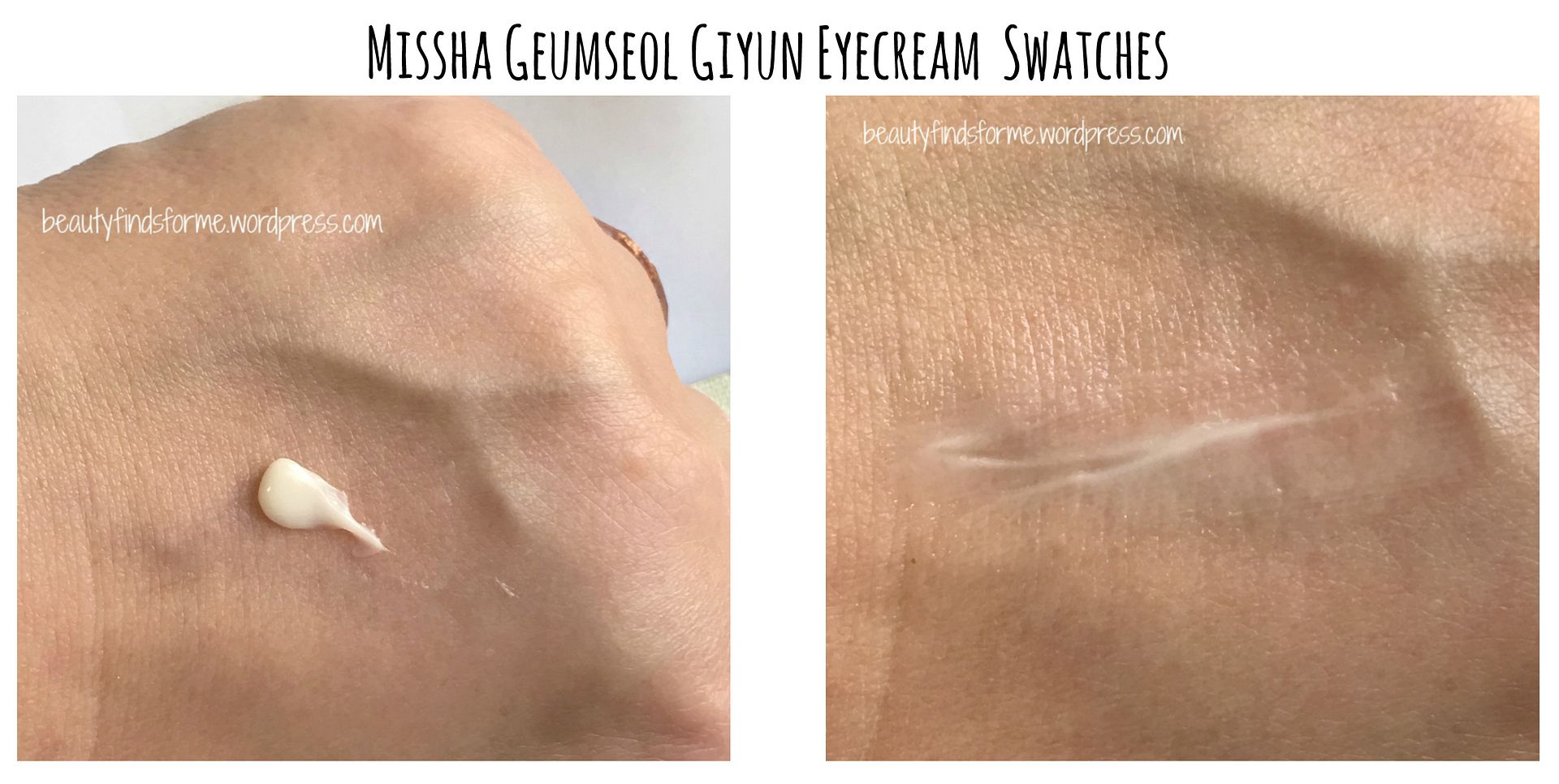 Once the cream is absorbed into your skin, peel off the clear backing from the micro needle side of the eye patch and then the white strips off the smooth side.  Place the eye patch under your eye, with the micro needles facing towards your skin and gently press the patch onto your skin. It will stick and not budge!   I did not find that these needles hurt at all ~ I was bracing myself for the type of sensation I got when I micro needled ~ however, because these are made with hyaluronic acid, they just press into the skin without causing pain, despite being a bit pointy.
Once I removed the patches, I noticed that the points from the needles were blunted and the patch was almost smooth, with just a slight reminder of where the needles used to be.  I assume that is because my skin absorbed the hyaluronic acid needles and its formula.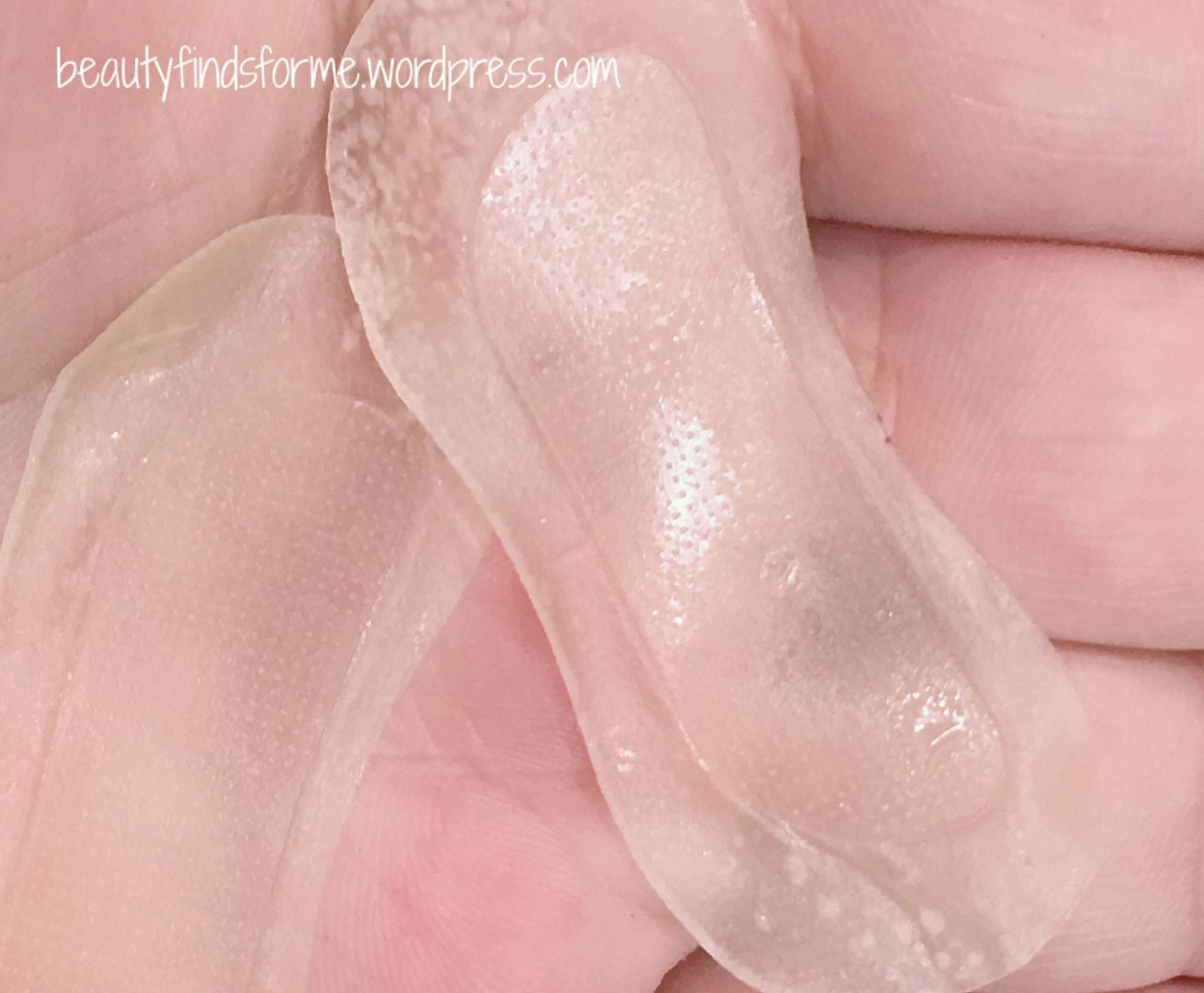 After removing the patches, apply more eye cream onto the area as your skin will be more receptive to absorbing the cream due to the micro needling. Missha has a nice tutorial on how to maximize the benefits of your eye cream by applying it in a certain manner.
I did some photos of my eye before, during and after using this kit. Below is a trio of shots showing my under eye area before the treatment, with the eye cream added and then the patch over the cream.
The next photos show the full length of the patch on my eye and then my under eye area right after the removal of the filling patch ~ you can actually see the indentations on my skin where the filling patch's micro needles were pressed against it.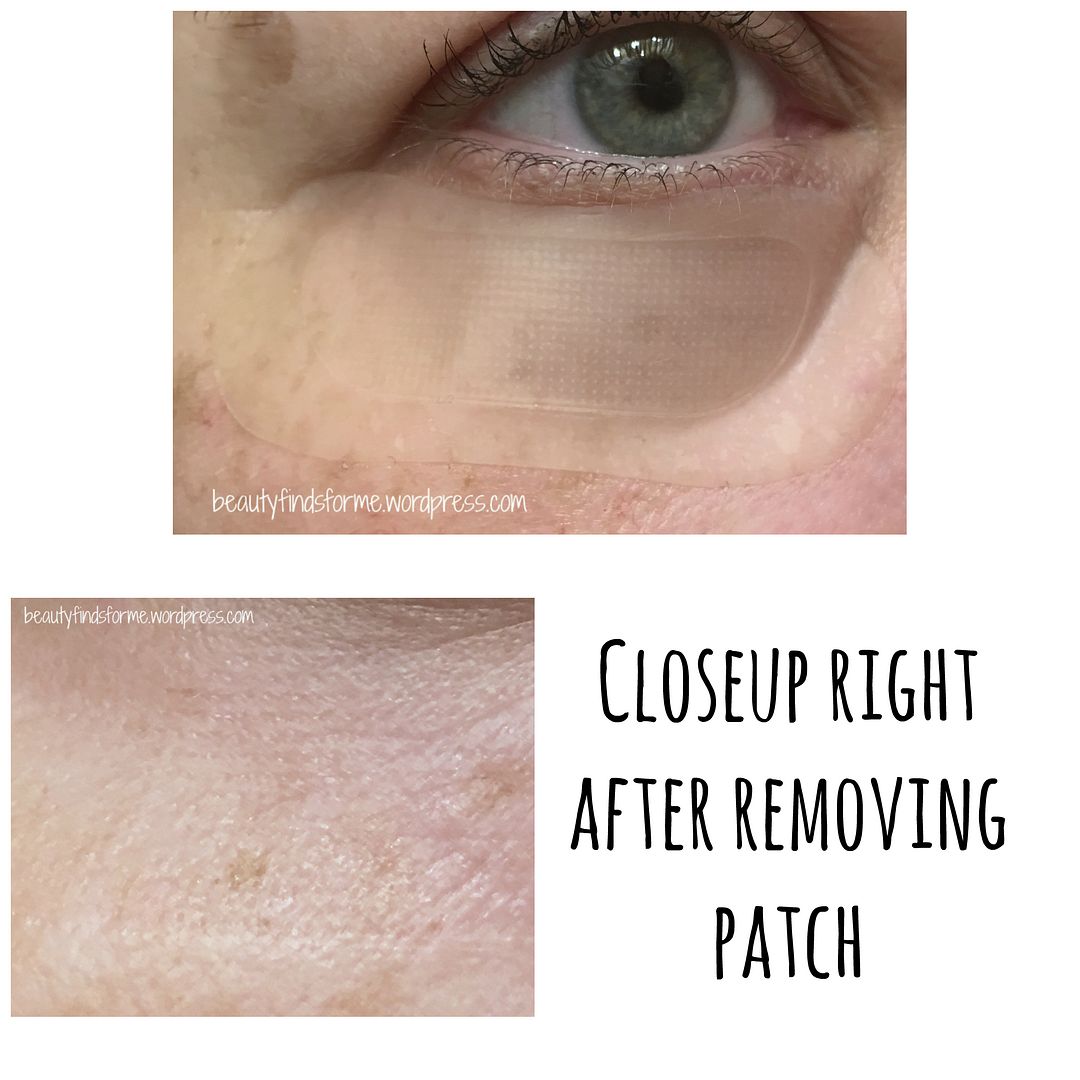 And then finally, the before picture next to the after photo, once my skin smoothed out.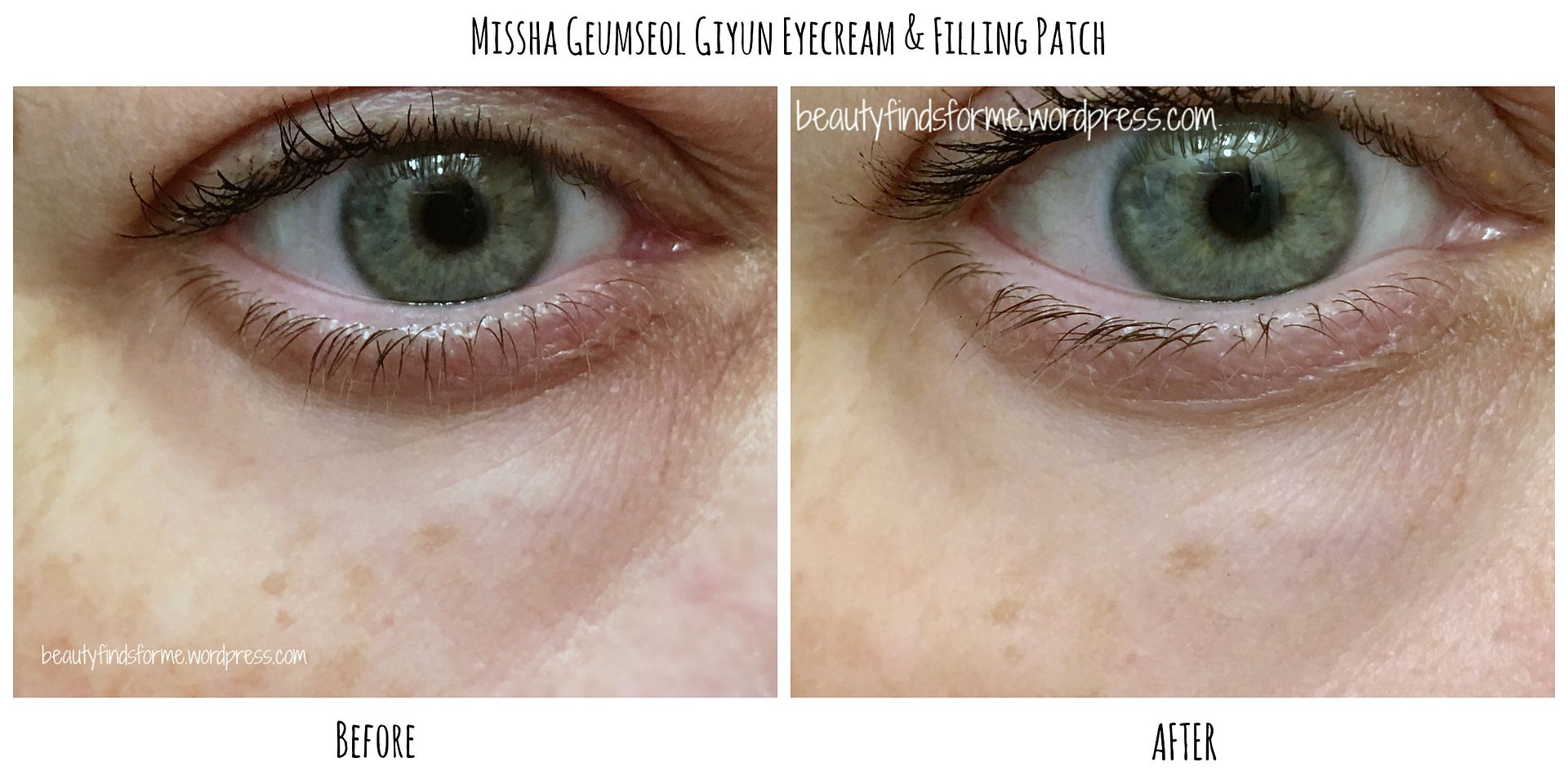 Final Thoughts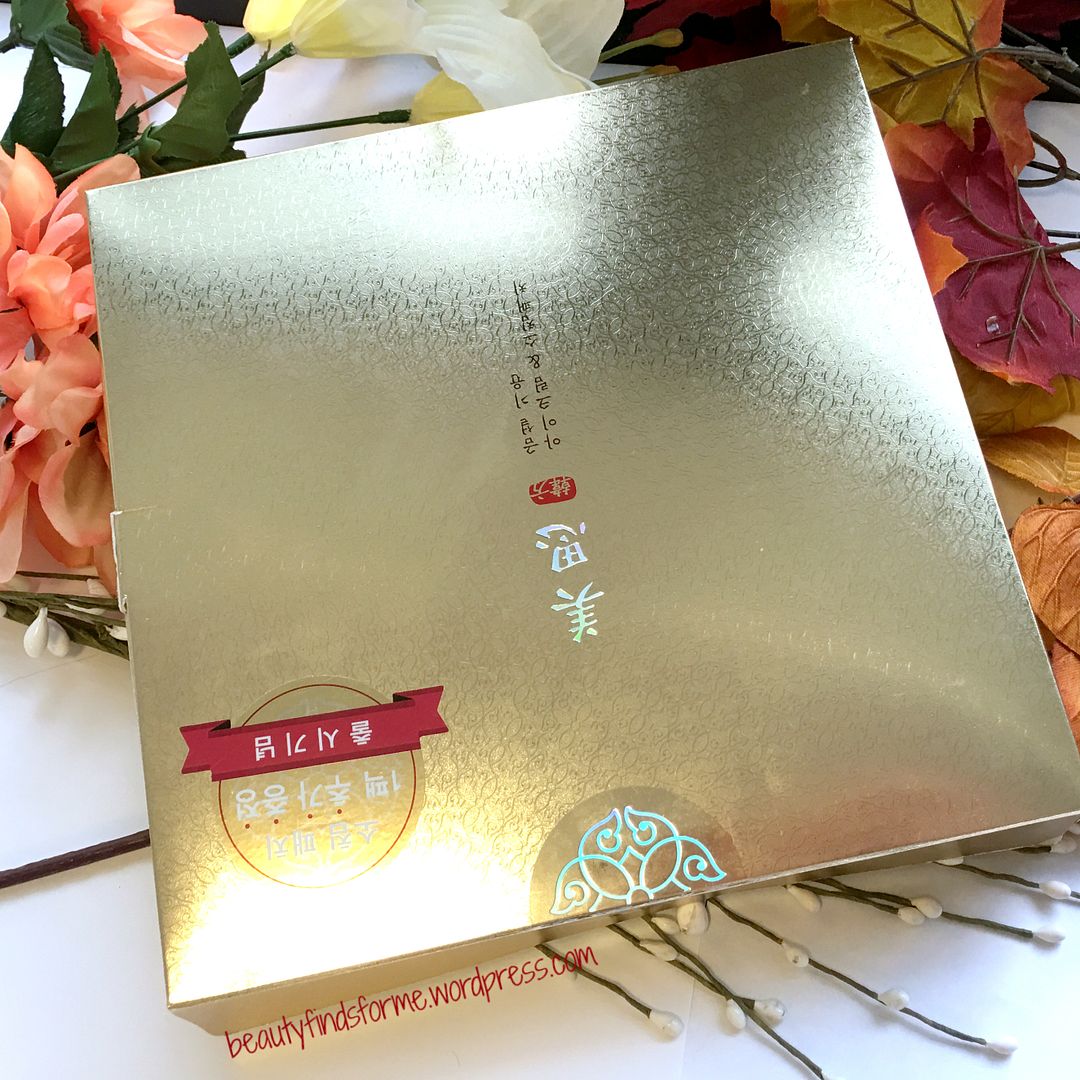 So, what do I think of this product?  I have used up all 4 patch treatments and I will say that this *might* have some long term benefits, but you would have to use these eye patches at least every 3 days ~ according to Missha.  You could go longer without using them, but the recommended time period between the treatments is 3 days.   What I did notice was temporary and lasted for about 24 to 36 hours ~ my skin felt more taunt and flattened under my eye area and I did notice that some of my fine lines were softened and less "deep" in appearance.  This product worked well for me as an instant eye rejuvenator, but it was not permanent.  This is something I want to purchase again, as it would be great for those special occasions where I want to have "fresher" and tighter  looking skin under my eyes.   However, for a regular treatment, that would get costly and I am not sure that this will result in permanent aging reversal.  There isn't a lot of information on this kit and I couldn't find any reviews on it.
Missha does claim that this will show a 6.35% reduction in wrinkles after 2 weeks and 13.54% reduction after 4 weeks, so I guess I would have to stock up on a lot of these kits to prove or disprove that, and these are not cheap.  That said, for a special occasions, this is a great little product ~ it is quick and I did see immediate results that I was pleased with.   I am pretty happy that I chose this product as I think it is one of the more interesting kits I have tried!  Many thanks to Jolse for their generosity.
Where to Purchase

Jolse is one of the few retailers that carries the Missha Geumseol Giyun Eye Cream and Filling Patch Kit, which comes with a 10 mL of the eye cream and 4 filling patches (click here to purchase) and it retails for $31.98  USD.  Jolse ships world wide, and offers free International shipping for orders $40.00 or more  ~ plus they give lots of free samples with each purchase!  

[  product provided for review purposes ]