[ disclosure: product received for review purposes  contains referral link  ]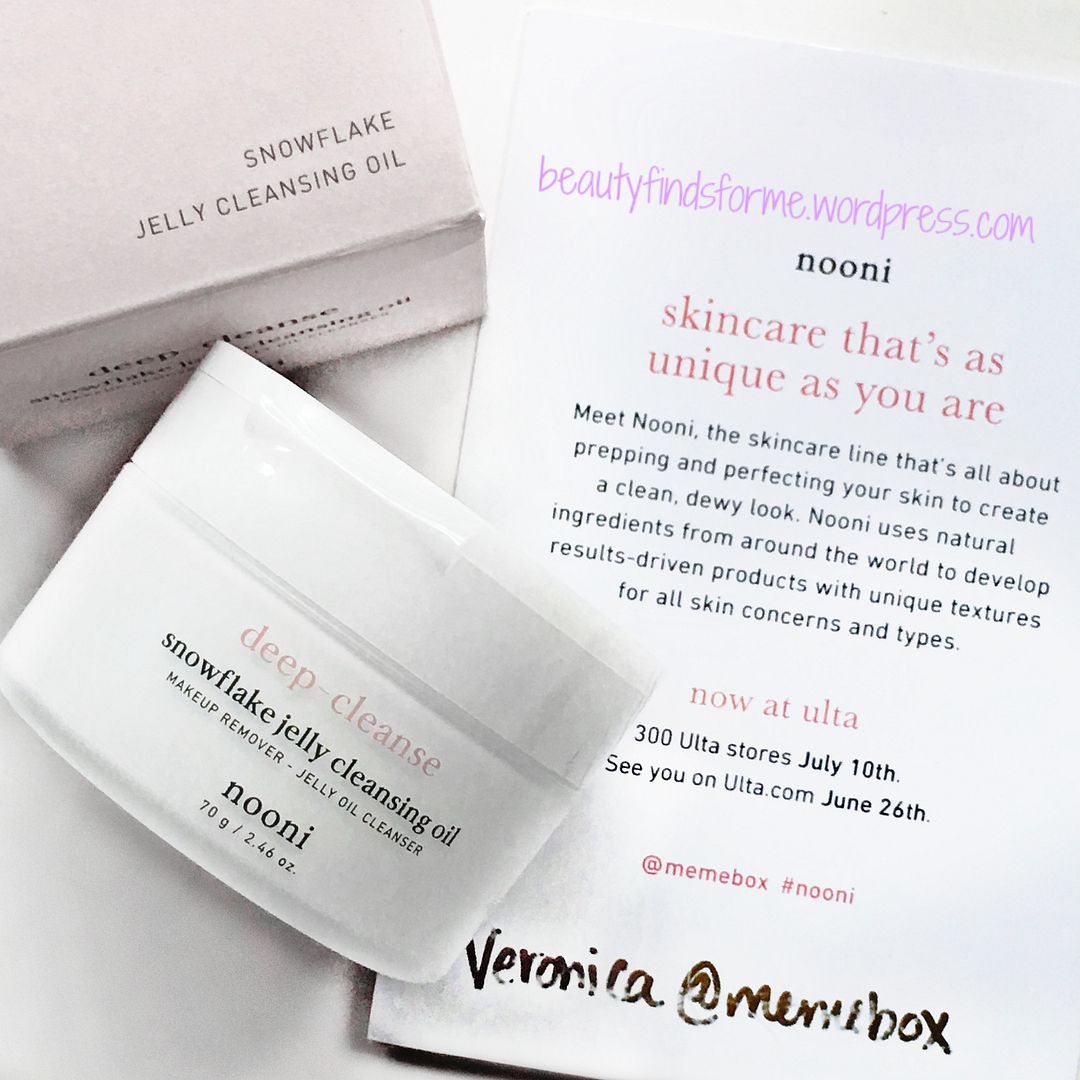 I was tickled pink when Memebox USA sent me the latest item in the Nooni line ~ I am a Memebox Ambassador and I thought that with the closing of their online USA shop, that they might not send out new products to their Ambassadors.  Selected items from the Memebox house brands, such as Nooni, is now available at Ulta!  This is so exciting as that means no more hunting around on amazon and eBay, paying huge prices for these products.   I really enjoy the Nooni Snowflake line ~ their cleansing balm works really well and is a fairly decent dup for Banila Clean It Zero.   Like a normal cleansing balm, the Nooni Snowflake Jelly Cleansing Oil is the first step oil cleanser in a double cleanse method, however, its texture is different from the balm. 
Skin Type/Concerns:  Oily, blemish prone, aging with fine/lines wrinkles, hyper-pigmentation
What is Double Cleanse or Cleansing?  Double Cleansing is a method where you first use an oil cleanser to remove all of your makeup and dirt.  Don't be afraid of oil!  I have oily skin and I use an oil cleanser daily to remove my stubborn and long wearing makeup.   You apply the oil cleanser to your dry face and massage it in gently and it will loosen up and remove surface makeup, dirt, bacteria and debris on your face.  Then rinse off with warm water and prepare to do the 2nd step in double cleansing ~ a foam based cleanser.  Using a foam cleanser ensures that all of the oil residue that could be left on your face is removed and it also deep cleans into your pores and depending on the type of foaming cleanser you use, it can contain ingredients to help exfoliate dead skin cells as well.   The result is a fresh, clean face that is ready for your skin care products!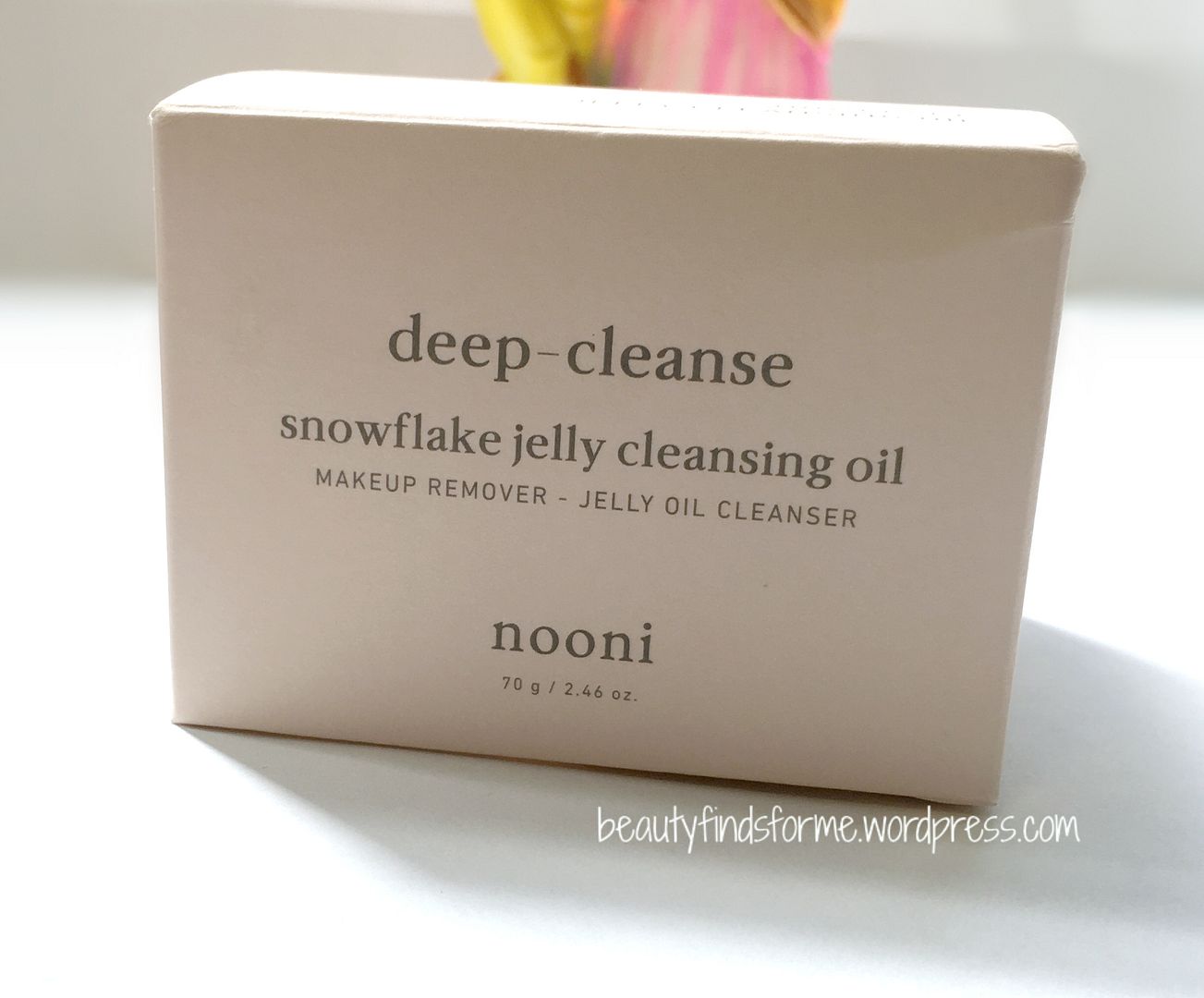 Nooni Snowflake Jelly Cleaning Oil ~ to be known going forward as Nooni Jelly or just Jelly ~ is not like a traditional cleansing balm ~ this is a clear, dense gel product. I, alas, didn't take a photo of the cleanser once I first opened it, but I did do a quick video demonstration on my Instagram account.  The jelly comes sealed and when you open it up, it is smooth as glass and pristine.   There are three short videos here, just go to the next one using the right arrow key to see a live and horribly crappy demonstration!  This is the first time that I used my little tripod for my camera to do a video demonstration.  I hope to get better at this.
I did a screen capture here ~ it's a bit fuzzy, but you can really tell that this jelly looks like Vaseline (thanks to my friend @saltwaterglow for asking me about that!).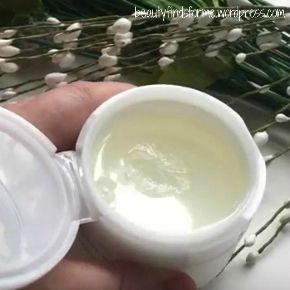 That said, it doesn't feel like Vaseline ~ Vaseline to me is sticky whereas this is not sticky at all, but turns into an oil.   This isn't jiggy-jelly like Jello, but just really a dense solidified oil in the jar.  Speaking of the jar, I love the design.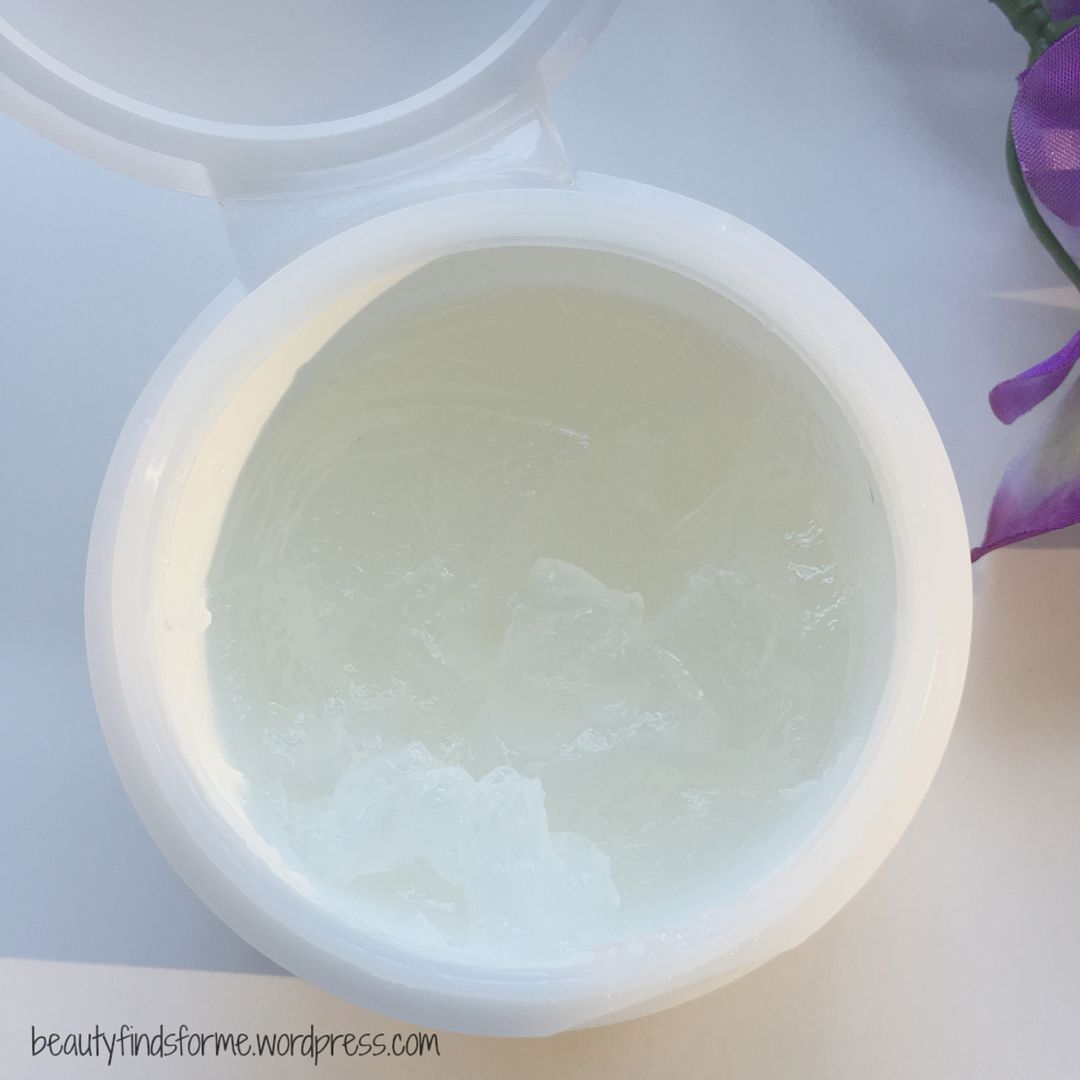 It isn't a screw top lid, which can be really a pain in the behind ~ because you have to find a place to put the lid down, scoop out the product and then put the lid back on.  This jar has a snap top lid, so you just flip up, scoop out, flip down ~ all with one hand, if you like! 
There is a plastic spoon as well, as it snaps into the top of the lid, concave side out.  If you try to snap the spoon concave side in, it will just keep falling off ~ see my Instagram demo for proof!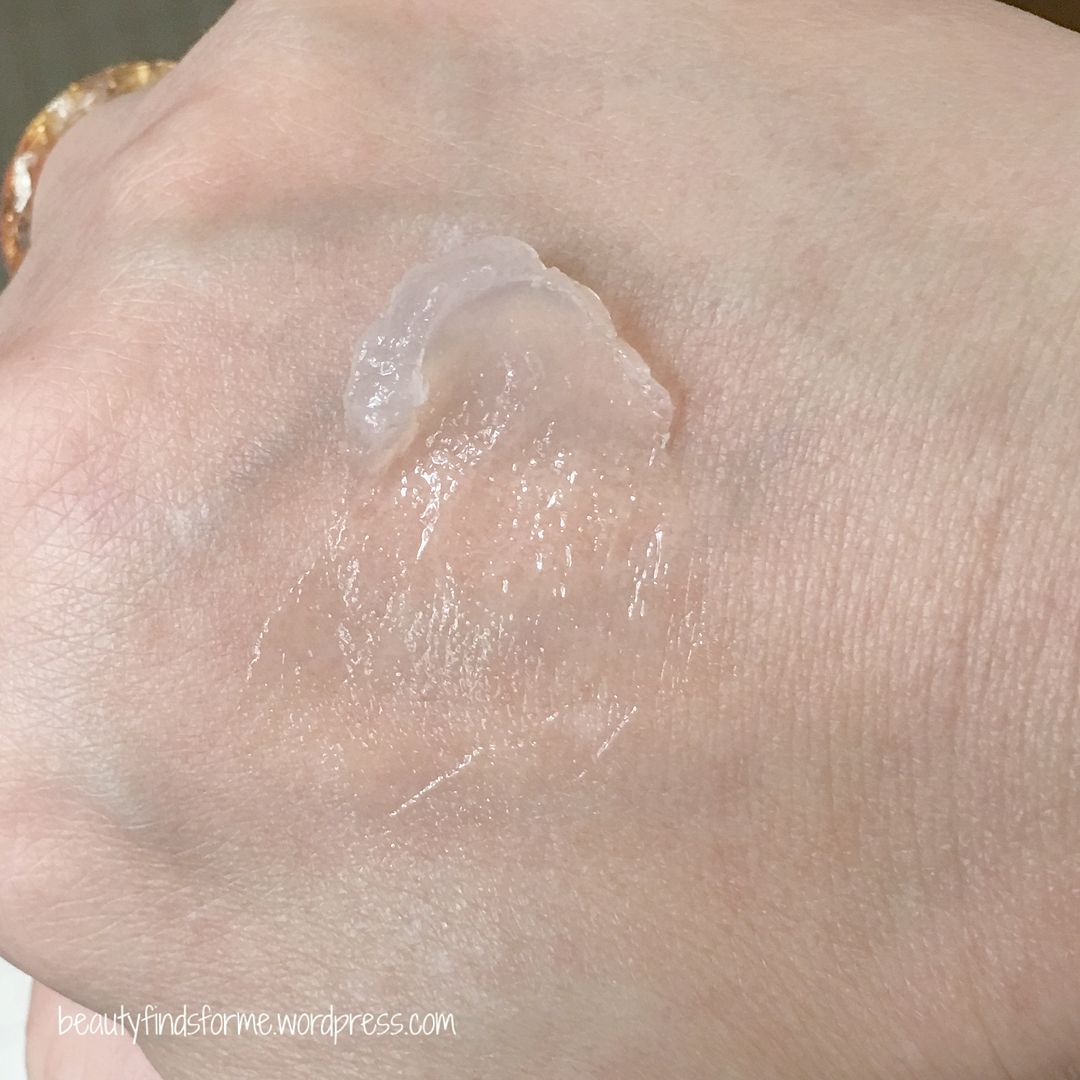 Just scoop out some jelly and apply to your dry face, gently massaging it around.  It will turn to a thick oil quickly and will help dissolve your makeup, sunscreen and grime from your face.  This Jelly has a lovely fruity scent to it.   After massaging for a few minutes, splash some water on your face ~ this will start the milky emulsification process with this cleanser and really start to finish breaking down your makeup.  Rinse clean with water.  I did my classic cleanser test ~ using my stubborn eyeliners, lippies and mascaras and put this Jelly cleanser to the test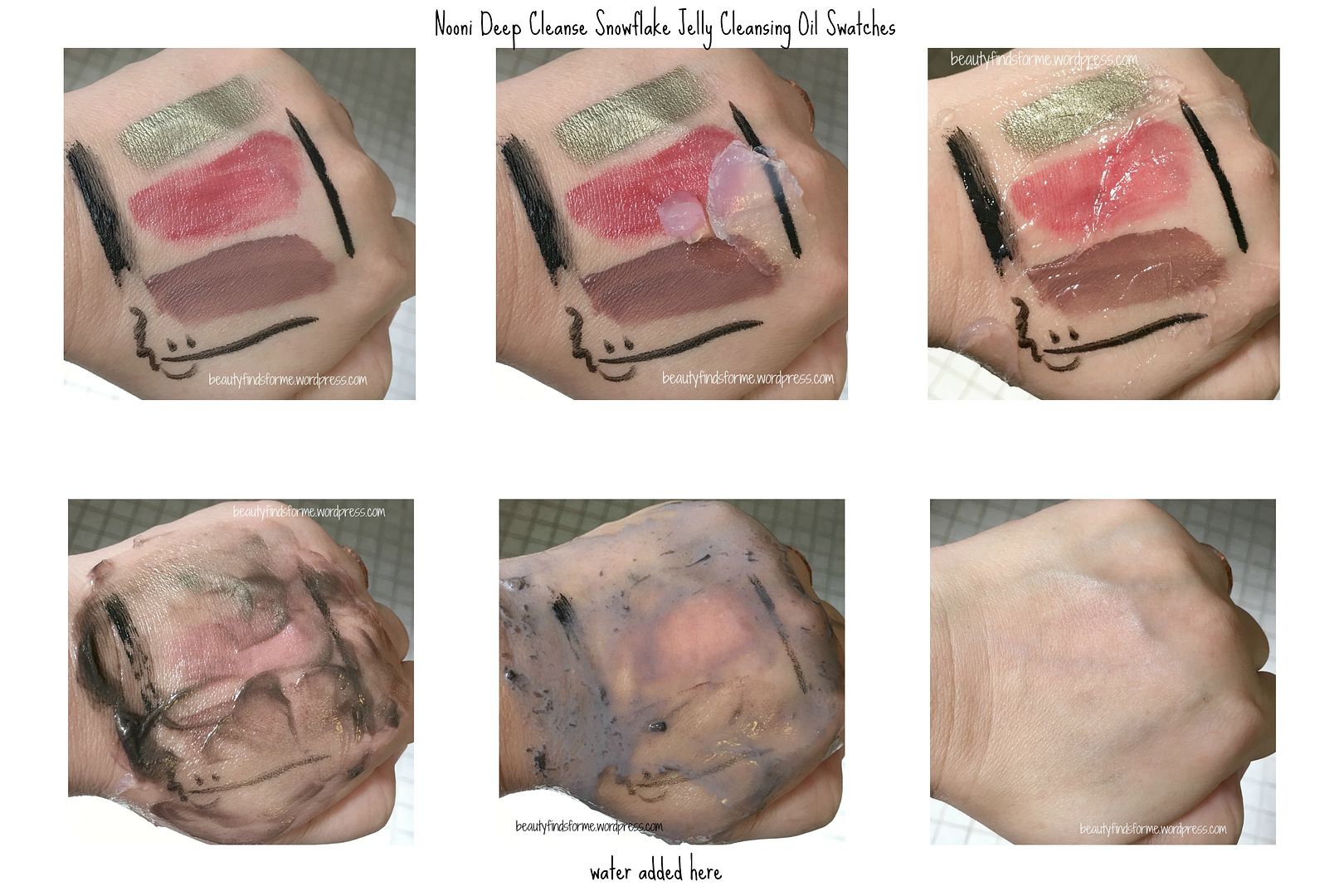 All in all, it did a great job!  There was just some faint traces of eyeliner and lip tint residue, but it really removed the makeup products well.  The trick to really getting this to work is to remember to add water after you massage it around for a while, as that will really break down the makeup and dirt.  When I did my Instagram demo, I did not have a bowl of water, so I really didn't use the product to its full potential. My skin felt soft and smooth, not at all greasy.  Normally, I would follow up with a foaming cleanser as the 2nd step, but for testing purposes, I wanted to measure how this Jelly felt on my skin after rinsing off. 
Nooni Jelly has no mineral oil, unlike many cleansing balms which do contain mineral oil.  If you are looking for a solid oil cleanser that doesn't contain mineral oil, this is it!  This contains coconut oil instead, along  with shea butter  to really help moisturize your skin
Ingredients: Cetyl Ethylhexanoate, Octyldodecanol, PEG-20 Glyceryl Triisostearate, Caprylic/Capric Triglyceride, Dextrin Palmitate, PEG-8 Isostearate, Polybutene, Bis-Diglyceryl Polyacyladipate-2, Water, Tocopheryl Acetate, Fragrance, Cocos Nucifera (Coconut) Oil, Butyrospermum Parkii (Shea) Butter, Butylene Glycol, Nelumbo Nucifera Flower Extract, Phenoxyethanol, Ethylhexylglycerin, Oxygen, Citric Acid
cosDNA analysis
Final Thoughts
I really like this new texture for a solid cleansing oil and the scent is so fun ~ very fruity and almost tropical.  Nooni Deep-Cleanse Snowflake Jelly Cleansing Oil also delivers in the cleansing department as well ~ a little bit of this oil and it will remove 99.99% of your stubborn and long-lasting makeup.  It also rinses off with no sticky, greasy or oily residue ~ my skin is so soft and supple, very hydrated and the fruity scent does linger on my skin if I do not use a foam cleanser.  Have you tried this new oil jelly from Nooni?  What did you think of it?
Where to Purchase
Ulta is now carrying some of the Nooni and revamped Bonvivant line, called I DEW.   If you want to save more money, use eBates and get 3% back on all of your purchases at Ulta ~ use my referral link here  to sign up and get $10.00 back!! I use eBates all the time and get a nice big fat check every quarter.  The Nooni line is really easy ~ they kept the same branding and names for the products, so you will be able to find the Repair Peeling Pads, Apple Water Lip Oil and Lip Mask, Snowflake Cleansing Balm plus more.
Nooni Deep-Cleanse Snowflake Jelly Cleansing Oil  RV $23.00
As an aside, my favorite I'm MEME Dual Pore Brush is now the Nooni Dual Pore Brush
The Bonvivant was a bit harder and I am slowly picking away at the old names/formula and new names/formulas.  I didn't have all of the items from the Bonvivant line, but I did recognize some of the products via the ingredients.  The ones that I know that folks will be interested in are those wonderful mellow clay masks ~ I reviewed the original Bonvivant Clay Masks here and based on the ingredients list ~ this is why I list the ingredients, instead of a fuzzy photo shot of the ingredients ~ if a brand has gone thru a facelift, having that list makes it easier to compare ~ this is what I found
The Bonvivant Chrome Mask (review here) is now the I DEW Care Disco Kitten Mask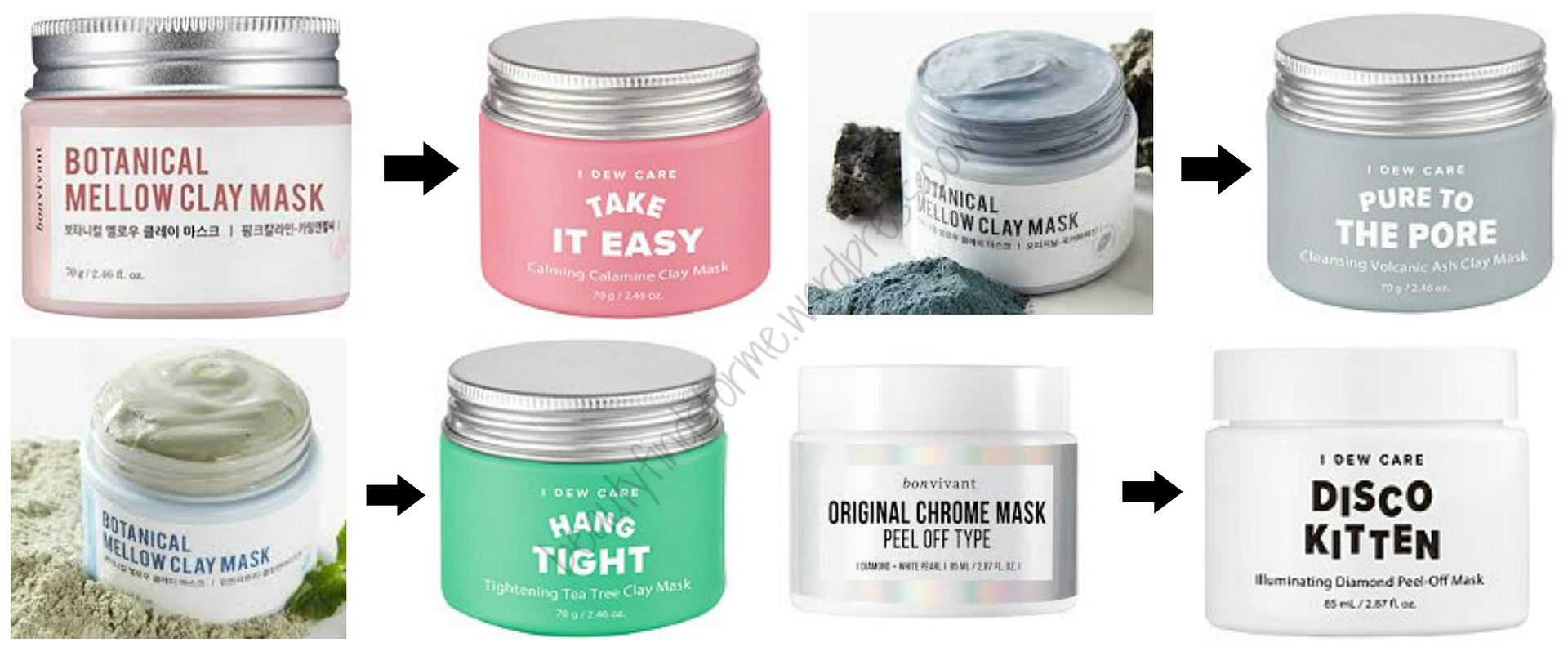 Now, they have a sheet mask set, but it is not the full Bonvivant Botantical Pure Mask line (review here). 
Bonvivant Botanical Pure Mask Pack Chamomile & Tea Tree -> New Formula -> I DEW Botanical Pure Mask Pack #In the Zone

Bonvivant Botanical Pure Mask Pack Collagen + Olive -> New Formula -> I DEW Olive Bout You Mask Pack

Bonvivant Botanical Pure Mask Pack Madecassoside + Mugwort -> New Formula -> I DEW Unwind Mask Pack

Bonvivant Botanical Pure Mask Pack Adenosine + Acai -> New Formula -> I DEW Time Warp Mask Pack
These 2 masks are from the Bonvivant That Day line ~ I never tried them, but I managed to hunt down the original ingredient lists to compare
Bonvivant That Day Mask Pack Brightening Care -> New Formula -> I DEW That Day Mask Pack #Up All Night

Bonvivant That Day Mask Pack Hydrating Care -> New Formula -> I DEW That Day Mask Pack #Morning Dew
They didn't convert the Bonvivant Botanical Pure Mask Pack Niacinamide + Lime and Bonvivant Botanical Pure Mask Pack Sodium Hyaluronate + Lotus and the complete Bonvivant Hydro Nude Gel series has not been converted ~ I hope they will do those soon!
[ disclosure: product received for review purposes  contains referral link ]