[ all products purchased by me ]
I started out my blog as a means to post beauty subscription unboxings and hauls.  Pretty soon, I was submerged into the world of K-Beauty, thanks to Memebox.  It was a gateway to other types of skincare as well ~ my knowledge of skincare products was woefully lacking as I found that most skincare that I had purchased in the past was not suitable to my skin type.  I have come a long way and now have a mix of both Asian and Western skincare products in my routine, including Taiwanese skincare.  In fact, one of my favorite masks and the first ever blog post devoted to reviewing a facial sheet mask was Taiwanese brand My Scheming.  For me, the Taiwanese skincare products I have used seem to be really great for mattifying and controlling oil, while deeply hydrating my skin.   I was thrilled when a USA shop opened up recently, devoted only to Taiwanese skincare brands ~ Miiru Shop ~ Miiru is Taiwanese for "beautiful girl" and they want to bring the best of  Taiwan skincare to their customers. 
image credit miiru shop
This shop is owned and operated by the talented Eden, who not only picks out each item that she sells, but writes a blog, not just reviewing skincare products, but also bringing some Taiwanese culture with food, ingredients spotlight and more.   I purchased some coveted CY Lab masks, Dr Hsieh masks, Neogence Peeling Kit and Dr Hsieh Mandelic Acid product.  I have reviewed several of these products on my Instagram account, but since Instagram doesn't lend itself to searching that well, I wanted to cross post my reviews here at my blog.  Descriptions in italics from Miiru Shop. 
CY Lab Top Luxury Mask Variety Set  I had seen CY Lab on Instagram in previous months and like everything else that I cannot have, I was drooling over it. I couldn't find any CY Lab products except on Bee Venom Gelly Mask on eBay ~ which I love. CY Lab looks to be part of the whole Annie's Way family of products, and it is just starting to get some traction in the AB Community world. This set came with 3 masks ~ Alpha-Arbutin Skin Whitening  Mask ~ Crithmum Maritimum Callus Culture Filtrate Mask  ~ Triple Hyaluronic Acid Intensive Moisturizing Repairing Mask.
Crithmum Maritimum Callus Culture Filtrate Mask The masks are a bit confusing as they have 3 varieties that use the exact same packaging and there is a "dot" next to the name on the back to tell you which variety the mask is. So, crithmum maritumum is derived from Sea Fennel and has retinol-like benefits ~ reducing fine lines and wrinkles, evening out skin tone, promoting cellular turnover. This mask will brighten your skin tone and increase collagen and elastin, while leaving it hydrated. I was a bit shocked when I opened up the mask package and discovered it was a black mask! Nothing about this mask would have pointed to that, but I do love black sheet masks, as they also provide a detoxing component to my masking experience.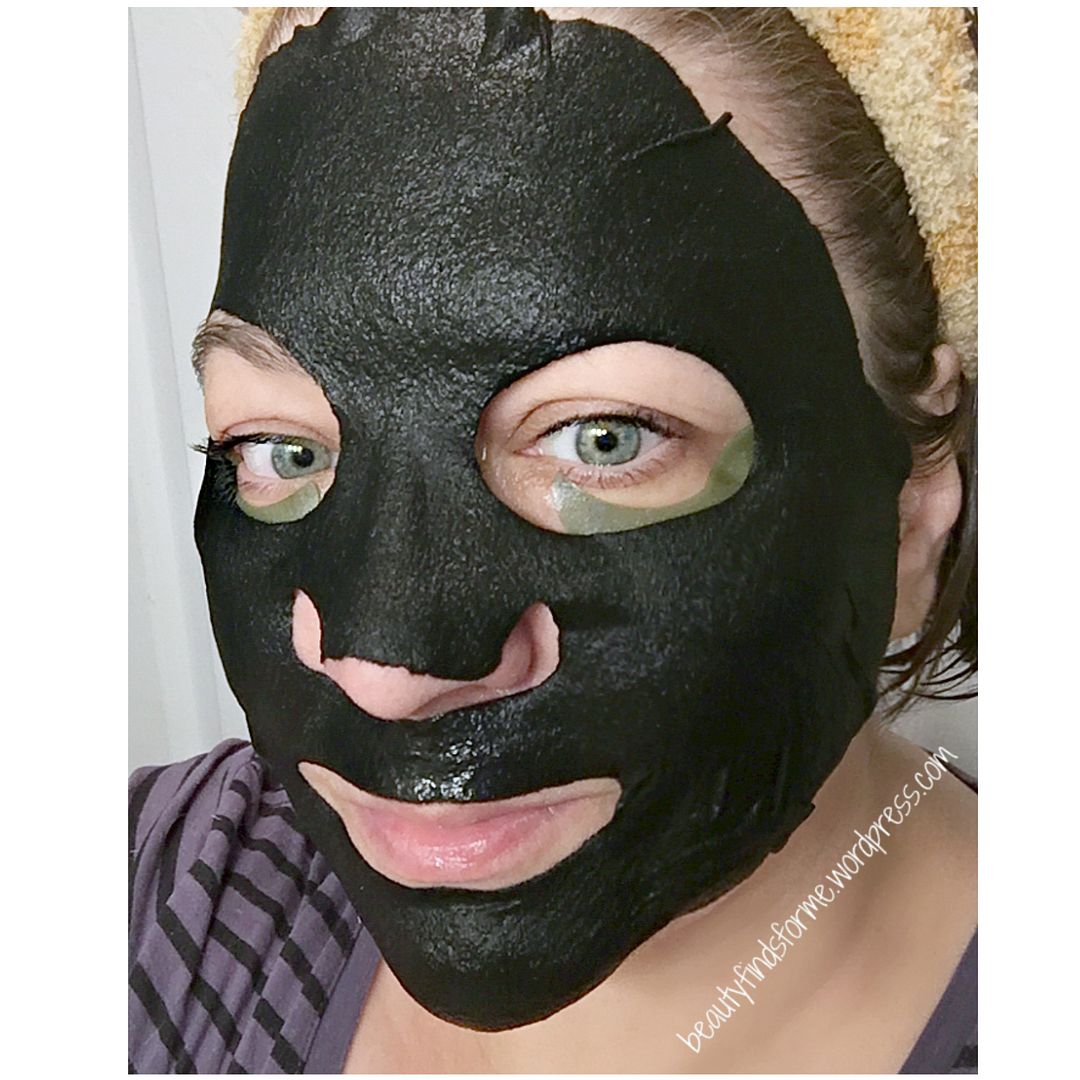 The fit is okay ~ for those of us with bigger faces, this will be a "just barely fits" type of mask. The mask sheet itself is soft and plush, and it is soaked in a watery clear essence that doesn't really have an scent. Due to the thicker nature of the sheet mask, I was able to leave this on for almost an hour as it was so moist. I removed and my face was very moist and wet, but it dried down fairly quickly, with no sticky or tacky residue. My skin tone did look brighter and more radiant, very plumped up with moisture ~ but not dewy. Which is a good thing for me and my oily skin ~ I have found that about 90% of Taiwanese sheet masks I have used will give my skin a mattifying look, which I appreciate. My pores also looked very clean and smaller in appearance.  My wait was worth it! I do recommend this mask to try out   
Description: Effectively brightens skin, leaves skin hydrated and soft. Crithmum Maritimum boosts collagen production, reduces fine lines, speeds cell turnover, and evens out skin discoloration. Pseudoalteromonas Ferment Extract is an anti-aging agent that helps increase collagen and elastin production and improve hydration. Chondrus Crispus is a seaweed full of antioxidants that works to maintain skin moisture levels
Ingredients: Crithmum Maritimum Callus Culture Filtrate, Lecithin, Pseudoalteromonas Ferment Extract, Collagen, Chondrus Crispus Extract, Sodium Hyaluronate, Carbomer, Dipotassium Glycyrrhizate, Butylene Glycol, Methylisothiazolinone, Iodopropynyl Butylcarbamate, Water cosDNA analysis

Triple Hyaluronic Acid Intensive Moisturizing Repairing Mask  Cy Lab is a sister brand to Annie's Way and they contain a lot of similarities. I love Annie's Way masks ~ the thinness, few ingredients and packed with hydration. This is the Hyaluronic Acid mask and the way you can tell is by flipping over the mask pouch and looking for the circle dot next to the name of the mask. Cy Lab only makes 3 masks in their TOP Luxury line, so they just printed all three on the back! lol It is confusing.
Why is this a triple hyaluronic acid mask? Not sure, lets look into the ingredients listed ~ sodium hyaluronic is the first ingredient. The second ingredient is very hydrating (Saccharide Isomerate) and it binds water to your skin. The third ingredient is Chondrus Crispus, which is a antioxidant and moisturizing seaweed. So, I am not sure why this is called Triple Hyaluronic Acid… Because the rest of the ingredients are not HA and only one is ~ sodium hyaluronic. At any rate, this is an intensive moisturizing mask.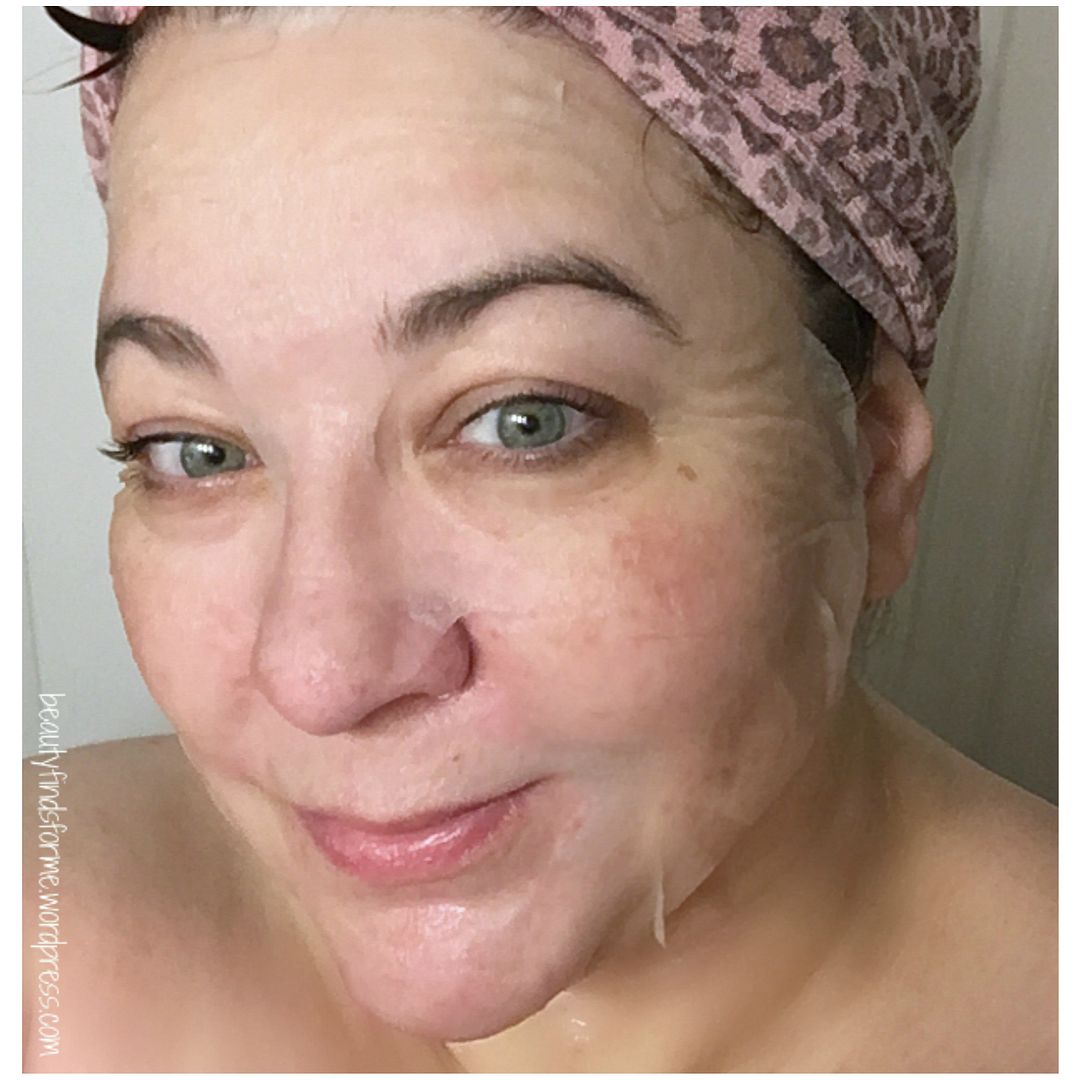 This mask comes protected with a plastic protector, so it was easy to remove and apply to my face ~ the fit is really nice and it is a close fit ~ very transparent mask, which is soaked in a watery essence ~ and lots of it! Despite being a thin mask, I was able to leave this on for over 30 minutes and it was still quite moist when I removed it. This mask does what it states it will do ~ an intensely hydrating mask, leaving my face moist and my lines are plumped up ~ but with no tacky or sticky residue. This dries down quickly to a nice light finish ~ no dewy skin here, just soft, smooth moist skin. 
Description:  Deeply hydrating, provides long lasting moisture. Hyaluronic Acid retains skin moisture levels and promotes collagen synthesis. Saccharide Isomerate is an emollient naturally found in skin and helps lock in moisture. Chondrus Crispus is a seaweed full of antioxidants that works to maintain skin moisture levels
Ingredients: Sodium Hyaluronate, Saccharide Isomerate, Chondrus Crispus Extract, Dipotassium Glycyrrhizate, Methylisothiazolinone, Iodopropynyl Butylcarbamate, Butylene Glycol, Water  cosDNA analysis

Alpha-Arbutin Skin Whitening  Mask  I have yet to try this mask out ~ its benefits are brightening as it contains a triple powerhouse of vitamin C, arbutin and orchid extracts.  Description: Lightens sun spots, evens skin tone, prevents aging. Vitamin C lightens hyper-pigmentation and evens out skin tone. Orchid Extract is an astringent natural plant extract full of antioxidants that fight free radicals and aging. Arbutin brightens uneven skin tones and tones down redness
Ingredients: Sodium Hyaluronate, Arbutin, Allantoin, Ethyl Ascorbic Acid, Chondrus Crispus (Carrageenan) Extract, Vanilla Planifolia Fruit Extract, Beta-Glucan, Butylene Glycol, Dipotassium Glycyrrhizate, Methylisothiazolinone, Iodopropynyl Butylcarbamate, Water cosDNA analysis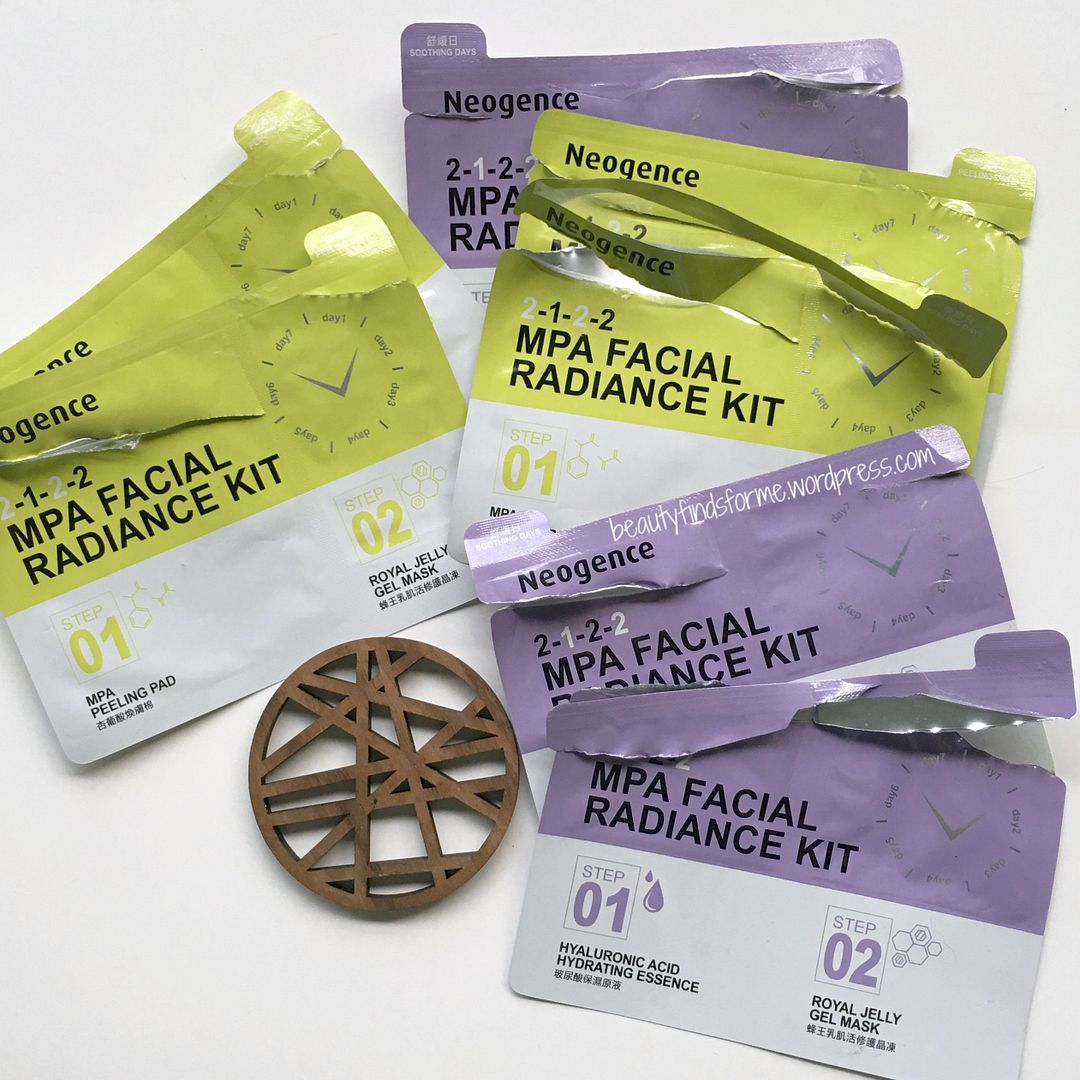 Neogence MPA Facial Radiance Kit I am already familiar with Neogence as I love their Hyaluronic Toner.  The goal of this 2-1-2-2 kit  is to reset the skins renewal cycle in seven days and it is on a 2-1-2-2 cycle: 2 days peeling (skin renewal), 1 day soothing (skin relief), 2 days peeling and 2 days soothing. It will help freshen and rejuvenate your skin. The Peeling cycle contains MPA Peeling Pad and 🐝Royal Jelly Gel Mask. The Soothing cycle contains 💦Hyaluronic Acid Hydrating Essence and Royal Jelly Gel Mask. I used this as a night time routine, even though the instructions did not say if it was a day or night routine. I figured as it had a mask pack in here, it was night. I did not rinse off any of the products until the next morning.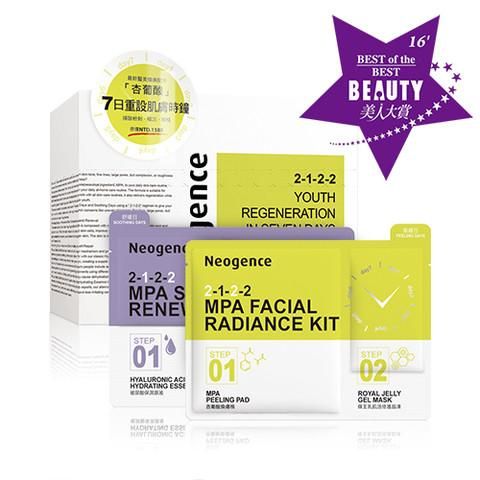 This actually comes in a box with all of the pouches, but by the time I wrote the review, I had thrown out the box ~ this is the stock photo of the product.
The peeling pad is just a normal looking pad, with quilting on both sides.It contains a few AHA ingredients:  mandelic acid, to help reduce fine lines, acne, hyper-pigmentation, it is gentle & good for sensitive skin;  pyruvic acid will lighten dark spots and tackle dull skin while citric acid will help brighten your skin overall. This has that musty bitter scent of mandelic acid and it doesn't sting my face ~ I have oily skin that is not sensitive. It does feel slimy though! I use both sides, all over my face and even my neck ~ this pad has a lot of essence in it. It has a pH level of around 3, so it is a good acidic pad ~ I do not know what the percentage of acid is, however, as it does not say on the box or description.
I then wait 3 minutes and then apply the Royal Jelly Gel Mask, which IS FRICKING AMAZING. I want to bath in this. It looks like a normal white lightweight gel (it doesn't have much of scent) but it starts to melt once it makes contact with my skin and turns into water. It is very hydrating and cooling on my skin and it does take a few minutes for my skin to absorb it ~ it is not sticky or tacky. I want Neogence to sell this by itself!! This is made from natural royal jelly, which is full of vitamins, amino acids and enzymes and will help aid in collagen production and repair your skin.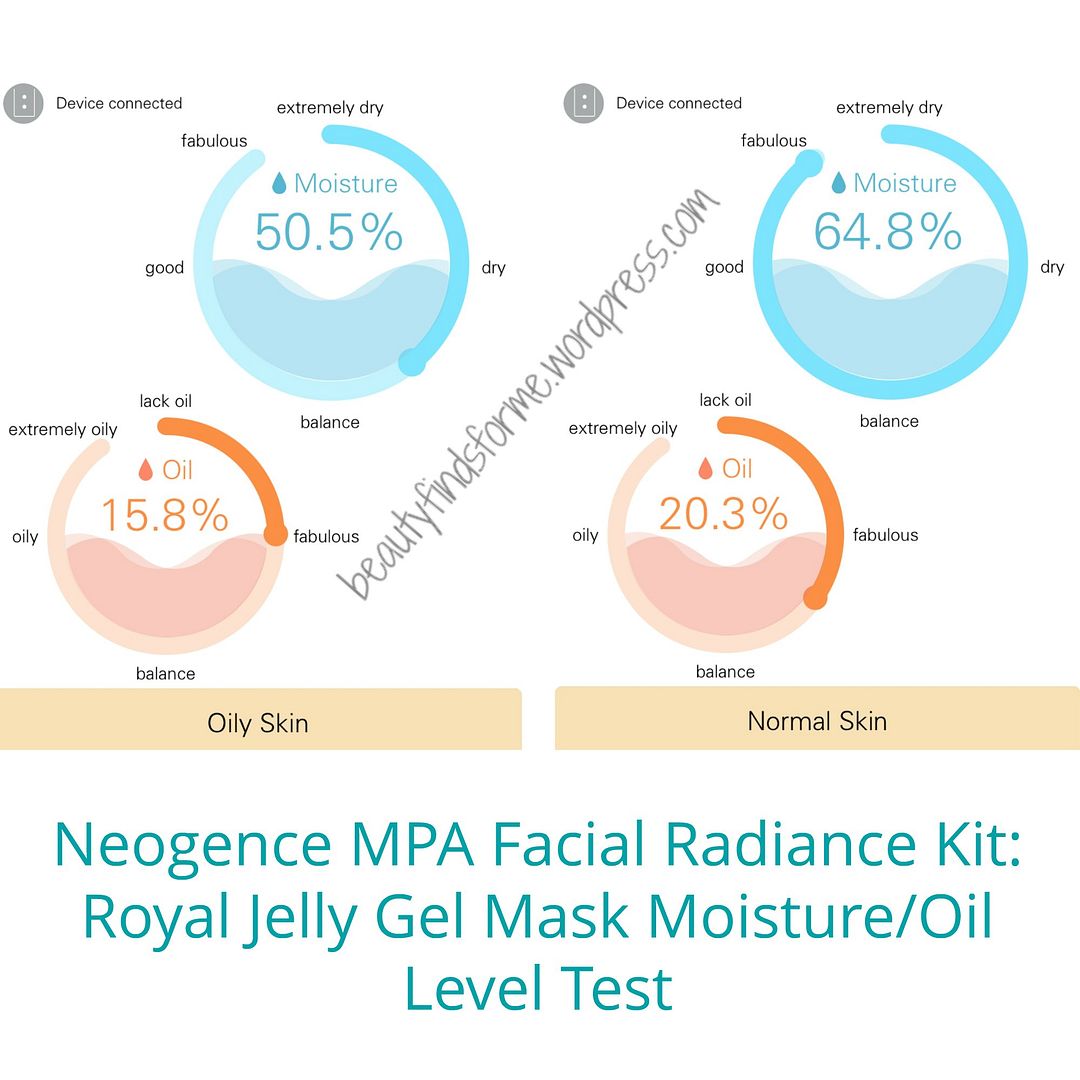 This caused a 28% increase in moisture and 28% increase in oil – moisture/oil was balanced. .
On the Soothing Days, it was just some really hydrating and repairing ingredients. Hyaluronic Acid Hydrating Essence is another very slimy, watery product and it was very sticky too! I did have to wait about 5 minutes for this to absorb into my skin. Hyaluronic acid not only supplies moisture to your skin, but attracts moisture it as well
This caused a 41% increase in moisture and 34% decrease in oil! I then applied the Royal Jelly Gel Mask over it. With all 7 days, I did follow up with a sleeping pack over this, as I was worried with such watery, hydrating products, that the moisture would not be locked in. On all 7 days, my skin was so smooth and "fresh" when I woke up.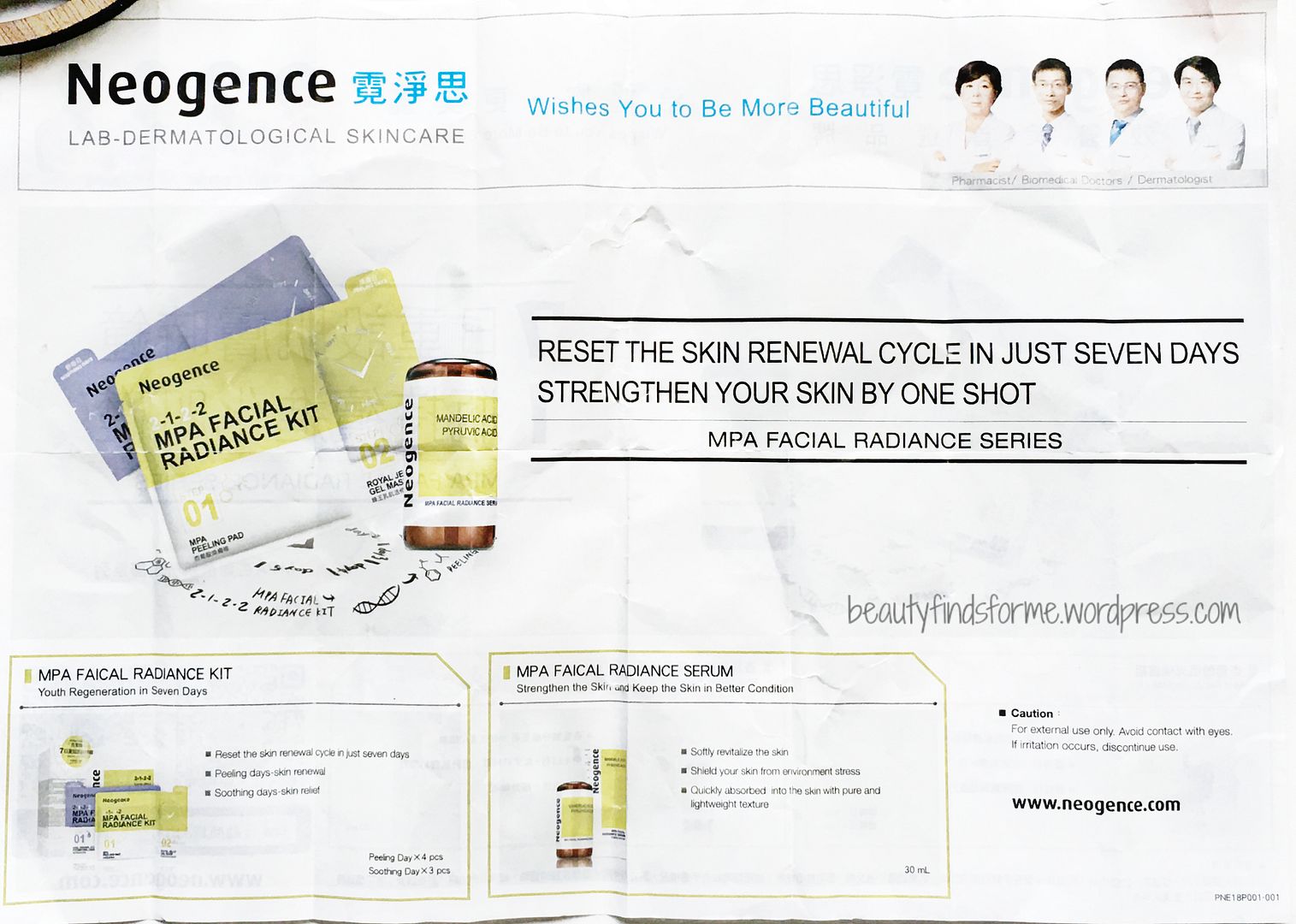 I like this kit a lot!! This is perfect if you have some special event coming up or you just want a quick facial treatment to freshen up your skin ~ it is 7 days, pretty easy to do, I found it to be very gentle and I noticed that my skin looked clearer, my blemishes were pretty much not bothering me during the week (meaning I didn't have any) and my overall skin tone just looked more brighter and fresh, the texture of my skin is more refined and my pores were nice and clean. I still have my hyper-pigmentation spots, don't get me wrong, but I did find that my PIH was less red at the end of the 7 days. Now, it's not a miracle worker ~ I mean, if you expect all of your spots and fine lines/wrinkles to be gone in 7 days, you will be disappointed. But if you want a nice renewal facial that is gentle and affordable, I recommend this. I am on a lo-buy right now, but I will be purchasing this again in the future, as I think I want to keep a couple of these boxes on hand for those special events. I have other acids that I am using for long term results
MPA Peeling Pad Ingredients: water, mandelic acid, butylene glycol, propanediol, potassium hydroxide, pyruvic acid, citric acid, sodium citrate, xanthan gum, PEG-40 hydrogenated castor oil, chlorphenesin,  phenoxyethanol, o-Cymen-5-OL cosDNA analysis
Royal Jelly Gel Mask Ingredients: water, butylene glycol, diethylhexyl carbonate,  glycerin, propanediol, hydrolyzed royal jelly protein, sodium hyaluronate,  hydroxyethyl acrylate/sodium acryloyldimethyl taurate copolymer, acrylates/C10-30 alkyl acrylate crosspolymer,  sodium hydroxide, chlorphenesin, phenoxyethanol, o-Cymen-5-OL, PEG-40 hydrogenated castor oil cosDNA analysis

Hyaluronic Acid Hydrating Essence Ingredients: water, sodium hyaluronate, hyaluronic acid, butylene glycol, sodium PCA, sodium citrate, chlorphenesin, phenoxyethanol, o-Cymen-5-OL, PEG-40 hydrogenated castor oil, citric acid cosDNA analysis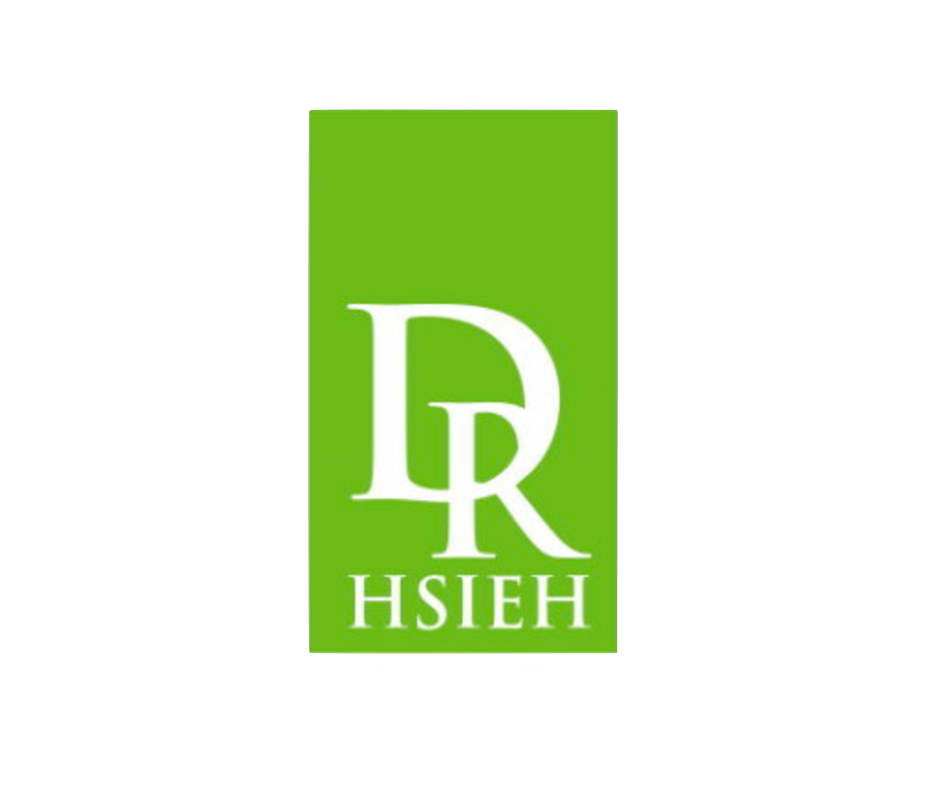 Dr Hsieh is a new brand to me ~ at least I don't think I have ever used it or heard of it. I purchased a set of fruit and vegs masks and a peeling acid.   Dr. Hsieh Energy of Fruits and Veg Variety Set comes with 3 masks ~ Energy of Fruits and Veg Reducing Wrinkle Lotion Mask ~  Energy of Fruits and Veg Deep Hydrating Lotion Mask ~  Energy of Fruits and Veg Brightness Radiance Lotion Mask
Energy of Fruits and Veg Deep Hydrating Lotion Mask According to Eden, this mask uses fruits and vegs sourced from Taiwan ~ watermelon, cucumber, aloe, avocado and loofah. I love cuc, aloe and loofah as those are moisture bombs for your skin, full of vitamins and amino acids and antioxidants. I love the design on this mask pouch too! Opening it up, the scent of cucumber (yum!) wafts out and I can see my mask inside. Don't be scared of the next picture.
Because it was so hard to see the white on white gel, I did a weird exposure & colors so you could make out the gel on the mask. It is SO thick and this mask has a lot of this essence. It has a plastic/pearl paper to help adhere it to my face.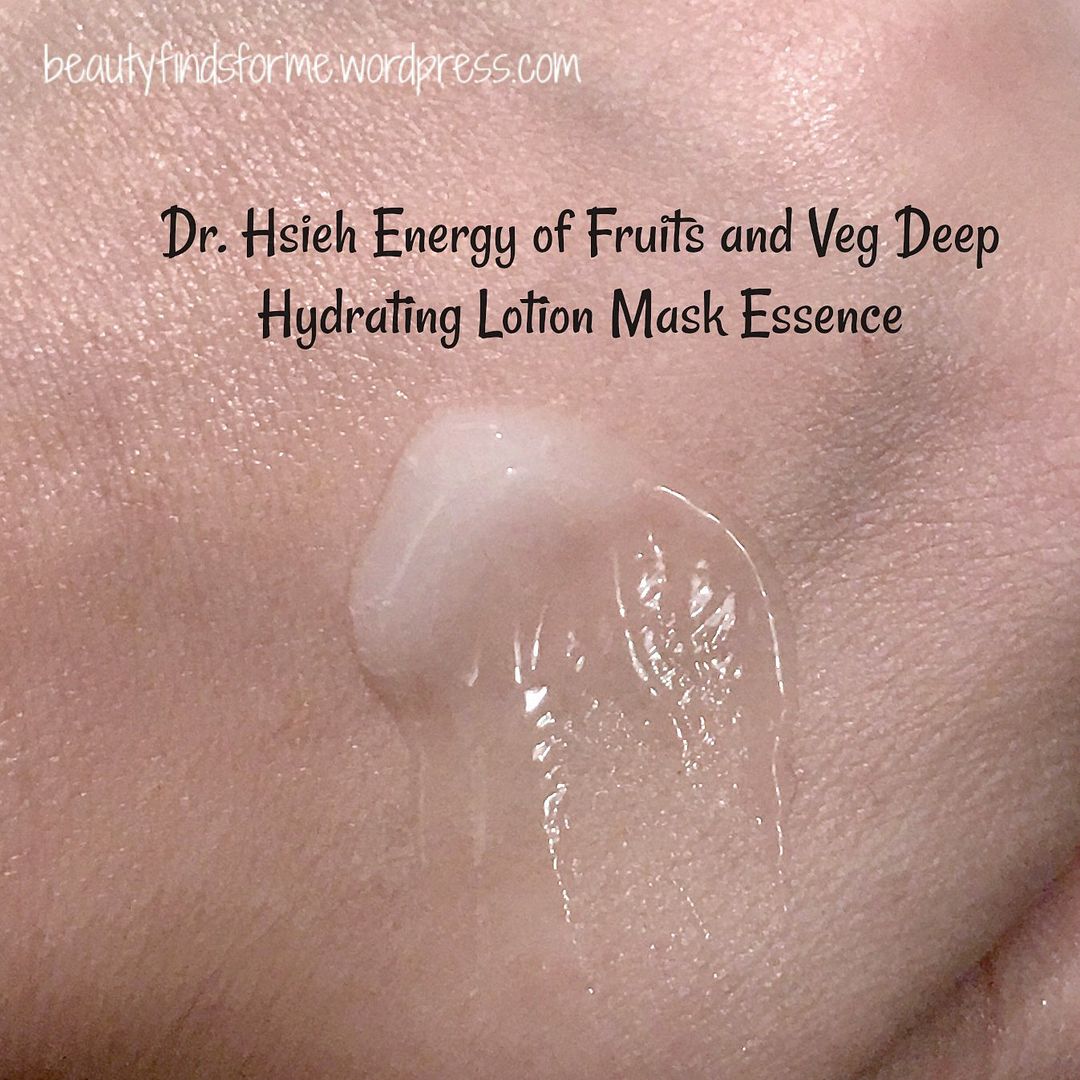 This is the gel essence ~ it looks like a sleep pack mask!   It is so thick and cooling. This fits really well and I love how cooling and refreshing this is on my skin.
Because of all of the gel essence, I could leave this on for 40 minutes and it still was moist when I removed it ~ I will leave a mask on longer if it is still moist.. I never leave a mask on until it is dry.  My skin was really hydrated and moist and my pores looked smaller ~ this was an unexpected benefit, as normally with gel masks like this, they can make my pores look bigger. But not this one! I really love this mask and this is one that I would love to purchase more in the summertime, as it is so refreshing and hydrating.
Description: Intensely hydrates dry skin, soothes and calms skin. Watermelon is rich in antioxidants, vitamins, and amino acids that soothe and restore irritated, dry skin.  Cucumber contains vitamin C and caffeic acid, both of which help soothe skin irritations and reduce swelling. Loofah contains antioxidants and flavonoids that repair, nourish, and moisturize the skin. Avocado is a good source of natural oils that hydrate and moisturize dry skin naturally. Aloe vera regulates sebum production while hydrating and soothing redness
Ingredients: Pure Water, Butylene Glycol, Niacinamide, Macadamia Ternifolia Seed Oil, Panthenol, Cetearyl Isononanoate/Ceteareth-20/Cetearyl Alcohol/Glyceryl Stearate/Ceteareth-12/Cetyl Palmitate, Tocopheryl Acetate, Glycerin, Aloe Barbadensis Leaf Water, Luffa Cylindrica Fruit Water, Persea Gratissima Fruit Water, Cucumis Sativus Fruit Water, Citrullus Lanatus Fruit Juice, Pullulan, Trehalose, Urea, Serine, Algin, Pentylene Glycol, Caprylyl Glycol, Sodium Hyaluronate, Acrylates/C10-30 Alkyl Acrylate Crosspolymer, Triethanolamine, Allantoin, Glyceryl Polyacrylate, Disodium Phosphate, Potassium Phosphate, Methylparaben, Fragrance cosDNA analysis
Energy of Fruits and Veg Brightness Radiance Lotion Mask  This is another great mask from Dr Hsieh ~ it has the same thick gelly essence only this time in a grapefruit scent.  This contains some great superfoods, such as tomato which is rich in vitamins A, C and E, all antioxidants that help fight free radicals and reverse the signs of aging.   Kiwis are nutrient-dense with vitamins and minerals  and grapefruit is full of vitamin C which will help brighten your skin tone. 
The fit of this mask is, once again, excellent, and all of the gelly essence is very cooling on my skin.  I am able to leave on my face for about 40 minutes as it has so much thick essence and when I removed the mask, my skin was visibly brighter and refreshed looking ~ no tacky or sticky residue, just very moist skin.  The dampness evaporated quickly and my skin still looked plumped up with hydration.  If you are looking for a sweet citrus smelling and brightening mask, I really recommend this one ~ these masks also helped reduce the appearance of my pores as well!
Description: Naturally brightens pigmentation. Kiwi contains anti-aging antioxidants that work to fight free radicals caused by sun damage. Bean sprouts contain powerful antioxidants that soothe redness while supplying protein-rich moisture to the skin. Grapefruit is a powerful natural anti-ager that evens skin tone and fights free radicals. Tomato has cooling, brightening, and astringent qualities, which helps skin with acne and inflammation. Guava is extraordinarily rich in vitamin C and contains carotene and antioxidants that leave skin glowing and healthy
Ingredients: Pure Water, Butylene Glycol, Niacinamide, Macadamia Ternifolia Seed Oil, Panthenol, Cetearyl Isononanoate/Ceteareth-20/Cetearyl Alcohol/Glyceryl Stearate/Ceteareth-12/Cetyl Palmitate, Tocopheryl Acetate, Actinidia Deliciosa Fruit Extract, Psidium Guajava Fruit Juice, Phaseolus Radiatus Sprout Extract, Citrus Paradisi Fruit Water, Solanum Lycopersicum Fruit Water, Hydrogenated Lecithin, Sodium Oleate, Oligopeptide-68, Acrylates/C10-30 Alkyl Acrylate Crosspolymer, Triethanolamine, Allantoin, Disodium EDTA, Methylparaben, Fragrance cosDNA analysis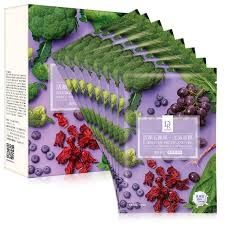 Energy of Fruits and Veg Reducing Wrinkle Lotion Mask  I have not tried this one yet, but I will soon!  For those masks I haven't tried, once I do, I will come back and update this blog post.  In the meantime ~ this mask will help rejuvenate your skin, restoring a healthy glow and plumped up skin.  Description: Restores healthy glow, smooths wrinkles. Spinach is full of Vitamin A and fights free radicals to prevent early aging. Broccoli is rich in Vitamin A and C, which stimulates collagen production and skin repair. Grape contains resveratrol, which reduces oxidative stress and inflammation. Blueberry is rich in antioxidants that neutralize free radicals to clarify your skin. Roselle is a natural source of AHAs (Alpha Hydroxy Acids) and works to gently exfoliate skin and tighten pores
 Ingredients: Pure Water, Butylene Glycol, Niacinamide, Macadamia Ternifolia Seed Oil, Panthenol, Cetearyl Isononanoate/Ceteareth-20/Cetearyl Alcohol/Glyceryl Stearate/ Ceteareth-12/Cetyl Palmitate, Tocopheryl Acetate, Glycerin, Spinacia Oleracea Leaf Extract, Brassica Oleracea Italica (Brocoli) Water, Vitis Vinifera Fruit Water, Vaccinium Corymbosum Fruit Extract, Hibiscus Sabdariffa Flower Extract, Rosa Canina Fruit Extract, Viola Tricolor Extract, Ascorbic Acid, Propylene Glycol, Palmitoyl Oligopeptide, Palmitoyl Tetrapeptide-3, Acrylates/C10-30 Alkyl Acrylate Crosspolymer, Triethanolamine, Polysorbate-20, Carbomer, Allantoin, Citric Acid, Salicylic Acid, Tartaric Acid, Malic Acid, Methylparaben, Fragrance cosDNA analysis

Dr. Hsieh 20% Mandelic Acid Home-Peeling Liquid I am still using this watery acid 3 times a week at night time.  I had never really used an acid like this before so I asked Eden how I should apply it, as the instructions were not that clear and Miiru Shop hadn't updated their product page yet online.  Her response to me
As per all chemical exfoliants, it is best to apply a few drops of this on a clean, just washed face for it to work the most effectively. If you are a little unsure about a the strength or how your skin will respond, then you can apply it with a layer of toner underneath. Afterwards, leave it on for about 20 minutes – in my experience, I've found that even if I am in a rush and move to my next step after five minutes, I still see an improvement in skin texture. In terms of washing off, I don't usually do that. I just continue with my routine. But sometimes, I like to take a cotton pad and micellar water and gently wipe my face after the twenty minutes and it's super satisfying to see all the dead skin buildup I've wiped off! I have more sensitive skin so once and at most twice a week is good enough for me. In general with 20 percent, 3 is the max I was told, when I visited the Dr Hsieh HQ.
I use mine at night and I do leave it on overnight and I do wait 20 minutes before applying the next step of my skincare routine.  I noticed that my skin's texture is much more refined the next morning and smooth.  I haven't noticed too much lightening of my sun damaged hyper-pigmentation, but when I use this product with my Swanicoco Neofinetia Falcata Callus Pure Ampoule , which had been languishing until I started using it with this acid ~ after 20 minutes, I then apply the Neofinetia and the next morning, my skin is radiant and glowing!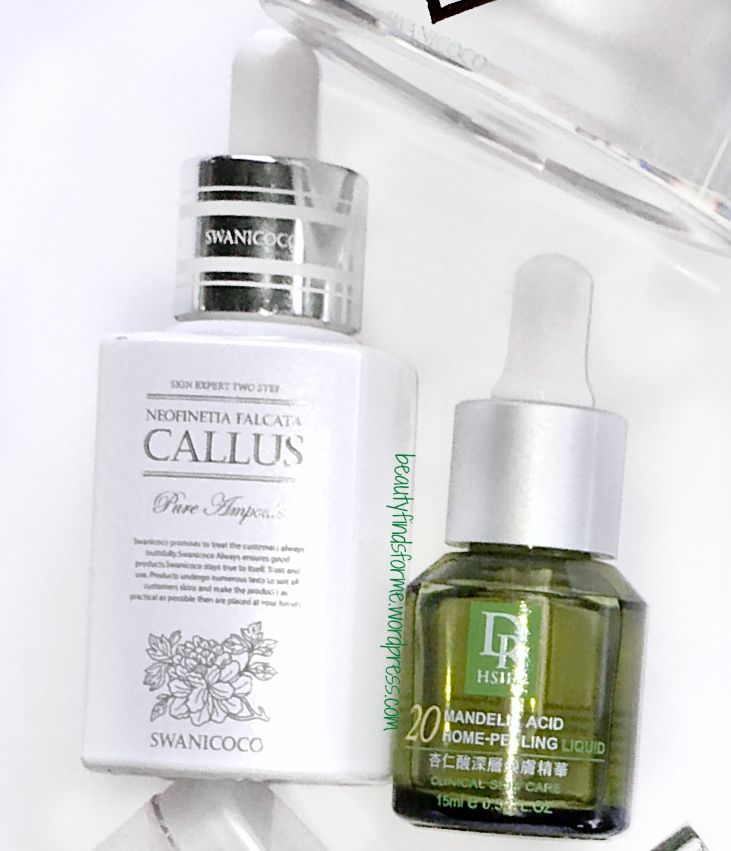 They also make a 10% solution if you do not wish to try the 20% yet ~ I have nice, tough oily skin, so I just jumped right in.  This solution does not sting my skin or cause irritation as mandelic acid is one of the more gentle AHA exfoliators out there.

Description: Dr. Hsieh's best selling series is his Mandelic Acid line, and this exfoliator is one of our favorites because it's effective, gentle, and full of nourishing, soothing herbal extracts. Perfect for those with sensitive skin, this exfoliator shrinks pores, smooths fine lines, and balances the skin. Alcohol and Fragrance free! Gently exfoliate, control sebum levels, repair fine lines. Mandelic Acid is a naturally occurring AHA (Alpha Hydroxy Acid) that helps fine lines, firmness, acne and discoloration. It's the most gentle AHA and great for sensitive skin. Centella asiatica is a plant traditionally used for wound healing and reducing swelling. Milk Thistle is an anti-inflammatory and detoxing herb that clears acne and hydrates skin. Indian Gooseberry is a natural anti-aging ingredient that fights pigmentation
Ingredients: Pure Water, DL-Mandelic Acid, Butylene Glycol, PEG-8, Centella Asiatica Extract, Phyllanthus Emblica (Indian gooseberry)  Extract, Silybum Marianum  (milk thistle) Extract, Triethanolamine, Methylparaben
Final Thoughts
Miiru Shop is a treasure trove of skincare goodies!  I am totally in love with the Fruits & Vegs series by Dr Hsieh ~ such lovely thick essence and fantastic results and the Mandalic Acid is looking to shape up nicely on my skin as well. I will have a full review on that product once I finish the bottle.  I also love love love the Neogence MPA Radiance Peeling Kit and will have to purchase a few more to keep on hand.  It is a quick way to whip your skin back into a brighter, smoother self!  CY Lab doesn't disappoint either ~ in fact, so far, no one bad product to be found with the items I purchased from Miiru Shop. 
Where to Purchase
At Miiru Shop, of course!.
If this is your first time purchasing from Miiru Shop, sign up for their newsletter and receive a 10% off coupon.  Also, shipping is free when you purchase $50.00 USD or more and Eden will personalize your samples ~ she provides a lot of them ~ just post your skin type and concerns in the comments at checkout!  Miiru Shop also has a reward program and you can use my referral link here and get 150 points added to your account with your first purchase.