Disclaimer: Products were sent to me for review purposes. All opinions are my own and unbiased. Contains referral links
I was introduced to brand Loveisderma last year by online store Beautibi.  I have tried several of their items and was thrilled when Loveisderma send me some items to try out for review purposes!   I also included one of their amazing and famous masks, which I purchased, as no Loveisderma review is complete without mentioning the mask.  
Founded in 2008, LOVEISDERMA believes that wrinkles and a dull complexion can be avoided with a timely and accurate skincare regime. Effective and simple to use, the brand's range of mild makeup removers, serums and masks are especially formulated to tackle various skin problems such as aging, dehydration and dullness.  Loveisderma Skin Care formulas consist of only the purest, most powerful ingredients available, which are sourced throughout the world. Each and every ingredient has been clinically tested for both safety and superior efficacy. Designed with unsurpassed formulation technology, Loveisderma Skin Care products are extremely effective, bringing about positive clinical results that are unequaled by other non-prescription skincare products.
Skin Type/Concerns:  Oily, blemish prone, aging with fine lines/wrinkles and hyper-pigmentation
HydraMax Serum  I was most interested in this item and was thrilled when Loveisderma included it in my PR package.  This contains a high concentration of sodium hyaluronic, which is the sodium salt derived from hyaluronic acid ~an intensive moisturizing ingredient which bonds water to keep skin hydrated. It is a natural substance found in the human body and it made up of amino and uronic acids, and helps retain 100 to 1,000 times its own water weight in our skin cells.   This is considered to be one of the components of Natural Moisturizing Factor (NMF) which is the natural factor of skin hydration.  It also contains vitamin B5 (panthenol), helping cellular renewal and is an effective moisturizer. It is derived from plants and this ingredient comes from Vitamin B5.  Panthenol is a natural humectant, which retains moisture and hydrates the skin. It also is a good lubricant on the skin, making skin look soft and smooth, which soothing and calming  your skin, as it is also an anti-inflammatory.  This also contains vitamin B3 (niancinamide), a powerful antioxidant that calms and soothes your skin, improves your skin elasticity, enhance the skin barrier function and also it helps to even out skin tone and reduce post-inflammatory hyper-pigmentation.  Arbutin breaks down into hydroquinone, which is a compound that prevents melanin formation and is a common ingredient in skin-lightening products. Arbutin is much gentler and safer than straight up hydroquinone, however.
Ingredients:  Water, Butylene Glycol, Glycerin, Cucumis Sativus (Cucumber) Fruit Extract,Palmaria Palmata Extract, Ginkgo Biloba Leaf Extract, Thymus Vulgaris (Thyme) Extract, PEG-40 Hydrogenated Castor Oil, Alpha-Arbutin, Centella Asiatica Extract, Arctostaphylos Uva Ursi Leaf Extract, Panthenol, Niacinamide, Sodium Hyaluronate,Citric Acid, Kojic Acid, Phenoxyethanol  cosDNA analysis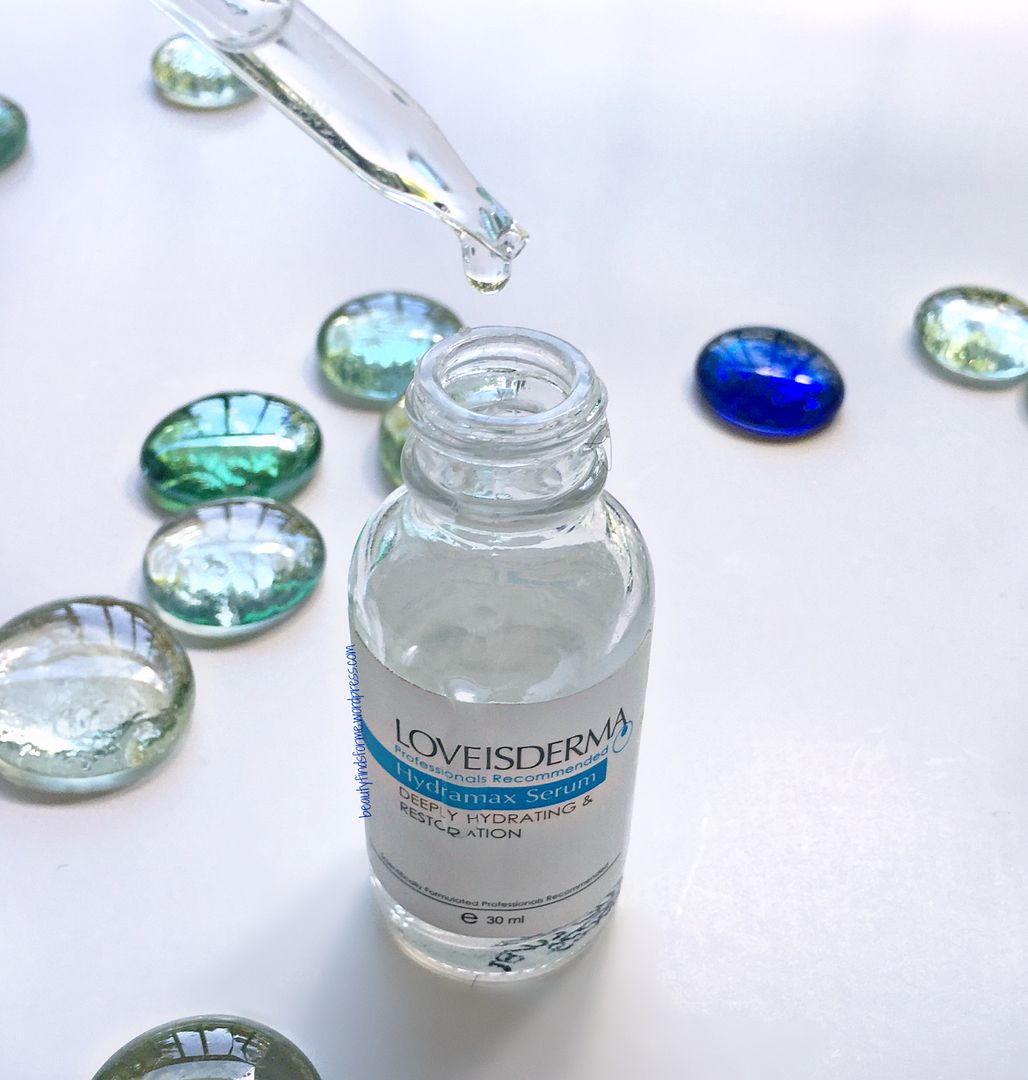 This lightweight serum comes in a clear glass bottle with an eye drop applicator ~ the serum is thicker than water and has no scent ~ it has a watery gelatinous texture initially, but once I tap it into my skin, it turns to a watery essence, with a slick feel to it ~ I attribute that to the panthenol ingredient.  It does absorb quickly into my skin, leaving supply and soft.
This serum is perfect if you are doing a multi-layer skincare routine of watery products ~this increased my moisture level by 60% and reduced my oil levels by 25%.  This is a very hydrating product and when I used this in my skincare routine, my skin did feel plumped up with moisture and it reduced the redness on my skin.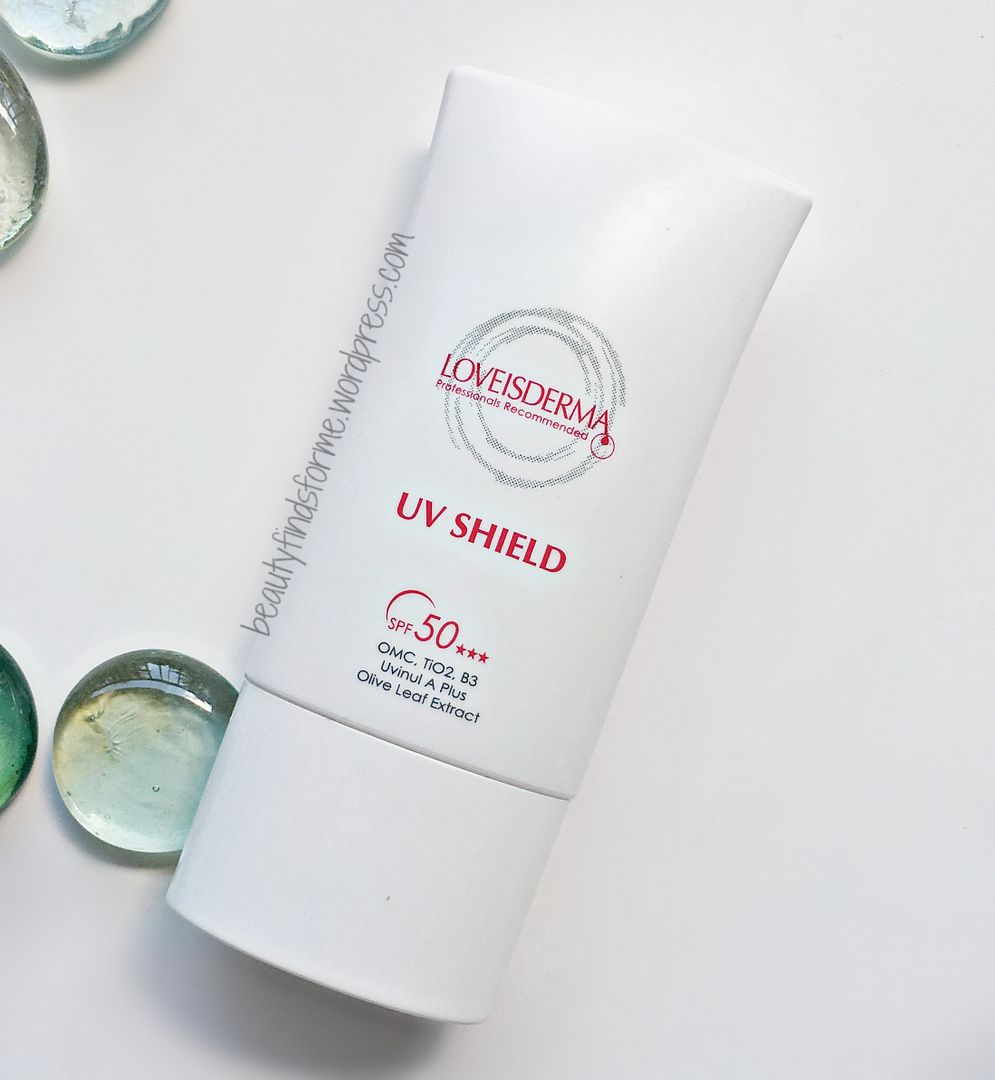 I had tried Loveisderma's UV Clear SPF 50+++ Sunscreen in the past and I loved it ~ this time around, Loveisderma sent me their tinted version ~ UV Shield SPF 50+++.  I have learned to love Japanese and Taiwanese sunscreens ~ Taiwanese sunscreens are very watery and the two brands I have used ~ Naruko and Loveisderma ~ both come in this hard case tubes, with pointed tip applicators and you have to shake them like a spray can of paint before applying!  It is so important to wear sunscreen, no matter what age you are.  You might think the sun isn't damaging your skin if you are young, but give it another 10 to 15 years ~ that damage will appear on your face.   This is a physical-chemical full spectrum sunscreen, which provides protection from UVA and UVB radiation.  Ingredients of note include

Octylmethoxy Cinnamate (8.63%) also known as OMC, is a sun-blocking agent that will absorb UVB rays and also can reduce the appearance of scars. OMC is the most widely used UVB sunscreen ingredient in skincare.
Titanium Dioxide (TiO2) is a highly effective UV~ both UVB and UVA ~ light absorbing and light reflecting ingredient and is very stable, low irritation and low allergen.   TiO2 feels lighter on the skin, not heavy or greasy.

Uvinul A Plus (3.91%), also known as diethylamino hydroxybenzoyl hexyl benzoate, is used in sunscreen products and it is an oil soluble UVA ingredient
Olea Europaea (Olive) Oil is known for its moisturizing and long lasting hydrating properties and is considered an occlusive moisturizing ingredient.

Niacinamide (vitamin B3)  is a powerful antioxidant that acts as an anti-inflammatory, improves your skin elasticity, enhance the skin barrier function and also it helps to even out skin tone and reduce post-inflammatory hyper-pigmentation.  
Just a quick recap on SPF (sun protection factor) , UVB and UVA.  SPF ranks based on protection from UVB :: ultraviolet B (shortwave) rays.   The PA rating is the amount of protection the sunscreen offers from UVA :: ultraviolet A (long-wave) rays.   PA ranks with + signs and the higher the + signs, the more protection you will get from UVA rays.  
UVB is what causes sunburns and reddened skin and has direct links to cancer.  UVA is what causes us to tan, and age ~ wrinkles and deep lines are caused by UVA exposure.  A really fantastic article about ultraviolet rays and how they affect our skin can be found here at the Skin Cancer website  and I highly recommend reading it.   One thing I have learned is that a broad spectrum sunscreen is the proper choice as it will help deflect the UV rays and not allow them to penetrate into your skin layers.
Since this is a tinted sunscreen, it is important to shake the tube ~ you can hear some balls inside, mixing the product.  This reveals a very thin, watery light beige liquid with a very light generic sunscreen lotion scent.  This light shade works well on my skin tone and it dries down to a semi-matte finish on my skin. 
Since this is a tinted sunscreen, I used the method that Loveisderma demonstrated on their YouTube video ~ they use a sponge to apply the sunscreen ~ just like you would with a foundation.  Using a makeup sponge is actually quite genius with this watery thin sunscreen, as it makes the application go on smoothly and evenly ~ and I can just pat it into my skin, building up coverage.   I think this tinted version helps brighten my face and if I just want to use a really light tint without a BB cream, this works well for me. It doesn't have much in the color coverage department, but it is a very natural, brightening sun screen for my skin tone (Mac NW20).  This sunscreen works really nicely with my oily skin too as it is not greasy or sticky. 
Description: Defense UVA and UVB effectively block ultraviolet rays to prevent sunburn and aging phenomena caused by sunlight. Extremely refreshing lotion innovative formulation containing a high concentration of OMC and Germany Uvinul A Plus other active sunscreen ingredients, strengthen UV protection force. Adding Vitamin B3 and organic elderflower (sambucus nigra), olive leaves, algae (laminaria ochroleuca) and plant sterols ingredients to maintain the proper moisture and repair, against skin aging.  
Ingredients:  Active Ingredients: Octylmethoxy Cinnamate (8.63%), Diethylamino Hydroxybenzoyl Hexyl Benzoate (3.91%)  Inactive Ingredients: water/cycolpentasiloxane/isohexadecane/dimethicone/titanium dioxide/macadamia integrifolia seed oil/dimethicone, dimethicone crosspolymer/glycerin/glycerin, water, sambucus nigra flower extract/cetyl PEG(PPG-10/1 dimethicone)/niacinamide/caprylic capric triglyceride, laminaria ochroleuca extract/olea europaea (olive) leaf extract/magnesium sulfate/water, glycerin, trehalose, urea, serine, pentylene glycol, glyceryl polyacrylate, algin, caprylyl glycol, sodium hyaluronate, pullulan, disodium phosphate, potassium phosphate/laminaria saccharina extract/phytosteryl (octyldodecyl lauroyl glutamate)/sorbitan oleate/fragrance/phenoxyethanol/iodopropynyl butylcarbamate/caprylyl glycol, ethyhexylglycerin cosDNA analysis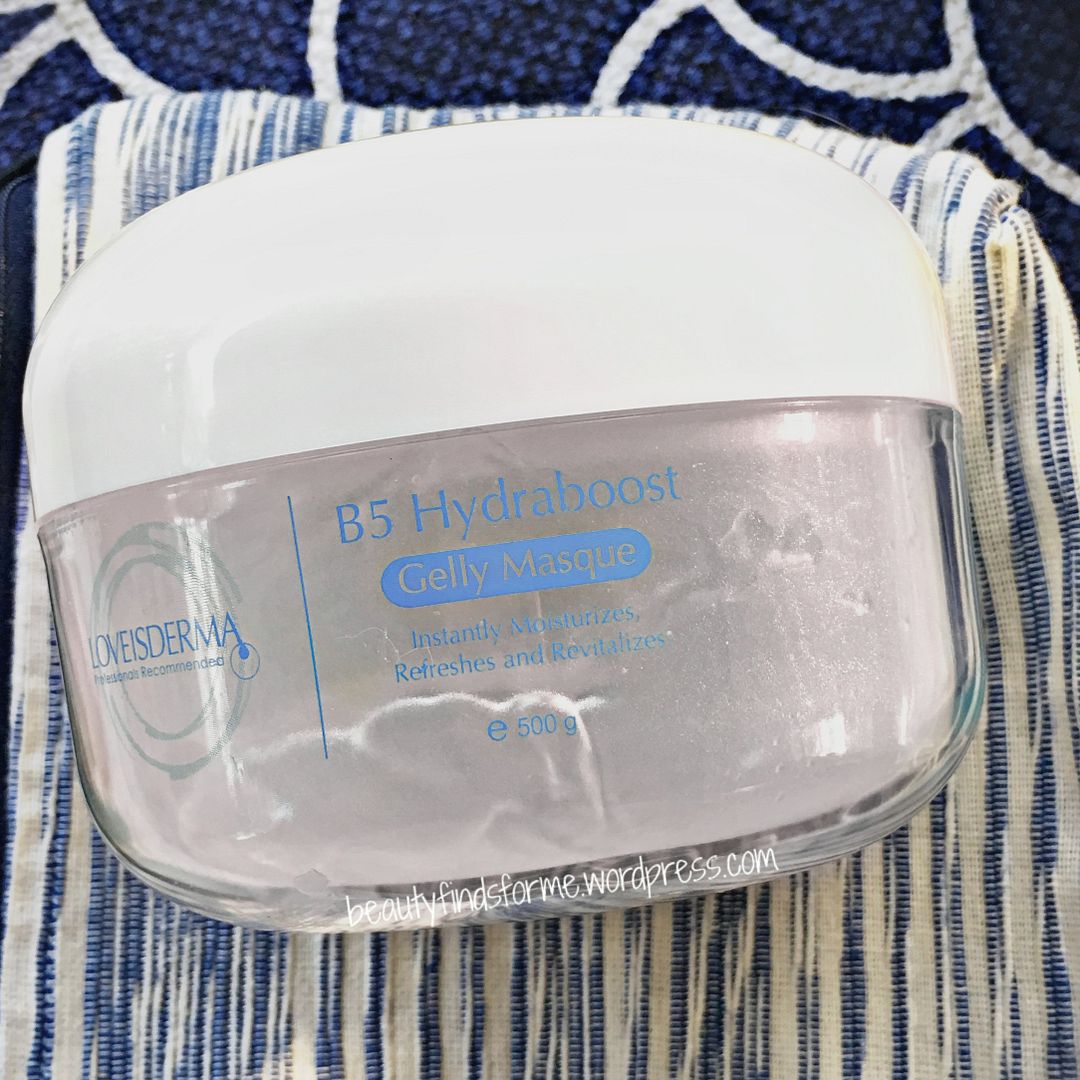 B5 Hydraboost Gelly Masque  I have tried this jelly in the past and this is the one product I was not overly thrilled with.  My original review is still relevant and I will repeat it again here with some updates..  This time I received the full size HUGE 500 gram tub of the gelly and it still has that scent that I dislike so much 😦

I do like Gelly/Jelly Wash-off Masque/Masks ~ one of my all time favorites is Annie's Way Aloe Anti-Acne Jelly Mask ~ Beautibi introduced me to that line.  Now, I know that some people find jelly masks to be useless, but as an oily skinned person, I do find them to be invaluable for several reason
If my skin is heated up, either thru a sunburn or a fever, jelly masks are an immediate cool down.  They are very refreshing and immediately hydrate my skin.

Reddened and sore skin due to blemishes or rashes?  Slap on a jelly mask ~ I found that many will temporarily reduce redness and swelling of acne and provide immediate relief

Dry flakes and patches on my face ~ yep, even oily skinned folks get dry patches and I usually get them around my nose area ~ which is a T-Zone hot spot for blemishes!  I cannot add a moisturizer to these flakes, because I probably will break out, but a jelly mask provides instant hydration and moisture.  Also, I use a spatula to remove the jelly mask and that helps gently remove the dead skin cells and flaky patches. By this time, the jelly has softened those dead skin cells, making it easier to remove them, without excess force and irritation

I use them as night time sleep packs.  Some of them actually have ingredients that help oily, blemish prone skin and I just apply a thinner layer on my skin, let it dry and then go to bed. I get the benefits of the ingredients on my skin while I sleep 
This jelly mask has vitamin B5, which will help strengthen your skin barrier, giving you skin long lasting hydration. It also contains snail secretion filtrate to help repair and soothe your skin.  It is a clear jelly and I applied it several ways, one being the traditional wash off jelly pack way ~ apply a thick layer on my face and neck and then leave on for 20 to 30 minutes.  Then "scrape off" with a spatula and rinse clean. This did do its job with hydration, but as it is, I didn't like this mask that much.  It isn't that it wasn't hydrating and it didn't do its job with soothing my skin while moisturizing.  It was the scent.  I was surprised to smell a heavy floral scent from this jelly mask as none of the other Loveisderma products I have used had little or no scent. I don't mind scents, but florals are the worst for me ~ it has to be a specific type of floral and this one was annoying to me.  I did find a work around, as I hate to waste product ~ and you can do this with any jelly mask too.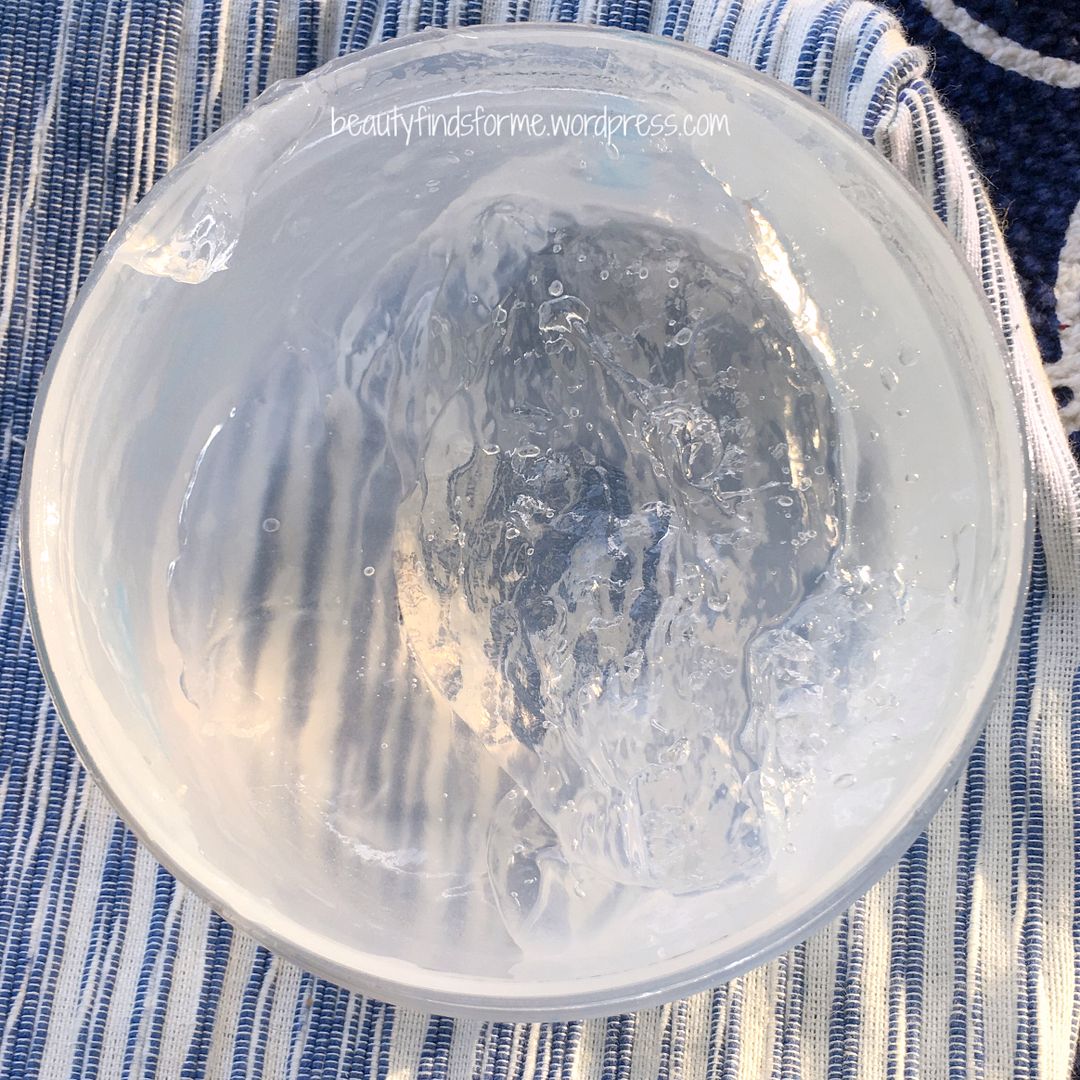 I add a thin layer of the jelly mask on my face (already cleansed) and then put a facial sheet mask over it.  I usually use a nice fruity scented mask to help hide the floral odor of this jelly mask ~ and it allows me to use this product and reap the benefits of its hydrating properties.  I then use the facial sheet mask to wipe the remains of the jelly mask off my face when I am done.  Give it a try and let me know what you think!   Jelly masks are very popular and this is one way to create your own, if you are wondering how to get thru a huge tub of wash off jelly.  As it stands, there is no way I can use this huge tub within a few months, so I did decant a lot of it to friends ~ and I STILL have a lot left!  I would love to try their Vitamin C gelly pack ~ but I wish they would sell smaller tubs, as I am not sure I want to invest that much money in a gelly pack without trying it first with a smaller sample. 
Description:  Unique innovative and efficient refreshing gel formula, rich in a variety of high permeability and moisturizing ingredients Vitamin B5, for the skin's elasticity and long-lasting moisturizing power! Unique water lock factor-fructose corn syrup and Vitamin-B5, strengthen the skin barrier, improve long-lasting moisturizing ability; trehalose and coralline algae extract to improve skin moisture, make skin supple and young.  Snail mucus essence of mucopolysaccharides help repair rich conditioning repair, skin back to healthy sheen. Intensive penetration skin repair, improve dry skin condition; immediately after sun moisturizing while soothing skin irritation.
Ingredients: water, glycereth-26, panthenol, corallina officinalis extract, glycosyl trehalose, hydrogenated starch hydrolysate, snail secretion filtrate, saccharide isomerate, carbomer, yeast extract, mannitol, ammonium glycyrrhizate, caffeine, zinc gluconate, aesculus hippocastanum (horse chestnut) seed extract, propylene glycol, glycerin, potassium hydroxide, citric acid, sodium citrate, chlorphenesin,  disodium EDTA, phenoxyethanol, ethylhexylglycerin, polysorbate 20, fragrance cosDNA analysis
Deep Hydrating Bio Cellulose Mask  This is my spa mask ~ whenever I just want to relax for about an hour or so with a really hydrating and cooling mask, this is it.  It is expensive ~ $9.00 for ONE sheet mask, but really, I figure since I can wear it for 90 minutes without it drying out, it is worth the money. This is a HUGE mask package ~ the reason behind this is that the mask is just folded in half vertically so it retains its shape better.   It is a bio cellulose mask  that has a "remarkable fluid-holding capacity of up to 100 times its dry weight" and Loveisderma claims that
It will fit your face like a second skin

Provide 80% more moisture retention after just 30 minutes
This mask has 3 parts to it ~ two protective papers ~ pearl (plastic) and a thicker paper one.  This helps keep the jiggy wiggly mask intact and not crumple like wet tissue paper.  The mask is blindly white and I am not smelling too much scent here ~ it is also very wet.   Apply by removing the thicker paper side first, apply mask to face and then remove the plastic pearl paper. These extra papers help keep the integrity of the mask shape as well as help aid with the application, because the mask is so slippery.  Loveisderma describes the mask material as such
Bio Cellulose Facial Mask from Loveisderma Skin Care is made through advanced biotechnology processes. Its unique fiber structure has been developed to fit perfectly to the human face, transferring premium skin care ingredients that hydrate and nourish skin to a more youthful, refreshed appearance. Each Bio Cellulose Mask consists of 100% organic, micro-cellulose fibers that are 200 times finer and four times stronger than cellulose produced naturally by plants. The quality of this superior fiber structure – synthesized from Aacetobacter xylinum bacteriais premium grade, comparable to the cellulose fiber commonly used for wound care and medical applications. It absorbs and retains an exceptional volume of age-defying ingredients, more than any other cosmetic facial mask on the market. 
This mask has some really hydrating and soothing ingredients and none of them are triggers for acne or irritation, according to cosDNA.com.  This contains aloe vera, a powerful moisturizer that doesn't leave your skin feeling oily or greasy. It soothes, treats inflammation, helps speed up skin healing and also has a plethora of antioxidants ~ beta-carotene, Vitamin C and Vitamin E, which help improve your skin's firmness and keeps your skin moist and hydrated. It also contains over 75 different nutritious ingredients, including minerals, enzymes, amino acids, salicylic acid and much more.  Glycyrrhiza glabra (licorice) is a brightening ingredient as well as reducing flaking and smoothing your skin. It is also an anti-irritant and anti-inflammatory. Cucumber helps to regulate the water and oil level of the skin to prevent appearance of blemishes. Polyglutamic acid is made from fermented soybeans (natto) and helps moisturize and exfoliate old skin cells.  It can penetrate to the deepest layers in your skin, locks in moisture and helps increase the production of NMF (Natural Moisturizing Factor). 
Chamomile can calm down the skin and relieve redness effectively as it has antioxidant, antibacterial and anti-inflammatory properties.   It helps to relieve skin issues and irritations because it soothes and lessens swelling and redness, while healing skin and stimulating cellular renewal. Hydrolyzed yeast protein is made from hydrolyzed amino acids, peptides and proteins. They are effective in moisturizing, smoothing and hydrating skin. Sodium Hyaluronate is an intensive moisturizing ingredient which bonds water to keep skin hydrated. It is a natural substance found in the human body and it made up of amino and uronic acids, and helps retain 100 to 1,000 times its own water weight in our skin cells.
I have to say there is a TON of essence in this mask ~ there is always enough for me to slather it over the mask, my neck, arms and even on my legs!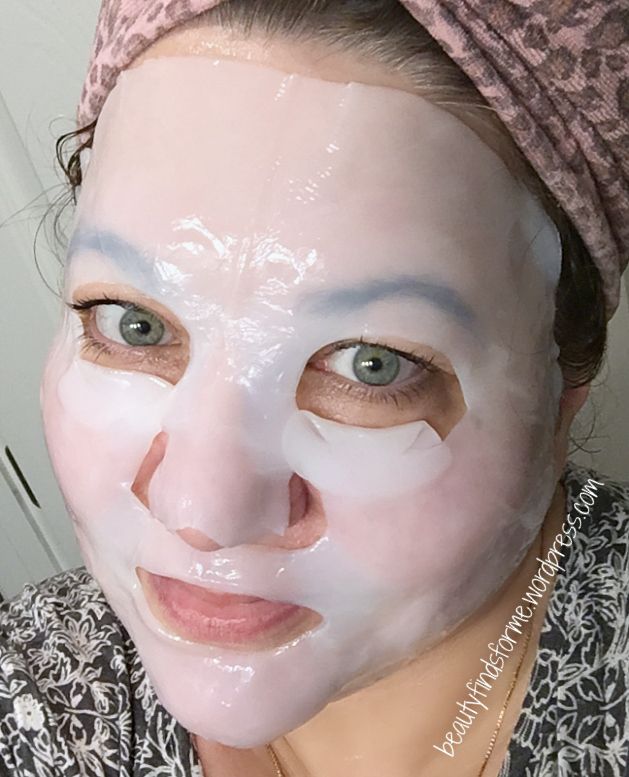 This is a very clammy, jiggy jelly mask ~ it feels very weird initially and it will slide a bit at first ~ however, within a few minutes, this mask will just clamp onto my face and won't MOVE.  This mask felt really cooling on my face while I was wearing it and I wore this mask for over 90 minutes ~ despite the fact that the instructions say only 30 minutes.  This mask is still very wet and moist even after 90 minutes and I only removed it because the strip between my nose and upper lip had dried out a bit. Be prepared to spend some quality time with this mask when you decide to use it.  This is not a quickie, but a slow and lovely long affair 😉  My face was very hydrated, no sticky residue or tacky feeling after I removed the mask, nor did my face feel greasy.  My skin is so smooth and plumped up with hydration and no blemishes ~ this mask is deeply hydrating, but it didn't trigger any adverse reaction with my skin.  I have purchased this mask several times and I will continue to do so.  I need to try the other two varieties, which are a brightening/whitening vitamin C and a repairing mask.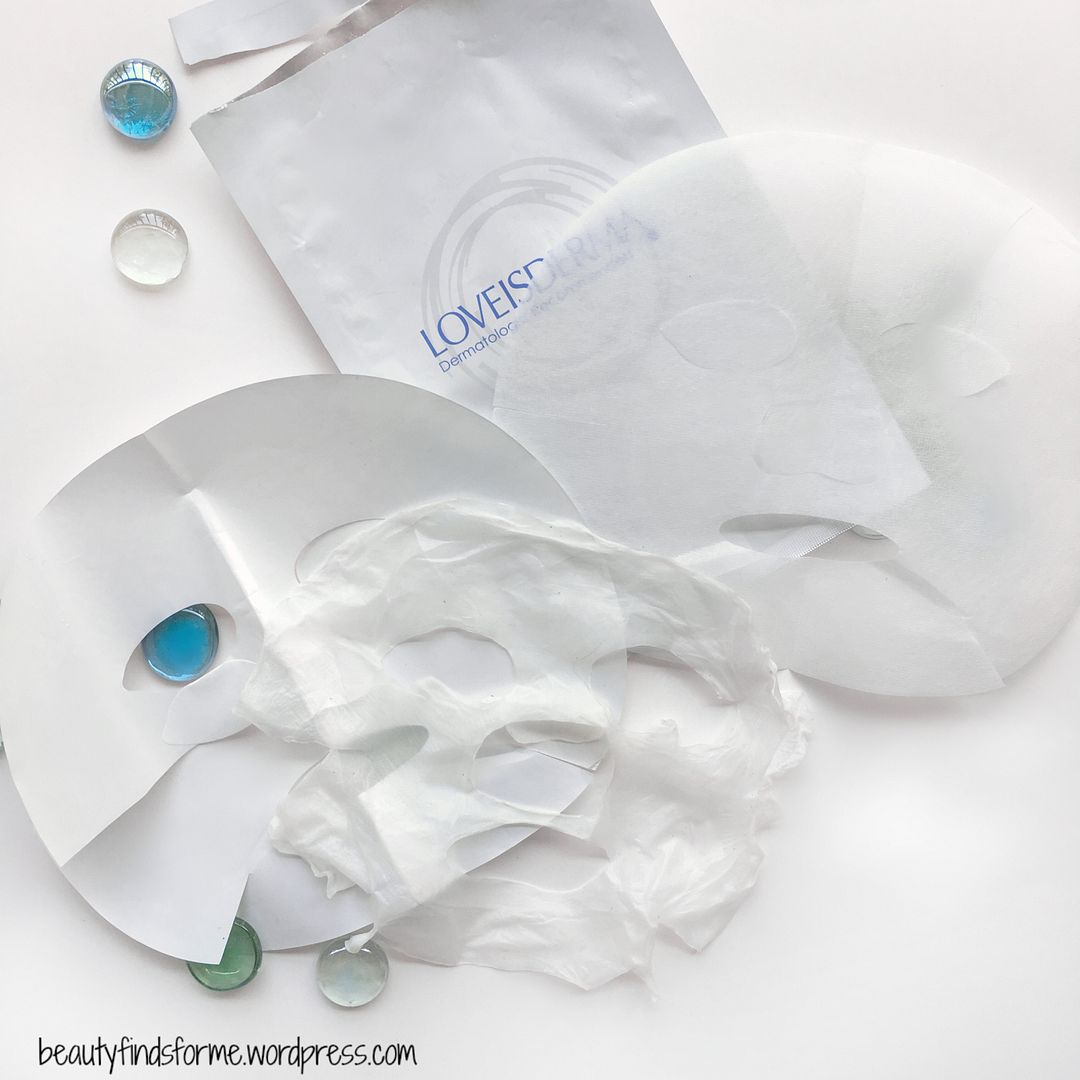 Ingredients: water, aloe barbadensis leaf juice, glycyrrhiza glabra root extract, cucumis sativus fruit extract, hydroxyethyl urea, laminaria ochroleuca extract, polyglutamic acid, chamomilla recutita flower extract, lecithin, sodium PCA, sorbitol, hydrolyzed yeast protein, laminaria digitata extract, citric acid, sodium hyaluronate  cosDNA analysis

Final Thoughts
Once again, I am impressed by Loveisderma products ~ I think so highly of them, that I included a second review of their Deep Hydrating mask, which I have purchased several times already.  The serum is a lovely hydrating product and works well with the 7-layer toner method.  I really love the UV Shield and am very glad I watched the instructional video, as using a makeup sponge to apply these tinted sunscreens is just a great tip!  It really helps to apply a nice even coat and build up coverage, without any greasy or oily residue and leaves a nice semi-matte finish.  The only debbie downer of the bunch for me is the huge gelly tub and that is a personal preference ~ it works very well but I dislike the scent.  You may like the scent, so again, don't let my own bias dissuade you from purchasing.  Have you tried Loveisderma?  What products and your thoughts about them?

Where to Purchase
I keep hoping that some global shop, whether it is based in the USA or not, will pick up Loveisderma and sell ALL of their products ~ they have toners, cleansing waters, eye care and other items and yet, it is so hard to find many of their items.  That said, there are three stores that carry Loveisderma and they all ship internationally ~ you will have to check with each store policy about what countries they ship too.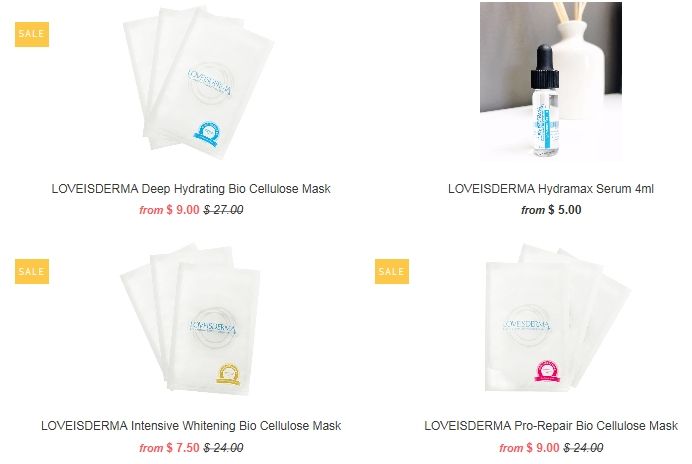 Beautibi carries all 3 of the mask varieties and a mini size of the HydraMax Serum.  If this is your first time purchase, you can use my referral link first and receive a code for $5.00  (referral link http://beautibi.refr.cc/WF38KG6)
My Styling Box carries more, including the 2 different sizes of the HydraMax Serum (30 & 60 mL), B5 Hydraboost Gelly Masque plus more.   If this is your first purchase with My Styling Box, you can use my referral link and save 5% off your first order (referral link http://i.refs.cc/eNh9vfQw)
Q0010 also has a lot more products from Loveisderma, with eye creams, toners and also serums and masks.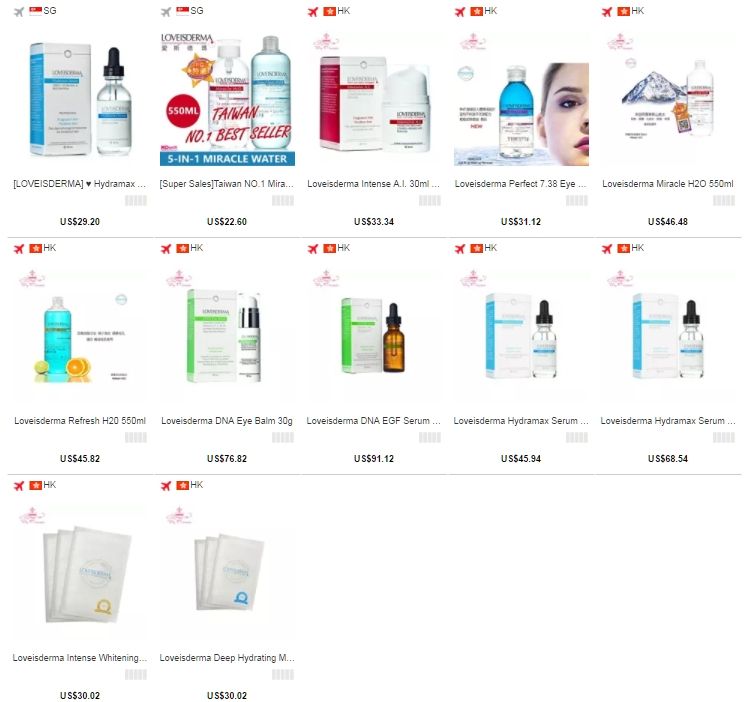 I haven't found the sunscreen yet that ships globally. I am hoping that either Beautibi or perhaps Miiru Shop, which specializes in Taiwanese skincare, might pick up more items from the Loveisderma brand.  Tracey at Beautius is currently looking into carrying them later on this year, but for now, unless you have a friend in Taiwan, finding that sunscreen might prove to be difficult.  YesStyle used to carry Loveisderma sunscreens, but they do not anymore.
[ Disclaimer:  Products were sent to me for review purposes.  All opinions are my own and unbiased. ]
 [ contains referral links ]