[ products received complementary for review purposes ]
Back in 2015, I fell in love with Secret Key's Lemon D-Toc Peeling Gel.  It was the first peeling gel I used that actually gave me results and not only was it effective, but inexpensive too!  I was really sad when I learned that Secret Key discontinued the Lemon D-Toc product but then they came out with a Lemon Sparkling version.  Cupidrop, an online K-Beauty store that I have collaborated with in the past, graciously sent me the Lemon Sparkling Peeling Gel as well as the new Lemon Sparkling Peeling Pads.  I know that Secret Key is considered a low end cosmetic brand in Korea, but I have found more hidden gems with them than any other line ~  from the Intense Ice sleeping pack ~ which is so wonderful in the summertime ~ to their Honey Bee AC line ~ I've used the mist, spot treatment and cleanser with great success ~ to eye makeup remover  ~ and their Starting Treatment line is fantastic  ~ full of galactomyces and good stuff. I have enjoyed their products very much.  It is a very inexpensive brand that delivers beautifully for me.
Skin Type/Concerns: Oily, blemish prone, aging with fine lines/wrinkles, hyper-pigmentation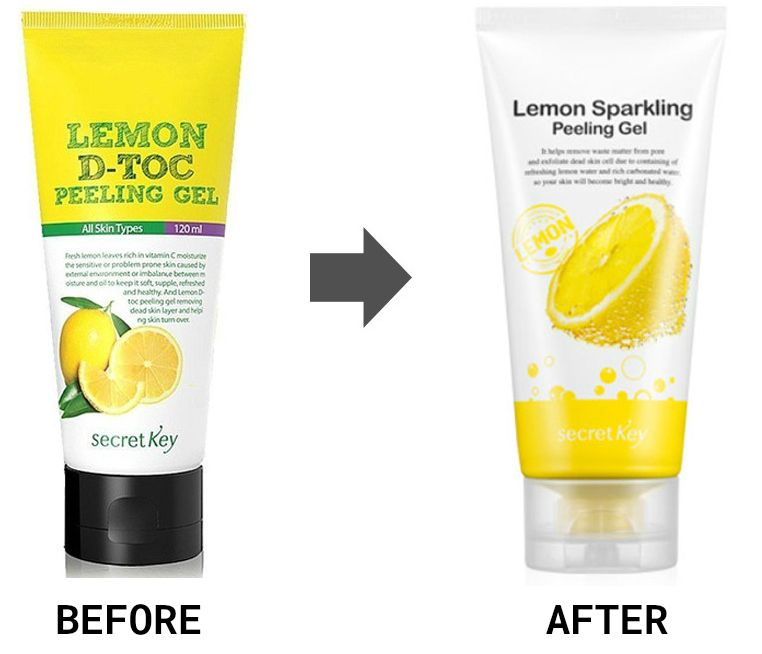 I have wrote up this informational blurb on peeling gels a long time ago and it still holds true today! What are peeling gels? Good question…. Peeling gels are not peels ~ they are actually non-physical exfoliators that use fruit enzymes to dissolve microscopic dead skin cells and unclog pores, which you can see as you massage it onto your skin. They revitalize and refresh the skin and only remove a small amount of superficial skin.  Peeling gels must be applied to clean, dry skin, otherwise, they do not work as well.  Peeling gels should also have an alpha hydroxy acid (glycolic, citric, lactic) as this acid helps in removing dead skin cells ~ lemons and papayas naturally contain alpha hydroxy acids.   Another common ingredient is hyaluronic acid, as that will increase moisture and hydration and improve your skin's texture and tone.  Your peeling gel should create little clumps after you massage it into your skin.

However, there are some peeling gels out there on the market that I consider bogus and the way you can test if a peeling gel is actually working to remove dirt, debris, dead skin cells and oils is really simple.   Just put some of your peeling gel on a counter top or dish and rub it in.  If you see clumps,  then it is bogus.  Sorry, but counter tops and dishes do not slough off excess debris and oil.   You should only see the clumps when it is applied to skin, as the oils from your skin is what should activate the fibers and enzymes in a peeling gel.  Those clumps are part product (listed as acrylates/C10-30 alkyl acrylate crosspolymer or carbomer or cellulose), part your dead skin and skin cells, held together with the oils from your skin.  If the clumps are grayish-white in color as well, don't worry ~ that just means that your skin was dirty
Secret Key Lemon Sparkling Peeling Gel  Let's cut to the chase ~ it uses the same ingredients as the Lemon D-Toc Peeling Gel, except some of them are in a different order and this product has a new addition of 47ppm carbonated water, which is supposed to help remove impurities in your pores, refreshes and improves skin elasticity .  Which is great news for fans of the D-Toc Peeling Gel.  I wonder if they just tweaked it to add the very popular bubbling water ingredient?  At any rate, I guess I will talk about the ingredients and how it worked.  This is gommage type gel that comes in a 120 tube with a flip top cap.  It contains contains 90ppm of lemon fruit water, extracted using steam distillation. It also has 10ppm of lemon fruit extract and lemon is chock full of vitamin C, which helps provide moisture to your skin, unclogging pores and brightening and evening out your skin tone, by lightening hyper-pigmentation.

This also contains papaya which contains an enzyme called papain, which is a natural exfoliator, making your skin smooth, vibrant and healthy.  Papain cures a variety of skin issues, such as acne, dry skin and premature again.   Papaya also is an antioxidant, as it has Vitamins A, C and E along with carotenoids, helping to reduce inflammation of your skin, as well as nourishing it.   Sodium hyaluronate  makes an appearance here ~ this ingredient will help attract and absorb water more effectively and will result in smoother, softer skin and will pump up your skin, so your wrinkles and fine lines will be have the appearance of reduction.
Witch hazel has antibacterial and antiseptic qualities which helps clear up acne and it removes excess oil from skin.  It also helps shrinks blood vessels, which tightens our skin.  Witch Hazel can speed up healing and is a powerful anti-inflammatory, which also helps soothe skin.  It helps refreshes and rejuvenates skin, refines the pores and seal in moisture.  Another hydrating and soothing ingredient is aloe vera  ~ a powerful moisturizer that doesn't leave your skin feeling oily or greasy.   It soothes, treats inflammation, helps speed up skin healing and also has a plethora of antioxidants ~  beta-carotene, vitamins C and E, which help improve your skin's firmness and keeps your skin moist and hydrated.  It also contains over 75 different nutritious ingredients, including minerals, enzymes,  amino acids, salicylic acid and much more.  This also has centella, chamomille and rice bran water to help calm and soothe and protect your skin while exfoliating. 
Based on the ingredients list, this is a true peeling gel ~ it contains papaya and lemons, which contain enzymes and AHA to help exfoliate your skin.  It is has the hydrating sodium hyaluronate, to help increase moisture and it contains the clumping compound of cellulose.  I did a pH test and it is an exfoliating acid at 3.3.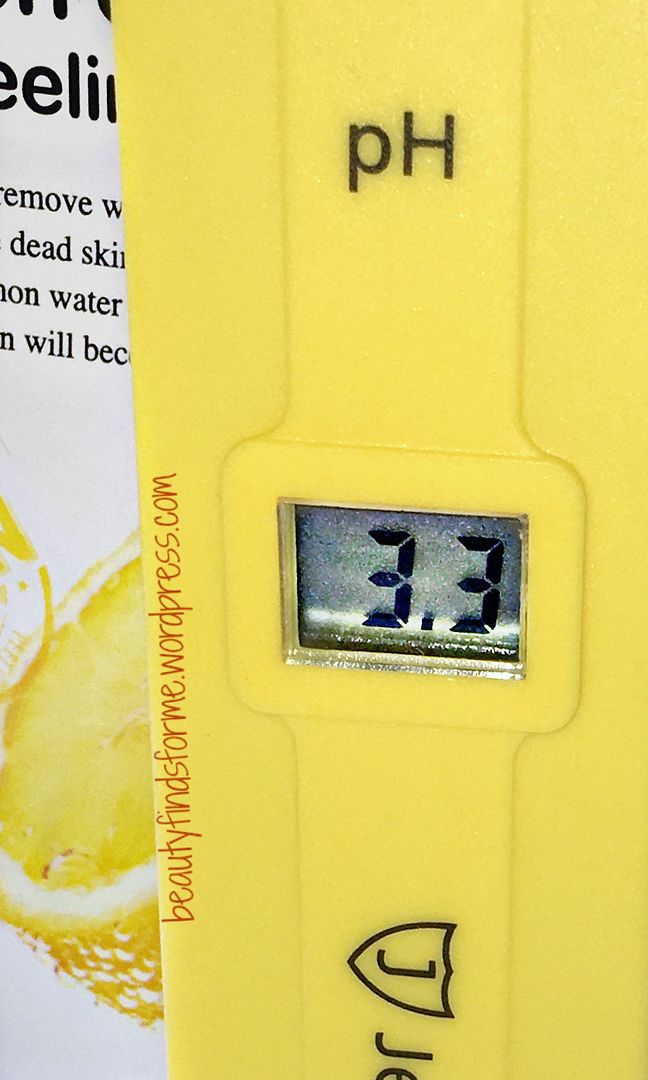 Secret Key Lemon Sparkling Peeling Gel is recommended for those with
Dull and uneven skin tones

Clogged pores and blackheads

Excess sebum and pore care

Dry and rough skin
The gel is a creamy white gommage and just like the original Lemon D-Toc, pretty much scentless.  A shame, because I would have loved to see them add in a lemony fresh scent.  The trick in using a peeling gel is that your skin must be clean and dry.  Not wet, not moist, but dry.  Add a dollop to your face and then gently massage around, concentrating on the T-Zone and where ever you have dry, flaky and rough skin.   You should start seeing little balls of the product as it starts to attract and clump oil, dirt, dead skin cells, flaky skin and other debris you have on your face.  You just rinse off with warm water and pat dry.  This product has the same effect on my skin as the original D-Toc ~ my facial skin feels remarkably smooth, silky soft and hydrated and my pores look cleaner and also smaller in appearance. My skin looks improved with a temporary brightness.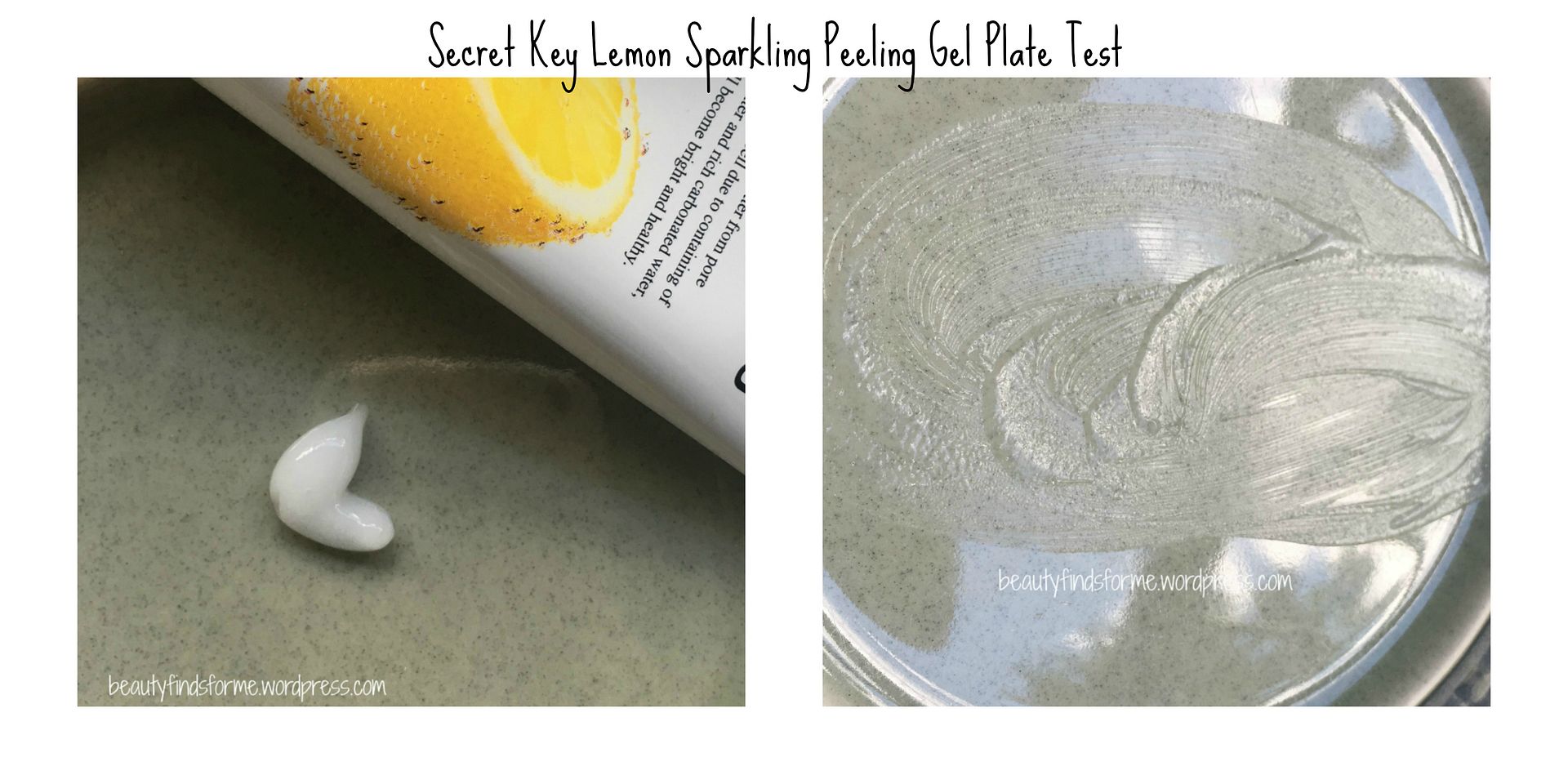 I did do the plate test and this does not ball up when I rub it into a ceramic dish, which means that this product is not overloaded with the cross-polymer fibers, which is a good thing.  You cannot see any clumping action on the plate, which makes sense.

All skin types can use this peeling gel ~ however, the type of skin you have will determine how often you should use it.  Oily skin types can use this 2 to 3 times a week as it is perfect for pore and oil skincare management.  Dry skin types should only use it weekly and apply a moisturizing cream on afterwards. Sensitive skin types can use it once or twice weekly and use a gentle touch as you massage it into your skin.  Also, during the transition of seasons, only use every other week.
Ingredients: Purified Water,  Cetrimonium Chloride, Cellulose, Propylene Glycol, Zanthoxylum Piperitum Fruit Extract, Pulsatilla Koreana Extract,  Usnea Barbata (Lichen) Extract, Carbomer, Polysorbate 80, Lemon Fruit Water (90ppm), Lemon Fruit Extract (10ppm), Carbonated Water (47ppm), Camellia Sinensis Leaf Water (47 ppm), Althaea Rosea Flower Extract, Aloe Barbadensis Leaf Extract, Hamamelis Virginiana (Witch Hazel) Extract, Centella Asiatica Extract, Carica Papaya (Papaya) Fruit Extract, Hydrolyzed Collagen, Sodium Hyaluronate, Oryza Sativa (Rice) Extract, Brown Algae Extract, Brassica Oleracea Italica (Broccoli) Extract, Portulaca Oleracea Extract, Chamomilla Recutita (Matricaria) Flower Extract,  1, 2-Hexanediol, Disodium EDTA, Fragrance cosDNA analysis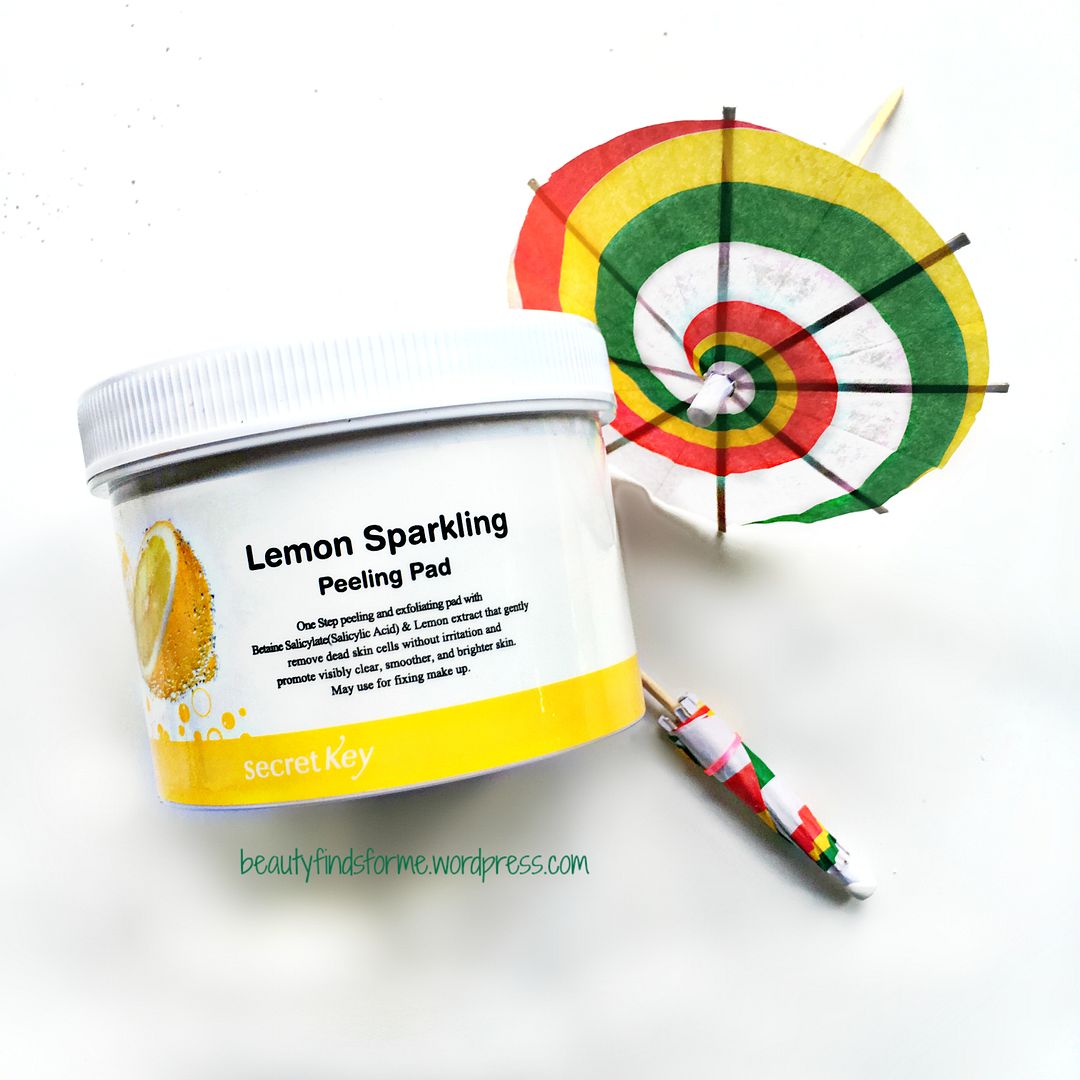 Secret Key Lemon Sparkling Peeling Pad  I love facial pads ~ I have a variety of them ~ some for moisturizing, BHA, AHA and pore care.  I am sure if there is a pad out there, I will want to purchase it!  These pads will help gently exfoliate and provide hydration and brightening effects to your skin.  This contains glycerin and sodium hydroxide for intense hydration and moisturization ~ it will help attract and keep water in  your skin.  This is a BHA (beta hydroxy acid) product, with betaine salicylate, which is an exfoliator that will help in removing oil deep within your pores, prevent acne, remove dirt and debris from clogged pores by dissolving the microscopic dead skin cells and smooths the skin. It is also an anti-inflammatory and antibacterial. This also has 300ppm of lemon fruit extract and 10 ppm of lemon fruit water, providing the same benefits as in the peeling gel ~ containing vitamin C which will provide moisture to your skin, unclogs pores and brightening and evening out your skin tone, by lightening hyper-pigmentation.

Panthenol helps cellular renewal and is an effective moisturizer and is derived vitamin B5. Panthenol is a natural humectant, which retains moisture and hydrates the skin. It also is a good lubricant on the skin, making skin look soft and smooth. It is also an anti-inflammatory.  Allantoin moisturizes, exfoliates and softens skin, making it look smooth and refined, while reducing and relieving irritation.  Arginine is an essential amino acid, that is an anti-oxidant, promoting collagen production to combat aging
So this peeling pad seems to be very focused on moisturizing, calming and gentle exfoliation. I did a pH test on the pad and it looks to be a solid mildly acidic 4.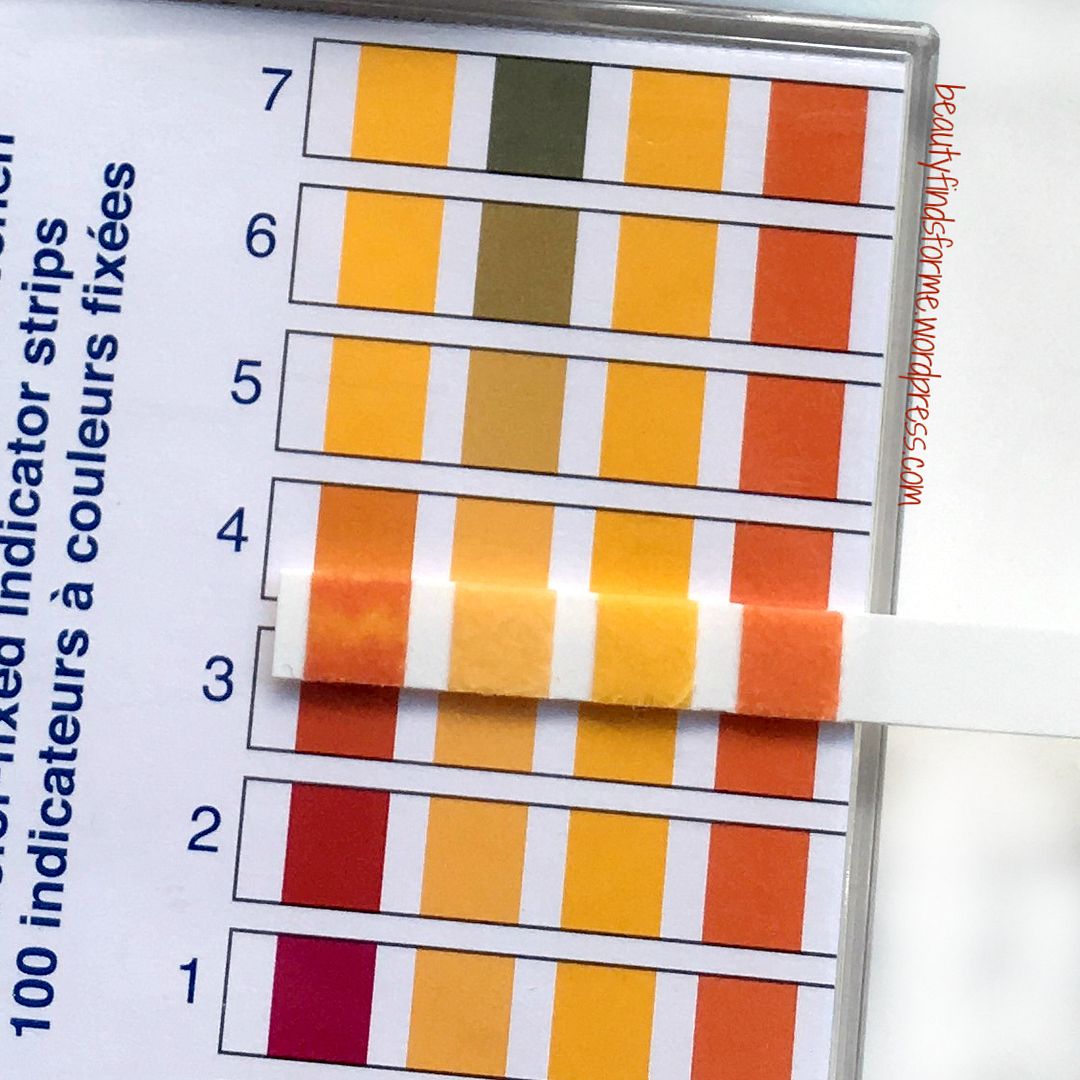 Lemon Sparkling Peeling Pads are recommended for those who want
Deep cleansing with nature originated ingredients

Remove make-up and soap residue on skin and deep within pores

Moisturizing

Quick and easy peeling product

Frequently  fix makeup ** If your makeup cakes up or needs to be touched up, you can use the pad to clean your face of makeup residue and re-apply base makeup.

This pads come in a big tub that contains 70 of them, good for one to 2 months, depending on how often you use them.  For me, this will last about a month, as I use pads twice daily, due to my oily skin and the hot weather.  One side is embossed to help with exfoliation, making these both a chemical and physical exfoliator.  The other side is smooth, which you use after the embossed side ~ to help gently pat in the essence and smooth your skin.  There isn't a lot of excess essence in the tub, but these pads are not dry at all ~ they are soaked with this essence.  These do have a scent ~ it reminds me of lemon hand soap ~ sweet and lemony.
Now, I don't recommend using pads in place of actually washing your face, but I have used these pads first thing in the morning to freshen my skin and removing my night care products, especially if my skin feels really greasy that morning.  I don't get in the shower right when I wake up, so this helps make me feel half-way decent!  These are great for after you wash your face ~ they will remove any excess residue from soap on your face. I also use pads when I get home from work or after I work out ~ again, great way to freshen my skin while providing some gentle exfoliation and pore care.  These pads do not sting my skin at all ~ I do not know the percentage of betaine salicylate used in here, but it is very gentle and mild.  I can use these in the same manner as I use the cosRX One Step Moisture Up Pads, as I find these to be more on the hydrating side than the peeling side.  That said, YMMV and if you have sensitive or dry skin, you might find these to be more exfoliating than I do.  
Ingredients: Purified Water, Butylene Glycol, Glycerin, Betaine Salicylate, 1,2-Hexanediol, PEG-60 Hydrogenated Castor Oil, Citrus Limon (Lemon) Fruit Extract (300 ppm), Glycyrrhiza Glabra (Licorice) Root Extract, Portulaca Oleracea Extract, Panthenol, Allantoin, Sodium Hyaluronate, Arginine, Fragrance, Citrus Limon (Lemon) Fruit Water (10 ppm), Carbonated Water (10 ppm), Sodium Hydroxide  cosDNA analysis

Final Thoughts
I wasn't too surprised that I really enjoyed these products and I would recommend them to anyone looking for a peeling gel or a gentle exfoliating/moisturizing pad.  The Peeling Gel is pretty much the same formula as the D-Toc, so I am so happy to see that Secret Key didn't get rid of it ~ D-Toc was very popular and I think they just added the carbonated water to the formula. It is a true peeling gel, with all of the proper ingredients, pH level and it doesn't clump on plates!!  The Peeling Pad works differently for me than the description ~ I find it to be closer to a moisturizing pad than a peeling pad, but then again, it could be peeling too ~ it is just so gentle and mild, I don't notice!  Maybe that is the (secret) key to it ~ you don't know it is exfoliating because it is so soothing.  I haven't noticed any brightening with the pads, but I do notice my skin is softer, smoother and feels moisturized.   Have you tried any of the Lemon Sparkling Peeling products yet? Which ones and what did you think of them?

Where to Purchase
Cupidrop carries both Lemon Peeling products from Secret Key.   They are very affordable, under $15.00 and you get a lot of product for the price tag
Secret Key also makes a cleansing oil and cleansing foam in this line and I would love to see Cupidrop carry those as well, especially the oil!  Currently, in celebration of 4th of July, they have a 30% off $50.00 purchases ~ use promo code HAPPY4TH and it expires at midnight on 7/4/2017.  They offer free U.S. shipping on orders $50.00+ and free samples or sheet mask with every order and you earn CupidPoints with each order, translating into more savings at their shop. 
[ products received complementary for review purposes ]