[ disclaimer: product received complementary for review.  all opinions are my own ]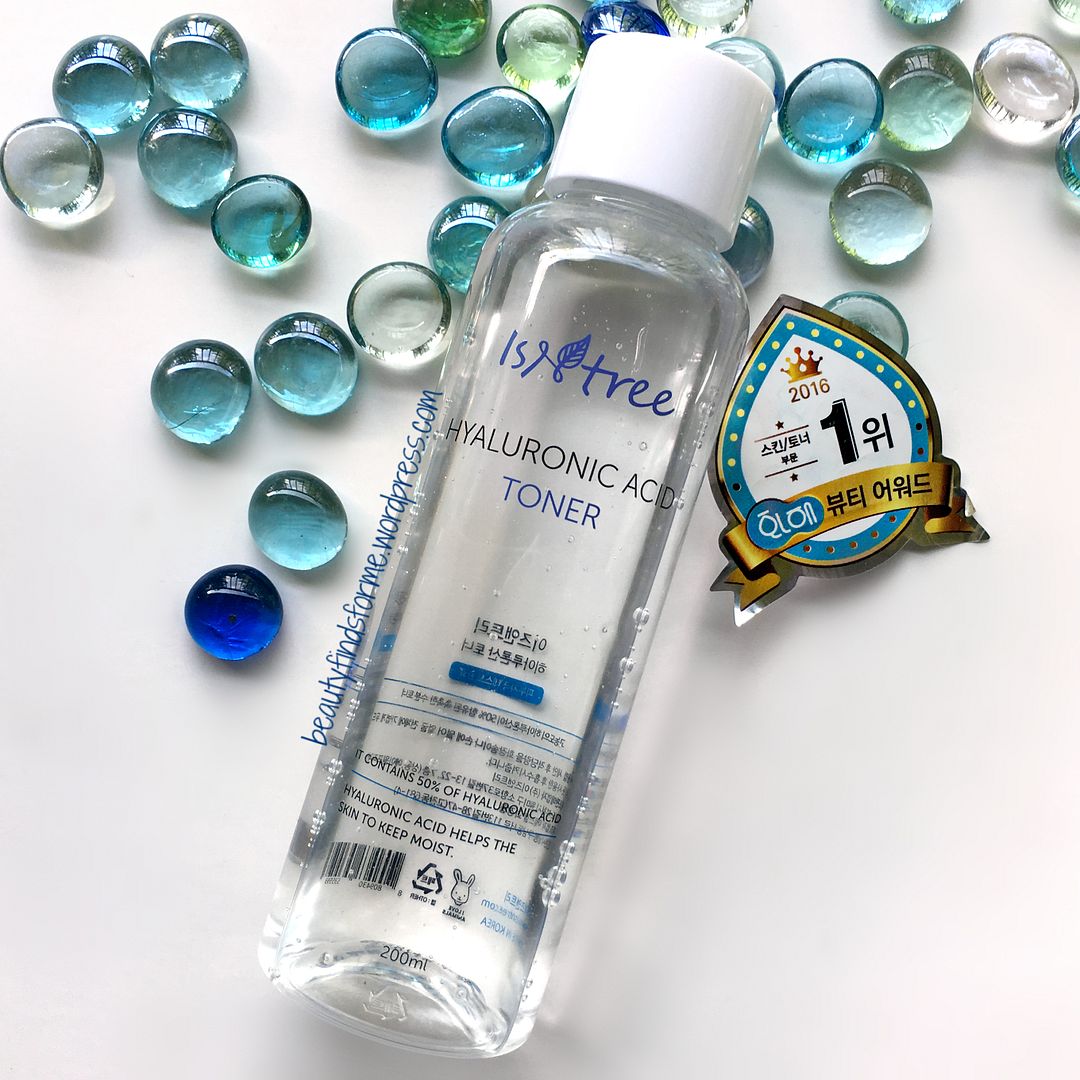 I received a great PR package from Melody Cosmetics, a USA based K-Beauty site that has introduced me to brands like Manyo Factory and Olivarrier.  Margaret at Melody has been busy finding new brands to excite the K-Beauty skincare enthusiasts and she found one with IsnTree, a top notch and very affordable brand!  Many thanks to Margaret for sending these products my way 🙂   I am also working thru a lot of hydrating products, including serums and essences, so don't be surprised to see some more reviews on watery products in the near future.
Skin Type/Concerns: Oily, blemish, aging with fine lines/wrinkles and hyper-pigmentation
IsnTree isn't just a hydrating toner ~ it is a water bomb on your skin.  This toner is made with 50% hyaluronic acid, so it is a moisture rich humectant~ it will help attract moisture to your skin, while preventing moisture loss.  Word of caution with humectants ~ if you live in a dry region, you need to add an occlusive layer over humectants, otherwise,  they will cause dryness.  Hyaluronic acid (aka sodium hyaluronate) is an intensive moisturizing and hydrating ingredient that bonds water to keep skin hydrated. It is a natural substance found in the human body and it made up of amino and uronic acids, and helps retain 100 to 1,000 times its own water weight in our skin cells. This also has glycerin, which helps heal wounds, is an humectant, sealing in moisture, maintains the skin's water balance on an inter-cellular level, which makes the skin look healthy, moist (not dry and scaly), soft to touch, and is also an emollient, leaving your skin looking radiant and supple. 
Birch Sap has been traditionally used in Northern European countries and the Baltic regions and it will protect and combat free radicals due to its powerful anti-aging and antioxidant ingredient.  It is full of compounds that will help tone, moisturize and make your face smooth, supple and radiant. It is also known as the Water of Life and contains high concentrates of amino acids, minerals, vitamins such as magnesium, potassium, enzymes, sodium, iron, vitamin C and sugars. 
Beta glucan is 20% more effective than hyaluronic acid and it helps stimulate the production of collagen. It also speeds up wound healing, soothes and calms skin due to its anti-irritant and strong anti-inflammatory properties. Beta glucan will moisturize, locking in natural moisture and is an anti-aging and anti-wrinkle ingredient due to its anti-oxidant properties and also helps repair your moisture barrier.  This also contains trehalose and collagen, which will help keep your skin moist, supple and glowing.

When I did some translation on the Korean info, IsnTree stated it used phyto oligo, which I recognized from another brand ~ Benton uses phyto oligo, a patented ingredient  (Patent No. 10-0887294), which is made from hollyhock and aloe vera.  "The low temperature extraction from hollyhock (Althaea Rosea) root and aloe barbadensis leaf separates Phyto-oligo components. The high content botanical based ingredients helps skin activeness and add life to the skin. It maintains the elasticity and smoothness of skin with excellent skin moisturizing ability and is also for excellent for soothing the skin and even the skin absorption is excellent"    When I ran the ingredients thru cosDNA, this product contains no ingredient that would trigger acne or irritation. 

Ingredients: Sodium Hyaluronate, Water, Glycerin, Butylene Glycol, Trehalose, Betula Alba  (Birch Sap) Juice, Beta-Glucan, Soluble Collagen, Althaea Rosea Flower Extract, Aloe Barbadenis Leaf Extract, Portulaca Oleracea Extract, Panthenol, Zanthoxylum Piperitum Fruit Extract, Pulsatilla Koreana Extact, Usnea Barbata (Lichen) Extract, Hydroxyethylcellulose cosDNA analysis
This toner comes in a tall 200 mL clear bottle and the liquid inside is crystal clear, looking very gelatinous in the bottle ~ I always see this rich bubbles in my toner and I always think that this is going to come out as a gel instead of a liquid.
This has a pin hole applicator and despite looking like a gel, it is quite easy to dispense ~ I just shake 2 to 4 times, as I like applying this toner on my neck as well.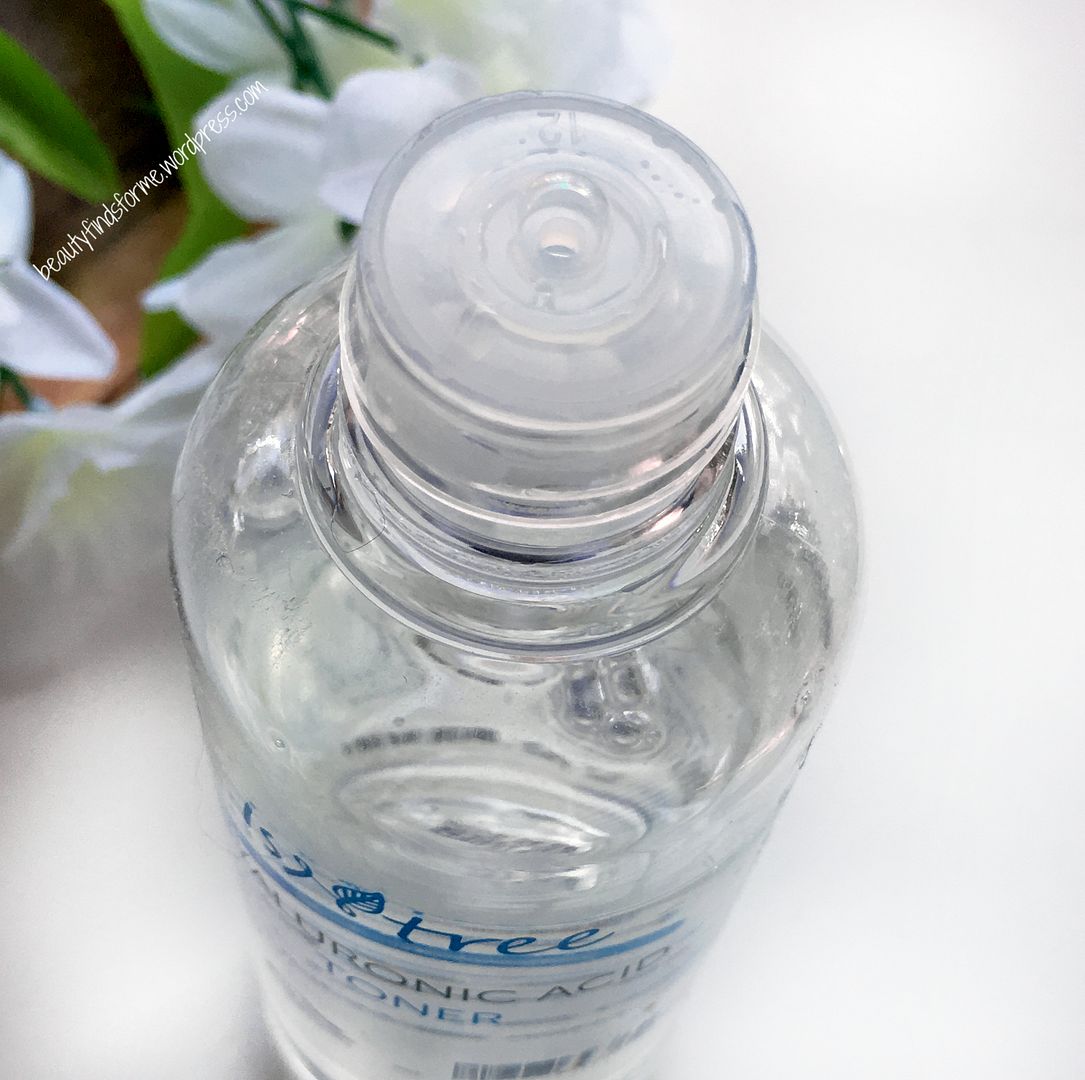 Now it is a thick, scentless watery toner ~ but it isn't a gel.  It is so moist and thick, that it just sits on my skin and I have to tap it into my skin for full absorption.  In fact, if I just "splash" some on my face, my skin will look wet for quite some time, as on my oily skin, it does need some help to absorb. This has a similar but lighter beta-glucan texture ~ that slippery slide-y feel that just needs a bit of time to sink in.  Now, that is not to say I do not love this toner ~ I ADORE IT.   I love how refreshed and toned my skin looks after this is absorbed and there is no sticky or tacky residue. 
This moisturizes my skin nicely too ~ I saw a 41% increase in moisture, while reducing oil by 34%!  This is great for me, as I want moisture but not the oil.  If you layer your watery toners, I recommend that this be one of the latter ones you use, just because of its density.

This has a pH level of 5.4, so it is a nice balancing pH toner.

One of my favorite ways lately to use this toner is with my White Rabbit Cotton Sheets ~ I have been using a lot of acids lately in my skin care, and sometimes my skin needs a bit more hydration and soothing.  I just follow the method that I reviewed with my cotton sheet pads and soak these in the toner and apply to my face, for a quick and easy mask, bursting with moisture and calming care.  It really helps take the edge off the redness and sensitive skin that I sometimes get when I over-do it with my skincare acids.  
Final Thoughts
I really LOVE this toner ~ it has so much going for it ~ moisture bomb, moisture/oil skin balancing, soothing and nourishing.  It also has a fantastic price point at $13.00!!  IsnTree makes this toner in a super-size version of 400 mL and I hope Melody Cosmetics carries that version, as I am already 1/2 thru my 200 mL bottle right now.  This is a product I use both in day and night time routines and I am about to put it in a mist spray bottle so that I can bring it to the beach.  I have to say, I could have written this review the day after I received it, as I fell in love with this hyaluronic acid toner the first time I used it
I received some additional IsnTree products from Melody Cosmetics, including these two masks which I have reviewed on Instagram and will repeat here.
IsnTree Asian White Willow Mask White Willow extract (Salix Alba) is a BHA and naturally contains salicylic acid ~ this will help exfoliate dead skin cells and aid in cellular turnover. It is high in anti-oxidants, tone and reduce inflammation, controls oil, and is an astringent. This also has a few AHA, lactic and citric acid, to help brighten and exfoliate, plus vitamin C for brightening and anti-aging. Polyglutamic acid is a derivative from the fermented soybean natto and will make skin smooth, elastic and soft, where glycerin and hyaluronic acid will provide hydration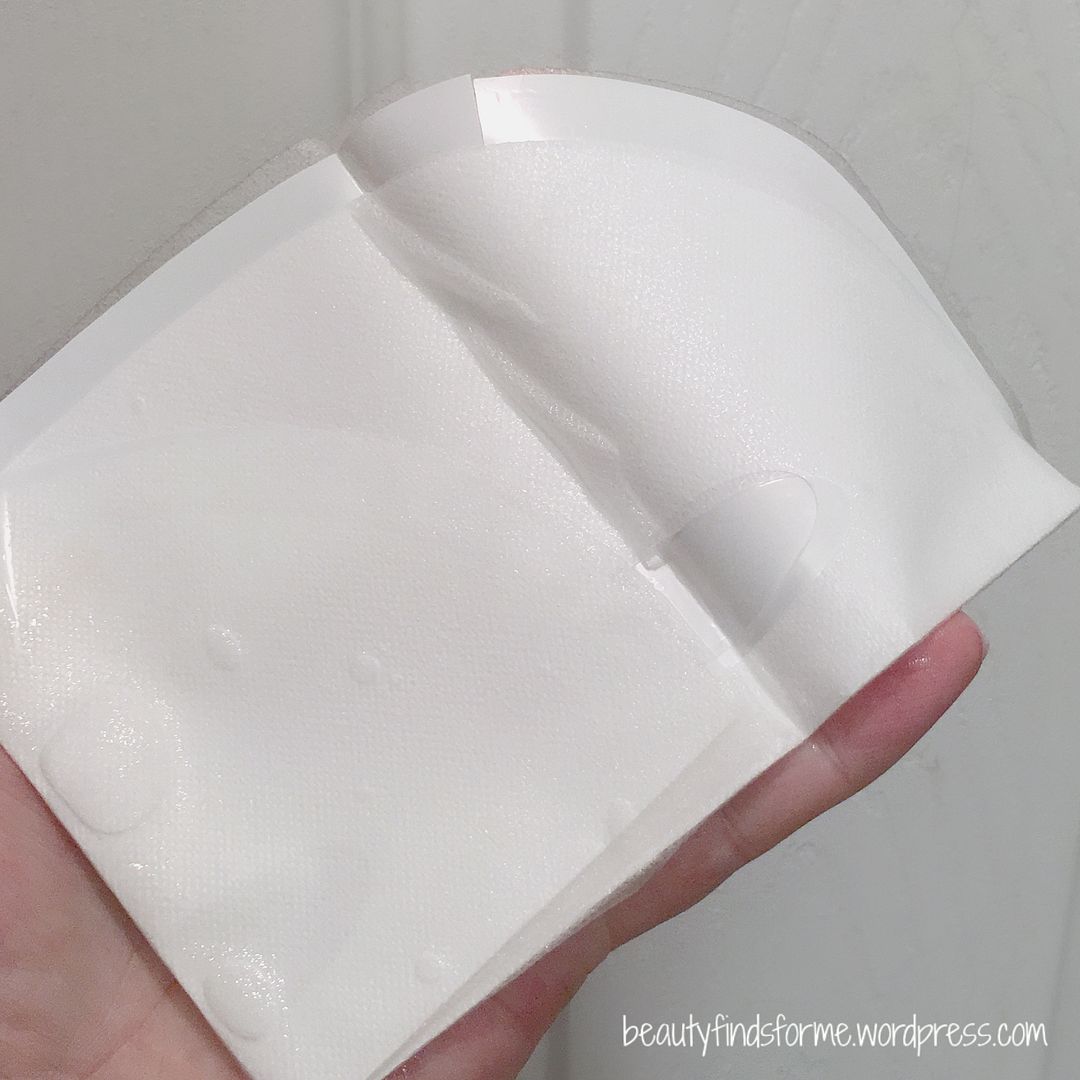 The mask comes with a pearl (plastic) paper to help stabilize the thin sheet mask and also aid in applying the mask on my face. The mask is dripping in a watery essence and it has a faint bitter scent that I associate with salicylic acid
The fit is quite large and I have a large face! There is quite a bit of chin tucking that I have to do here. The space between my nose and lip could have more mask, and it is a bit big. Since there is a lot of leftover essence in the pouch, I just pat the remaining essence on the parts of the mask that will dry out quickly on my face (nose, chin, forehead). While I am wearing it, it is very cooling and refreshing on my skin ~ it is getting warmer now so this feels really nice. After 40 minutes, I removed the mask ~ the essence was a bit sticky and it took about 10 minutes for it to dry down and absorb. This is a very hydrating mask and it was not what I expected, despite that description on the front that stated "White Willow extract helps keep skin hydrated for a long time". I am glad I used this as a bed time mask, as my skin was very moisturized and dewy looking. 
When I woke up in the morning, my skin was soft and smooth and felt really nice! I normally would have thought that a willow bark mask would be more of an astringent mask, but in this case, it was a deeply hydrating one for my oily skin type.
Ingredients: water, butylene glycol, glycerin, salix alba (willow) bark extract, sodium hyaluronate, caulerpa lentilifera extract, polyglutamic acid, hydroxyethylcellulose, portulaca oleracea extract, nelumbo nucifera leaf extract, prunus mume fruit extract, dipotassium glycyrrhizate, allantoin, panthenol, lactic acid, citric acid, asorbic acid (vitamin C), xanthan gum, zanthoxylum piperitum fruit extract, pulsatilla Koreana extract, usnea barbata (lichen) extract cosDNA analysis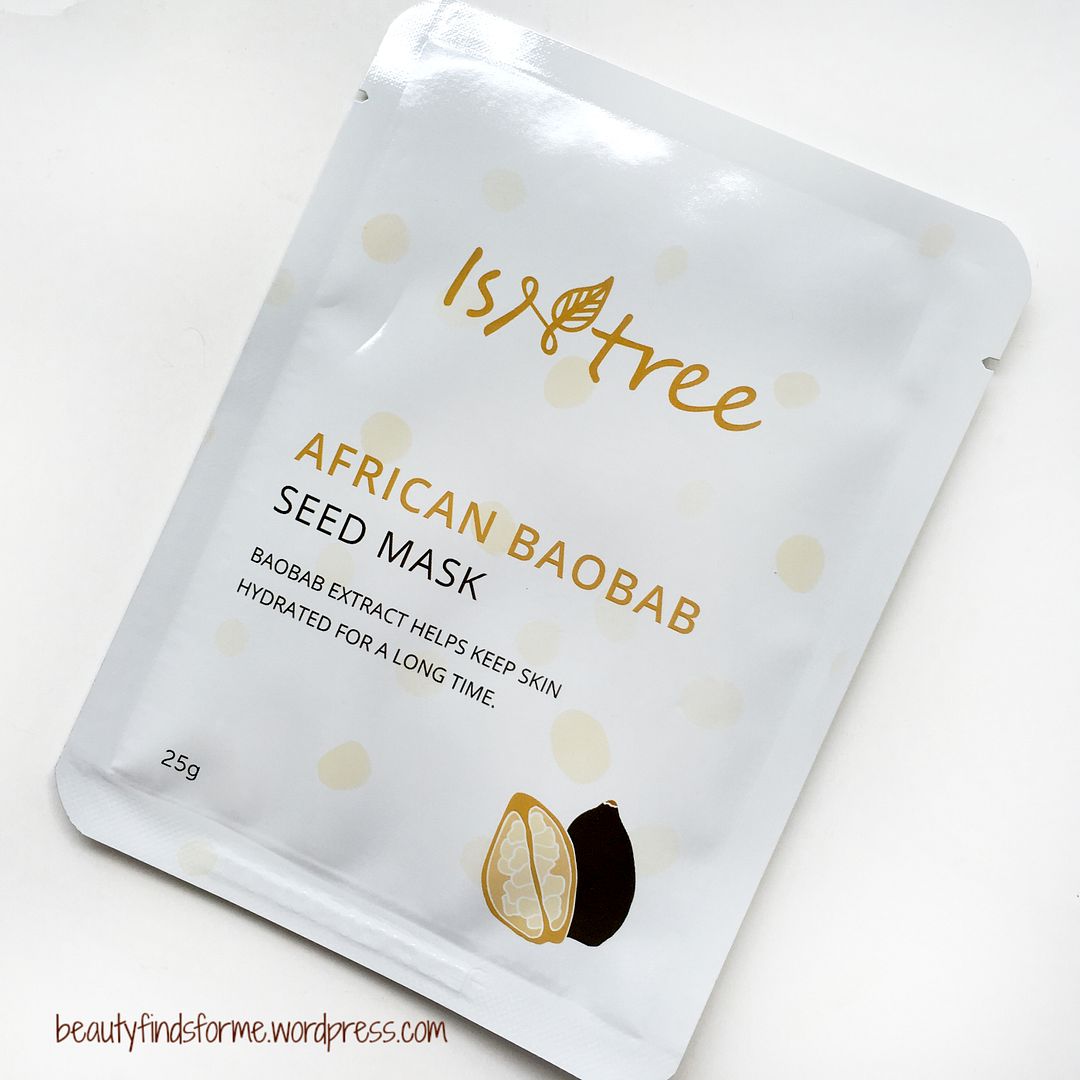 Isntree African Baobab Seed Mask  This mask features Baobab Seed which is renowned for its moisture capabilities. This provides instant hydration and moisture for your skin and the only difference between this mask and the IsnTree White Willow Bark mask is the 4th ingredient ~ adansonia digitata (baobab), which has powerful antioxidant benefits, due to its rich source of flavonoids, ascorbic, citric and malic acids, and it is also an anti-inflammatory as well. The sheet mask is made from the long cotton fibers which will strengthen adherence & provide optimal absorption of the essence ~ of which there is a lot!! This is the second IsnTree mask I have tried and they both have been very soaking wet with a watery essence. For some reason, I thought this might have a creamy essence but it is a very clear and watery essence with a faint bitter scent. 
The fit is pretty much the same ~ it is quite large but because it is so wet, I can really get it to adhere to my skin nicely. I was able to leave this on for about 30 minutes and when I removed it, my skin was cool and soft to touch, very hydrated. This didn't have a sticky or tacky residue and the dry down was quick. My skin looked refreshed and this is a good mask to use in the morning, as it doesn't have a dewy or sticky residue and has a quick dry down. I am a bit surprised at both of the masks I have tried from IsnTree ~ I thought that the White Willow mask would be a lightweight hydrating mask and the Baobab was going to be a more dewy, moisturizing one, but in fact, the opposite was true!
Ingredients: water, butylene glycol, glycerin, adansonia digitata seed extract, sodium hyaluronate, caulerpa lentilifera extract, polyglutamic acid, hydroxyethylcellulose, portulaca oleracea extract, nelumbo nucifera leaf extract, prunus mume fruit extract, dipotassium glycyrrhizate, allantoin, panthenol, lactic acid, citric acid, asorbic acid (vitamin C), xanthan gum, zanthoxylum piperitum fruit extract, pulsatilla Koreana extract, usnea barbata (lichen) extract cosDNA analysis

Where to Purchase
You can purchase IsnTree products at Melody Cosmetics
I have two more products to review ~ Green Tea Fresh Toner Mist and Aloe Soothing Gel Moisture ~ I have already formed my thoughts and they have been tested by me, so it is a matter of time before you see the reviews here!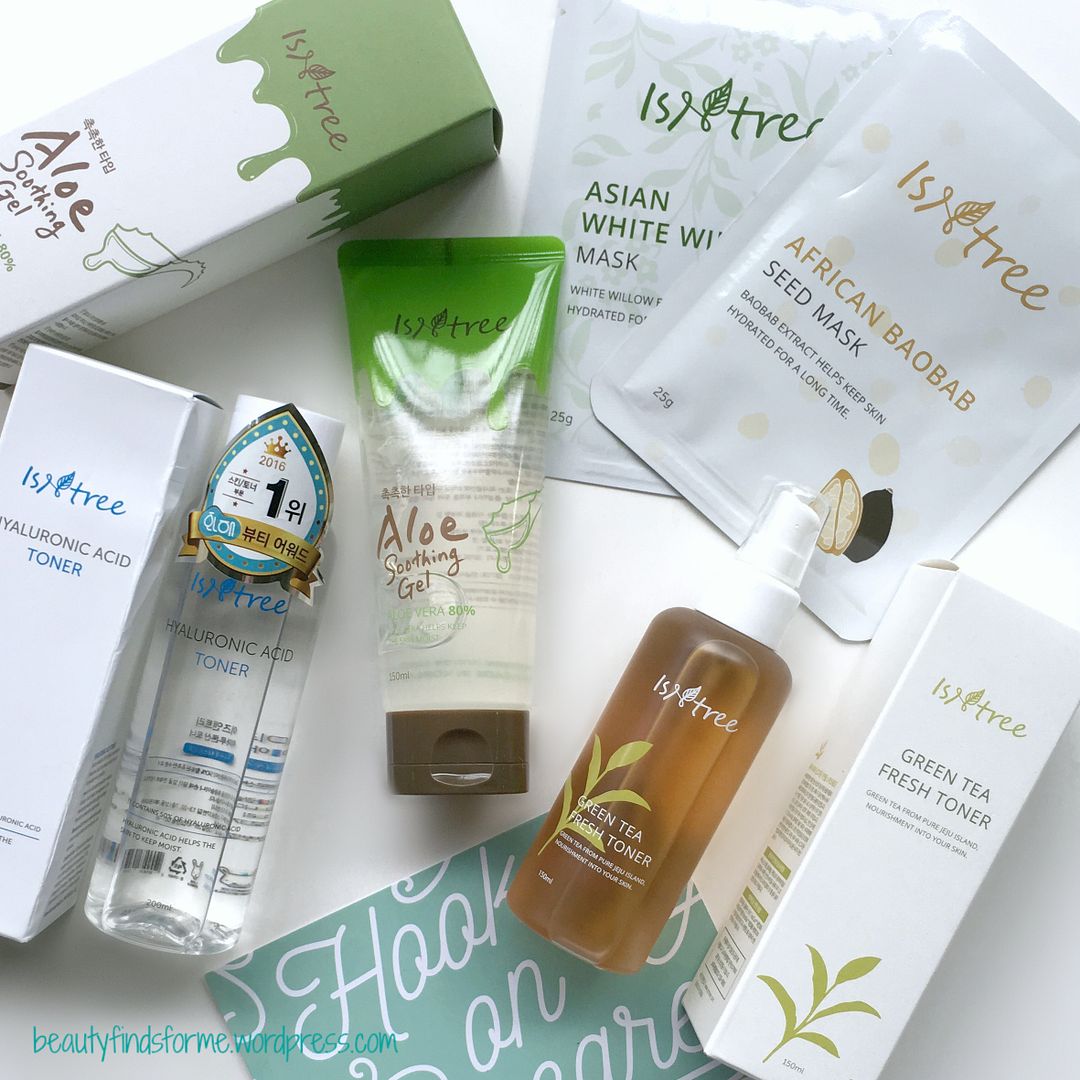 [ disclaimer: product received complementary for review.  all opinions are my own ]