[ disclosure: some products received for review purposes. blog post contains affiliate links ]
It's been a while since I posted my mask digests ~ I have had this sitting in my draft section for a long time, so I decided to add the missing masks that I posted on Instagram and get this blog post published! I do mask digests and mini reviews blog posts because I do try a lot of products and review them on my Instagram account.  If you see a name with an @ in front of it, just hop on over to Instagram and search for that person or shop.  Instagram does not lead itself well for searching reviews so I thought I would gather them up and post them here at my blog as well.  This blog post does contain some affiliate and referral links, which provide a small commission to me if you use them ~ at no cost to you. It allows me to maintain my blog, continue to test out products and hold giveaways!  If a product was received for review purposes, I will mark it as "from brand" or "courtesy of brand/store".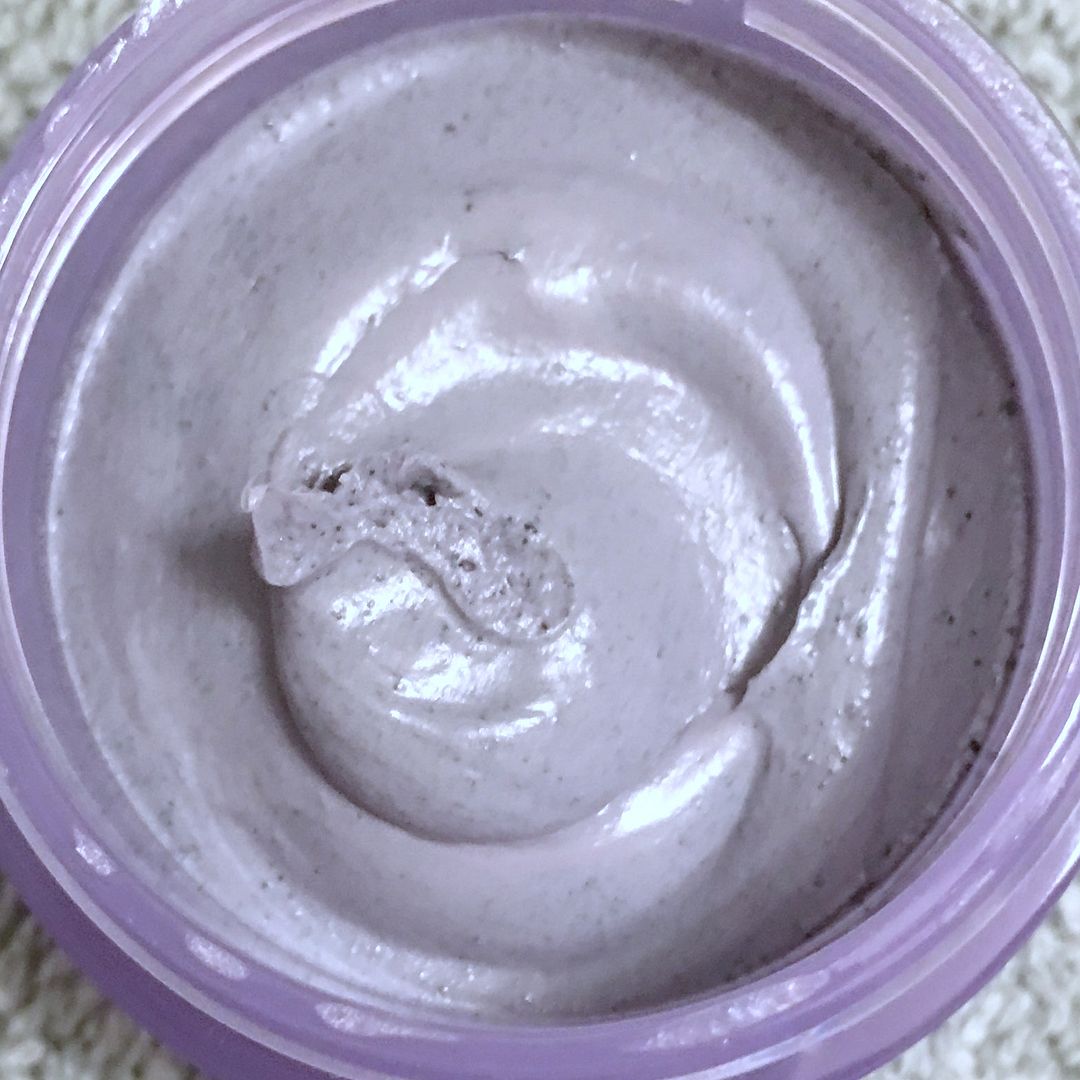 Josie Moran Whipped Mud Mask Lavender-Citrus I like this mini kit from Josie Maran as I can find out which mask pack I like the best to purchase full size. These masks are hydrating and detox masks and will help exfoliate and brighten your skin tone.  I chose the lavender-citrus one as my first, as I was in a lavender mood. The lavender scent more on the herbal side, than the floral side. Does still have a strong clay scent, but I didn't smell citrus. It has little bits of grainy powder, probably from the Moroccan clay, bentonite and salt. The color is a gorgeous lavender-grey and it was really easy to apply, very smooth. It is slightly cooling as this mask does have peppermint oil in it ~ The masks seems to be very similar in ingredients, but there are some slight variations and the peppermint oil is unique to the lavender citrus mask. After it "dried" on my face ~ it really doesn't dry down or tighten on my skin, just becomes a bit gummy looking, due to the 100% pure argan oil in it ~ I rinsed it off with warm water and I could immediately tell how smooth, soft and moisturized my skin had become, just by touching it. When I looked in a mirror, I could see that my pores were really invisible and had tightened. My face looked clean and bright. I really like this mask a lot ~ much better than the L'Oreal ones (I hate that scent from L'Oreal).

Ingredients: Water**, Propanediol**, Moroccan Lava Clay**, Sea Water**, Glycerin**, Bentonite**, Glyceryl Stearate**, Bis-Stearyl Dimethicone, Polyglyceryl-10 Oleate**, Dimethyl Sulfone**, Jojoba Esters**, Butylene Glycol, Titanium Dioxide (CI 77891), Argania Spinosa (Argan) Kernel Oil*, Argan Oil Isostearyl Esters**, Aloe Barbadensis Leaf Juice**, Olive Oil Decyl Esters**, Acacia Decurrens Flower Wax**, Linolenic Acid**, Phytic Acid**, Allantoin, Maris Sal (Sea Salt)**, Helianthus Annuus (Sunflower) Seed Wax**, Mentha Piperita (Peppermint) Oil**, Rosa Multiflora Fruit Extract**, Zingiber Officinale (Ginger) Root Extract**, Sanguisorba Officinalis Root Extract**, Cinnamomum Cassia Bark Extract**, Magnesium Aluminum Sylicate**, Xanthan Gum**, Squalene**, Polygycerin-3, Caprylyl Glycol, 4-T-Butylcyclohexanol, Pentylene Glycol, Sodium Hydroxide, Phenoxyethanol, Fragrance**, Red 33 Lake (CI 17200), Blue 1 (CI 42090), Limonene, Linalool. *Organic **Natural  cosDNA analysis

A'Pieu Peat Pore Cleaning Wash Off Freshmate Mask  I received this mask from Sarah @glowingsaripotter (aka @glowingskingal) for our gift exchange. I've used A'Pieu products before ~ their Tea Tree Freshmate Sleeping Mask is fantastic and I love their Rub In Gelato Mask in Pistachio clay mask pack.  This is also  a clay mask featuring 1,500 ppm of peat ~ which is the product of partially decayed plant matter and it contains almost 100% organic compounds and is a rich source of antioxidants and antiseptics.  Peat also acts as an anti-inflammatory,  tightens pores, acts as an astringent and helps with skin elasticity.  It is also a great detox treatment for your skin, removing excess oils and skin cells, dirt and debris.  If the Irish Bog can preserve bodies for thousands of years, maybe it can help preserve our skin!! lol   This also has charcoal to assist in pore cleansing and detox and chestnut shell extract for oil and pore management. I didn't notice a major scent with this mask and it goes on smoothly ~ it also feels cooling on my skin, due to the mint extracts.  This dries down nicely, without tightening or flaking off and unlike another peat mask I used, this does not cause any irritation on my skin.  I rinsed off after it was dry and my skin did not feel stripped or dry, but cool to touch and hydrated.  Obviously, the clay did clean out my pores, but I did notice a few spots it missed.  My pores did look smaller and my face felt refreshed and clean.  I think this mask is very gentle ~ it doesn't have a burning or tightening sensation and it just feels good.  For the price point, this is a very affordable mask and if you want to try out products with peat in it, this is a nice one to start with.
Honestly, Peat is the next big thing, imho, in skincare.  I know that belif has some items, make p:rem does (just got my cleanser foam & water), Peter Thomas Roth has a mud moor mask (which I have tried and it irritated my skin) and @beautibi has an aNEW box that has a trio of hair & body products made with peat (from invi+apotheke)  Do you know of other skincare brands that feature peat as their main ingredient? Have you tried any A'Pieu products and what did you think of them?
Ingredients: Water, Kaolin, Glycerin, Butylene Glycol, Cetearyl Alcohol, Caprylic/Capric Triglyceride, Bentonite, Stearic Acid, Glyceryl Stearate, Montmorillonite, Polysorbate 60, Hydrogenated Vegetable Oil, Peat Extract (1500ppm), Moroccan Lava Clay, Fomes Officinalis Extract, Charcoal Powder, Castanea Crenata Shell Extract, Wine Extract, Lavandula Angustifolia Flower Extract, Mentha Piperita Extract, Sorbitan Stearate, Silica, Trehalose, PEG-100 Stearate, Caprylyl Glycol, Cyclopentasiloxane, Dimethicone, Sucrose Distearate, 1,2-Hexanediol, Ethylhexylglycerin, Xanthan Gum, Alcohol Denat, Disodium EDTA, Phenoxyethanol, Fragrance, Iron Oxide (CI 77499), Titanium Dioxide  cosDNA analysis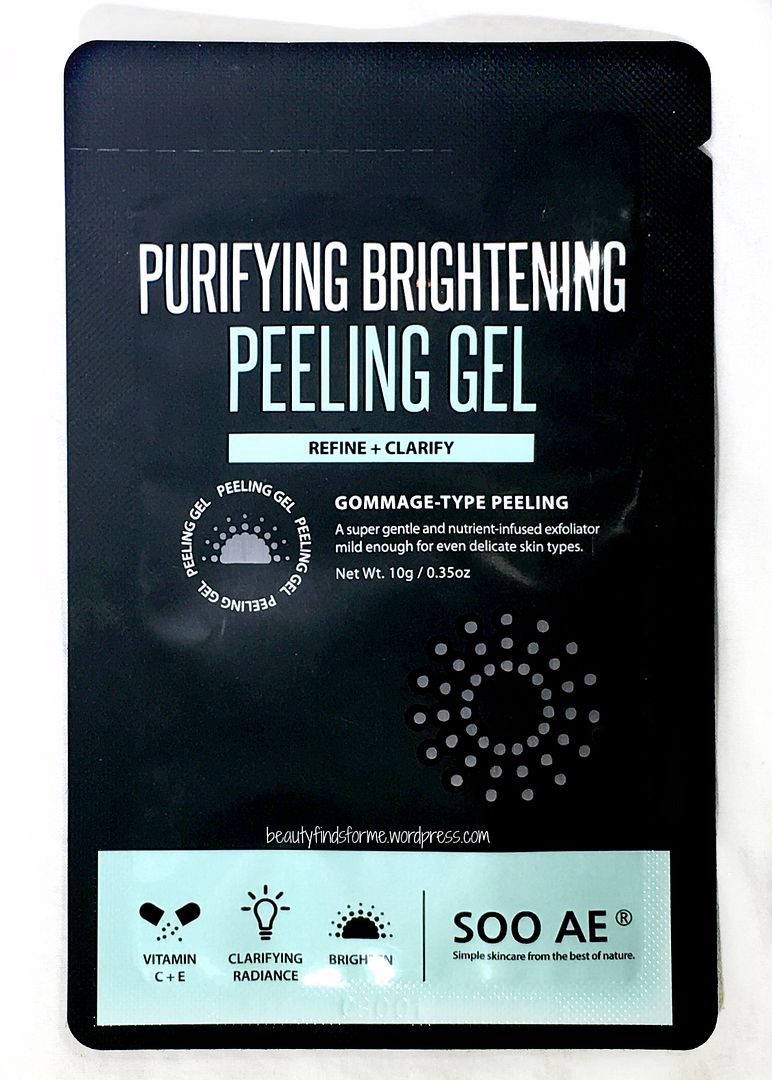 Soo Ae Purifying Brightening Peeling Gel (courtesy of brand) Peeling gels are pretty fun to use, although a bit messy. This one by Soo Ae is made with eco-cert certified natural cellulose, which is not only rich in moisture, but it is the clumping ingredient. The clumping ingredient will help bind the oils and dirt from your face to it, so as you gently massage your face with this, you will see little balls of oil, dead skin cells and dirt which you just rinse away. This is made with vitamins and fruit extracts ~ apple and lemon, which naturally contain some AHA's so it will act as both a chemical and physical exfoliator. This also has retinyl palmitate, which is vitamin A along with panethenol(B3), SAP (vitamin C), all antioxidants. This gel is cream colored and I can see the bits of cellulose in it.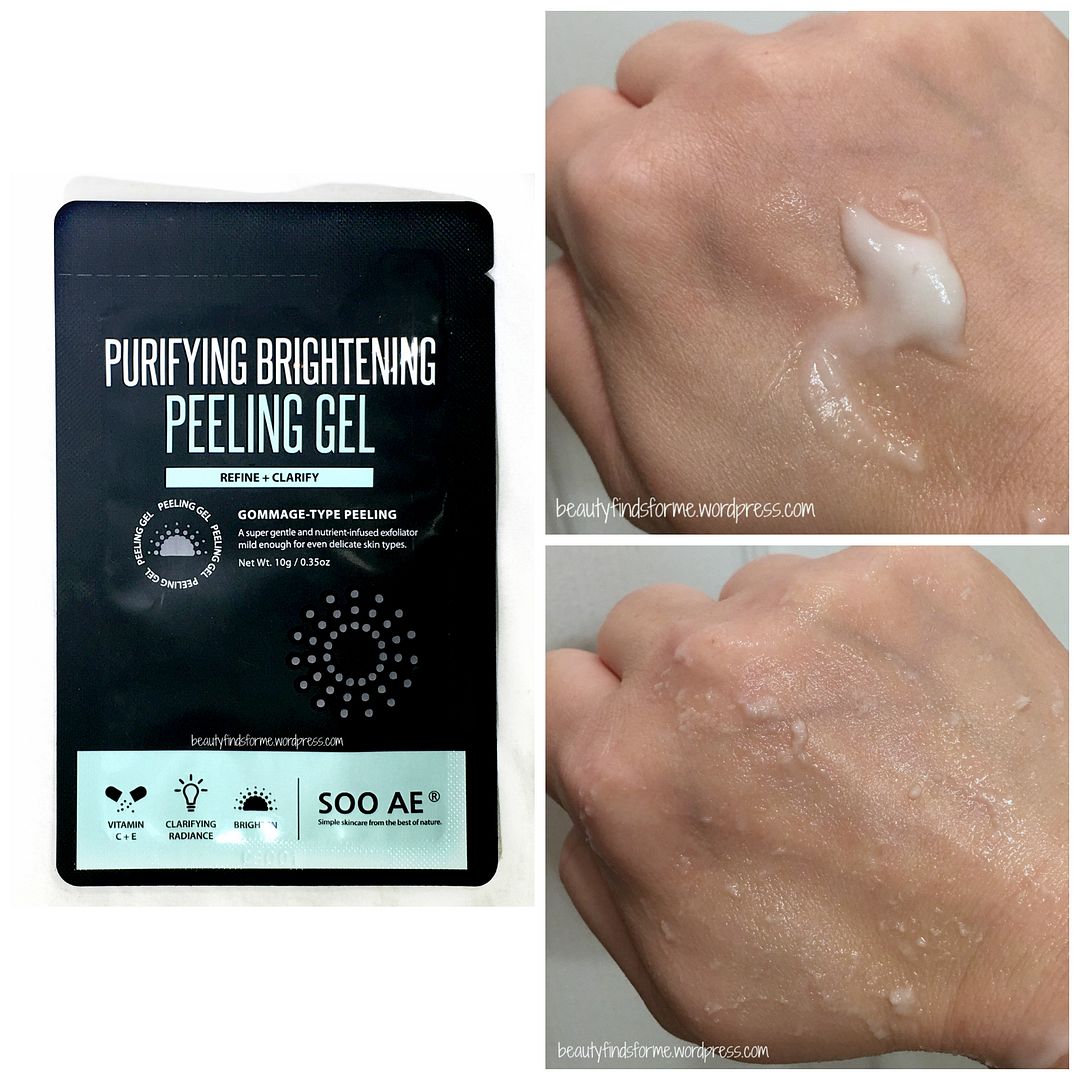 When I applied it to my face, it clumped up nicely and was not irritating to my skin ~ this works pretty much like a good peeling gel should ~ it unclogged my pores, removed dead skin cells and excess oil, while leaving my skin smooth. I always do a plate test on peeling gels, to make sure that the clumping is really the dirt & debris on my skin, and not a bunch of fibers in the product. The plate test is when you take a bit of your peeling gel and massage it around on a cerarmic, glazed plate. If the gel doesn't ball up, that this product is not overloaded with the cross-polymer fibers and this is a good peeling gel. I have had peeling gels that clumped so much on my skin & also clumped on things like my wall, plates, plastic (LadyKin, looking at you), which means it really wasn't doing squat as a peeling gel. This one passes the plate test with flying colors & it is in a nice pouch so it is good for traveling. I didn't do a pH test on this, I am sorry.   Have you tried this peeling gel yet? What did you think of it? My favorites are still B-Lab I'm Sorry Just Cleansing Peeling Gel and the old defunct Secret Key Lemon D-Tox. 
Ingredients: water, cellulose, dipropylene glycol, isopentyldiol, 1-2-hexanediol, PEG-60 hydrogenated castor oil, bis-PEG-18 methyl ether dimethyl silane, acrylates/C10-30 alkyl acrylate crosspolymer, potassium hydroxide, sodium ascorbyl phosphate, ethylhexylglycerin, panthenol, citrus limon (lemon) fruit extract, pyrus malus (apple) fruit extract, tocopheryl acetate, allantoin, glycerin, disodium EDTA, fragrance, hydrogenated lecithin, glyceryl linolenate, glyceryl arachidonate, retinyl palmitate, biotin, thiamine HCI, pyridoxine, cyanocobalamin, polyglyceryl-10 stearate, folic acid  cosDNA analysis

Soo Ae Charcoal Clay Bubble Mask ~ Refreshing Pore Care (courtesy of Soo Ae) This is a wash off mask pack and it contains 3 types of detox and purifying ingredients: binchotan charcaol, which is so powerful that it is used to purify water and is known to have anti-inflammatory properties to help refine and brighten your skin; kaolin and bentonite clay, which will go deep into your pores and clear out dirt, debris and excess sebum, leaving behind clearer pores and skin. This has tea tree for anti-bacterial and blemish fighting benefits and also apple extracts ~ full of vitamin C and helps brighten your skin tone. This also has "oxygen bubbles", which will help push the ingredients into your pores so it really is a deep cleanse. I have used similar masks like this before ~ Elizavecca makes a carbonated clay mask that really made my skin tight and itchy; I did not like that one at all!
This one by Soo Ae, however, does not give me that same experience. You have to do a couple of things before applying this mask ~ your face must be already clean and either damp or dry and you have to do before opening the pouch is to press down on it with your palms and sweep from top to bottom ~ I am not sure, but I think this helps activate it, because it sure as shit makes it harder to remove from the pouch!! I have to go digging! The clay doesn't have much of a scent that I can tell and it is easy to smooth on my skin ~ it comes out as a gray spreadable clay and it starts to bubble immediately
This does foam up nicely (tickles my nose!) and it isn't an overwhelming foam ~ some foaming clay masks I feel like never stop foaming. Once the mask is all foaming, wet your hands and massage your face gently in circular motions ~ rinse off. Verdict: My skin did not feel tight or dry and while I was wearing the mask, my skin didn't start to itch horribly. It was comfortable to wear (other than my nose tickles) and really easy to rinse off. My pores are clean, no filmy residue remains and my skin look refreshed! Another great little mask from Soo Ae
Ingredients: water, kaolin, cocamidopropyl betaine, disodium cocoamphodiacetate, acrylates copolymer, methyl perfluroisobutyl ether, sodium laureth sulfate, glycerin, dipropylene glycol, TEA-cocyl glutamate, sodium chloride, 1,2-hexanediol, bentonite, lauramide DEA, charcoal powder, xanthan gum, allantoin, ethylhexylglycerin, disodium EDTA, melaleuca alternifolia (tea tree) extract, phaseolus radiatus seed extract, pyrus malus (apple) fruit extract cosDNA analysis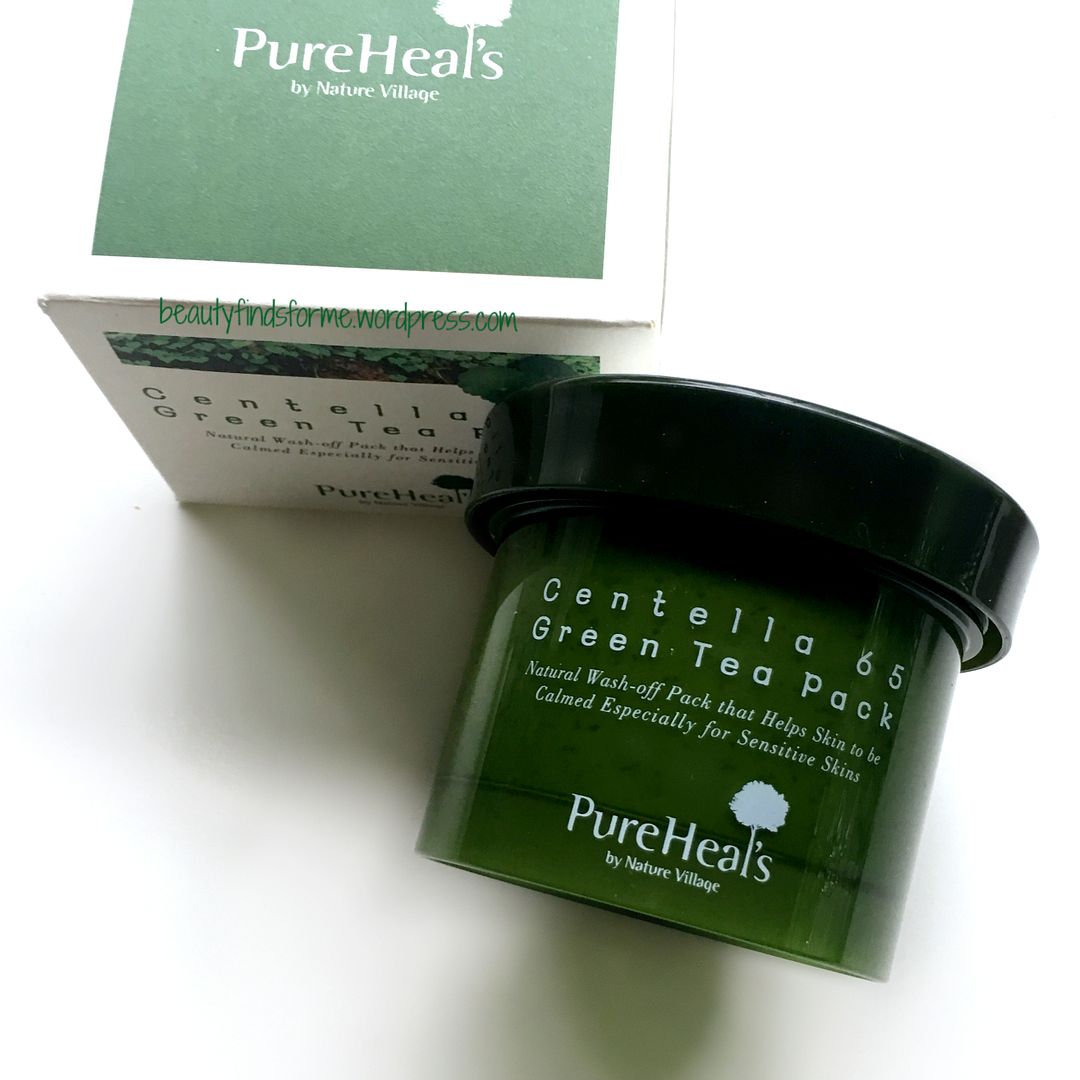 🍃🍃PureHeals Centella 65 Green 🌱🌱Tea Pack This contains 65% centella asiatica extract which will help soothe and heal your skin and it also has raw green tea leaves (you can see the leaves in the mask pack)  and aloe vera to help provide your skin with moisture, along with kaolin as a good detox and reducing excess oil.
It also has 🐝propolis, salicylic acid and glycolic acid ~ not only will this provide blemish busting benefits, but will gently exfoliate your skin, removing dead skin cells with BHA and AHA acids. This mask has a very light herbal and medicinal scent to it and it spreads beautifully. I felt a cooling sensation almost immediately ~ it is not tingling or uncomfortable.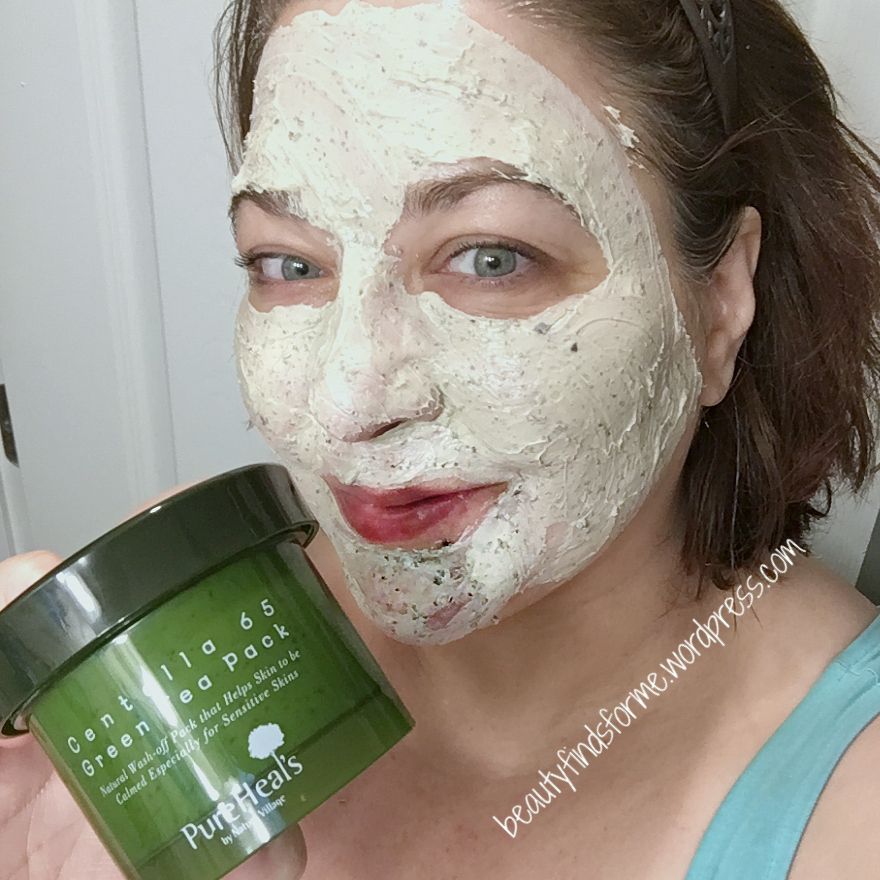 This mask feels really nice on my skin, very soothing and it doesn't have that tight or itchy feeling, as it doesn't dry down completely ~ it keeps a bit of moisture to it so it doesn't flake off. I rinsed off and I used the tea leaves in the mask as an additional physical exfoliator ~ my pores look smaller, they are cleaner, my skin is less red and any acne or acne-wannabes are reduced in size! I am so happy that I purchased this and thank you Instagrammers @makeupwithdrawal  and  @xyzanny for the recommendation! I will continue to use this over the summer, as I love the cooling and refreshing feeling this has on my skin .
Ingredients: centella asiatica extract (65%), kaolin, aloe barbadensis leaf water, cetearyl alcohol, glycerin, camellia sinensis leaf, clyceryl stearate, PEG-100 stearate, PEG-7 glyceryl cocoate, butylene glycol, polysorbate 60, polyacrylate-13, polyisobutene, polysorbate 20, polyquaternium-10, 1,2-hexanediol, caprylyl glycol, illicum cerum (anise) fruit extract, gardenia florida fruit extract, allantoin, panthenol, tocopheryl acetate, salicylic acid, glycolic acid, macadamia ternifolia seed oil, persea gratissima (avocado) oil, olea europaea (olive) fruit oil, propolis extract, camellia sinensis leaf extract, oryza sativa (rice) bran extract, morus alba bark extract, lavandla angustifolia (lavender) oil, citrus limon (lemon) peel oil, pelargonium graveolens flower oil, cananga odorata flower oil, origanum majorana flower oil, citrus tangerina (tangerine) peel oil  cosDNA analysis

FarmHouse Fresh Splendid Dirt Mud Mask I purchased this from my day spa ~ this is a brand that is 99.6% natural, paraben and sulfate free. FarmHouse Fresh Splendid Dirt Mud Mask ~ This is a fantastic pumpkin mud mask with fermented goodies like yogurt and saccharomyces, which will help provide nourishment and moisture to the skin, and pumpkin enzymes will help exfoliate. This also has 12 active minerals and the mud will remove excess oil & dirt, unclog pores and provide a great detox for your skin. This mask SMELLS AMAZING. Like spiced pumpkin with creamy vanilla mixed in. It is just heavenly ~ and the texture is so smooth and silky too.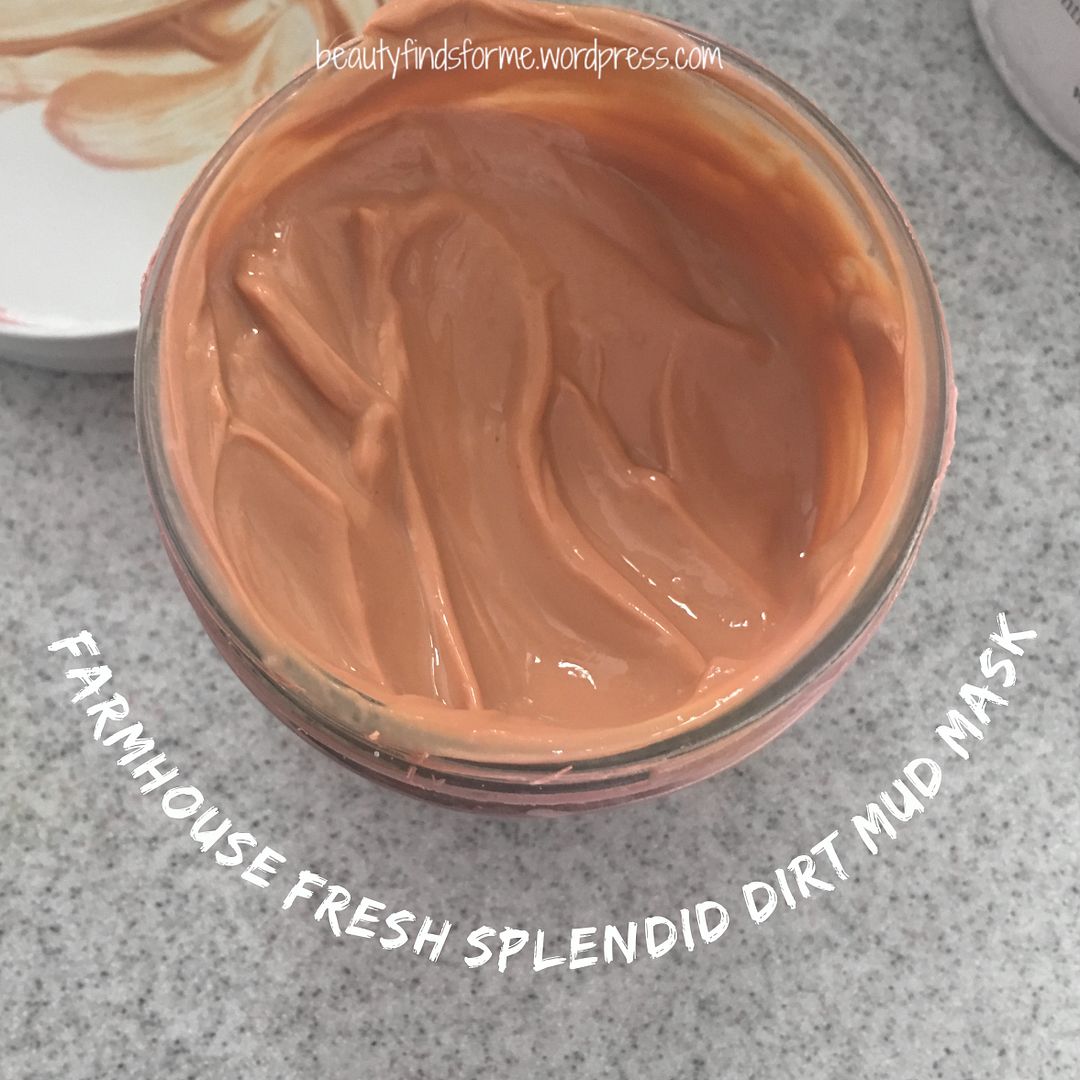 After I applied a thin layer to my face, I immediately felt a cold and tingling sensation ~ it was very refreshing and nice ~ and it stayed that way until I rinsed off the mask. This mask never got so dry or tight on my skin as it dried down and it did stay a bit creamy even near the end of 30 minutes.
I rinsed it off, and my face was initially a bit red, which is normal for me & pumpkin masks and then it calmed down ~ bright, radiant skin, unclogged pores that looked smaller in appearance. I really like this pumpkin mask a lot! I guess so long my day spa carries it, I will purchase it 🙂  You can also purchase this at Amazon and Dermstore!
Ingredients: Water, Bentonite, Yogurt, Glycerin, Illite, Cucurbita Pepo (Pumpkin), Magnesium Aluminum Silicate, Saccharomyces Ferment, Decyl Glucoside, Benzaldehyde, Benzyl Alcohol, Beta Caryphyllene, Eugenia Caryophyllus, Coumarin, Ethyl Butyrate, Heliotropine, Iso Amyl Acetate, Ho Wood, Maltol, Myristica Fragrans, Terpineol Alpha, Vanillin, Ricinus Communis, Citrus Sinensis Sanguinelli, Ethyl Propionate, Zingiber Officinale, Xanthan Gum, Potassium Sorbate, 1,2-Hexanediol, Caprylyl Glycol, Phenoxyethanol cosDNA analysis
The Bath Witch Dry Facial Mask Bentonite Clay & Oats ~ courtesy of @badeshaa_, an all natural, paraben/cruelty free skincare store! The Bath Witch is an indie, artisan crafted brand and I have reviewed their lotion and facial soap a couple of weeks ago on my Instafeed and will do here in my Instagram Mini Reviews soon. This mask is a DIY and you can add water, yogurt, honey or any other liquid to mix it up. The clay will help detox your skin, remove excess oil and dirt, whereas the oats will provide soothing care, plus gentle exfoliation. You can actually see the oats in this mask ~ it has the warm, dusty scent of oats with lavender ~ it is actually quite nice!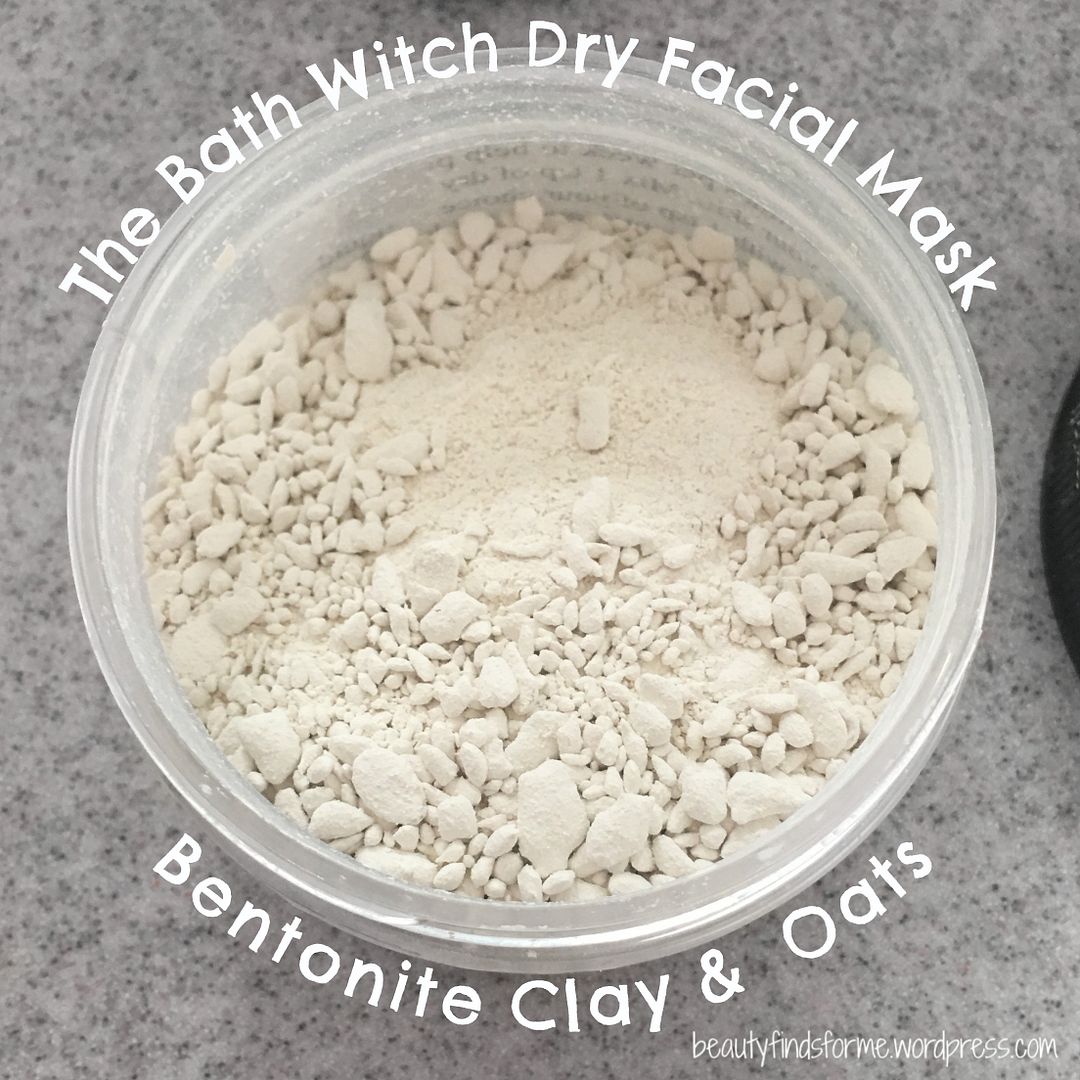 I used my Naruko NRK Calendula Soothing & Calming Toner as the liquid as I wanted some extra TLC and soothing care. This mixes up well and I applied to my face.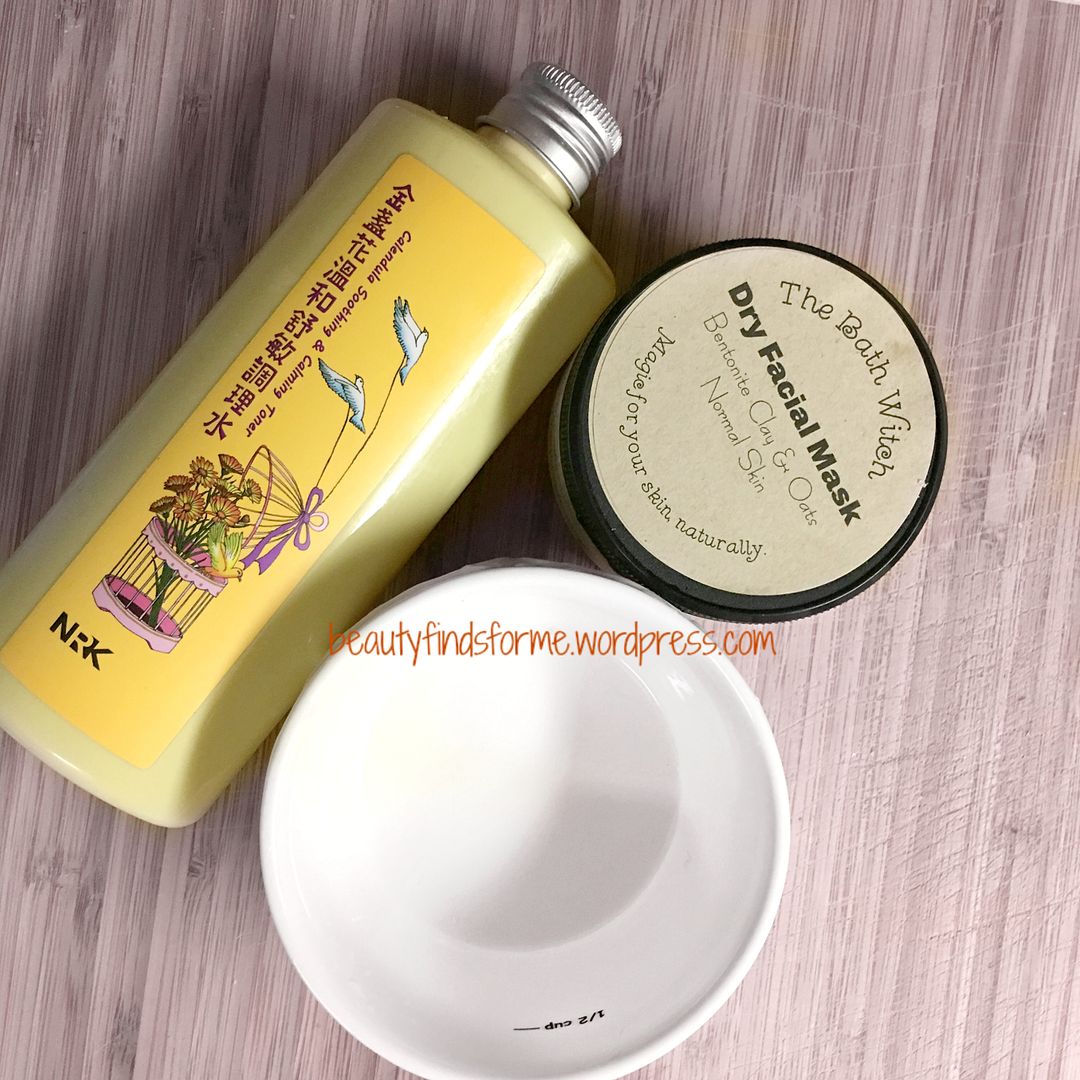 This dries down pretty badly as it starts to flake off with the clay and oats, so I decided to mist my face with some water, just to keep it a bit hydrated until I was ready to rinse off. When I rinsed off, I used the oats in the mask to "scrub" my face and gently exfoliate ~ my skin was clean, pores were unclogged and I didn't have any irritation using this mask. Very nice organic and green friendly mask!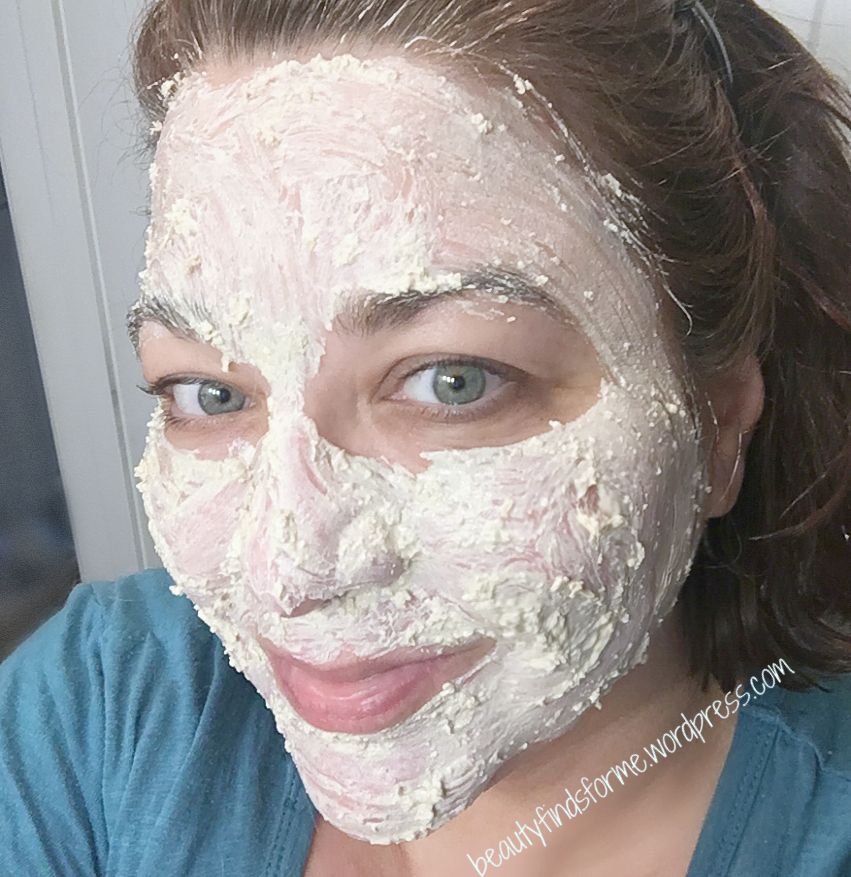 Ingredients: bentonite clay, ground oats, tea tree essential oil, lavender essential oil cosDNA analysis
SAM & SEAN Haters & Lovers Mighty Vitalizing Lover White Clay Mask (whew, long name!) courtesy of @0.8L_USA. I love a GOOD clay mask and when I saw this as a try for $3.99 at 0.8L, I wanted to try it ~ this clay mask will help unclog pores, control excess oil and also brightens your skin, with raspberry, turmeric, mulberry root and lotus extracts. The clay is very creamy, smooth and a bright white ~ it is very easy to apply and it goes on like butter! This mask does not really dry down to a tight uncomfortable feeling ~ it did stay pretty moist on my skin until I removed it. These types of masks are really great for dry and sensitive skin types, as the soft pudding texture is so gentle on your skin. I rinsed off ~ I had a bit of trouble of removing the mask from my forehead and cheeks, but I was finally able to fully remove it.
My skin did look clearer and brighter, my pores looked cleaner and I felt that this mask did do its job ~ cleanses, brightened and unclogged those pores, leaving behind soft, smooth skin. BUT I don't like this mask. The scent is a floral, baby powder fragrance, which other reviewers seemed to like as "fresh". I guess I am very sensitive to certain scents and whereas I can take a floral fragrance, I really dislike it when the powdery scent is added. This is such a great hanbang mask (look at those ingredients ~ I've posted them in the comment section) and I wish they would have allowed the natural scent of those ingredients to come thru instead of this one. So, for me, I didn't care for it. However, if you don't mind a floral-powder scent, I would recommend this one as it does live up to its claims! This doesn't contain parabens, benzophenone, mineral oils, pigments or BHT (but it does have perfume 😞) .
Ingredients: water, kaolin, glycerin, caprylic/capric triglyceride, bentonite, polysorbate 60, betaine, stearic acid, glycereth-26, portulaca oleracea extract, zizania aquatica extract, rubus coreanus fruit extract, scutellaria baicalensis root extract, angelica dahurica root extract, morus alba bark extract, nelumbium speciosum flower extract, sodium acrylate/sodium acryloyldimethyl taurate copolymer, camellia sinensis leaf extract, prunus armeniaca (apricot) fruit extract, citrus unshui peel extract, isohexadecane, sorbitan sesquioleate, polysorbate 80, allantoin, trehalose, propanediol, caprylhydroxamic acid, phenoxyethanol, caprylyl glycol, xanthan gum, disodium EDTA, fragrance  cosDNA analysis

That's it for now ~ whew! Don't worry, I will have more masks to review 🙂  Have you tried any of these? Which ones and what were your results?  If you are interested in past mask digests, just click on here ~ Mask Digests ~ and it will show you all of my posts with this tag. 
[ disclosure: some products received for review purposes. blog post contains affiliate links ]