[ disclosure: some products received complementary for review purposes.  blog post contains affiliate links ]
Some of the masks I reviewed that were not part of a series ~ these are just random brands that I used from March thru the first half of June.  These were originally on Instagram and some of them were part of a larger mask challenge for that month! This blog post does contain some affiliate and referral links, which provide a small commission to me if you use them ~ at no cost to you. It allows me to maintain my blog, continue to test out products and hold giveaways!  If a product was received for review purposes, I will mark it as "from brand" or "courtesy of brand/store".

Banobagi Vita Cocktail AQUA Foil Mask (Korea)   This is my first foil mask and I am not sure how this compares to other foil masks in terms of construction. It is a 2 piece mask that has a shinnnny blue foil on the outside and the inside of the mask is white and padded. I thought it was something to remove (like those protectors) and spent a couple of minutes trying to pluck the mask apart, but no, that is part of the actual mask! lol It is a two piece mask which also surprised me. The scent is almost soap-like, but it isn't that bad, just not what I was expecting either. There is a lot of watery essence left over in the package, but you cannot exactly place it OVER the mask ~ next time, I will put the extra essence on my face before I put on the mask. This felt really claustrophobic to wear ~ the mask doesn't "breath" as the foil traps all of the moisture inside, so it starts to heat up under that mask, as your body heat is trapped. This is supposed to open your pores and clean them out. I just know it was a weird feeling and after 30 minutes, I removed the mask. The essence was still on top of my skin and wow ~ it is sticky!! However, it DOES dry down after many minutes and although my face still felt a bit tacky with the residue, I could see that my pores looked very clean and tight, my skin looked much brighter and …. my skin was really plumped up with moisture. As they say, chok chok. I have mixed feelings about this mask ~ I love the color of the foil and the results, but I didn't care for the scent and the feeling when I was wearing it!! I have two more foil masks from Banobagi to try so I will see if I can get over the feeling of being trapped in by my mask!

Ingredients:Water, Glycerin, Methylpropanediol, Niacinamide, Trehalose, Panthenol, Phenoxyethanol, Glyceryl Acrylate/Acrylic Acid Copolymer, Carbomer, Arginine, Ethylhexylglycerin, PEG-40 Hydrogenated Castor Oil, Allantoin, Dipotassium Glycyrrhizate, Hydroxyethylcellulose, Adenosine, Hydrolyzed Collagen, Butylene Glycol, Centella Asiatica Extract, 1, 2-Hexanediol, 3-0-Ethyl Ascorbic Acid, Maltodextrin, Sodium Citrate, Citric Acid, Hydroxypropyl Cyclodextrin, Cyanocobalamin, Glutathione, Mineral Water, Magnesium Aspartate, Zinc Gluconate, Copper Gluconate, Disodium EDTA, Fragrance, CI 42090  cosDNA analysis

Mitomo Royal Jelly + Cherry Blossoms Essence Mask (Japan)   This is a Japanese mask that has cherry blossom essence, as this is the season for cherry blossoms! This mask is a nice plush natural cotton and fits very well despite the nose coming up a bit short. It has a sticky essence to it, which made me look to see if there was snail slime in it ~ nope! Just some really moisturizing ingredients and it smells.like.cherry.blossoms!! We had a cherry tree in our backyard when I was kid and I love that scent. This mask is a clarifying and brightening one ~ cherry blossom (Sakura) has anti-oxidant and skin repair properties and royal jelly will add moisture to your skin, firm and tone the elasticity and also help minimize the appearance of pores.  After 35 minutes, I removed the mask and yes ~ my skin is noticeably brighter and my pores are tighter and smaller looking around my nose!  The essence is a bit tacky but dries down, leaving my skin hydrated. And isn't the packaging JUST BEAUTIFUL!!! I love it and Mitomo masks all have this similar theme and design.
Ingredients: Aqua, Glycerin, Butylene Glycol, Dipropylene Glycol, Phenoxyethanol, Chlorphenesin, Allantoin, Carbomer, Panthenol, PEG-60 Hydrogenated Castor Oil, Triethanolamine, Prunus Serrulata Flower Extract, Royal Jelly Extract, Disodium EDTA, Aloe Vera Leaf Extract, Boswellia Serrata Gum Extract, Fragrance, Sodium Hyaluronate, Sodium Polyacrylate cosDNA analysis

It's Skin Green Mud Soothing Mask Sheet     I was debating on using one of my Earth Kiss mud masks or trying out this new one I got in a Memebox ~ new ones always win!  This is a soothing mud mask made that has both green tea and tea tree extracts, so it will have a good anti-septic and soothing properties to it, as well as the detox from the kaolin, bentonite, sea silt and volcanic ash ~ 4 earthy muddy materials.  The mask comes in this huge package and is sandwiched between thick plastic sheets. This is a two piece mask, but since it is a mud mask and the mask is thicker, it will be easy to apply and adhere to my face.  It is green, not a lot of moisture with this one ~ I am comparing to the Earth Kiss mud masks, which have more moisture ~ and the scent is a clay-floral scent.  Not bad, but nothing amazing either.  It fits pretty well and if you have a longer nose, you will find ample coverage ~ it makes sense that the nose area would be fully covered as mud masks are for detox and unclogging pores.  After 30 minutes, I peeled off this mask and there was a light green hue all over my skin (mud residue).  You have to rinse off the mud mask residue (don't leave it on) and I did notice that my pores were clean and seemed smaller in appearance.  However, would I repurchase this mask again?  No, for a mud mask, I will get Earth Kiss ~ those are fabulous and they smell amazing too.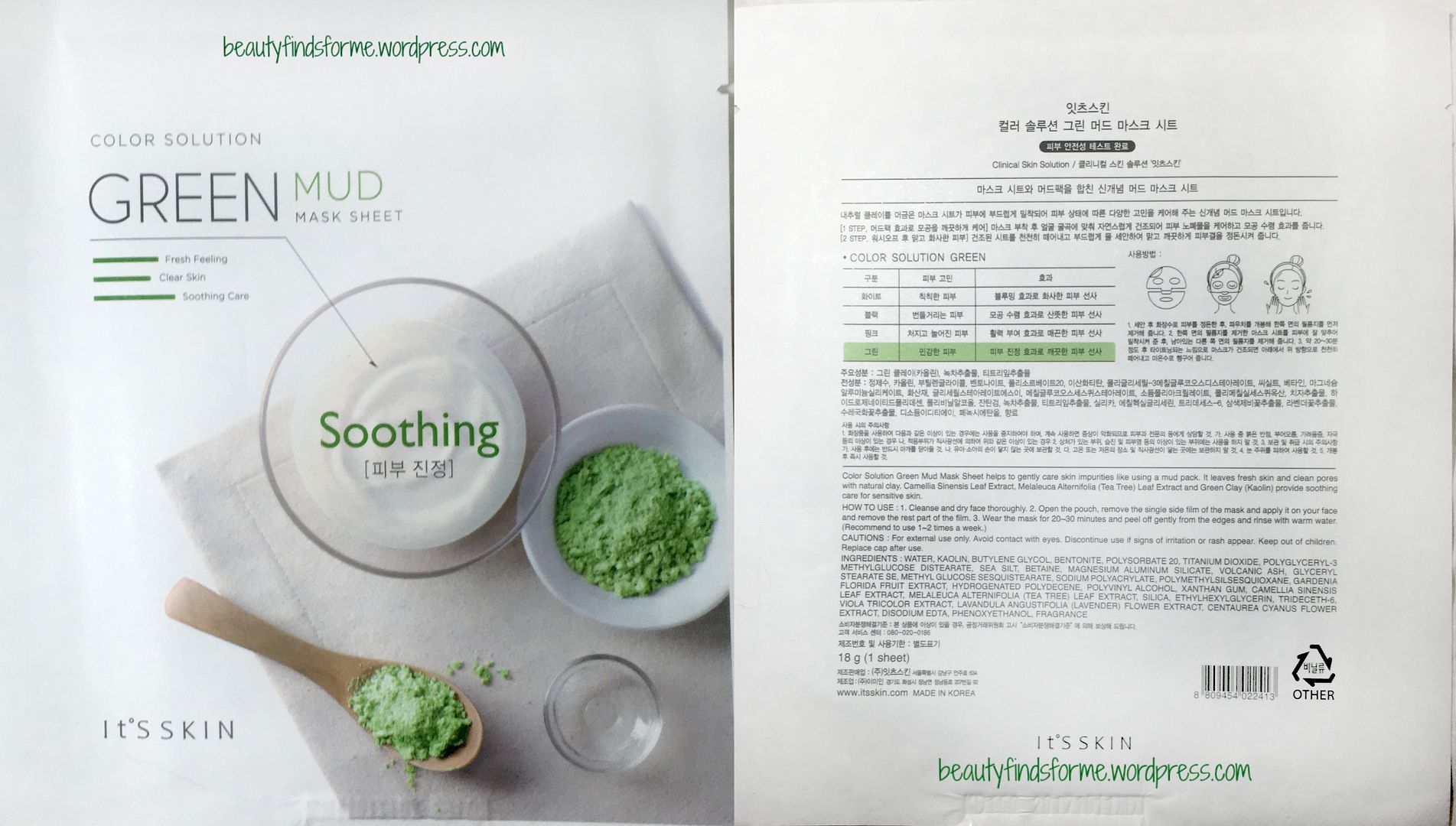 Ingredients: Water, Kaolin, Butylene Glycol, Bentonite, Polysorbate 20, Titanium Dioxide, Polyglyceryl-3 Methylglucose Distearate, Sea Silt, Betaine, Magnesium Aluminum Silicate, Volcanic Ash, Glyceryl Stearate SE, Methyl Glucose Sesquistearate, Sodium Polyacrylate, Polymethylsilsesquioxane, Gardenia Florida Fruit Extract, Hydrogenated Polydecene, Polyvinyl Alcohol, Xanthan Gum, Camellia Sinensis Leaf Extract, Melaleuca Alternifolia (Tea Tree) Leaf Extract, Silica, Ethylhexylglycerin, Trideceth-6, Viola Tricolor Extract, Lavandula Angustifolia (Lavender) Flower Extract, Centaurea Cyanus Flower Extract, Disodium EDTA, Phenoxyethanol, Fragrance cosDNA analysis

L'Herboflore Sweety Black Tea Balancing Mask (Taiwan) This mask is from L'Herboflore Party Sweetheart series. I love L'Herboflore masks and was introduced to them via @beautibi (and this is where I purchased this mask) This mask has black tea, lactic acid and yeast fermented extracts that will not only brighten your skin tone, but improve dullness. This is a purifying and oil/water balance mask due to willow bark and horse chestnut extracts as well. As my face is having a pimple party, this was an obvious choice. Lots of watery essence in this pouch ~ and it doesn't smell like sweet tea 😦 It has a bitter scent to it, which is probably due to the willow and lactic acid ingredients. This is a very thin mask, but not so thin that I tear it and it doesn't stretch out of shape. I immediately feel a cooling and soothing sensation, which from the cucumber and chamomile extracts.

After 35 minutes, I removed the mask ~ I didn't notice brightening right away, but I did notice that my skin felt cool, my pores looked smaller and my face didn't look oily.  One thing I love about a lot of Taiwanese masks is that they leave almost a matte finish to my oily skin.  Within a few minutes, however, I did notice that my skin tone looked brighter ~ I guess it was a delayed reaction! lol  Despite not smelling like sweet tea, I am really happy with this mask and its results.
Ingredients: Water, Butylene Glycol, Glycerin, Cucumis Sativus (Cucumber) Fruit Extract, Chamomilla Recutita (Matricaria) Flower Extract, Salix Alba (Willow) Bark Extract, Hyaluronic Acid, Allantoin, Camellia Sinensis Leaf Extract, Lactic Acid, Maltodextrin, Sodium Citrate, Propylene Glycol, Yeast Extract, Aesculus Hippocastanum (Horse Chestnut) Seed Extract, Mannitol, Sodium Citrate, Acetyl Terapeptide-15, Hydroxyethylcellulose, Isopropyl Alcohol, Cellulose, Xanthan Gum, PEG-40 Hydrogenated Castor Oil, Polyquaternium-51, Triethanolamine, Polyglutamic Acid, Fragrance, Potassium Sorbate, Sodium Benzoate, Methylisothiazolinone, Iodopropynyl Butylcarbamate, Sodium Acetate, Phenoxyethanol  cosDNA analysis

MaxClinic Propolis Black Mask (Korea)  BB Cosmetic sent me a box of these as a customer thank you gift and I am just getting around to trying them.  This is a black charcoal mask that contains a trifecta of black grain ingredients: sesame, rice and soybeans ~  which means it will be a purifying and detox mask for your skin.  It also has a trio of moisturizing and healing ingredients from the honey bee ~ 99.5 ppm of propolis as well as honey and royal jelly.   All three of these ingredients are antibacterial and will help with blemishes in terms of healing, nourishing the skin and moisturizing.  There is a lot of watery clear essence in this pouch and it also has a light sweet scent of honey!!  Maybe I should have used this on Day 5!! haha  The fit is really good around my face although the eye holes are quite large ~ I would have liked more mask area under my eyes.   After 40 minutes, I removed this mask and my face felt really soft and moisturized, with any fine lines "plumped up".  The essence was not sticky and I did notice a reduction of redness on my face as well.   Two thumbs up for this mask! 
Ingredients: purified water, glycerin,dipropylene glycol, niacinamide, butylene glycol, hydroxyacetophenone, hydroxyethylcellulose,  tocopheryl acetate, propolis extract (99.5 ppm), black rice extract, black soybean extract, black sesame extract, royal jelly extract, honey, adenosine, PEG-60 hydrogenated castor oil, disodium EDTA, carbomer, arginine, alcohol, chlorphenesin, phenoxyethanol, fragrance cosDNA analysis
The Saem Mint Jungle Foot Treatment Mask   I LOVE and adore The Saem Mint Jungle Foot Cream so I thought I would try out their foot moisturizing masks.  They have the same wonderful  scent as the foot cream ~ It has honey, glycerin and panthenol ~ and it is made with a triple mint complex ~ 4,800ppm each of spearmint, peppermint and apple mint ~for a refreshing and cooling feeling to my feet and it smells great ~ minty and honey sweet.  This also has salicylic acid to help gently exfoliate dead skin cells from your feet and mineral oil, shea butter and olive oil make for a very moisturizing foot mask. These are booties that slide over your feet and since they are a moisturizing treatment, I don't need to worry about leakage.  I leave them on for over an hour, as I really want my feet get the moisturizing benefits ~ the footies also help because it causes the lotion inside to warm up and melt into my skin.  My feet are soft and smooth ~ up to a point.  It does do a nice job of softening the calluses, but I need to do a foot peeling mask soon.  I love these as a foot treatment as the scent is so nice and they work really well!  Do you have a favorite foot treatment mask pack?   Alas I think these are discontinued…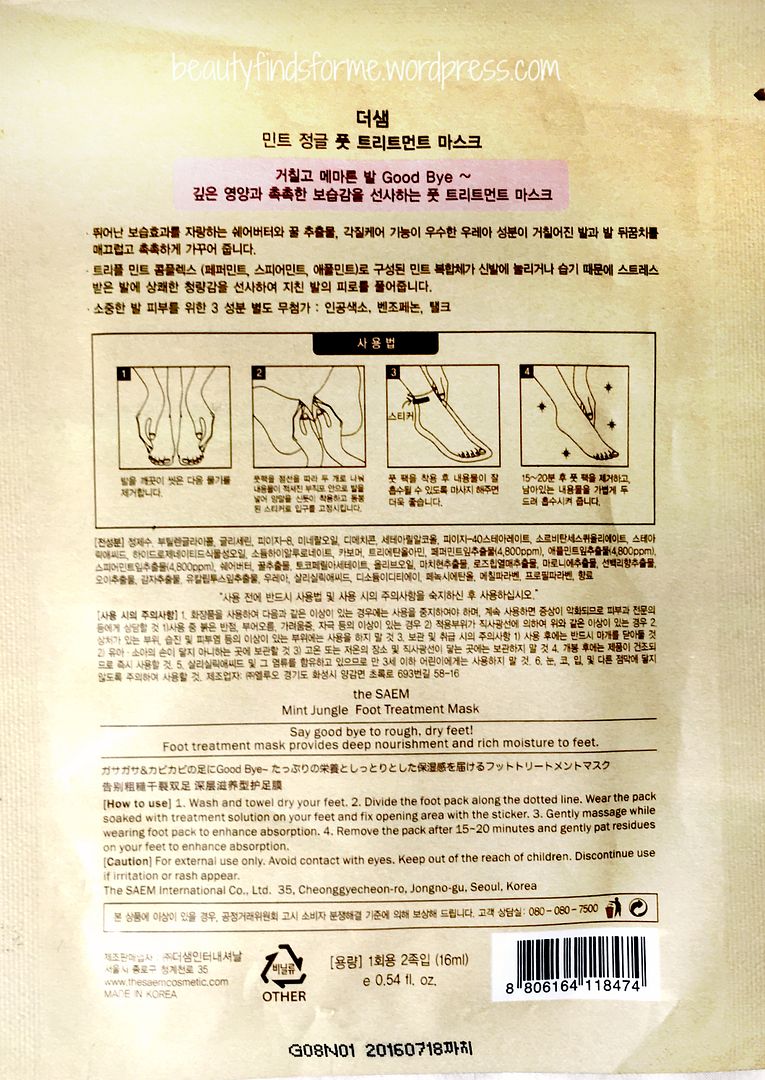 Ingredients: purified water,butylene glycol, glycerin, PEG-8, mineral oil, dimethicone, cetearyl alcohol, PEG-40 stearate, sorbitan sesquioleate, stearic acid, hydrogenated vegatable oil, sodium hyaluronate, carbomer, triethanolamine, mentha piperita (peppermint) leaf  extract (4800ppm), mentha rotundifolia (apple mint) leaf extract (4800ppm), mentha viridis (spearmint) leaf extract (4800ppm), butyrospermum parkii (shea) butter, honey extract, tocopheryl acetate, olea europaea (olive) fruit oil, portulaca oleracea extract, rosa canina fruit extract, aesculus hippocastanum (horse chestnut) extract, thymus vulgaris (thyme) extract, cucumis sativus (cucumber) fruit extract, solanum tuberosum (potato) pulp extract, eucalyptus globolus leaf extract, urea, salicylic acid, disodium EDTA, phenoxyethanol, methylparaben, propylparaben, fragrance  cosDNA analysis

Beauty Friends II Cereal Essence Mask Pack  Seriously, you cannot get cheaper THAN FREE. This was from a Skin18 haul and I picked out a bunch of Beauty Friends II masks ~ they are cheap and are good for a quite hydration hit in the morning. As you can see in the photo, the fit is large ~ I have a huge forehead and even this mask wanted MOAR FOREHEAD to cover. Nose is quite long too! Other than that, the fit is decent, but since this mask is made of a heavy material, it doesn't really adhere very well. The clear essence is watery and smells like… uncooked bread dough, which is a scent that I LOVE. Funny, this doesn't have yeast or wheat in it, but the cereal is rice and soybean ~ even though the package had some really nice lentils, corn and sunflower seeds on it! This is supposed to be a moisturizing mask to leave your skin supple and what I will say that after 15 minutes of wearing it, I did get frustrated as it was falling off my face due to the thicker sheet material. I removed it and my face did feel hydrated, with no sticky or tacky residue That works for me. Good quick morning mask, nothing fancy. Just cheap. 
Ingredients: water, glycerin, butylene glycol, dipropylene glycol, sodium hyaluronate, portulaca oleracea extract, ethylhexylglycerin, phenoxyethanol, carbomer, xanthan gum, triethanolamine, orya sativa (rice) bran extract (12mg), fragrance, citrus paradisi (grapefruit) fruit extract, gastrodia elata root extract, glycyrrhiza glabra (licorice) root extract, prunus armeniaca (apricot) fruit extract, glycine max (soybean) seed extract, malpighia glabra (acerola) fruit extract cosDNA analysis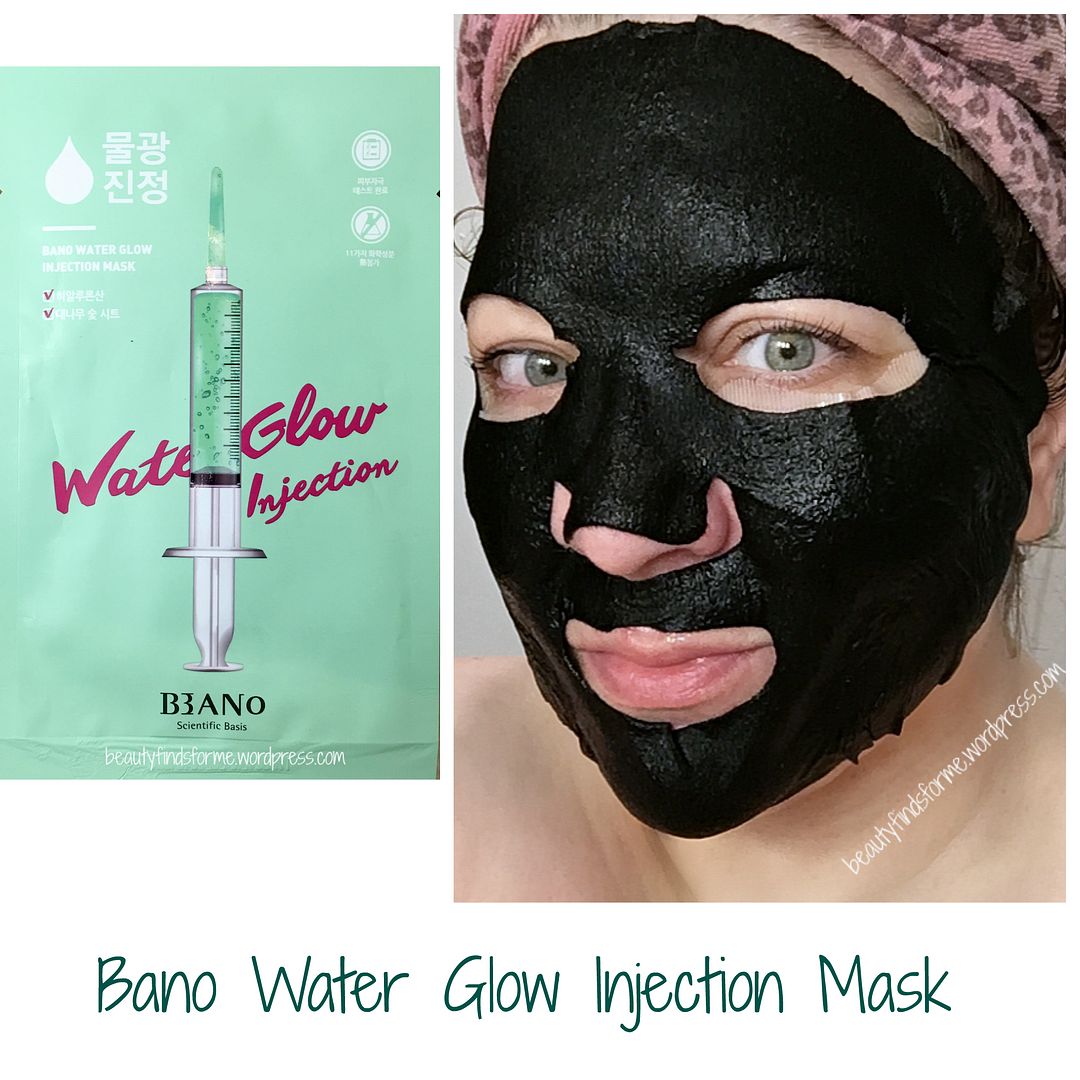 💦💦Bano Water Glow Injection Mask (courtesy of Bano) I received a quartet of Bano's new Injection masks (thanks to @yumsylee for recommending me). I love Banobagi masks ~ they are so juicy and full of moisture. I decided to try the Water Glow first as the ingredients looked pretty good for oily skin ~ honey, tea tree, lemon, licorice, niacinamide & peppermint ~ looks to be an oil control mask with brightening properties! I was surprised when I opened up the package to see it was also a bamboo charcoal 🎍mask, which means it is a detox mask and will help remove dirt and impurities from you skin. It doesn't smell like any of the above ingredients (so sad), but more a very fresh, very light floral which does disappear quickly. This mask is soaked in a watery essence and the fit is pretty good too on my big face! I removed the mask after 40 minutes ~ I could have left it on for more ~ and my face felt very clean, very refreshed and looked less red and more bright, while my pores looked tighter in appearance. This is another great mask from Banobagi and it is very hydrating too without a sticky or tacky residue ~ the essence dries down quickly. Have you tried the new Injection masks? Which ones and what did you think of it? Thank you Bano for sending these to me!
Ingredients: Water, Glycerin, Methylpropanediol, Niacinamide, Sodium Hyaluronate, Mentha Piperita (Peppermint) Leaf Extract, Honey Extract, Glycyrrhiza Glabra (Licorice) Root Extract, Melaleuca Alternifolia (Tea Tree) Leaf Extract, Citrus Medica Limonum (Lemon) Fruit Extract, Hydroxyethyl Acrylate/Sodium Acryloyldimethyl Taurate Copolymer, Allantoin, Carbomer, Xanthan Gum, Potassium Hydroxide, Adenosine, 1,2-Hexanediol, Hydroxyacetophenone, Disodium EDTA, Fragrance  cosDNA analysis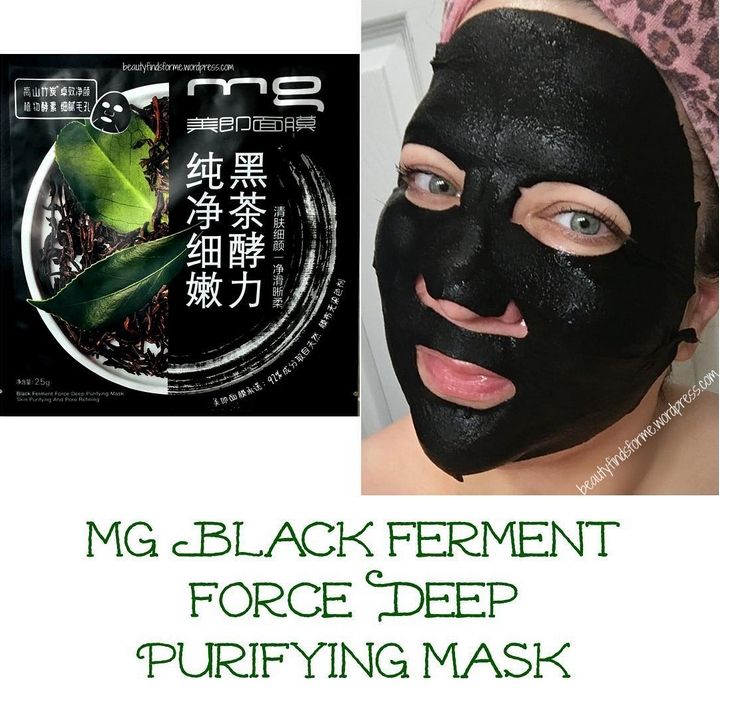 I chose a Chinese mask from MG, which is owned by L'Oreal. They have a HUGE selection of masks, but only a few are offered at @beautiusofficial, which is where I purchased my MG masks ~ it was either over Thanksgiving or Christmas, that I saw some new MG masks ~ a Black Fermented series ~ I had tried other MG masks (aloe, vitamin C, hydrating) and I really like them a lot ~ the fit is excellent and they are really are good masks. This is the MG Black Ferment Force Deep Purifying Mask ~ Skin Purifying and Pore Refining. It is a bamboo 🎍charcoal 🌚mask, selected from mountain bamboo that are over 3 years old and using high temps (1000 degrees), that bamboo 🎋is turned into charcoal. Charcoal masks are really great for detoxing your skin and drawing out the impurities and excess oils from your skin. This has black fermented tea 🌱as well, which is an antioxidant and will help moisturize & purify your skin. I did the best I could in translating the ingredients, as they were in Chinese ~ so all mistakes are my own! It also has papain and salicylic acid which will help gently exfoliate dead skin cells. So, after all of that… Let's talk about the mask ~ the sheet mask is very soft and plush, and just drenched in very silky type of essence ~ it wasn't totally clear but it wasn't milky either ~ which doesn't seem to have a scent to me. The fit is decent, the only complaint I have is philtrum isn't covered that much ~ it could have been thicker there. This mask has a nice cooling effect on my skin and I left it on for about 40 minutes. After removing, my face felt very hydrated, clean and my pores looked "tighter" ~ this mask creates a satin finish, not dewy, so it is oily absorbing. This is a really nice mask, two thumbs up!

Ingredients: water, propylene glycol, PEG-32, PEG-40 hydrogenated castor oil, PVMMA copolymer, papain, potassium hydroxide, sorbitol, saccharomyces cerevisiae/black tea ferment filtrate, glyceryl acrylate/ester propylene acid copolymer, sodium citrate, sodium hyaluronate, pineapple fruit extract, P-anisic acid, alcohol, 1,3-propanediol, P-hydroxybenzophenone hydroxyethyl cellulose, octanoyl salicylic acid, citric acid, xanthan gum, potassium sorbate, benzyl salicylate, phenoxyethanol, hydroxyphenyl ester, fragrance
🍯🐝Shray Queen Bee Mask (courtesy of @shrayskincare ) I had tried Shray's HA mask last year and while I liked the results, I hated the fiddling around with the mask ~ it is super thin, which is normally not a problem for me ~ it has a plastic protector, so that should be golden, right? No. Shray does something incredible (not in a good way) ~ they split the lower half of the mask vertically in half. I was hoping that they redesigned their mask, like Package did with their Bouncy Mask, so lets see how I feel about their Queen Bee Mask! The packaging is adorable. I had to take several shots of it, as I do think Shray does a great job making their masks look so special. The very first ingredient is… Honey! Honey not only moisturizes, but it is fantastic for oily and blemish prone skin, as it is an antibacterial & anti-inflammatory. It also has centella asiatic, which speeds up healing of blemishes & soothes. First off, this is a super thin mask that has the plastic protector paper to help keep its shape & is supposed to help when applying it (more on that later). This is soaked in a lovely watery, honey scented essence. I was able to keep this mask on for about 35 minutes and removed ~ revealing a very hydrated and brighter face! There was no sticky or tacky residue on my skin and my skin was noticeably brighter & less red. I love the results of this mask
BUT… The mask fit!! If I looked pissed off, it is because I am so frustrated with Shray's mask design. OMG. The same horrid split down the middle in the lower half of the mask ~ I spent over 5 minutes trying to apply the mask on my face and since it is so thin, I torn one whole side off ~ sigh. It isn't as if I don't know how to apply masks, for gawd's sake. It is just that the design of this mask is awful. Either take out the splits, as it is such a thin mask, or make the sheet mask thicker, so people can actually apply it. You can see by the photo, that the sheet mask is bunched up in areas as I couldn't risk tearing it further. The plastic paper does not help at all, because it is not designed to unfold properly with those splits down the actual sheet mask. Please fix the fit & design of this mask! Queen Bee is a mask I would purchase, but I don't like having to struggle with applying it on my face. I love the results of this mask, the essence, everything, but the FIT. 
Ingredients: Honey Extract, Rice Extract(Oryza Sativa), Centella Asiatica Extract, Pomegranate Extract, Sodium Hyaluronate, Pure water, 1,3 Butylene Glycol, Hydroxyethyl Urea, DMDM Hydrantion, PEG-40 Hydrogenated Castor Oil, Iodopropynyl Butylcarbamate, Perfume cosDNA analysis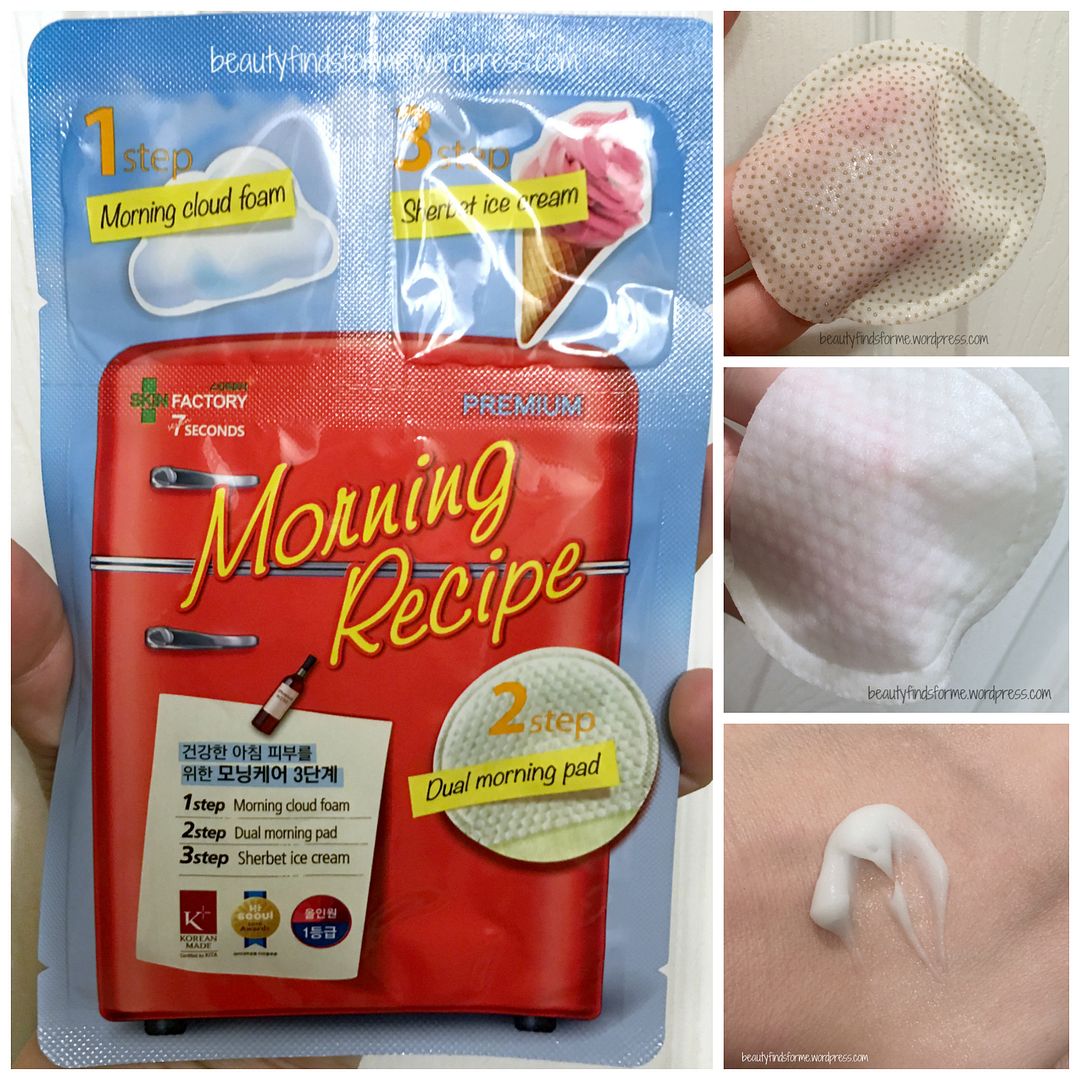 Skin Factory Premium Morning Recipe 3-Step Pad (courtesy of @skinfactory_official)Alas, I ran out of pH strips so I don't have the pH levels while I write this review, but I do have another one of these Morning Pad 3-Steps, so once I get my strips in (a couple of days), I will add the pH levels to this review!
Step 1 Morning Cloud Foam Cleanser ~ I don't have a photo of this, but this is a normal cleanser, that doesn't foam that well unless I use my pore brush ~ then it has a nice foaming action. Didn't have a scent to it that I could notice, didn't strip my skin dry.
Step 2 Dual Morning Pad ~ I THINK these are the infamous and wonderful 7 Seconds Morning Sheet Pads that Memebox introduced us back in 2014! I love these and they have a dot-textured exfoliating side, helping to remove dead skin cells and unclog pores, and a soft quilted pad to pat in the essence. These act as a gentle exfoliating toner, nourishing essence and lightweight moisturizer and they are one of my favorite quick moisturizing pads! I need to see if I have any of these hanging around… These have fermented ingredients, niacinamide, beta-glucan and a long list of botanical ingredients. .
Step 3 Sherbet Ice Cream ~ this cooling moisture cream has a nice consistency that melts into my skin and it is for both brightening and pore/oil control. As I have oily skin, this is more than enough to moisturize my face, but if you have drier skin, you will need more protection.
All in all, this is a fun 3-Step pad ~ I can see these being really handy to toss in your gym bag, when you go on quick weekend trips and anytime where you don't want to pack up a lot of skincare products. There is a Night Solution Spa Pad kit, but alas, I didn't receive that one! That one has a pad + hydra ampoule. Thank you SkinFactory for these!! You reminded me how much I love your 7 Seconds Morning Sheet Pads! 
If  Step 2 is the 7 Second Morning Sheet Pad (and I think it is!), this is the Ingredient list: Water, Glycereth-26, Wine Extract, 1, 2-Heanedol, Niacinamide, Olea Europaea (Olive) Fruit Oil, Elaeis Guineensis (Palm) Oil, Diglycerin, Wine Extract, Elaeis Guineensis (Palm) Kernel Oil, Bis-PEG-18 Methyl Ether Dimethyl Silane, Hydroxyethyl Urea, Lactobacillus/Tumeric Ferment Filtrate, Saccharomyces/Platinum Ferment(1000ppm), Carborner, Tromethamine, Adenosine, Ammonium Lactate, Urea, Disodium EDTA, Dipotassium Glycyrrhizate, Allantoin, Chondrus Crispus (Carrageenan), Sodium Polyacrylate, Galactomyces Ferment Filtrate, Morinda Citrifolia Fruit Extract, Camellia Sinensis Leaf Extract, Snail Secretion Filtrate, Ulmus Campestris (Elm) Extract, Portulaca Oleracea Extract, Nasturtium Orrcinale Extrat, Bacillus/Soybean Ferment Extract, Beta-Glucan, Rubus Fruticosus (Blackberry) Fruit Extract, Bifida Ferment Filtrate, Pyrus Malus (Apple) Fruit Extract, Rice Ferment Filtrate (Sake), Aloe Barbadensis Leaf Juice, Albumen Extract, Echinacea Angustifolia Extract, Citrus Aurantium Dulcis (Orange) Fruit Extract, Hamamelis Virginiana (Witch Hazel) Leaf Extract, Melia Azadirachta Extract, Anthemis Nobilis Flower Water, Carica Papaya (Papaya) Fruit Extract, Vitis Vinifera (Grape) Seed Extract, Fragrance, Butylene Glycol, Torreya Nucifera Extract, Cornus Kousa Extract, Rosa Multiflora Fruit Extract, Nacissus, Pseudo-Narcissus (Daffodil) Flower Extract, Rosa Damascena Flower Water, Leontropodium Alpinum Extract, Nelumbo Nucifera Flower Extract, Jasminium Officinale (Jasmine) Flower/Leaf Extract, Chrysanthellium Indicum Extract, Rheum Palmatum Root/Stalk Extract, Asarum Sieboldi Root Extract, Larix Sabirica Wood Extract, Quercus Mongolia Leaf Extract, Persicaria Hydropiper Extract, Illicium Verum (Anise) Fruit Extract, Co- rydalis Turtschaninovii Root Extract, Coptis Japinoca Root Extract, Machilus Thunbergii Bark Extract
A'Pieu Strawberry Milk Sheet Mask (courtesy of @0.8L_USA) A'Pieu has a whole series of their milk sheet masks and I was lucky enough to get the strawberry version ~ strawberry extracts are full of vitamin C, to help give your skin a brighter complexion plus it helps reduce blemishes too, as it is an antibacterial, oil control and astringent. This contains milk, of course, for hydration and moisture, pearl extracts for additional brightening and removes dullness from your skin tone. This mask does not have a lot of milky essence left over in the package, but the mask itself is pretty wet ~ and it smells like sweet strawberry candies! I love the scent. The mask fit is weird ~ I have a big face, but this mask was huge around the edges, mouth and eye holes and lacked coverage around the nose and mouth area. Weird fit, but the mask felt nice and soft against my skin. It adhered nicely too, except around the sides of my face, where it was just too big! After 30 minutes, I removed the mask ~ my skin felt initially sticky, but I patted in the essence to resolve that problem. My skin did look brighter, my pores looked cleaner and smaller in appearance and my skin felt cool and hydrated. I love this mask for its scent, though. The fit is too weird for me to consider purchasing ~ hopefully, they will fix the sizing, as I can imagine that smaller faces would be swimming in this mask!! I give this a thumbs up for the scent and it does work ~ they just need to work on the fit of the actual sheet mask
Have you tried any of the A'Pieu Milk Masks? Which variety and how did you like it? 
Ingredients: Water, Butylene Glycol, Glycerin, Mineral Oil, PEG-40 Stearate, Cetearyl Alcohol, Stearic Acid, Sorbitan Sesquioleate, Fragaria Chiloensis (Strawberry) Fruit Extract, Milk Extract, Pearl Extract, Lactobacillus/Soybean Ferment Extract, Saccharomyces/Imperata Cylindrica Root Ferment Extract, Saccharomyces/Viscum Album (Mistletoe) Ferment Extract, Nelumbo Nucifera Callus Culture Extract, 1,2-Hexanediol, Sodium Hyaluronate, Ethylhexylglycerin, Caprylyl Glycol, Illicium Verum (Anise) Fruit Extract, Carbomer, Triethanolamine, Phenoxyethanol, Disodium EDTA, Fragrance  cosDNA analysis

Bano Anti-Oxidant Injection Mask (courtesy of @bano.english) This mask specializes in antioxidant and nutrition benefits ~ it contains thioctic acid (alpha lipoic acid) which will improve and revitalize your skin. This also has collagen, centella, ferments, soy and a couple of anti-aging peptides. The essence had a medicinal herbal scent and it was milky in color, but not overly thick. The sheet mask was very soft, plush and of medium weight, but it did adhere nicely to my face. Good fit too! I was able to leave this on for about 45 minutes as the mask was so soaked in essence. When I removed, there was some initial stickiness but my skin didn't feel greasy or oil. After a few minutes, it absorbed into my skin or evaporated (take your pick). My skin did look less red, more bright, smooth and calm. I am very happy with the Bano Masks I have tried so far in the Anti-Oxidant line ~ have you tried this one? What did you think of it?
Ingredients: Water, Methylpropanediol, Glycerin, Caprylic/Capric Triglyceride, Hydrolyzed Collagen, Centella Asiatica Extract, Bambusa Vulgaris Water, Rubus Idaeus (Raspberry) Fruit Extract, Euterpe Oleracea Fruit Extract, Thioctic Acid, Hydroxypropyl Cyclodextrin, Tremella Fuciformis Extract, Pseudoalteromonas Ferment Extract, Hydrolyzed Wheat Protein, Hydrolyzed Soy Protein, Tripeptide-10 Citrulline, Tripeptide-1, Lecithin, Dimethicone, Polyacrylate-13, Polyisobutene, Polysorbate 20, Carbomer, Adenosine, Potassium Hydroxide, 1, 2-Hexanediol, Hydroxyacetophenone, Disodium EDTA, Fragrance cosDNA analysis
Missha Herb in Nude Soothing Care Sheet Mask (courtesy of @0.8L_USA) Herb in Nude is one of Missha's latest series of masks and I have tried a couple varieties in the past. Soothing is made with 🍵lavender "tea" so that it is good for calming your skin from external stress, such as pollution. These are SO much better than their Pure Source ones and I love the soft silky feel of their naturally derived cellulose sheet mask ~it is very thin and silky feeling, but it doesn't tear easily. It also is a bit stretchy, so I can get a good fit and it adheres closely to my skin.
I love that Korean masks are now becoming thinner, as I love that thin, close fit that does gap open all the time. The mask is almost gelatinous because it is just soaked in essence, which alas, doesn't smell like lavender, but more of a soapy scent. Its okay, but I would have loved lavender. Since this is such a wet mask, I was able to keep it on longer ~ I never leave masks on until they are dried out, but still moist. This mask didn't do a lot to reduce redness but it was very refreshing and hydrating for my skin There was no sticky residue or dewy feeling, just refreshed, moisturized skin that looked a little brighter too. I do like their Herb In Nude series a lot, which might be a combination of the mask description "HERB", the thin silk sheet mask, the design on the pouch with the herb & tea cup and the gelatinous feel of the mask itself. I do give them a thumbs up for that! Have you tried any of the Missha Herb in Nude masks? Which type or types did you try and how did you like it?
Ingredients: water, glycerin, butylene glycol, sodium hyaluronate, 1,2-hexanediol, allantoin, dipostassium glycyrrhizate, trehalose, laveandula angustifolia (lavender) extract (50ppm), hydroxyethylcellulose, carbomer, PEG-60 hydrogenated castor oil, glyceryl acrylate/acrylic acid copolymer, propylene glycol, PVM/MA copolymer, panthenol, arginine, disodium EDTA, glycyrrhiza glabra (licorice) root extract, zingiber officinale (ginger) root extract, schizandra chinensis fruit extract, coptis japonica root extract, camellia sinensis leaf extract, caprylyl glycol, citrus grandis (grapefruit) seed extract, acorus calmus root extract, perilla ocymoides leaf extract, fragrance  cosDNA analysis

Whew!  Hopefully, I will be able to do my mask digests in a more timely fashion!  Let me know which of these masks you tried and how your experience was with it!  If you want to read other Mask Digests, click here to see all of my blog posts tagged in that category.
[ disclosure: some products received complementary for review purposes.  blog post contains affiliate links ]