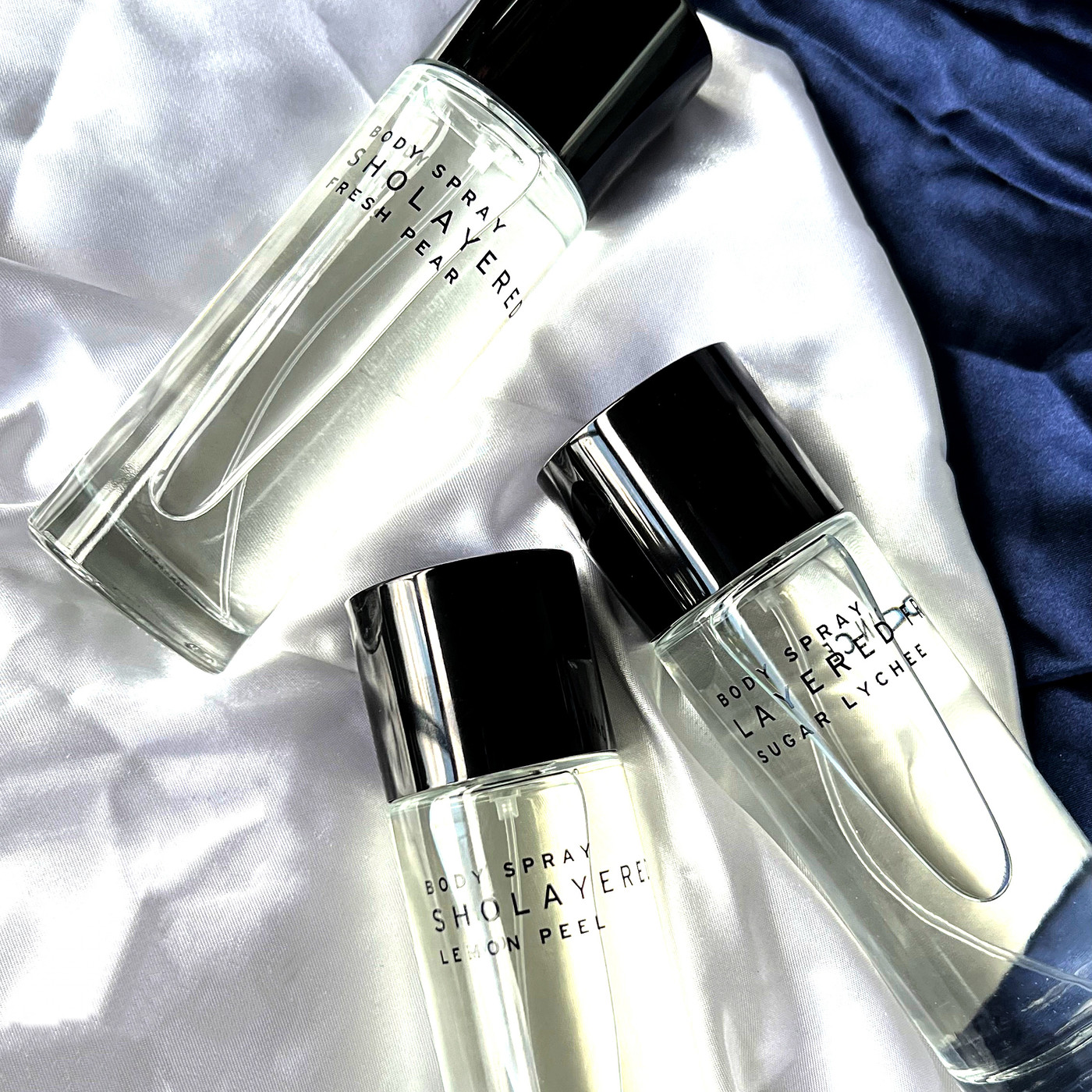 I received some lovely Japanese products that you can purchase at Amazon USA and this time, I am reviewing fragrances.  レイヤードフレグランス  ShoLayered Fragrance (formally known as Layered Fragrance) is a Japanese brand that produces cruelty-free, quality scents with an affordable price tag. ShoLayered not only makes fragrances for your body, but  home fragrance products as well.  ShoLayered fragrances are formulated to have the purist form of the middle and top notes, without a single base note.  This process is complex as it there are less components to achieve the right fragrance balance.  Each fragrance has been prototyped more than 20 times and must be selected by ShoLayered fragrance experts before it even goes to production
I received these products complementary to review and was not paid.  All reviews are my own honest opinion and  I never have been asked to write copy for a brand.  This blog post might contain promo codes, affiliate and referral links, which using my links will help generate a small commission that helps support my blog at no extra cost to you.
ShoLayered has a variety of unique and interesting scents, and I received several of them.  The idea is that you can wear them by themselves or layer them.
Inner Peace with Sugar Lychee: Love this! This mixes the rose-like lychee fragrance with a light candied scent.
Champagne:  Smells very much like champagne, with fruity grape aroma that isn't too dry or too sweetI
Bright Energy with Fresh Pear:  This is my least favorite scent. It just smells too perfumy and not enough of the bright scent of a pear.
Clean Simplicity with Lemon Peel: Natural essential oils with the fresh zest of Sicilian lemons. Very refreshing and rejuvenating
Lemon Ginger: Natural essential oils of lemons are tempered with the warmth of ginger.  Very earthy and citrusy at the same time. 
Focused Calm with Orange Blossom: This has one of my favorite essential oils, neroli or bitter orange.  It is a sweet, tangy and sharper scent with some florals, that really layers well with other fragrances.
Subtle Allure with Olive Vodka: This does have a bit of a boozy scent to it, and is described as fresh green olives with ripened fruits.  This one is pretty strong, but the scent is very earthy and very nice.  This is my diffuser scent, so it worked out well with its stronger presence.
This is just the TIP of the iceberg with their fragrances as they have Hibiscus, Green Leaf & Iris,  Rose & Muguet, Oriental Woody, Cassis Leaf and much more!
Mix & Match
The brand doesn't have layered in their name for nothing!  Try layering the following fragrances for a unique scent ~ Fresh Pear with Sugar Lychee, Lemon Peel with Mysterious Mix (this is a woody fragrance) and Orange Blossom with Olive Vodka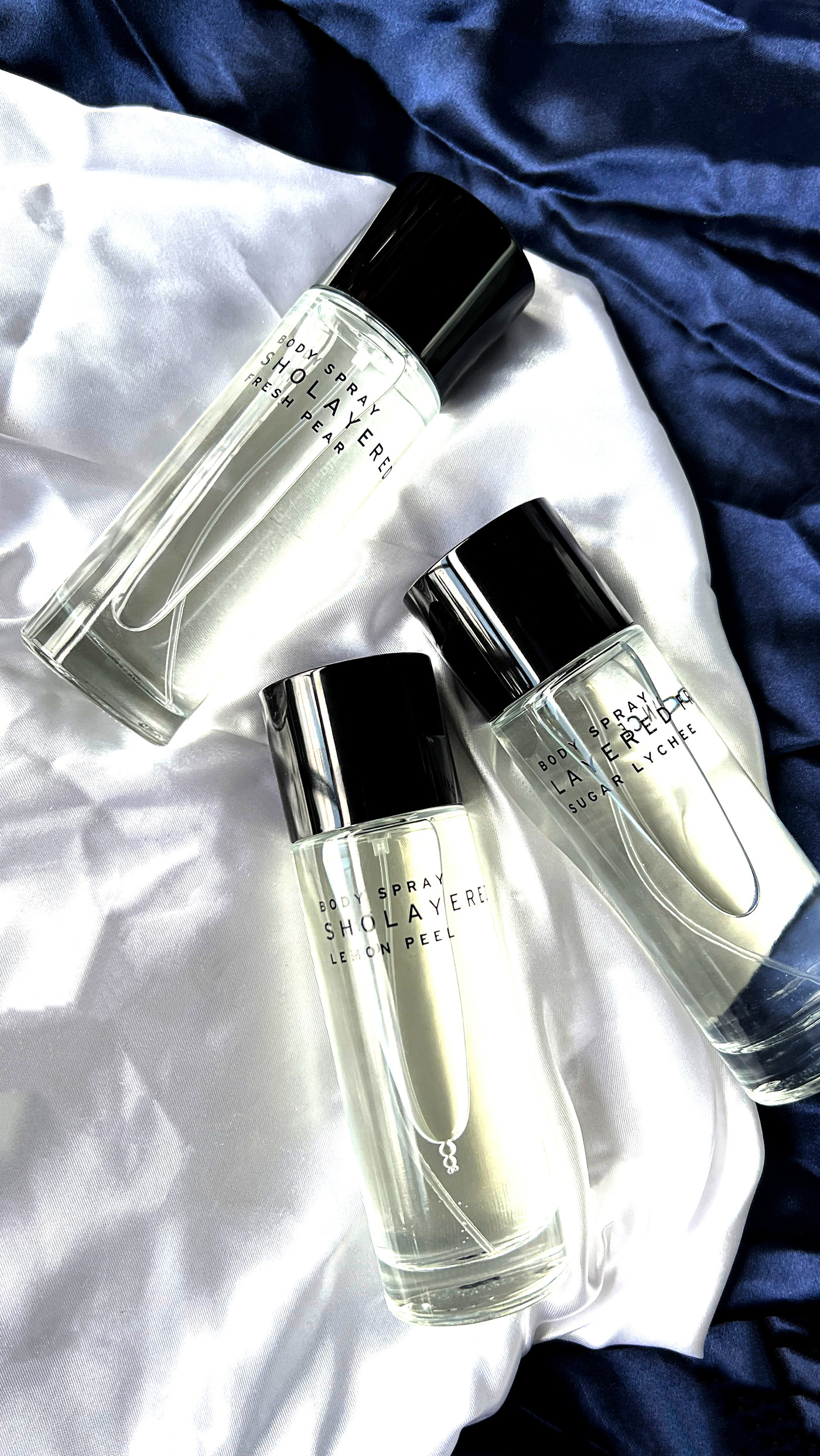 Body Sprays ~ Scents I received:  Lemon Peel, Fresh Pear and Sugar Lychee ~   I am not sure why they call these Body Sprays, these are perfumes!  I spray my perfumes all over my body, so maybe this is just how they are called in Japan.  The full size Body Sprays are HUGE, at a whopping 100 mL.  I find these scents to be fairly unisex and can be worn by all genders.
Some of the sprays and oils, such as the diffuser, have a yellowish tinge to them, but that is natural.  There are differences in the color of the fruits harvested yearly, and the essential oils in the sprays can be affected, but they are not defective.
Ingredients: Ethanol, Fragrance, Water, BG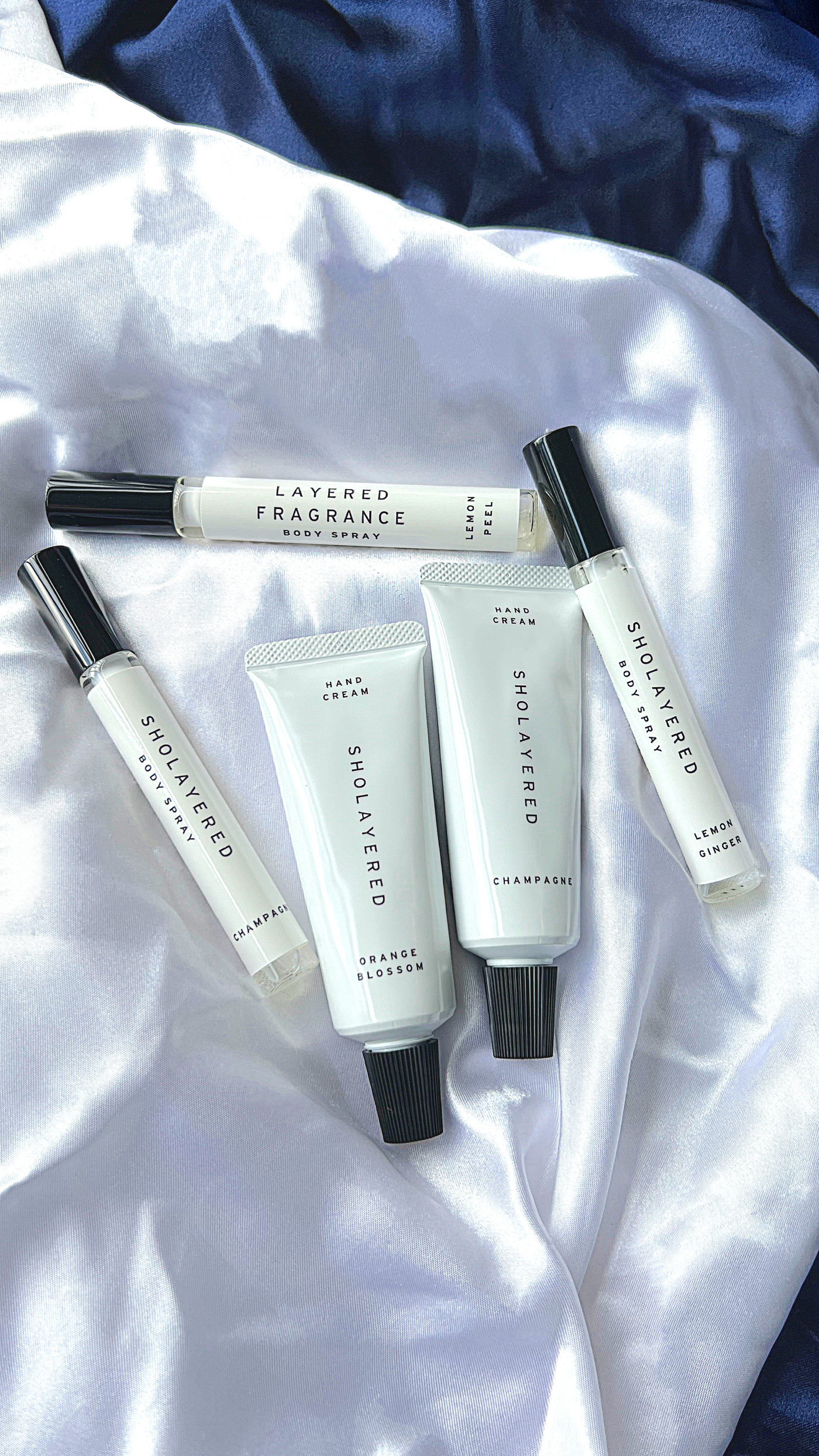 For your purse, backpack or tote bag, pick up the  10mL Portal Body Sprays and Hand Creams.  I have Lemon Ginger,  Champagne and Lemon Peel in the portal body sprays and they are great to tuck-away in my purse ~ the Lemon Ginger has found a home there!   Hand Creams  in Orange Blossom and Champagne ~ these are small enough that I can carry them in my smallest clutch!   These hand creams are surprisingly lightweight, absorb nicely and are very moisturizing, with the soft scents of either neroli or the sweet grape fizz of Champagne.  This has no sticky feeling on the hand as it uses a three-phase emulsification process that helps maintain moisture without being tacky. Made with hydrating glycerin and snow fungus, antioxidant vitamin E  along with moisturizing, nourishing squalane, jojoba seed oil, shea butter. 
Hand Cream Ingredients: Water, Caprylic/Capric Triglyceride, Propanediol, Glycerin, Pentylene Glycol, Behenyl Alcohol, (Caprylic/Capric) Coconut Alkyl, Diglycerin, Shea Butter, Squalane, Jojoba Seed Oil, Tremella Fuciformis Polysaccharide, Urea, Tocopherol Acetate, Sodium Lysine Dilauroyl Glutamate, Phytinroxypropyl Methylcellulose Stearoxy Ether, Xanthan Gum, Carbomer, Dimethicone, Stearyl Alcohol, Phenoxyethanol, Fragrance
Spray Ingredients: Ethanol, Fragrance, Water, BG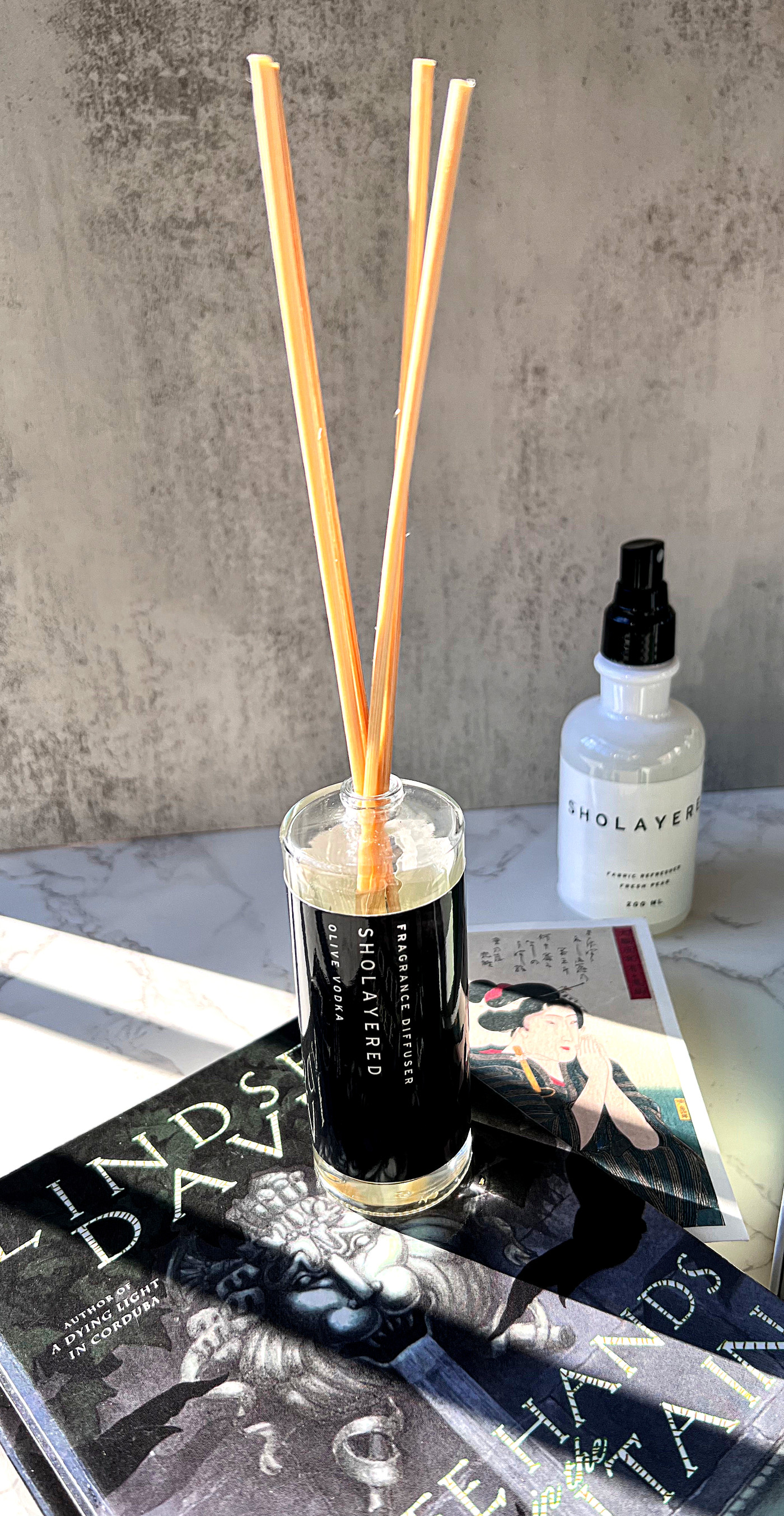 For your home, Reed Diffuser in Olive Vodka ~ this 100 mL oil perfume mix comes with rattan reed sticks and can last up to 2 months, filling a space of 100 to 150 square feet.  By flipping the sticks weekly, you can make the diffuser scent last longer . I love the minimalism of the glass bottle and black label, it doesn't overpower a room with its visual presence, so it can be used in any decor.  The scent is amazing with Olive Vodka ~ I wasn't sure how I was going to like this particular fragrance, but it is one of my favorites.
Ingredients: Ethanol, Fragrance, Water, Solvent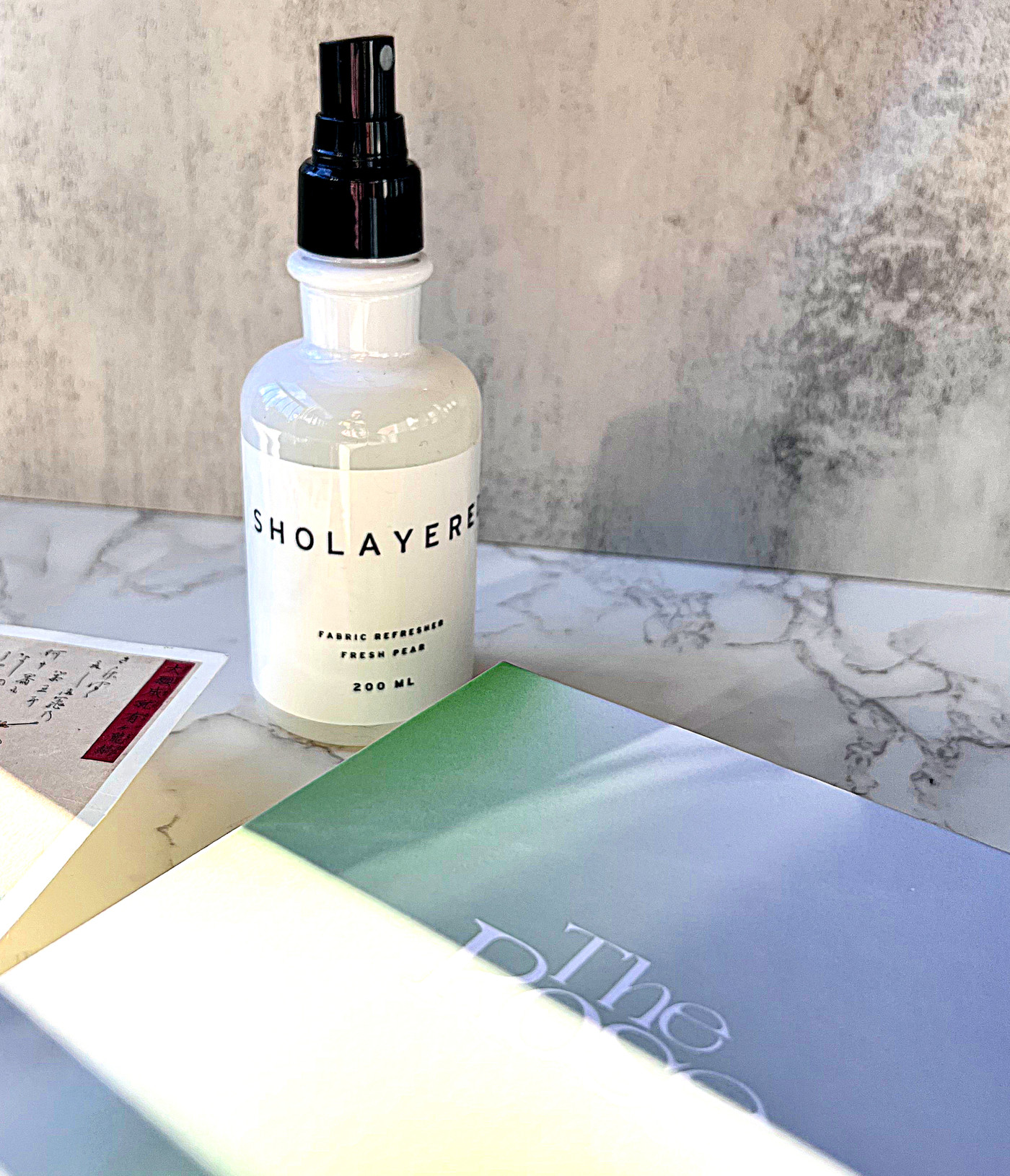 For your linens, Fabric Refresher in Fresh Pear ~ like all of the products here, this comes in different scents, I just happened to get Fresh Pear.   I actually like Fresh Pear as a fabric refresher as it doesn't seem so cloying and artificial as the body spray.  This will help freshen up linens, fabric couches, and even be used as a room spray. This is antibacterial, so it also is a disinfectant.
Ingredients: Purified Water,  Surfactant, Fragrance, Deodorant, Stabilizer, Disinfectant
Where To Purchase
Amazon USA carries ShoLayered Fragrance products, which also include body creams, body washes along with the products reviewed here.  ShoLayered Fragrance Store has Amazon Prime shipping as well.
[ all products received complementary for review purposes.  Blog post may contain affiliate links ]