The theme this month with Kloverbox is "Let's Get Ready For Summer!" ~ Kloverbox is a subscription box that not only is natural and has a focus on indie brands, but they also find unique and interesting products as well!   Kloverbox is an eco-friendly, organic lifestyle box and I love how they introduce new, unique and innovative products each month.  Kloverbox delivers deluxe and full size products and I have been impressed with their packaging and curating of their boxes. You can subscribe to Kloverbox  either as a month-to-month at $25/monthly, 3 month subscription at $23.75/monthly or a 6 month subscription at $22.50/monthly

Informational Card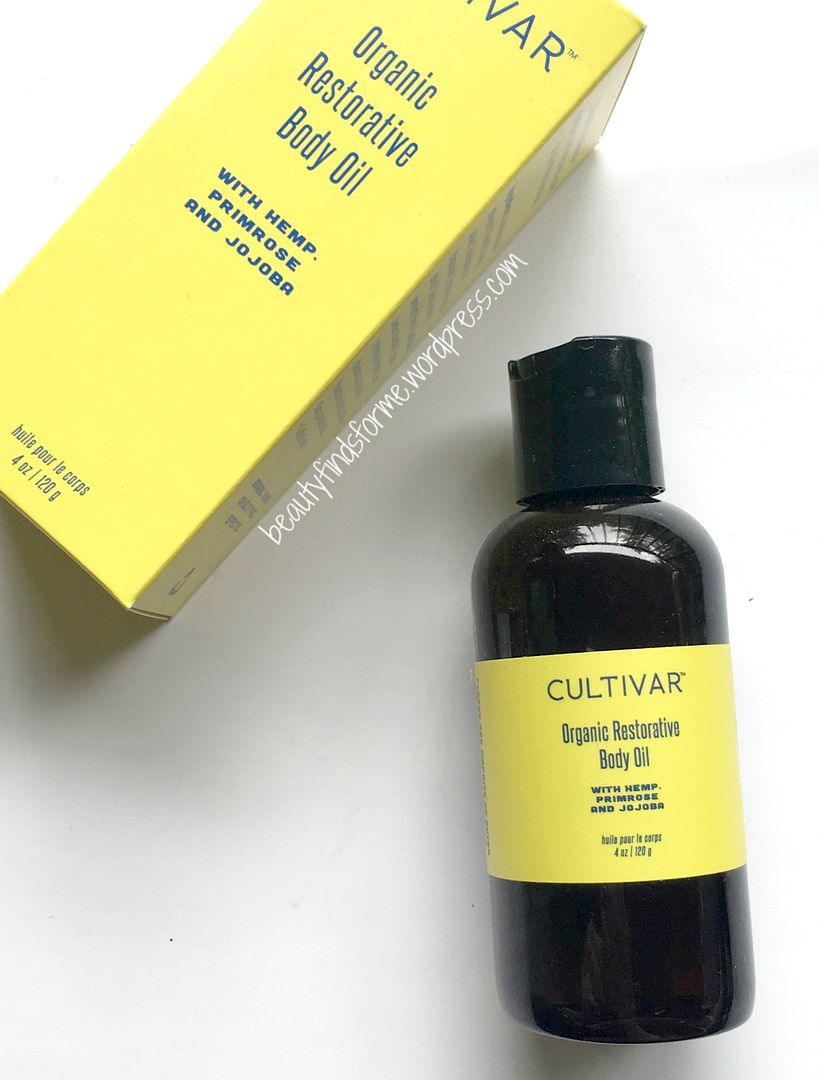 Cultivar Organic Restorative Body Oil  There is nothing more luxurious and sexy than putting on a wonderful smelling body oil ~ my skin gets silky smooth and I smell so good. Cutivar, meaning a plant or assemblage of plants selected to make an absolutely unique botanical specimen, is an eco-friendly, sustainable wind powdered company located in Brooklyn, NY and make organic skin, body and hair care as well as candles.  This body oil is made with rich, ethically sourced oils, high in essential fatty acids and antioxidants, so your skin is nourished and protected.   This also contains hemp oil, which is one of the most nutritious oils out there ~ it contains almost 85% essential fatty acids, including alpha-linolenic and linolenic acid. It contains ingredients that are high in vitamins A, C, E and Omega 3, 6, 7 and 9 acids.  This smells wonderful ~ a warm scent and even though Cultivar describes it more of a floral, I smell the cocoa oil in here ~ no florals at all.  I actually like that!  A little of this oil goes a LONG way and you can even add it in your bath.  This oil will help balance your skin's oil production so that your skin does not over produce oil, it will help fade hyper-pigmentation and its anti-bacterial formula will help prevent acne.  This bottle is the same product as what is on Cultivar's website ~ they have a glass bottle, whereas the one I received is plastic ~ I am okay with that as I am always afraid of breaking glass bottles on my ceramic tiled bathroom floor!  Full Size 4 oz RV $48.00  Promo Code: Use promo code KLOVER20 to save 20% off all items at Cultivar Expires 8/31/2017

Description: Sea Buckthorn Oil is high in Vitamin A, Vitamin C and Vitamin E. It actually has more Vitamin C than an orange and more Vitamin E than wheat germ. Sea Buckthorn is also the only plant oil to contain Omegas 3, 6, 7, and 9. These anti-oxidants and fatty acids help to speed healing and repair to the skin. Hemp Oil is simply fantastic to treat dry, cracked skin and helps to bring more elasticity to the tired, dehydrated skin. We've formulated this superb organic body oil to be concentrated and effective without ever leaving you feeling greasy or heavy. This surprisingly light-weight formula absorbs quickly into the skin to soften, smooth, repair and hydrate. The scent is richly evocative without being cloying and has been created from pure essential oils of palmarosa, ylang-ylang, cocoa, and muhuhu. For added luxury, add a small amount of our Organic Restorative Body Oil to your next bath.
Ingredients: Jojoba Oil*, Hemp Oil*, Sea Buckthorn Oil*, Rice Bran Oil*, Evening Primrose Oil*, Vitamin E, Essential Oils of Lavender*, Palmarosa (cymbopogon martinii) *, Cocoa, Muhuhu, and Ylang Ylang. *certified organic
Z Skincare Cosmetics Simply Organic Sun Block SPF 45 At first, I gave this a side-eye, as my experiences with organic sunscreens have been an epic failure ~ they are thick, leave a white cast and just too greasy for my oily skin. I normally use them on my arms and legs, never my face.  This one though, intrigued me as it is a small tube ~ I love Japanese sunscreens and they come in small little tubes like this.  So, I opened it up and swatched it.  This is a light weight watery gel that glides on easily and absorbs quickly into my skin, leaving behind a matte finish and no white cast.
WOW.  I am going to be using this on my face and see what happens, but if this works out, this is an SPF 45 sunscreen that is eco-friendly, organic and is oily-skin friendly too!  This has a lovely peppermint scent and is quite cooling on my skin.  Z Skincare Cosmetics Simply Organic Sun Block also works to repeal insects as well ~ a double bonus! This only has one SPF ingredient in here, Zinc Oxide, which is both a UVA and UVB sunblock, but I do not know the rating on this one. Update:  Kloverbox reached out to Z Skin about the rating and they said it is a broad spectrum SPF45 PA +++.   This is 100% handcrafted organic skincare and containing no chemical additives, preservatives, fragrances or parabens and is cruelty free.  Full Size 2 oz $18.95.   Promo Code: Save 40% on your first purchase at Z SkinCare Cosmetics with promo code KLOVERZ40   
Ingredients: Zinc Oxide, Raspberry, Carrot, Lemon, Citronella, Peppermint, Orange, Kiwi, Tangerine  cosDNA analysis

pure Sol Konjac Facial Sponge in Turmeric  This box keeps getting better and better!  I have used pure Sol Konjac sponges before and I do like them.  They come with a little plastic suction cup and hook so you can hang your sponge up in the shower.  Konjac sponges look small, hard and not at all something you would want to cleanse your face with.  Once you get this sponge good and wet, it will expand 2-3 times its size and become super soft, spongy and it will have a gelatinous feel to it.  Konjac is highly fibrous, which is why is it an excellent material for exfoliation. With pureSol's sponge, you can use with or without cleanser ~ I like to use cleanser, as my face is oily and I need the extra cleansing.   However, this one is infused with turmeric, which is a first for me. I've seen these little sponges infused with charcoal, green tea, clay but never turmeric.  Turmeric is excellent for exfoliating and helps reduce fine lines, wrinkles and fades hyper-pigmentation. It is also perfect for blemish prone skin, as it has antiseptic properties.  I am pretty excited to try this one out! This sponge is biodegrade, cruelty free and vegan.  Don't toss it out when you are done, use it in your compost or your flower pot.  RV $9.29 Promo Code: Save 20% off your purchase at Pure Sol with promo code 20KLOVER.  Yes, this will send you to Amazon, but I verified that the promo code does work on Amazon!   Expires 08/31/2017 
Unboxing Beauty Konjac Care Tip: Once you are finished cleansing your face, rinse out well and just hang to air dry. DO NOT wring it out, as that will destroy the fibers in the sponge.  Just rinse and gently squeeze the excess water from your sponge.    If you live in a very humid area, they recommend to storing your sponge in the refrigerator. You should replace your cleansing sponges every 2 to 3 months.
Patience Fruit & Go Organic Whole & Juicy Dried Cranberries  Snacks!  These are juicy, dried cranberries ~ I know this because I ate them already! I love dried cranberries and living in the Northeast, I get access to them pretty easily.  These are plump and moist, not hard nuggets, with a natural sweet-tart taste.
Very yummy, I personally love them straight out of the bag, but you can add them to salads, oatmeal, cold cereals, baked goods, make sweet-savory sauces for meats ~ lots of things!  These contain 100 mg of polyphenols per 1 oz portion, gluten and additive free, USDA Organic, Eco-Cert and non-GMO, made in Quebec, Canada (oh! Canada ~ love your PM!)   These only contain 3 ingredients: organic cranberries, organic apple juice concentrate, organic sunflower oil.  My complaint ~ I just wish the bag was bigger!  1 oz RV 50 cents

I really loved this month's box!  The sunscreen is a major find and if this works as well as it should, this is a bloody damn good find ~ a watery gel, eco-friendly, organic sunscreen that goes on matte without a white cast!  I love the warmly scented body oil and a konjac sponge with turmeric is also an amazing find!! Way to go, Marie!  And as a New Englander, gotta love them cranberries! I paid $15.00 due to a Black Friday promo code + renewing 3 month subscription and received a value of over $76.00.  Do you subscribe to Kloverbox?  What was your favorite product this month?

Current Promo:  Want to save 10% off your subscription?  Use my referral link here    One and three month terms automatically renew, the six month is a one time purchase.   The monthly subscription has an option to skip a month!

[ descriptions in italics from linked website.  contains referral link and affiliate links ]