[ blog post contains affiliate/referral links ]
Battlez posts were originally posted on my Instragram feed and are quick comparisons.  I will link to more in-depth reviews here at my blog if I have done one.  
Hair Type: Oily, straight, flat, limp, blah

This battlez features Moroccanoil Volumizing Mousse VS Organix/OGX Renewing Argan Oil of Morocco Voluminous Mousse. I totally love and adore my Moroccanoil Mousse ~ I have been using it for years now and a little goes a long way as one can lasts me months. However, I am always looking to compare and find less expensive versions too ~ something about a BARGAIN that drives me to that.  I saw a new(ish?) product at my local CVS ~ OGX Renewing Argan Oil of Morocco Volumninous Mousse and it was under $10.00 for an 8 oz can. Welp, drop me money down and let's compare. I have lots of fine, straight and oily hair and I only use my mousse at the roots  to give lift, bounce and volume
Moroccanoil Volumizing Mousse 8.5 oz $28.00 
Description: Give your hair instant volume and lift with Moroccanoil® Volumizing Mousse for medium to fine hair. This weightless styling volumizer builds body and creates lift without stickiness. Our flake-free formula with medium, flexible hold provides a "memory" factor, for natural-looking styles that last longer. Infused with antioxidant-rich argan oil and an anti-static agent for supremely manageable and silky hair.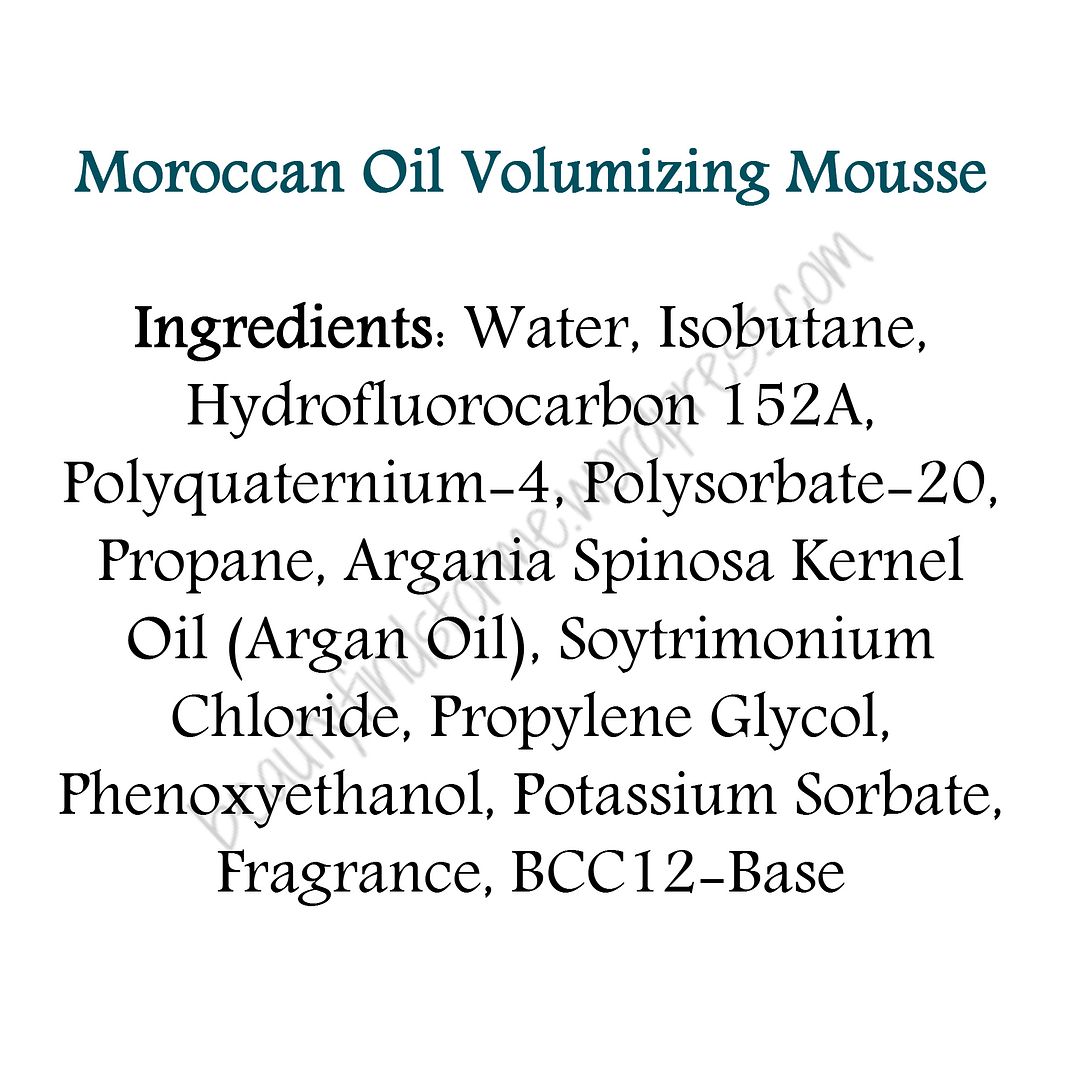 Organix/OGX Renewing Argan Oil of Morocco Voluminous Mousse  8 oz $10.00 and under
Description: Organix's Renewing Argan Oil of Morocco Voluminous Mousse gives medium hold for full-volume, luxurious thicker, fuller hair. An ultra luxurious, workable whipped mousse blended with exotic argan oil to give hair voluptuous full-bodied volume and luminescent shine while giving you a weightless boost and all day manageability.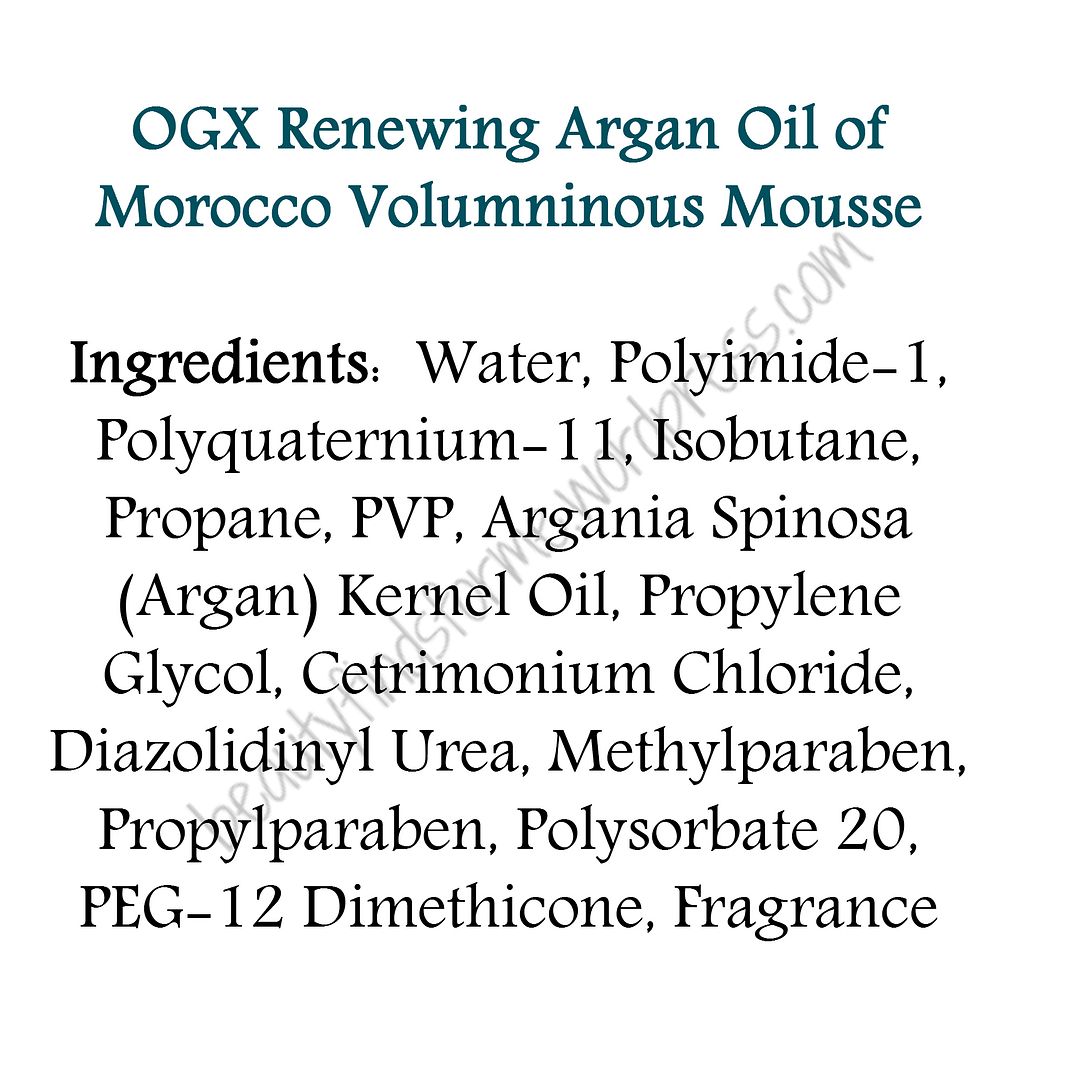 Final Thoughts
Sometimes, you do get what you pay for, and in this case, I got that plus some unexpected side effects. OGX fail. This didn't voluminize my hair like Moroccanoil, which was the main reason why I got it. My hair just was limp and sat there. Not only didn't it volumize, it made my already oily hair GREASY. I think if you have bone dry, brittle hair, you would appreciate the extra moisturizing oils in this mousse, but for me, it was not welcomed. Moroccanoil also has nourishing argan oil, but they make their mousse specifically for fine hair and it does not leave a film. I will stick with my $28.00 product. I will give the OGX to my mother, as she loves mousse too and has really bone dry brittle hair ~ I think she will like the formula better than I did .
Where to Purchase

Moroccanoil Volumizing Mousse 8.5 oz
Organix/OGX Renewing Argan Oil of Morocco Voluminous Mousse  8 oz $10.00 and under
[ blog post contains affiliate/referral links ]