[ disclosure: some products received in exchange for a review.  contains affiliate links for a small commission ]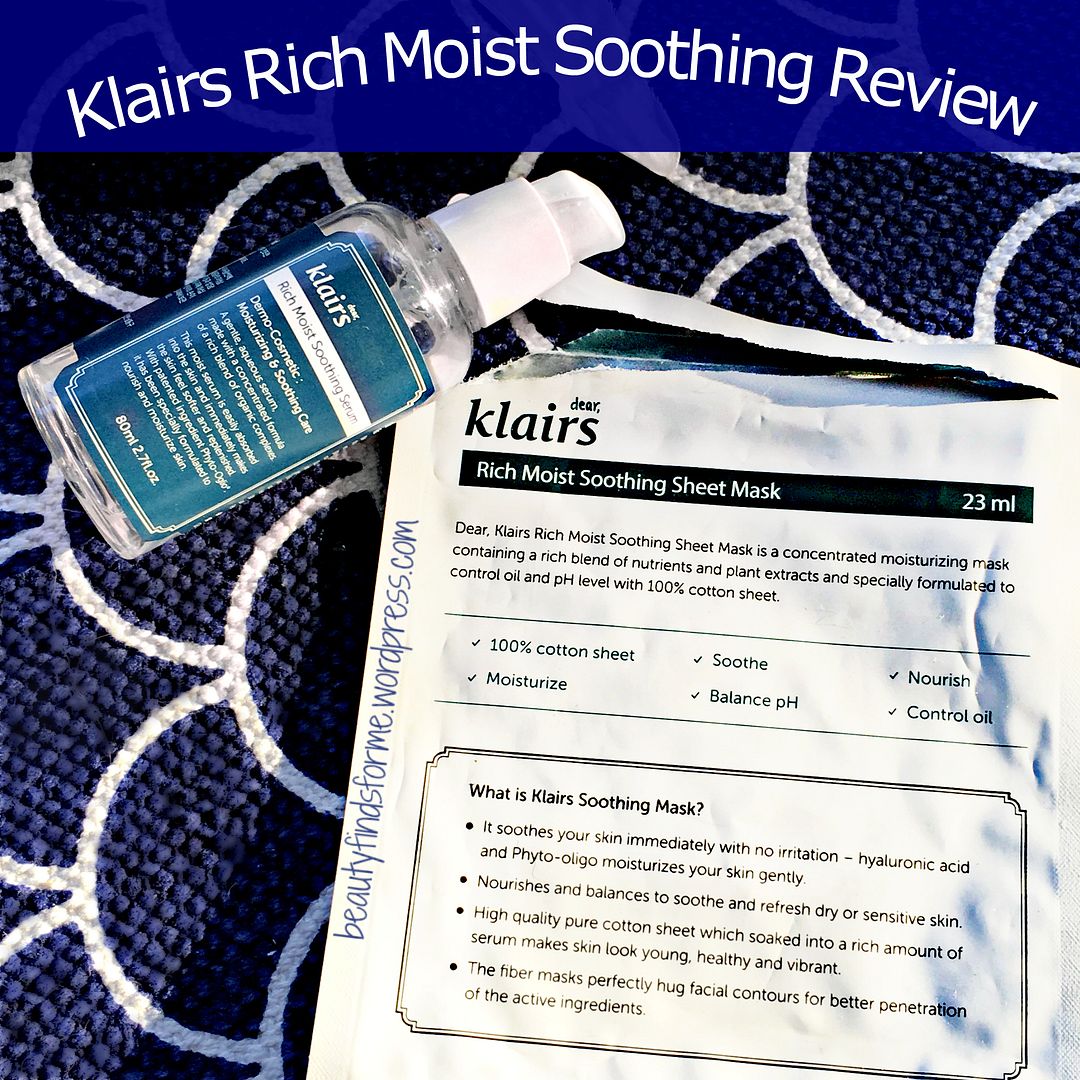 Rich and moist are two words that make me take pause and think will it work for my skin type?  Will it turn my already oily skin into a hot greasy mess?  I think I resisted the "Rich and Moist" series by Klairs because I thought it would be too RICH and too MOIST.  However, when I was offered to pick out a few items, courtesy of Wishtrend, I decided to give this series a try and requested the Rich Moist Soothing Serum… and now I wonder why I waited so damn long.  I am a major convert of both the serum and the mask, which I had purchased just to try it out.  I have reviewed several Klairs products by now, and I have really enjoyed all of them ~ you can read my reviews here.

Skin Type/Concerns:  Oily, blemish prone, aging skin with hyper-pigmentation and fine lines/wrinkles.
From what I read on Wishtrend's site, this bestselling bottle of serum has been revamped and upgraded since its launch back in 2009 ~ it used to come in a 50 mL bottle and now it is 80 mL.  They also enhanced the absorption speed and the texture is lighter.  Klairs is committed to becoming a vegan friendly, cruelty free brand ~ they just revamped their Black Sugar Facial Polish Scrub to remove any animal by-products and it is the same with this product ~ it is vegan and cruelty free, with no animal testing and no animal by-products in this product.

 Directly after cleansing, the skin, full of hydration, reflects light like a crystal to make the skin appear more clear and lively. Your skin's hydration level could be the key factor for long lasting, flawless make up. A well moisturized skin secretes less oils and helps the makeup work with your skin, not against it. When your skin is moisturized on a cellular level and an optimal balance is reached, A hydration barrier supports the health of your skin. Hydration is the foundation of skin care. Build a good, study foundation you won't regret And replenish the hydration with the Klairs Soothing Serum.
Sounds wonderful, doesn't it?  What it comes down to is this ~ this is a deeply hydrating product that has some ingredients that will help cool and soothe your skin.  This serum is good for  sensitive,dry or dehydrated skin, smooth and reduce redness, irritation, flaking and peeling skin and prevent the appearance of fine lines and wrinkles.

Ingredients of Note
This serum has a lot of hydrating humectants, starting out with Phyto Oligo (Patent No. 10-0887294).  This is made with hollyhock (althaea rosea) root and aloe vera, will help moisture your skin and resolve skin dryness. Phyto Oligo will help with your skin's elasticity, help smooth your skin and is key in helping soothe your skin as well.

Other humectants include the classic sodium hyaluronate, which is an intensive moisturizing ingredient which bonds water to keep skin hydrated. It is a natural substance found in the human body and it made up of amino and uronic acids, and helps retain 100 to 1,000 times its own water weight in our skin cells. My friend beta glucan is in here and it helps stimulate the production of collagen, speeds up wound healing, soothes and calms skin due to its anti-irritant and strong anti-inflammatory properties, moisturizes, locks in natural moisture, anti-aging and anti-wrinkle due to its anti-oxidant properties and also helps repair your moisture barrier.
Polyquaternium-51 (Lipidure) is a 4th generation moisturizer and has a higher moisture retention than even beta glucan, according to Klairs. Rich Moist Soothing Serum contains amino acids that have water binding properties and also aid in collagen production ~ lysine, l-methionine and proline.  Amino acid theanine will help keep your skin moisturized and nourishes stressed skin. Arginine is another natural amino acid and it promotes healing and detoxes your skin. It also helps guard against the formation of wrinkles and loss of skin firmness.  Betaine is also found in here and it is superior for its intense moisturization and hydration properties, without the stickiness, and also reduces the appearance of fine lines and wrinkles, while attracting moisture (humectancy) and relieving skin irritation.
Natto gum ~ fermented soy beans ~ helps attract moisture and is an antioxidant.  It to trap in moisture and may also be a potent antioxidant.  Natto gum contains lecithin, a soothing emollient that helps soften your skin, keeping it hydrated. What makes this unique is that it can also assist other ingredients and their benefits and carry these properties directly to the cellular level. Since this product has soothing and anti-inflammatory claims, this ingredient is very important as it will boost those ingredients and help them be absorbed more rapidly. It also contains PGA, gamma polyglutamic acid,  helping to moisturize and exfoliate old skin cells. It can penetrate to the deepest layers in your skin, locks in moisture and helps increase the production of NMF (Natural Moisturizing Factor).
Rice bran is an antioxidant that help preserve skin elasticity and protect against free radical damage. It will help make your skin look supple and toned, as well as removing toxins from your body.  Rice bran is also an anti-inflammatory and help reduce hyper-pigmentation, allowing your skin tone to be even and brighter.
Sodium ascorbyl phosphate is a derivative of vitamin C and is an  antioxidant that contributes to evening out and brightening skin tone.  Tocopheryl acetate (vitamin E) helps prevents free radical formation, protects the upper skin layer from initial harmful UV radiation and prevents the deterioration of fats in your cell membranes.  Panthenol is a derivative of vitamin B5, and helps cellular renewal while moisturizing.  Panthenol is a natural humectant, which retains moisture and hydrates the skin. It also is a good lubricant on the skin, making skin look soft and smooth. It is also an anti-inflammatory
This also contains a favorite ingredient of mine ~ centella asiatica, which helps speed up wound healing, such as blemishes and skin rashes. It also helps minimize the appearance of pores, and since it stimulates collagen production, it will make your skin more supple and firm. Portulaca oleracea has soothing moisturizing benefits and prevents your skin from drying out.  There are other herbal botanicals in here as well that will help with moisturizing, hydration and skin healing.  Klairs also uses six natural oils, which will give it a light herbal scent  ~ lavender, eucalyptus, geranium, lemon, orange and ylang ylang
Serums, by definition, contain more concentrated ingredients than other skincare products ~ the active ingredients in serums will penetrate deeper into your skin's layers and will have targeted functions.  This serum's targeted function is three fold ~ rich, moist and soothing.  You can see that this product is full of hydrating, soothing, skin brightening, anti-aging, toning and smoothing ingredients! It is alcohol free, contains no parabens, artificial coloring, no animal testing and is eco-friendly.
Ingredients: Water, Sodium Hyaluronate, Butylene Glycol, Dimethyl Sulfone, Betaine, Natto Gum, Propanediol, Polyquaternium-51, Disodium EDTA, Centella Asiatica Extract, Glycyrrhiza Glabra (Licorice) Root Extract, Carbomer, Arginine, PEG-60 Hydrogenated Castor Oil, Lysine HCL, Proline, Sodium Ascorbyl Phosphate, Acetyl Methionine, Theanine, Chlorphenesin, Tocopheryl Acetate, Illicium Verum(Anise) Fruit Extract, Citrus Paradisi(Grapefruit) Fruit Extract, Nelumbium Speciosum Flower Extract, Paeonia Suffruticosa Root Extract, Scutellaria Baicalensis Root Extract, Panthenol, Luffa Cylindrica Fruit/Leaf/Stem Extract, Beta-Glucan, Althaea Rosea Flower Extract, Aloe Barbadensis Leaf Extract, Lavandula Angustifolia (Lavender) Oil, Eucalyptus Globulus Leaf Oil, Pelargonium Graveolens Flower Oil, Citrus Limon (Lemon) Peel Oil, Citrus Aurantium Dulcis (Orange) Peel Oil, Cananga Odorata Flower Oil, Portulaca Oleracea Extract, Apium Graveolens (Celery) Extract, Brassica Oleracea Capitata (Cabbage) Leaf Extract, Brassica Oleracea Italica (Broccoli) Extract, Brassica Rapa (Turnip) Leaf Extract, Daucus Carota Sativa (Carrot) Root Extract, Oryza Sativa (Rice) Bran Extract, Solanum Lycopersicum (Tomato) Fruit/Leaf/Stem Extract cosDNA analysis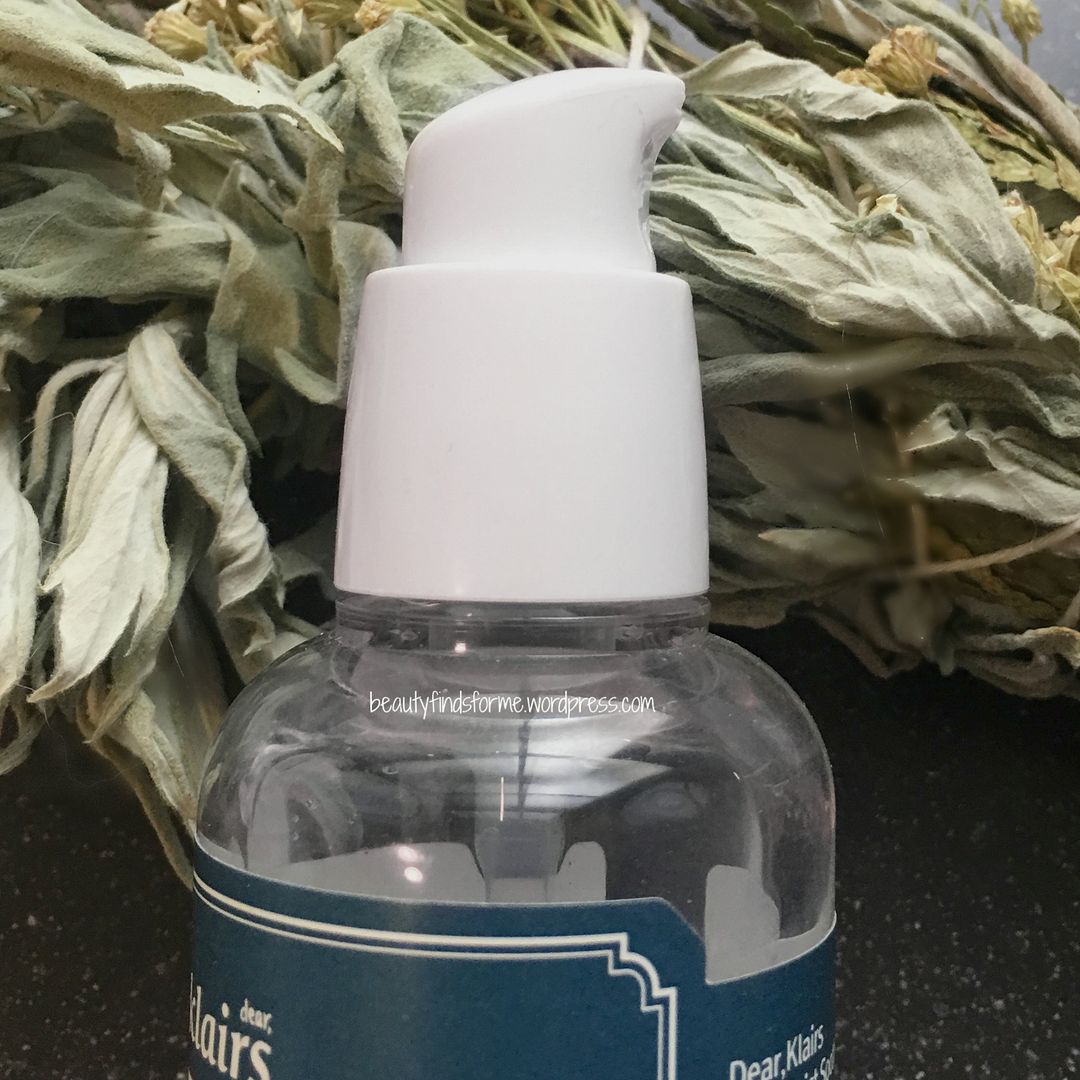 This comes in a nice, hard clear plastic bottle with a pump applicator.  The packaging is simple, but I never have to fear that if I drop it, it will shatter like some other bottles I own.  This product is a beautiful, deeply moist serum ~ it is not watery, but it isn't thick or sticky.  In fact, it reminds me a lot of Graymelin Beta Glucan, with that egg white type of texture ~ it has a rich viscosity, but it isn't sticky once it is absorbed into my skin.  It isn't exactly like the Graymelin product ~ I find Klairs Rich Moist Soothing Serum to have a bit more weight and density than the Beta Glucan product.  The scent is very pleasant ~  a light lavender/herbal scent, that quickly disappears once applied.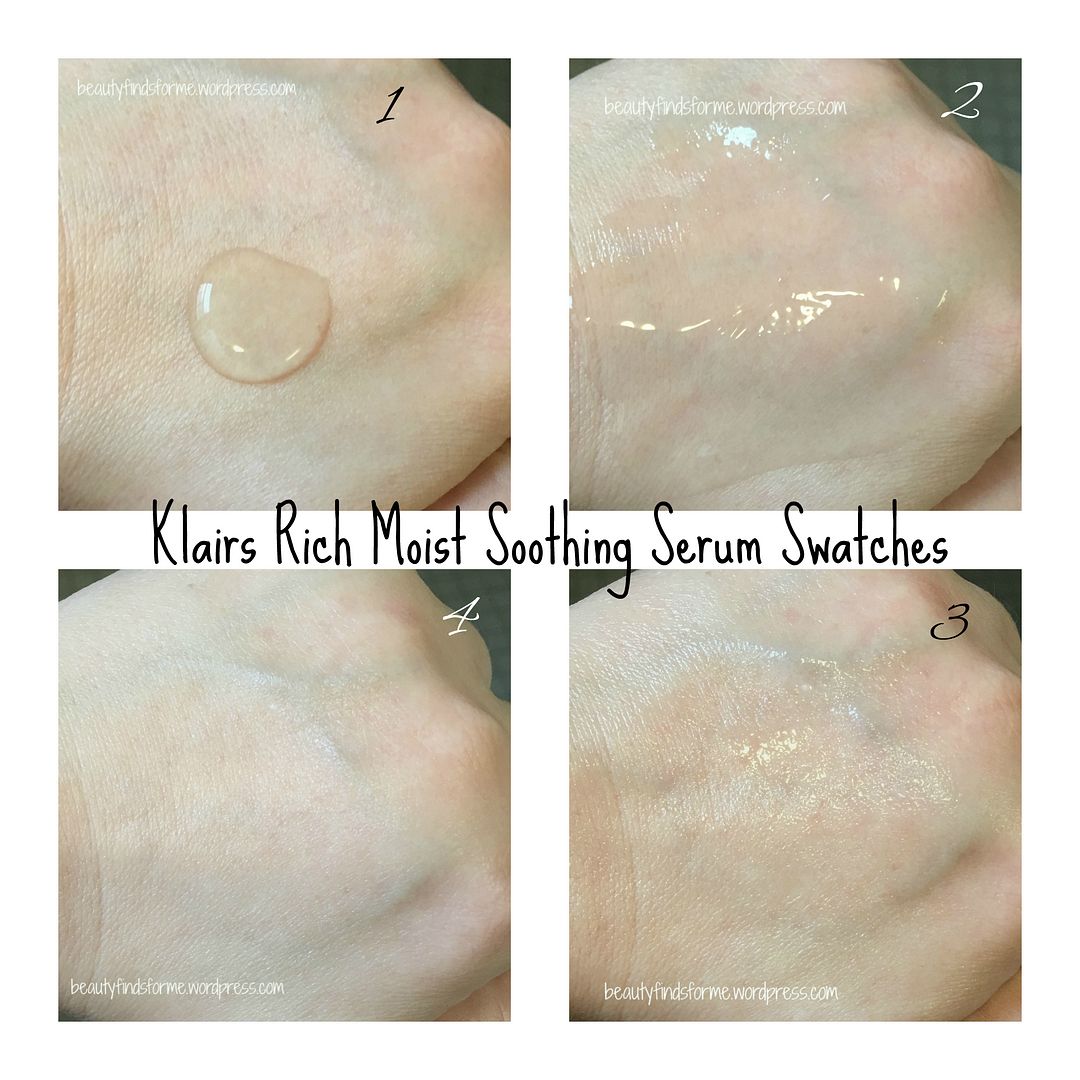 You can see in the above photos how rich the serum is ~ photo #2 really displays the thickness and moisture of it.  Photo #3 is right after I patted it into my hand and photo #4 is after a minute ~ you can see how well it absorbed into my skin.   There is no sticky, tacky or greasy residue and my skin actually feels cooler ~ that is when I looked at the description of the product more closely
Skin temperature -1° Constantly experiencing heated, flushed skin? Struggling with easily irritated, hard to calm skin? Always moisturizing but never feeling truly hydrated? Choose the skin care solution that works with your skin. The Rich Moist Soothing Serum is made for soothing sensitive skin. To lower the surface temperature as it deeply hydrates for the calming & cooling your skin needs. Cool things down with the Soothing Serum and let your skin thank you.
Ohhhh, this cools the surface temperature of your skin! With the hot weather already here where I live, I am going to smother my face with this serum. Speaking of smothering, this serum is lovely ~ the way it feels on my skin ~ its like this serum is giving my face a gentle hug.  It does soothe and help reduce redness and irritation, giving my face enough hydration without any oiliness.  My skin feels softer and smoother, as my skin is now plumped up with moisture. This only increased my moisture level by 19%, but it feels like more than that, and I think that is because there are so many skin soothing ingredients in here.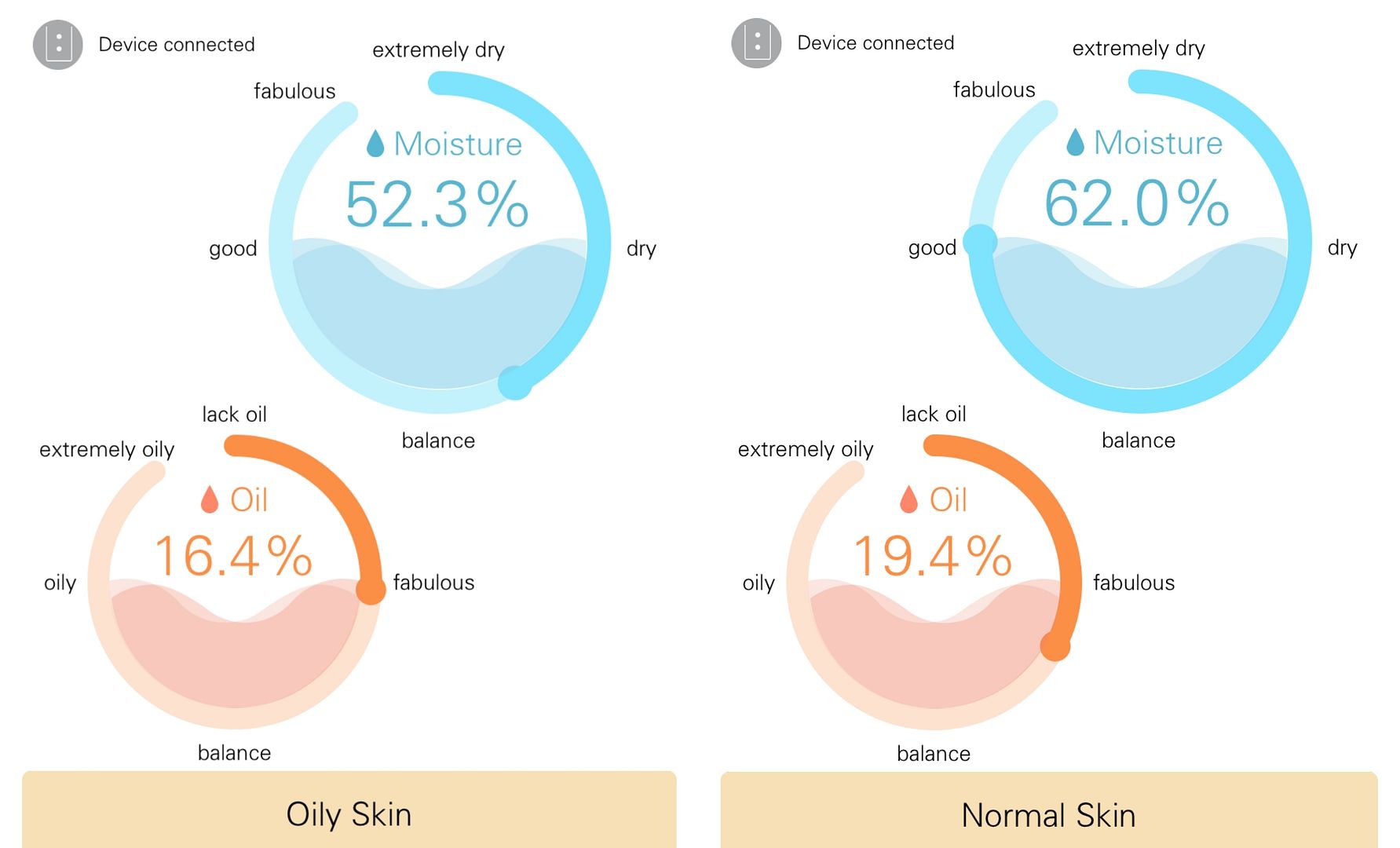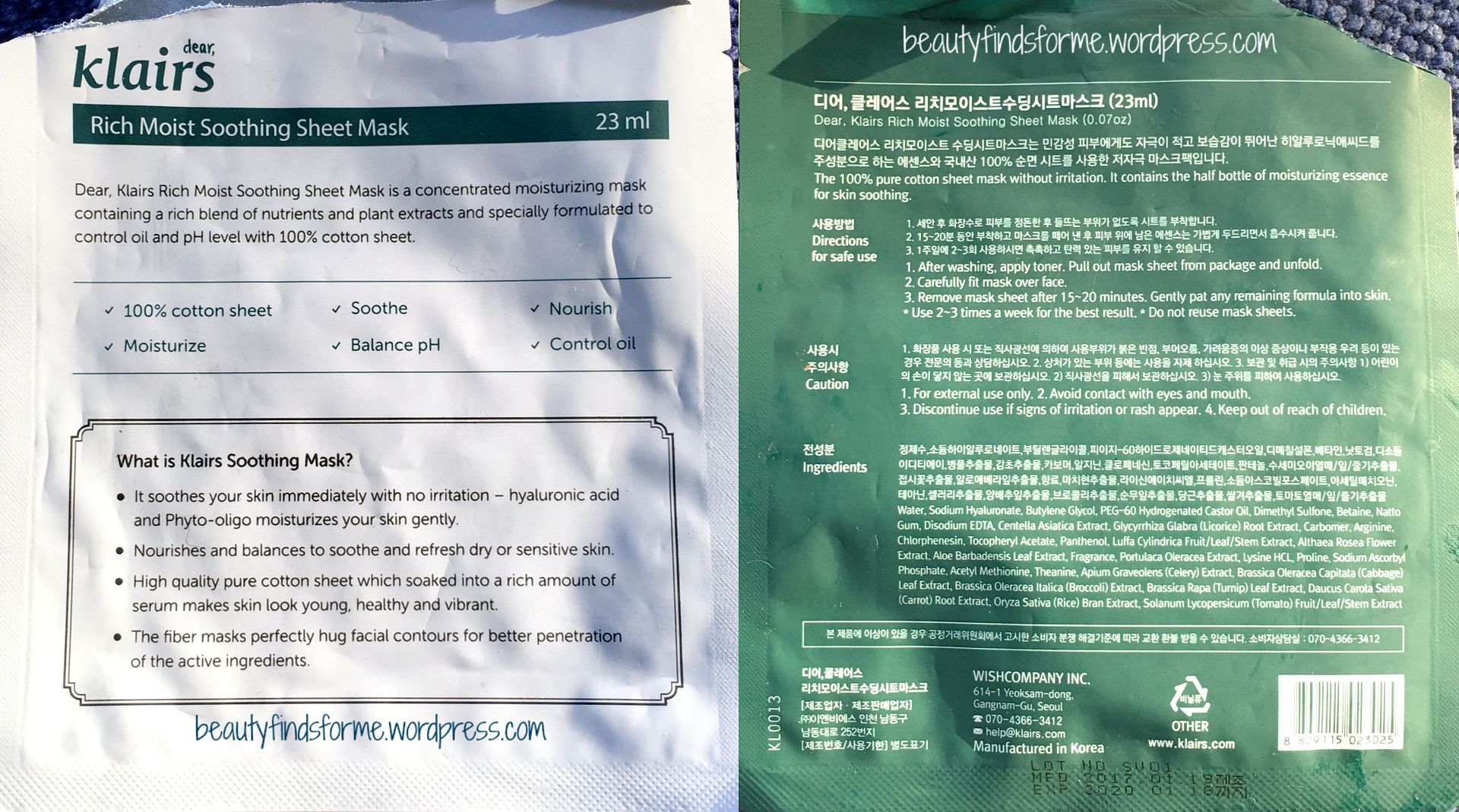 Since I was getting the serum, I decided to purchase this mask to review it with the serum.   Once again, I avoided using Klairs Rich Moist Soothing Masks for years ~ I would get them as a freebie in my orders or I would actually purchase them as a filler on my orders to get the free shipping ~ but then I would put them in giveaways!!  Oy, the term "Rich Moist" just made me run away in horror.  And I was wrong… I am not ashamed to admit it, I was so wrong about my assumptions on this mask.  There is a reason why 89% of customers who purchase this mask will repurchase it again.  This mask is made from 100% pure cotton and contains 23 mL of the Rich Moist Serum essence ~ which back when the bottle was smaller, was marketed as half a bottle of the stuff.   Enough to say, that is a lot of serum in this mask!
Now, this isn't the same ingredient list as the serum, but it is pretty close.  It contains Phyto Oligo and sodium hyaluronate but no beta glucan.  It does contain polyquaternium-51  and amino acids lysine, l-methionine, proline, theanine and arginine.  Betaine, natto gum, rice bran, sodium ascorbyl phosphate, tocopheryl acetate, panthenol, centella asiatica and portulaca oleracea  are all in here.   It is missing all of the fragrance oils, which makes sense as this mask really doesn't have an herbal lavender scent.  This contains no parabens, alcool, artificial coloring and no animal testing was conducted. This is a very eco-friendly mask, low irritation ~ suitable for sensitive and blemish prone skin.

Ingredients: Water, Sodium Hyaluronate, Butylene Glycol, PEG-60 Hydrogenated Castor Oil, Dimethyl Sulfone, Betaine, Natto Gum, Disodium EDTA, Centella Asiatica Extract, Glycyrrhiza Glabra (Licorice) Root Extract, Carbomer, Arginine, Chlorphenesin, Tocopheryl Acetate, Panthenol, Luffa Cylindrica Fruit/Leaf/Stem Extract, Althaea Rosea Flower Extract, Aloe Barbadensis Leaf Extract, Fragrance, Portulaca Oleracea Extract, Lysine HCL, Proline, Sodium Ascorbyl Phosphate, Acetyl Methionine, Theanine, Apium Graveolens (Celery) Extract, Brassica Oleracea Capitata (Cabbage) Leaf Extract, Brassica Oleracea Italica (Broccoli) Extract, Brassica Rapa (Turnip) Leaf Extract, Daucus Carota Sativa (Carrot) Root Extract, Oryza Sativa (Rice) Bran Extract, Solanum Lycopersicum (Tomato) Fruit/Leaf/Stem Extract cosDNA analysis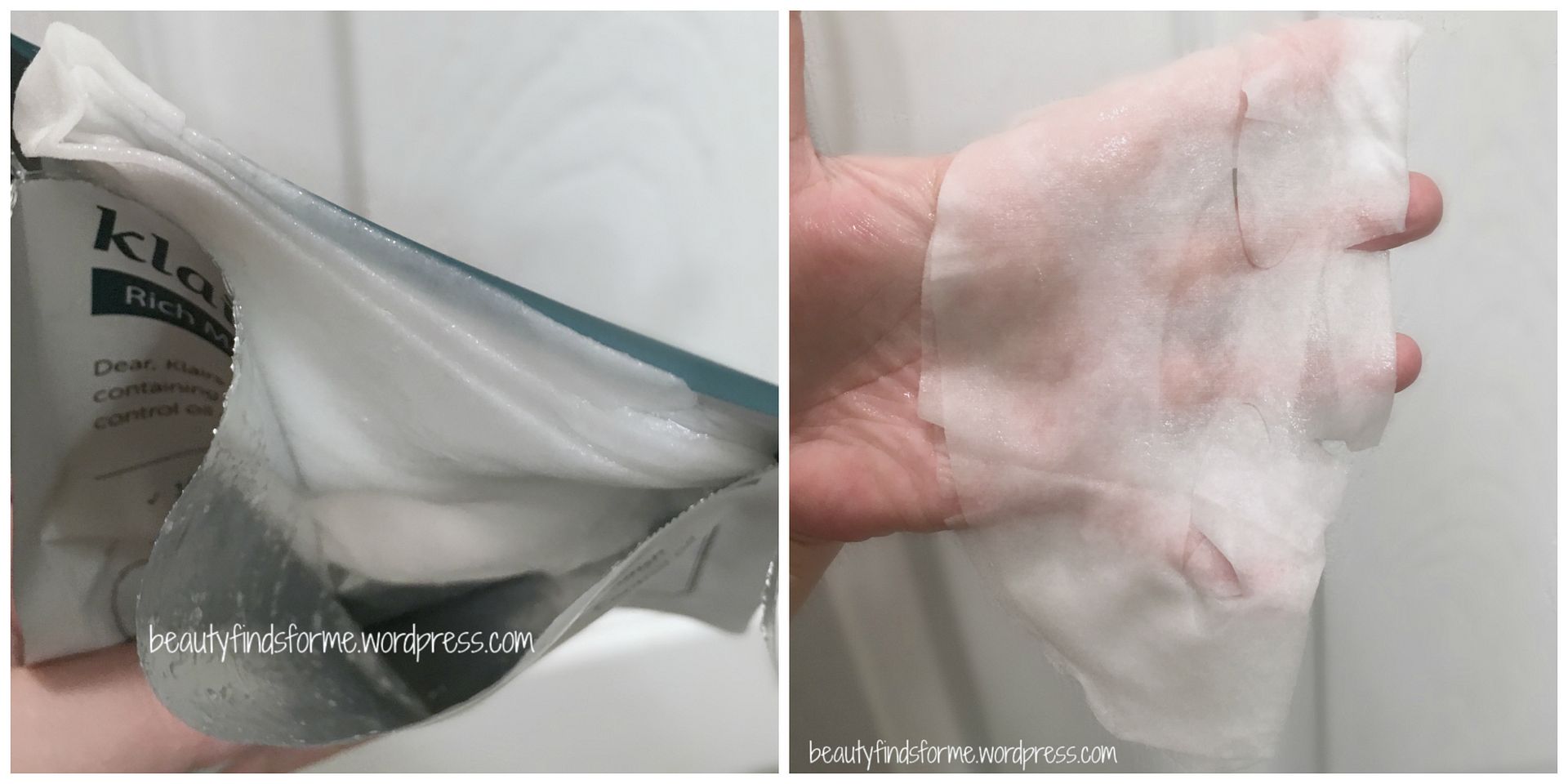 The mask is soaked in essence and it is quite wet!! The sheet mask is very plush and soft so I was worried about how well this was going to adhere to my face.  The mask fit was good too ~ it wasn't small on my face and even though I felt the eyes and mouth holes were a bit on the larger side, overall I think the mask fit nicely on my face.   However, I hate eye flaps ~ I don't even know why eye flaps are still made on masks.  Who has time to lie down, put the eye flaps over their eyes and nap for 20 minutes?  I don't!!
I was totally surprised that the mask was so cooling on my skin ~ it doesn't have mint or anything like that, but wow ~ it is so refreshing.  Klairs recommends placing this in the frig for an even more cooling experience, which once they get these masks back in stock, I will do that!  These are great for hot days.  I didn't need to worry about how this was going to adhere on my face ~ this stayed on nicely and didn't try and fall off when it started to dry out.  After 40 minutes, I removed the mask ~ it was still moist and I could have worn it for another 10 minutes ~ and I noticed that my skin felt very smooth and intensely hydrated.  There was an initial tackiness that dried down quickly as the essence absorbed completely into my skin.  My face looked brighter overall with a reduction of redness and had a nice semi-matte look to it ~ not greasy or too dewy, just a good healthy looking finish on my skin.  
Final Thoughts
Klairs Rich Moist Soothing Serum is perfect if you are into the layering of watery and hydrating toners and serums.  It is not a watery product initially, but it becomes one as I apply it and just absorbs so quickly into my skin.  I love the light herbal scent and the cooling action of this product ~ I know that Klairs states not to use this when you have blemishes, but I do and so far, it has really helped reduce the swelling and redness of my acne.  Sometimes, all you want is a really good hydrating serum before locking it all in with a moisturizer and this one is such a product ~ it is also exceptional for its soothing and smoothing benefits as well.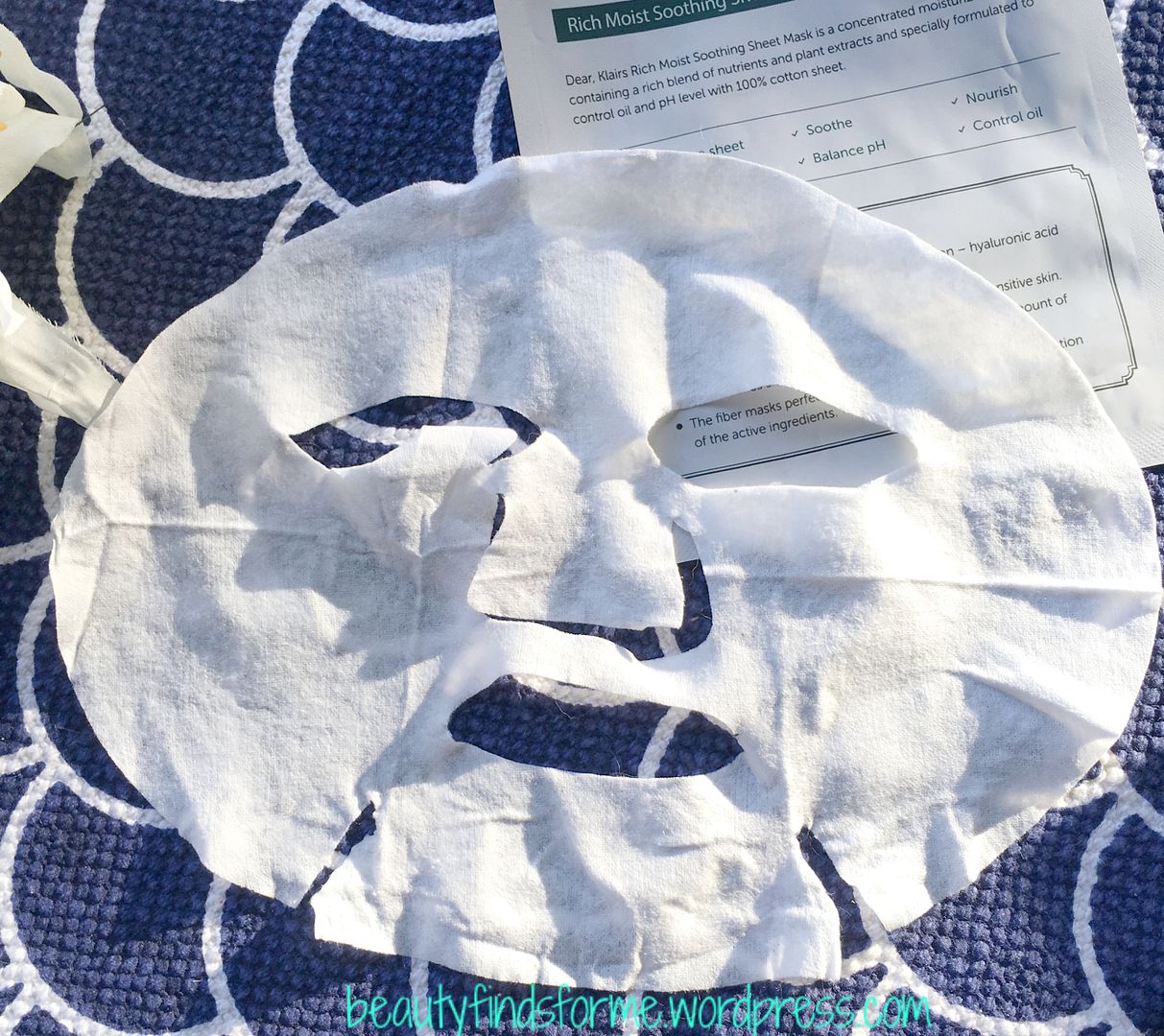 I am really kicking myself right now ~ if you knew how many of the Klairs Rich Moist Soothing Masks I have gotten in the past ~ as a free sample or filler in my Wishtrend orders ~ and how many times I GAVE IT AWAY because I was scared of the words "Rich Moist", you would groan in disgust.  This mask is a sleeper hit with me ~ I had NO IDEA how fantastic it is and I wanted to purchase some more at Wishtrend, but they are currently sold out!!  I guess I can use the serum and make my own masks in the meantime, but I certainly am not going to use as much essence as they did!   I think the biggest surprise for me was how cooling it was and how bright my skin looked afterwards.

Don't be afraid of the term "Rich Moist"!  I totally recommend these two items, even if you have oily skin like me!  I am sure that they work beautifully for normal/combo and even dry skin ~ although dry skin probably needs more moisture at the end.   Klairs does make a Rich Moist Soothing Cream, which might be great for drier skin than mine.  I will be reviewing the latest Klairs product soon at my blog ~ the Klairs Supple Preparation Lotion, which is more lightweight than the Rich Moist Soothing Cream.  I have a few sample foils of the Rich Moist Soothing Cream, so I will show you the texture and how it compares to the Supple Preparation Lotion at that time.

Where to Purchase
Wishtrend carries both the Klairs Rich Moist Soothing Serum and Mask individually as well as bundled into some amazing kits!
If this is your first time shopping with Wishtrend, you can save $5.00 off your purchase by using my friends referral number ~ 092847308  ~ and you will receive the coupon. Register first and enter the my code in the form labeled "friends invitation program" and wait for the coupon before you place your order.  Also, remember to save your welcome and any order emails from Wishtrend.  They usually have discount and free shipping codes just for your use in them, so you can save even more money on your next order!
You automatically receive Free Shipping with purchases $69.00 USD and over
Don't forget to check out Wishtrend's Free Shipping Product Selection

Wishtrend ships globally
[ some products received in exchange for a review. contains affiliate links for a small commission ]