[ disclaimer: product received complimentary for review purposes.  post contains affiliate links ]
Yes, I am going to talk about cotton pads.  I use 'em, you probably do as well, for things like removing makeup, applying skincare like toners and astringents and removing nail polish.  One of the issues that I have with cotton pads is the LINT factor ~ little bits of white lint all over my face and hands.  Another issue is that I go through a lot of cotton pads, especially when I remove my makeup and nail polish.   🐇🐰 White Rabbit sent me two of their boxes of cotton sheets ~ Plain (pink box) and Perforated (blue box) for review purposes and I am really happy with them.  White Rabbit manufactures their products in a dust free environment, which allows the sheets to be dust and lint free. 

White Rabbit  🐇🐰 uses only 100% unbleached cotton, which is grown free of pesticides and chemical fertilizers. They are not so much as pads, as tissue sheets.  They are folded up in a small rectangle, but you can unfold them into a larger rectangle.  A lot of this is standard stuff, but believe it or not, beauty lovers are really into their cotton pads and look for a nice soft and versatile pad, as it can also be used for sheet masking.  These come 200 to a box and depending on the type of pad your purchase, the box will be either pink (plain/smooth) or blue (perforated).  The box is very cute with its cotton design and it opens up to display all of the sheet.  It is a huge box, so I "decant" my sheets into a jar to leave in the bathroom. 
The sheets are folded up into rectangles that unfold into a 4×6 inch thin cotton sheet.  They are thin, which makes it invaluable to me!  I love a thick plush pad, but it is limited to what it can do and I do get tired of splitting them apart to get a thinner pad (yes, that is done quite  a lot!)  These do not need splitting, just a pair of scissors if you want to cut them up into smaller pieces. 
Didn't you ever wish your favorite toner or serum came in a sheet mask? You can make your own and I do go a step further by creating a custom "mask" with different toners and serums.    What I like to do is cut the sheet lengthwise ~ I now have my sheets for my cheeks and then take another pad and do the same ~ these will be used for my chin and forehead. I take a 3rd sheet and cut into four rectangles and only use one of the rectangles, folded over for my nose. Before I start masking, I find the toners and serums I want to use ~ yes, I create a custom mask based on my needs and issues that I want to deal with! This mask used 4 products ~ my sides of my face and forehead used a mixture of the It's Skin VC Effector and Whasmia Rich Moist Toner ~ which is another great way to use up your sample.   My nose and chin area, hot spots for blemishes, got 23.5N Oriental Beauty Tea Balancing Toner, which is great for blemish prone, oily skin.
To make sure that the cotton got enough product on them, I folded up the cotton in half, put some of my toner/mixture on it, then folded in half again, and put some more toner/mixture.  I then unfolded the cotton sheet, placed it on my face and then used a mist to really keep it moist ~ you can use water in a spray bottle too. It is just to make sure that if I had dry patches on the sheets, they will be moisten so it all sticks to my face. Since these are non perforated, these really hold on to liquids and do not dry out quickly, so be prepared to keep these on for at least 30 to 40 minutes.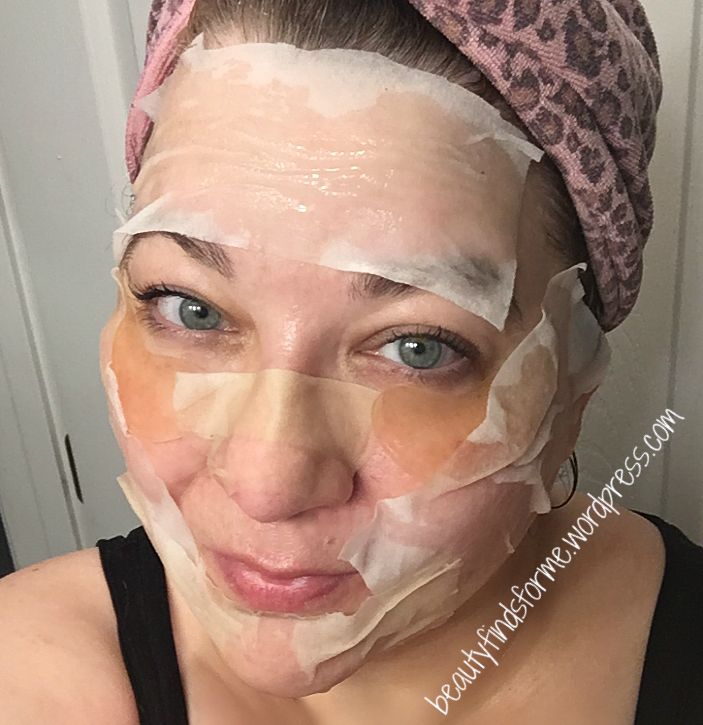 I then just remove the sheets and I wipe my neck and arms with them if they are still damp, before tossing  away.  My face is hydrated and received the benefits of the products I used and there is no lint left over!  I have used the plush pads where you split them in half, which are painful as they don't always stick very well along with the lint issue.  I have also tried the nice thin round pads, which are huge, have issues staying on my face because they are "stiffer" and cannot adhere well to the curves and contours of my face and they dry out very quickly.   White Rabbit Premium Cotton Sheets are thin enough to be used as a sheet mask yet really hold onto the liquid so it isn't drying too quickly. They are also soft, yet the material is strong, so it won't tear or break. If you choose to mask this way, I recommend cutting up some squares in advance so it is ready for you when you need them. This is a fun way to spot-treat mask your face while creating your own custom "formula"!
Other standard uses ~ I love using the perforated version for removing makeup.  My belief is that it is a "cleaner" way to remove your makeup than with a non-perforated sheet.  I think that the makeup pushes thru to the other side and therefore you aren't just swiping your makeup all over your face.  Just my theory…
The perforated version is also great for cleansing waters and applying astringents.  I usually use my hands to apply toners, but for astringent products, I use a cotton sheet as the astringent is also wiping away excess oil.
Nail polish removal is now a breeze ~ I used to use a lot of cotton pads or cotton balls to remove my nail polish and I would have to scrub really hard too.  I just use one cotton sheet, folded over, to remove all the nail polish off my hands.  As each side of the sheet gets dirty, I unfold and refold the sheet to a clean side and continue to wipe away my nail polish.  And, wait for it…. NO LINT.

Final Thoughts
I am really happy that 🐇🐰 White Rabbit sent these to me ~ they are very affordable and you get 200 sheets per box, which is a lot of product, considering that one sheet does the job of numerous pads!  I love that they are basically lint free ~ if there is lint, I haven't noticed it ~ and are made with 100% untreated cotton  ~ there are no viscose, rayon or other chemical materials used to make these sheets, so they are gentle for all skin types.  They are very absorbent and soft, thin and can be used for a variety of beauty tasks.  Have you tried White Rabbit Premium Cotton Sheets?   Do you make your own custom sheet masks ~ what are your favorite products to use?
Where To Purchase
Amazon
BB Cosmetic
Save 8% on your purchases at BB Cosmetic using promo code use YW36SVN21HU
[ disclaimer: product received complimentary for review purposes. post contains affiliate links ]