[ this blog post contains referral & affiliate links ]
Another great month from Yogi Surprise! What is Yogi Surprise?   

Yogi Surprise Lifestyle Box
6-8 full-size yoga lifestyle items

Vegetarian and GMO-Free

$70+ retail value in every box

$44.95/month + free shipping
This month's theme is "Creative Divine Mother" ~ This month's offerings help you remove negatively and inspire you with positive and balanced energy.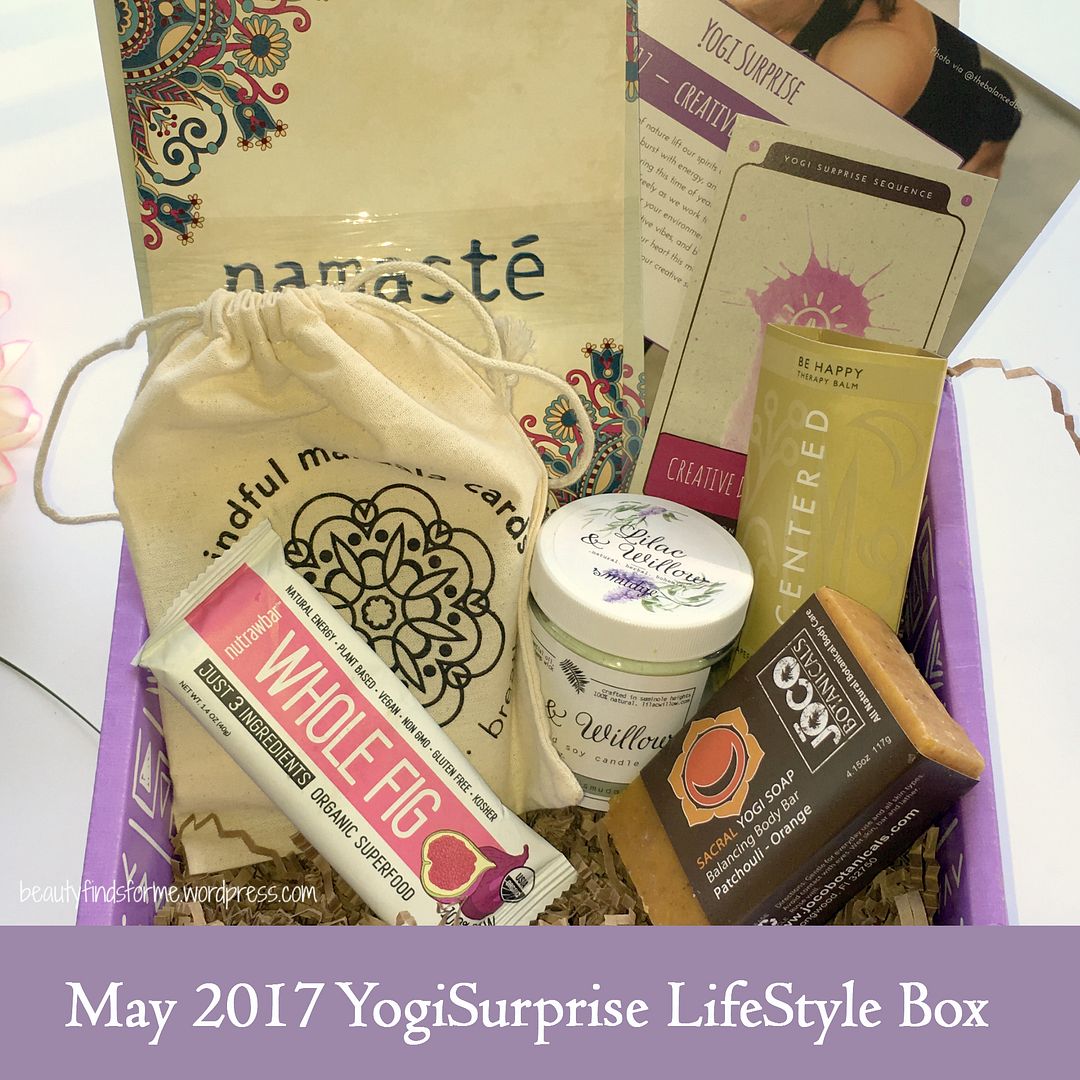 Informational Card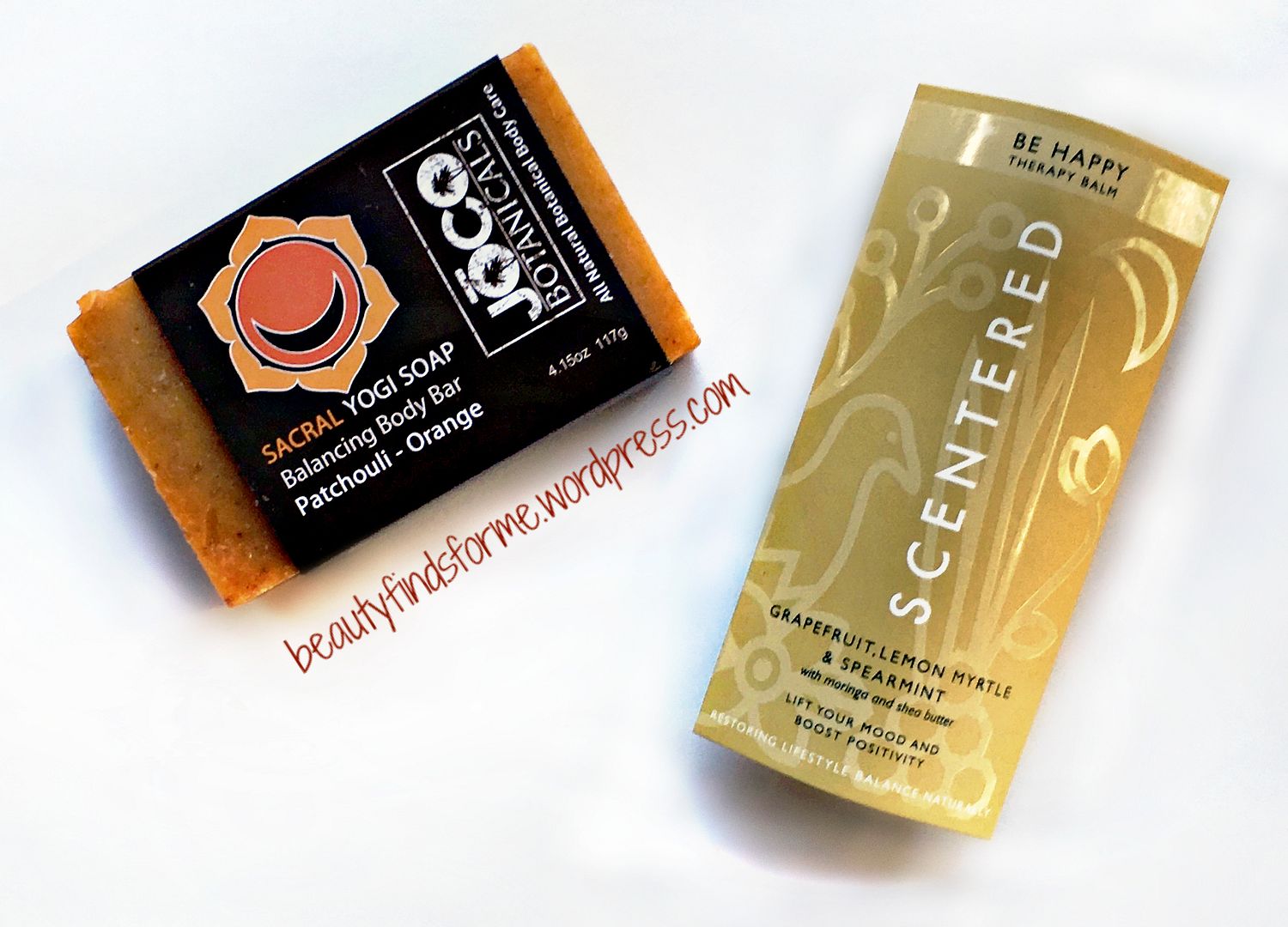 Joco Botanicals Sacral Chakra Yogi Soap – Balancing Body Bar – Patchouli & Orange This is a beautiful rich warm pumpkin colored soap ~ spices are used to color it~ and it smells like patchouli. It is not too heavy a scent, as I know that patchouli can be quite overpowering.  There is also orange, ylang-ylang and clove, and I can smell the ylang-ylang as that is also a stronger scent and a very faint orange scent; however, the clove is   lost to my nose ~ maybe someone with a better sniffer than me can pick out that scent.  Joco Botanicals makes a whole line of Chakra soaps and this Ayurvedic blend is for Swadhisthana ~ pleasure and sensation and connecting with others. This handcrafted soap bar is made with rich nourishing kukui and buriti nut oils, and is 100% natural.  All of Joco Botanicals products are made with eco-friendly 100% natural ingredients and are toxin-free.  4.15 oz RV $7.00  Promo Code:  Use NATURALS at Joco Botanicals and save 15% off your purchase
Description: An Ayurvedic blend of traditional, essential oils & botanicals unite to cleanse the body & balance the Sacral Chakra. The Sacral Chakra (Swadhisthana) is the body's center of sensation, pleasure & vitality where we rise beyond our basic needs to connect with others. A sensual melody of Patchouli, Orange, Ylang Ylang & Clove leaves you feeling alert, full of vitality & well-balanced. Paprika & Annatto give this bar its rich orange color. Blended in an energetic fusion of Carnelian & Quartz charged H2O.

Ingredients: Saponified Oils (Cocos nucifera (Coconut)*, Olea europaea (Olive)*, Butyrospermum parkii (Shea Butter), Ricinus communis (Castor Bean)* w/ Retained Glycerin), Aleurites moluccanus (Kukui Nut) Oil, Mauritia flexuosa (Buriti Nut) Oil, Simmondsia chinensis (Jojoba) Seed Oil, Carnelian & Quartz Charged H2O, Essential Oils of Citrus sinensis (Sweet Orange), Pogostemon cablin (Patchouli), Syzgium aromaticum (Clove), Cananga odorata (Ylang Ylang) & Styrax benzoin (Benzoin), Capsicum annuum (Paprika), Bixa orellana (Annatto Seed), Sea Salt.  * = Organic

Scentered "Be Happy" Therapy Balm with Eco Sleeve  I was confused with the whole eco sleeve description, but that just means this push-up, moisturizing balm is in an eco-friendly, cardboard sleeve container.  Be Happy is a limited edited scent, and it is a bright, sparkling mix of fresh citrus and minty essential oils ~ this is made with 100% therapeutic oils and rich, moisturizing moringa and shea butters which helps deliver longer lasting fragrance . I know it is called a therapy balm, but this is a perfume balm stick ~ you apply it to your wrist at the pulse point and then breath in deeply ~ since this has mint in it, it also helps me and my sinuses!   This is a very refreshing and uplifting scent and it does help alter my mood as well   Do not use this as a lip balm ~  It is a perfume balm and should be treated as such. Made in England, Scentered makes several of these therapy balms to target different moods ~ The Focus and De-Stress look really interesting to me.   5 grams RV $24.00  Promo Code:  Use YogiS17 at Scentered and save 10% off your purchase.  Expires 08/31/2017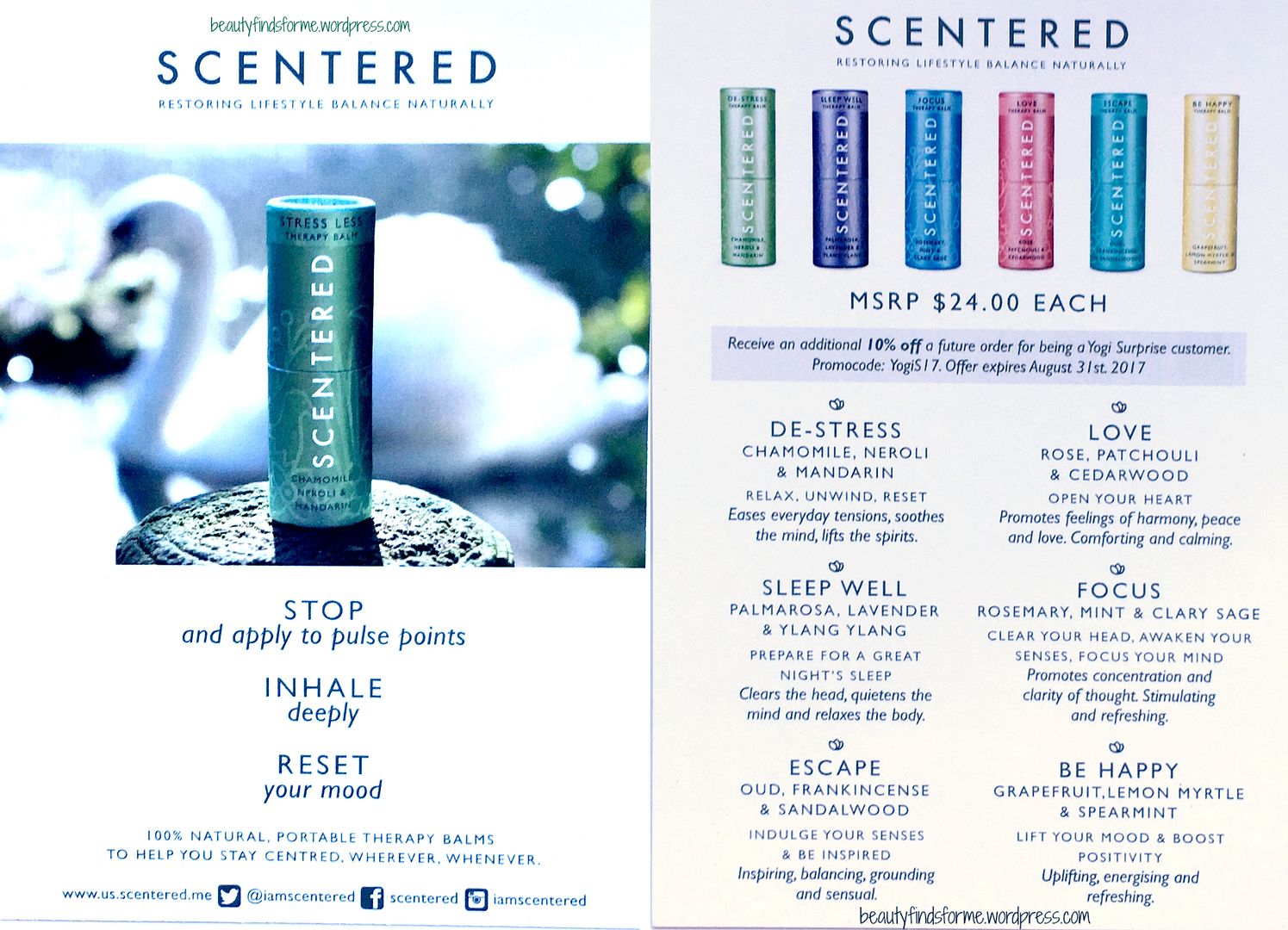 Description: A sparkling, aromatic citrus blend, with bright top notes of Pink Grapefruit and Green Mandarin, softened by warm, floral notes of Tagette and Neroli. A zingy accord of Lemon Myrtle, Spearmint and Aniseed brings a minty effervescence to the blend, whilst Petitgrain and Cedarwood add strength and depth.

Ingredients: coco-caprylate/caprate, euphorbia cerifera (candelilla) cera, butyrospermum parkii (shea) butter, parfum (fragrance)**, copernicia cerifera (carnauba) cera, cera alba (beeswax), moringa oil/hydrogenated moringa oil esters, tocopherol, helianthus annuus (sunflower) seed oil, limonene, geraniol, linalool, citral, benzyl benzoate, benzyl alcohol, citronellol, benzyl cinnamal. **100% natural essential oil blend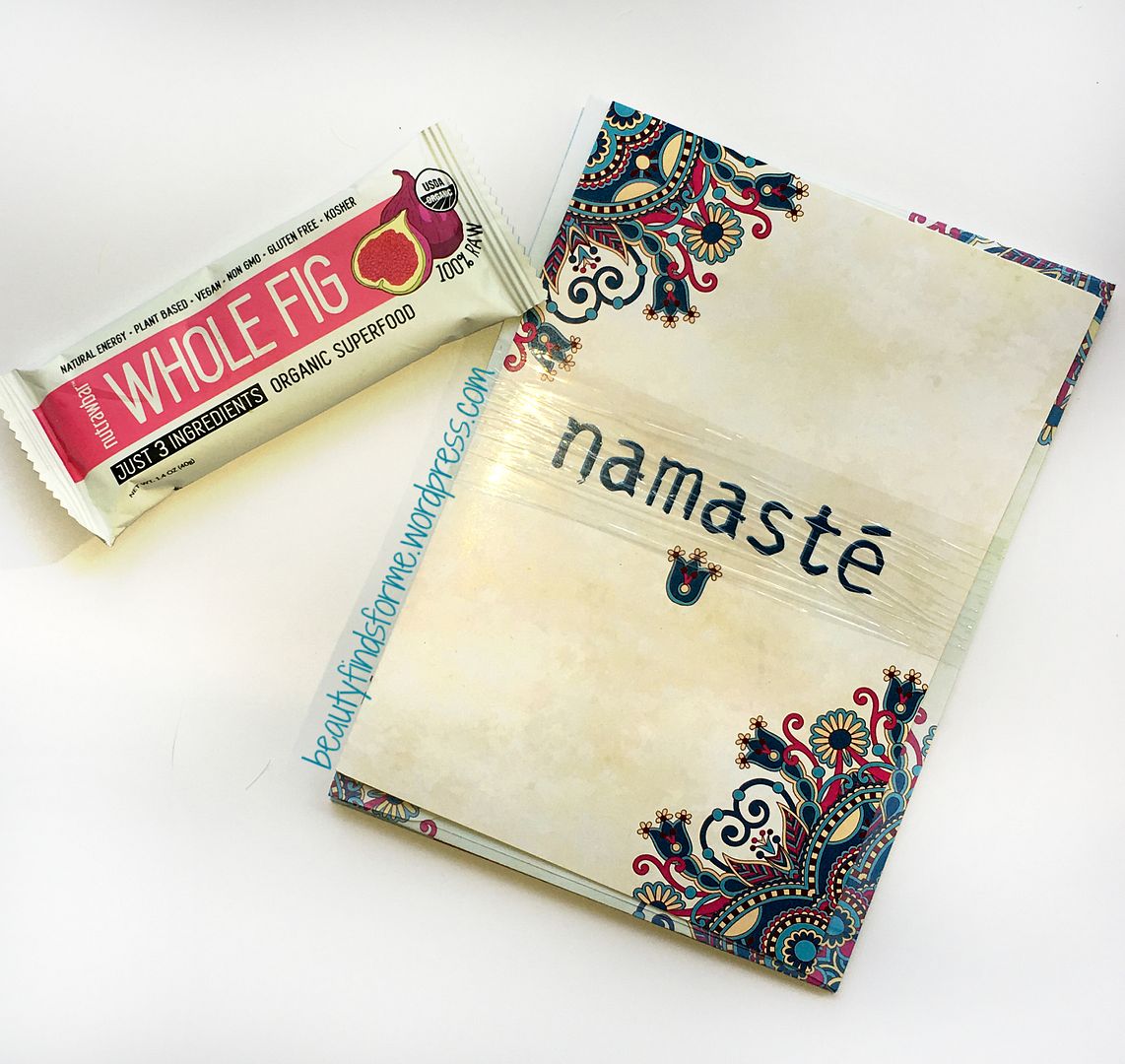 NutrawBar Whole Fig   Haha ~ I brought this to work as a snack and shared it with two of my co-workers because I felt it was rude to eat in front of them when they were visiting my office.  They both LOVED it and one of them actually asked for the wrapper as he wanted to purchase some!  This is delicious ~ think of a fig newton without the cookie part and much better ~ it was moist and chewy, with a bit of crunch with the fig sees and almonds.  I wasn't able to get a picture of it as it was eaten so quickly 😀  This is only made with 3 100% raw, organic ingredients  ~ whole figs, almonds and extra virgin coconut oil.   This contains 3 grams of protein, 5 grams of fiber, potassium, calcium and vitamin B6 ~ this is a great snack bar and I love that it has some fiber in it, as Americans do not get enough fiber in their daily diet. This bar is gluten free, dairy free, soy free, USDA certified organic, vegan,  certified raw ingredients with non-GMO. 1.4 oz  RV $3.oo Promo Code: Free Shipping on all Amazon Prime Orders.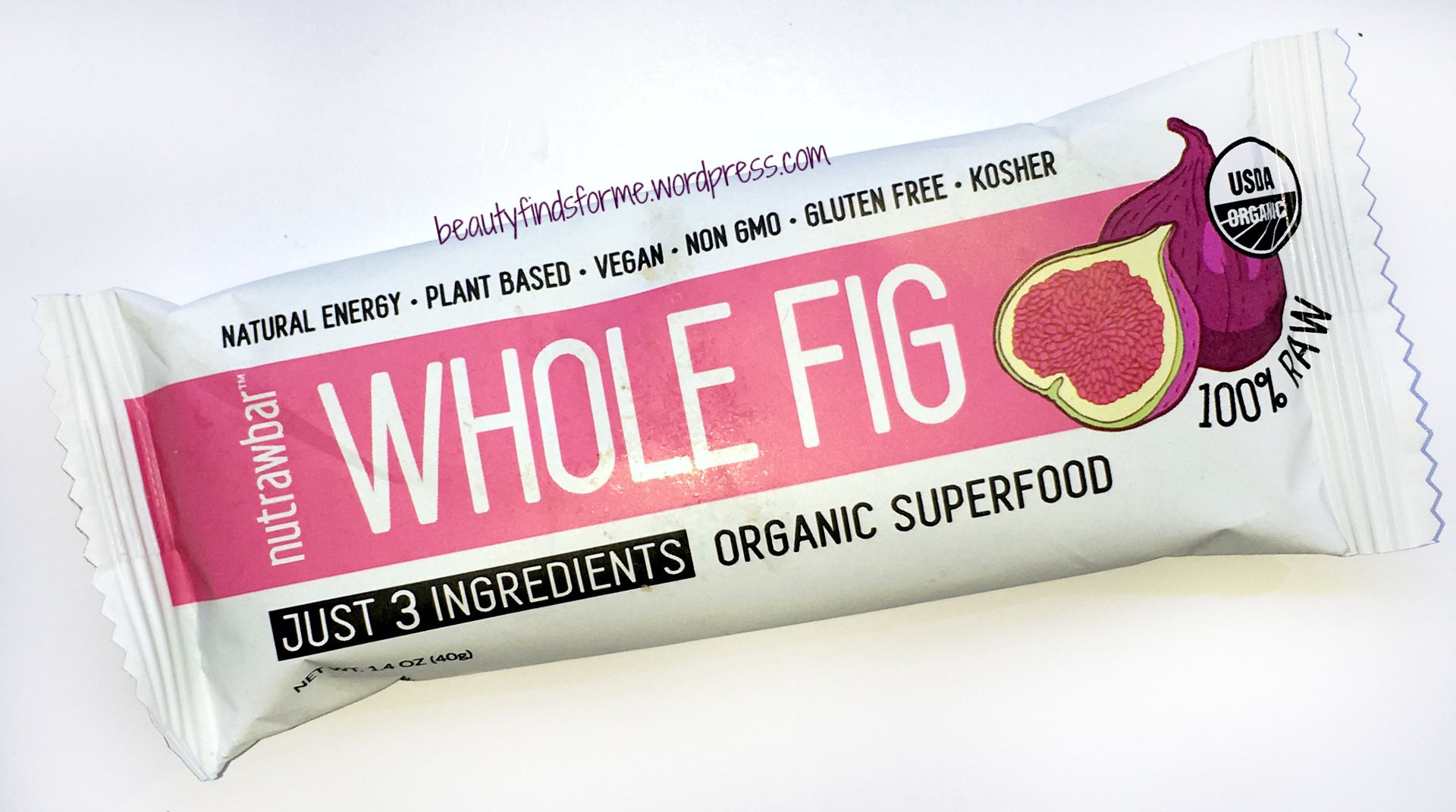 Tree-Free Greetings  Three lovely eco-friendly greeting cards~ printed on paper made from bamboo, hemp, bagasse and recycled paper, the colors on these cards are bright and vibrant as well.  These are made in the USA and by purchasing Tree-Free, you are saving trees and lowering the carbon footprint, reducing landfills and less chlorine in our rivers and lakes, and greenhouse gases.  I have been looking at their range of cards and they have some beautiful and stunning designs ~ even the envelopes match the cards!!  The 3 cards received in this months box are (starting from top left, clockwise)
Soul's Joy:  This is a birthday card that has the message of  "The soul is here for its own joy" on the outside, with the greeting of "I wish you a birthday that fills your soul and makes your spirit sing" on the inside.  Featuring a deep blue butterfly against a gold and brown background with a lighter blue envelope.

Namaste: Against a cream colored background, colorful floral designs and swirls with the caption "namasté" on the front and inside "my soul honors your soul"  A matching envelope with the same paisley design. 
Divine Connected Strong: This has a Buddha on a background of warm golds, rusts and maroon and a lotus flower, along with Chakras ~ Divine, Connected, Expressive, Loved, Strong, Joyful, Rooted.  This is a blank card inside, so you can set your own greeting.  The envelope is tan with a lotus flower.

These cards are really stunning in person and my photos cannot do them justice.  Tree-Free uses solar power to print their cards, paper is made with wind power and they are Green e-Certified.  RV $9.00
Mindful Mandala Cards  So, this is a twist!  I have Mandala coloring books and inspirational,  motivational cards, but this product combines those two types of products together.   This is a set of 24 cards and on the back side, is a motivational and reflective expression.  On the front side is a mandala design which you can color in.  Coloring has now become a popular adult hobby as it is reduces stress and I also think that it brings us back to a more innocent, happier time in our lives.  Innocent as in thru a child's eyes, not that the time period was innocent.  These cards come in a nice cotton drawstring pouch with a mandala design on it.  The cards are made from a heavy-duty card stock and they measure 3.5 x 3.5 inches.  These didn't come with coloring pencils, which it looks like it is sold with them. Set of 24 cards.  RV $20.00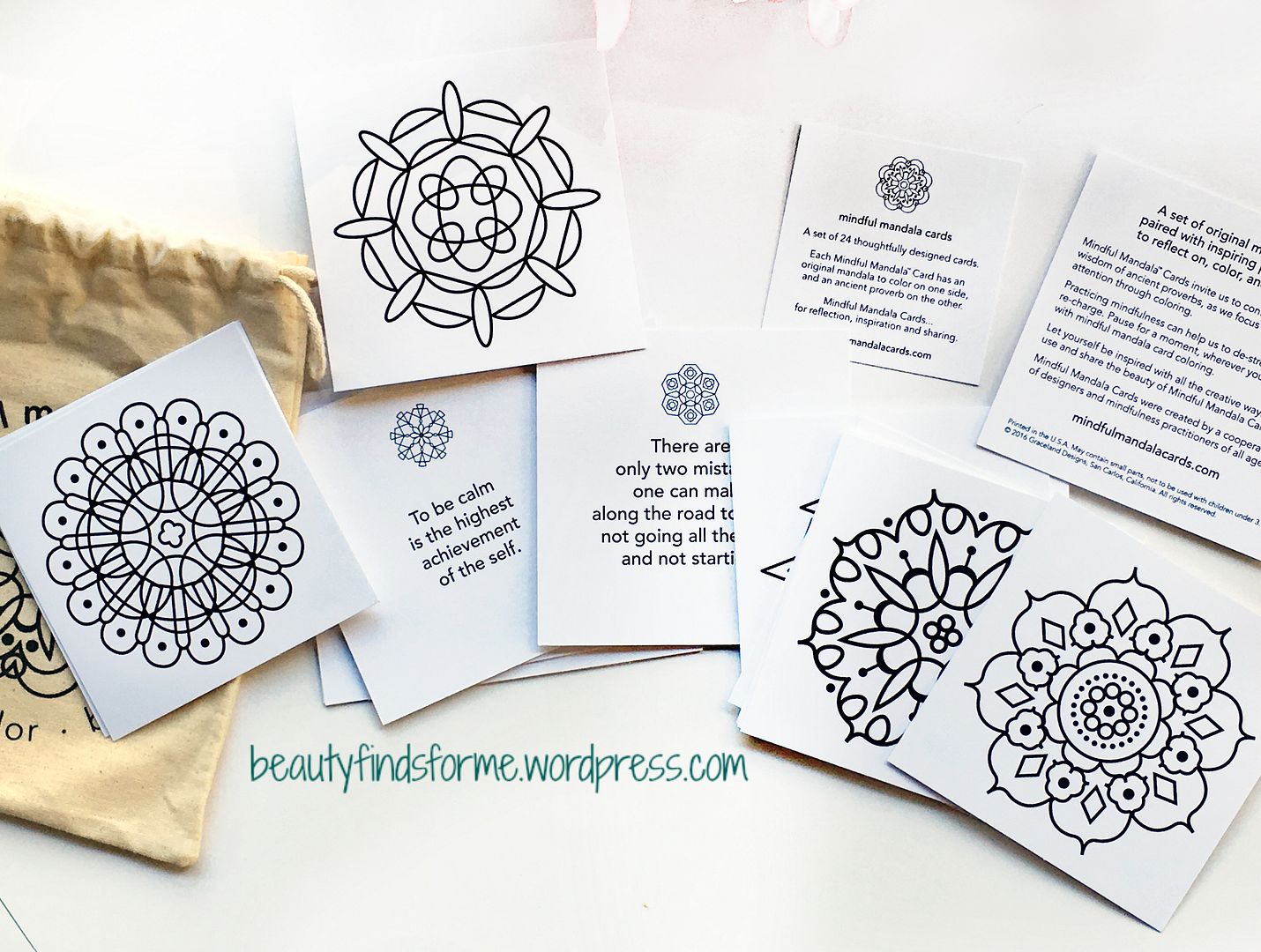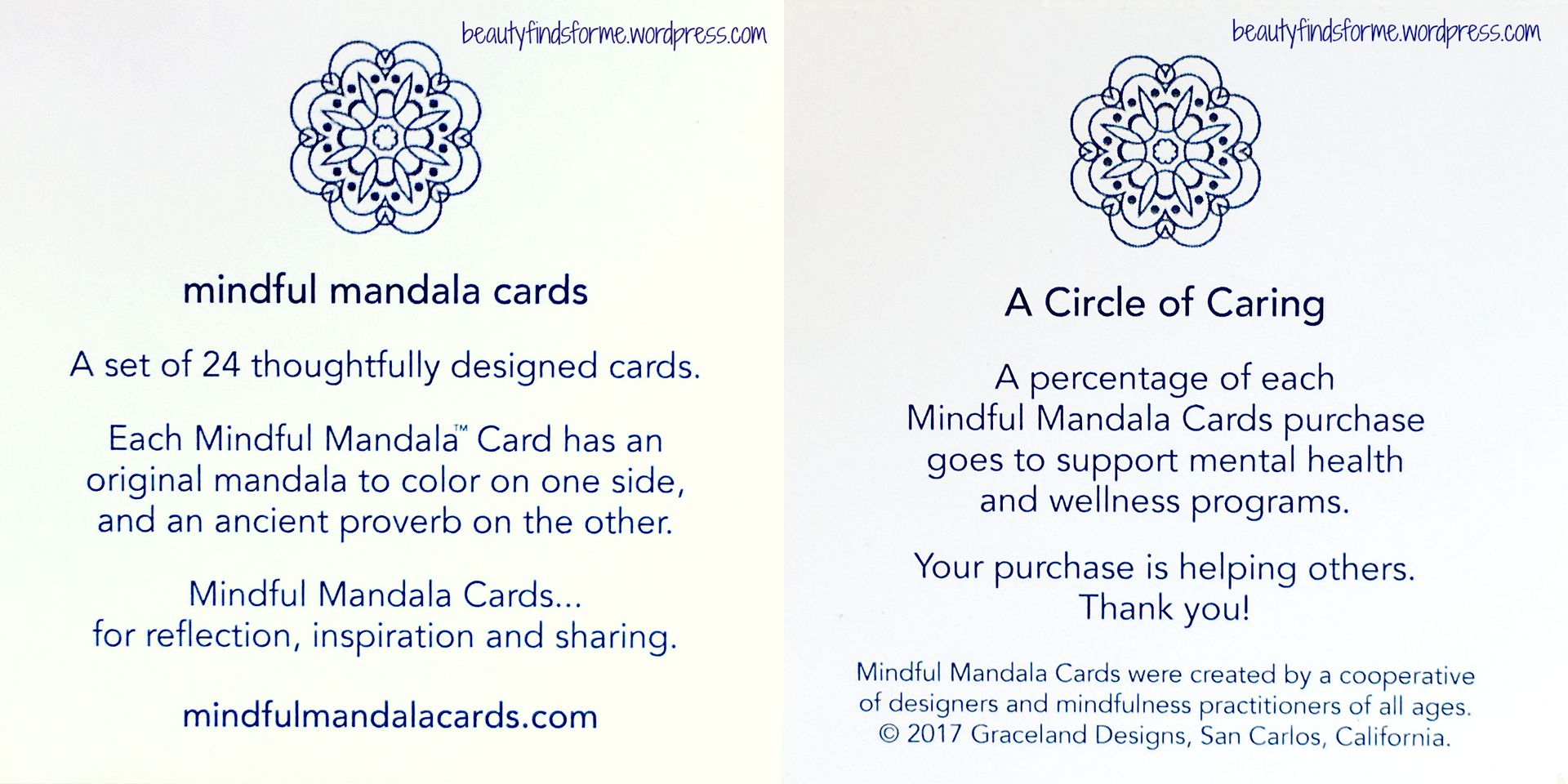 Description: Each set contains a variety of mandala styles – pick one that suits you in the moment. Mindful Mandala Cards are less intimidating and time-consuming than large format adult coloring books. Tuck them in a purse or backpack. Keep a set in your car. Mindful Mandala Cards are also meant to be shared. Color together with friends or family. Give a completed one to someone special.  Just as a mandala represents the never-ending universe… so are we all connected. A percentage of each Mindful Mandala Card purchase will go to support mental health and wellness programs. Your purchase is helping others. Thank you! Mindful Mandala Cards – mini-meditations on the go! 
Lilac & Willow Soy Candle in "Smudge"   This simple looking candle has two layers ~ one of a creamy soy base and a top layer of a sage green colored soy wax, which I believe they used spirulina to get that color.  Take off the screw top metal lid and there are herbs and flower petals scattered across the top.  This hand poured 100% soy candle smells like cedar and lavender to me ~ it is so soothing and herbal.  Lilac & Willow uses pure, aromatherapy grade essential oils with herbs, flowers and tops it off with a hemp wick for a clean burning candle.  They also suggest that once the candle is warmed up, dip into it and use it as a skin moisturizer for dry elbows and knees!  Lilac & Willow make other items besides candles and they are an eco-friendly, vegan shop.  4 oz RV $18.00  Promo Code: Save 20% at Lilac & Willow with code YogiLove.

Description: Smudge- This is exactly like lighting one of my wildflower smudge sticks, but in a candle. It's a really beautiful earthy, herbal scent featuring notes of sage, lavender, and cedar. This would be a perfect candle to burn in the place of a smudge stick, as the essential oils do have the same antibacterial, cleansing properties.
Bonus Item: Yogi Surprise Yoga Sequence Series Card: Creative Divine Mother: Let Mother Nature guide you as you open your heart this month and embrace your creative side Yogi Surprise always has a sequence card in every lifestyle box with poses and positions that reflect the theme of the box.

This is a really fantastic box this month ~  a lovely candle, coloring cards, perfume stick, moisturizing soap, yummy treat and beautiful colorful greeting cards.  This month was scent heavy, I noticed, but I love these types of scents, so I didn't mind that I received several products in different fragrances.  This month's box has items that I will use right away, so I am happy about that!  This box has a retail value of $81.00. Do you subscribe to Yogi Surprise Lifestyle Box?  What was your favorite item this month?

If you are interested in signing up to Yogi Surprise for either their Lifestyle or Jewelry box, I would love it if you used my referral link   They are currently running a 10% off special for the first month, no promo code needed.   Check out the spoilers for next month's boxes below!    If you sign up for the Lifestyle box, use YOGILOVE to get 15% off the life of your subscription!

Next Month Spoilers

If you sign up now, you get a free gift worth $20.00 ~ Chakra Healing Stones  (these came in the May box ~ see my unboxing here)
Jewelry Box  Summer Lotus/OM Necklace $41  As we prepare for the arrival of the Summer Solstice next month, we want to offer you a jewelry piece designed to promote calmness, balance, and peace during this stimulating time of year. Our Summer Lotus/OM necklace features summery violet and white colors to help you open your crown chakra and connect deeper with yourself. Adorned with beautiful amethyst stones, we'll be encouraging you to wear this piece whenever you need to tap into your intuition for greater inner strength as you plan to take on new and exciting adventures this summer. + one more handcrafted jewelry piece and decadent chocolate treat!

Lifestyle Box  Adora Mood Boost Chakra Roll On  $12  Bring yourself back to a place of balance with this all-natural roll on designed to open your chakras and stimulate your senses. A lovely natural alternative to perfume, its unique blend of essential oils, absolutes, and gem and flower essences will get you back to your healthy center.
The Chakra Bible $14.99  Dive into the pages of this book to get acquainted with every aspect of chakra work and learn how to open these energetic hotspots in your body. Whether you're a beginner or seasoned yogi, understanding the spiritual power of the seven chakras can help you take your creativity to new heights — both on and off the mat.
[ all descriptions in italics from linked website.  this blog post contains referral & affiliate links ]