[ disclosure: product received for review purposes. contains affiliate links ]

I got my April box just a couple of days ago and I am glad I was able to post my unboxing before May!  lol  The theme this month is "Fun in the Sun"   Peaches & Petals is a subscription service that is focused on lifestyle and beauty products.  From their website  "Experience our world of fun, flirty and fashionable vintage-modern lifestyle in a hand-curated box delivered to you each month"  This box was sent to me for review purposes from Peaches & Petals and I thank them for their generosity as always 🙂  I am always appreciative of companies who look for honest feedback on their services.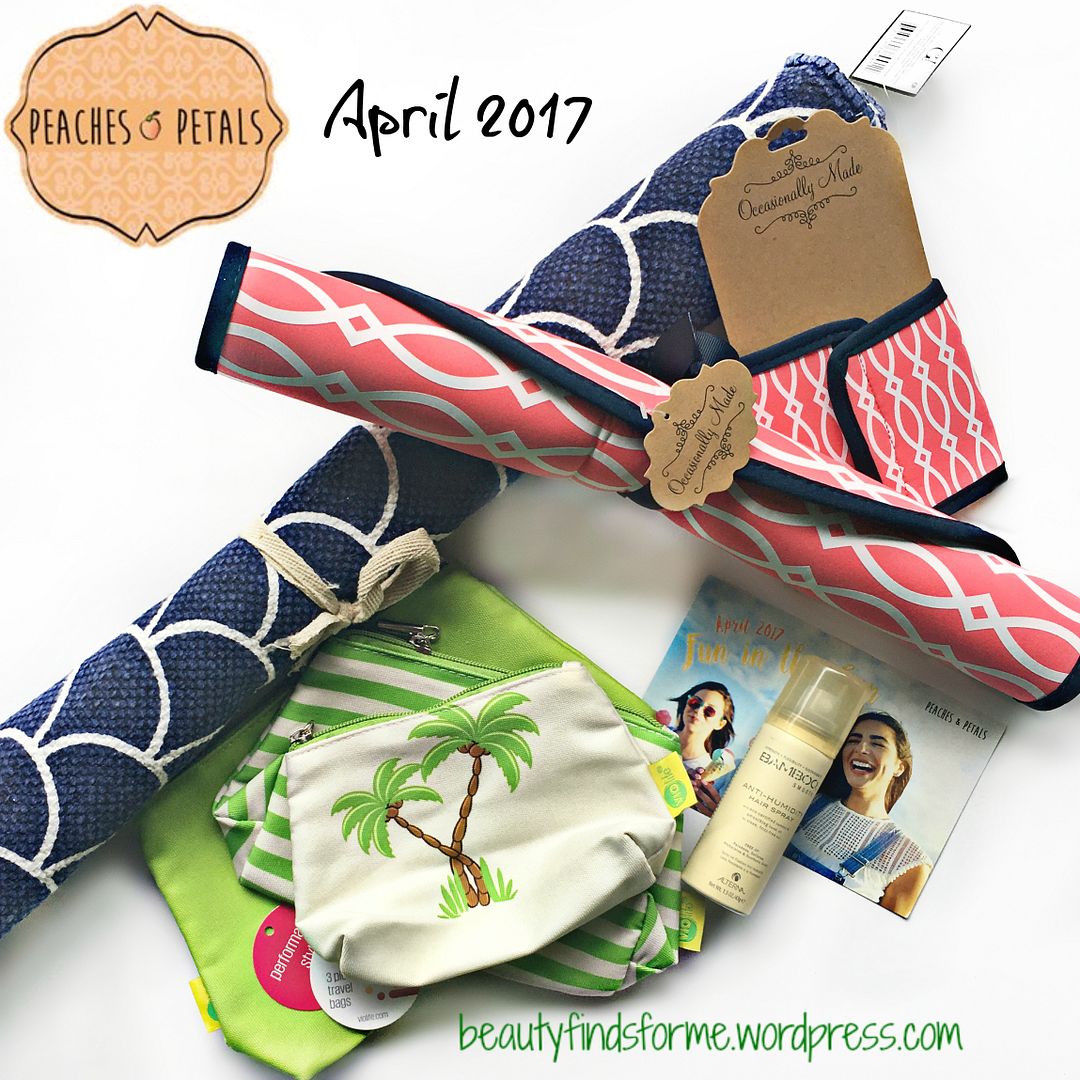 Informational Card
There wasn't much information on this card other than "Fun in the Sun" ~ this is the 2nd month in a row where Peaches & Petals has kept us guessing about the contents and this month, there was a doozy!
Explanation on valuing products:  Since Peaches & Petals does not give a value on their products,  I normally will use the Retail Value from the vendor's site or an average if I find the product on multiple sites with varying prices.  Subscription boxes are usually basing their value on Retail Value, not Markdown or Sale Values.  With that in mind, you can usually find products for less, just like anything else in the marketplace.
G for Gifts Navy Blue Accent Rug Okay, so a couple of rolled up products here!  This is a beautiful 100% cotton cloth, that can be used as mini picnic table cloth ~ if you are doing a small spread on the ground or as an accent rug as well.   This measures 36 x 24 inches and it is actually in a deep navy blue patterned with what I see as Gingko leaves, but I can also see fish scales too.
Not only do I love the pattern and color, I also like this because it is machine washable (lay flat to dry) and it is finished off nicely on all four sides ~ no unraveling here!   Based on what I find on Target and other home good sites, this probably has a RV of between $15.00 and $20.00.  This item was actually the variation in the Peaches & Petals box, as I saw one with a Mermaid sign.   I am glad I got this instead.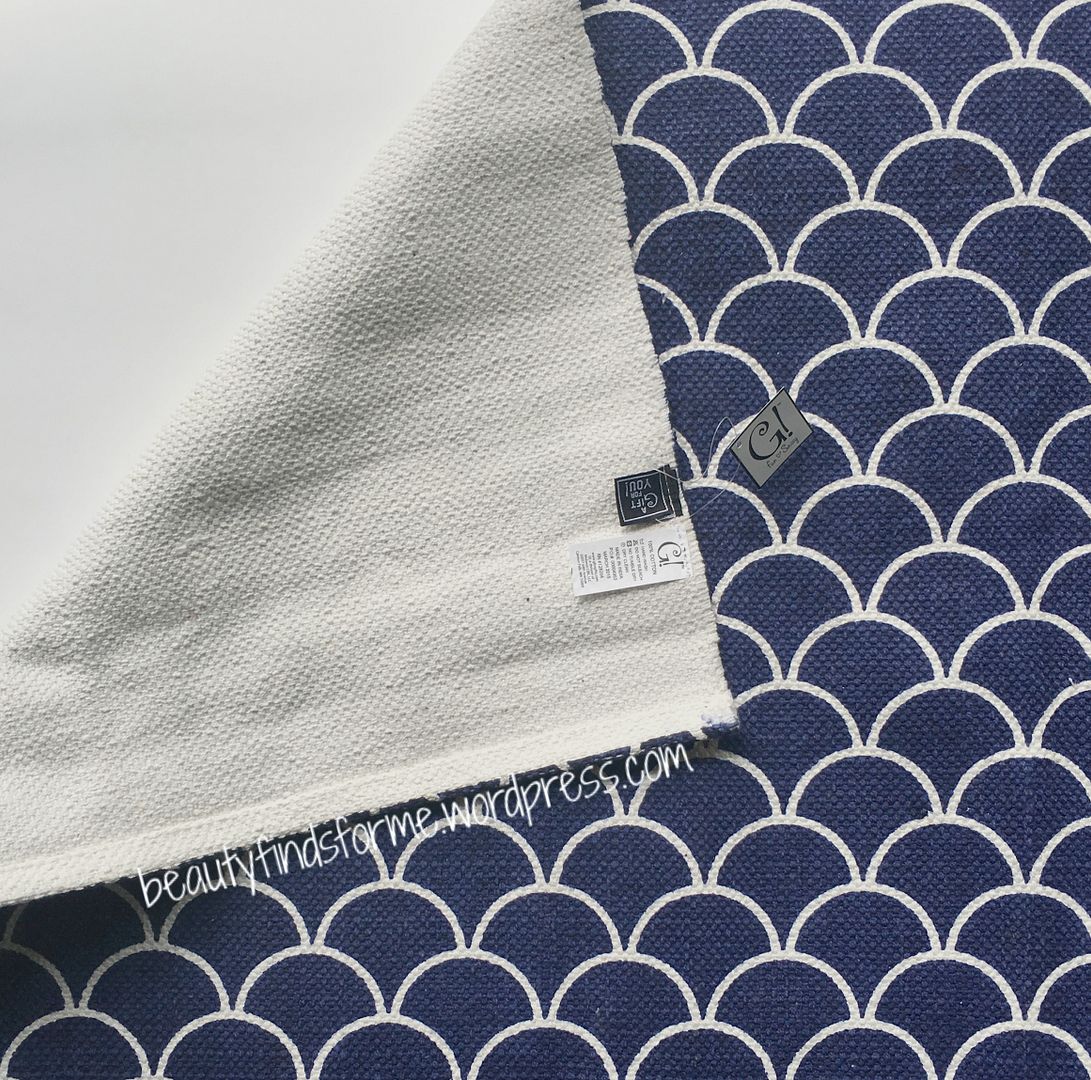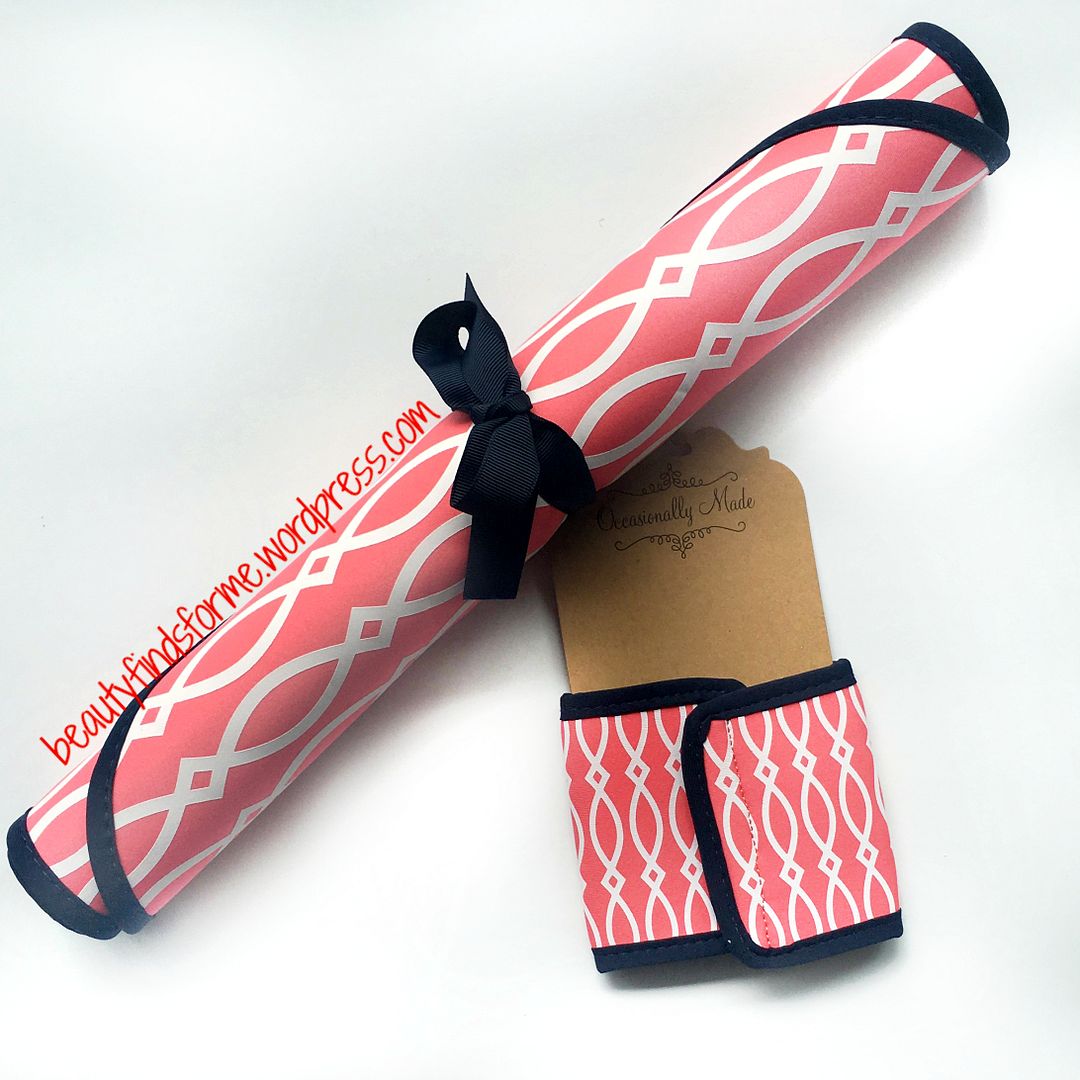 Occasionally Made Booty Buddy Pool Mat    This took me a bit of time to figure out what it was!  Thankfully, Occasionally Made makes a lot of these, so I found it and then thought ~ great idea!  This is a 22 x 16 inch mat made from Neoprene and is slightly padded for your booty!  It allows you to keep your bathing suit bottom dry and protected by the pool or at the beach. 
I can also see this being really handy for outdoor events too ~ this rolls up and has an attached ribbon tie, so it is slim to carry and put in your bag.  It is waterproof and also machine washable, just lay flat to dry.  I really like this a lot, even though at first I thought  ~ TWO rolled up mats?  This is in a pretty coral and white Ikat design and you cannot really tell in the photos, but the edging, ribbon and flip side of the mat is in a deep dark navy blue, which matches back to the woven cloth rug/mat!   RV $15.95

Occasionally Made Velcro Insulated Coozie Now I do know what this is!  You wrap this around your can, bottle or glass to keep your drink cold while not freezing your fingers.  These have a velcro closure, so it will fit several different sized containers.  This is also machine washable, lay flat to dry and is water-resistant.   This measures 9.5 x 3.75 inches and is in the same coral and white print with dark navy blue backing.  RV $6.95
Alterna Bamboo Smooth Anti-Humidity Hairspray  I love hair spray ~ I have fine hair and lots of it, so I use hair spray to keep some volume in it. Otherwise, my hair just flops over and lies there.  This is perfect for the warm months as it is an anti-humidity spray and in Boston, every day is humid in the summer!  This is a weightless, ultra dry spray that has a flexible hold and contains organic bamboo and kendi oil to help strengthen, smooth and lock out the frizzes.  It is safe for color treated hair as it protects it with its patented Color Hold Technology.  This is a great size to put in your bag and touch up when needed   Deluxe Size 1.5 oz RV $8.00
Ingredients: Cyclopentasiloxane, Alcohol Denat., Phenyl Trimethicone, Phospholipids, Bambusa Vulgaris Extract, Polysilicone-15, Superoxide Dismutase, Panthenol, Phyllanthus Emblica Extract, Glycerin, PEG/PPG-18/18 Dimethicone, Helianthus Annuus (Sunflower) Seed Oil, Saccharomyces/Magnesium Ferment, Saccharomyces/Copper Ferment, Saccharomyces/Silicon Ferment, Saccharomyces/Zinc Ferment, Saccharomyces/Iron Ferment, Citrus Aurantium Dulcis (Orange) Oil, Water, Fragrance , Benzyl Salicylate, Linalool, Limonene, Geraniol, Citronellol.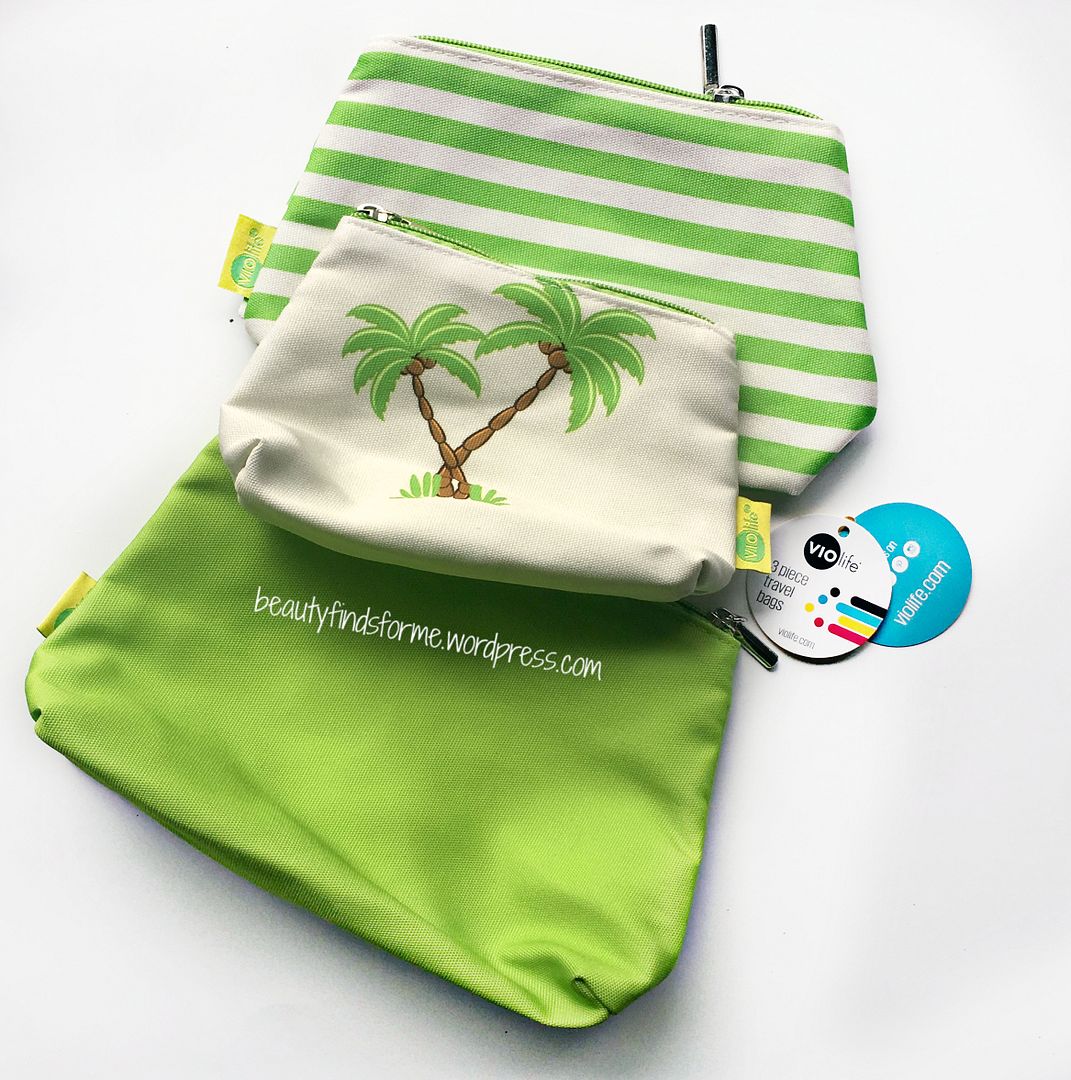 VioLife 3 Piece Travel Bags  These are so summery and cute ~ mine is in Pineapple Green and features a large bag (8 x 3 x 5-3/8 inches)  in a bright solid lime green and can hold up to 4 pounds; a medium bag (7 x 2.75 x 3.75 inches) in bright green and cream stripe ~ it can hold up to 3 pounds and then finally a small bag (6 x 2 x 4 inches), holding up to 2 pounds, with a tropical palm tree design against a cream background.  The shell is made from canvas and they actually expand out on the bottom, so they can sit up straight once you fill them up. These are all fully lined with a water resistant nylon lining in a lime green color and they zip up fully with a silver tone zipper pull.  These are great for taking on vacation or fill up as an emergency kit for your car.  RV $9.95
Final Thoughts
This wasn't as fun as last month's box, but I really did like this one once I figured out the rolled up items! I actually think this box is like an accessory items for picnics and beach going ~ you have the coral/navy blue mat to sit on, you have your drink holder, your food is placed on the navy blue cloth and you have your little travel bags, filled with summer essentials, such as sunscreen, lip balm, sunglasses and your new anti-humidity hairspray!  lol    Peaches & Petals monthly subscription boxes are $19.99 a month and that includes shipping.   This month, the box looks to be of  a retail value between $56.00 ~  $61.00 in retail value.  Many thanks to Peaches & Petals to sending this me for review purposes ~ I always look forward to seeing what P&P puts in their boxes! Did you receive this month's Peaches & Petals box?  What was your favorite item and what do you think of it?  I think the ginkgo navy blue cloth is my favorite.

If you subscribe to Peaches and Petals currently, you could win a Jumbo Unicorn pool float by entering in their giveaway.   
If you would like to subscribe to Peaches and Petals, I wold love it if you used my referral links!

[ products were received complementary for review purposes.  All opinions are my own and are unbiased.   ]
[ Blog post contains affiliate links and referral links. Descriptions in italics from linked site ]