[ disclaimer: products received for an honest & unbiased review. contains affiliate links ]
I am a huge fan of @SkinfullOfSeoul's IG feed and she had posted a photo of herself using this cool looking mask, that had little "leaves" on it.  I found out it was by the brand A. by BOM and was immediately interested in trying this product.  A. by BOM sent me not only their latest products from the Super Power Baby Ultra line, but all of their products that they currently have!  I am so grateful for AA. by BOM's generosity!
A. by BOM uses showcases ingredients from natural vegetable and botanical  ~ such as using autumn grains which will help nourish and revive dull, tired skin; floral extracts that will create firm, toned skin that is elastic and soft and seed oils, giving nourishment to make your skin glowing and radiant.  A. by BOM believes that the beauty of Korea is the world's best, constantly looks to improve and bring better, unique products to their customers and listens to their customers needs.   A. by BOM has an adorable mascot ~ a little girl with rosy cheeks and clear skin.  Sigh, don't we wish we could have the skin of a 5 year old again?
Skin Type and Concerns:  Oily, blemish prone with aging concerns of fine lines/wrinkles and hyper pigmentation.
To help tell the difference between a fake and a real A. by BOM product, A. by BOM has put instructions and a security code on each of their products.  Download the M-Check app on your mobile device and then scan the security bar code on your package to verify.  If your product doesn't have this security code, you have a fake item.
Ultra Watery Eoseongcho Cleanser  I was really excited to try this cleanser as I learned that Eoseongcho  ~ pronounced EO/SEONG/CHO [ə / sʌŋ / tʃoʊ] ~ is houttuynia cordata.   Houttuynia cordata is a medicinal herb that is found in a lot in Asian skin care products. It is an antibiotic, which helps with preventing infection from skin problems, such as blemishes. It also has powerful detox properties and will help purify your skin, act as an astringent and as it is an anti-inflammatory, will provide soothing care for your skin.   It is also known as "medicine buckwheat" as its leaves resemble buckwheat and it is a natural insect repellent as well.  This cleanser contains 10,000ppm of eoseongcho.  This also has some very good hydrating, moisturizing and anti-aging ingredients
Salvia hispanica (chia seeds) are an antioxidant and is used to hydrated your skin. They also contain omega-3 fatty acids, so it will help calm your skin as it is an anti-inflammatory.
Camellia Japonica seed oil is also a powerful anti-aging ingredients as it contain antioxidant compounds. Camellia help product your skin from the damaging UV rays of the sun, as well as other environmental damages, and will result in radiant, glowing skin.
Camellia sinensis leaf  (green tea) is full of powerful anti-oxidants, due to its high concentration of polyphenols.  Green tea helps reduce the appearance of fine lines and wrinkles.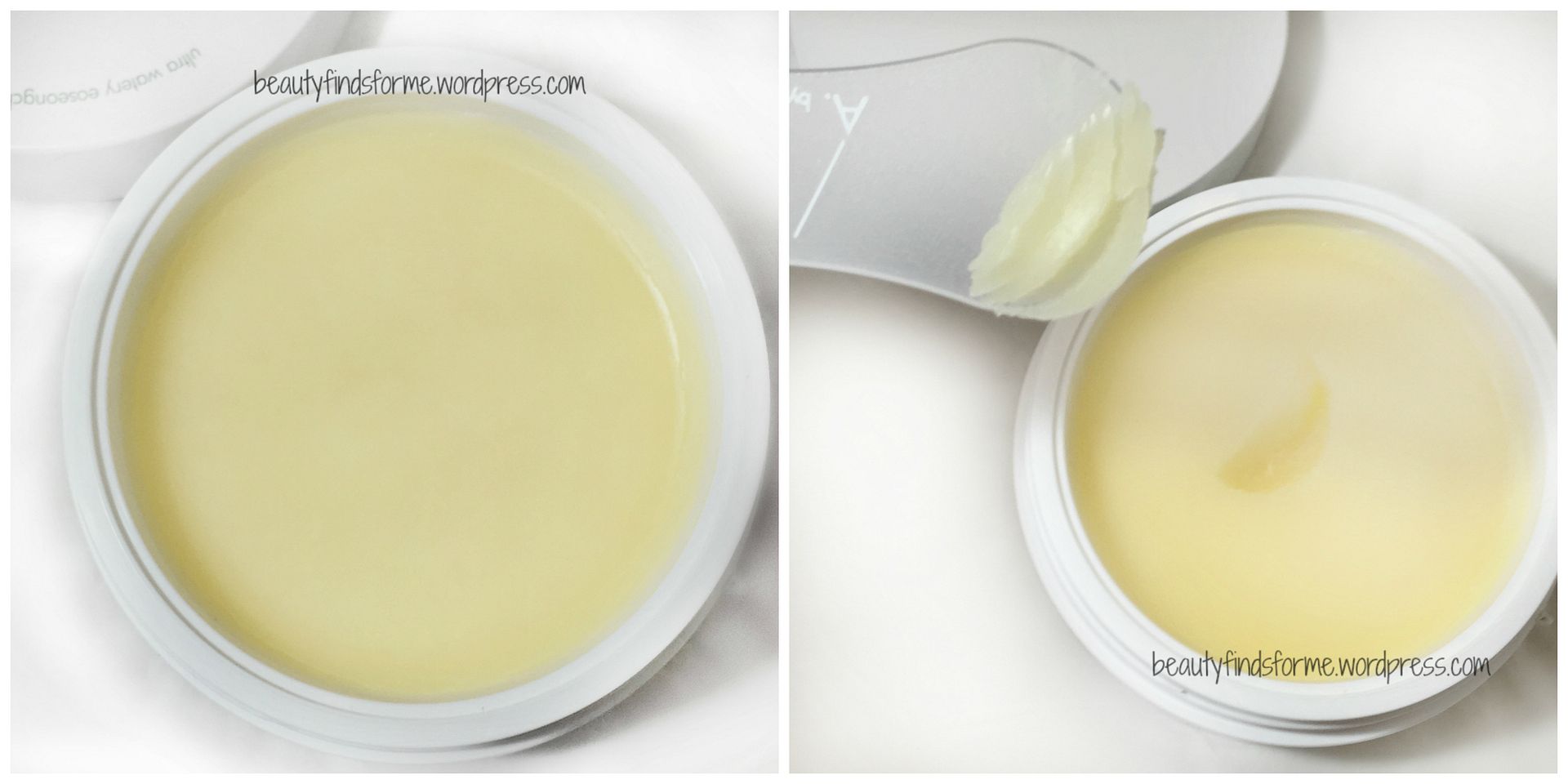 This oil balm cleanser will remove makeup, dirt and oil, dead skin cells and provide pore and sebum care, while soothing and calming your skin.  All I know is this ~ I love this cleansing balm!  It is my favorite oil cleanser now to use as step 1 of the 2-step cleansing method ~ for those who don't know, the 2 step cleansing method is to use an oil based cleanser to remove makeup, sunscreen and dirt from your skin, rinse off and then follow up with a gentle foaming or cream cleanser to remove any oil residue.  It really helps deep clean your skin.
This cleanser has a really nice herbal-floral scent to it and unlike most cleansing oils/balms, it really doesn't turn milky white when you add water to it.  It does emulsify, but the color pretty much is clear.   It doesn't sting my eyes, which is fantastic as most of my heavy makeup is on my eyes ~ stubborn mascara and long wearing eyeliners.  It does a fantastic job cleansing and bonus ~ the scent is a light herbaceous floral.   My skin is not tight, dry or stripped after I rinse this off, as it is moisturizing ~ however, it doesn't leave my face feeling greasy or oily ~ just soft and smooth.  Really cleans out my pores too.  I also love the scapula that comes with this ~ it is flat and broad, so it is easy to pick up and scoop up the balm from the jar.  Speaking of jars, this cleanser comes in a simple, elegant cream-colored 100 mL container that has a slightly pearlized finish.  It has a nice weight to it and I really love the elegance of it.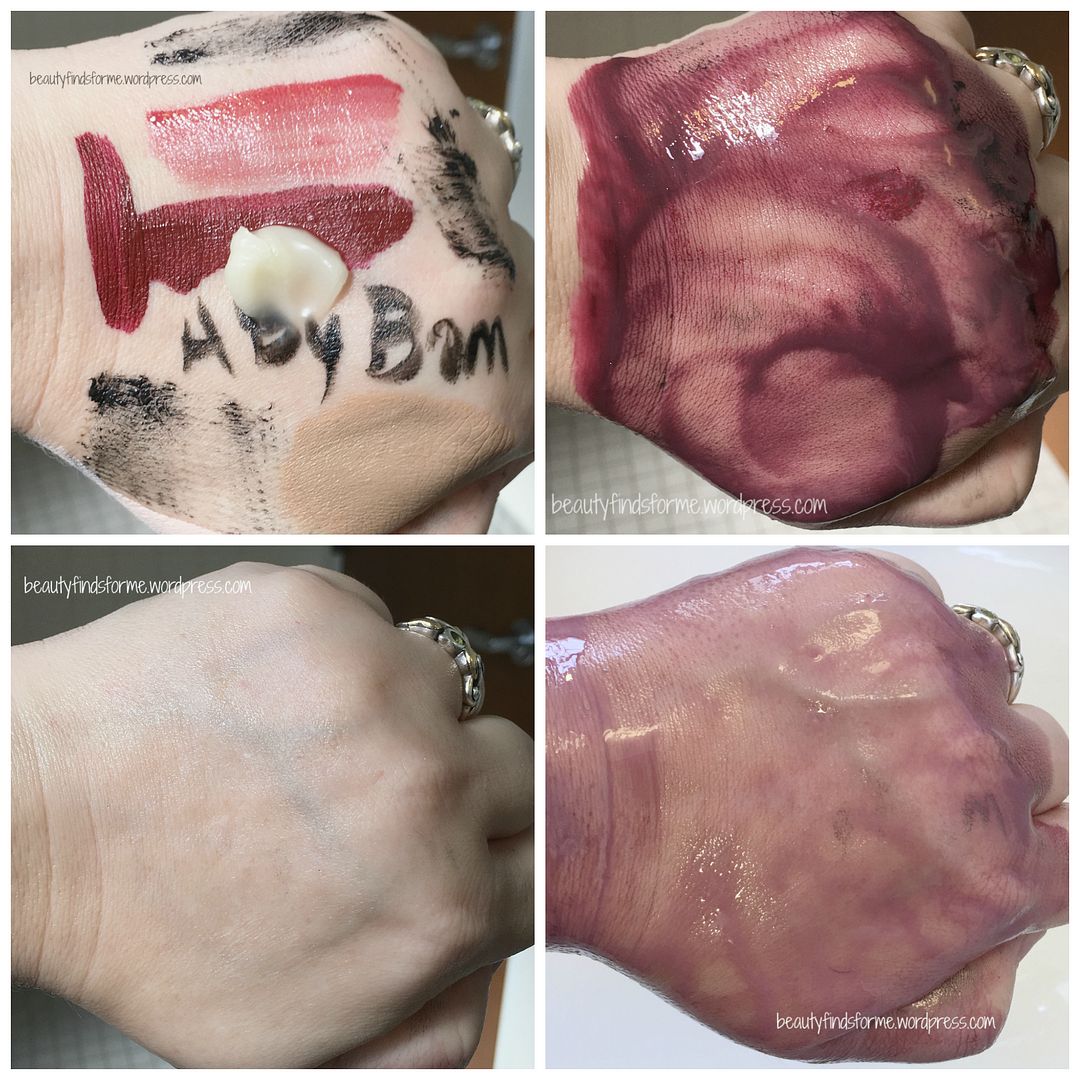 I did a cleansing test, using some of my long wearing, staining, hard to budge makeup items and as you can see, it removed every trace of the makeup.  Honestly, this is the best cleansing balm product I have used ~ I've tried a few, including Clean It Zero, and this one is so much better ~ the balm is not crumbly, it is smooth, soft and removes makeup beautifully without leaving a greasy or oily residue. 
Description: The more cleansings with Eoseongcho, the healthier the skin become.  With 10,000ppm of Eoseongcho extracts, it cares fine dust, dead skins, sebum, pore or purifying and soothing effects on the skin. The Eoseongcho extracts help to care sebum and pores and balances the tone of the skin in order to maintain the skin healthy and calm.
Ingredients: cetyl ethylhexanoate, PEG-20 glyceryl triisostearate, PEG-8 isostearate, polyethylene, houttuynia cordata extract (10,000ppm), glycine max (soybean) seed extract, phaseolus radiatus seed exract, triticum vulgare (wheat) seed extract, hordeium distichon (barley) extact, oryza sativa (rice) extract, zea mays (corn) kernel extract, coix lacryma-jabi ma-yuen (jobs tears) seed extract, sesamum indicum (sesame) seed extract, salvia hispanica seed extract,  centella asiatica extract, polygonum cuspidatum root extract, scutellaria baicalensis root extract,  camellia sinensis leaf extract, glycyrrhiza glabra (licorice) root extract, anthemis nobilis flower extract, rosmarinus officinalis (rosemary) leaf extract, camellia japonica seed oil, hippophae rhamnoides oil, tocopheryl acetate, glyceryl caprylate, butylene glycol, 1,2-hexanediol, glycerin, water, fragrance cosDNA analysis

3 Step Ultra Moisture Mask  This was the last sheet mask I tried ~ I guess I will go in reverse order for the masks!   I was a bit scared of this mask as I wondered if it might be too much for my oily skin. This is a 3 step mask, with an eye serum ~ it actually can be used not only around the eyes, but the lip area as well ~ a soothing face cream and then the mask over all of it.  Since the mask essence itself looked to be quite thick, I decided to use just the serum and the mask on my face and applied the face cream on my neck.  I think the results turned out nicely ~ but if you have dry skin, I would recommend following A. by BOM's recommended instructions ~ putting that face cream on your face!  This masks can boast of five  fermented ingredients: saccharomyces/potato, saccharomyces/coix lacryma-jobi ma-yuen seed, lactobacillus/soybean, lactobacillus/ginseng root and lactobacillus/rice. Fermented ingredients in skin care products are highly moisturizing, have polypeptides and other anti-aging, anti-oxidant benefits along with antibacterial properties, which is why my blemish-prone and aging skin loves it so much.   They can also penetrate your skin more easily and deliver their concentrated benefits to your quicker.   Other key ingredients include
Apple is a vitamin-rich, anti-aging ingredient that contains antioxidants, promote cell health, moisturizes and helps heal sun-damaged skin.  It is a natural astringent and can reduce the appearance of pores, as it can tighten the skin.  Apple is contains AHA (alpha hydroxy acid) and will gently exfoliate your skin, unclogging pores and removing dead skin cells, dirt and excess oil.  It will help make your skin brighter and smoother.  Apple fruit extracts are perfect for oily skin and blemish prone skin types, aging skin, dull and uneven skin tones.  
Aloe barbadensis will attract and lock moisture in your skin while also providing soothing, anti-inflammatory benefits.  Aloe is a powerful moisturizer that doesn't leave your skin feeling oily or greasy. It soothes, treats inflammation, helps speed up skin healing and also has a plethora of antioxidants ~ beta-carotene, Vitamin C and Vitamin E, which help improve your skin's firmness and keeps your skin moist and hydrated. It also contains over 75 different nutritious ingredients, including minerals, enzymes, amino acids, salicylic acid and much more.
Witch hazel is an blemish prone skin's best friend because it has antibacterial and antiseptic qualities which helps clear up acne and it removes excess oil from skin. It also helps shrinks blood vessels, which tightens our skin. Witch Hazel can speed up healing and is a powerful anti-inflammatory, which also helps soothe skin. Finally, Witch Hazel refreshes and rejuvenates skin, refines the pores and seal in moisture.
Chamomile can calm down the skin and relieve redness effectively as it has antioxidant, antibacterial and anti-inflammatory properties.   It helps to relieve skin issues and irritations because it soothes and lessens swelling and redness, while healing skin and stimulating cellular renewal.
Despite it looking very thin, the plant-oil based eye serum is actually quite sticky.  The fresh soothing face cream is uses a patented vegetable complex extracts (Patent no. 10-0966835) "Patent 10-0966835 Patent ingredient and herb compound [Reg. No.: 10-0966835(KOR)] It contains patent ingredients and herb compound to improve moisturizing, skin elasticity and anti-wrinkle. It also helps skin trouble reduction and soothing of redness of skin by improving anti-inflammatory effect. And natural herb compound and ginseng berry extract work together to make whitening of melasma and freckle and brighter face color. "  It was very creamy and moisturizing and I used it on my neck.  This mask does not come with any plastic, paper or mesh protector and it is folded up in a square.  The mask itself is almost gelatinous looking because of the thick jelly essence. The scent is very pleasant and almost fruity.
The eco-friendly, 100% cupra sheet mask is made of cotton seed, so that it adheres better to the skin and is also more breathable and soft.   So, will my tired skin feel soothed like a baby after wearing this?  Let's find out!
The fit of this mask was really good ~ it covered just about all that needed to be covered, so if you have a large face like I do, this will fit just fine.   I left my mask on for about 50 minutes and it was still damp when I removed it.  This is one moisturizing mask!!  My skin looked very hydrated, soft and moist and there was a sticky residue on my skin ~ but it dried down quickly.  In fact, I felt that this is a mask I could have used in the morning and just add a light lotion or emulsion to seal it all in.  Despite the fact that I didn't use the cream on my face, I felt this mask really delivered its promise of soft and moist skin. 
A1 Eye Serum Ingredients:  Water, Aloe Barbadensis Leaf Juice, PEG-6 Caprylic/Capric Glycerides, Camellia Sinensis Leaf Extract, PEG-150 Distearate, Glycerin, Hamamelis Virginiana Flower Water, 1,2-Hexanediol, Panthenol, Butylene Glycol, Ethylhexylglycerin, Caprylyl Glycol, Stearic Acid, Polysorbate 20, Maltodextrin, Acacia Senegal Gum, Illicium Verum (Anise) Fruit Extract, Caprylic/Capric Triglyceride, Sucrose, Citrus Aurantium Bergamia (Bergamot) Fruit Oil, Disodium EDTA, Lavandula Angustifolia (Lavender) Oil, Magnesium Ascorbyl Phosphate, Anthemis nobilis flower Extract, Cymbopogon Martini Oil, Beta-Carotene, Sodium Ascorbate, Anthemis Nobilis Flower Oil, Silica, Rose Flower Oil, Tocopherol cosDNA analysis

A2 Fresh Soothing Cream Ingredients:  Water, Caprylic/Capric Triglyceride, Glycerin, Methylpropanediol , Cyclopentasiloxane, Hydrogenated Polydecene, 1,2-Hexanediol, Glyceryl Stearate, Beeswax, Dimethicone, Betaine, Polysorbate 60, PEG-100 Stearate, Simmondsia Chinensis (Jojoba) Seed Oil, Butyrospermum Parkii (Shea Butter), Butylene Glycol, Glycyrrhiza Glabra (Licorice) Root Extract, Sesamum Indicum (Sesame) Seed Extract, Sophora Flavescens Root Extract, Angelica Gigas Root Extract, Sorbitan Isostearate, Cimicifuga Racemosa Root Extract, Morus Alba Bark Extract, Phellinus Linteus Extract, Paeonia Lactiflora Root Extract, Palmitoyl Tripeptide-5, Polygonum Multiflorum Root Extract, Scutellaria Baicalensis Root Extract, Sodium Hyaluronate, C15-19 Alkane, Polyacrylate-13, Synthetic wax, Dimethicone/Vinyl Dimethicone Crosspolymer, Polyisobutene, Microcrystallin Wax, Acrylates/C10-30 Alkyl Acrylate Crosspolymer, Ethylhexylglycerin, Tromethamine, Polysorbate 20, Tocopheryl Acetate, Disodium EDTA, Fragrance cosDNA analysis

A3 Ultra Moisture Mask Ingredients:  Water, Methylpropanediol, Glycerin, 1,2-Hexanediol, Niacinamide, Trehalose, Betaine, Butylene Glycol, Propanediol, Allantoin, Saccharomyces/Potato Extract Ferment Filtrate, Saccharomyces/Coix Lacryma-Jobi Ma-yuen Seed Ferment Filtrate, Lactobacillus/Soybean Ferment Extract, Lactobacillus/Ginseng Root Ferment Filtrate, Lactobacillus/Rice Ferment, Hydrogenated Lecithin, Polymethylsilsesquioxane, Caprylic/Capric Triglyceride, Isohexadecane, Diethoxyethyl Succinate, Dimethicone, Sodium Hyaluronate, Glyceryl Polyacrylate, Ceramide 3, Pyrus Malus (Apple) Fruit Extract, PEG-60 Hydrogenated Castor Oil, Tromethamine, Carbomer, Hydroxyethylcellulose, Disodium EDTA, Adenosine, PEG-40 Stearate, Steareth-21, Steareth-2, Cetearyl Methicone, Chlorphenesin, Alcohol, Fragrance cosDNA analysis

All in 1 Ultra Perfect Cream Mask  This is the 2nd mask I tried and I did use it as a night mask, due to its name ~ cream!  This mask will help revitalize and brighten dry, rough skin and it is an all in one mask ~ the essence is a total skin care routine of toner, lotion, serum and cream ~ all rolled into one!   This mask is safe even for sensitive skin  with its eco-friendly, chemical-free Tencel sheet, extracted from eucalyptus trees ~ which is very plush and soft, I might add! This mask has an oil-water balance as it uses natural oils from plants ~  one item that leap out at me was beta glucan, which I adore.  Beta glucan will moisturize, locking in natural moisture and is an anti-aging and anti-wrinkle ingredient due to its anti-oxidant properties and also helps repair your moisture barrier.    Other key ingredients are
Orvza sativa (rice)  contains proteins to repair damaged skin, selenium for elasticity and has antioxidants, along with vitamins to help prevent acne. Rice extracts helps keep your skin clear and moisturized, while helping to even out your skin tone by reducing hyper-pigmentation.
Milk protein is ultra moisturizing and keep your skin's oils in balance, so they will not overproduce sebum ~ which results in clogged pores and blemishes.  Milk is full of restorative vitamins, minerals and proteins.
Nelumbo nucifera (lotus) is one of those ingredients, like soybean and snail slime, that barring allergies, seems to work on all skin types.   Lotus flower and root are full of antioxidants to help with aging ~ antioxidants help combat free radicals and reverse some of the damage caused by it, such as hyper-pigmenation, fine lines and wrinkles. Lotus is fantastic for those who are struggling with oily, blemish prone or clogged/large pores, as it purifies your skin ~ your pores will look smaller and tighter and since lotus contains AHA (alpha hydroxy acids), it will help gently exfoliate your skin, removing excess dirt, debris and oil, unclogging pores and stimulating cellular renewal.
When I opened up this mask, I could see all of the milky essence inside and there was a lot of it  The mask is protected with a fine mesh sheet to help this very soft mask keep its shape and also to help apply it easily on the face. The scent is AMAZING ~ this is a warm scent, which A. by BOM describes as "delicate grain scents from the nature", but I am thinking of freshly baked bread . This mask is dripping with this essence, which is milky looking and very watery looking.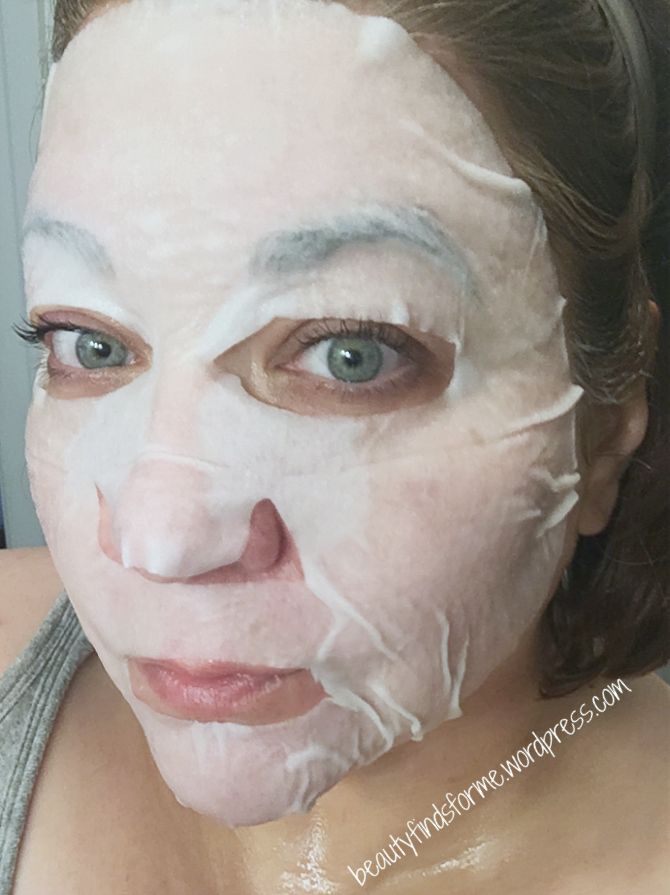 The fit is really good on my face ~ I love that the eyes come down a bit as my upper eye area sometimes is neglected with facial sheet masks and there is ample material for that space between the nose and upper lip too.  This has a really lovely cooling effect on my face as it dries.  After 1 hour, I took off the mask even though it was still quite damp.  I honestly can say this is one of the most intensely moisturizing masks I have used ~ my face was glowing with all of the essence that was still sitting on top of my skin ~ I guess my skin couldn't absorb anymore.  This is much more moisturizing than the Ultra Moisture mask.  It is sticky after I remove it and it took about 20 minutes for a complete dry down. I used this mask before I went to bed and when I woke up, I didn't experience any overnight blemishes  ~ which I was afraid of ~  but instead, I was treated to smooth, soft skin. I think that if you have dry skin, this mask will be perfect for you year round, but for me, I am going to save these masks for when my face feels raw or chapped (summer time beach-time coming up) or the cooler weather. This is a very rich moisturizing mask and it will give you that K-Beauty Glow!
Ingredients: Water, Methylpropanediol, Caprylic/Capric Triglyceride, Glycerin, 1,2-Hexanediol, Glycereth-26, Niacinamide, Glyceryl Stearate, Polysorbate 60, PEG-100 Stearate, Dimethicone, Butylene Glycol, Helianthus Annuus (Sunflower) Seed Oil, Cocos Nucifera (Coconut) Oil, Sodium Hyaluronate, Tocopheryl Acetate, Oryza Sativa (Rice) Extract, Cocos Nucifera (Coconut) Water, Glyceryl Polyacrylate, Saccharomyces Ferment Filtrate, Nelumbo Nucifera Flower Extract, Anthemis Nobilis Flower Extract, Milk Protein Extract, Beta-Glucan, Pearl Extract, Jasminum Officinale (Jasmine) Extract, Lilium Tigrinum Extract, Adenosine, Acrylates/C10-30 Alkyl Acrylate Crosspolymer, Tromethamine, Disodium EDTA, Fragrance cosDNA analysis
2 Step Ultra Cool Leaf Mask  This is the latest mask from A. by BOM and it just came out this year, so I am really lucky and fortunate that A. by BOM sent these to me for review purposes.  This was the first mask I tried as I was most interested in this one.  The sheet mask is made from eco-friendly and cooling Lyocell, which is a 100% natural material made from the cellulose extracted from trees. This sheet is biodegradable and is supposed to decompose within a month.  I might have to bury this sheet mask in my planter outside and test that out. It is hypo allergic and has a soft and silky feel to it. This has some really nice cooling, hydrating and soothing ingredients
Wild mint and apple mint will help cool, soothe and refresh your skin and is a favorite ingredient of mine.
Melissa officinalis (lemon balm) will help to help wounds quickly and also prevent new blemishes.
Citrus aurantifolia (lime) is an astringent, closes pores and the acidity of the lime also kills bacteria, hence reducing blemishes and helping them heal. Lime is rich in Vitamin C, which is a powerful antioxidant that combats free radicals to reduce fine lines and wrinkles and will help reduce hyper-pigmentation, due to faster cellular renewal.
Basil is a natural skin purifier and is used to help detox and cleanse your skin.  It also has soothing and depuffing properties as well as antioxidants.
Sweet marjoram is an aromatic herb that has antioxidant properties, as well as anti-inflammatory, antibacterial and anti-viral.  It can help heal skin blemishes and rashes as well as balance the skin tone.
This is a two part mask unlike any two step mask I have used!!  It is recommended that the best way to use this mask is to chill it first in the refrigerator in order to take advantage of the cooling properties of this mask.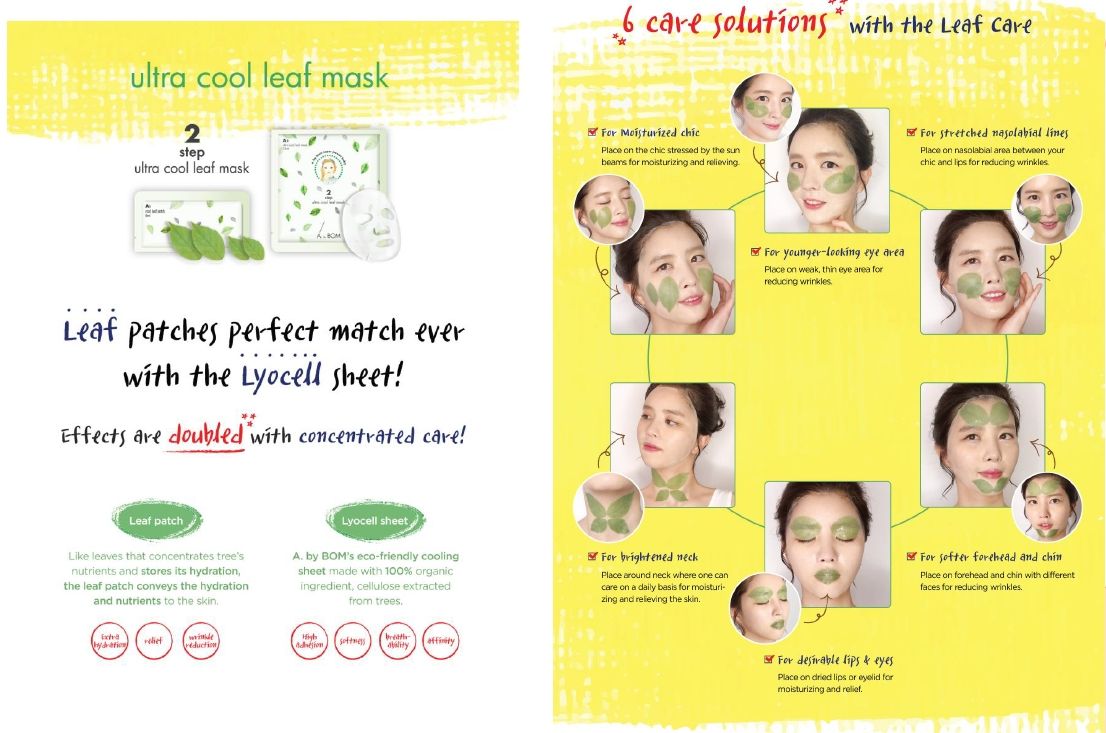 The first step are these 4 little leaf patches in 2 different sizes. These patches are for extra hydration, soothing relief and wrinkle reduction purposes, so you would place them on your face where you think you need the most care. These are soaked in a watery-gel essence and are green with little leaf veins printed on them.
Then you apply the lycoell sheet mask over the leaf patches.  The sheet mask contains a thicker gel essence and lots of it. I put the excess on the places where I knew it would dry out faster, like my forehead, chin and upper lip.   Both the leaf patches and the sheet mask are protected by a nice thick mesh sheet so it doesn't crumple in the package.  The sheet mask is very soft and thin, and it fits well on my face. The scent of the mask is very fresh ~ I was hoping for a more minty scent, but it is just very fresh and relaxing.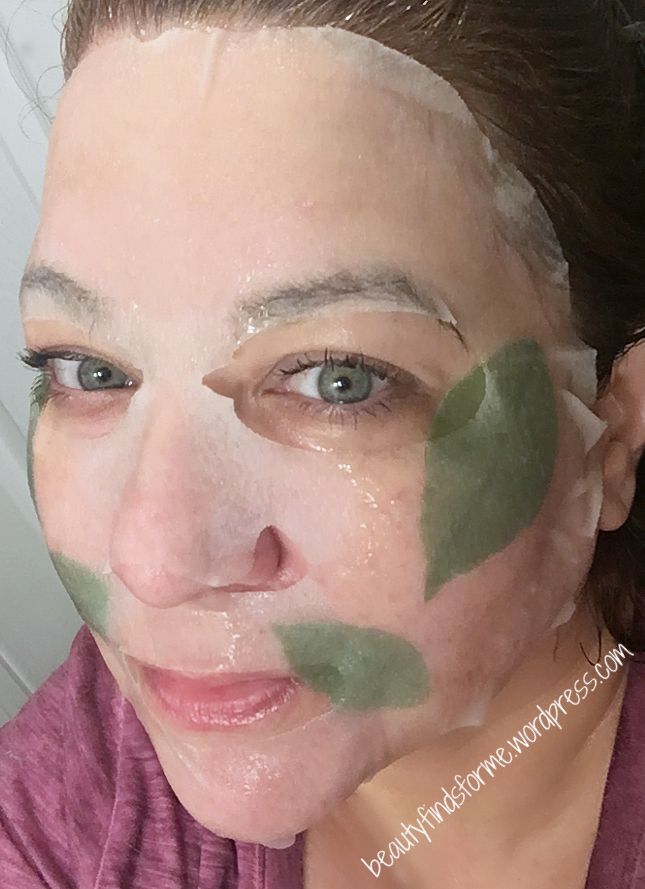 The mask is VERY cooling and when I tried it, it had been the first really hot day of the year ~ hitting 82 degrees, which is pretty warm in Boston.  So by the end of the day, I was hot and tired and needed something very cooling and revitalizing. I left this mask on for 40 minutes and then removed it. My face felt so hydrated and smooth ~ my skin felt cool to the touch and my pores looked clean and very small.  There was no stickiness or tacky residue on my skin once the essence dried down and it just felt so good after a long, hot and hard day at work. I really enjoyed using this mask and I am so glad I have a box of them to enjoy.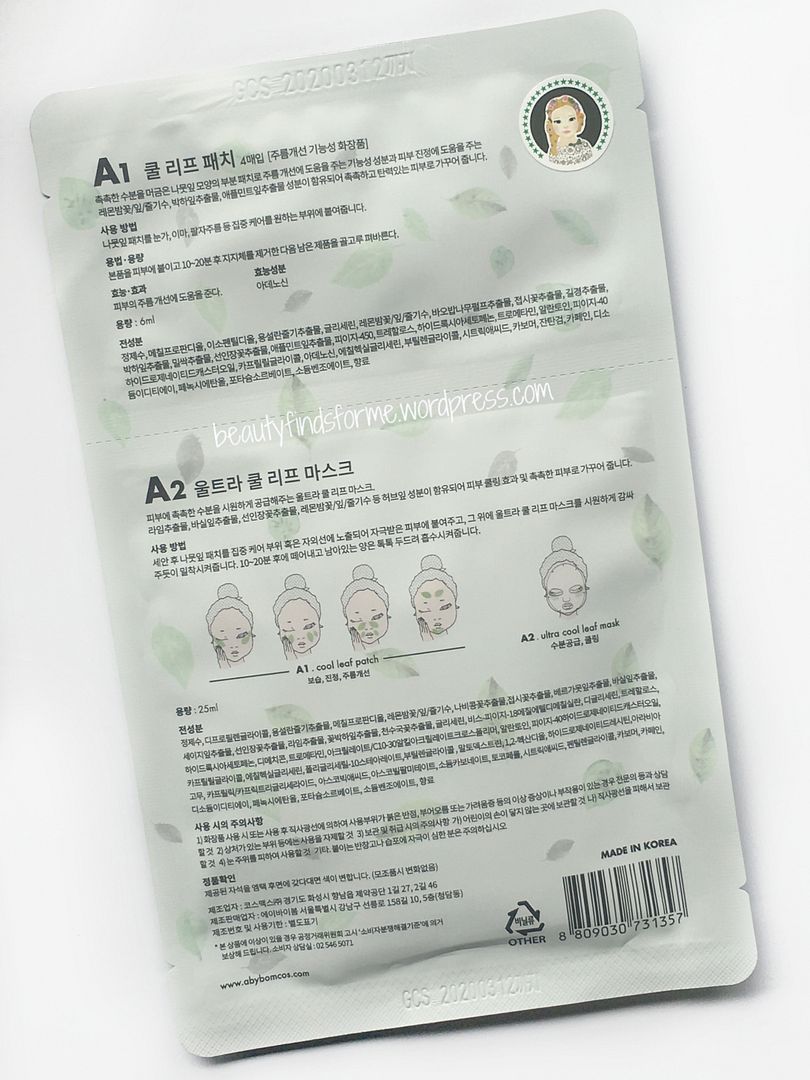 Step A1 Cool Leaf Patches Ingredients:  Water, Methylpropanediol, Isopentyldiol, Agave Americana Stem Extract, Glycerin, Melissa Officinalis Flower/Leaf/Stem Water, Adansonia Digitata Pulp Extract, Althaea Rosea Flower Extract, Platycodon Grandiflorum Root Extract, Mentha Arvensis Leaf Extract, Triticum Vulgare (Wheat) Sprout Extract, Cereus Grandiflorus (Cactus) Flower Extract, Mentha Rotundifolia Leaf Extract, PEG-450, Trehalose, Hydroxyacetophenone, Tromethamine, Allantoin, PEG-40 Hydrogenated Castor Oil, Caprylyl Glycol, Adenosine, Ethylhexylglycerin, Butylene Glycol, Citric Acid, Carbomer, Xanthan Gum, Caffeine, Disodium EDTA, Phenoxyethanol, Potassium Sorbate, Sodium Benzoate, Fragrance  cosDNA analysis

Step A2 Ultra Cool Leaf Sheet Mask Ingredients: Water, Dipropylene Glycol, Agave Americana Stem Extract, Methylpropanediol, Melissa Officinalis Flower/Leaf/Stem Water, Clitoria Ternatea Flower Extract, Althaea Rosea Flower Extract, Monarda Didyma Leaf Extract, Ocimum Basilicum (Basil) Leaf Extract, Salvia Officinalis (Sage) Leaf Extract, Cereus Grandiflorus (Cactus) Flower Extract, Citrus Aurantifolia (Lime) Fruit Extract, Origanum Majorana Leaf Extract, Tagetes Erecta Flower Extract, Glycerin, Bis-PEG-18 Methyl Ether Dimethyl Silane, Diglycerin, Trehalose, Hydroxyacetophenone, Dimethicone, Tromethamine, Acrylates/C10-30 Alkyl Acrylate Crosspolymer, Allantoin, PEG-40 Hydrogenated Castor Oil, Caprylyl Glycol, Ethylhexylglycerin, Polyglyceryl-10 Stearate, Butylene Glycol, Maltodextrin, 1,2-Hexanediol, Hydrogenated Lecithin, Acacia Senegal Gum, Caprylic/Capric Triglyceride, Ascorbic Acid, Ascorbyl Palmitate, Sodium Carbonate, Tocopherol, Citric Acid, Pentylene Glycol, Carbomer, Caffeine, Disodium EDTA, Phenoxyethanol, Potassium Sorbate, Sodium Benzoate, Fragrance cosDNA analysis

Ultra Moisture Black Tea Cream  Now, I was surprised that A. by BOM sent me their full line, as I was only expecting the Ultra Cool Leaf Mask and the Watery Eoseongcho Cleanser.   The Black Tea Cream is one of those items that I would rather use in the cooler months as part of my night time routine, as it looks to be a very  nourishing cream.  I rarely use creams during the daytime and warmer months, unless they are a gel or watery cream.  From what I have seen, this is a traditional cream texture, so I am not going to open and use this now.  Once you open up a product, the expiration time starts ticking and I want to use this later on this year.  I will review this cream fully at that point and it is on my shelf for fall/winter use.   However, I will describe a bit about this cream from A. by BOM's press release.  This is made with 50,000 ppm of black tea complex and it is a hydrating, nourishing cream that will supply moisture to balance weakened skin that has been exposed to a rough and polluted environment.  It will help tone and firm your skin and provide a water/oil balance.  
Description:  Black tea extracts improve the skin elasticity ~ The secret of the black tea cream with its extreme moisturizing power. In Asian countries, it is called as 'red tea' and in Western countries, the black tea leaves reflects black color and it's called as 'black tea.' Polyphenol is rich in the black tea, which vitalizes the skin and protects the exhausted skin by external elements so that the skin can be elastic and soft.

This contains not only the hydrating and soothing black tea extracts, but fermented black tea as well, which helps condition and vitalize your skin.   Soybean will help provide anti-aging and antioxidant benefits, revitalizing your skin, whereas blackberry extracts will smooth and condition your skin.  Finally, ginseng is a huge player on the anti-aging ingredient front ~ it will help protect and calm your skin.  This also has mineral oil in it, but mineral oil has gotten a bad reputation ~ and it shouldn't.  This does contain mineral oil and actually, mineral oil is not bad for your skin, as it is a noncomedogenic ~ its molecules are too big to enter into your pores. It also has great hydrating properties for your skin as well.   This comes in a pretty beige pearlized jar with a great spatula!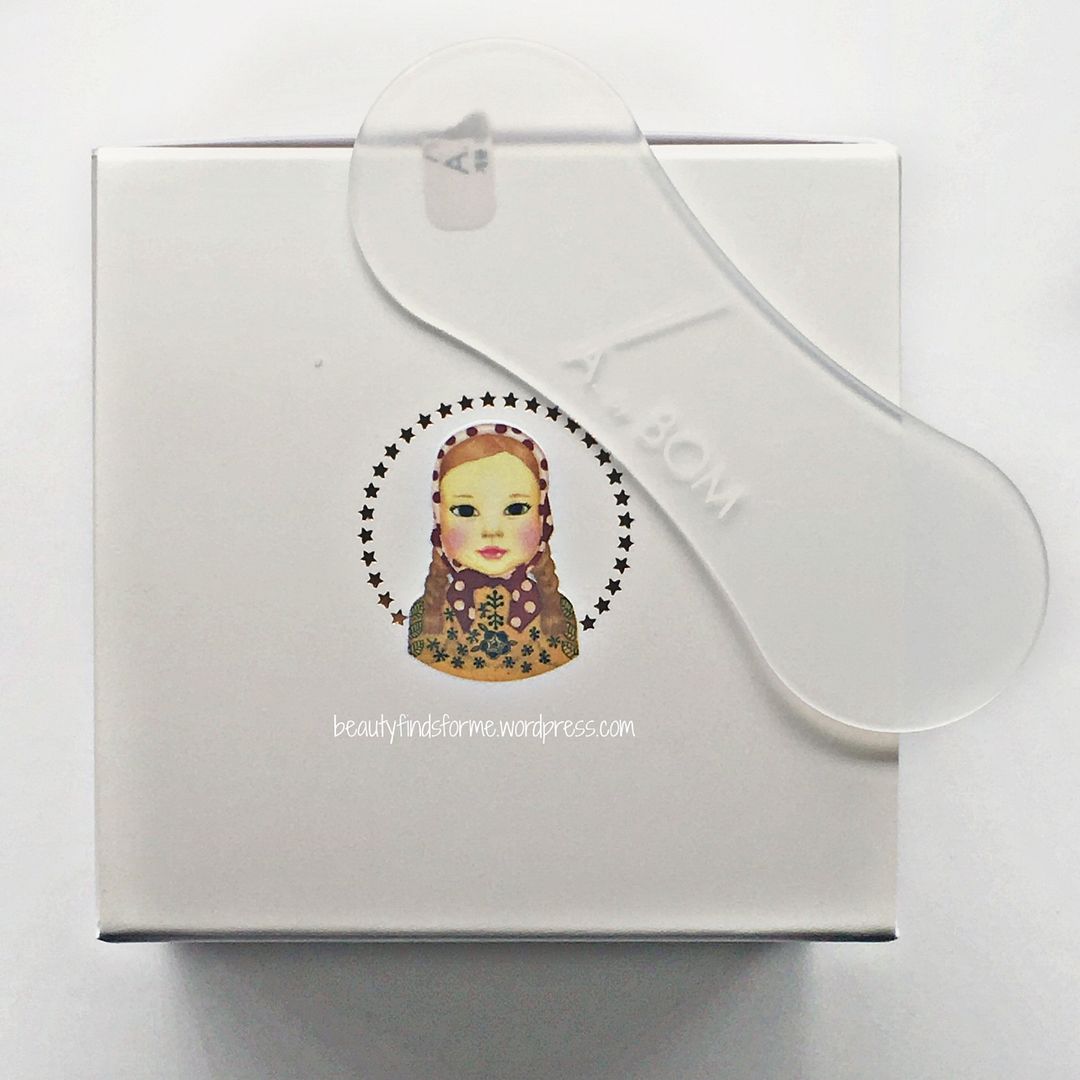 Ingredients: Water, Glycerin, Mineral Oil, Camellia Sinensis Leaf Water (49,750 ppm), Bis-Diglyceryl Polyacyladipate-2, Butyrospermum Parkii (Shea) Butter, Butylene Glycol, Butylene Glycol Dicaprylate/Dicaprate, Cetearyl Alcohol, Sorbitol, Cyclopentasiloxane, Pentylene Glycol, Beeswax, Nigella Sativa Seed Extract , Ribes Nigrum (Black Currant) Leaf Extract, Rubus Fruticosus (Blackberry) Fruit Extract (330ppm), Camellia Sinensis Leaf Extract(10ppm), Panax Ginseng Root Extract, Saccharomyces/Xylinum/Black Tea Ferment(9ppm), Glycine Soja (Soybean) Seed Extract, 1,2-Hexanediol, Cetearyl Olivate, Sorbitan Olivate, Cyclohexasiloxane, Petrolatum, Glyceryl Stearate, Sodium Acrylate/Sodium Acryloyldimethyl Taurate Copolymer, Caprylyl Methicone, Dimethicone, Isohexadecane, Panthenol, Polysorbate 80, Dipotassium Glycyrrhizate, Ethylhexylglycerin, Sorbitan Oleate, Dimethicone Crosspolymer, Dipalmitoyl Hydroxyproline, Hydroxyethylcellulose, Palmitoyl Tripeptide-5, Xanthan Gum, Disodium EDTA, Phenoxyethanol, Potassium Sorbate, Fragrance(Parfum), Caramel cosDNA analysis
Final Thoughts
I really love this brand!  The Ultra Watery Eoseongcho Cleanser is now on my repeat purchase list, as it really does a great job removing makeup, oil and dirt, while having a great scent and moisturizing without being greasy.  I was so happy and surprised that all 3 masks worked for my skin type.  The All in One Ultra Perfect Cream mask is one that I will save when my skin feels really dry or raw, as it is the most moisturizing of the three for me.  The 3 Step Ultra Moisture mask was a pleasant surprise ~ I was so worried about this one and it turned out to work beautifully on my skin ~ if you have oily skin, use the Step A2 cream somewhere else besides your face, or maybe use it as a night cream.  And finally, the 2 Step Ultra Cool Leaf mask is a favorite ~ its fun with the little leaves and it is so refreshing on my skin ~ my only complaint is that it doesn't smell like mint!   Many thanks to Inyoung at A. by BOM for her generosity and providing me with these wonderful products.
I am so excited for the next releases by A. by BOM ~ they are planning to release a toner, serum, eye serum and another sheet mask soon and later this year, a serum oil mist cushion ~ similar to Sulwhasoo and Lancome have released.   I am most excited about the skincare items ~ how about you?   I have really high hopes for this brand and hope they become amazingly successful here in the Western market. 
Where to Purchase
Some of the products are available on Amazon for the USA market.
A. by BOM is currently getting a USA distributor for the rest of their line, but until then, both USA and International customers can use a shipping service and order directly from any online store in Korea that carries their brand (see here for a list of online shops and links).  I recommend Korean Buddy (click here) ~ I have used them many times in the past and have always been pleased with their service.  All you have to do is send them the links and they will come up with the product total.  You pay them, they get the products, weigh it and then give you the shipping costs.  If you have never used Korean Buddy before, you can save 50% off the handling fee by using my blog as a referral https://beautyfindsforme.wordpress.com  I totally recommend using this service just to get your hands on the Watery Eoseongcho Cleanser!
[ disclaimer: products received for an honest & unbiased review. contains affiliate links ]
Save