April 22nd is Earth Day and you bet that an eco-friendly sub box is going to use it as a theme this month!  Kloverbox is an eco-friendly, organic lifestyle box and I love how they introduce new, unique and innovative products each month.  Kloverbox delivers deluxe and full size products and I have been impressed with their packaging and curating of their boxes. You can subscribe to Kloverbox  either as a month-to-month at $25/monthly, 3 month subscription at $23.75/monthly or a 6 month subscription at $22.50/monthly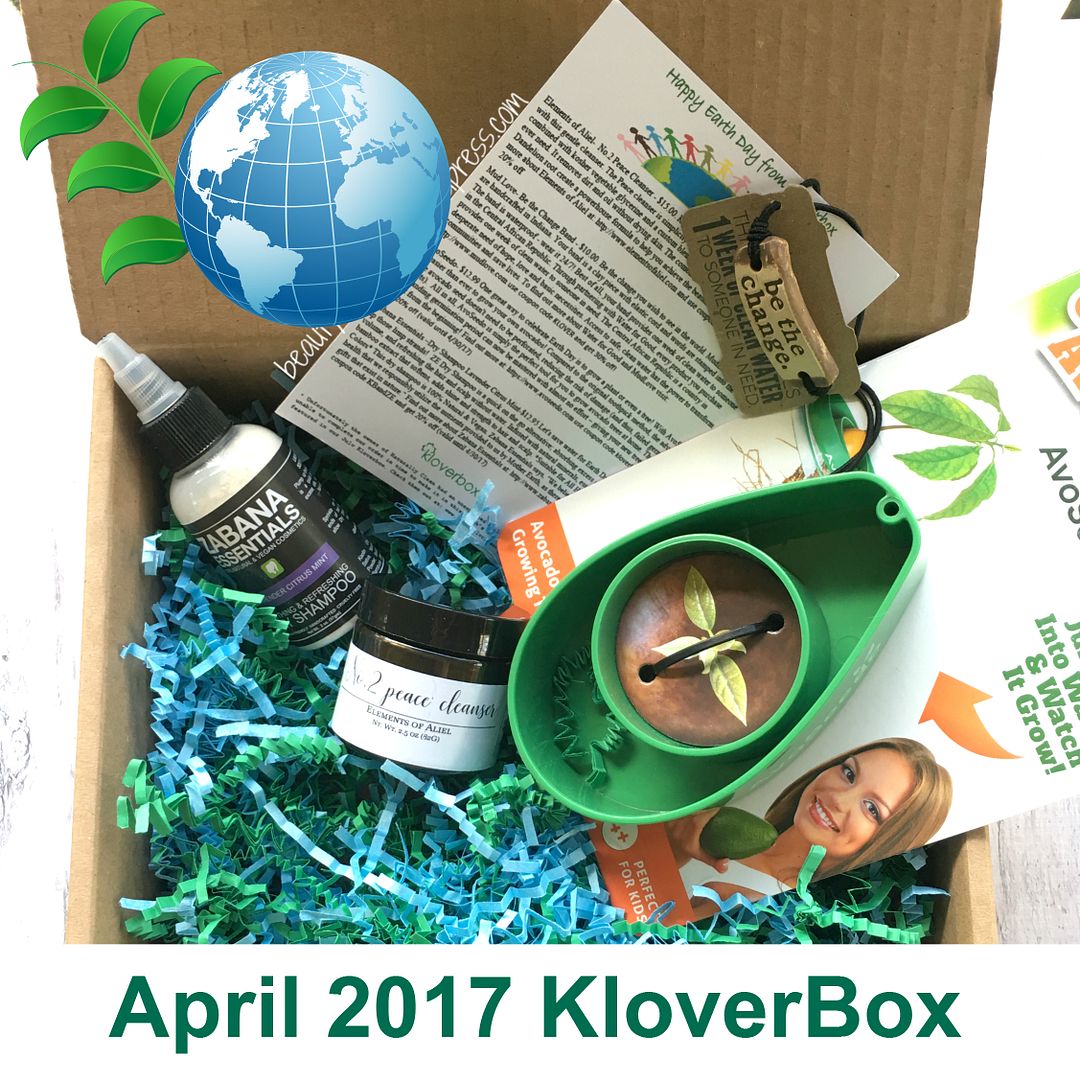 Informational Card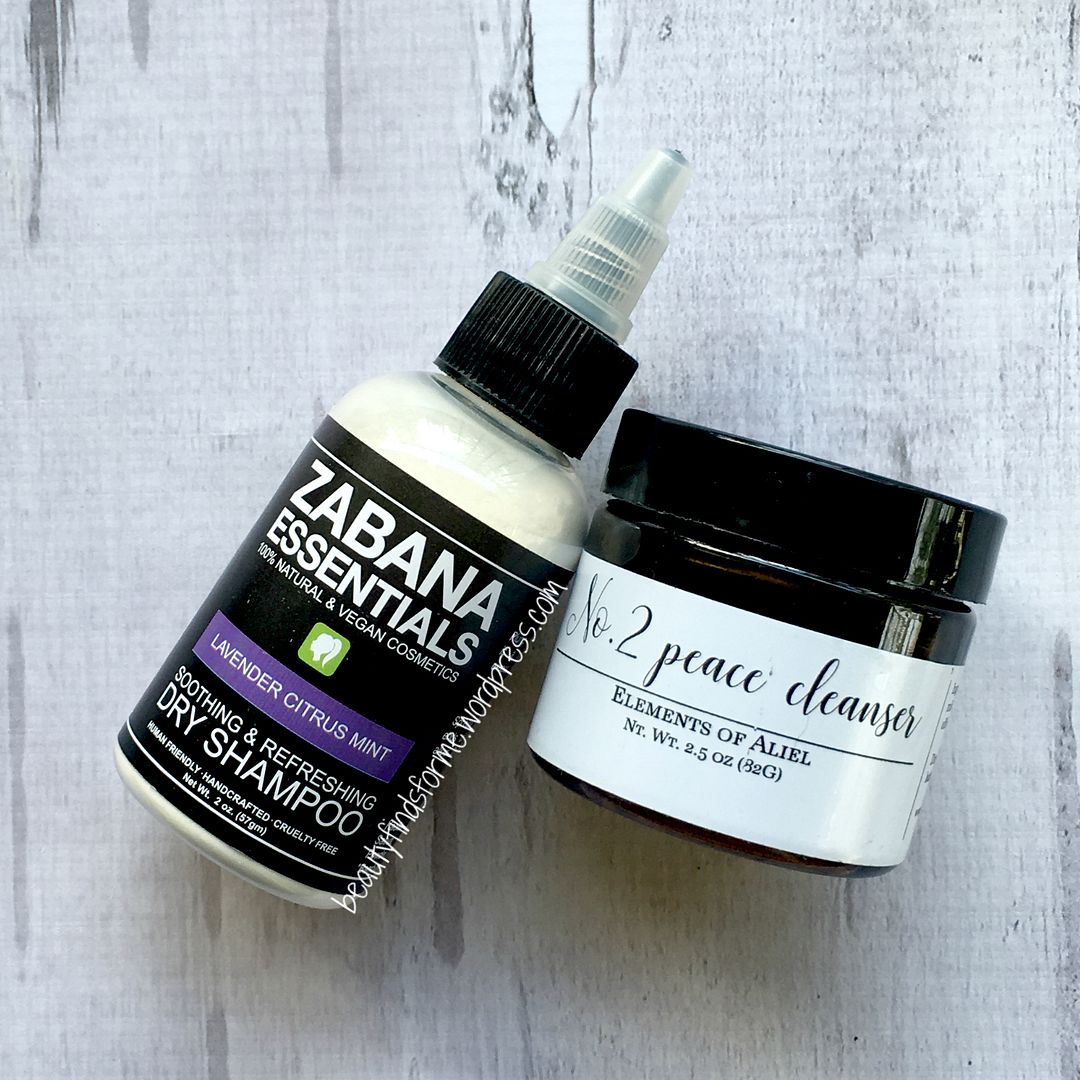 Zabana Essentials Dry Shampoo in Lavender Citrus Mint  I am a HUGE fan of dry shampoos!!  Whether they come in spray form or powder form, like this amazingly scented powder, I love them.  I do have oily hair so I have to wash my hair daily ~ but I use dry shampoos for volumizing and texture, as I have fine, straight hair.   I also love using dry shampoos in powder form when I am outside at lunchtime, come back from a walk and then have to get back to work. I sweat horribly on my head.  I swear, that is where 99.99999% of my sweat glands must be, because if it is hot outside and I am walking around, the back of my head is soaked, literally.  I keep a mini blow dryer at my desk because of this.   I use dry powder to help "freshen" up my hair and not make it look like I swam at lunchtime ~ lol.   This is a very fine powder,  made with clay (to help absorb oils), oatmeal (for soothing), arrowroot (thickerner).   This has an amazing scent of lavender, citrus and mint ~ very refreshing and invigorating, and feels really good on my scalp.  100% natural and vegan.   Full Size 2 oz RV $ 12.95   Promo Code:  Use  KBandZE for 20% off at Zabana Essentials   Expires 4/30/2017.  If you want to save 15% off your first time purchase, use YES17 
Description: Plump up those limp strands! ZE Dry Shampoo is a quick on the go alternative; absorbing excess oils, volumizing, and refreshing the hair and scalp without water. Infused with natural Minerals, Essential Oils, and Bamboo Extract that softens, adds shine & strength to hair and scalp.  *Suitable For All Hair Textures And Colors*  Sprinkle on roots and distribute to the ends of hair using a natural bristle brush, allow Dry Shampoo to set 5-10 minutes, then style as usual.

Notes:Kaolin Clay, Avena (Collodial Oatmeal) Sativa, Maranta (Arrowroot) Arundinacea Powder, Sodium Bicarbonate, Essential Oils, Bambusa (Bamboo) Vulgaris Extract
Elements of Aliel No. 2 Peace Cleanser   OHHH, this is a liquid African Black soap cleanser, which is great for oily, blemish prone and sensitive skin. It really helps irritated and inflammed skin calm down quite a bit.  African Black soap is made from tar, palm ash, tamarind extract and plantain peels and it always leaves my skin feeling smooth, soft, less reddened and this is also a great soap for other skin issues besides blemishes, like eczema. Now, this is a very earthy scented cleanser, which is how African Black soap smells like ~ if you had tried one in the past that smelled liked roses, that is because a fragrance was added.  Either you love the scent or you don't ~ I love earthy, herbal scents, so this doesn't bother me at all and I much prefer this scent to some artificial floral.  This produces a really nice lather and you don't need a lot.  African Black soap is a product that I learned about a few years ago and I always keep a bar around ~ but I rarely have it in liquid form, so this is a nice change.   This is free from mineral oil, parabens, synthetic fragrances and preservatives.  Full Size 2.5 oz RV $15.00 Promo Code: Use Klover2017 for 20% off at Elements of Aliel

Description: Our cleansers are simplicity at its finest. Pure raw African Black soap combined with Kosher vegetable glycerine and our custom blend of herbs create the only cleanser you will ever need. It removes dirt and oil without drying the skin. Easily removes even waterproof makeup all while adding vitamins, nutrients and moisture to your skin. All skin is not created equal and for those who battle with acne, eczema or other skin conditions or Peace formula is the perfect blend of anti-inflammatory herbs.. The combination of Chamomile, Yarrow and Dandelion root create a powerhouse formula to help you achieve the beautiful skin you deserve. 
Ingredients: African Black Soap, Kosher Vegetable glycerine, Matricaria chamomilla, Taraxacum (Dandelion) officinale, Achillea millefolium (Yarrow)
AvoSeedo Grow Your Own Avocado Tree  Welp, I live in a zone where I won't be able to grow an avocado tree, but I will give this a try!  I miss living in Southern California and having avocado trees.  I learned you can use this for more than just avocados (sweet potatoes, leeks, carrots, lemongrass), so I might also give that a try, plus you can winter an avocado plant… hmmmm.  Since temps here do go below 50 degrees, I can put this in a planter pot and then move inside for wintering.  Of course, I won't see any avocados for 3 to 15 years!  This is a cool idea, because the toothpick method always failed for me and this seems to really allow the roots to spread and grow.  AvoSeedo sells an avocado slicer, which I am going to purchase as I always have a hard time cutting up my avocados.  RV $12.99  Promo Code: Save 20% off at AvoSeedo with code kloverboxspecial  Expires 4/30/2017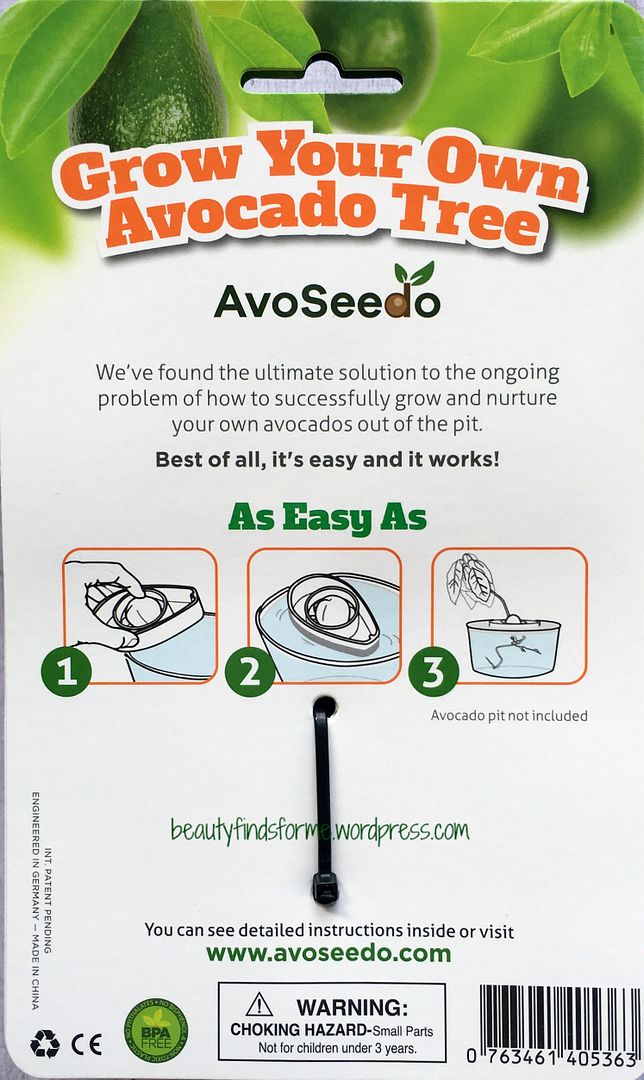 Description: Our small, elaborate tool builds on the idea behind the toothpick method. AvoSeedo is a small plastic bowl that features an indentation with a hole in it. A single avocado seed can be inserted with the "flat" end facing down. Afterwards, AvoSeedo can be placed in a sufficiently large, water-filled pot. Due to its low weight and high displacement, AvoSeedo will remain at the surface all the time; as the water level lowers, AvoSeedo will sink accordingly. With AvoSeedo, you can significantly raise the success rate when it comes to avocado germination. Without any risk, you can decrease the watering intervals drastically. Only from time to time you will have to check the water level of the pot containing AvoSeedo plus avocado seed. Compared to the original toothpick method, there's another advantage: the avocado seed doesn't need to be perforated, reducing the risk of damage (and thus, failed germination efforts). All in all, AvoSeedo is simply the perfect tool for you to grow avocado trees at home. The demanding germination period can now be mastered with almost no effort – giving your new trees an edge right from the beginning!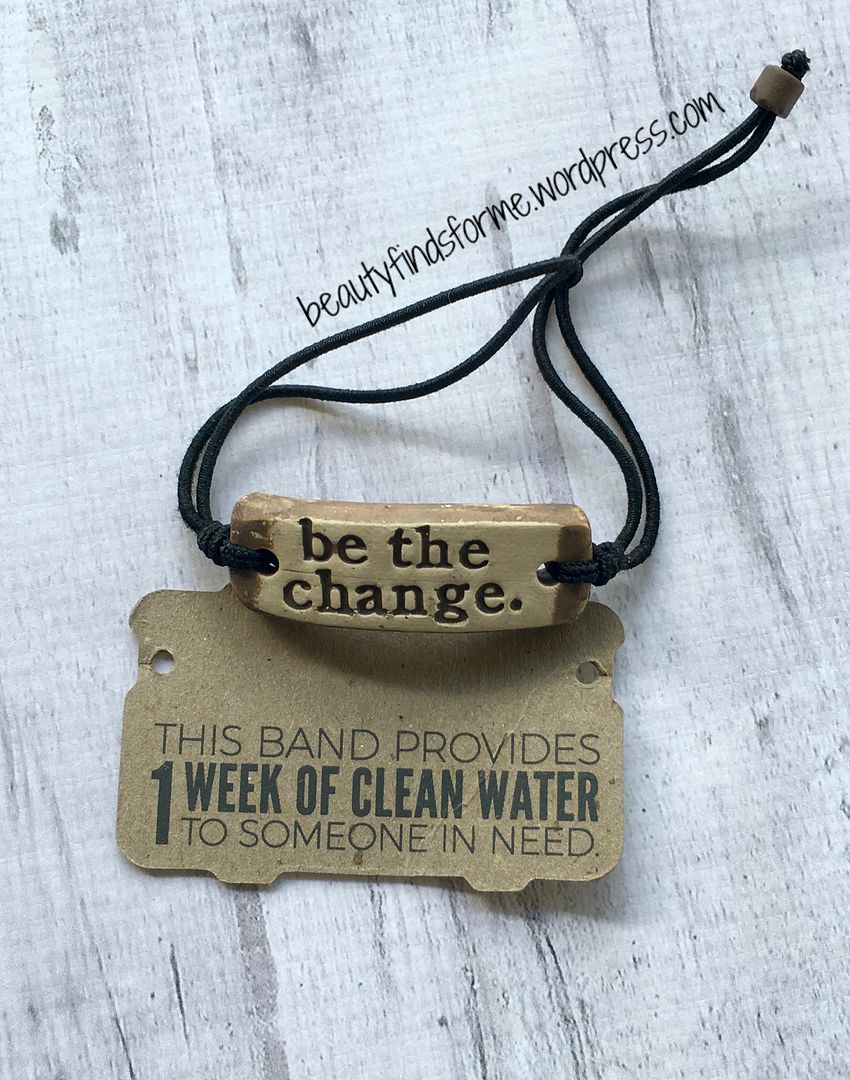 Mud Love "Be the Change" Band  YEAH!!  I love MUD LOVE!!  I was introduced to this great indie company a couple of years ago and I have been purchasing wrist bands from them ever since and I have shared my bracelets on Instagram.  You can even customize the saying as well ~ I  have one that says "Resist" and I am going to place an order for "She Persisted" this week, now that I have a promo code 🙂   They also sell mugs and necklaces are a brand new addition to their family.  They also support an amazing cause ~ Mud Love partners with Water For Good, which provides clean water to the Central African Republic.  Every product you buy will give one week of clean water to someone in need in that region.  This is important and we take for granted our easy access to clean water.  Please check out their website ~ I have purchased some really nice handcrafted, bracelets and given them as gifts ~ they are suitable for everyone, of all ages.  I also learned that if your bracelet breaks, Mud Love will replace it for free!  RV $10.00   Promo Code: Save 30% off your next order at Mud Love with promo code KLOVER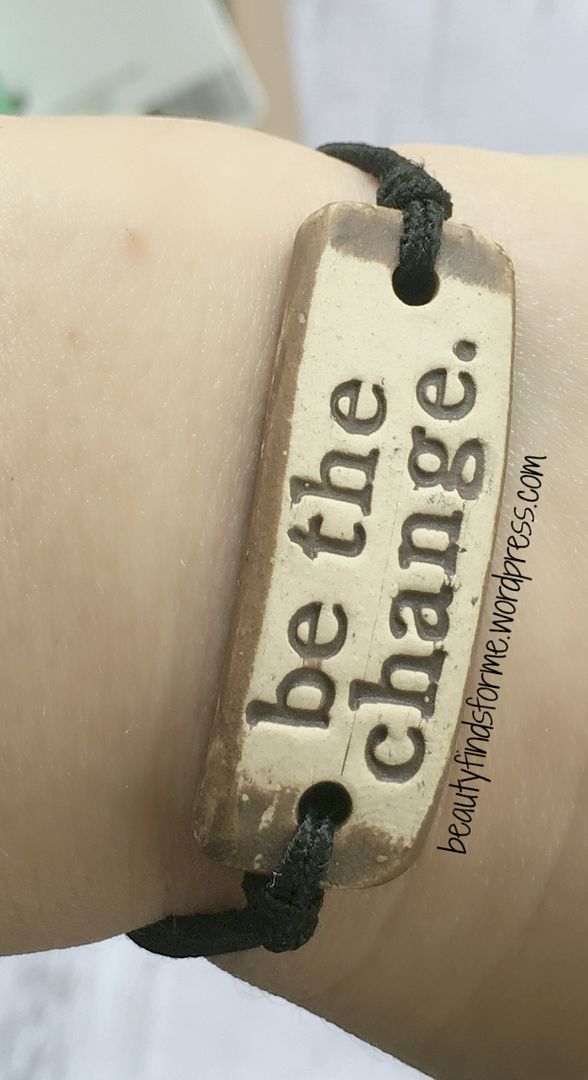 I love this month's box!!  They might be all "small" items, but like a lot of eco-friendly products, a little goes a long way.  The cleanser and dry hair shampoo will last me a long time and I love my Mud Love bracelet ~ that saying is so appropriate in today's world.  The avocado grower may not work too well for me in terms of growing an avocado, but I will try my hands at other veggies and see how that works.  I have the thumb o' death when it comes to plants, however, but maybe this little do-hicky will help keep my new seedlings alive.  The great thing about Kloverbox is that not only do they bring you eco-friendly, natural, artisan crafted products, but unique and off the beaten track type of products.  It's why I have been a long time subscriber with them and will continue to be. I paid $15.00 due to a Black Friday promo code + renewing 3 month subscription and received of almost $55.00.  Do you subscribe to Kloverbox?  What was your favorite product this month?

Current Promo:  Want to save 10% off your subscription?  Use my referral link here    One and three month terms automatically renew, the six month is a one time purchase.   The monthly subscription has an option to skip a month!

[ descriptions in italics from linked website.  contains referral link and affiliate links ]