[ this blog post contains referral & affiliate links ]
This month's theme is "Finding Peace in Nature"… which we all should just stop and smell the flowers and air around us, now and then.  What is Yogi Surprise?   

Yogi Surprise Lifestyle Box
6-8 full-size yoga lifestyle items

Vegetarian and GMO-Free

$70+ retail value in every box

$44.95/month + free shipping
This month's theme is "Finding Peace in Nature" ~ This month's offerings help you seek stillness in nature, making you feel more connected and grounded.
Informational Card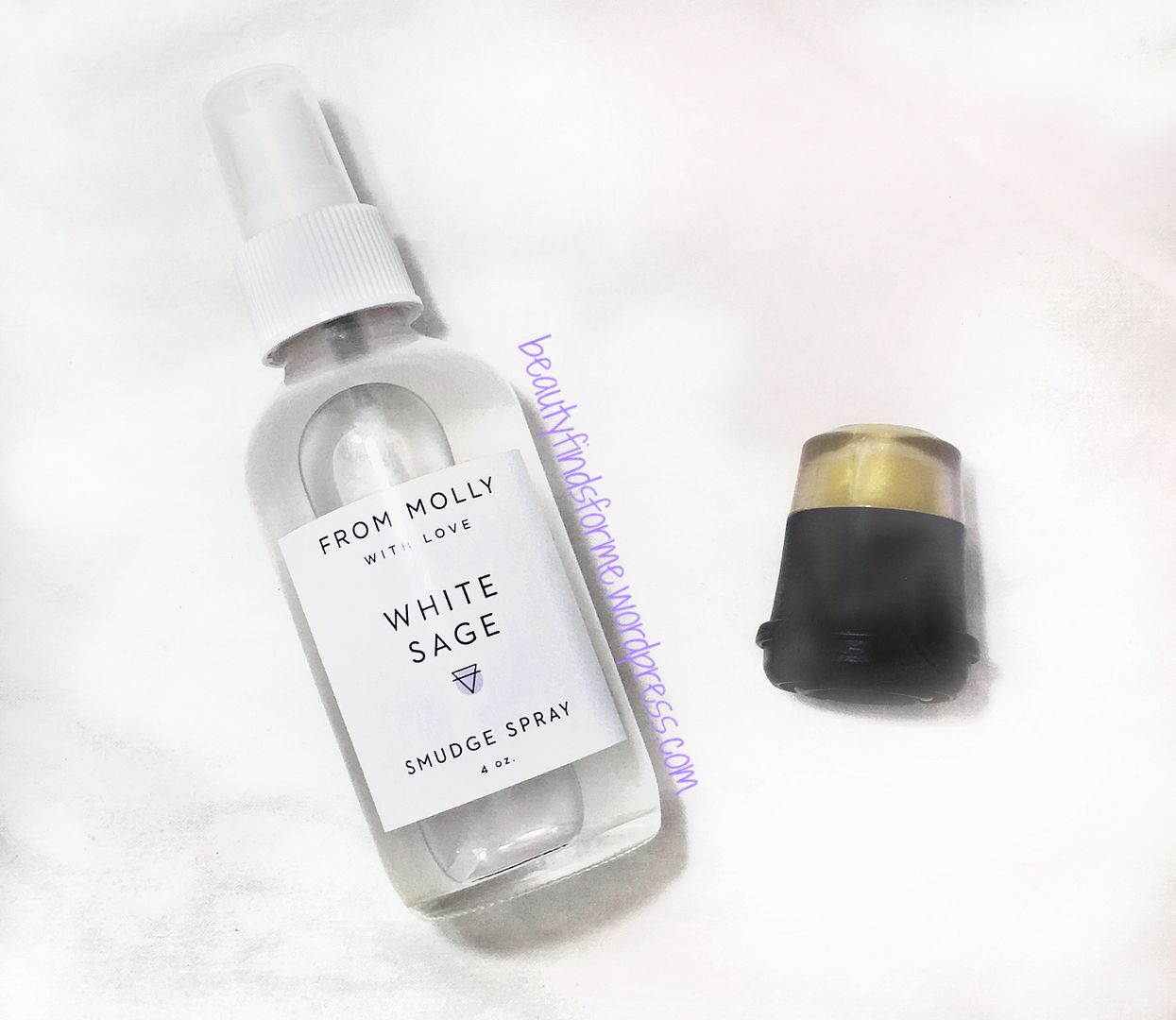 From Molly With Love White Sage Smudge Spray Sage Smudge Sticks are used in Native American rituals to clarify and purify ~ to cleanse it of negative energy. Burning aromatic herbs and plants in ceremonial  rituals is not uncommon ~ when I was a child growing up, I saw the Catholic priests use incense in prayer and rituals.   Normally, with Smudge sticks, you get a bundle of herbs ~ sage is commonly used ~ and burn them in a bowl, wafting the smoke around a person or area.  Sage is used for healing and the smoke blesses, cleanses and heals, while removing unwanted, external influences.  Sage smudge sticks are used when moving into a new home too. This spray is the "smudge stick" in a bottle and it is used in the same manner as the smoke.  I think this is more for an air freshener for most people, quite frankly, as the ritual of a sage bundle, burning it in a bowl and then waving the bundle so its smoke wafts over the room is lost.  If you want to try the traditional method, From Molly with Love does sell smudge sticks.  I cannot use this due to the rose scent in it (that is not in a traditional sage bundle) but I will gift this to my mom for Mother's Day ~ she will love it.  4 oz RV $18.00
Description: Have you ever walked into a room that feels so dense you're immediately exhausted after being there? After having a hard conversation about the oppressive forces at work, does the air feel heavy around you? You can clear the space by opening up the windows, offering a prayer or burning sacred herbs and smudging bundles. This white sage smudge spray is exactly that: smudging in liquid form!  Delicious rose and lemon essential oils increase the energy of sage, known for its incredible psychic cleansing clearing properties. This magickal sage spray can turn any space into a sacred haven because we charge it with the power of quartz crystal-infused water and pink Himalayan sea salt. If you don't like burning smudging sticks, this sage mist is perfect for you.
Ingredients: Ionized pH-Balanced Quartz-Infused Water, Hamamelis (Witch Hazel), Salvia Sclarea (Clary Sage) Essential Oil, Salvia Apiana (White Sage) Essential Oil, Rosa Damascena (Rose Absolute) Essential Oil, Citrus Limon (Lemon) Essential Oil, Reiki-Charged Pink Himalayan Sea Salt, Salvia Apiana (White Sage) Leaves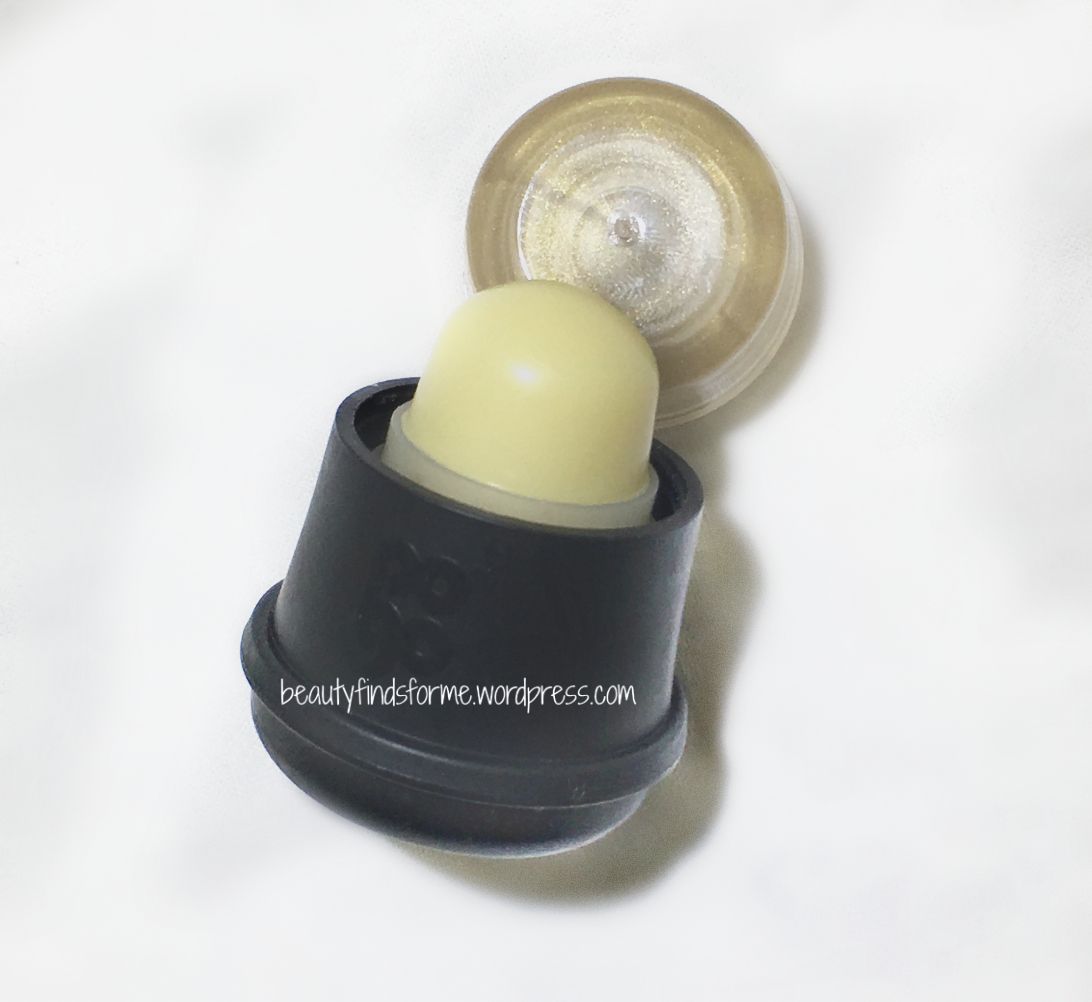 POGO Eco Lips Lip Balm When I first saw this, I thought of butt plug. Yeah, my mind went there and it never came back. Seriously, this  design fails on SO MANY LEVELS. Even when I take the cap off, the resemblance is even more apparent. What is even more amazing, is this design won the 2016 Ameristar Award for Innovative Design.  That said, the concept behind this eco-friendly lip balm and 100% recycled packaging is something I can applaud!  The flavor varies from box to box and I received Vanilla Bean and it does smell like vanilla. The packaging  is made with re-purposed plastic and will be refillable, although I do not see the refills yet.  Some of the ingredients are Fair Trade Certified and organic and it not only contains the normal sunflower, cocoa, coconut and vitamin E ingredients, but hemp seed oil is in here, which is an amazing renewable source.  I also think that this balm will fall out easily if you are not careful and the container is a bit hard to close completely.  Also,  I just wish my brain didn't scream BUTT PLUG whenever I look at this.  .15 oz  RV $3.99 
Description: Features Organic Hemp Seed Oil which contains 80% essential fatty acid, the highest amount of any other plant. Hemp seed oil penetrates cells and lubricates the surfaces between them and, is also rich in Omega-3, -6, and -9 to help keep lips healthy.  POGO balm contains 20% Fair Trade Certified cocoa butter supporting fair wages and safe working conditions for farmers in the Netherlands. This lip balm is also USDA Organic certified and Non-GMO Project Verified Certified. 1% of sales will be donated to Pencils of Promise, a for-purpose organization founded in 2008 that has built over 360 schools and provided access to education to more than 33,000 students throughout Africa, Asia and Latin America. 
Ingredients: *Cera Flava (Beeswax), *Helianthus Annuus (Sunflower) Seed Oil, Fair Trade Certified™ *Theobroma Cacao (Cocoa) Seed Butter, *Vanilla Flavor, *Cocos Nucifera (Coconut) Oil, *Cannabis Sativa (Hemp) Seed Oil, Mixed Tocopherols (Vitamin E), *Rosmarinus Officinalis (Rosemary) Leaf Extract, *Calendula Officinalis (Calendula) Flower Extract, *Eupatorium Rebaudianum Bertoni (Stevia) Leaf Extract. *Certified Organic Ingredients  Fair Trade Certified by http://www.FairTradeUSA.org
ToeSox Grip Half Toe Bellarina   These are fantastic!! This was a spoiler in our box and these half toe socks have a textured sole so that it can grip nicely when doing yoga or other activities that you want some protection on your feet but do not want to wear sneakers.   This has a non-slip grip sole to ensure that your foot placement is secure and this has an arch band to help with support (which I need), along with a raised heel tab to protect your Achilles tendon.  The heel is fitted, so it won't bunch up around the bottom of your foot and these are made from organic cotton and are unisex.   Mine came in the color Luscious, which is a really pretty mulberry color. I love to go barefoot in my home, but these are a great alternative to bare footing ~ I love that the top is open too, so my feet won't get too hot. Size Medium  RV $17.00 Promo Code: Save 20% off your next ToeSox order. Use code YOGISURPRISE20 Expires 07/15/2017
Description: Bellarina has everything you need in a barre sock. Bellarina struts her stuff with a heel tab that provides extra comfort and protection to the Achilles tendon. She rocks an arch band for graceful lift and support. Wear Bellarina for all barefoot activities like barre, Pilates, yoga, and dance.  90% Organic Cotton 8% Spandex, 2% Other Fiber. Printed socks: 58% Polyester, 32% Cotton, 8% Spandex, 2% Other Fiber. Machine washable. Wash inside out in gentle cycle. Line dry or low heat in dryer. No bleach or iron.

Arete Complete Hand Towel   The color varies and I received Green Stripes and I love it ~ it is more of a light green-aqua shade.   This has a unique texture ~ it has that suede like fabric, that makes it very absorbent and it dries quickly.  It is lightweight, but a great size ~ It measures 16 x 26.5 inches. It is made with 80% polyester/20% nylon and just toss in the washer to clean and air dry ~ it will dry quick!  It is really a great looking towel and according to Arete, it can absorb 8 times its weight in water.   I want to get the matching yoga mat towel now!  RV $24.00   Promo Code: Save 30% off your first purchase on an Arete mat size towel with free shipping.  Use promo code ACTIVE DREAMERS 
Earth Science Naturals Lightly Scented Almond-Aloe Moisturizer This is a really lovely scented moisturizer ~ it contains nourishing and moisturizing emollients such as sweet almond oil, jojoba oil, shea butter, squalene, sunflower oil,  and soy and hydrating sodium hyaluronate, aloe and glycerin.  This also vitamin C and E, and AHA latic acid, a power punch of antioxidants and gentle exfoliation.  This is very lightweight without any greasy residue and it smells wonderful, just like sweet almonds.  This lotion will not clog pores, is naturally scented and has a pH of 5.5.  You can use this on your face,neck and hands.  This is free from parabens, no animal testing and is vegan. This is a great moisturizer to take when you go on vacation, as it is multi-purpose!   Full Size 5 oz RV $10.95
Ingredients: Water, Glycerin, Glyceryl Stearate, Prunus Amygdalus Dulcis (Sweet Almond) Oil, Cetearyl Alcohol, Polysorbate 60, Dimethicone, Simmondsia Chinensis (Jojoba) Seed Oil, Butyrospermum Parkii (Shea Butter), Aloe Barbadensis Leaf Juice, Panax Ginseng Root Extract, Squalane, Helianthus Annuus (Sunflower) Seed Oil, Soy Isoflavones, Tocopherol, Chamomilla Recutita (Matricaria) Flower Oil, Geranium Maculatum Oil, Allantoin, Ascorbic Acid, Sodium Hyaluronate, Xanthan Gum, Lactic Acid, Beta Carotene, Glycyrrhiza Glabra (Licorice) Root Extract, Retinyl Palmitate, Zea Mays (Corn) Oil, Glyceryl Dilaurate, Citrus Grandis (Grapefruit) Seed Extract, Lecithin, Sodium Cocoyl Isethionate, Polysorbate 80, Potassium Sorbate, Sodium Hydroxymethylglycinate, Phenoxyethanol, Fragrance  cosDNA analysis
Badger Sport Sunscreen Face Stick  Sunscreen sticks are popular with me when the weather gets warmer ~ probably because I am out more often in the sun and need to reapply my sunscreen.  This is made from 98% organic ingredients and it is water resistant for 80 minutes.  This is great for applying to my ears, nose, lips, which is I probably will do ears, lips and hands!  lol.  I do think that eco-friendly sunscreens are too clogging for my oily skin, but I love the convenience of these stick sunscreens.   This is made in the USA and I always see Badger products at my local Whole Foods store.  This does leave a white cast, so make sure to rub it in completely.  .65  oz RV $9.99 Promo Code: Save 15% at badgerbalm.com with code YOGISURPRISE15.  Expires 12/31/2018  Free shipping in USA with a $25.00+ order and a free full sized product with every purchase.

Description: Formulated to protect skin from sun, wind, cold, and water as safely and naturally as possible, Badger SPF 35+ Face Stick is an easy-to-use, no-mess stick that fits nicely in a beach bag, backpack, and carry-on bag  SPF 35 formula features micronized zinc oxide for broad spectrum protection from UVA and UVB rays; no oxybenzone, octinoxate, or other chemical active sunscreening agents. Unscented formula still retains the subtle natural scents of cocoa butter and beeswax. Ultra-moisturizing and soothing certified organic base of extra virgin olive oil, beeswax, cocoa butter and shea butter
Ingredients: Active Ingredient: Non-nano uncoated  Zinc Oxide (22.5%). Other ingredients: *Olea Europaea (Extra Virgin Olive) Oil, *Cera Alba (Beeswax), *Theobroma Cacao (Cocoa) Butter, *Butyrospermum Parkii (Organic Shea) Butter, and Tocopherol (Sunflower Vitamin E). . * = Certified Organic  May contain traces of soy. 100% Certified Natural by NPA; 94% Certified Organic by NSF
Bonus Item: Yogi Surprise Yoga Sequence Series Card: Finding Peace In Nature Let yourself sink into the sweet stillness of nature and feel more grounded and connected to your environment than ever.  Yogi Surprise always has a sequence card in every lifestyle box with poses and positions that reflect the theme of the box.

I love the ToeSox, my hand towel and moisturizer (smells so good!) and I even like my lip moisturizing butt plug  balm.   The smudge spray will be a nice Mother's Day gift, so that isn't a waste.  I will use the sunscreen stick as during the summertime, when I am out and about, I do need to reapply sunscreen, but I hate carrying a tube ~ this stick is very handy.  I am very picky about my sunscreens and stick to a couple of brands and I find that eco-friendly ones are too heavy for my oily skin.   If you like to mix spiritual, lifestyle and skincare together, I highly recommend this subscription.  I am always happy with the accessories ~ I love that we get yoga socks and things for yoga too.  This box has a retail value of almost $84.00

Do you subscribe to Yogi Surprise Lifestyle Box?  What was your favorite item this month?

If you are interested in signing up to Yogi Surprise for either their Lifestyle or Jewelry box, I would love it if you used my referral link   They are currently running a 10% off special for the first month, no promo code needed.   Check out the spoilers for next month's boxes below!    If you sign up for the Lifestyle box, use YOGILOVE to get 15% off the life of your subscription!

Next Month Spoilers

Creative Divine Mother This May, let us embrace the warmth and vibrancy of the spring season as we celebrate our creative expression.
If you sign up now, you get a free gift worth $20.00 ~ Chakra Healing Stones  (these came in the May box ~ see my unboxing here)
[ all descriptions in italics from linked website.  this blog post contains referral & affiliate links ]