ToGoSpa is a customizable subscription service, revolving around eye gels and face masks ~ with a special bonus product, called The Benefit, which can be skincare, body pampering, lifestyle.  Every month, we get a hint what the next month's Benefit theme is and it was "Bring on Your Gypsy Soul!" At the end of each unboxing, I always try to guess what the next month's product will be and see how close I get to it. I was thinking something from an apothecary shop.   Let's see what the Benefit is this month!
Before I head into the unboxing, I want to briefly tell you what ToGoSpa Society is, if you don't know.  If you do know, you can skip down a bit to my unboxing 🙂 I subscribe to ToGoSpa Society just to get their amazing eye gels monthly and they also add in a "benefit" product(s) that varies monthly.  The benefit product can be something from their own line or another vendor.    A bit more on ToGoSpa Society
A monthly membership that gets you EYES by ToGoSpa each month because we think you should use them ANYTIME if you want to – AND The Benefit,- a gift selected by us – just for you!
What is The Benefit?  It's a special gift from us to you!  On our never ending quest to discover the best of the best in "on the go" spa products, we find some extraordinary things! We want to share some of this booty with you, and The Benefit allows us do just that! Each month, along with your EYES,  you'll receive a unique and special gift of one of our favorite products. It could be a gift of our own ToGoSpa brand products, or another brand that we covet. The Benefit will be a full size, spa quality, awesome gift valued from $20 – $50. We won't tell you what it is, but we know you're going to LOVE it!

Which flavor of EYES will I receive?  Your call. You'll get to choose between Refreshing Ice Water, Rejuvenating Green Tea,  Anti-Aging Pomegranate and Replenishing Coconut.

I am on the $27.50 variety plan, but I have been grandfathered in, so I pay $22.00 a month ~ and will receive the same Benefit product as the other plans, so I am glad that I am not missing out on that! ToGoSpa makes it really easy to switch your plans online as well. The $27.50 variety plan will supply me 2 packs of eye gels  ~ randomly selected from Ice Water, Green Tea, Coconut and Pomegranate packs  with each pack containing 3 pairs of gels (6 treatments total) ~ plus  a "benefit" product, which could be one of their products or a product that they really like ~ valued at $20.00 to $50.00.  Save 15% off your first box by using promo code Unboxing15.

ToGoSpa Box Revealed!

Informational Card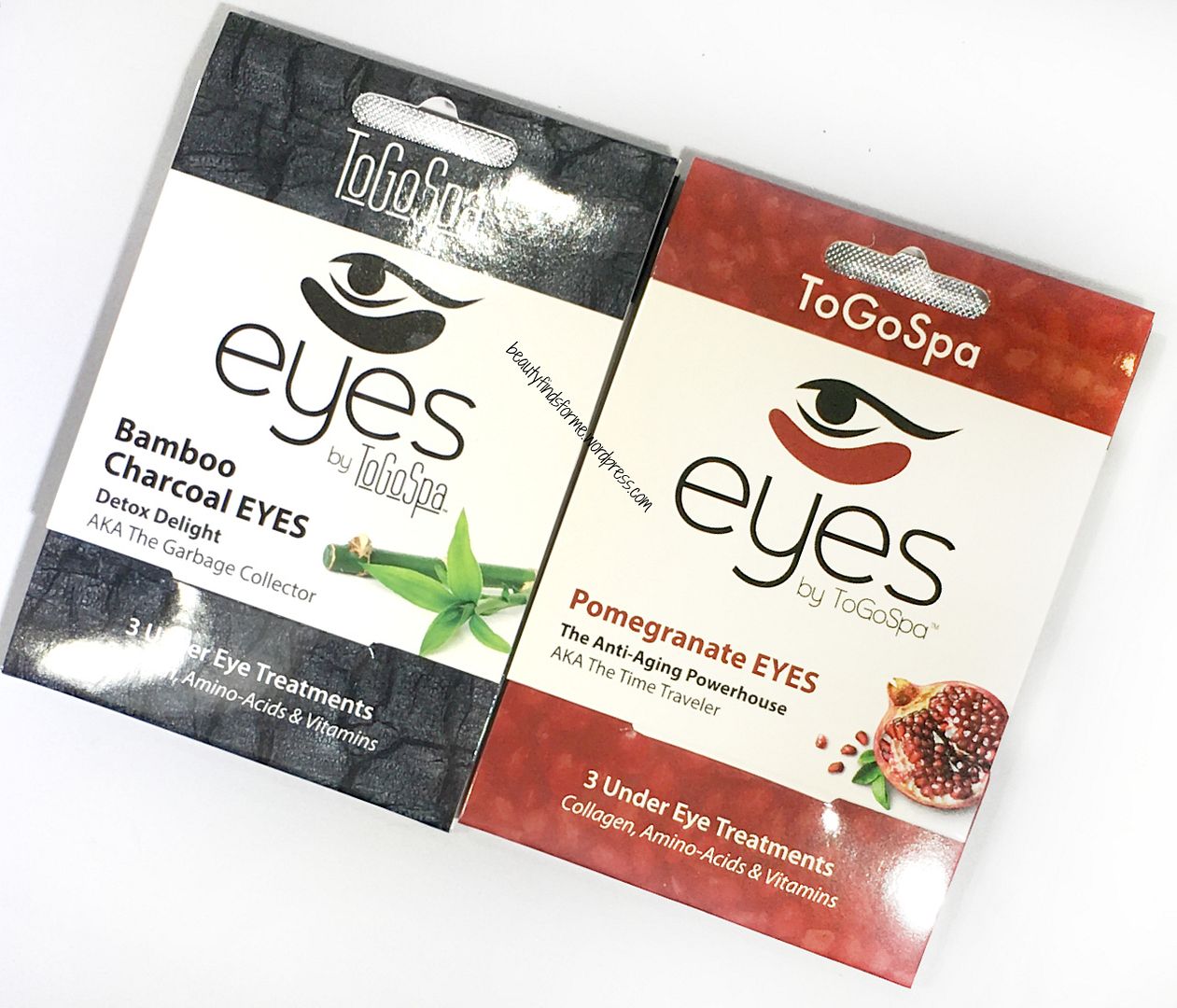 I received 2 packs of gels, but you can read my in-depth review on the EYES in my original March post.  If ToGoSpa comes out with a new type, I will review those at that time.    I will state what I received and if you are interested about the full information on the EYES, please read my ingredient and description blog post on these eye gels. All of the EYES products have these benefits
Activated by the body's temperature, the nutrients stored in each flexible EYES by ToGoSpa® gel pads work together to aide stressed, tired and aging eyes and skin
Relaxes, calms, and pumps up hydration levels to new heights.
De-puffs and reduces the appearance of dark circles.
Reduces irritation and redness.
Minimizes pores with clarifying, cleansing oils.
Hydrates crepe-like skin and fine lines.
This month, I received Bamboo Charcoal Eyes Detox Delight AKA The Garbage Collector and Pomegranate EYES The Anti-Aging Powerhouse AKA The Time Traveler. Value $25.00 Total packs =2.  Total treatments =  6.  Value $25.00
The "Benefit" Product
ToGoSpa Organic Love Lip Balm ToGoSpa makes other skincare products besides their facial gels, and I have tried their lip balms before ~ they are very nice and nourishing  ~ and small enough that I actually use it up before it goes bad!  They have two scents ~ Organic Splash, which is a citrus scent of Brazilian Orange and Italian Grapefruit and this one ~ Organic Love ~ a tingling minty sensation of lavender, peppermint and spearmint.  Lavender has amazing wound healing proprieties due to its antibacterial, antiseptic and anti-inflammatory compounds. It is also is a soothing and invigorating ingredient as well. Peppermint and spearmint add anti-bacterial properties, while delivering a minty zingy taste.  This has nourishing oils and butters in them, to really hydrate and lock in moisture, while healing chapped lips.  RV $10.00
Description: Fresh and tingly on the lips, our Organic Love balm is crafted with a scrumptious formula of certified organic virgin coconut oil and ultra-softening African Shea Butter to prepare your lips for their chosen role. When our ever vigilant product crafters extraordinaire came across a report indicating that the act of kissing worldwide was on the decline they immediately cried as one, this shall not be and sprang into action with the single goal of correcting this most egregious of situations. Lip smackingly good-for-you this unique blend of organic oils moisturize lips from within rather than sealing them off like petroleum-based lip balms. Fortified with Lavender, Peppermint and Spearmint to soothe and refresh and a super skin-conditioning blend of evening primrose and grape seed oils to revitalize dry, parched and cracked skin. Hooray for happy, healthy kissable lips! No synthetic ingredients or flavors.
Ingredients: Organic Virgin Coconut Oil, Shea Butter, Castor Oil, Beeswax, Jojoba Oil, Evening Primrose Oil, Sunflower Oil, Grape Seed Oil, Peppermint Oil, Spearmint Oil, Lavender Oil, Tocopherol (Vitamin E) Oil, Rosemary Extract
Gypsy Soul Organics Sister Wind Aromatherapy Potion  I have tried a Gypsy Soul Organic product before ~ their healing salve balm ~  and I was hoping to try more from this brand.   This is from their aromatherapy spray series ~ they have Brother Woodland,  Son Rain, Daughter Mmoon,Father Forest, Mother Earth and so on ~ and Sister Wind, which is AMAZING.  This contains essential oils of eucalyptus, spearmint and basil and it is a refreshing and awakening scent ~ I don't really smell the eucalyptus, but I do smell the sweet, mellow minty spearmint and the sweet basil herb.  Not only is this an invigorating scent, it also helps allergy sufferers, which I am one!  And allergy season is coming up soon, with all of the bloomin' flowers.  These potions are handcrafted, come in a beautiful cobalt blue glass bottle and are 100% pure plant-based aromatherapy .  Full Size 2 oz  RV $19.99
Description: Sister Wind excites the senses, energizes the body and awakens the spirit! Eucalyptus and spearmint offer an inspiring synergy with their natural uplifting properties… blissfully creating a refreshing & rejuvenating harmony with sweet basil. Our minty & powerful blend helps to restore vitality and bring your creative spirit to the surface
I love this month's benefit products ~ the lip balm is always nice to have but wow ~ getting another Gypsy Soul product makes my day!  I love this scent and I love that shop ~ the owner seems to be very knowledgeable about the ingredients she uses. I paid $22.00, which included shipping and received a value of $55.00. If you order before the 15th, you can still get this  month's box.   There is no hint for next month's box!!  A total surprise it will be then 🙂

Are you interested in ToGoSpa Society?  If you are, let me know in the comments below and you can join here and tailor your monthly box to your needs!  Save 15% off your first box by using promo code Unboxing15.  I highly recommend this subscription.  If you already are a member, what did you think about this month's box?

 

[ description in italics from the linked product site ]
[ this blog post contains affiliate links ]