[ blogpost contains affiliate links ]
I loved the Sakura March box and felt how can NMNL get better?  Well, they did with this month's box which I got right at the beginning of April!  I am just slow this week getting this unboxing up.

Tokyo Treat NMNL (no make, no life) will contain 5 to 7 full sized beauty products from Japan.   They will ship directly from Japan and it does have international free shipping to 120 countries.  This box will ship out between the 20th and 28th of the month prior.

nmnl comes in one size:  each monthly box contains a mix of 5 – 7 full-sized beauty items of the highest quality from 6 different categories (skin, body, make, hair, bath and tools) chosen for you by our in-house beauty consultant
The pricing varies based on your plan
$29.99/monthly

$87.00 for 3 months

$170.00 for 6 months

$330.00 for 12 months
Special!!!  If you order any of the Tokyo Treats boxes, you will save 10% off the life of your subscription! April is Tokyo Treat 2nd Birthday and they are doing a massive cross promotion where you can get a 10% off forever with
Use promo code 2NDANNIV at checkout and no matter if you have a monthly plan or a 12 month plan, you will save 10% forever on your subscription! This offer ends on April 30th 2017.  If you subscribe after April 30th, you can save $3.00 off your first box by using promo code UNBOXINGBEAUTY

Box Revealed
This does come with an informational pamphlet which I forgot to take photos of.  The theme is Skincare Essentials ~ it will have best, trendiest and unique Japanese skincare essentials.

As I am still getting the hang of using various tools to help translate Japanese to English, my translations are still rough with the ingredient list.  If you do not see the cosDNA analysis at the end of the list, then that means I am not 100% sure that I translated this correctly.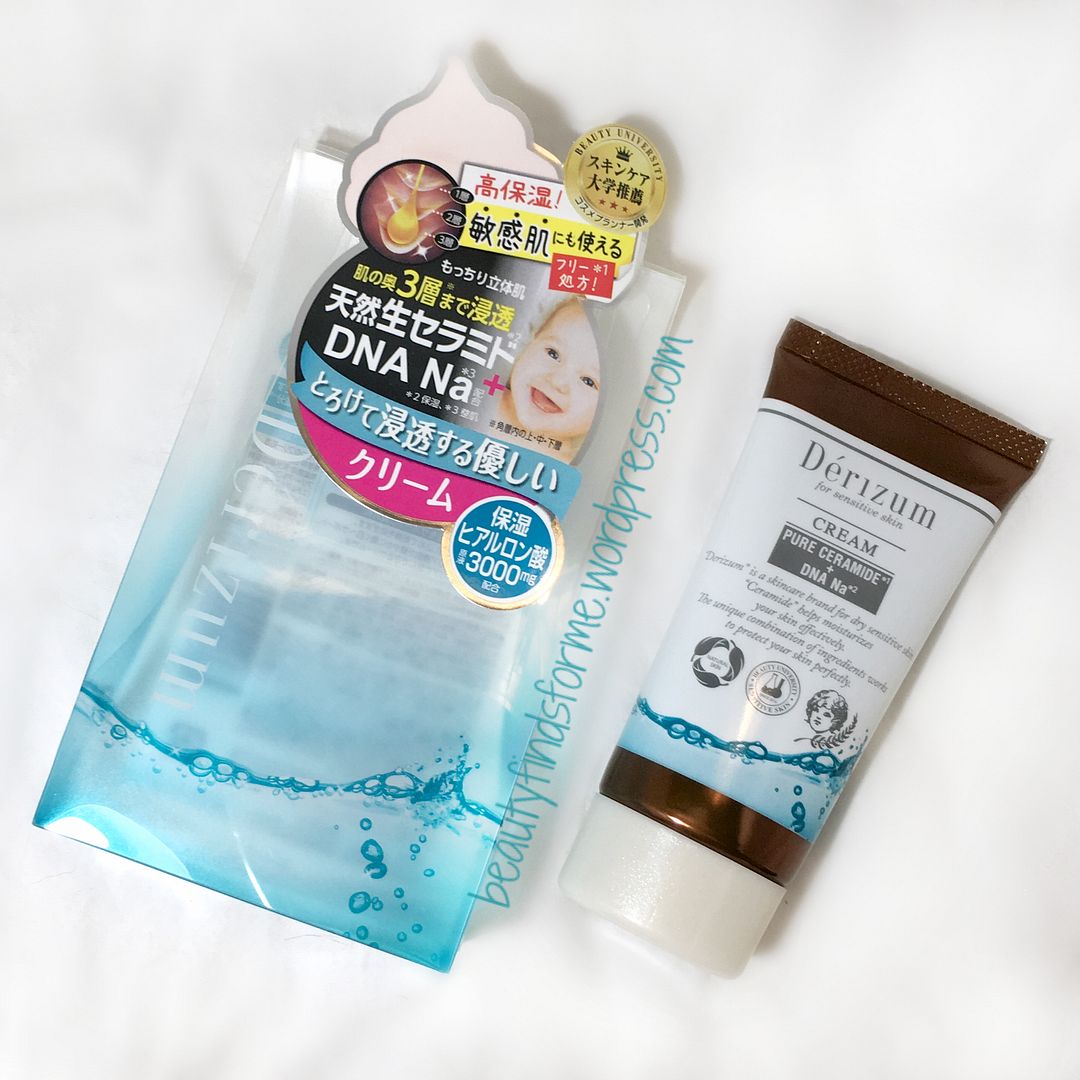 Derizum Cream Pure Ceramide + DNA Na2 This is for dry sensitive skin, and I will say, that isn't true!! I did open this up and do a swatch test and felt it was not heavy or greasy.  I think this will be a nice night time moisturizer for me. 
This is made with 3,000 mg of hyaluronic acid and it is good for sensitive skin.   According to the information  I read, this has a natural raw ceramide along with 7 different types of ceramide, 15 different types of blended amino acids and is unscented, free from artificial coloring, parabens, alcohol, silicon and mineral oils.   Ceramides are a lipid that keeps your skin moist, plump and helps improve your skin's barrier layer and repair skin damage.   50 grams RV $18.99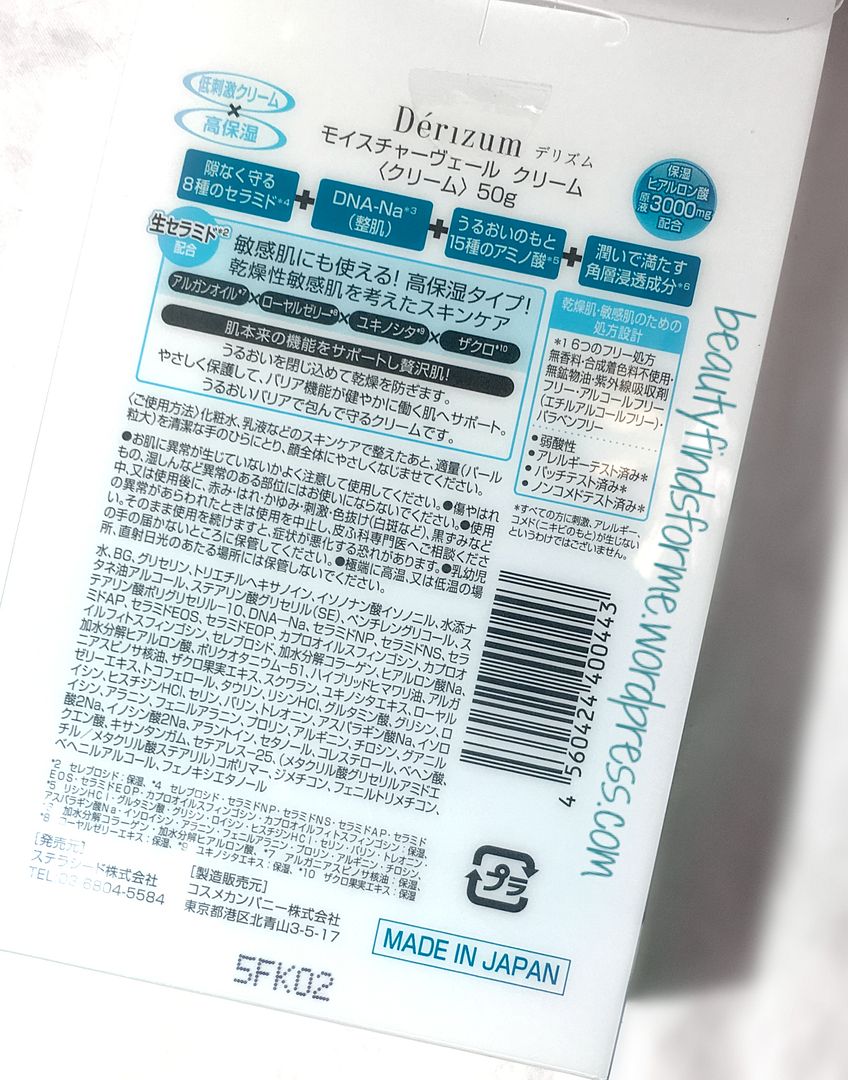 Ingredients: water, butylene glycol (BG), glycerin triethylhexanoin, isononyl isononanoate, hydrogenated rapeseed oil, glyceryl stearate (SE), pentylene glycol stearate polyglyceryl-10, DNA-NA, ceramide NP, ceramide NS, ceramide AP, ceramide EOS, ceramide EOP, caprooyl sphingosine , cabrooloyl phytosphingosine, cerebrosides, hydrolyzed collagen, hyaluronic acid NA, hydrolyzed hyaluronic acid, polyquaternium-51, hydrogenated castor oil, argania spinosa kernel oil, punica granatum (pomegranate) fruit extract, squalane, saxifraga sarmentosa extract, royal jelly extract, tocopherol, taurine, lysine HCl, glutamic acid, glycine, leucine, histidine HCl, serine, valine, threonine, sodium aspartate , isoleucine, alanine, phenylalanine, proline, arginine, tyrosine, disodium guanylate, disodium inosinate , allantoin, cetyl alcohol, cholesterol, behenic acid, citric acid, xanthan gum, ceteareth-25, glycerylamidoethyl methacrylate/stearyl methacrylate copolymer, dimethicone, phenyl trimethicone, behenyl alcohol. phenoxyethanol

Meropura Melon All in 1 Gel   This was one of our spoilers and YEAH!!  I finally got the melon!  Now, NMNL states this is a multi-purpose face gel, but Meropura's description is for an eye treatment.  This sweetly scented honeydew melon gel is one of those gels that has "memory", so you can make it all chunky and stir it around in the melon pot, but it will smooth back over like it was never touched!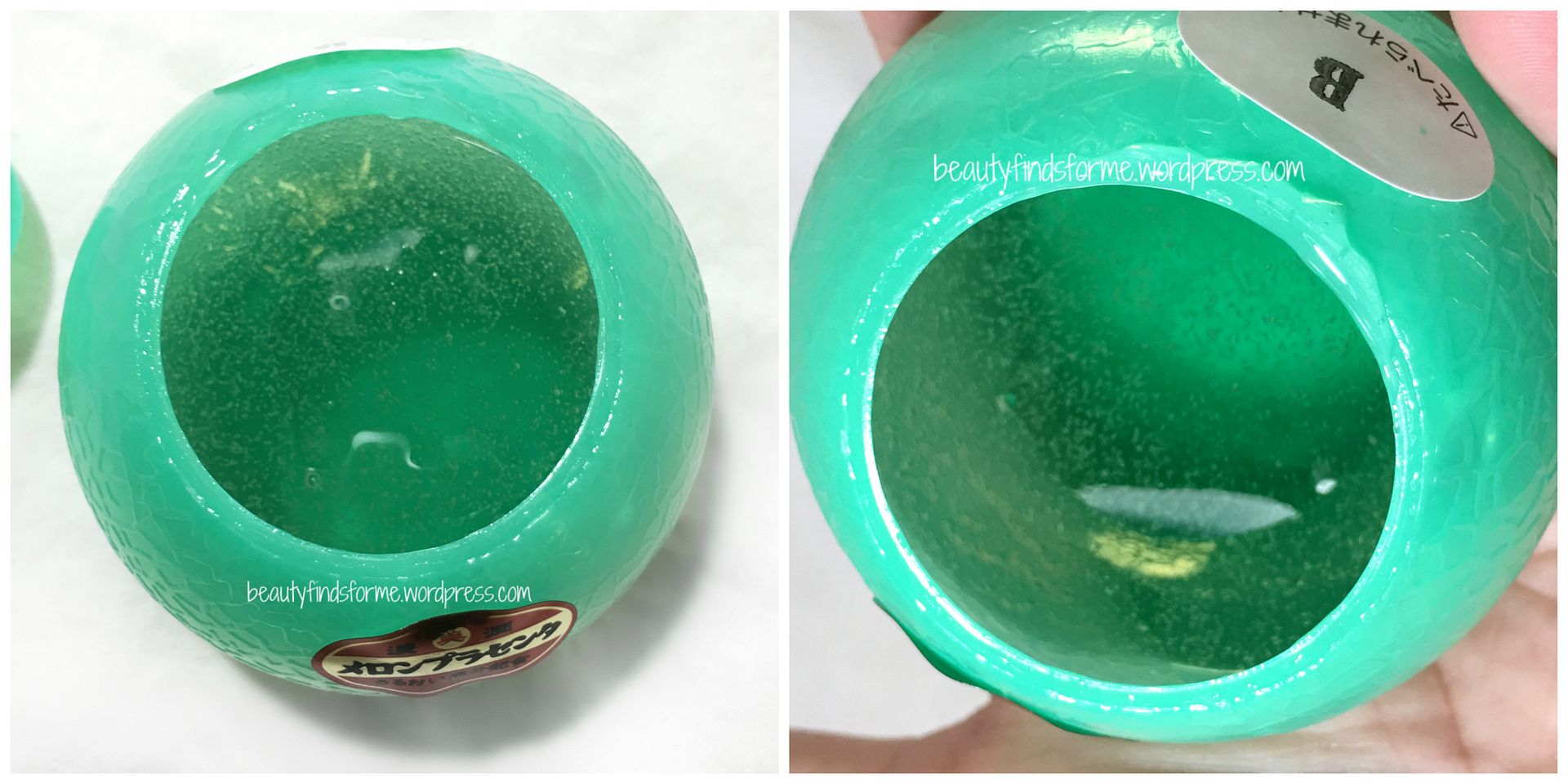 This moisture restore gel has 3 different types of collagen ingredients, 3 types of hyaluronic acid and five fruit extracts, along with melon "placenta" ~ this is collected from melon seeds and it contains the concentrated nutrients that aid in plant growth and they are rich in vitamins and minerals.  Unlike animal placenta, this is safe and will not affect your hormones and it has superior antioxidant benefits along with amino acids.  This melon gel has a brightening effect on your skin, so I think this will be good for dark circles.  I am going to put my melon ball in the frig and use it when summer comes ~ this sounds great for cooling my eyes and maybe it will help depuff the skin around them too.  This gel just melts into my skin when I apply it and I love the melon scent.  85 grams RV $10.00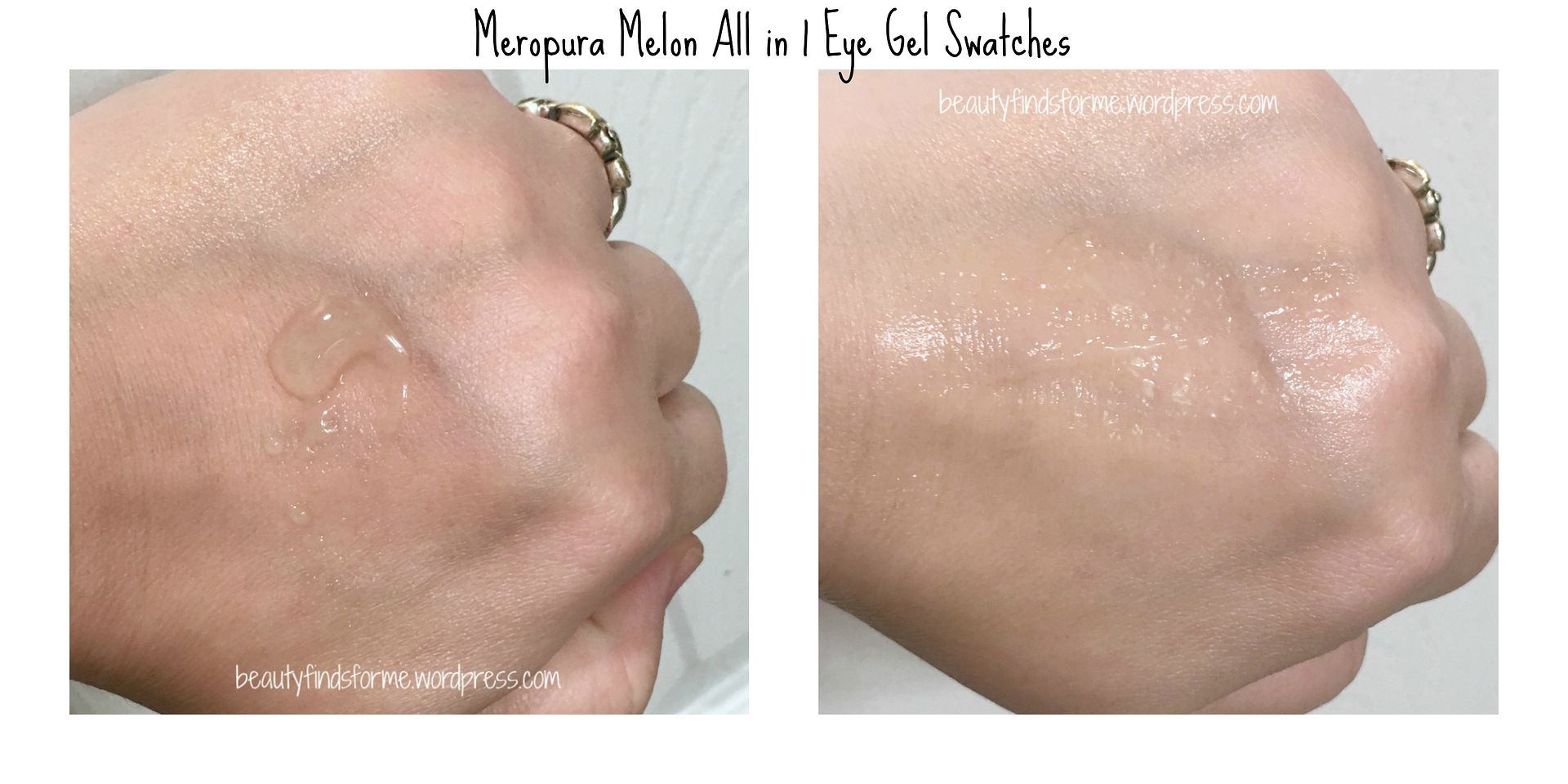 Ingredients: water, glycerin, DPG, (PEG-240 /decyltetradeceth-20/HDI) copolymer, PEG-8,,butylene glycol, melon placenta extract, Na acetyl hyaluronate, hydrolyzed hyaluronic acid, hyaluronic acid Na,  succinoyle atelocollagen, water soluble collagen, hydrolyzed collagen, glycyrrhizic acid 2K, allantoin, pitaya fruit (dragon fruit) extract, acai palm  fruit extract, bilberry fruit extract, lemon fruit extract, orange fruit extract, sugar maple sap, sugarcane extract, sodium citrate, citric acid, copper chlorophyllin Na, polyglyceryl myristate-10, PEG-60 hydrogenated castor oil, sodium pyrosulfite Na, methylparaben, phenoxyethanol, fragrance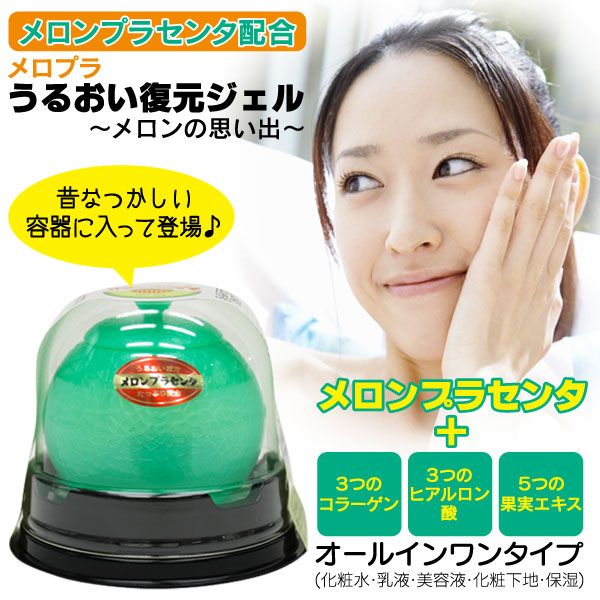 Shiseido Senka Perfect Whip Face Wash  In the Western world, Shiseido is this very high end brand sold in department stores ~ but in Japan, Shiseido varies from expensive items to everyday practical items, such as shampoos and this facial cleanser.  This is a very popular facial cleanser in Japan and it has gone thru several different formulas. The one I received is the latest 2016 version, which has silk in its ingredient list.  This is a rich foam cleanser that will remove makeup while unclogging pores.  It contains silk essence, amino acids  and 2 types of  hyaluronic acid to help smooth and restore the natural moisture balance in your skin.   Its' selling point is that the cleanser will create a very dense soft foam, which is supposed to act like a cushion, protecting your skin from your too harsh cleansing techniques ~ lol.  I guess that is a selling point!   I love looking at Japanese ingredient lists as they are formulated a bit different from normal Korean skincare products.  This is a new HA to me ~ sodium acetylated hyaluronate (AcHA):  "Sodium Acetylated Hyaluronic Acid ( AcHA ) is a distinctive HA-derivative which is easy to use due to amphipathic properties, has high suppleness of the stratum corneum, and offers high water-retentiivity (more than 2 times than normal HA). This product has a strong affinity for skin, and remains firmly on the surface of skin to prevent water from evaporating from skin" (source)      120 grams RV $9.00
Ingredients: water, stearic acid, PEG-8, myristic acid, potassium hydroxide, glycerin, lauric acid, ethanol, butylene glycol (BG), glyceryl stearate SE, polyquaternium-7, sodium hyaluronate, sericin, sodium acetylated hyaluronate (AcHA), hydrolyzed silk, disodium EDTA, sodium metabisulfite, citric acid,potassium sorbate, sodium benzoate, fragrance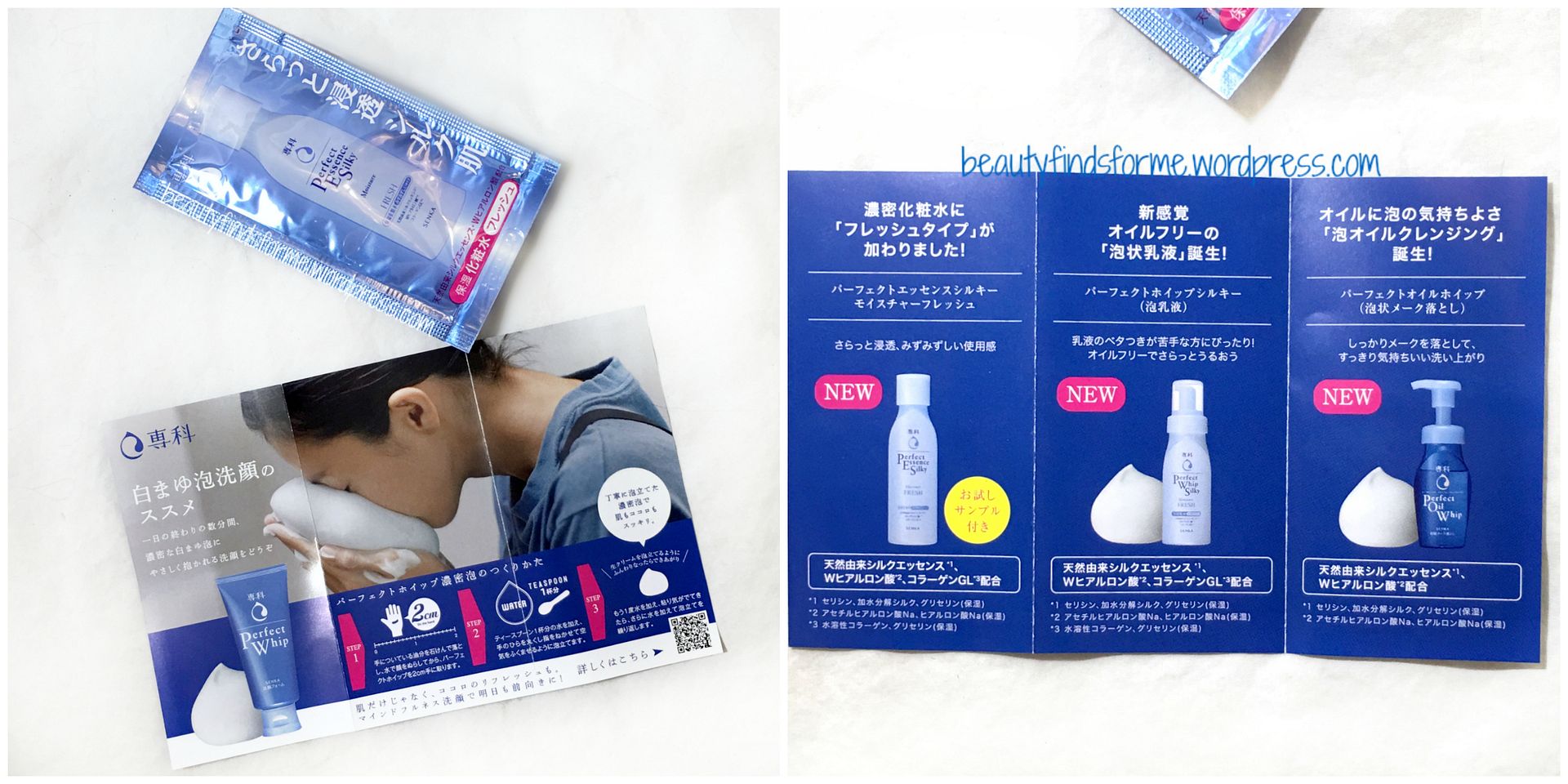 I also received a little sample foil of Shiseido Senka Perfect Whip Silky Moisture Fresh, which is an oil free moisturizer.  It is supposed to be non-sticky and also contains the silk essence, a blend of amino acid sericin and hydrolyzed silk and two hyaluronic acids like the cleanser, with the addition of collagen to help deeply hydrate your skin and maintain its skin barrier. 
Ingredients: water, dipropylene glycol, BG(butylene glycol, glycerin, trehalose, PEG-400, PEG/PPG-14/7 dimethylether, lauryl betaine, sodium hyaluronate, sericin, sodium acetylated hyaluronate (AcHA), soluble collagen, hydrolyzed silk,  disodium EDTA,  sodium citrate, potassium cocoyl glutamate, potassium hydroxide, citric acid, ethanol, potassium sorbate, phenoxyethanol, sodium benzoate