[ disclosure: product received in exchange for a review.  contains affiliate links for a small commission ]She tore the azure robe of night, And set the stars of glory there…
Joseph Rodman Drake
I have been VERY interested in this blue calming cream from Klairs ~ ever since it was released.  When it first came out, based on reviews I read, people were initially confused by it as they thought it was an all over facial cream.  It could be used as such, I am sure, but it is a small jar and I knew that since it was a calming cream, it was a spot treatment product.  When Wishtrend  asked me what I would like to try from their brands ~ Klairs is a brand that they make ~ I looked first to this little pot of calming azure blue.   I have reviewed several Klairs products by now, and I have really enjoyed all of them ~ you can read my reviews here.

Skin Type/Concerns:  Oily, blemish prone, aging skin with hyper-pigmentation and fine lines/wrinkles.
Klairs Midnight Blue Calming Cream was released back in 2016 and it has made the 2016 Best Beauty Products at Wishtrend, which means it is the 2nd best seller at Wishtrend, with only the amazing Supple Preparation Toner generating more sales.

If you're a person who have concerns about skin irritations due to sensitivity of skin to skin care products, although the conventional Klairs skin care was satisfactory in soothing & nonirritating, additional care is needed for extreme sensitivity, meet the new Klairs Midnight Blue Calming Cream. As a cream that helps calm & strengthen barriers in extremely sensitive skin, When used with the soothing line, it works rapidly to soothe and regulate irritated (by heat or sebum), stressed skin.
The description is a bit vague, so I can understand the confusion about this cream.  I like to think of it as a balm/salve product in the sense that it is to help target areas that are red and sore.  By applying this cream on those areas, it will help reduce the redness and inflammation, ease skin pain and being to heal the irritated skin.   As someone who is blemish prone, you can see why I wanted to try this product!
Ingredients of Note
Guaiazulene comes from one of my favorite soothing plants ~ chamomile.  "Guaiazulene, also azulon or 1,4-dimethyl-7-isopropylazulene, is a dark blue crystalline hydrocarbon. A derivative of azulene, guaiazulene is a bicyclic sesquiterpene that is a constituent of some essential oils, mainly oil of guaiac and chamomile oil" (wiki)    Okay, but what does it do other than give this cream that beautiful blue color?  Guaiazulene has anti-microbial properties, so it will help prevent bacterial infections and it has anti-inflammatory benefits,  so it will help reduce redness and swelling on your skin.  Klairs Midnight Blue Calming Cream contains 0.03% of guaiazulene ~ just to compare, there is a similar product out there on the market and in "Japanese clinical trials, that particular product demonstrated effects in 89.7% in sunburns, 60.6% in eczema, and 86.5% in ulcerative skin diseases, and is used as the main raw material in burn ointments", according to Wishtrend. 
This also contains a favorite ingredient of mine ~ centella asiatica, which helps speed up wound healing, such as blemishes and skin rashes. It also helps minimize the appearance of pores, and since it stimulates collagen production, it will make your skin more supple and firm.  Portulaca oleracea has soothing moisturizing benefits and prevents your skin from drying out.  Chamomile (anthemis nobilis) calms down the skin and relieve redness effectively with its antioxidant, antibacterial and anti-inflammatory properties.  It helps to relieve skin issues and irritations because it soothes and lessens swelling and redness, while healing skin and stimulating cellular renewal.

Bacillus/Soybean/Folic Acid Ferment ~ folic acid is vitamin B and it helps with repairing your skin, allowing it to be firm and elastic.  This fermented ingredient will help repair hyper pigmentation and wrinkles caused by UV rays and your skin will absorb it quickly.  I am mentioning this ingredient in these terms because you can use the Midnight Blue Calming Cream for sunburns!  This cream also has several anti-aging peptides to help regenerate skin cells, reduce the appearance of fine lines and wrinkles, support the production of collagen and elastin, repairing damage to your skin and making your skin firm and retain moisture: acetyl hexapeptide-8, SH-oligopeptide-1, SH-oligopeptide-2, SH-polypeptide-1, SH-polypeptide-9 and SH-polypeptide-11.  Amino acid acetyl glucosamine contains hyaluronic acid and glycosaminoglycans, which is a NMF (natural moisturizing factor) and will help keep your skin soft, supple and hydrated.  This ingredient also brightens your skin, helping reduce the scarring and redness that you can get from blemishes.
Now, this isn't a moisturizing cream that you would use in place of your normal creams or lotions, but it does have the humectant power duo of glycerin and  sodium hyaluronate, to help attract and retain moisture in your skin, while nourishing butters and oils help moisture and protect your skin:  shea butter, argan oil and jojoba oil.  I would also be remiss if I didn't mention the little known talked about ingredient of lecithin.  This is a soothing emollient that helps soften your skin,  keeping it hydrated.  What makes this unique is that it can also assist other ingredients and their benefits and carry these properties directly to the cellular level.  Since this product has soothing and anti-inflammatory claims, this ingredient is very important as it will boost those ingredients and help them be absorbed more rapidly. 
All in all, you can see that Klairs Midnight Blue Calming Cream's primary focus is about soothing and repairing your skin. 
Ingredients: Water, Cetyl Ethylhexanoate, Butylene Glycol, Glycerin, Sodium Hyaluronate, Caprylic/Capric , Triglyceride, Centella Asiatica Extract, Sorbitan Stearate, Cetyl Alcohol, Butyrospermum Parkii (Shea Butter), Argania Spinosa Kernel Oil, Simmondsia Chinensis (Jojoba) Seed Oil, Sorbitan Sesquioleate, Glyceryl Stearate, Stearic Acid, Portulaca Oleracea Extract, Anthemis Nobilis Flower Extract, Ceramide 3, Polysorbate 60, Bees Wax, Chlorphenesin, Tocopheryl Acetate, Xanthan Gum, Acrylates/C10-30 Alkyl, Acrylate Crosspolymer, Morus Alba Root Extract, Triethanolamine , Brassica Oleracea Italica (Broccoli) Extract, Lavandula Angustifolia (Lavender) Oil, Eucalyptus Globulus Leaf Oil, Pelargonium Graveolens Flower Oil, Citrus Limon (Lemon) Peel Oil, Citrus Aurantium Dulcis (Orange) Peel Oil, Cananga Odorata Flower Oil, Guaiazulene, Acetyl Hexapeptide-8, Lecithin, Acetyl Glutamine, SH-Oligopeptide-1, SH-Oligopeptide-2, SH-Polypeptide-1, SH-Polypeptide-9, SH-Polypeptide-11, Bacillus/Soybean/Folic Acid Ferment Extract, Caprylyl Glycol, 1,2-Hexanediol  cosDNA analysis

The glass jar is a small and fits in the palm of my hand ~ it is sturdy and in a black matte finish.  Opening up the jar reveals a beautiful azure cream.   The texture of this calming cream is very … well, creamy!  It spreads beautifully on my skin, but most likely, you will dab it on your skin for blemish healing.  If there is a scent to this cream, I cannot detect it ~ I read reviews where it is said this has a light floral-herbal scent, but not to me!    This cream does come with a spatula, but I have lost mine, as I always do with spatula.  I need to make a spatula necklace so I never misplace them again!  I honestly think my cats are using them as play toys. 
I just dab and pat this cream into my skin areas that need some tender lovin' care ~ my chin has been the prime beneficiary of this blue delight, as it is a hot spot for blemishes.  As this product does not contain any ingredients that preclude me from using it during the day time, I use it in both my day and night time routine.
As you can see, even though it is blue, once it is applied and absorbed by my skin, it is colorless.  So, don't worry, you won't go around looking like a Smurf!  You don't need a lot of this cream, as it spreads beautifully and it is supposed to be a targeted treatment.  It dries down to a nice semi-matte finish with no pilling or sticky residue.   Caveat:  If you apply too much, you will get that pilling, so make sure you start out with a nice small amount.
What this does and doesn't do….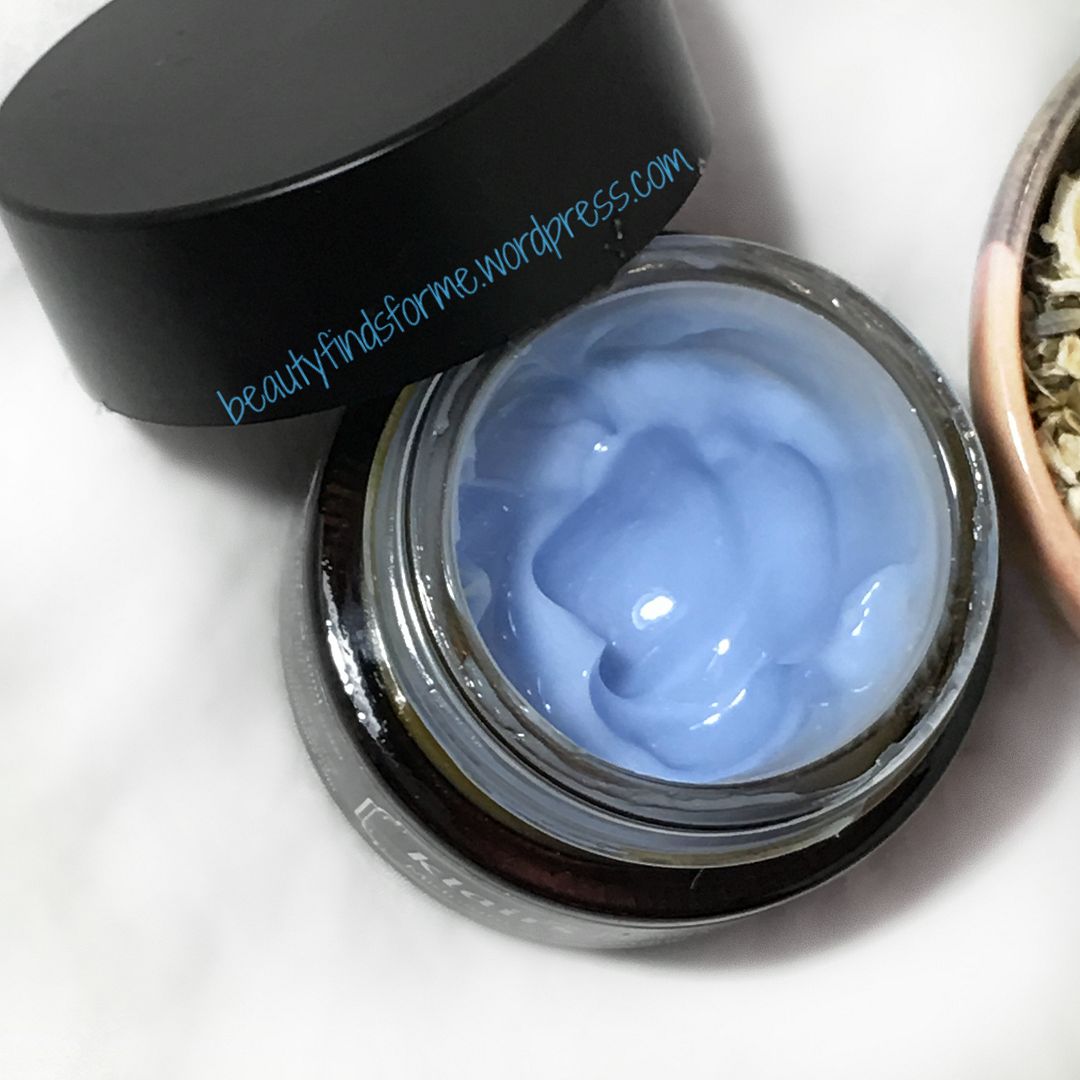 After using this for over a month and I do love it, I want to set expectations of what this cream does and does not do.  This is for healing skin problems like blemishes, sunburns, irritations ** and rashes.  And it does this very well ~ blemishes that have come to head or are angry red pimples really benefited from this cream ~  I found that it reduced the redness and swelling and also lessened the pain associated with those angry red zits, while helping heal my blemishes.  As it helps rapidly heal my blemishes before they can grow into something worse, the side effect is that I have less PIH scarring. I have used it on a burn on my arm, when I splashed some hot water on it by accident ~ it helped soothe and cool down that burn quickly.
What this isn't for is preventative care.  I get some closed comedones around my chin, just baby bumps, and this does nothing for it.  This cream is for active skin issues, not issues-to-be.  This is also not a very moisturizing cream, nor does it make claims it is.  Wishtrend states "The Blue Cream is made for calming rather than moisturizing, to rapidly soothe the skin in response to an irritation."  If you are looking to moisturize your skin, you will need to add an additional lotion or cream on top of this one. 
** Irritations:  Wishtrend recommends this cream for "post-shaving redness and irritation after spot extraction and laser procedures".
Final Thoughts
I really like this recovery cream a lot! If you have been reading my blog and Instagram posts lately, you know that I am gathering up centella products for a huge mega-post in several months.  This item will be in that mega post as I find it to be a great product for helping soothe and repair blemishes and other skin issues.  This cream is recommended for oily, blemish prone and sensitive skin types, so if you find that your skin is irritated due to blemishes, rashes, sunburn, razor burn and/or laser procedures, I totally recommend this one. You can use this on other parts of the body besides your face ~ remember, a little bit goes a long way and you don't need that much.  Plus, the beautiful blue color makes this a unique skincare item in my routine 🙂

Are you looking to calm your skin?  Are you interested in trying this Midnight Blue Cream or have you tried it? 
Where to Purchase
You can purchase the 30 mL pot of Klairs Midnight Blue Calming Cream (click here) at Wishtrend for $24.50. This product doesn't have free shipping, but if you add on any item from their free shipping section, your shipping will be free!  Klairs just came out with a new Supple Preparation All Over Lotion, which does have free shipping ~ I purchased one for myself and will review and this lotion can be used on your face and body ~ it is more lightweight than their Soothing Cream, which is why I am very interested in trying that.  If you want to learn more about that lotion, click here.
If this is your first time shopping with Wishtrend, you can save $5.00 off your purchase by using my friends referral number ~ 092847308  ~ and you will receive the coupon. Register first and enter the my code in the form labeled "friends invitation program" and wait for the coupon before you place your order.  Also, remember to save your welcome and any order emails from Wishtrend.  They usually have discount and free shipping codes just for your use in them, so you can save even more money on your next order!
You automatically receive Free Shipping with purchases $69.00 USD and over
Don't forget to check out Wishtrend's Free Shipping Product Selection

Wishtrend ships globally
[ product received in exchange for a review. contains affiliate links for a small commission ]