[ disclosure: product received complementary for review purposes. contains referral code & affiliate links ]

BB Cosmetic, which is an online shop that I have review items for in the past (press samples and my own purchases), recently sent me a couple of hairy items to try out ~ Yadah Quick Tattoo Brow Gel in #2 Dark Brown and The Face Shop Quick Hair Puff in #2 Dark Brown.   Well, they aren't HAIRY, but designed to fill out and darken hair bits. 
I am still testing TFS product but I am ready to give my verdict on Yadah. yadah yadah... Seinfield fans will get my reference 😀   I have been pretty blessed with good strong brows with long hairs.  And my brows used to be quite thick too, but I have plucked them over the years.  That said, I do love using a gel product that tames my wild and impetuous hair brows, while filling in some parts that need a bit of filling in ~ usually the brow head, which is the inner part of your brow.  However, there are times when I would love to "thicken" the arch of my brow and straighten it a bit as well, which a traditional brow gel doesn't really do well and I don't always want to use a brow powder.   Cue in Yadah Quick Tattoo Brow. 

Yadah Quick Tattoo is a thick gel product that you brush onto your brows and leave on for 30 to 60 minutes at the least.  You then gently "peel" off, against the grain of your hair (from the brow tail to brow head) and your skin will be "tattooed" with the brow gel product.  This temporary staining is good for several days.   Women and men can use this product as men also might wish to thicken or darken their brows!  This comes in 3 shades ~ 01 Natural Brown, which is the lightest color. This is for blondes, strawberry blonds and really light brunettes.   02 Dark Brown is for brunettes and those with dark auburn hair and finally 03 Ash Brown which for rich deep chocolate brown and black hair.   It isn't an exact science here with only 3 shades ~ I picked 02 Dark Brown as that looked to be the shade that would be closest to my brow hairs.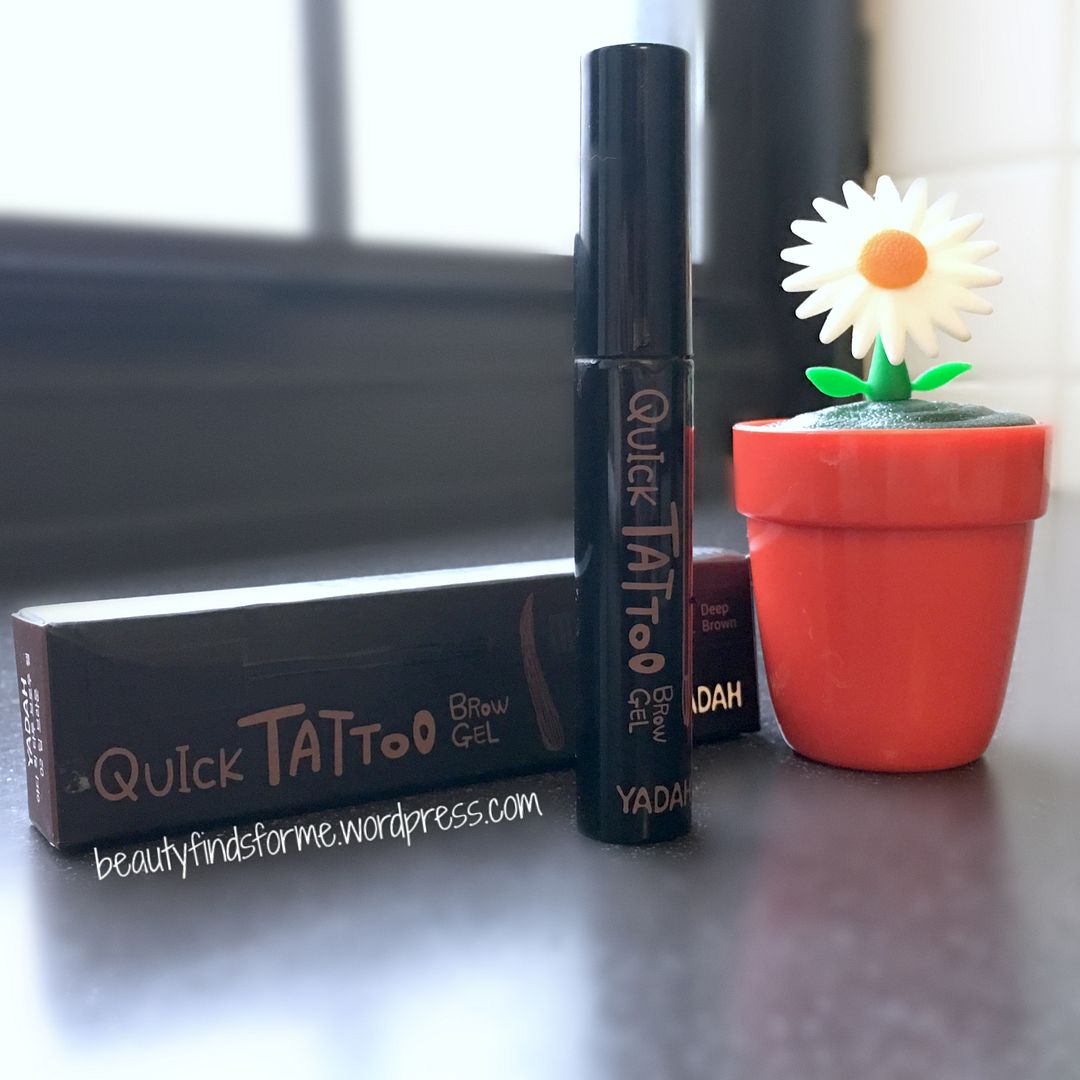 Description
The amazing peel-off tattoo has made its way to your brows, saving your application time. Yadah's very first peel-off brow gel that leaves a natural-looking tint onto your brows without smearing and fading, enriched with the extracts of black bean, black berry, panthenol and portulaca for hair strengthening. This comes in a soft gel form that dries up and turns into a soft peel-off gel without skin irritation.
Roughly translated, Yadah assures us that not to worry about your eye brows falling off if you use this product.  Eyebrow hairs are very strong and durable and this product contains some ingredients to ensure that your hairs stay strong: Soybean (black bean) extracts will help strengthen eyebrow hairs and prevents hair loss.  Blackberry extracts provide moisture and nutrition to your hairs, while portulaca oleracea will help soothe and reduce irritation on your skin.  This also contains panthenol, which helps condition your hairs, making them smooth.   The lower image explains how the stain is softened on your skin ~ and I just discovered (no flies on me!) why I keep reading "horny layer" for skin with my Korean translate app!  It is because the word stratum corneum means "horny layer" in Latin and that describes the outermost layer of the epidermis ~ your top skin layer.  Learn something new EVERY day!  I didn't learn Latin in school, so this is new to me 🙂  
Ingredients:  Purified Water, Ethanol, Polyvinyl Alcohol, Butylene Glycol, Dihydroxyacetone, Polysorbate 80, Black Soybean Extract, Blackberry Extract, Portulaca Oleracea Extract, Panthenol, Tocopheryl Acetate, Sodium Chloride, PVP, Hydroxyethylcellulose, Xanthan Gum, 1,2-Hexanediol, Caprylyl Glycol, Phenoxyethanol, Ethylhexylglycerin, Yellow No. 4, Red No. 227, Blue No. 1
Yadah makes two versions of this brow tattoo ~ one with just the product, which I received, and another that has a stencil with 3 different brow shapes.  Quite frankly, I am not sure if my brows, which are long and arched, would have fit in a stencil!   A word of warning ~ this stuff leaks.  Maybe it was just my brow tattoo pen, but even with the cap firmly shut, it will ooze a bit of the product.  Make sure you store this upright because when you twist off the cap, it will puddle and be a bit of a mess.  This has a brush applicator and it is thick enough for my brows ~ however, if you have thinner brows, I could see how this might be difficult to "paint" on the brow. 
Now, I refuse to over trim my eye brow hairs, even when I am instructed to trim them in Yadah's instructions.  This is going to be a problem later on… I was able to quickly "paint" my brows with this gel ~ be careful with this product ~ keep some damp soapy Q-tips ** on hand so that if you draw way outside the line or get it on your hands, grab that Q-tip and wipe it off as quickly as possible.  ** I mix some water and soap together in a bowl and dip my Q-tips in the bowl, so I have a quick way to remove any excess product or boo-boos.   I am going to apologize in advance for the different lighting in the photos.  I took these at different times, due to the wait to dry and lighting conditions change quickly at night.

You can see on the left, the gel is dark, dark chocolate brown.  When I peeled off the gel, which still remained a deep dark brown, the stain/tint on my skin is a light brown and it looks like it has some reddish tones to it.  Oh and three days later, I still have a slight stain on my arm from this swatch test! 
Now, onto my brows!  As you should only be interested in my brows and not my skin around it, I blurred out my skin.  Why?  Because at this extreme closeup, I see pores and ugh.   Oily skin has less wrinkles, but our pores are not SMALL and they are everywhere!   Anyway, the top photo are my brows in their natural wondrous state.  I have a little freckle on my skin by my brow head.   The second photo is my brow with the Yadah Tattoo Quick Brown freshly applied.  I waited 40 minutes and removed the gel. 
I don't know what happened with the focus on the third photo here, but this is my brow after I removed (most) of the brow gel.  You can see that my skin has been tinted ~ and wow, I need to brush my brows here ~ lol.   My brows look a bit fuller and thicker, with the arch filled in a bit  ~ trust me, it looks better when you step back a bit and aren't in my face so much!  The removing of the gel was a bit of a problem ~ because I have long hairs ~ the gel was a bit hard to remove as it wanted to stick to my hairs.  I didn't get a nice one piece strip like I did with my arm, but had to pull it off in pieces.  You can see that right in the middle of the arch, I have a clump of gel stuck to my hairs.  I did brush that out with an eyebrow brush and remove that offending bit of gel.   I found that this tint lasted about 3 days here, but on my arm, a lot longer! Maybe because I exfoliate, use a ton of skincare products and wash my face twice daily, that the stain faded quicker on my face than my arm, as that gets a good cleanse just once a day.  Yadah does state that you can leave the gel product on overnight for a longer lasting, more intense color, but I am not sure I want to try that!!

Final Thoughts
So, what do I think of this type of product?  I think that for me, it is something that I would use if I go on vacation or traveling and don't want to be bothered filling in my brows all the time.  A girls gotta look good, even if she is camping!  I will say that I do prefer my brow gel as that not only darkens my brows, but it tames them too.  This product will not tame your brow hairs ~ it is only a stain. It probably is a much better product for those who have very light or sparse hairs, of which I really do not have.   Another consideration is the limitation of shades, but that is common with brow products ~ companies don't seem to offer much in terms of shades with eyebrows, which is ironic because there are 5,894 different hair dye colors to choose from!  Also, I found this dark brown to be more a medium reddish-brown on my skin, which is fine, because my actual hair color is more of a reddish brown so it works well. But if you have true brown hair, this might look a bit funny to have reddish brows with dark brown hair.
Have you tried Yadah or any other brow tattoo products?  What did you think of them?  Gimmick or are they onto something here? 
Where To Purchase
You can purchase this at Amazon 
Eyebrow Set ~ comes with eyebrow stencil
You can also purchase this at BB Cosmetic.  Use my promo code of YW36SVN21HU  for 8% off your purchases.
[ disclosure: product received complementary for review purposes. contains referral code & affiliate links ]