[ disclosure: product received for review purposes. contains affiliate links ]

My March box came a couple of days ago and I have to say, I am really thrilled with this month's offerings!  After last month's very strange curation, it seems that they are back on track again.  The theme this month is "Hello Spring"   Peaches & Petals is a subscription service that is focused on lifestyle and beauty products.  From their website  "Experience our world of fun, flirty and fashionable vintage-modern lifestyle in a hand-curated box delivered to you each month"  This box was sent to me for review purposes from Peaches & Petals and I thank them for their generosity as always 🙂  I am always appreciative of companies who look for honest feedback on their services.


Informational Card
There wasn't much information on this card other than "Hello Spring" ~ ahaha  This does happen with Peaches & Petals at times ~ they do like to keep us guessing.
Explanation on valuing products:  Since Peaches & Petals does not give a value on their products,  I normally will use the Retail Value from the vendor's site or an average if I find the product on multiple sites with varying prices.  Subscription boxes are usually basing their value on Retail Value, not Markdown or Sale Values.  With that in mind, you can usually find products for less, just like anything else in the marketplace.
Sprigs Carry All Belt  Right off, I see a theme developing and to me, March's box is telling me it is a Travel Themed type of box.  I miss fanny packs so much ~ it is hard to find them. They are great for when you are traveling, biking, hiking or doing a protest march!  This one is a new design on the traditional fanny pack ~ it is lightweight and has 3 stretchy zippered nylon pouches ~ that can bounce and twist with your body movement.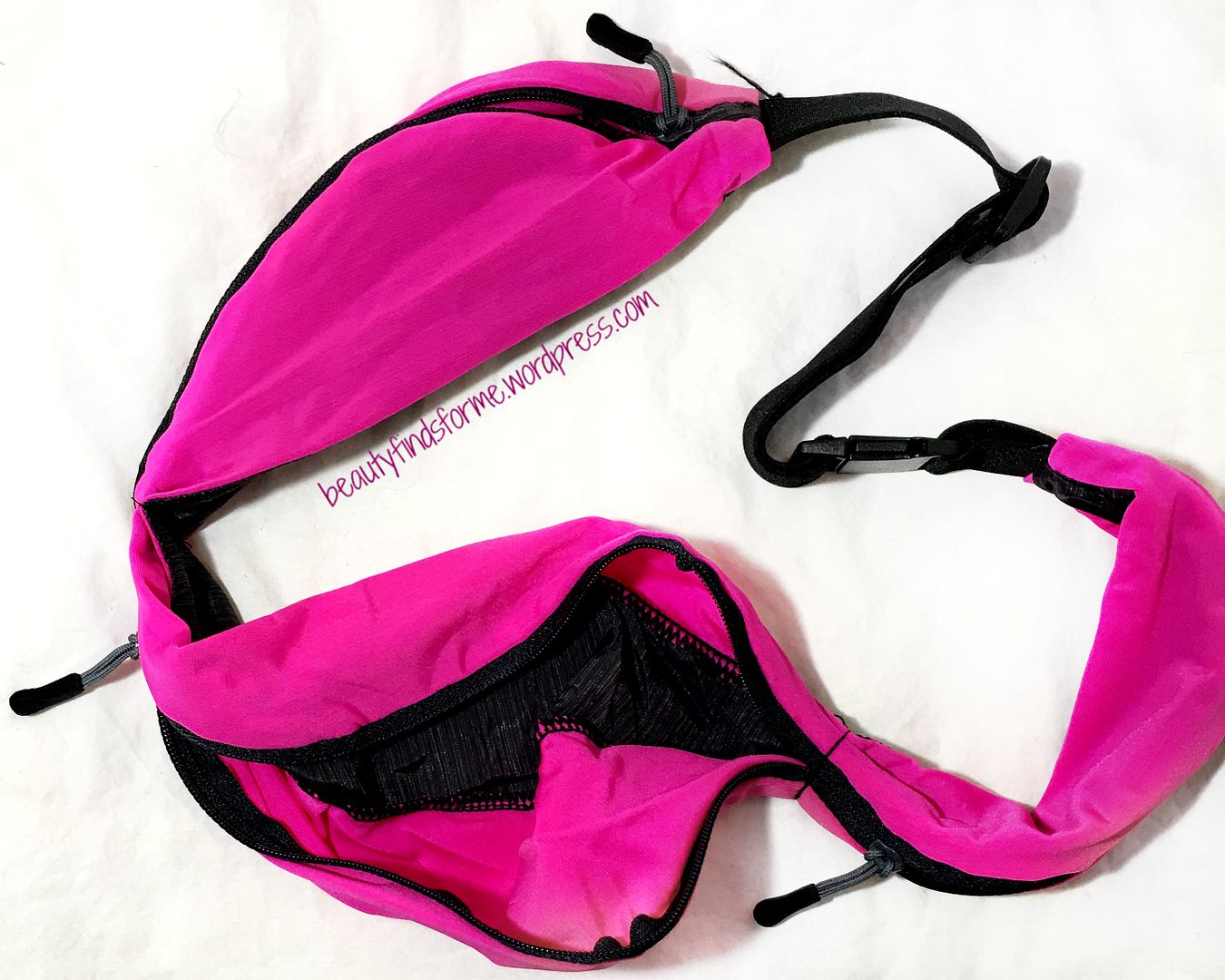 The middle pouch large enough to put in a  16.9 oz bottle and the two other pouches are great to put your phone, keys, money, cards, passport, a small tube of sunscreen, lipstick or lip balm, snacks and whatever you feel is essential!  The black belt part is adjustable, stretches and can fit most waists without issues.  Mine is a vibrant hot pink color and this is also machine washable and you just air dry.  This is fantastic!  Measures 23 1/2 by  3 1/2 inches  RV $28.23
Description: Our 3-Pocket Carry-All-Belt is truly the best option for those wanting to carry more than just an energy bar. The strong stretchy bright nylon pouches are durable and flexible, bounce-free, and lay flat against the body. No twisting and turning when you walk, jog or run. With the stylish cut and bright neon colors, it is right on fashion trend. It goes with sport wear or casual wear, and lies flat against the waist and hips, making it more flattering than a pure running belt or a fanny pack. This Carry-All Belt is made for sport or leisure – will stay secure and stable during activity and will feel effortless when wearing it all day. Go traveling, day-tripping, exercising, shopping…whatever you do you can have it all with you and be hands free!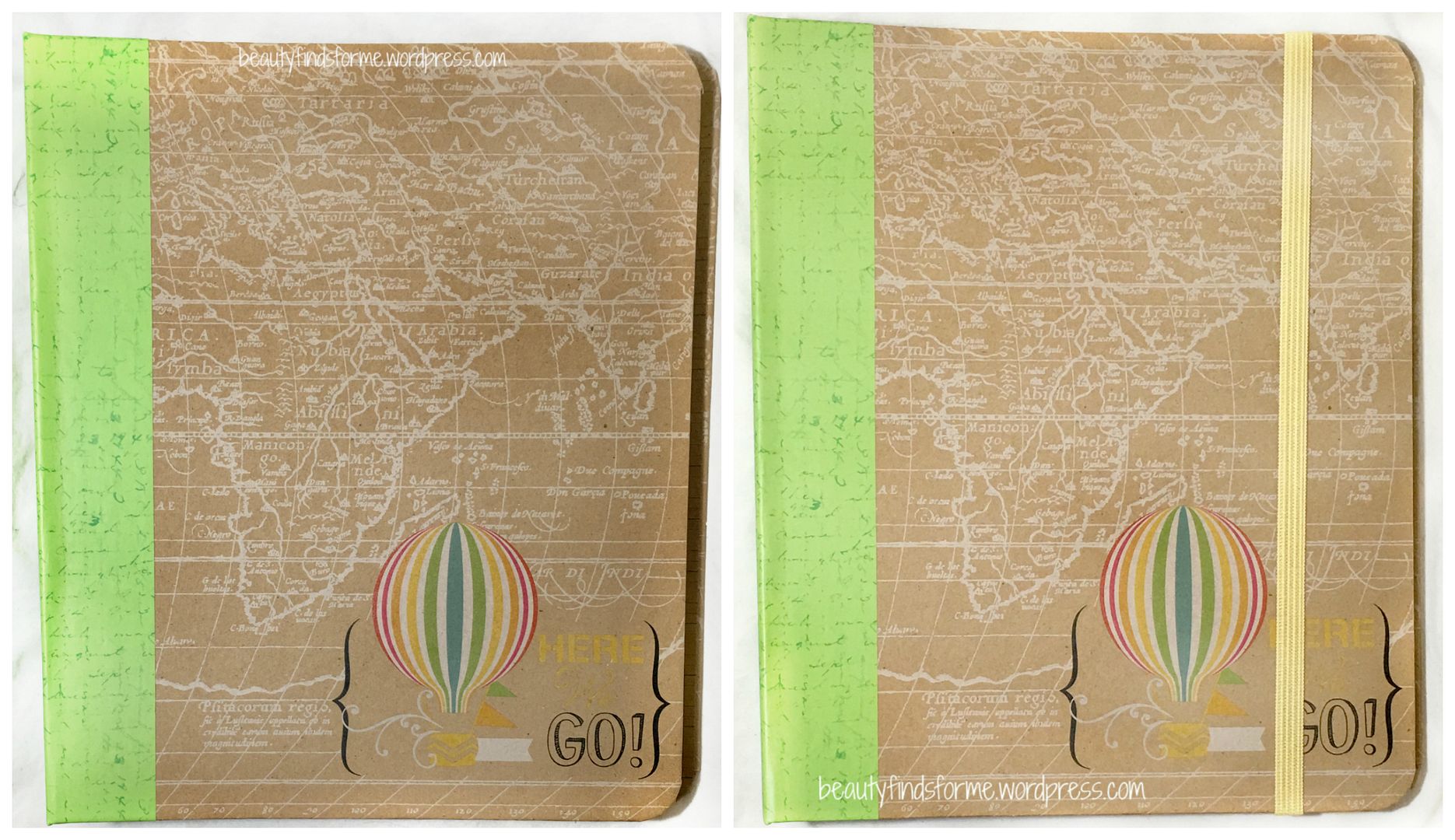 DCWV Lifebök Journey Journal  I am not into journaling at all, but this is a really nice scrapbook. It is in a 3 ring binder fashion, so you can add more pages to it and it has a nice stretchy elastic to keep the book shut.  Inside, there are inner pockets on both the front and back of the hardcover book and each page inside has a different design. There are 36 sheets that are made with a nice thick paper and the designs are really cute. I am actually going to use this to journal my family and life via all of my old photographs!  I have my photos just stuffed in shoe boxes, so this is a nice way to organize them ~ summer project!!  Measures 7 1/2 by 9 inches.   RV $16.99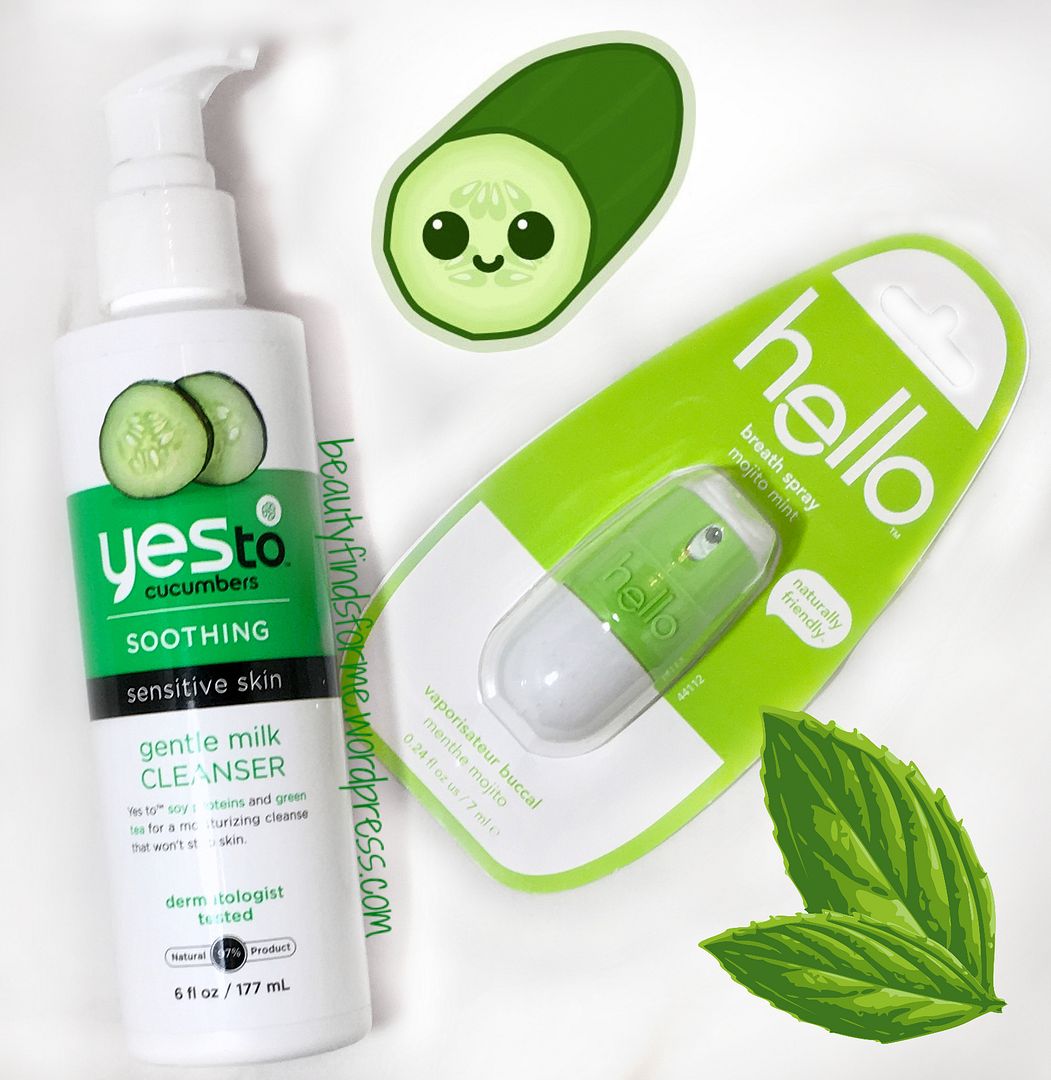 Yes to Cucumbers Soothing Gentle Milk Cleanser  When you travel, you need a good cleanser that will remove all of the grime from your face while soothing your skin from external pollution and UV rays!  I love Yes to Cucumbers and purchase their wipes all the time ~ this is the first time I am using their cleanser.  This is a creamy lightweight, non-foaming cleanser with a silky texture ~ and it smells like fresh cucumbers too 🙂  This is non-irritating and is suitable for all skin types ~ I have oily skin and this is just really nice and doesn't leave a film on my skin, like many milk cleansers do.    This is made with soy proteins and green tea, which are fantastic antioxidants and moisturizers.  This is free from petroleum, phthalate-free, PABA, lanolin, mineral oil, soaps, dye, talcum, sodium lauryl sulfate, DMDM Hydantoin, aluminum chlorohydrate and parabens.  This cleanser has been dermatologist tested and for those interested, I did do a pH level test and it comes out around a 6.  Full Size 6 oz RV $6.19
Description: Yes to Cucumbers naturally derived, hypoallergenic, dermatologists tested formulation blend soothing botanicals with other ingredients to help keep sensitive skin supple.
Ingredients: Water, Decyl Glucoside, Lauryl Glucoside, Cetearyl Alcohol, Glycerin, Isostearyl Palmitate, Stearic Acid, Stearyl Alcohol, Polyglyceryl-3 Stearate, Phenoxyethanol, Cucumis Sativus (Cucumber) Fruit Extract (Certified Organic Ingredient), Hydrolyzed Soy Protein, Aloe Barbadensis Leaf Juice, Camellia Sinensis (Green Tea) Leaf Extract, Sucrose Cocoate, Sorbitol, Citric Acid, Potassium Benzoate, Potassium Sorbate, Xanthan Gum, Fragrance  cosDNA analysis
Hello Breath Spray in Mojito Mint  When you travel, you eat a lot of fun and new foods, that just might make your breath a bit stinky!  This adorable Hello Breath Spray is so cute and effective.  It also fits nicely in the carry all belt too.   This is made without alcohol and one spray is enough to freshen my breath and it tastes so minty too without that burning feeling.  I love the design ~ this pod reminds me of a Weeble (weebles wobble but they don't fall down!)  Full Size 7 mL RV $3.75
Description: Spray it forward with our naturally friendly™ breathsprays. They've got all the zing, without all the sting, and they twist-to-lock so you won't get a minty-fresh pocket or purse.These little pods of friendly feature glycerin and xylitol to keep your mouth fresh, happy, and wonderfully moisturized, wherever you go. use liberally, and greet freely.
Ingredients: Purified Water, Xylitol, Vegetable Glycerin, Natural and Artificial Flavor, Poloxamer 407, Polysorbate 80, Citric Acid, Sodium Benzoate, Potassium Citrate. 
Stephanie Corfee Artworks Elephant Figurine  I saved the best for last!  This is why I feel this box has a travel theme ~ the elephant, with its vibrant design, just makes me want to pack up a bag and globe trot!  This elephant has her trunk raised upwards, which is a symbol of good luck and it is so cute and whimsical ~ goes well with my Buddha Head that I got from IWOOT this month. 
This elephant is 4 inches high which is perfect for a collectable and is made of cold-cast resin and hand painted.  My pictures do not do it justice ~ it is just so adorable and beautiful and it really is a conversation piece.   RV $22.65

Final Thoughts
This box makes up for February's box ~ I think this is the BEST Peaches & Petals Box I have gotten now and I love the unexpected theme of Travel ~ I am not sure if Peaches & Petals thought that that there box would be interpreted as a Travel box, but that is how I view it ~ with a great updated  version of a "fanny pack", a travel journal, two travel friendly skin-care and mouth-care products and the beautiful elephant figurine ~ it is so exotic looking!   Peaches & Petals monthly subscription boxes are $19.99 a month and that includes shipping.   This month, the box looks to be of  a retail value almost $78.00 in retail value.  Many thanks to Peaches & Petals to sending this me for review purposes ~ I always look forward to seeing what P&P puts in their boxes! Did you receive this month's Peaches & Petals box?  What was your favorite item and what do you think of it?  I have to say the elephant is my favorite!

If you subscribe to Peaches and Petals currently, you could win a Two Person Picnic Set by entering in their giveaway.   
If you would like to subscribe to Peaches and Petals, I wold love it if you used my referral links!

[ products were received complementary for review purposes.  All opinions are my own and are unbiased.   ]
[ Blog post contains affiliate links and referral links. Descriptions in italics from linked site ]