[ disclosure: product received in exchange for a review.  contains affiliate links for a small commission ]
I am ever on the search for a cushion that will work with my skin tone and also provide matte coverage, without being too heavy.  I picked out the Klairs Mochi BB Cushion at Wishtrend ~ I was debating between their Mochi BB Cream and the Cushion and decided on the cushion as it claims to be a matte finish.  Klairs is one of several brands that Wishtrend makes and they have an extensive line of skincare products, ranging from facial cleansing to serums.  I have reviewed a few of their products already and you can read my reviews here.  I absolutely love their Supple Preparation Facial Toner and I highly recommend that!
Skin Type/Concerns:  Oily, blemish prone, aging skin with hyper-pigmentation and fine lines/wrinkles.
Klairs Mochi BB Cushion was the 1st place winner in the 2016 Glowpick Consumer Beauty Awards ~ Glowpick  is South Korea's #1 Beauty Review and Ranking App. Through Glow Pick, users pick their favorite skincare and makeup items in different categories and Klairs has won a couple of Glowpick awards, including one for the Supple Toner.
A refreshing finish like a powder: The Mochi BB Cushion is designed as a balm-type product rather than a liquid to fill in the pores for a silky smooth finish. Say goodbye to dull, oily, dark skin with the Mochi BB Cushion and enjoy clean, refreshing makeup this summer!
Maintaining KLAIRS signature natural color: The Mochi BB Cushion has an apricot-beige tone that complements both yellow and red skin in a natural way. It neutralizes the redness of the skin for a comfortable and healthy look while color-correcting and brightening dull, discolored skin tone.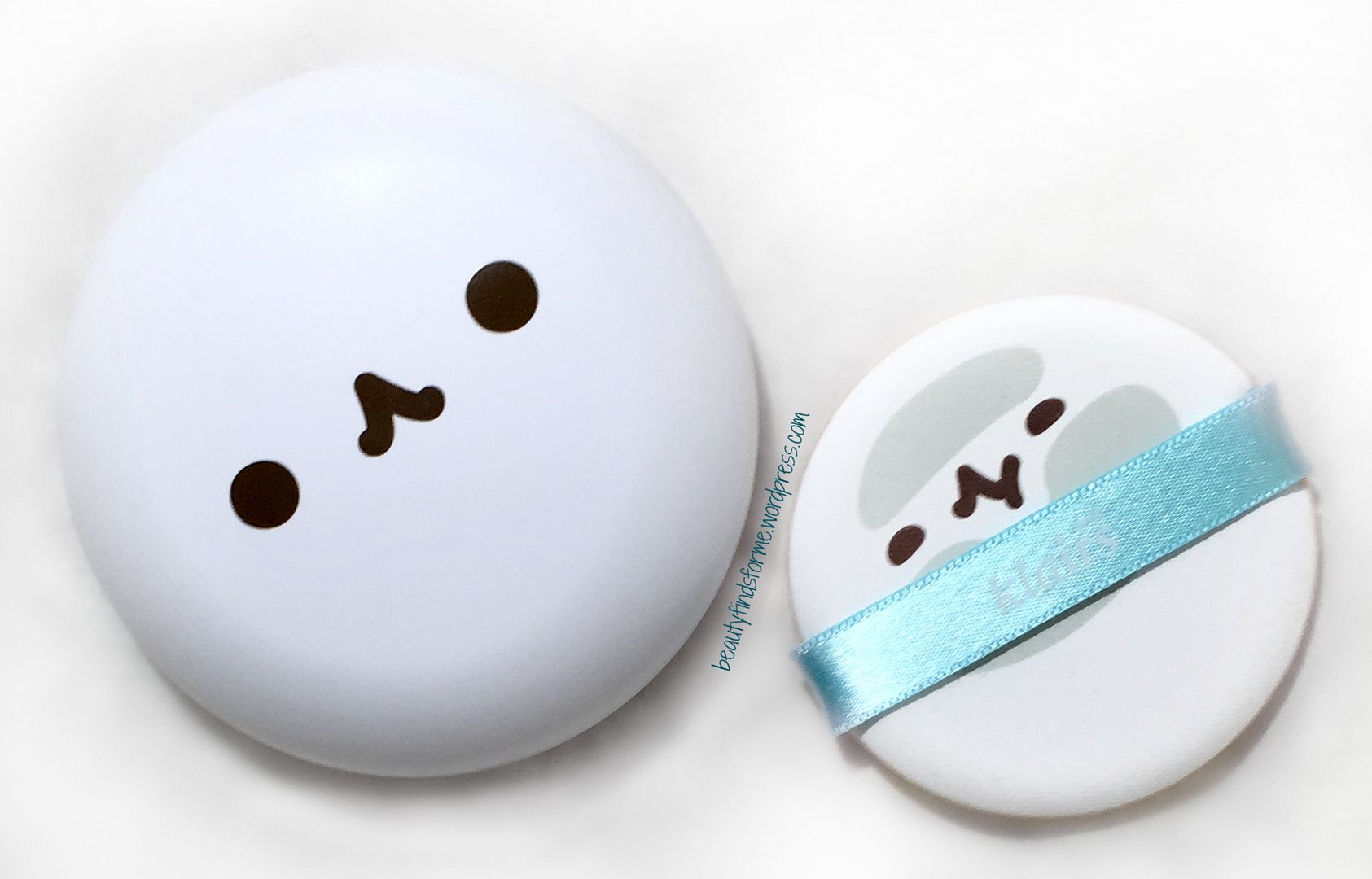 Okay, first off look at this packaging!  It is so cute ~ a crisp white rounded compact featuring Between's Mochi character ~ Between is a messaging and photo sharing app that features this cute little character
The bright aqua box even states on the side that it is Merry Between Edition.
The compact also comes with a rubycell (polyurethane resin) puff that feature the Mochi character with an aqua slide for your fingers. I have a confession to make, I don't use the puffs!! I use a sponge or brush to apply the BB cushion creams as I have no patience with puffs!  The compact itself is pretty sturdy, but I worry about the Mochi face getting scratched off or damaged.  Plus, it is white ~ it is going to get dirty ~ but I use a cleansing water to "freshen up" my Mochi case ~ ahaha.  There is a protective film over the large mirror, so you have to remove that to see your face clearly. I guess some customers were confused and thought the mirror was scratched, so Wishtrend had to clearly state to remove the protective plastic film!
This is the first compact that I have owned that has a twist case!  This means your cushion will always be moist and not dried out along with some protection from bacteria contamination, as there is no way to close the main compact lid without the moving the inner lid to the close position.  Very smart design!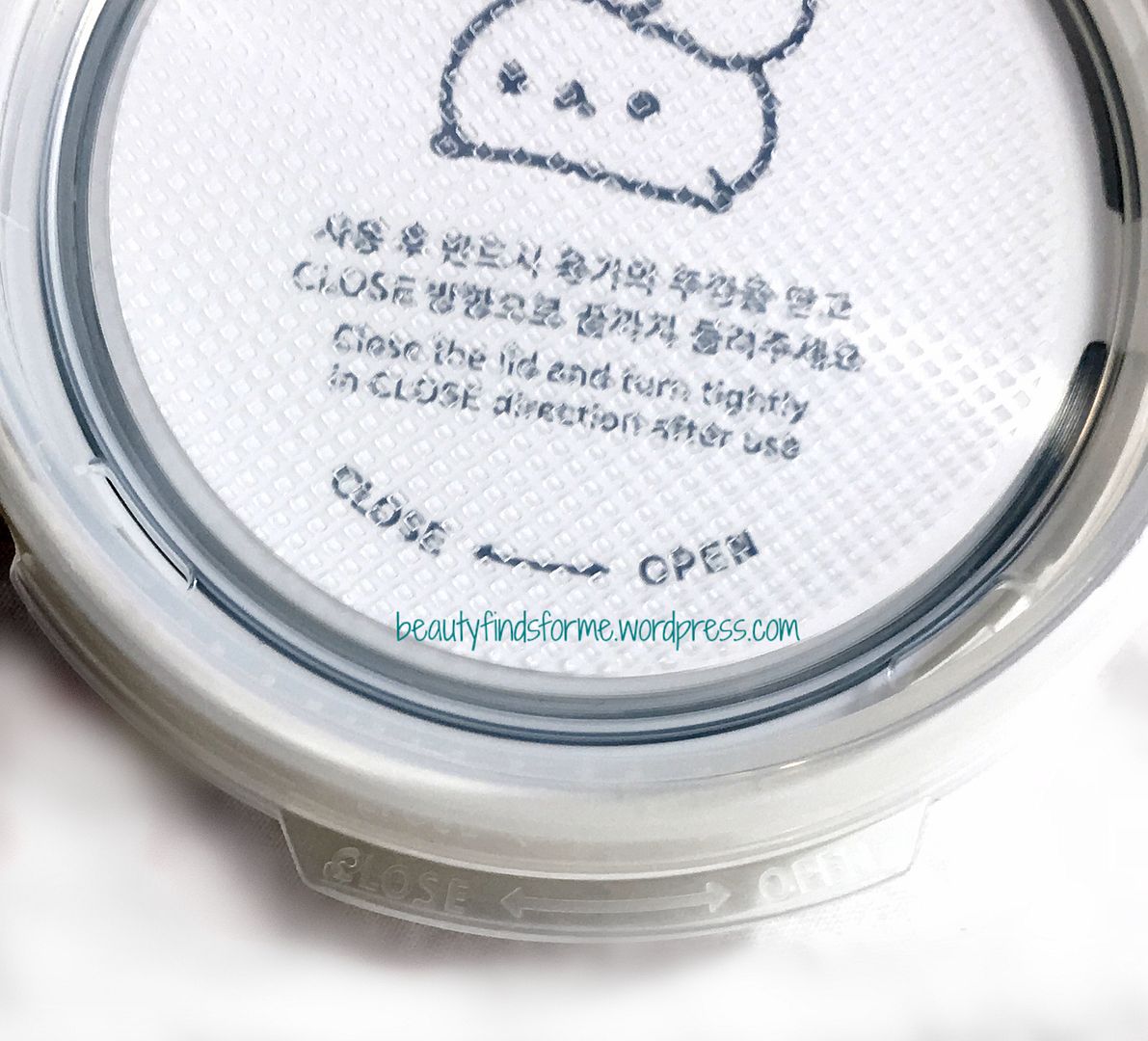 Depending on if you want moisture or full coverage, there are three ways to prepare your cushion after you remove the label
For full hydration, just use after opening. 

For coverage and glow, press down on the sponge for about 1 minute after opening.  This will allow the sponge to absorb the balm formula to increase coverage.  Hold it down for at least a minute

To get coverage with a matte finish, this requires you to take apart the case and cushion.  And of course, this is the coverage I want!  You remove the ring surrounding the sponge and using a pair of tweezers, remove the sponge.  Flip the sponge over and then press down on the sponge so it absorbs the heavy cream balm for

mula.  Clean the ring area and then replace the ring back on the case.    See the photos below on how I achieved this.

This cushion doesn't have much of a scent, thankfully!  But alas, this cushion only comes in one shade ~  It is a neutral light-medium shade ~ so if you are very pale or have a skin tone that is medium or darker, this will not work for you.  I read online that this is similar to MAC NW20 shade, which is what I use, so I am pretty excited to see if this works for me.  The balm is actually thick and almost cream like and it has an SPF 40 rating.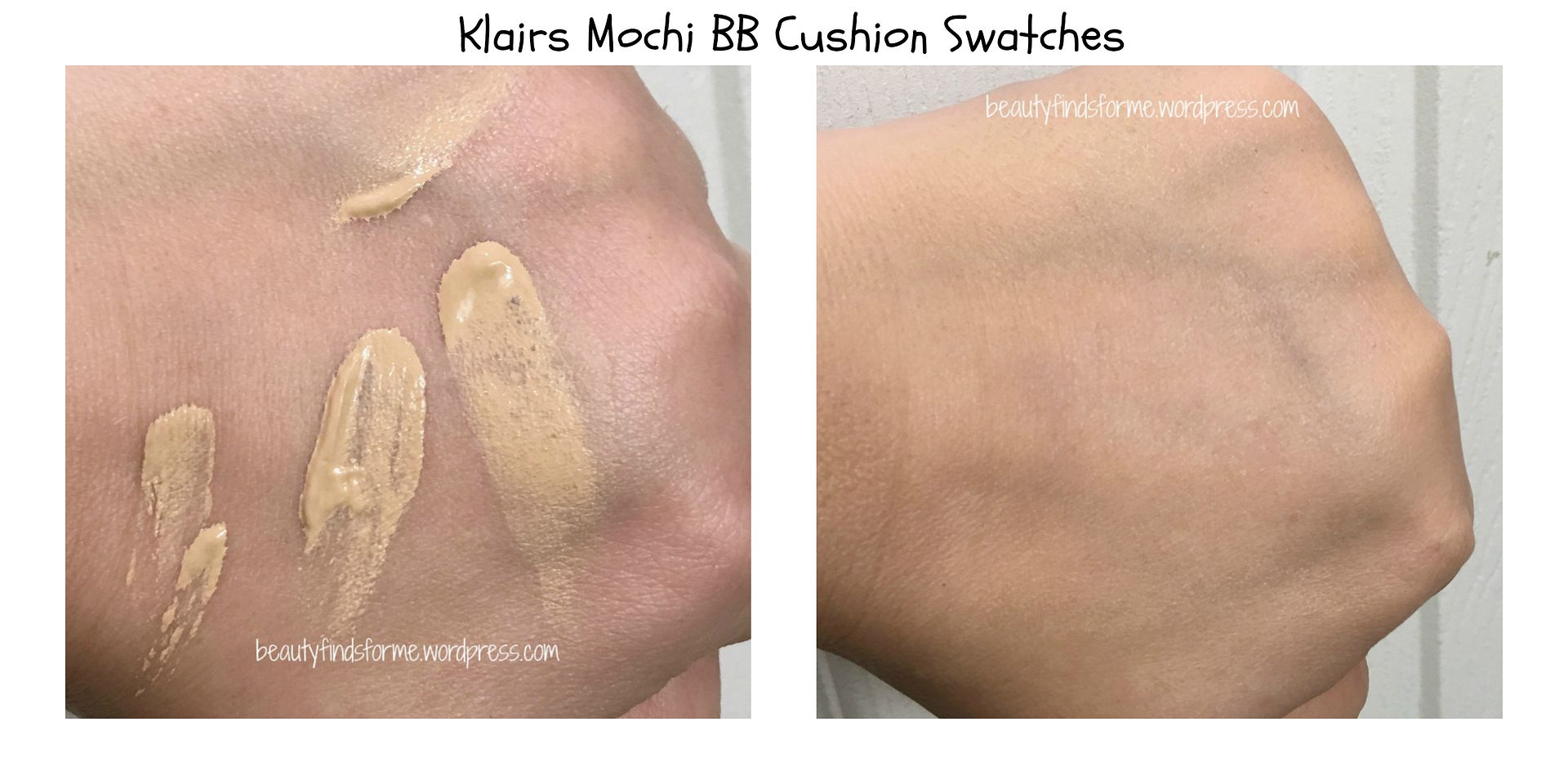 This has light to medium coverage and you can see that it neutralized the redness/pinkness in my hand in the swatches above.  It is very light and silky on my skin and it does dry down to a semi-matte finish.  Don't ask me why flipping the sponge over would case this balm to be matte, but it works!  Now, onto my face ~ I have three photos below, with the first photo is after I applied my skin care.  The middle photo is with almost a full makeup face ~ I did my eyes and applied a lipstick and the Klairs Mochi BB Cushion ~ I applied with a foundation brush, so it was just one layer, but I used the brush to blend it in.  The last photo (far right) is with a translucent powder, plus blush.
You can see how uneven my skin tone is, the ruddiness and brown hyper-pigmentation spots on my face.  With the Mochi BB Cushion, my skin tone is really evened out and the redness has been toned down.  You can see that the finish has brightened my skin, with a semi-matte finish.  My pores were covered nicely and I love the satiny finish on my face. All in all, I am pretty happy with the results! 
I didn't touch up my makeup during the day, so I can say that the finish lasted on my oily skin for about 5 hours before the oil started to break through.  My redness around my chin was also more apparent by the end of the long work day as well.  I think that this cushion has good lasting power, but I will touch up my makeup at lunch time, as I do think it requires additional coverage at that time.  When I got home, I used some cleansing water and a cotton pad to remove my makeup and you can see below that there was still a good amount of the BB cream on my face in the evening ~ 10 hours after initial application.  My blush was pretty much gone at this point.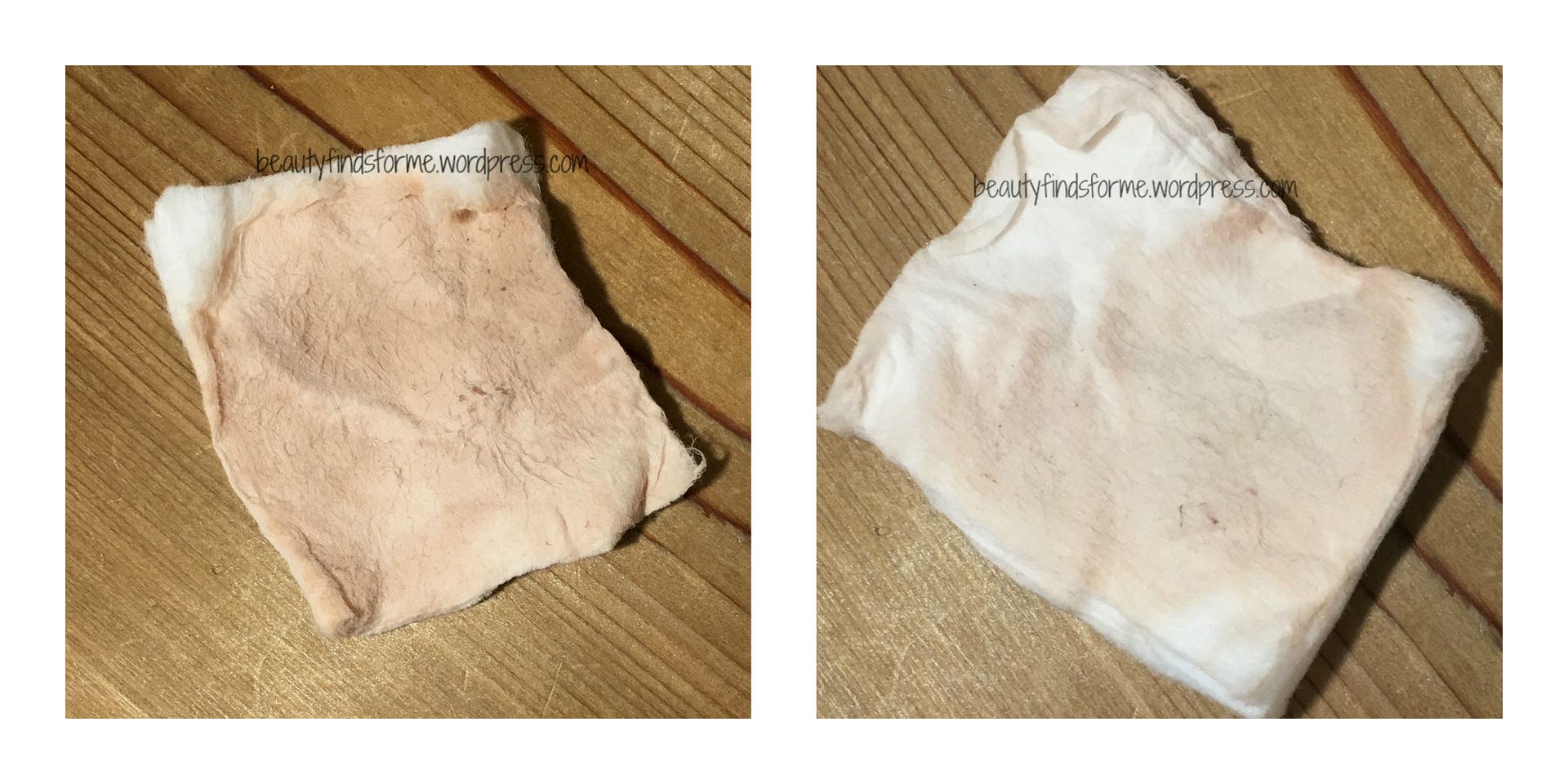 Ingredients of Note
Silica and dimethicones provide the silky application that makes this BB product glide on smoothly and easily.  Titanium dioxide, zinc oxide, isoamyl p-methoxycinnamate, diethylamino hydroxybenzoyl hexyl benzoate, bis-ethylhexyloxyphenol methoxyphenyl triazine and ethylhexyl methoxycinnamate provide the UVA and UVB protection. Niacinamide is a powerful antioxidant that acts as an anti-inflammatory, improves your skin elasticity, enhance the skin barrier function and also it helps to even out skin tone and reduce post-inflammatory hyper-pigmentation. Sodium ascorbyl phosphate, a derivative of vitamin C, is an antioxidants which contributes to evening out and brightening skin tone.
Bentonite is a form of clay that helps control oily skin and remove the shine around your t-zone, helping to unclog pores, help pores return to their normal size and also prevent blemishes. Adenosine is yeast derived and has anti-aging, anti-wrinkle and anti-inflammatory properties. Centella asiatica helps speed up wound healing, such as blemishes and skin rashes. It also helps minimize the appearance of pores, and since it stimulates collagen production, it will make your skin more supple and firm. 
Aloe vera soothes, treats inflammation, helps speed up skin healing and also has a plethora of antioxidants ~ beta-carotene, Vitamin C and Vitamin E, which help improve your skin's firmness and keeps your skin moist and hydrated. It also contains over 75 different nutritious ingredients, including minerals, enzymes, amino acids, salicylic acid and much more. Sodium hyaluronate is an intensive moisturizing ingredient which bonds water to keep skin hydrated. It is a natural substance found in the human body and it made up of amino and uronic acids, and helps retain 100 to 1,000 times its own water weight in our skin cells.
All in all, this is a BB cream and it will help brighten, moisturize, protect and heal your skin, while providing coverage.
Ingredients: Water, Cyclopentasiloxane, Butylene Glycol, Ethylhexyl Methoxycinnamate, Betaine, Titanium Dioxide, Cetyl Ethylhexanoate, Caprylic/Capric Triglyceride, Niacinamide, Polysorbate 60, Dimethicone, Cetyl PEG/PPG-10/1 Dimethicone, Silica, Zinc Oxide, Isoamyl p-Methoxycinnamate, Diethylamino Hydroxybenzoyl Hexyl Benzoate, Bentonite, Sodium Chloride, Yellow Oxide Of Iron, Red Oxide Of Iron, Bis-Ethylhexyloxyphenol Methoxyphenyl Triazine, Stearic Acid, Dimethicone/Vinyl Dimethicone Crosspolymer, Black Oxide Of Iron, Chlorphenesin, Tocopheryl Acetate, Fragrance, Centella Asiatica Extract, Sodium Hyaluronate, Glycyrrhiza Glabra (Licorice) Root Extract, Portulaca Oleracea Extract, Piper Methysticum Leaf/Root/Stem Extract, Adenosine, Sodium Ascorbyl Phosphate, Linum Usitatissimum (Linseed) Seed Extract, Hibiscus Esculentus Fruit Extract, Aloe Barbadensis Leaf Juice, Arctium Lappa Root Extract, Hibiscus Mutabilis Flower Extract, Corchorus Olitorius Leaf Extract, Vitis Vinifera(Grape) callus culture Extract, Nelumbo Nucifera Callus Culture Extract cosDNA analysis
Refills
I didn't get this, as I don't need a refill yet, but I was looking at Wishtrend and saw their very unique refill packaging!  I think it is pretty eco-friendly, as unlike other refills, where you replace the inner plastic case along with the sponge and puff, they actually give you a bag filled with the cream balm, sponge and puff.  You reuse your plastic casing and then just refill the case with the cream balm, pop in a new sponge and use the new puff.

Final Thoughts
I am pretty surprised that this shade worked for me!  It really did brighten my skin tone, but in a natural way as it is a nice neutral color ~ no overly cool or warm hues.  The cushion formula just "melted" into my skin and didn't just lay on top, but blended in with my own skin tone while evening out the imperfections.  I think that it is more neutral than MAC NW20 as that is slightly pink when I compare the two shades ~ NW20 is one of those products that I use lightly as it is a bit too pink for me, but NC20 is too yellow. I thought that it had decent staying powder on my oily skin and the coverage was a light-medium coverage.  If you are looking to cover up dark scarring or blemishes, you will need to use an additional concealer product ~ I personally love The Saem Cover Perfection Tip Concealer.  I like that depending on your skin needs and goals, there are 3 different types of "finishes" you can achieve with this one compact. 
I hope Klairs comes out with additional shades of this cushion because I do think this is a really nice product and I am sure that ladies and gents of all skin tones would love to give this cushion a try!  If you are looking for a nice light to medium coverage, with a satin to matte finish along with a decent SPF rating of 40, this might be the cushion for you.  The packaging is so darn cute and Wishtrend does state it is a limited edition release ~ I hope it isn't, as I think this is one of its selling points!  It is kawaii without being too over the top, which has great appeal ~ plus the twist lock mechanism to keep the cushion from drying out is really innovative and I hope that design catches on in the rest of the cushion world!

What do you think?  Have you tried this cushion or would like to? 
Where to Purchase
Wishtrend has several products in the Klairs Mochi BB Cushion line
If this is your first time shopping with Wishtrend, you can save $5.00 off your purchase by using my friends referral number ~ 092847308  ~ and you will receive the coupon. Register first and enter the my code in the form labeled "friends invitation program" and wait for the coupon before you place your order.  Also, remember to save your welcome and any order emails from Wishtrend.  They usually have discount and free shipping codes just for your use in them, so you can save even more money on your next order!
You automatically receive Free Shipping with purchases $69.00 USD and over
Don't forget to check out Wishtrend's Free Shipping Product Selection

Wishtrend ships globally
[ product received in exchange for a review. contains affiliate links for a small commission ]