Kloverbox is an eco-friendly, organic lifestyle box and I love how they introduce new, unique and innovative products each month.  Kloverbox delivers deluxe and full size products and I have been impressed with their packaging and curating of their boxes. You can subscribe to Kloverbox  either as a month-to-month at $25/monthly, 3 month subscription at $23.75/monthly or a 6 month subscription at $22.50/monthly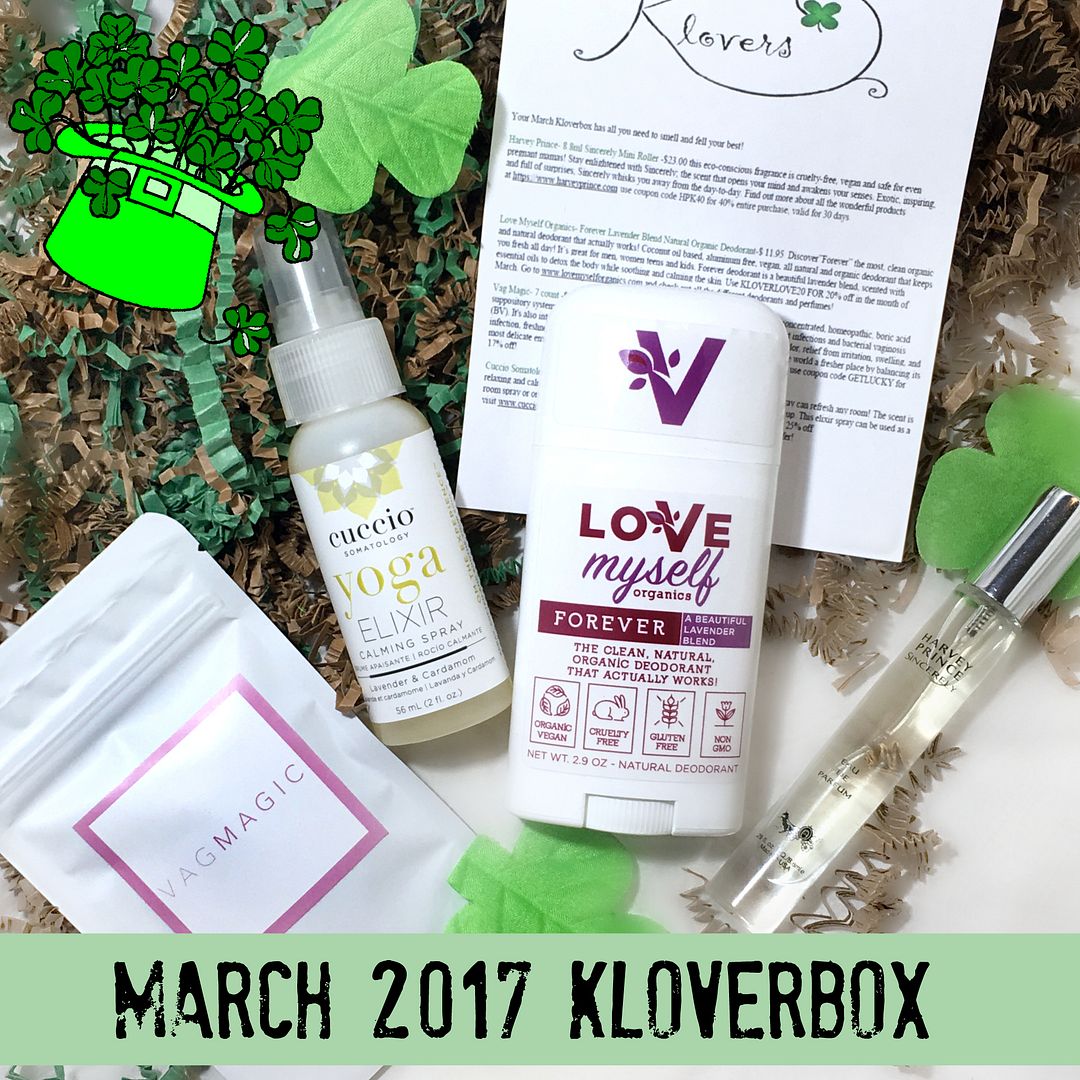 Informational Card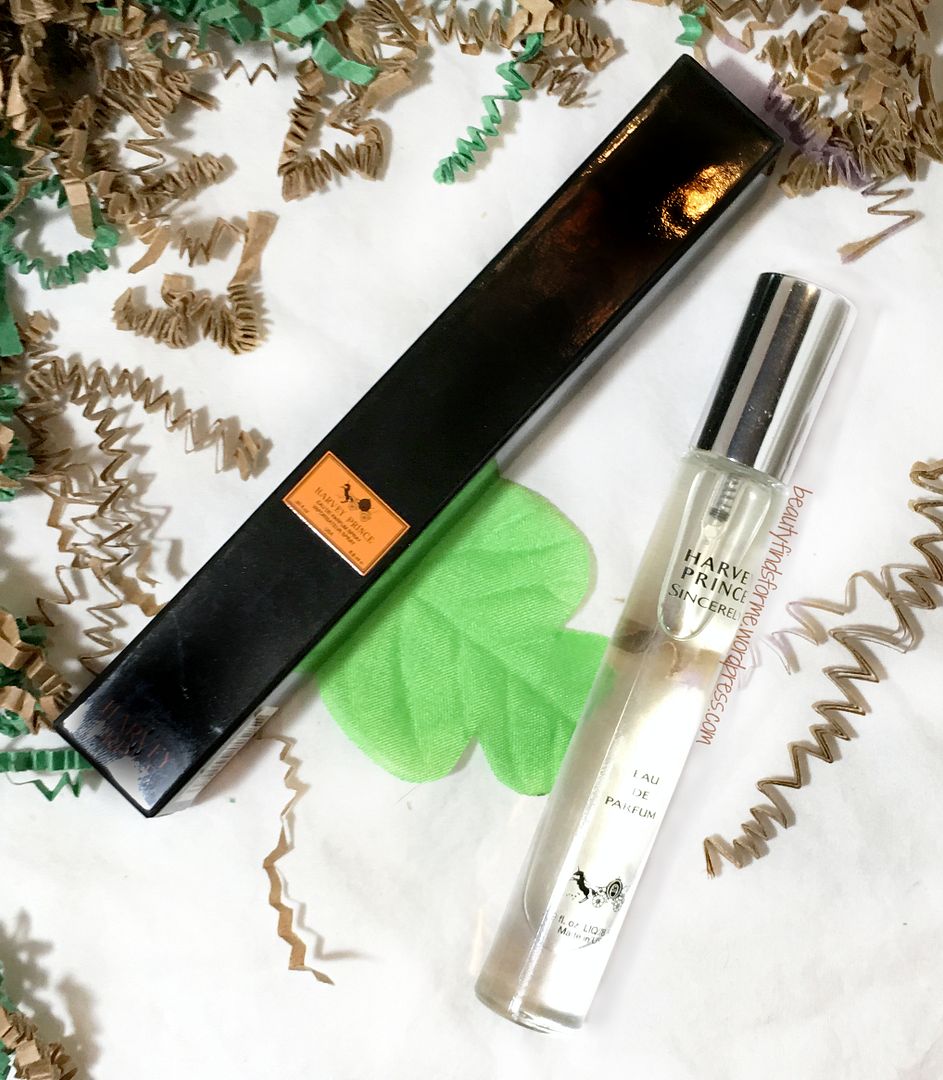 Harvey Prince Sincerely Mini Roller Tall Spray I do love Harvey Prince perfumes ~ they are an eco-friendly brand that got major overexposure from Birchbox, which is why I think some people might grumble a bit when they see a HP product in their sub boxes.  Not me!!   Sincerely, formally known as Journey, is an exotic spicy perfume, which at this moment, I cannot sniff.  My perfume came damaged around the collar and the spritzer doesn't work. I didn't receive the roller ball, but the perfume spritzer version.   However, Kloverbox is sending me a new one as I write this unboxing!  Great customer service, as always 😀   This does have rose in it, but I am interested in sniffing it as it might not be a rose perfume but more spicy and citrus, based on the description.  Anyone else try this? Harvey Prince perfumes are cruelty free, vegan, FDA certified safe and food grade dyes, and they are free from phthalates, parabens, sulfates, benzene, GMOs and triclosan.  8.8 mL RV $28.00 Promo Code:  Use HPK40 to get 40% your purchases at Harvey Prince for the entire month of March 2017
Description: The scent that transports you.The road of life is invigorating, mystical and often unpredictable. Stay enlightened with sorely, the scent that opens your mind and awakens your senses. Exotic, inspiring and full of surprises, sorely whisks you away from the day today. Indulge in the spicy seduction of Indian tuberose, the striking and sweet sensation of Turkish cyclamen and the purifying calm of Spanish mandarin. Sorely scent opens up the richness and mystery sparking the beginning of your own personal odyssey. Savor the delicate notes of south African freesia, Japanese orange flower and Moroccan rose its like sipping a sweet, Alsatian wine in the light of the sun hints of spicy Indonesian clove bud trickle in while the deep and intriguing Australian sandalwood transports you to a faraway land. Sorely relaxing and mystical powers will stir your imagination and reconnect you with your own destiny.
Notes: Indonesian Clove Bud, Australian Sandalwood, Moroccan Rose, French Bergamot, Indian Tuberose, Japanese Orange Flower, Lebanese Cedarwood, Turkish Cyclamen, South African Freesia   Style: Exotic. Awakening. Transformative.
Love Myself Organics Natural Organic Deodorant in Forever Lavender Blend   I normally do not use deodorant as I like antiperspirants ~ I SWEAT ~ but  I will use deodorants when it isn't that hot out and there is no fear of wetness under my arms.  This really smells very nice ~ a beautiful herbal-lavender scent ~ I would love that in a perfume!  This has coconut oil and cocoa butter, so it will keep your delicate underarm skin moisturized while arrowroot and baking soda, along with the fragrance scents will keep you smelling fresh.   Organic, vegan, cruelty free and free from gluten and GMO's.  Full Size 2.9 oz  RV $11.95  Promo Code: Use kloverlove20 to receive 20% off your purchases for the entire month of March at Love Myself Organics online shop. They have free shipping at their site and a rewards program where you receive points for every purchase.
Description: Scented with essential oils to detox the body while soothing and calming the skin.  The most clean and natural deodorant on the market.  All natural organic deodorant ingredients – Organic Unrefined Coconut Oil, 100% Pure Cocoa Butter, Arrowroot Powder, Baking Soda, Vegan Candelilla Wax with the Purest Essential Oils. A natural deodorant that actually works – Essential Oil Scents: FOREVER = Lavender deodorant Blend.  Healthy deodorant  for women, men, teens and kids without aluminum  – Smell Great through the important detox process of your armpits. Non Antiperspirant and Aluminum Free.  Contains no artificial coloring or scents, sugar, starch, salt, wheat, gluten, yeast or milk and soy derivatives.  Designed for Total Body Optimization. The clean, herbaceous scent of Lavender Blend is tranquil and soothing. Antioxidant and antiseptic properties compliment this top-selling deodorant. This all-encompassing deodorant will have you smelling good, feeling good and looking good!
Ingredients: unrefined coconut oil, 100% pure cocoa butter, arrowroot powder, sodium bicarbonate (baking soda), vegan candelilla wax, essential oil blend
Vag Magic Suppositories So this is what I mean by unique!!  Okay, girl talk here ~ I do suffer from yeast infections and I think most of us ladies have experienced them once or twice in our lifetimes.  I learned several years ago that I cannot use the popular OTC Monistat suppositories as IT BURNS like a mutha.  Seriously ~ I did a 3-day and I thought I was going to die ~ and it is COMMON (just search for it here)  I used to be able to use Monistat in the past without any issues and I feel that they changed their formula, as it is a common observation on chat boards.  Since then, I switched to eco-friendly and organic YeastGard Homeopathic Formula Gel Treatment and that works nicely, but I am always happy to see other eco-friendy brands that address yeast infections ~ and I do like the convenience of suppositories too. 
This pouch contains 7 boric acid suppositories, so it will clear up a single yeast infection if you use one a day, for a week, or you can use them on occasion for some light, pH balancing.  If you have BV (bacterial vaginosis), you need to use one nightly for 3 weeks and they do sell a 21 day kit.  This also contains L. acidophilus (Lactobacillusacidophilus) and it is a probiotic ~ a good bacteria ~  and some studies have shown that it can help with treat BV and it can also help and prevent yeast infections.  7 suppositories RV $7.99.  Promo Code:  Use getlucky to receive 17% off your purchases at VagMagic and they always have free shipping. 
Description: VagMagic can be used to treat and relieve symptoms of vaginal yeast infections and bacterial vaginosis (BV). It's also intended for the general maintenance of vaginal pH. After using VagMagic correctly, we hope you'll experience all sorts of magic down there, like:
Elimination of unpleasant odor
Relief from irritation, swelling, and infection
Freshness without harmful douching (seriously! Everyone needs to stop douching!)
The freedom to eat and drink what you want while treating an infection – sugar is finally allowed!
Ingredients: hydrogen borate, L.Acidophilus, vegatarian capsules(HPMC), water
Cuccio Somatology Calming Yoga Elixir Spray (Lavender & Cardamom)  Cuccio is making the rounds with subscription boxes ~ I received this last month in my Yogi Suprise Lifestyle box.   I honestly don't mind, as I do love this scent ~ but just so you know, this states it has cardamom in it, but the ingredients do not reflect that ~ it does have orange, tea tree, rosemary and sage in it.  This is a great aromatherapy room spray, to help calm and relax your mind and it can also be put on moist towels, if you are having a home-spa or just whenever you need a pick-me-up  This scent is just lovely and since it has tea tree and rosemary in it, it is also an antiseptic spray.  Full Size 2 oz  RV $8.95  Promo Code: Save 25% off your next order at Cuccio Somatology with promo code kloverbox25

Ingredients: PEG-7 glyceryl cocoate, water, propylene glycol, lavandula angustifolia (lavender) oil, butylene glycol, citrus nobilis (mandarin orange) peel oil, melaleuca alternifolia (tea tree) leaf oil, rosmarinus officinalis (rosemary) leaf oil, tocopherol (vitamin E), salvia officinalis (sage) oil
When I first opened this box, I wasn't sure what to make of it ~ VagMagic? But all of these products are really nice and there is some great smelling products in here as well as products to make YOU smell great!  It isn't the best Kloverbox ever, but I am pretty happy with it as it is unique and I love eco-friendly and natural products.  I paid $15.00 due to a Black Friday promo code + renewing 3 month subscription and received of almost $57.00.  Do you subscribe to Kloverbox?  What was your favorite product this month?

Current Promo:  Want to save 10% off your subscription?  Use my referral link here    One and three month terms automatically renew, the six month is a one time purchase.   The monthly subscription has an option to skip a month!

[ descriptions in italics from linked website.  contains referral link and affiliate links ]