It feels like I JUST got my February NMNL box and now here is March's box!  Much faster shipping time for March and I have to say, I LOVE this month's box.   The launch box was okay, but it was very makeup centric and I couldn't use many of the products.

Tokyo Treat NMNL (no make, no life) will contain 5 to 7 full sized beauty products from Japan.   They will ship directly from Japan and it does have international free shipping to 120 countries.  This box will ship out between the 20th and 28th of the month prior.

nmnl comes in one size:  each monthly box contains a mix of 5 – 7 full-sized beauty items of the highest quality from 6 different categories (skin, body, make, hair, bath and tools) chosen for you by our in-house beauty consultant
The pricing varies based on your plan
$29.99/monthly

$87.00 for 3 months

$170.00 for 6 months

$330.00 for 12 months
Save $3.00 off your first box by using promo code UNBOXINGBEAUTY

Box Revealed
This does come with an informational pamphlet and I will show the pages with the actual products.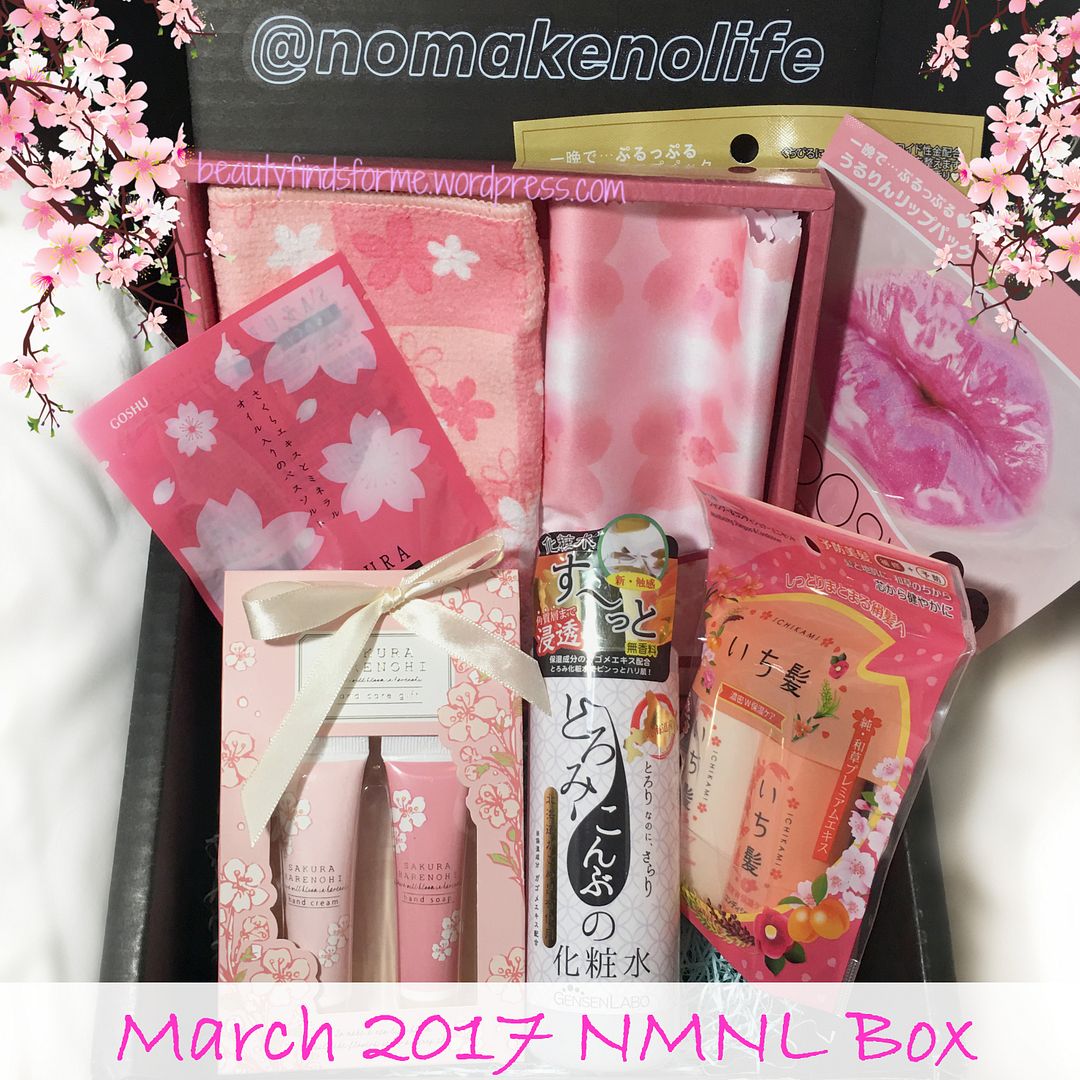 The theme is 🌸🌸🌸 Sakura 🌸🌸🌸 as march is the month when the cherry blossoms start to bloom in Japan.
As I am still getting the hang of using various tools to help translate Japanese to English, my translations are still rough with the ingredient list.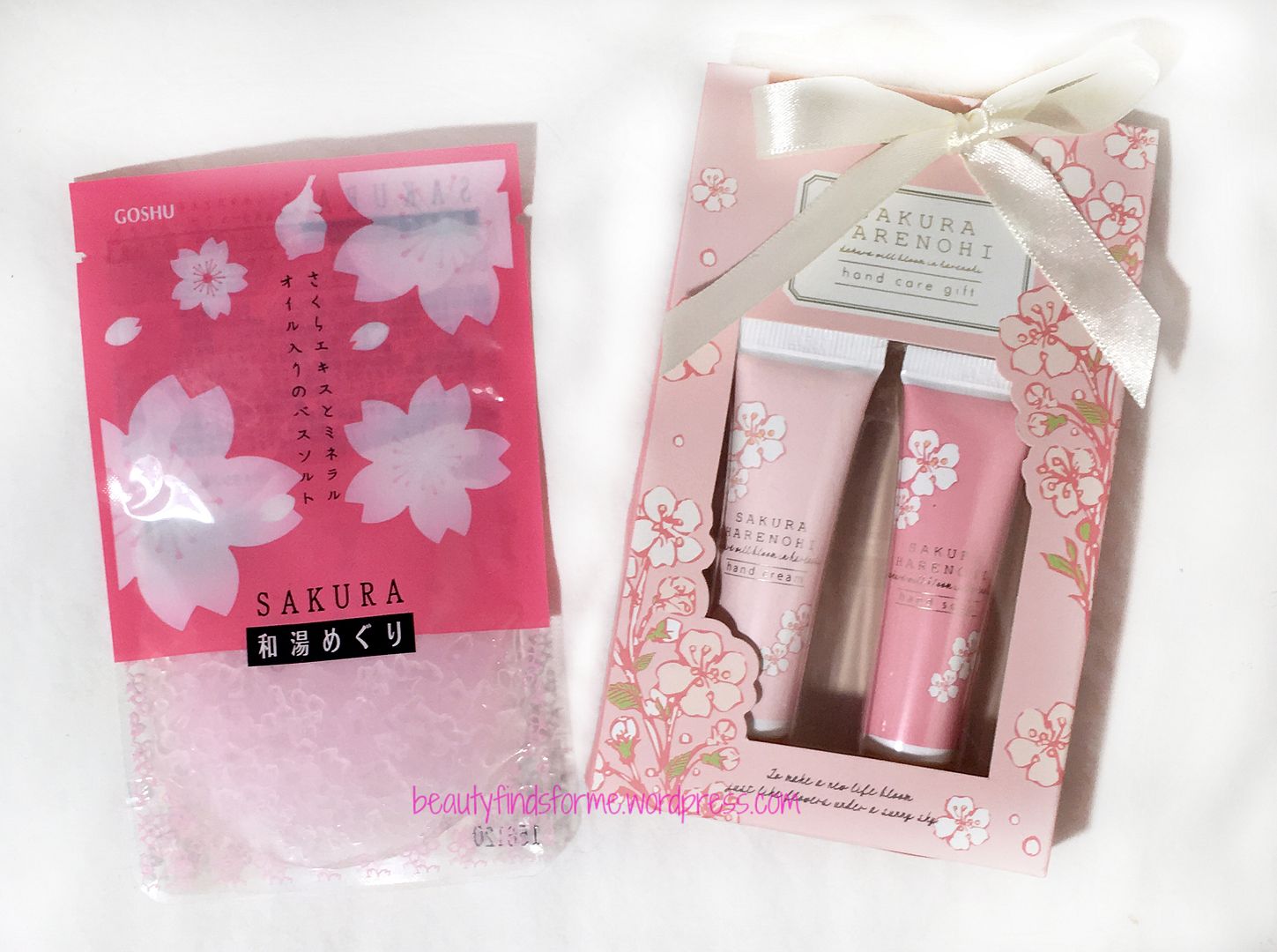 Goshu Wayumeguri Sakura Bath Salts Goshu makes a lot of bath products, including various bath salts. Wayumeguri is from a series that has bamboo, iris, yuzi and cherry blossoms scents. This is a really interesting type of bath salt, as it is a "wet" version ~ the sea salt also contains mineral oil, which is why these look like there is liquid in the package! This is a new concept that is supposed to give you more moisture in your bath ~ which makes sense as the mineral oils would be very moisturizing.  These turn your bath water into a milky white color and have the fragrance of cherry blossoms.  I cannot wait to try these out!   45 g RV $2.00
Description: Moisturizing ingredients "Sakura Extract" & mineral oil formulation. Oil ingredients cover the skin with a moisturizing veil to prevent drying, feeling moistly beautiful skin. Milky hot water and soft cherry scent full of Japanese emotions
Ingredients: Sea salt, mineral oil, Laureth-4, water, Prunus Yedoensis Leaf Extract (cherry), olive oil, jojoba oil, butylene glycol, fragrance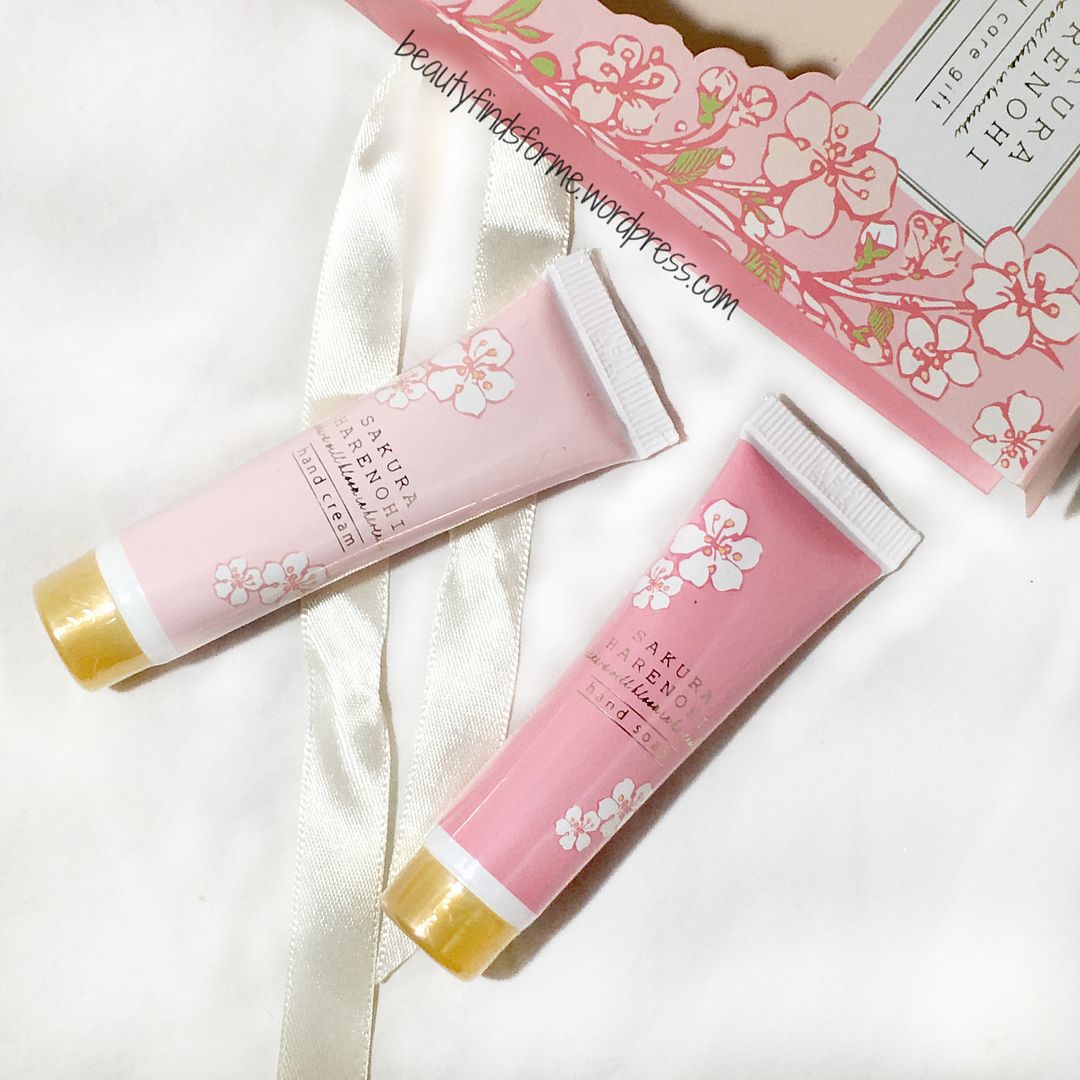 Sakura Harenohi Hand Care Gift Pack This contains both a hand soap and hand cream in some handy travel sized tubes.  I love the packaging on this ~ it came in a cute gift bag-box and the design is so pretty, with the cherry blossoms.  I tried the cream and yes, it does smell like cherry blossoms and is a nice light weight hand cream.  Both of these products highlight that they contain royal jelly  ~  a honey bee product that contains B-complex vitamins, nucleic acid, decanoic acid, flavonoids, essential fatty acids, amino acids, enzymes, minerals and natural antibiotic and antibacterial compounds. It is an anti-aging ingredient as well, as it can increase collagen production in your skin.  And speaking of collagen, this is another ingredient they mention that is in both of them ~ collagen will help deeply moisturize your skin.  These tubes are just so adorable! Cream 11g  Soap 12 mL RV $5.68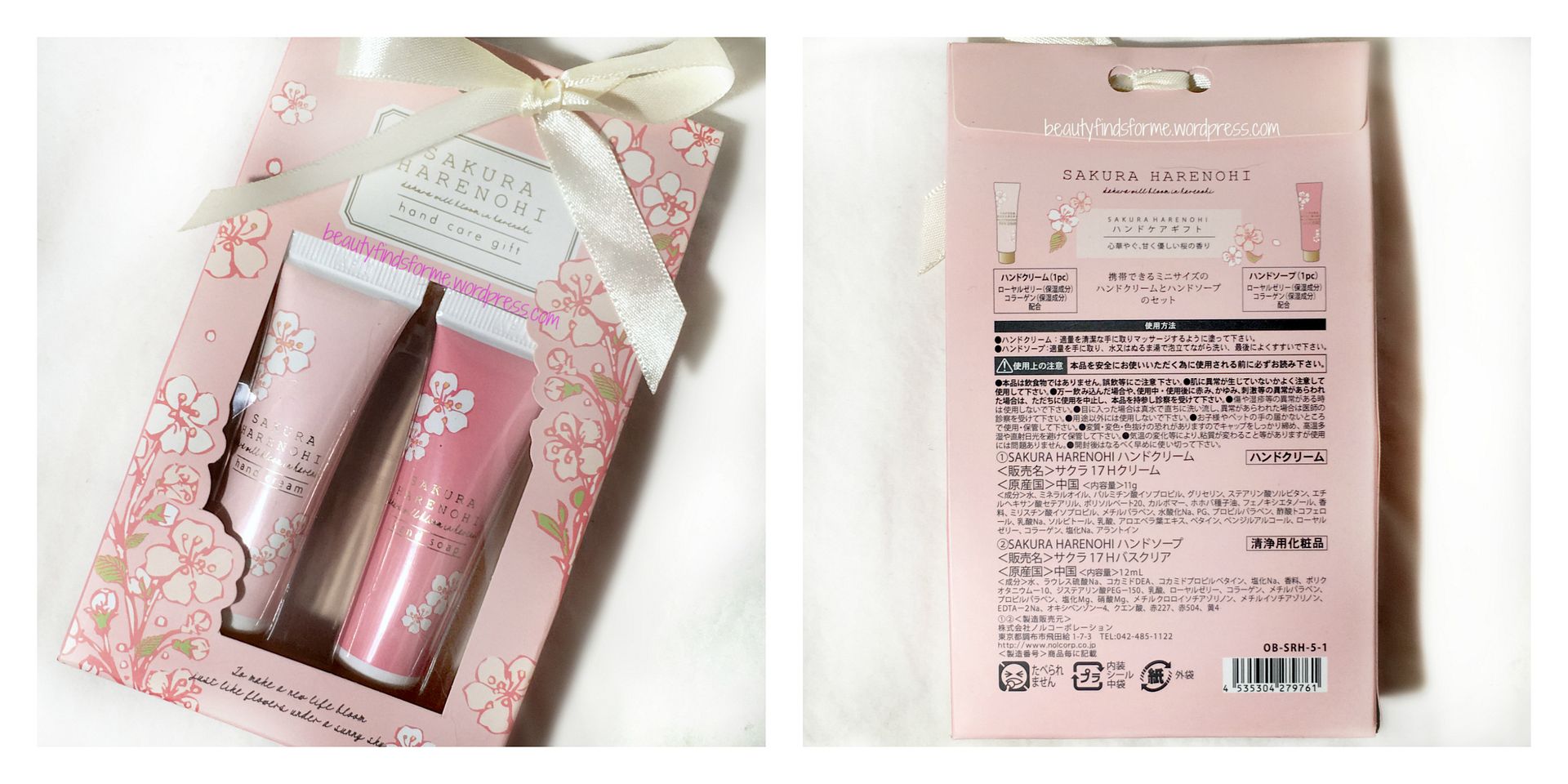 Hand Cream Ingredients: water, mineral oil, isopropyl palmitate, glycerin, sorbitan stearate, cetearyl ethylhexanoate, polysorbate 20, carbomer, jojoba seed oil, phenoxyethanol, fragrance, isopropyl myristate, methyl paraben, sodium hydroxide, PG, propyl paraben, tocopherol acetate, sodium lactate, sorbitol, lactic acid, aloe vera leaf extract, betaine, benzyl alcohol, hyaluronic acid, collagen, royal jelly, sodium chloride, allantoin
Hand Soap Ingredients: water, laureth sulfate Na, cocamide DEA, cocamidopropyl betaine, sodium chloride, fragrance, polyquaternium-10, distearic acid PEG-150, lactic acid, royal jelly, collagen, methylparaben, propylparaben, Mg chloride, Mg nitrate, methyl chloroisothiazolinone, methyl isothiazoline, EDTA-2Na, oxybenzone-4, citric acid, red 227, red 504, yellow 4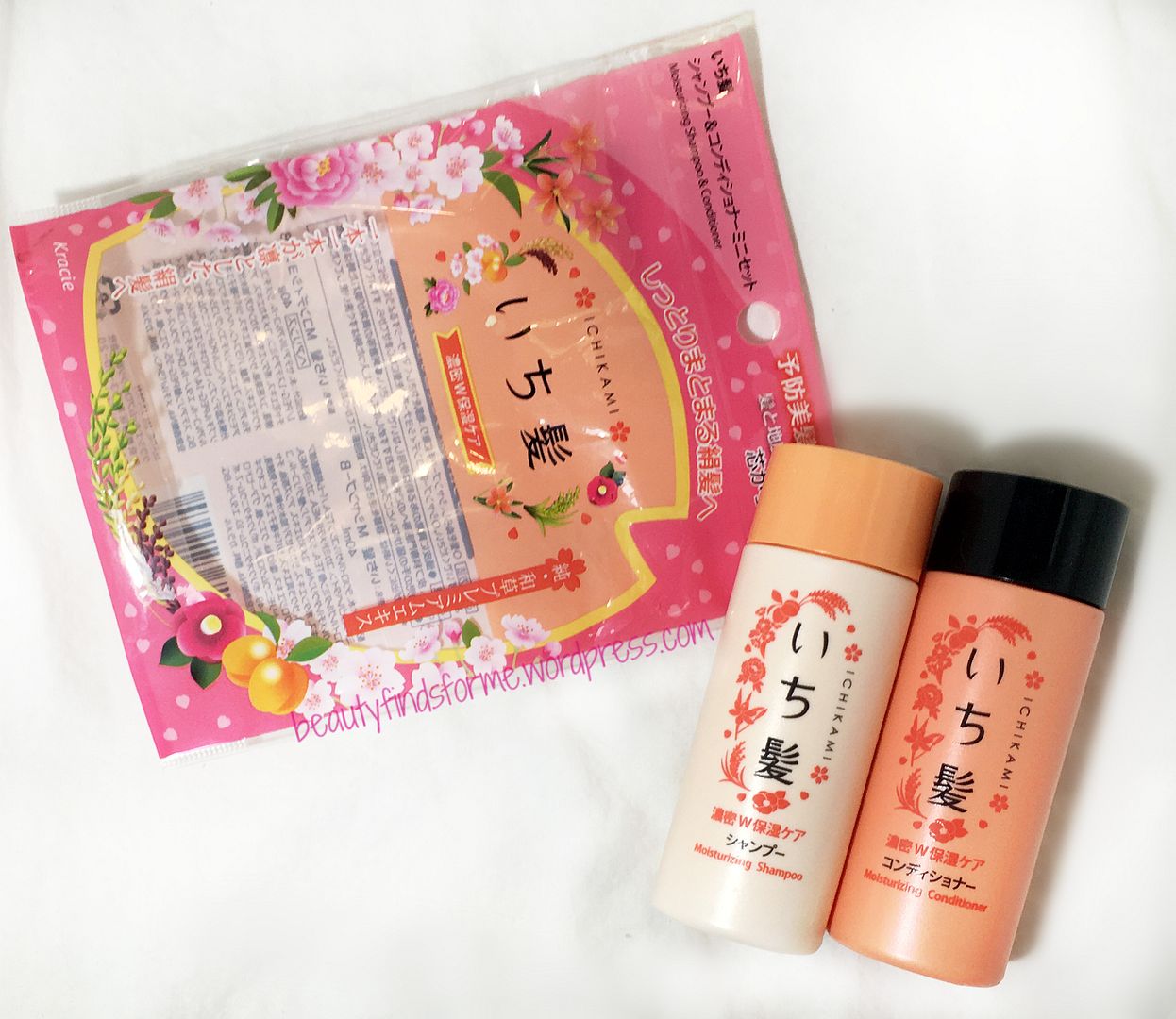 Ichikami Moisturizing Shampoo and Conditioner Travel Set  🌸 I love Japanese haircare products! One of my favorite shampoo/conditioner series is from Shiseido Tsubaki ~ I have not heard of Ichikami but it is supposed to be another best seller.  This is the "moist" version, but I can tell you, it isn't too moisturizing for my oily hair.  I did use these and I think they are great for my hair ~ it might not even be moisturizing enough for drier hair.  Both the shampoo and conditioner are  silicone free and do not use sulfuric acid-based agents. These smell fantastic ~ apricots with cherry blossoms ~ the shampoo foams up nicely with a rich scent and the conditioner is very lightweight but it does detangle my hair.  I think I will use up the conditioner before the shampoo!  Cute little bag decorated with cherry blossoms and some key ingredients in these products ~ it is reusable, as it has a zip lock closure

This contains a couple of rice ingredients: rice germ oil and fermented rice bran extract ~ rice ferment filtrate is full of amino acids, over a 100, organic acids, saccharides, vitamins, nucleic acids and esters.  Apricot oil is a moisturizing ingredient that can protect your hair from UV damage and green tea (camellia) is an anti-oxidant that will provide moisture to your scalp  40 x 2 mL  RV $3.11

Description: Pure Japanese botanicals premium extract. Purple rice bran (rice bran extract), Apricot oil, Tea blossom extract, Moutan bark extract, Fermented black rice α (lachancea, fermentation solution of hydrolyzed rice), Rice EX-S (selected ingredients derived from water used to wash rice), Cherry blossom, Camelia, Blackberry lily and soapberry (contains in shampoo).  Damage repair + prevention: Moisturizes both hair and scalp. Prevents drying, which causes serious damages such as split ends. Moisturizes and thickens dry hair down to the core. Shampoo is formulated with plant-derived, amino acid based cleansing ingredients*  Lauroylsarcosine TEA, TEA cocoyl glutamate
Shampoo Ingredients: water, lauroyl sarcosine TEA, palm kernel fatty acid amidopropyl betaine, cocamidomethyl MEA, cocamide MEA, cocoyl glutamic acid TEA, glycol distearate, cocoyl methyl taurine Na, rice bran extract, apricot kernel oil, camellia sinensis flower extract, paeonia suffruticosa root extract, lachancea/hydrolyzed rice ferment filtrate , rice germ oil, cherry leaf extract, camellia seed extract, belamcanda chinensis root extract, sapindus mukorossi peel extract, sodium chloride, citric acid, guar hydroxypropyltrimonium chloride, polyquaternium-7, polyquaternium-49, polyquaternium-10, ethanol, butylene glycol, EDTA-2Na, sodium benzoate, fragrance, caramel
Conditioner Ingredients: water, cetearyl alcohol, dimethicone, PPG-1 / PEG-1 stearamine, rice bran oil extract, apricot kernel oil, camellia sinensis flower extract, paeonia suffruticosa root extract, achancea/hydrolyzed rice ferment filtrate, rice germ oil, cherry leaf extract, camellia seed oil extract , belamcanda chinensis root extract, lactic acid, paraffin, behenamidopropyl dimethylamine, phenyl trimethicone, glycosyl trehalose, amodimethicone, behenyl PG-trimonium chloride,  hydrolyzed hydrogenated starch, hydroxyethyl cellulose, bis-isobutyl PEG-14/amodimethicone copolymer, behenyl alcohol, ethanol, DPG, laureth-4, laureth-23, butylene glycol, PEG-55 stearate, citric acid, tocopherol, sodium benzoate, methylparaben, fragrance, caramel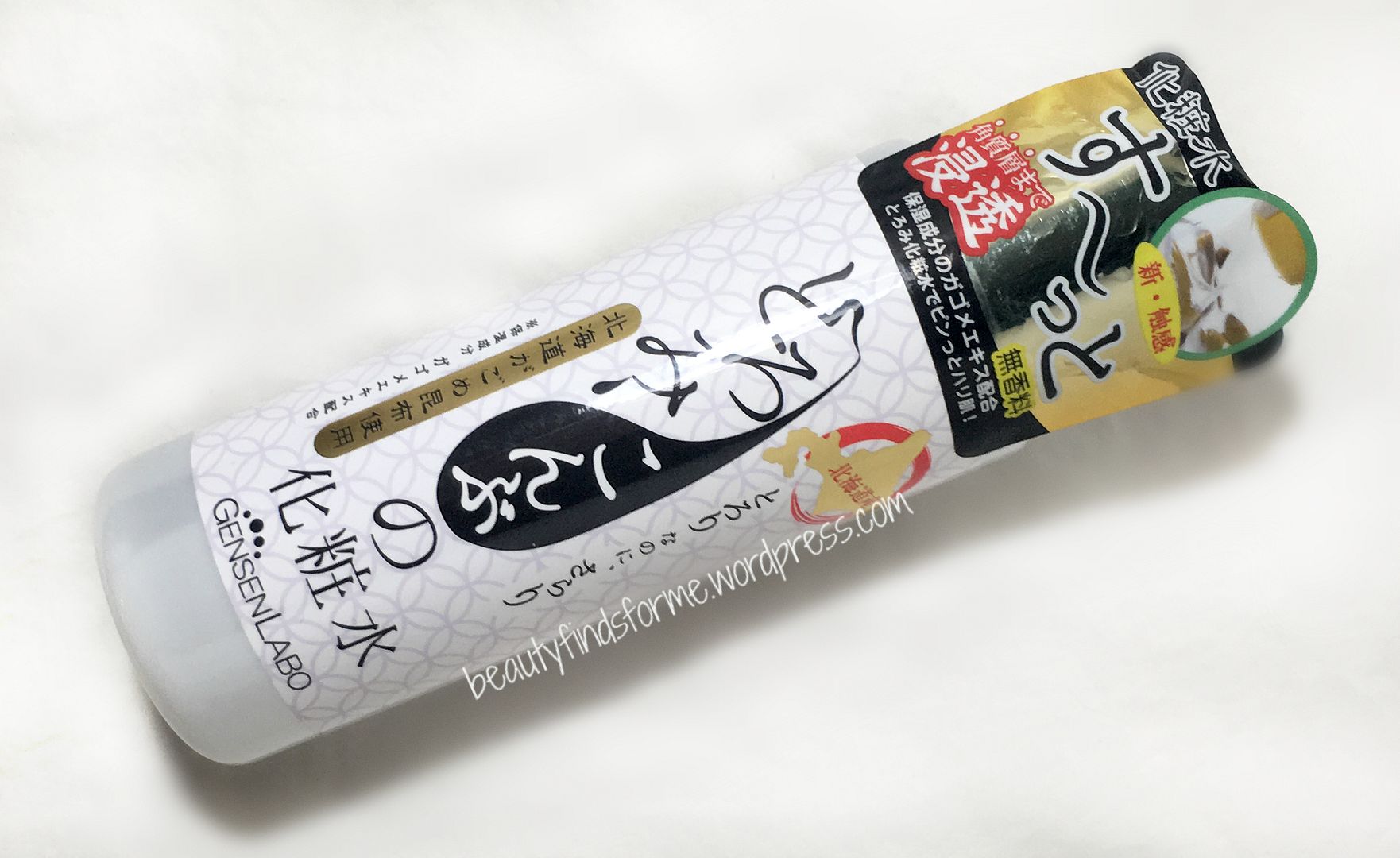 Gensen Labo Hydrating Toromi Kombu/Sea Kelp Toner The first non-Cherry blossom product in the box ~ and I am SO excited to get this!  Products like these are the reason why I signed up for NMNL in the first place.  This is made with kjellmaniella crassifolia (kombu/seaweed)  from the Hokkaido region ~ northernmost of Japan's main islands.   Kombu contains L-fucoidan, which is a polysaccharide that has a lot of skincare benefits ~ it helps heal wounds and rashes, brightens your skin tone and has anti-aging properties, helping to reduce and prevent fine lines and wrinkles.  It is very moisturizing and it is said that its moisturizing abilities are better than hyaluronic acid.  [ source ] According to the description, this is supposed to be very thick and slimy, but I have read that it is actually not as sticky as shown, but a lovely hydrating, watery toner that is alcohol and fragrance free   I am looking forward to using this ~ I have several toners open right now, but once I finish one, this is next!  Full Size 180 mL RV $9.61

Ingredients: water, butylene glycol, kjellmaniella crassifolia extract, Na citrate, methylparaben, Citric acid, polyacrylic acid Na, pPhenoxyethanol, tetrasodium etidronate cosDNA analysis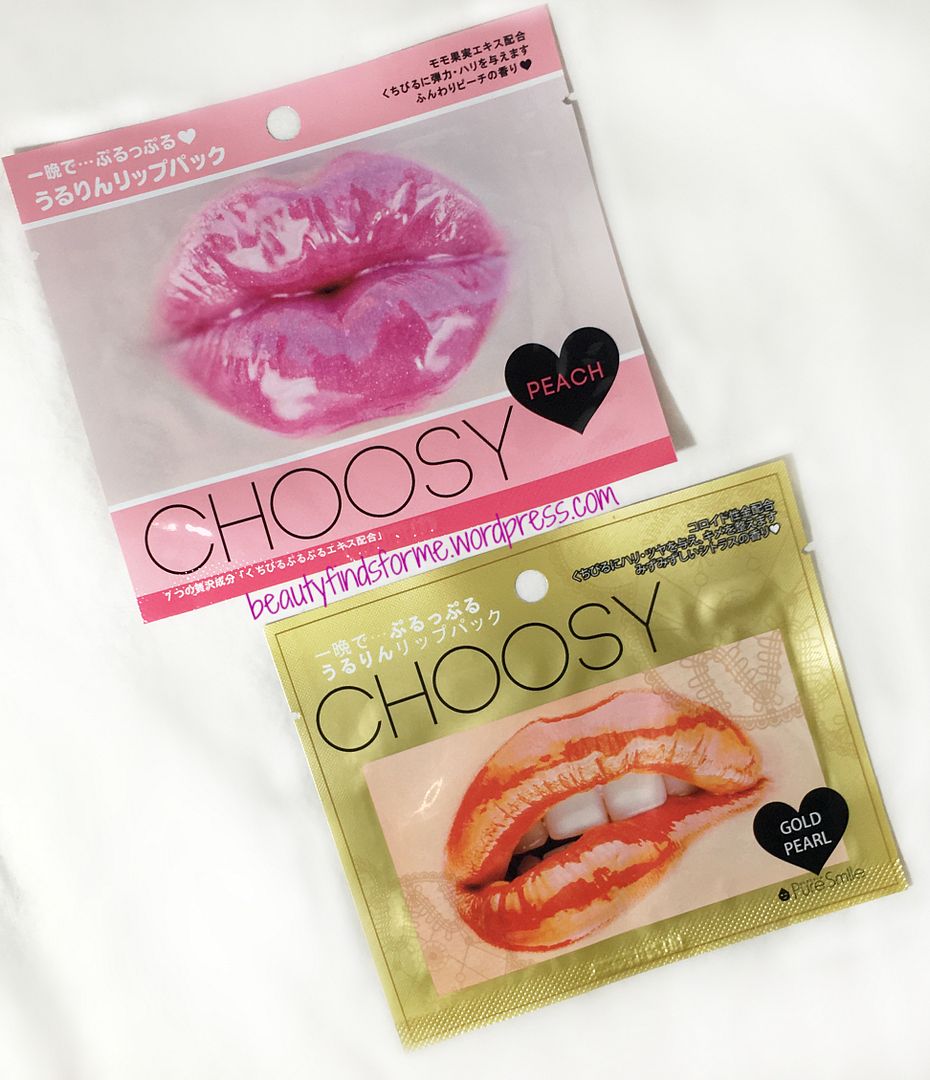 Pure Smile Choosy Lip Masks ~ Peach and Gold Pearl  I am pretty familiar with Pure Smile's Choosy Lip Masks ~ Pure Smile is a Japanese brand but these masks are made in Korea, so I was introduced to them back in Memebox Global days! The packaging always makes me laugh ~ very 1970's high disco gloss with a touch of Rocky Horror Picture Show tossed in!! These are jelly lip masks that you slap over your mouth for 20 to 30 minutes and it will hydrate and moisturize your lips.   You can also use these as nipple mask packs too ~ I know that may sound weird, but if you are a nursing mother, you will appreciate these mask packs.   RV $1.80 x 2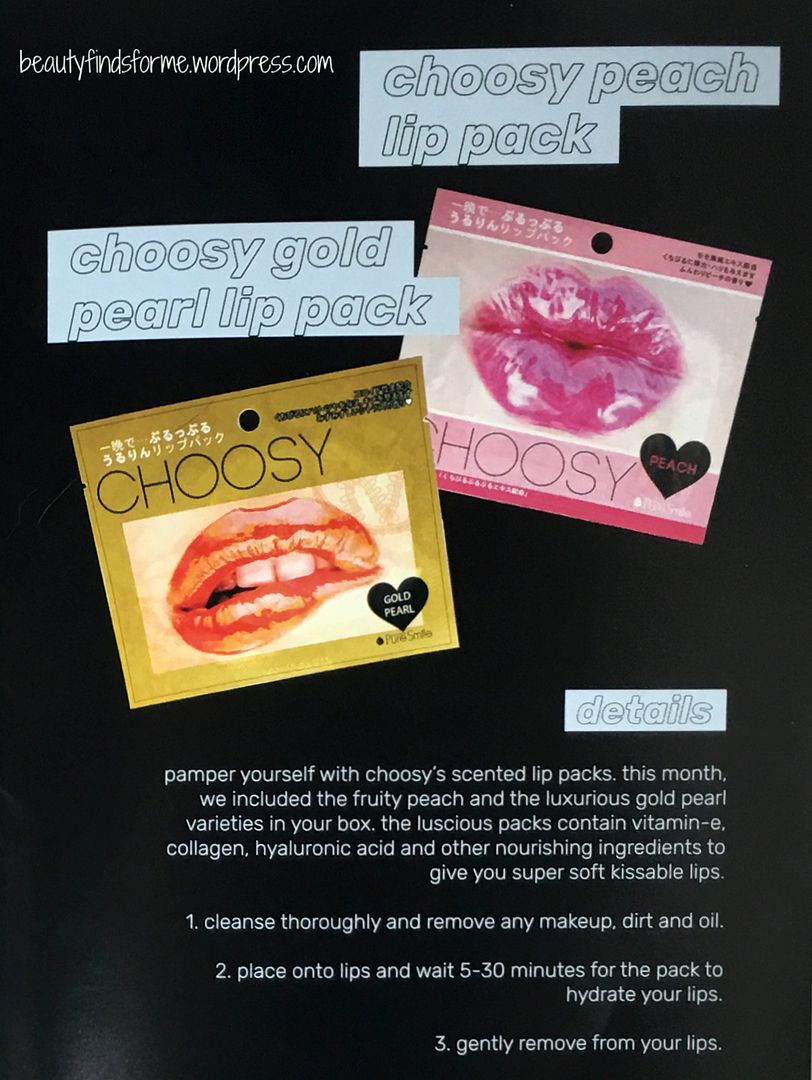 Description: This special lip mask seals 10 different luxurious ingredients into the lips, creating a plump, voluminous pout overnight. Vitamin E (Tocopheryl acetate): Conditions the lips. Collagen (Hydrolyzed collagen): Moisturizes the lips.  Hyaluronic acid (Sodium hyaluronate): Supplies the lips with fullness and shine
Peach Lip Mask Ingredients: water, glycerin, butylene glycol, ceratonia siliqua gum, xanthan gum, vitis vinifera (grape) seed oil, allantoin, lactic Acid, methylparaben, carrageenan, hydrolyzed collagen, peach fruit extract, pomegranate fruit extract, honey extract, blueberry extract, jojoba seed oil, β-glucan, piper methysticum leaf/root/stem extract, PEG-60 hydrogenated castor oil, phenoxyethanol, polyglutamic acid, iron oxide, niacinamide/potothenic acid Ca/ascorbyl phosphate Na/tocopherol acetate/pyridoxine HCL/maltodextrin/silica /octenyl succinate starch Na, fragrance, EDTA – 2 Na, ceramide 3, hyaluronic acid Na
Gold Pearl Lip Mask Ingredients: Water, Glycerin, Butylene Glycol, Ceratonia Siliqua Gum, Xanthan Gum, Ricinus Communis (Castor) Seed Oil, Calcium Lactate, Allantoin, Citrus Grandis (Grapefruit) Seed Extract, Bambusa Textilis Stem Extract, Pinus Palustris Leaf Extract, Chondrus Crispus (Carrageenan), Hydrolyzed Collagen, Beta-Glucan, Sodium Hyaluronate, PEG-60 Hydrogenated Castor Oil, Mica, Polyglutamic Acid, Fragrance, Titanium Dioxide, Disodium Edta, Niacinamide, Sodium Starch Octenylsuccinate, Royal Jelly Extract, Honey Extract, Adansonia Digitata Seed Oil, Argania Spinosa Kernel Oil, Calcium Pantothenate, Maltodextrin, Iron Oxides (Ci 77492), Prunus Amygdalus Dulcis (Sweet Almond) Oil, Cocos Nucifera (Coconut) Fruit Extract, Milk Protein Extract, Sodium Ascorbyl Phosphate, Tocopheryl Acetate, Pyridoxine HCL, Tin Oxide,Silica,Dipeptide Diaminobutyroyl Benzylamide Diacetate,Colloidal Gold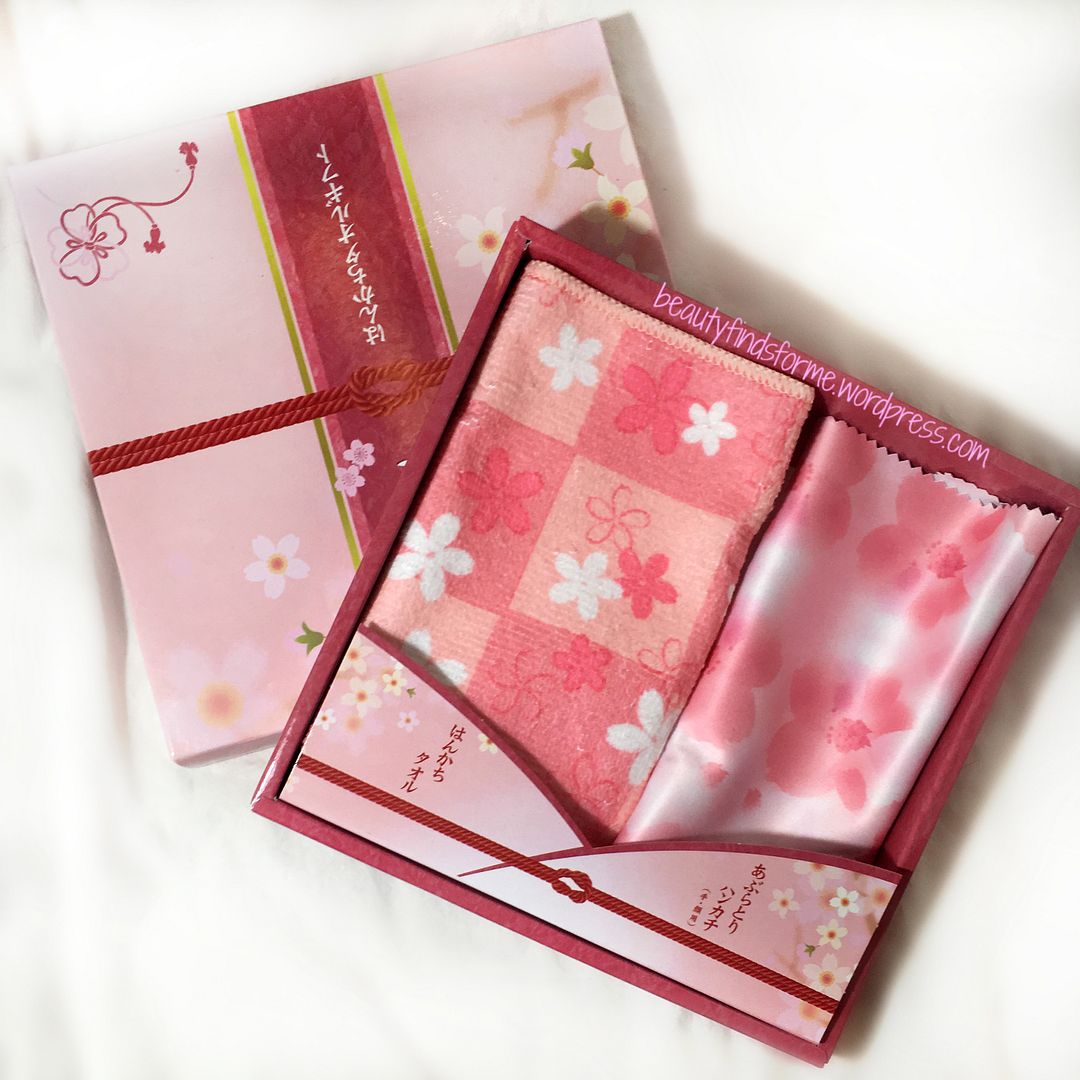 Sakura Handkerchief Gift Set  This is wonderful!!  I received two cherry blossom towels ~ one is a hand/face towel and it has more texture (the one on the left) ~ made from 100% polyester ~ I have a friend who used to teach in Japan and she told me that using your hand/face towel instead of a paper one is very common in Japan. Very eco-friendly, in fact!  The other towel is for glass and plastic ~ my glasses, iPhone and laptop come to mind ~ it is much more silky looking (20% nylon/80% poly) than the hand/face towel.
This will go great with my iPhone, as I have a rose gold phone with a cherry blossom case ~ yes, I love cherry blossoms.  In fact, looking at it, it is getting a bit yellowish and worn, as it is a soft rubber case and the heat from my phone, plus exposure to tons of gunk.  Time to purchase a new one.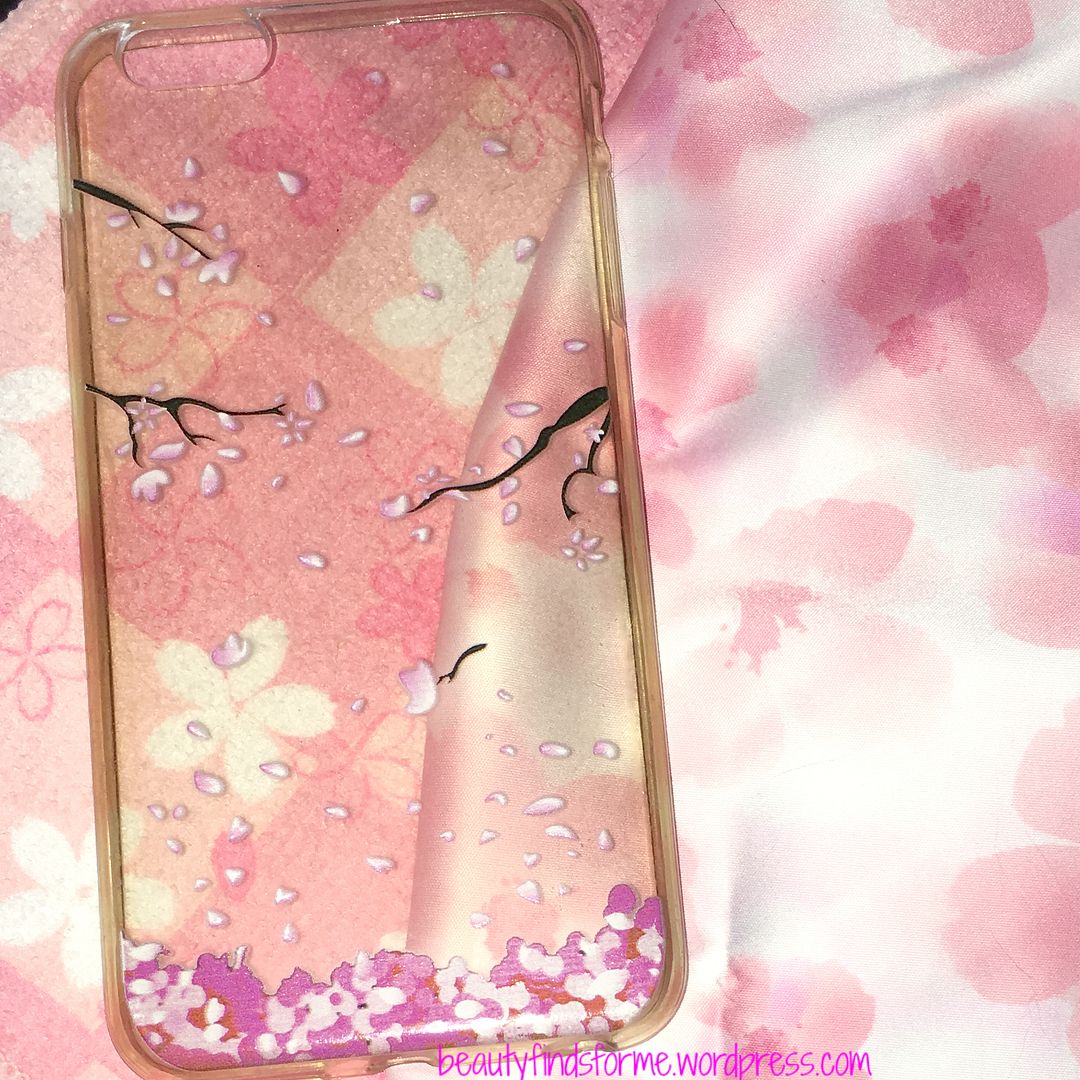 These two towels came in a cute gift box with cherry blossoms scattered across it. I really love these cloths!  RV $10.00
Final Thoughts
I really think NMNL hit a home run here with their Sakura box!  This box is full of great items and I would say that the towels, toner and shampoo/conditioner set are my favorites ~ but all of these are great and I will use them.   The total retail value is around $34.00, which is low considering the box is $30.00. That said, some of these items are only available in Japanese stores and I know that even if you use a shopping service like Buyee ~ which I will be writing about my experiences with this service soon ~ you pay for shipping and handling fees.  I feel this box is worth it because of the cute Sakura items plus the discovery of the kombu toner.   Did you get this month's box?  What was your favorite items?  
Next month's theme is Skincare Essentials and I have a spoiler page set up here ~ which I will update as I know more about the items.  If you are interested in subscribing, you can order here and use UNBOXINGBEAUTY to save $3.00 off your first box!
[ blog post contains affiliate links ]