[ disclaimer: products received for review purposes. all opinions are my own & unbiased. ]
Swanicoco is a South Korean cosmetics company that began making naturally fermented soaps back in 2005.  They have been producing eco-friendly skincare, makeup and body care products, using their trademarked anti-aging fermentation process.  Swanicoco uses organic herbal and botanticals from all over the world ~ Korea, Europe, Australia and United States, and these ingredients are selected to create their products, which range from Pore Care to Anti-Aging Care lines.  The brand name combines elegance ~ swan ~ with natural botanical ingredients ~ coco.    Based on the informational video below, it has something to do with coconuts. I do highly recommend watching the intro video, because it really talks about the mission statement and goals of Swanicoco.

I was very lucky to get a huge package from Swanicoco, with a skincare care routine that was tailored to my skin type and needs.  Kevin at Swanicoco worked with me for about a week, pulling this routine together for me.   All of the following products will be reviewed here at my blog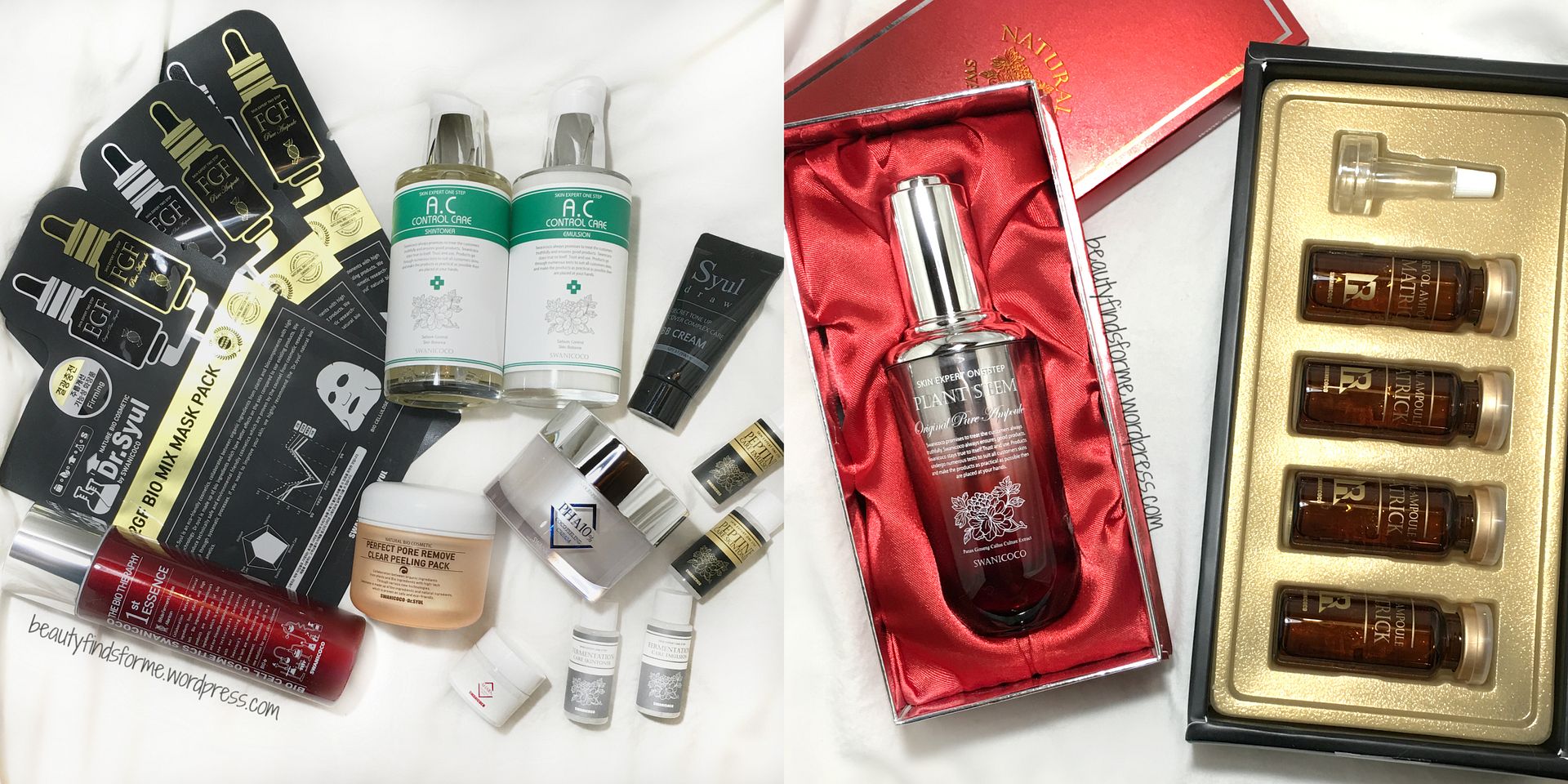 I even purchased some Swanicoco items on my own ~  Neofinetia Falcata Callus Pure Ampoule, Curcuma Longa Linne Soap ~ this is turmeric soap, great for oily skin, Oriental Herbs Scrub Powder and some sheet masks from Cell Active series.  This is a very exciting and new brand for me and I know that the lovely Vanity Rex and Lotus and Snail have used and reviewed Swanicoco with great results, so I was very happy that I have these products to try out!    Based on the name of this blog post, I am featuring two mask products I received ~ the Perfect Pore Remove Clear Peeling Pack and 2GF Bio Mix Mask Pack.
Skin Type/Concerns:  Oily, blemish prone skin with aging concerns  ~ fine lines and wrinkles, hyper-pigmentation
Perfect Pore Remove Clear Peeling Pack (say that ten times fast) is just a fancy name for a hydrating, warming clay mask pack, which smells like berries🍓 and oranges🍊   This mask pack will gently exfoliate to remove dead skin cells and excess oil.  Its first ingredient is glycerin, which tells me right away that this is a very moisturizing and soft mask. Glycerin is an  humectant, sealing in moisture and maintains the skin's water balance on an inter-cellular level, which makes the skin look healthy, moist (not dry and scaly) and soft to touch.  It is also an  emollient, leaving your skin looking radiant and supple and it helps with healing blemishes and other skin wounds.
Kaolin, aka China Clay, is a white quarry mined clay that has been washed, hence its white color.  This clay helps detox your skin, by removing dead skin cells and dirt, while absorbing excess oil and controlling sebum.   Clay is really a fantastic ingredient for oily and blemish prone skin due to these properties.  Prunus amygdalus dulcis (sweet almond) seed meal and brown sugar (sucrose) gently exfoliate clogged pores, which cause blackheads and whiteheads. You can even see the finely ground meal in this clay pack!  Olea europeaea (olive) fruit oil helps lock in moisture in your skin by creating a thin barrier on your skin ~ it helps prevent evaporation and keeps your skin from drying out.  It is also contains a rich source of Vitamin E, a potent antioxidant ingredient.  Macadamia tenifolia seed oil is rich in fatty acids ~ oleic acid and palmitoleic acid and has a similar composition to our own sebum secretions.  Macadamia oil helps soften and moisturize your skin.  Helianthus annuus (sunflower) seed oil is rich in Vitamin E and helps prevent skin dryness. The warming sensation comes from Vanillyl butyl ether
As you can see, this mask not only has effective pore care for oily skin, but moisturizing ingredients to prevent your skin from drying out, which I have had happen in the past with clay mask packs.
Ingredients: glycerin, kaolin, butylene glycol, prunus amygdalus dulcis (sweet almond) seed meal, olea europeaea (olive) fruit oil, stearyl alcohol, macadamia tenifolia seed oil, helianthus annuus (sunflower) seed oil, cetearyl olivate, zeolite, sorbitan olivate, dimethicone, sodium acrylate/sodium acryloyldimethyl taurate copolymer, sucrose, illicium verum (anise) fruit extract, scutellaria balcalensis root extract, amorphophallus konjac root powder, citrus nobilis (mandarin orange) peel oil, isohexadecane, polysorabate 80, tocopheryl acetate, 1,2-hexanediol, propanediol, caprylyl glycol, black strap powder, vanillyl butyl ether, citric acid cosDNA analysis

The first thing I noticed when I opened up this jar was the bits of finely ground meal.  The second thing I noticed was the bright berry-citrus scent, which made me very hungry for a fruit bowl!  I also noticed how creamy this looked in the jar as well, very different from other clay mask packs I have used in the past.  The Perfect Pore Pack was very easy to spread, due to its soft, yet dense texture.  It is very much like applying a thick cream on my face, it was that smooth and soft.  I had some really painful blemishes around my nose and as I applied this over those, my skin felt immediately soothed.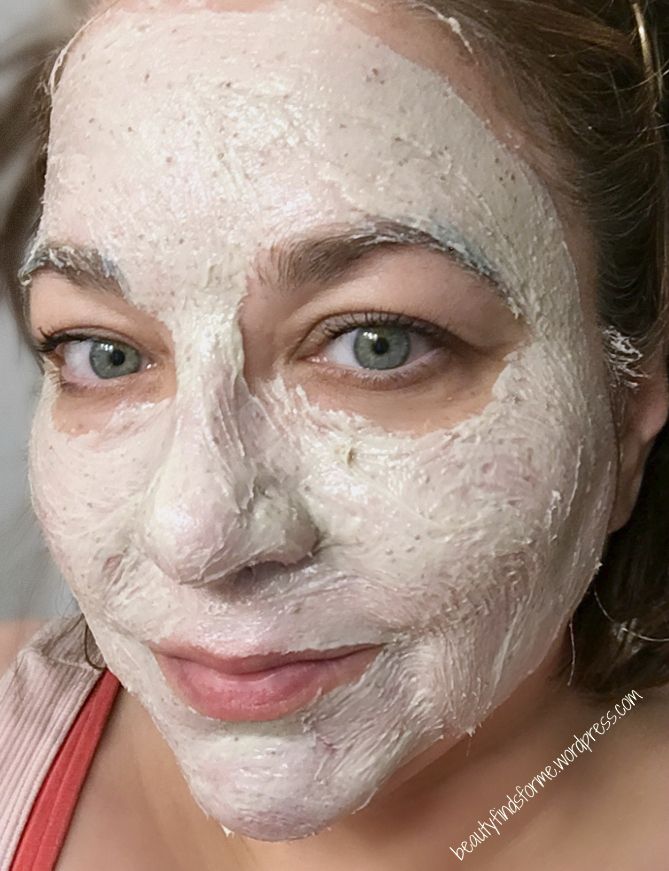 I was a bit surprised that within a minute, my face began to feel warm.  I didn't know at the time that I first tried this mask that it is a warming mask ~ I normally do not care too much for warming masks.  However, the warmth was not uncomfortable at all and it felt pretty good on my skin.   This mask does not dry down.  I did a before and after swatch on my hand, waiting 10 minutes and I couldn't tell the difference!  It still looks as moist and shiny as when I originally applied it on my hand.
Since the mask doesn't dry down, you have to gauge when you want to remove it.  I rinsed mine off after 15 minutes, using a circular motion to advantage of some extra exfoliation with the almond seed meal and brown sugar bits.   I was very surprised to see how well this mask worked for my oily skin type!  Most warming masks that have such a high content of moisturizing ingredients usually just make my pores look huge, but not this one!  The clay in this mask really made the difference for my skin ~ it removed all of the excess dirt and oil from my pores which then gives them the appearance of being tighter and smaller.   Since it has all of those lovely oils in it, my face didn't feel stripped or dry, but clean, refreshed and moisturized.  I was worried that this mask would be too gentle and not effective on my skin type, but it worked very well.   Two thumbs up for this mask!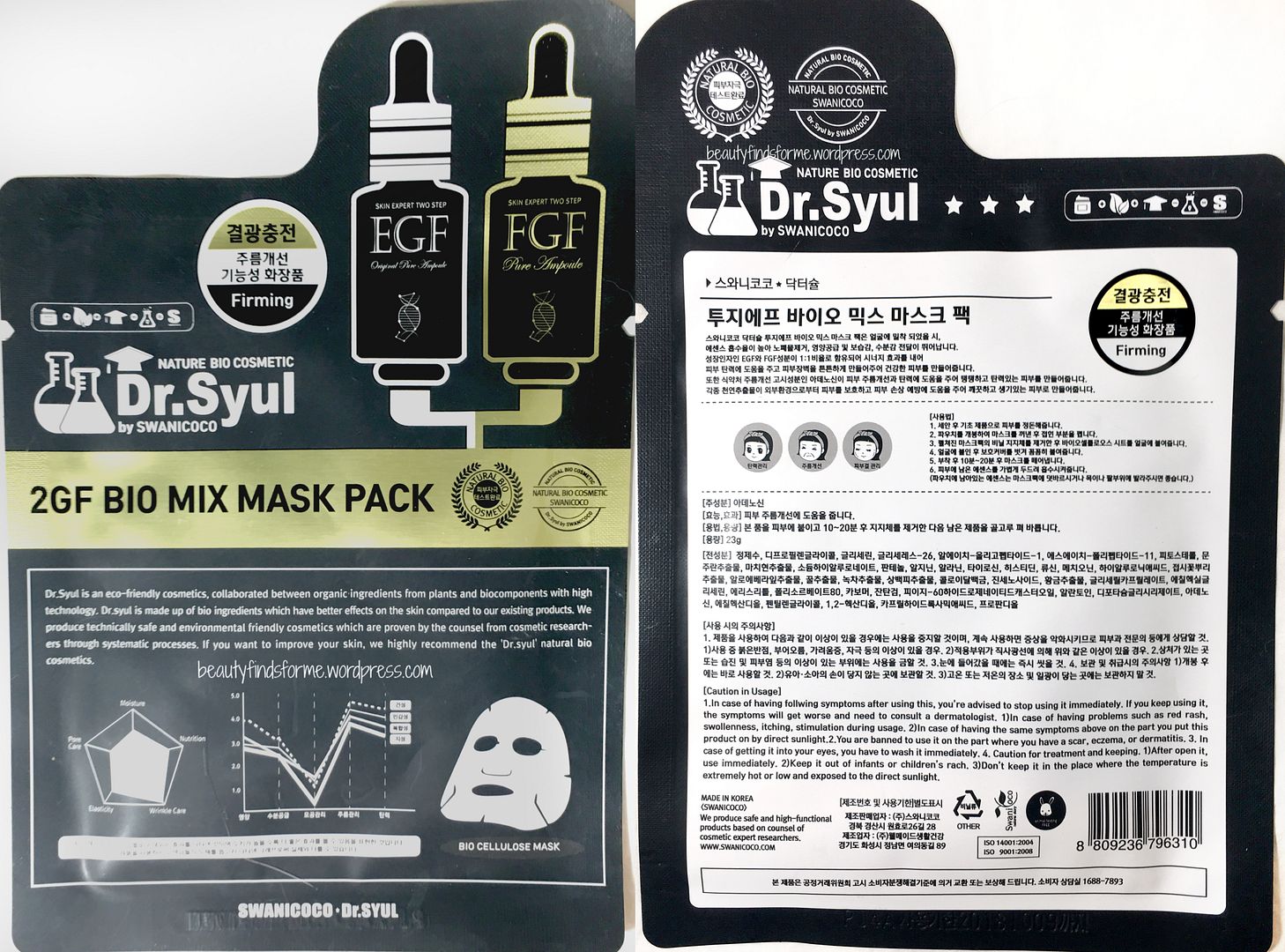 2GF Bio Mix Mask Pack is a firming, anti-wrinkle and brightening mask pack, which is another skin concern of mine ~ I am an older beauty blogger and I really am at the point where it isn't about prevention anymore ~ I HAVE wrinkles and I need to mitigate and lessen the impact of any new wrinkles while softening and reducing the appearance of what I already have. I love facial sheet masks because it is a quick way to treat yo face and get some immediate, temporarily results.  This is a one piece bio-cellulose mask, which according to Swanicoco.  I roughly translated, thru the help of my trusty Google translate phone app, the following information from Swanicoco's site.  All mistakes are my own.
EGF (Epidermal Growth Factor) is a protein composed of 53 amino acids. EGF is found in our bodies and decreases as we we age and when added to skincare, it helps strengthen the damaged skin barrier.  It helps make the skin more firmer, dense and vital.  The Nobel Prize winning ingredient, rh-Oligopeptide-1 (EGF),  smoothly improves skin and normalizes the cycle of improvement , while repairing skin epidermal damage.   
FGF (Fibroblast Growth Factor) is present in the dermis of the skin to enhance the skin density and has the ability to bring out the skin's original strength. It is a source of collagen, elastin and hyaluronic acid and FGF will be effective in improving various complex skin problems through skincare.  rh-Polypeptide – 11 is one of growth factors similar to EGF, but it is an FGF (fiber growth factor).  
By combining EGF and FGF together, a new concept with the focus on wrinkle care and nutritional skin elasticity is created.  This is in a 1: 1 ratio which creates a synergistic effect that promotes skin elasticity and promotes healthy skin. EGF and FGF are best when mixed together as EGF focuses on the epidermis layer whereas FGF focuses on the dermal layer on your skin.  This mask contains Nobel Prize winning EGF and fibrous growth factor FGF components to help strengthen skin barrier, manage skin texture and damage.
Adenosine is a medicinal wrinkle remedy ingredient which will help soften and reduce the appearance of wrinkles.

Amino acid 6 Complex  ~ Amino acids, which accounts for 40% of the natural moisturizing factor (NMF), will improve your skin moisture level. Unlike collagen, it is small in size and permeable to the outermost layer of your skin. It also regenerates vitality to sensitive skin. The 6 amino acids are arginine, alanine, tyrosine, histidine, leucine and methionine.
Hyaluronic Acid is a complex polysaccharide consisting of amino acids and proteins.  It is an intensive moisturizing ingredient which bonds water to keep skin hydrated. It is a natural substance found in the human body and it made up of amino and uronic acids, while helping retain 100 to 1,000 times its own water weight in our skin cells.
Bio-Cellulose Mask ~ A natural bio material made from microbial cultivation. It is made of nano-micro structure and has excellent adhesion, so it can adhere to the contours of your face.  While wearing, the fibers are gradually tightened, pulling the skin up to increase the elasticity.  Once absorbed and the cellulose mask will absorb the excess oils that resides on the skin, leaving a cleaner and healthier skin behind. The high density structure of Bio-Cellulose is excellent in skin adhesion, so it closely resembles the inner skin while providing moisture without any gaps on the skin.  It also prevents the evaporation of the essence, effectively penetrating the active ingredients into the skin.  Bio-Cellulose has a cooling effect while not being sticky.
[ descriptions in italics are translated from Swanicoco Korean site ]
I hand translated the ingredient list below, using Google App Translate and Sidmool, as the mask ingredients were not yet on Hwa Hae app. All mistakes are mine own.
Ingredients:  purified water, dipropylene glycol, glycerin, glycereth-26, rh-Oligopeptide-1, sh-Polypeptide-11, phytosterol, crinum asiaticum extract, portulaca oleracea extract, sodium hyaluronate, panthenol, arginine, alanine, tyrosine, histidine, leucine, methionine, hyaluronic acid, althaea rosea (hollyhock) root extract, aloe barbadensis (aloe) leaf extract, honey extract,  camellia sinensis (green tea) extract, morus alba (mulberry) bark extract, colloidal platinum, ginsenoside, scutellaria baicalensis root extract, glyceryl caprylate, ethylhexylglycerin, erythritol, polysorbate 80, carbomer, xanthan gum, PEG-60 hydrogenated castor oil, allantoin, dipotassium glycyrrhizate, adenosine, ethylhexanediol, pentylene glycol, 1,2-hexanediol, caprylhydroxamic acid, propanediol  cosDNA analysis

Don't be fooled by the mask in the lower left hand corner of the above photo ~ it is a one piece mask, of which I am very happy about!  It comes protected by two pieces of paper ~ one is the standard plastic pearl paper and the other is a tissue thin paper, which I almost forgot to remove the first time I used this mask!  It looks thick in the package, but as I unfold the mask, I can see how thin it is.
There is a lot of watery, scentless essence in the package, so I just apply it over the areas on my face that I know will dry out quicker than the rest ~ my nose area and forehead.  The mask fits fairly well ~ just like a second skin on my face.  The eye areas are really large and there is only a narrow strip for my philtrum, which is normal with many facial sheet masks.  However, other than that, this fits great and was very easy to apply.
This mask is very cooling on my skin as I was wearing it and I almost didn't want to remove it! I left it on for about 35 minutes and then peeled it off ~ this really did adhere to my skin, so if you have sensitive skin or don't like the peeling action, you could wet your face and then remove it.  My first reaction was that my face looked really brighter and clean!  I attribute the brightening action to colloidal platinum as every mask I have used that contained platinum really made my face look radiant and bright.  Platinum also helps remove dead skin cells, renews your skin, control excess oil, helps skin absorb other ingredients and improves skin clarity.  The brightening effect is also helped by ginsenoside (aka ginseng saponin), an ingredient that has had numerous studies which show it is effective as a anti-wrinkle, anti-aging, anti inflammatory and brightening ingredient and can aid in the production of collagen. It helps increase elasticity, improves blood circulation to your skin and also is a superb moisturizer. Ginsenosides are compounds only found in ginseng and are an excellence source of anti-oxidants.
My skin looked brighter, my pores are clean and look smaller and my face had a nice moisturized and smooth feel to it, while feeling firmer as well.  I am a becoming a huge fan of bio-cellulose masks as they seem to have the best of both worlds with a paper sheet mask and a hydrogel.   I would love this mask to be made into an eye mask, because of the firming and brightening effects!
The remains…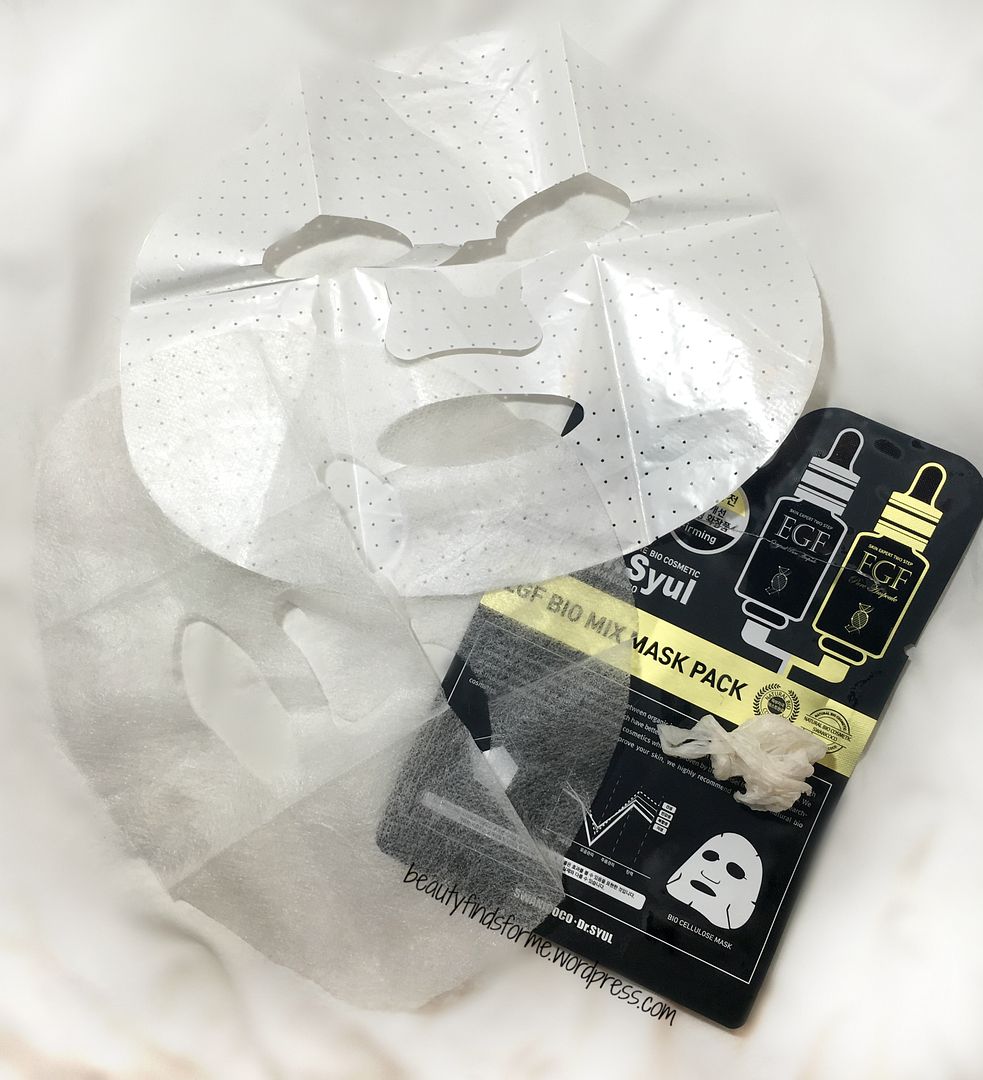 Final Thoughts
Swanicoco and my face are off to a great start!  I am very impressed by these two mask pack products from Swanicoco.  I think that the Perfect Pore Remove Clear Peeling Pack is suitable for all skin types, since it is gentle and nourishing, while clarifying your skin without stripping or dryness. The warming action is really nice and I say this as a person who prefers cooling masks!  I am recommending this mask for those who love clay masks but need the extra moisture, which are provided by the glycerin and all of the natural oils in the ingredient list. 
2GF Bio Mix Mask Pack is really a nice mask as well ~ I have used a lot of masks in my time and I normally don't get overly excited about sheet masks ~ but this is a bio-cellulose mask that addresses my skin issues ~ oily, fine lines and wrinkles, brightening, firming.  I normally love my paper sheet masks and dislike most hydrogels, but bio-cellulose masks are really becoming a fast favorite with me.  I totally recommend this mask for those who have my skin type and concerns ~ you won't be disappointed!
Where to Purchase
Currently, YesStyle is the authorized retailer and they do ship internationally.   Currently, W2Beauty is now the authorized retailer and they do ship internationally.They carry a huge line of Swanicoco ~ not just the skincare lines, but body and makeup lines as well.
Currently Using
For those interested in what I am currently using in the Swanicoco line, I have been using these 3 products in my day and night time routine ~ plus I just added the PHA Soft Impact Cream as part of my night time routine.   I did have an initial impressions on the 3 items pictured below  ~ none of these products are sticky on my oily skin.
The Bio Therapy 1st Essence ~ this is a scentless, slightly-thicker-than water 1st essence that contains Bifida Ferment Lysate and allantoin. Bifida Ferment Lysate is a probiotic and it is becoming quite popular to add this ingredient into skincare products now. The claims are that it works as a DNA repair agent when applied to your skin. I have used Bifida before, with mixed results (one good/one not so good) so I am really thrilled to have this! This also contains allantoin, which is known for healing, soothing and softening skin. The pH level is mildly acidic at a level of 6 for those who are interested ~ this leaves my skin refreshed and hydrated, and ready for my next skincare products!
Revol Ampoule Matrick: Anti-Wrinkle ~ Kevin at Swanicoco steered me away from eye creams, as he didn't think highly of them, especially the peptide one (love the honesty!) This is a gel-like ampoule that does contain roses in it, but it near the end of a long ingredient list, so after testing with no reaction, I used it! I do not really smell anything with this, more of the plastic from the tube, quite frankly. This is used around my eyes to help with the tons of fine lines and wrinkles I have there. This has 3 different types of collagen and a slew of peptides, plus something called grifola frondosa fruiting body extract (hmmm🤔). I did do a before eye picture and will take a photo again when I finish each ampoule (4 x 10mL)
Skin Expert One Step Plant Original Pure Ampoule ~ this came in a sexy box with red satin lining ~ ohh fancy. Unlike the essence and matrick ampoules, which are heavy glass, this is a plastic bottle ~ but it still looks classy! This is a really smooth, slick ampoule that is highly moisturizing and seems like ginseng. Very strong  scent ~ I love it, cause you know, herbal.
I will have full reviews of these products, as well as the other Swanicoco items as well.
The Bio Therapy 1st Essence Ingredients: Bifida Ferment Lysate, Butylene Glycol, Allantoin, Xanthan Gum cosDNA analysis

Revol Ampoule Matrick Anti-Aging Ingredients: Hydrolyzed Collegen, Water, Glycerin, Hydroxypropyl Cyclodextrin, Palmitoyl Tripeptid-38, Acetyl Hexapeptide-8, Butylene Glycol, Enantia Chlorantha Bark Extract, Oleanolic Acid, 1,2-Hexanediol, Soluble Collagen, Collagen Amino Acids, Copper Tripeptide-1, rh-Oligopeptide-2,Grifola Frondosa Fruiting Body Extract, Maltodextrin, Pentylene Glycol, Allantoin, Adenosine, Xanthan Gum, Carbomer, Arginine, PEG-60 Hydrogenated Castor Oil, Rosa Damascena Flower Oil, Ethylhexylglycerin cosDNA analysis

Skin Expert One Step Plant Original Pure Ampoule Ingredients: Tissue Cultured Wild Ginseng Extract, Tocopheryl Acetate, Carbomer, Arginine, Allantoin cosDNA analysis

[ disclaimer: products received for review purposes. all opinions are my own & unbiased. ]