I'm back with some more sheet masks reviews! These masks are ones that I used over in the last month and have posted them originally at Instagram. I know that searching on IG is worthless, which is why I try to repost my mini reviews once I get a fair amount of them to warrant a blog post.   The name of each mask is linked to where this mask can be purchased. This blog post contains affiliate links and some masks might be press samples, which I will disclose in the mini review.  I am going to try and upload a monthly facial sheet mask digest regularly.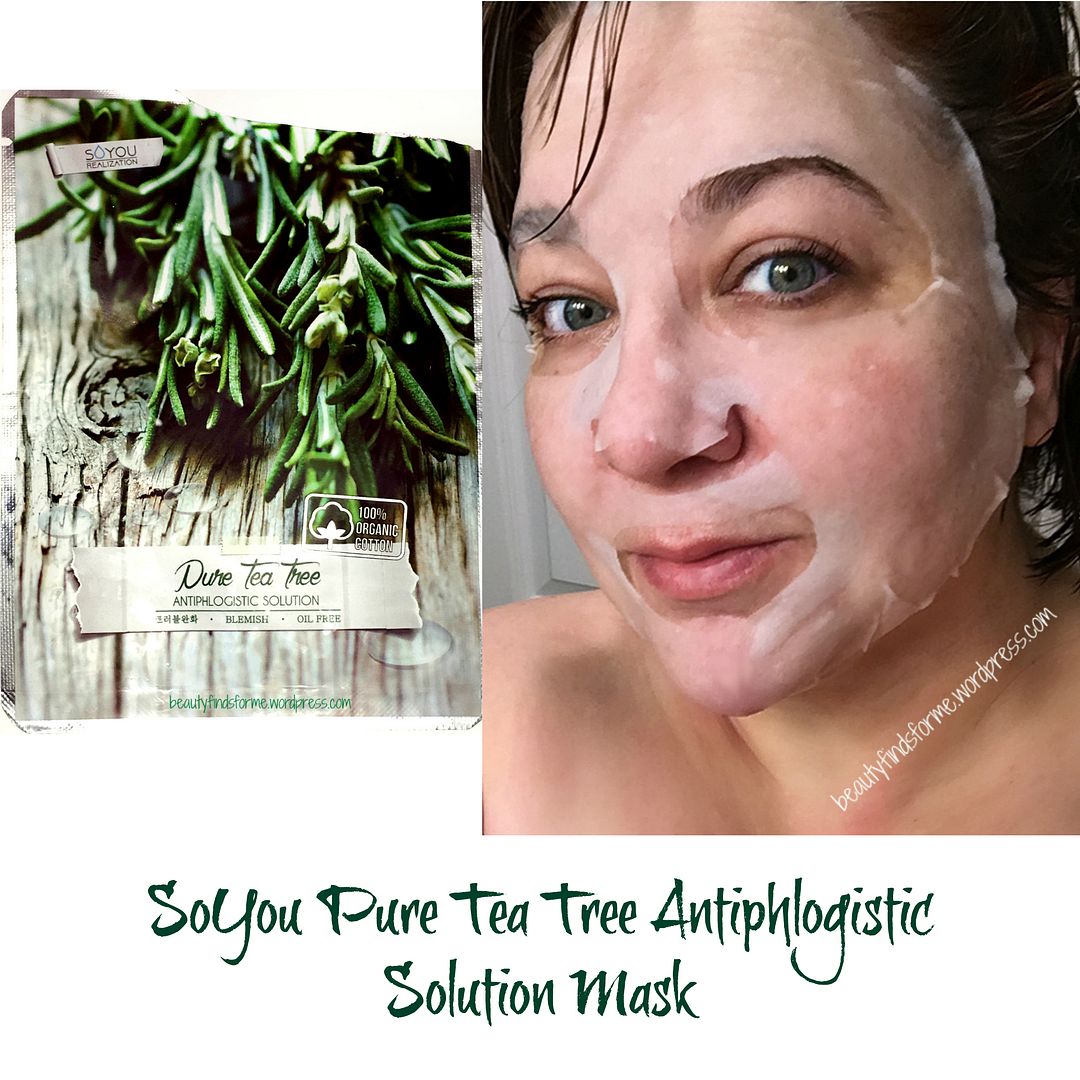 SoYou Pure Tea Tree Antiphlogistic Solution Mask (S.Korea)  SoYou Cosmetics sent me a pack of their facial sheet masks (thank you!!) and I decided to go with their tea tree version as I have oily, blemish prone skin and I love tea tree.  A lot. I even wrote a mega blog post of tea tree items this past summer, that is how much I love this ingredient.  SoYou masks are made with 100% pure cotton, which I do prefer over hydrogels (yeah, I am weird, I don't care for hydros that much).  This mask didn't smell like tea tree, so for those who don't care for TT scent, don't worry ~ this has a light fresh scent to it.   Tea Tree is amazing as it has natural anti-bacterial, anti-fungal healing properties that help heal existing blemishes and prevent new ones. This also contains centellia asiatica, which is also fantastic for oily/blemish prone skin.  All of SoYou masks are made without parabens, silicon oil, talc, sulfates, benzophenone, artificial dyes and trienthanol.  The mask is pretty wet but there isn't a lot of essence left over in the bag ~ which is fine, as the mask itself has enough on it.  As you can tell in the photo, it is pretty thin for a Korean mask, and it  adheres great on my skin. The fit is unusual ~ the eye holes are way to big, so the next time I use a SoYou mask, I will add some eye gels for that area and the chin area really extends under my chin.  So, these masks will fit a larger face pretty comfortably.  Smaller faces might feel a bit overwhelmed!  I left this on for 35 minutes and I could have gone longer, but time was a-ticking and had to  get to work. I removed the mask and I am happy to say that my face felt hydrated without any sticky or tacky residue, soft, my pores looked 'smaller' and my skintone looked less red (cold weather+zits=red face)
I am pretty pleased with this mask and it sells for $2.00 at SoYou Cosmetics.  Oh and antiphlogistic means anti-inflammatory  ~ I had to look that up! haha
Description: SOYOU AUSTRALIAN TEA TREE MASK, made with Tea Tree, king of the herbs, grown under the cleanest environments. Manually squeezed to preserve the natural antibacterial ingredients to penetrate and combat acne and bacteria ridden skin. 
Ingredients: water, glycereth-26, glycerin, butylene glycol, sodium hyaluronate, dipropylene glycol,  xanthan gum, arginine, hydroxethylcellulose, carbomer, portulaca oleracea extract, centellia asiatica extract, melaleuca alternifolia (tea tree) extract, polysorbate 20, chlorphenesin, phenoxyethanol, panthenol,  fragrance, disodium EDTA, dipotassium glycyrrhizate cosDNA analysis

Annie's Way Secret Garden Edelweiss Iris Witch's Timeless Secret Mask  (Taiwan) What a long name!  I received this mask courtesy of Beautibi and I do love Annie's Way products.  This has a beautiful design with the iris and edelweiss flowers. This mask has some very cool ingredients, designed to help moisturize, reduce the appearance of fine lines and refine your skin texture, tightening pores. 
Bee Venom (I love this stuff!!)  is called Nature's Botox and it stimulates and increases collagen product and elastic to smooth your skin, reduce the appearance of fine lines and wrinkles, plump and tone our skin.  It does this because applying bee venom to your skin fools your skin into thinking it has been stung and it will increase blood circulation to that area
Honey has antibacterial properties, that can speed up healing in your skin ~ think acne, rashes, cuts ~ and prevent additional infection. Not only does honey keep moisture in your skin, but it is humectant, which means it attracts moisture too! Honey is also an antioxidant, which means it helps repair and combat any damage caused by free radicals and prevents premature wrinkling.
Iris Root is rich in flavonoids and nutrients that have anti-aging benefits.  It will help protect and strengthen your skin barrier and reduce fine lines and wrinkles
Edelweiss also has a high concentration of flavonoids as well as phenolic acid. These ingredients help combat UV sun damage and protect our skin.  It is full of antioxidants which makes this an ideal anti-aging ingredient and it acts as an anti-inflammatory. 
Salicylic Acid will help exfoliate dead skin cells and is an anti-inflammatory
Acetyl Hexapeptide-8 is a neuropeptide, so it helps retain moisture/water to your skin and relaxes your facial muscles, reducing fine lines and wrinkles.  As an aside, if you have sagging skin, you should use this ingredient sparingly as it could cause your skin to sag further.  It is okay in a facial sheet mask, but don't try and purchase a cream with this as one of its top ingredients.
This is a black charcoal mask as well, so it will help absorb excess oil. The fit is decent enough as I did find it ran a bit on the smaller size ~ I noticed this around my nose and chin area.  Unlike the other Annie's Way masks I have tried, this mask is not as thin nor as wet as they are, but it is still pretty moist.  It had a light scent to it, but nothing unpleasant.  I left this on for 45 minutes and it was still slightly damp when I removed it.  I did notice that my skin looked brighter, my pores cleaner and tighter and my skin was nicely hydrated and plumped up with no sticky or tacky residue.  This dried down quickly without any dewiness.  Beautibi still carries this and an Orchid mask, so I will have to take a look at that one the next time I do a haul at Beautibi. I highly recommend Annie's Way products as I think they are very effective for the price point.
Description: Say goodbye to fine lines, improve rough, loose skin; increase gloss, slow down skin aging. Moisturizing effects achieve youthful, resilient, tighter skin.
Ingredients: Water, Carbomer, Butylene Glycol, Sodium Hyaluronate, Collagen, Chondrus Crispus Extract, Panthenol, Tocopheryl Acetate, Allanton, Dipotassium Glycyrrhizate, Glycerin, Pseudoalteromonas Ferment Extract, Honey, Propylene Glycol, Caprylyl Glycol, Bee Venom, Iris Florentina Root Extract, Leontopodium Alpinum (Edelweiss) Flower Extract, Fragrance, Salicylic Acid, Acetyl Hexapeptide-8, Methylisothiazolinone, Iodopropynyl Butylcarbamate  cosDNA analysis

Elizavecca Vita Deep Power Ringer Mask (S.Korea) Two random thoughts:  is it just me or does the Elizavecca rabbit mascot look like the playboy bunny?  And why isn't this a Power Ranger mask?  I received the full line of Elizavecca Deep Power Ringer Masks from 0.8L usa and Elizavecca for review purposes.  I tried the Vita Deep one last night ~ the Vita Deep will provide intensive moisture and nutrition to my skin and will leave my skin radiant and smooth.   It contains fruit and vegetable extracts, along with vitamin E and C. I was warned by the lovely @mapletreeblog that this mask had huge eyeholes and wow, she wasn't kidding!  I should have worn eye gels, but I forgot to grab them ~ next time.  This was a really drippy wet mask with tons of thick gel-like essence in the package and I didn't notice a scent.  The fit was huge BUT it still was lacking in the nose and between the nose and upper lip area.  What is that narrow area called anyway?  I was able to leave this on for 35 to 40 minutes and then removed.  My face was still pretty moist and the essence is very tacky to touch.  In fact, even after an hour, my face was still a bit sticky.  This is one very moisturizing mask and it doesn't dry down that well.  Thankfully, I used it at night, so I wasn't worried about the sticky residue ~ however, when I woke up this morning, I noticed a few white heads had cropped up around my nose ~ nothing bad, just those ones that you can easy pop by rubbing your finger over them.  But still.. this mask did cause me to break out and I do think it was too dewy and too rich for my skin.  I am sad because the ingredient list is amazing, but there was just something about this mask that didn't agree with my skin.  However, I will try again with another mask ~ I am thinking the Centella Asiatica is next on my list to try.  Have you tried these masks yet from Elizavecca?  What did you think of them?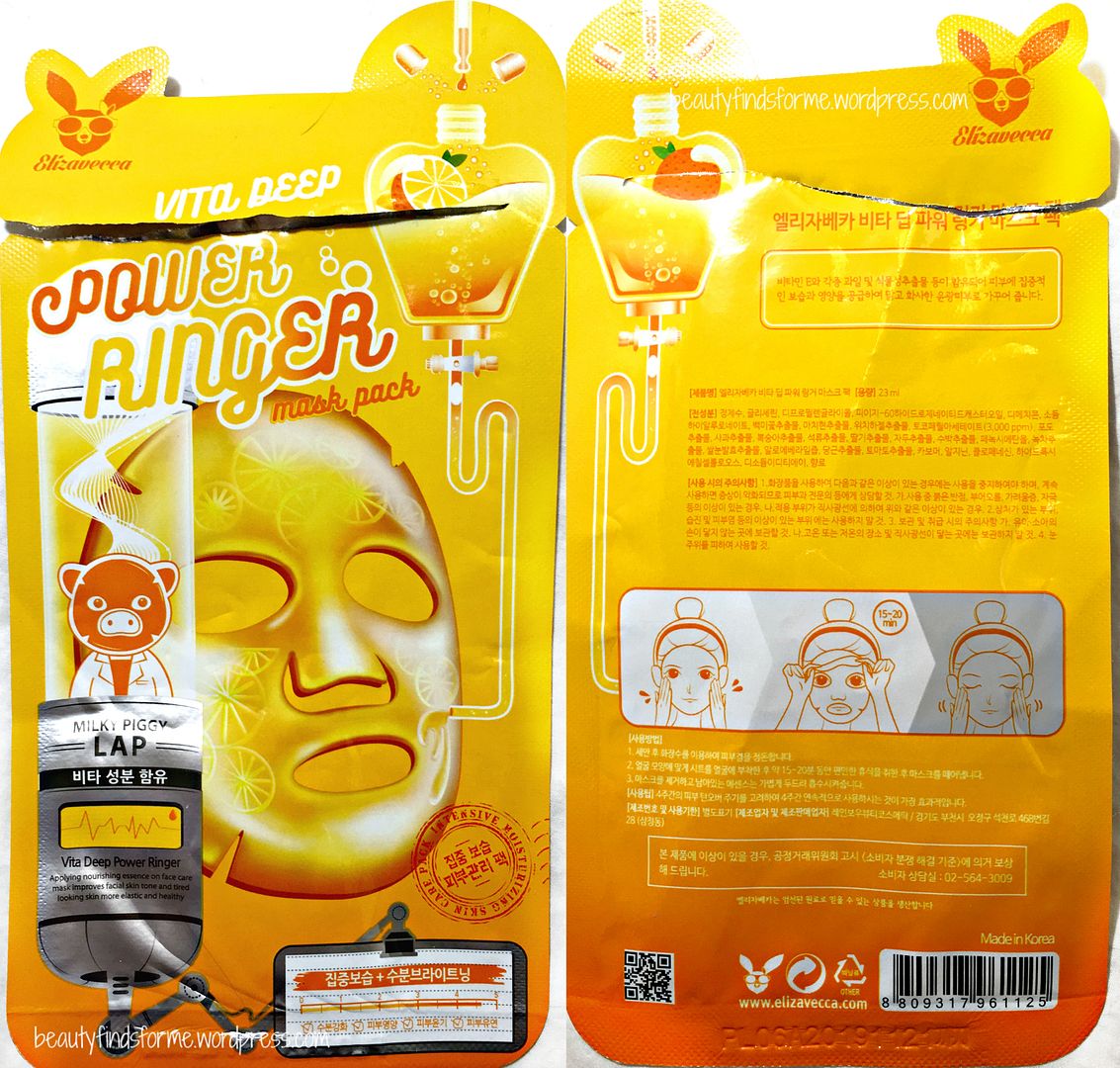 Ingredients: Water, Glycerin, Dipropylene Glycol, PEG-60 Hydrogenated Castor Oil, Dimethicone, Sodium Hyaluronate, Vincetoxicum Atratum Extract, Portulaca Oleracea Extract, Hamamelis Virginiana (Witch Hazel) Extract, Tocopheryl Acetate, Vitis Vinifera (Grape) Fruit Extract, Pyrus Malus (Apple) Fruit Extract, Prunus Persica (Peach) Fruit Extract, Punica Granatum Fruit Extract, Fragaria Ananassa (Strawberry) Fruit Extract, Prunus Salicina Fruit Extract, Citrullus Lanatus (Watermelon) Fruit Extract, Phenoxyethanol, Camellia Sinensis Leaf Extract, Rice Ferment Extract, Aloe Barbadensis Leaf Juice, Daucus Carota Sativa (Carrot) Root Extract, Solanum Lycopersicum (Tomato) Fruit Extract, Carbomer, Arginine, Chlorphenesin, Hydroxyethylcellulose, Disodium EDTA, Fragrance  cosDNA analysis

SoYou Pure Green Tea Oil Control Solution Mask (S.Korea)  I have used 2 SoYou masks so far and I have liked them both ~ I think that if one works for you, the other will as well, as so far, I am noticing that the ingredient is the same with the exception of the key ingredient. In this case, it is green tea and SoYou claims that they use the "most exceptional quality baby green tea leaves. Manually squeezed to preserve the natural antioxidant, catechin, used to control sebum and transform oily skin into soft, rehydrated skin". Manually squeezed? Poor baby tea leaves and fingers too! Anywho, this 100% cotton mask is very wet with a lovely watery essence that has a nice faint scent of tea and the fit is the same as the Tea Tree one I used ~ the thin material has a huge fit ~ the eye sockets are huge but the nose area is small. In fact, I stretched it out of shape around my nose and mouth area, that is how thin these masks are. I would say they need to improve the mask fit and put some more thought in the shape of it. Other than that, the reason why I wanted to use the green tea version is because of oil control and also, I irritated my skin while testing out the Scinic pore mask and wanted to calm my skin. After removing this mask, my face felt hydrated, not as oily and the reddened areas around my temples were soothed and calmed. Despite the fit of the mask, I am enjoying this series from SoYou, who supplied them to me for review purposes. Have you tried any of the SoYou masks? I still have several more to go!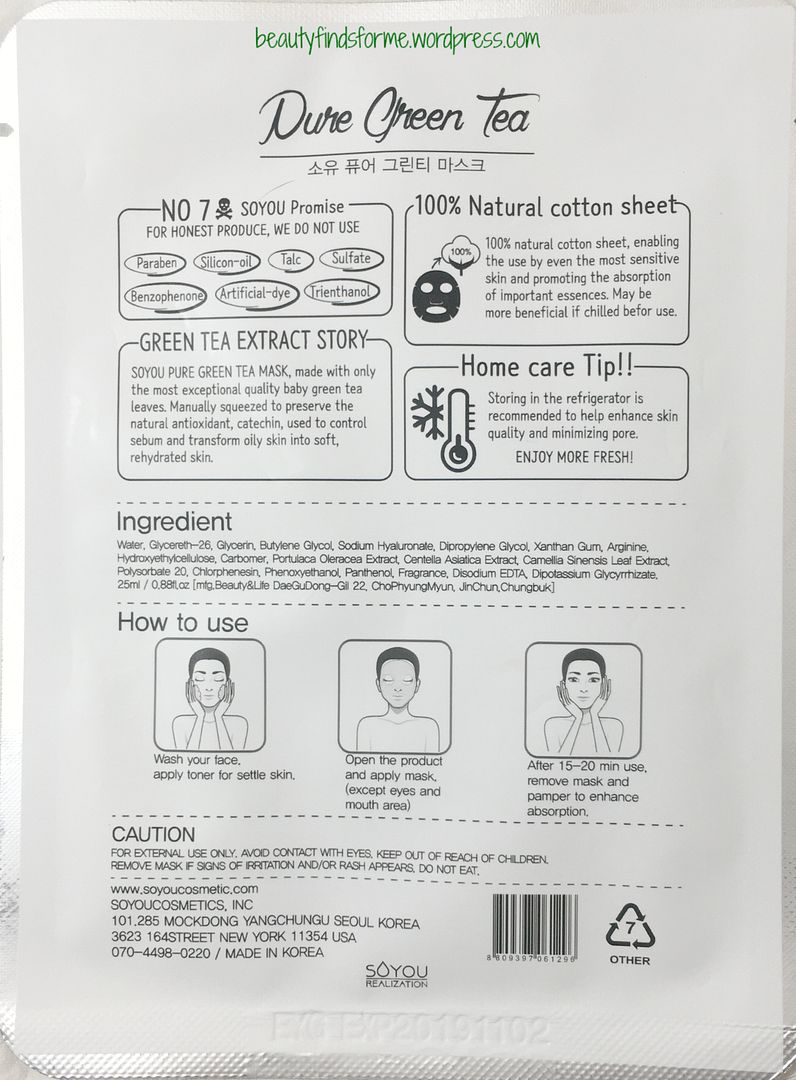 Ingredients: water, glycereth-26, glycerin, butylene glycol, sodium hyaluronate, dipropylene glycol, xanthan gum, arginine, hydroxethylcellulose, carbomer, portulaca oleracea extract, centellia asiatica extract, camellia sinensis (green tea) leaf extract, polysorbate 20, chlorphenesin, phenoxyethanol, panthenol, fragrance, disodium EDTA, dipotassium glycyrrhizate cosDNA analysis

Neogence Hyaluronic Acid Hydrating Mask(Taiwan) The 3B Box has been supplying me with lots of new brands and fun things to try and this brand, Neogence, is one of them. I love the hyaluronic acid toner so much that when I went to purchase the full size at their shop, it was sold out. No worries, I picked up a ton of mini's bottles instead!! Neogence also has sheet masks and I decided to try the matching HA mask. This mask has a cool texture to it ~ it is thin, but not delicate, no worries about ripping this one ~ it comes protected with both the plastic white "pearl" paper and a blue paper, with this mask sandwiched in-between. The texture is a weave, mesh ~ hard to describe, but you can tell it has texture ~ it is not a plush mask, but it is comfortable and soft. It has a ton of watery essence in the package and I just splash that over the mask once applied. Let's talk about the fit. If I look a bit mummified here in the pic, that is because this is one of the strangest mask fits ever. It is a huge mask, but the openings are strange. The eyes holes seem to be made for folks with really close set eyes, as there was room on the side of my nose next to my eyes, but at the outer corner of my eyes, this mask cut in so close. Also, notice how my lids are covered completely and this mask came RIGHT up to my lower lash line!! Well, gotta hydrate that skin too. The nose fit was great and the philtrum (area between nose and upper lip ~ thank you @auntytiki for letting me know what that is called!) is completely covered. It came up right under my nose and covered part of my upper lip and if you look at the lower lip, you can see how the mask is comes right up under my lower lip too!
I did feel a bit claustrophobic, but after bitching ALL THE TIME about how my philtrum was never covered, I was also thrilled to see this. I guess in the future (as I have a couple more of these masks) I will do a little snipping around the eyes to get a better fit. Okay, now did this perform? I was able to leave this on for 30 minutes, which is great for a thinner mask and this essence was completely absorbed into my skin, so no dewy or sticky residue. My face felt hydrated and cool, and I noticed some brightening too! It isn't a fancy mask with fancy ingredients ~ it is a hydrating and moisturizing mask that performs its job ~ it promised to enhance my skin hydration instantly and it did! I quite like this mask a lot ~ from the mesh/weave texture, the essence, the strange but interesting fit and its results. Have you tried any masks from Neogence? What did you think of them?
Description: This hydrating sheet mask uses hyaluronic acid, to continuously infuse your skin with moisture leaving dry or dull skin hydrated in just 15 minutes!
Ingredients: Water, Butylene Glycol, Glycerin, Allantoin, Chlorphenesin, Sodium Hyaluronate, Glycosyl Trehalose, Phenoxyethanol, Hydrogenated Starch Hydrolysate, Acrylates/C10-30 Alkyl Acrylate Crosspolymer, Disodium EDTA, Triethanolamine, o-Cymen-5-OL, PEG-40 Hydrogenated Castor Oil, Laminaria Japonica Extract, Hyaluronic Acid cosDNA analysis

Elizavecca Power Ringer Centella Asiatica Deep Mask(S. Korea)  I received the full line of Power Rangers…err Power Ringer masks from @0.8L_usa for review purposes. I had tried the Vita Deep and I didn't care for that one too much as it left my face really sticky and I broke out the next morning. I used the Centella Asiatica one this morning and this one is MUCH better! Centella Asiatica is a common herbal ingredient that is used medicinally to help speed up wound healing, such as blemishes and skin rashes. It also helps minimize the appearance of pores, and since it stimulates collagen production, it will make your skin more supple and firm. Here we go! I learned that the key to these masks is to gently unfold them. If you are rushed, what will happen is that it will stretch out to unbelievable shapes, as it is so thin and wet with essence. Since I took my time with unfolding it, it isn't as stretched out around the eyes and mouth and the fit is much better. This one has a watery-gel essence and smells slightly like citrus to me. This has some great blemish and oil busting ingredients along with the Centella Asiatica ~ green tea, houttuynia cordata and witch hazel, plus some fermented rice and soybean extracts. When I removed the mask, my skin was damp but it did dry down without any tackiness. I have been suffering thru hormonal breakouts lately and my skin was soothed and refreshed. I love centella extracts as it really helps soothe and heal blemishes, and I do have a few skincare products with that ingredient! I will say this is one mask I would purchase ~ Memebox USA carries it currently.
Unboxing Beauty Tip: if you have a lot of essence left over, you can apply it to your neck and decolletage area. Or if it is a healing type of essence, like tea tree or centella, I will apply it over my mask in the areas that dry out faster on my face – like the nose, forehead and philtrum (gap between nose & upper lip) . That way, those areas will stay damp longer with the extra serum

Ingredients: Water, Glycerin, Dipropylene Glycol, PEG-60 Hydrogenated Castor Oil, Dimethicone, Sodium Hyaluronate, Camellia Sinensis Leaf Extract, Houttuynia Cordata Extract, Vincetoxicum Atratum Extract, Portulaca Oleracea Extract, Hamamelis Virginiana (Witch Hazel) Extract, Centella Asiatica Extract, Phellinus Linteus Extract, Monascus/Rice Ferment, Lactobacillus/Soybean Ferment Extract, Phenoxyethanol, Carbomer, Arginine, Chlorphenesin, Hydroxyethylcellulose, Disodium EDTA, Fragrance cosDNA analysis

Wishing U Advanced Whitening Dried Bio-Cellulose Mask   Wishing U is another new brand to me ~ Beautibi is always looking for new and interesting brands!  This patented facial mask is made with natural, fermented coconut fruit water and it is not only a brightening mask, but soothes and removes impurities from your pores. This mask is a very thin bio cellulose, which Wishing U calls "dry" ~ I hate to say it, but it does remind me a fine thin condom!!
It is sandwiched between two very thin paper protectors and the first thing I noticed was the scent. It is glorious. It smells like summer, on the beach with tons of coconuts freshly cracked open with that wonderful cream. Speaking of cream, the essence on this mask is thick and creamy, almost like a lotion.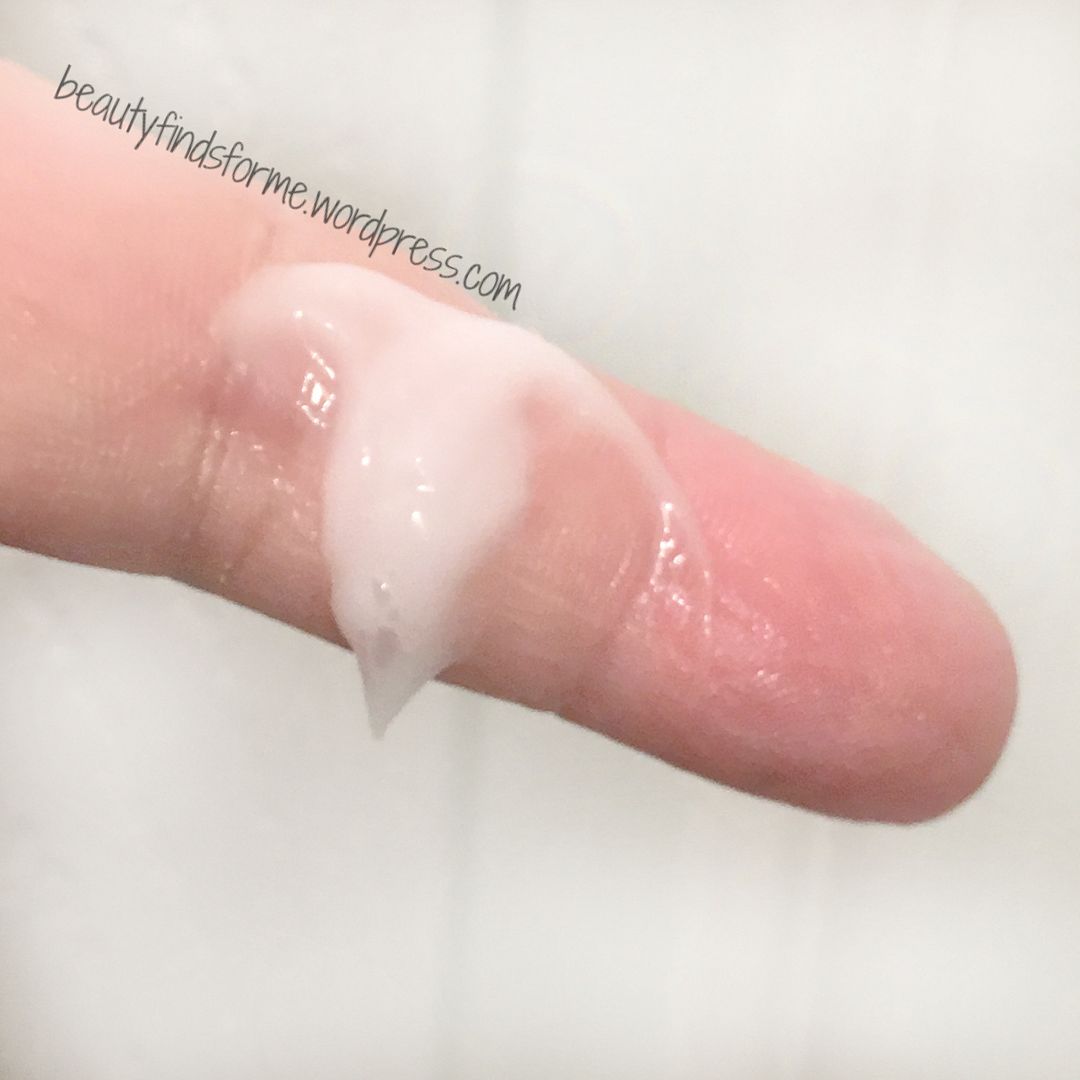 I did have a bit of a hard time peeling the 2nd paper bit off, as it was so thin, but I did succeed! The fit is a bit smallish for my huge face, but it works out okay and there was enough essence left over in the package, that I added more on my cheeks and all over my neck.
After 30 minutes, I removed the mask ~ it is now very thin, very dry and it peels right off, taking gunk with it! I guess that is what removes the dirt from my pores! And it really does look like a used condom now ~ hahahhahaha. My face looked brighter, very moisturized without feeling tacky and my blemishes (I am suffering thru some horrid hormonal and stress zits right now) were less red and swollen. This is a great night time mask, due to its moisturizing properties. I have one more Wishing U mask to try out, which is the firming mask.  I would LOVE for Wishing U to make a serum with that essence that is in this mask.  It is fantastic.   I received this mask from Beautibi for review purposes.

Update: I found out later, as I didn't read my info card, that if I put the used mask in some water to re-hydrate, it will show me all of the gunk that it removed from my skin.  I will have to do that with the firming mask. 
Description: Paraben Free, Dried Bio Cellulose Mask Dual Functional on Anti-Aging & Whitening.  No preservatives, strong cooling effect, effective absorption of dead skin cells and sebum, effective absorption of full contents.  Wishing U whitening helps to keep your skin elastic with natural dried bio-cellulose anti-bacterial sheet without preservatives.  It also contains EFG, bFGF and panthenol to nourish your dry and rough skin.  You can keep your skin safe with no preservatives sheet.  It absorbs 200 times of full contents and moisture compared with dried status and naturally lifting your skin with its dehydrating process. 
Ingredients: Water, Glycerin, Dipropylene Glycol, Niacinamide, Glyceryl Stearate, PEG-100 Stearate, Sorbitan Sesquioleate, Cetearyl Alcohol, Hyaluronic Acid, Dimethicone, Polysorbate 60, Cyclopentasiloxane, Cyclohexasiloxane, PEG-12 Dimethicone, Ascorbic Acid 2-Glucoside, Adenosine, Ethyl Ascorbic Acid, Acetyl Hexapeptide-7, Palmitoyl Hexapeptide-12, rh-Oligopeptide-1, sh-Oligopeptide-1, rh-Polypeptide-1, sh-Polypeptide-1, Vincetoxicum Atratum Extract, Portulaca Oleracea Extract, Hamamelis Virginiana (Witch Hazel) Extract, Camellia Sinensis Leaf Extract, Betaine, Acacia Concinna Fruit Extract, Galactomyces Ferment Filtrate, Panthenol, Morus Alba Bark Extract, Broussonetia Kazinoki Root Extrac, Glycyrrhiza Glabra (Licorice) Root Extract, Diamond Extract, Ubiquinone, Tocopheryl Acetate, Carbomer, Triethanolamine, 1, 2- Hexanediol, Caprylyl Glycol, Caprylohydroxamic acid, Nigella Sativa Oil, Sodium Benzoate, Chlorphenesin, Hydroxyethylcellulose, Disodium EDTA, Fragrance  cosDNA analysis
That's it for February! Have you tried any of these masks or are interested?    March might be two blog posts, as there is a Mask Challenge going on at IG and I am going to try to do it daily.   
[ descriptions in italics from linked product site.  blog post contains affiliate links. blog post contains items that were given complementary for an honest & unbiased review ]