[ disclaimer: products received complementary for an honest & unbiased review.  blog post contains affiliate links ]
 
Scinic is a brand that I have tried several times in the past ~ some with good luck and some products not so much.  I have used their original All Day Fine Pore Mask pack with good results and Iceland Water AIO with not so good results.  Scinic has a tendency to have strong perfumed scents and depending on the scent, it can make or break the product for me.  Memebox USA received some new products in from Scinic and they generously sent me some of the pore and blemish care products.  I received four items and I will be reviewing three of them in here.
Skin Type and Issues:  Oily, blemish prone skin, aging concerns ~ hyper pigmentation (sun damage and acne scarring), fine lines and wrinkles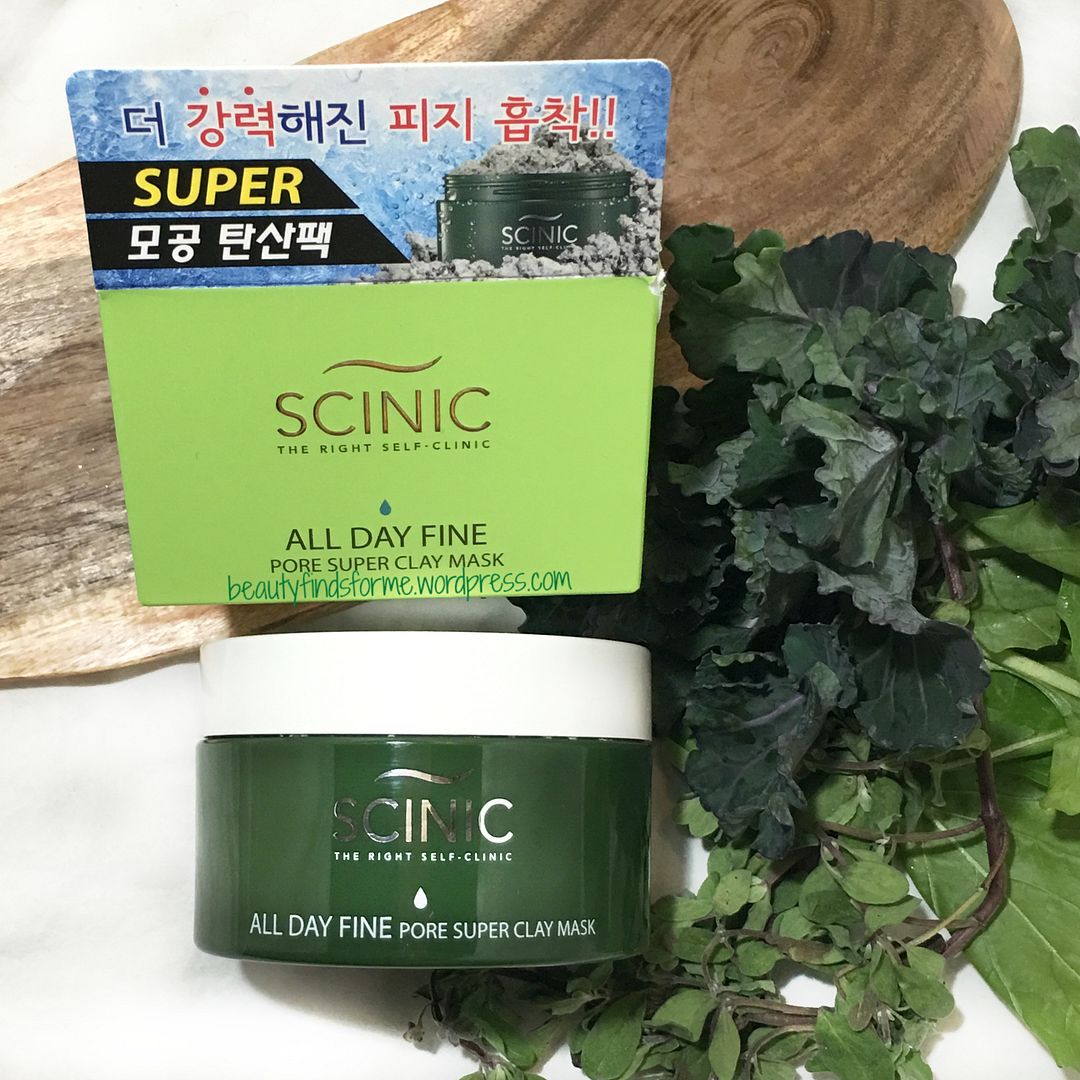 This is the newer version of the All Day Fine Pore Clay Mask, which I have tried in the past.  This has 10,000 mg  of Amazon clay vs the 5,000 mg from the original version.  The mask itself is a light charcoal grey in color and it is "loamy".  It has a really different texture ~ it is like aerated mud ~ you can see the how fluffy it looks ~ but it is quite dense too, so it isn't light either.  This foamy looking texture is due to the carbonated water and sodium bicarbonate ingredients.
This mask contains kaolin, a white clay that helps remove dirt and debris on your skin, while absorbing excess oil and reducing shine. Very good for oily and blemish-prone skin. It also has bentonite clay, which is for smoothing, exfoliating, cleaning pores and improving overall skin tone.  Lotus extracts clarifies your skin, making it smooth and helps treat blemishes, while moisturizing your skin.  This also has kiwi extract, which contains vitamin C and that will help heal blemishes and wounds, preventing rough and dry skin. Aloe Vera will soothe your skin, treats inflammation, helps speed up skin healing and also has a plethora of antioxidants ~ beta-carotene, Vitamin C and Vitamin E, which help improve your skin's firmness and keeps your skin moist and hydrated. It also contains over 75 different nutritious ingredients, including minerals, enzymes, amino acids, salicylic acid and much more.
Description: Scinic's wash-off mask uses natural Clay and Glacial Water to powerfully absorb and extract deep-seated impurities, blackheads, whiteheads, and excess sebum from pores. It also exfoliates away dead skin cells, leaving skin soft and smooth. Carbonated Water helps clean, relax, and minimize pores, while also revitalizing and moisturizing darkened skin. Plus, the creamy texture of the mask allows it to glide onto skin without irritations.
The scent to this mask is not herbal, nor is it floral ~ it is a light scent, not unpleasant. I can smell some alcohol, which isn't surprising as the alcohol is a top ingredient.  It is a bit difficult to apply ~ I first tried to apply it directly from the jar to my face and it felt off in clumps as I was working into my skin.  I then tried a different method ~ I took some of it out of the jar, worked it in my hands for a few seconds to get it smooth, and then applied it to my face directly with my fingers ~  that worked a lot better. Once on, it puffs up a bit, as the carbonated water and sodium bicarbonate reacts to the air and my skin.  It does have a nice, cooling sensation and as it dries, it does tighten up quite a bit around my forehead and non T-Zone areas.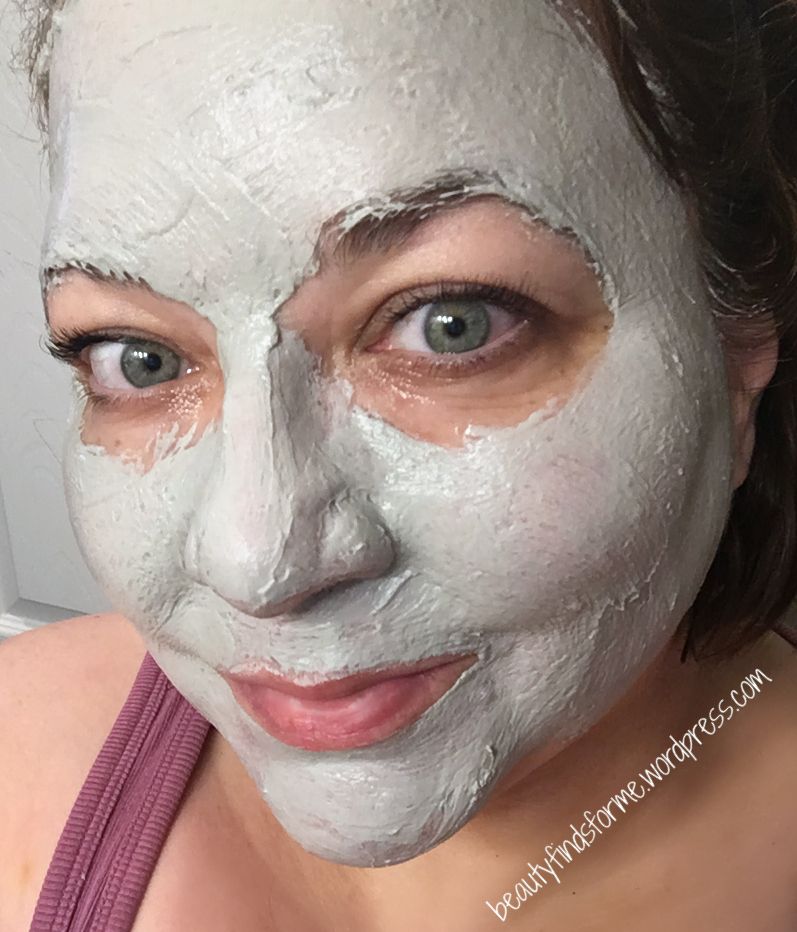 It rinses off easily and I will say this ~ if you have dry or normal skin, proceed with caution with this mask.  I usually put a clay pack mask all over my face, just so I can gauge if it can be used on non-oily skin.  My cheeks and forehead are not as oily as my T-Zone, so if it works there, then I can say that normal to dry probably can use it. But not this one ~ the perimeter of my face, around my hairline, was red and itchy.  It looked like I had gotten a weird sunburn.  Now, my oily T-Zone area was fine, this mask did clear out my pores and the appearance of my pores looked tighter.  My skin was very smooth and not dry around my T-Zone.   However, my drier skin was feeling a bit drier than normal. This mask will only be used on my T-Zone from now on ~ it does a great job on my skin there, but drier areas do not fare well with this mask.  So, keep that in mind if you choose to purchase it ~ it is great for oily skin areas and avoid dry/normal skin.  100mL RV $18.00
Ingredients: Glacier Water, Kaolin (10000mg), Bentonite, SD Alcohol, PVP, Acrylates Copolymer, Zea Mays (Corn) Starch, Sodium Hyaluronate, Carbonated Water, Butyl Avocadate, Rhus Semialata Gall Extract, Sodium Bicarbonate, Aloe Barbadensis Leaf Extract, Abronia Villosa Leaf Extract, Cinchona Succirubra Bark Extract, Psidium Guajava Leaf Extract, Rhodiola Rosea Root Extract, Nelumbo Nucifera Flower Extract, Cinnamomum Cassia Bark Extract, Sanguisorba Officinalis Root Extract, Uncaria Gambir Extract, Pelargonium Graveolens Extract, Hedera Helix (Ivy) Extract, Actinidia Chinensis (Kiwi) Fruit Extract, Averrhoa Carambola Fruit Extract, Aronia Melanocarpa Fruit Extract, Camellia Sinensis Leaf Extract, Citrus Aurantium Dulcis (Orange) Flower Extract, Carica Papaya (Papaya) Fruit Extract, Cocos Nucifera (Coconut) Fruit Extract, Musa Sapientum (Banana) Fruit Extract, Mangifera Indica (Mango) Fruit Extract, Garcinia Mangostana Fruit Extract, Prunus Domestica Fruit Extract, Punica Granatum Fruit Extract, Passiflora Edulis Fruit Extract, Paullinia Cupana Fruit Extract, Rubus Coreanus Fruit Extract, Perfluorohexane, Tromethamine, PEG-60 Hydrogenated Castor Oil, Perfluorodecalin, Potassium Alginate, Cellulose Gum, Pentafluoropropane, Butylene Glycol, Disodium EDTA, Phenoxyethanol, Chlorphenesin, Caprylyl Glycol, Ethylhexylglycerin, CI 77499, Fragrance  cosDNA analysis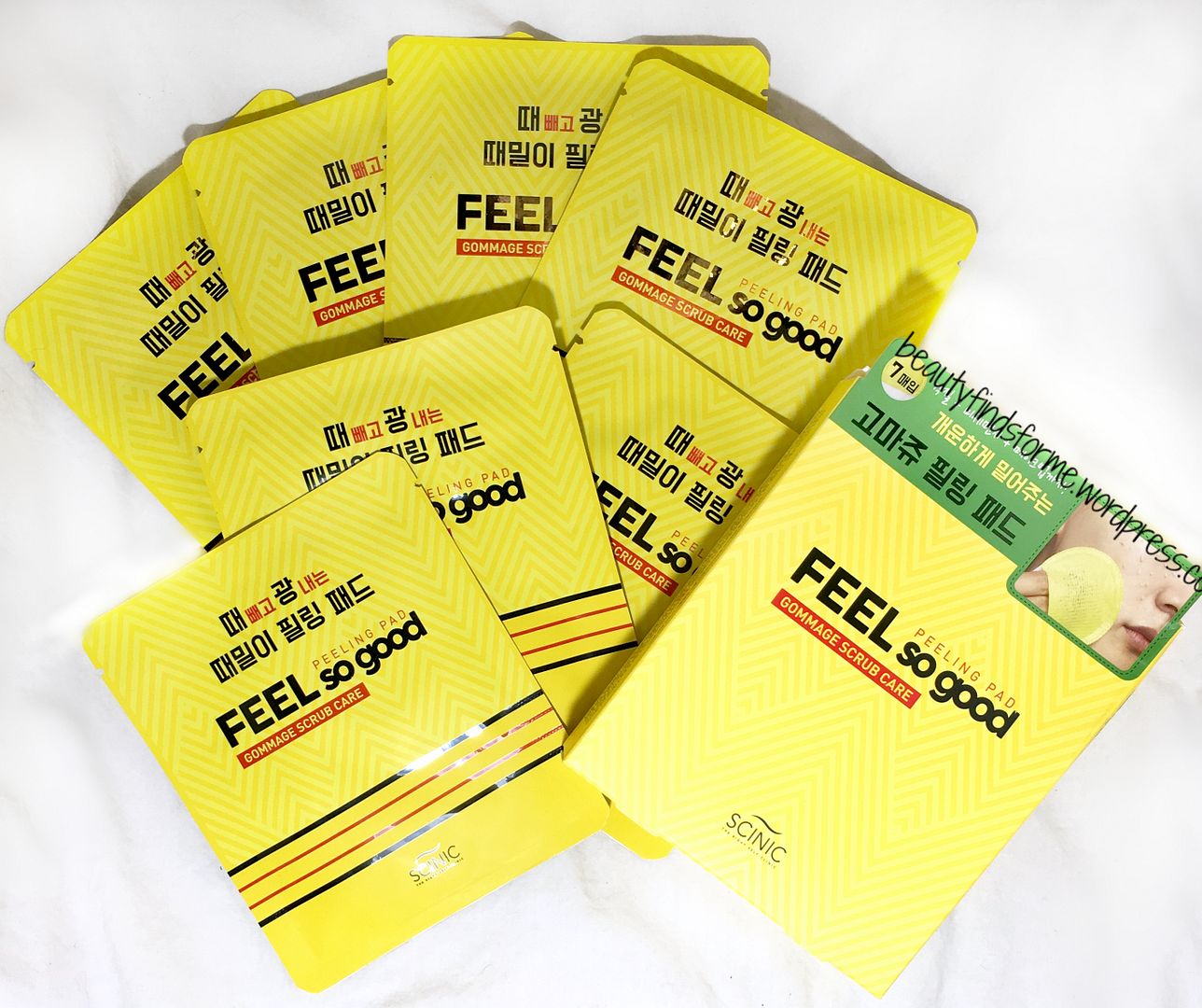 I have used peeling gels (gommage) for a few years now and I am used to them coming in a tube.  The problem with a tube is that it makes it not travel friendly, as they are usually over 100mL.  Scinic has the pad version, which is very convenient, as each pad is individually packaged for its one time use.  
What is a peeling gel?  Peeling gels are not peels ~ they are actually non-physical exfoliators that use fruit enzymes to dissolve dead skin cells and unclog pores, which you can see as you massage it onto your skin. They revitalize and refresh the skin and only remove a small amount of superficial skin.  Peeling gels must be applied to clean, DRY skin, otherwise, they do not work as well.  Peeling gels should also have an alpha hydroxy acid (glycolic, citric, lactic) as this acid helps in removing dead skin cells ~ lemons and papayas naturally contain alpha hydroxy acids.   Another common ingredient is hyaluronic acid, as that will increase moisture and hydration and improve your skin's texture and tone. 
A good tell if a peeling gel is effective is that it should not just start balling up by itself.  You should only see the clumps when it is applied to skin, as the oils from your skin is what should activate the fibers and enzymes in a peeling gel.  Those clumps are part product (listed as acrylates/C10-30 alkyl acrylate crosspolymer or carbomer or cellulose), part your skin cells, held together with the oils from your skin.  If the clumps are greyish-white in color as well, don't worry ~ that just means that your skin was dirty!
Scinic's Feel So Good Gommage Pads has both carbomer and cellulose for the clumping action.  It also contains lactic acid, which is why they are called a "milk peel formula" ~ AHA lactic acid is derived from milk products and it will gently exfoliate your skin.  This also has goat and milk protein extracts as well ~ Goat's milk is ultra moisturizing, naturally homogenized and is pH balanced naturally ~ it is close to your skin own pH level. It contains "good fats" ~ capric, caprylic and capronic acids, and the naturally occurring triglycerides. It not only helps to moisturize your skin, but keep your skin's oils in balance, so they will not overproduce sebum ~ which results in clogged pores and blemishes.  Glycolic acid is another AHA made from sugar and will help clear up acne, moisturizes and reduces the appearance of fine lines and premature aging, by increasing cellular turnover which will reveal new skin. Pyrus malus (apple) is a vitamin-rich, anti-aging ingredient that contains antioxidants, promote cell health, moisturizes and helps heal sun-damaged skin. Salix alba (willow) bark is a BHA, which helps exfoliate skin by removing dead skin cells and contains salicylic acid, to help combat acne.  It is also high in anti-oxidants, which tone and reduce inflammation as well as being an astringent, to control oil.
Description: Scinic's Gommage Scrub Care peeling pad is infused with nourishing Milk and Lactic Acid, which help deep clean, peel, and scrub away unwanted impurities from the skin. Each pocket pad is double-sided with a white cotton side that powerfully cleanses your face and a yellow micro fiber side that extracts and exfoliates away dead skin cells, blackheads, whiteheads, and excess sebum. The result is moisturized, milky soft, and squeaky clean skin ready to soak up the nutrients from your next skincare steps.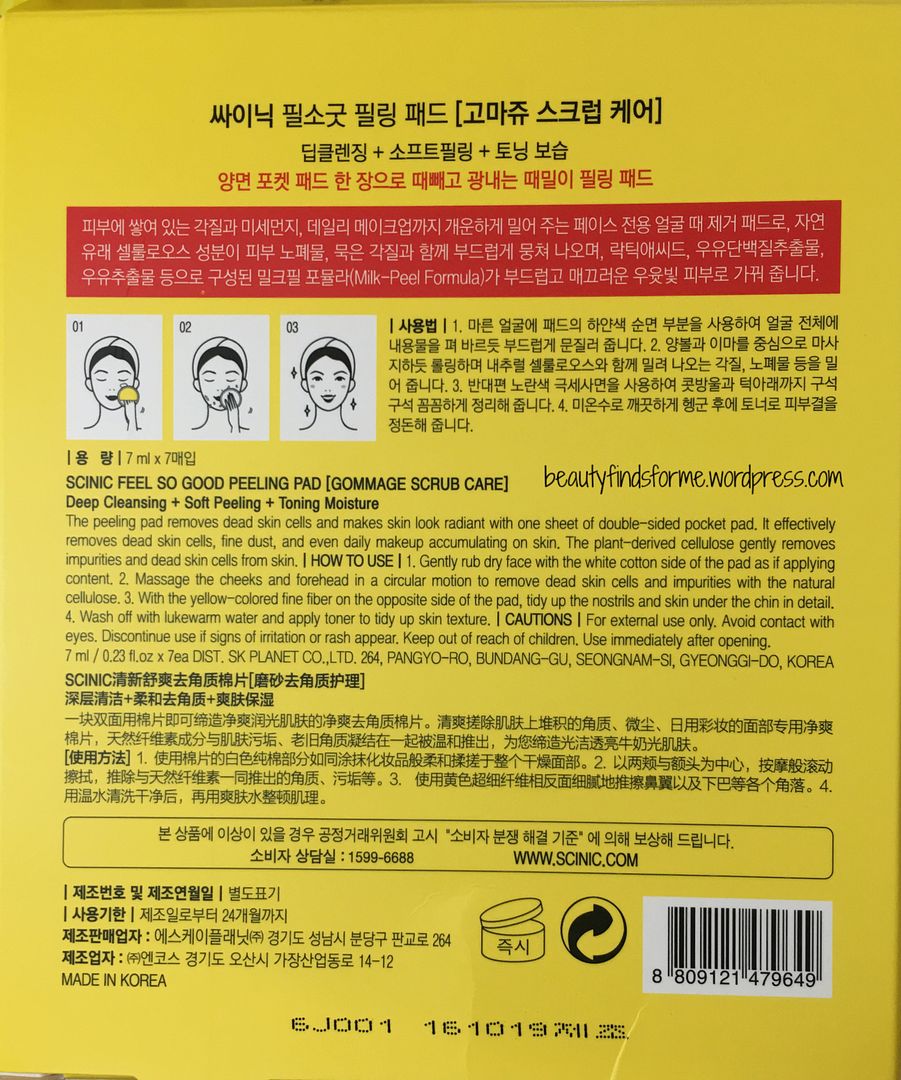 The pads have been soaked in a thick essence, which I am a bit suspect of already ~ lol.  More on that later… It has a wine-y type of scent to it, which might be the AHA, fruit and alcohol ingredients. It isn't an unpleasant scent at all.  I did do a pH test on this and it is a 3, so it act as an exfoliator.  The two AHA ingredients are in the top half of the ingredient list, so this might be an effective AHA product.  I do not know the percentage of the acids, as it is not on the package.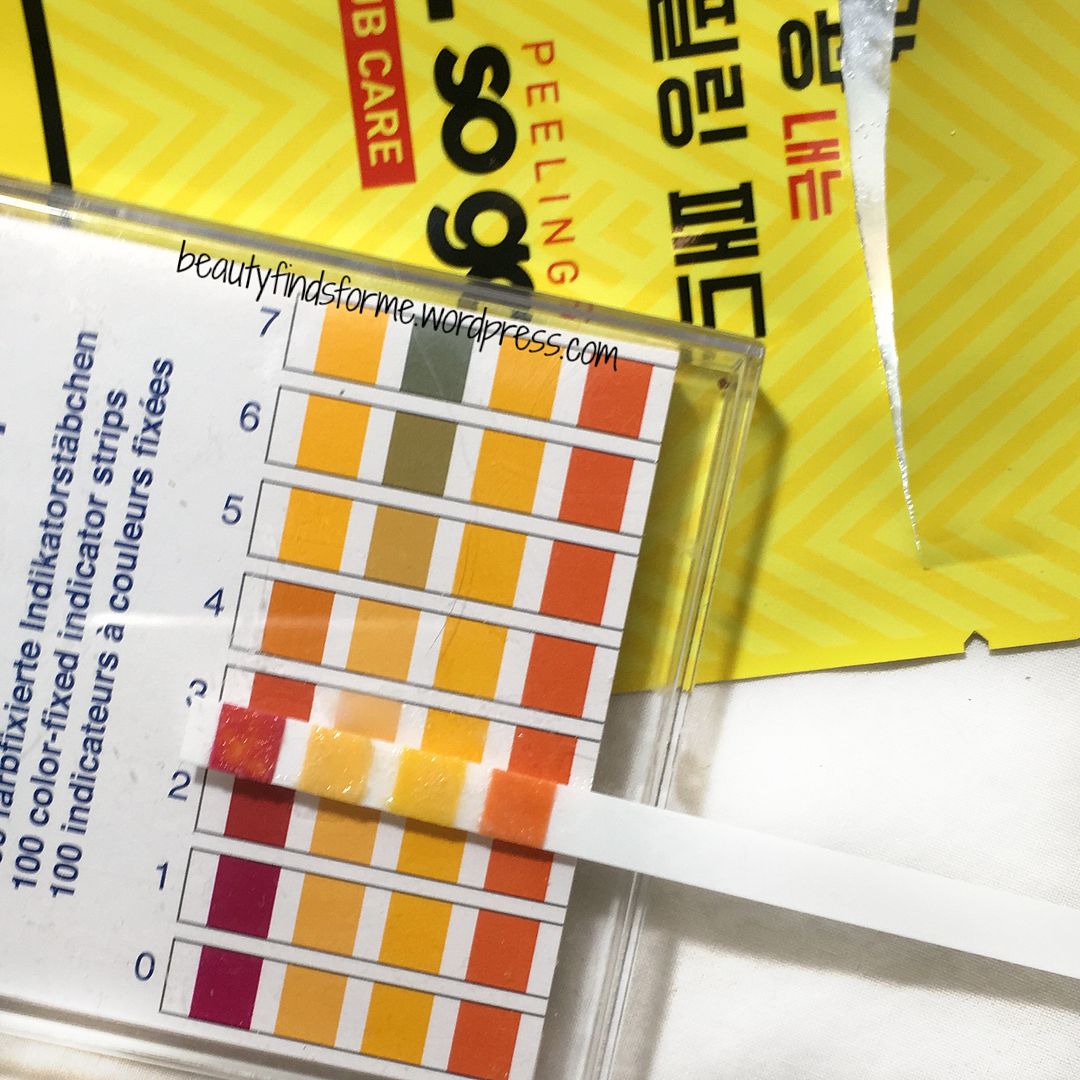 The pads have a smooth white cotton side and a textured yellow side ~ you use the smooth white side first on a clean dry face, gently rubbing in a circular motion.  Once you see all of the clumps, flip the pad over and use the yellow micro fiber textured side to scrub around your nose and chin ~ if you have sensitive or delicate skin, do not scrub for more than 30 seconds.  Don't forget to rinse really well once you are done ~ you do not want to leave the essence on your face.  You will know that your skin is cleansed properly as this product does leave a sticky residue behind.  Once that residue is rinsed off, you will not feel any tackiness on your skin.
My skin did feel smooth and looked brighter after one use.  My pores had that "tighter" look as they had been cleaned out of the gunk and excess oil.  My skin did not feel dry or tight, but that was probably because I did wash my face and was hydrated from the water!   I do have one issue with these pads ….  this product balls up on its own, because it has so much clumping ingredients in it. You can see it on the pad and I even stuck my finger into the package and scooped out some excess essence ~ and I could see the clump right in the middle of the essence!  I barely rubbed my skin with the product and it clumped up like crazy!  You can see below in the first two photos ~ the far left is barely rubbing the product over my skin, the middle photo is just the essence without any rubbing ~ you can see the clump right in the middle of it.  The far right photo is a used pad ~ and wow, look at all of that stuff!  My face was also full of the clumping bits. 

Now, because it did work well on my skin, smoothing, refining the texture, cleaning out my pores, I will give it 1 1/2 thumbs up ~ I guess Scinic just went a bit overboard with the clumping materials in these pads.  It does do the job well, but it is messy with all of those bits, meaning rinse well with this!  This is a great product to take with you when you travel as it is slim, doesn't take up much room in your bags, individually packaged and convenient.  You can purchase a 7 pack of these at Memebox for $12.00.
Ingredients: Water, Dipropylene Glycol, Cellulose, Alcohol, Carbomer, Propylene Glycol, Quaternium-60, PEG-20 Glyceryl Triisostearate, PEG-7 Glyceryl Cocoate, Butylene Glycol, Lactic Acid, Glycolic Acid, Goat Milk Extract, Milk Protein Extract, Milk Extract, Citrus Aurantifolia (Lime) Fruit Extract, Citrus Limon (Lemon) Fruit Extract, Pyrus Malus (Apple) Fruit Extract, Citrus Aurantium Dulcis (Orange) Fruit Extract, Vitis Vinifera (Grape) Fruit Extract, Ethyl Hexanediol, Origanum Vulgare Leaf Extract, Chamaecyparis Obtusa Leaf Extract, Salix Alba (Willow) Bark Extract, Lactobacillus/Soybean Ferment Extract, Portulaca Oleracea Extract, Cinnamomum Cassia Bark Extract, Scutellaria Baicalensis Root Extract, Phenoxyethanol, Disodium EDTA, PEG-60 Hydrogenated Castor Oil, Ethylhexylglycerin, Fragrance cosDNA analysis
I saved the best for last in this review!  These are BHA pore pads ~ and there are many like it out on the market, right?  I have used quite a few of them myself, but these are FANTASTIC.  Seriously ~ I love these so much that I purchased TWO MORE jars as I go through them quickly!  These are great for us with oily and blemish prone skin ~ BHA (beta hydroxy acids) is salicylic acid ~ which most natural products get it from willow bark.  BHA ingredients should be in the lower half of the ingredient list. BHA's are usually less irritating than AHA's and unlike AHA's, BHA' are lipid/oil soluble, which means they can dissolve in fats and penetrate sebum filled pores much better than AHA's.  BHA's are best for oily skin and blemished skin.  If you have combination oily/normal, you can use BHA's, barring any sensitivities.  BHA's help to get into your skin to break up oils and it helps soothe inflamed blemishes.  
Description: Scinic's Pore Care peeling pad is the simplest and easiest way to slough off your dead skin cells without irritation or pain. Perfect for oily skin, the pads are soaked in BHA, which helps remove deep-seated sebum, blackheads, and impurities lodged in pores. Tea Tree and other herbal ingredients soothe stressed and troubled skin, leaving your complexion smooth, refreshed, and balanced. Each pad is double sided with an embossed side that exfoliates and a smooth side that nourishes and moisturizes skin. The pad works as a toner, helping to clean your pores and to prep your skin for all the skincare and makeup to follow. 
One of the many reasons why I love these pads is that the alcohol in this product is the very last ingredient, so if you have sensitive skin or issues with alcohol, you might be able to use these.  It is full of herbal ingredients that are fantastic for troubled skin
Willow Bark  is a BHA (beta hydroxy acid) which helps exfoliate skin by removing dead skin cells, contains salicylic acid, to help combat acne.  It is also high in anti-oxidants, which tone and reduce inflammation as well as being an astringent, to control oil.   Salicylic acid is fat soluble, so it can really get to the oil that is inside your pores.   
Japanese Cyprus (chamaecyparis obtusa) ~ Hinoki cypress has antiseptic, antifungal and antiviral properties to heal blemishes and minor skin issues, like abrasions and rashes, and purifying your skin
Lactobacillus/Soybean Ferment is a potent anti-oxidant and also has anti-inflammatory properties.  As it contains polypeptides, it is also a very moisturizing ingredient.
Witch Hazel is an blemish prone skin's best friend because it has antibacterial and antiseptic qualities which helps clear up acne and it removes excess oil from skin. It also helps shrinks blood vessels, which tightens our skin. Witch Hazel can speed up healing and is a powerful anti-inflammatory, which also helps soothe skin. Finally, Witch Hazel refreshes and rejuvenates skin, refines the pores and seal in moisture.
Chamomile Extract can calm down the skin and relieve redness effectively as it has antioxidant, antibacterial and anti-inflammatory properties.   It helps to relieve skin issues and irritations because it soothes and lessens swelling and redness, while healing skin and stimulating cellular renewal.
Rosemary has anti-septic properties, supports collagen growths and has anti-oxidant properties that will combat free radicals
Lavender has amazing wound healing proprieties due to its antibacterial, antiseptic and anti-inflammatory compounds.  It is also is a soothing and invigorating ingredient as well.
Tea Tree is used for many infections and diseases due to its healing and disinfectant properties ~ antibacterial, fungicide, antiseptic, antimicrobial, antiviral and can help speed up wound healing and reduce scarring, as it is a cicatrisant.  It helps with preventing dry, flaky skin and because of its antibacterial properties, can help heal current blemishes while reducing future blemishes and control excess oil.  It helps with rashes, allergic skin reactions and fungal infections
Betaine Salicylate (BHA) is another exfoliator that helps reduce pore size, helps prevent acne, remove dirt and debris from clogged pores by dissolving the dead skin cells and smooths the skin.  It is also an anti-inflammatory and antibacterial. This BHA is salicylic acid combined with betaine and it is gentler than salicylic acid alone.
This jar is filled with 70 white cotton pads that are embossed on one side and slightly smoother on the other.  They are super soft and just soaked with a watery essence, that smells like an herbal garden with some tea tree tossed in.  The tea tree is not strong, but you can smell it lurking behind the herbal scent.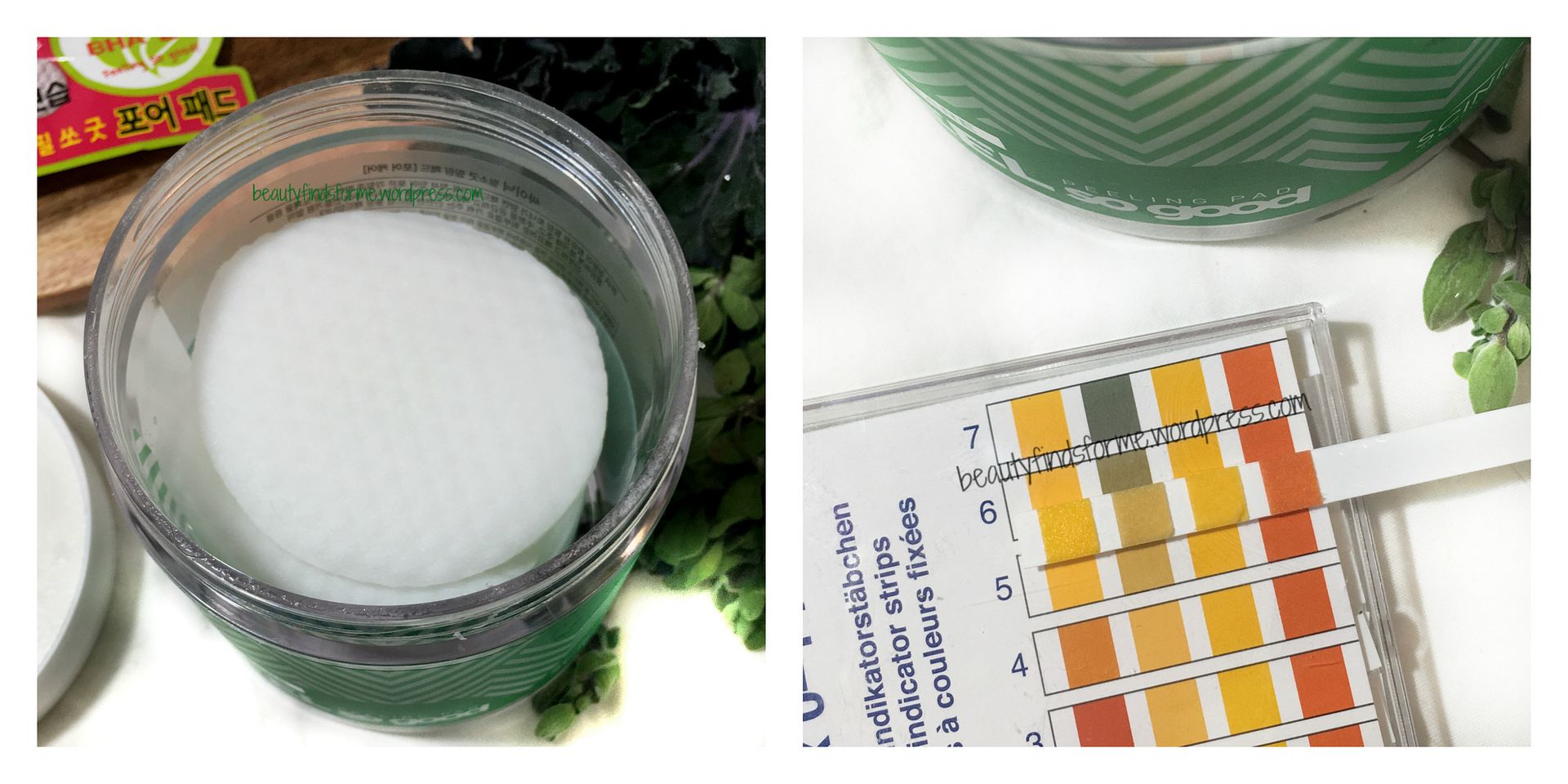 This is a super gentle product ~ it doesn't strip my skin and its pH level is a 5, so it is similar to Silk Naturals BHA toner's pH level. It is not an extra strength chemical exfoliator, so if you are looking for that, these are not the product for you.  I have older aging skin that gets oily fast, with clogged pores.  These work really well for me, as they remove excess oil and unclog my pores.  That is ALL I want ~ and they refresh and hydrate my skin, as they just drench my face with moisture.  My skin is smooth, soft and hydrated and very clean!  I have used BHA pads and hyaluronic acid pads and these are like the best of both worlds.  Plus the added bonus of the herbal garden scent ~ which I love!   These pads are $19.00 at Memebox ~ Scinic makes an AHA pad as well, but Memebox currently doesn't carry it ~ I hope they do, as that is a fruit based one. 
Why I love this even more ~  I posted this on my IG account. This was after one use!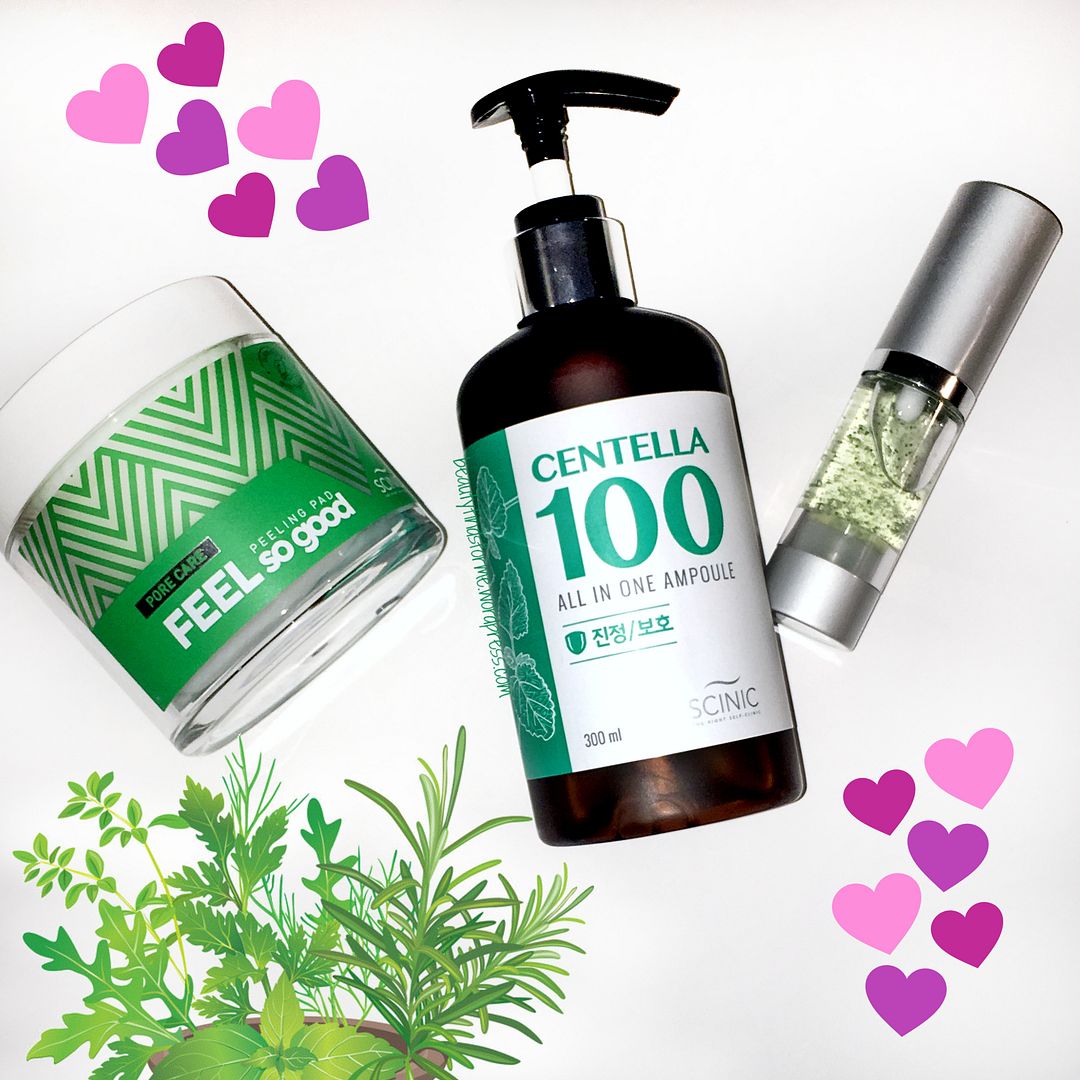 What magic is this? I had to talk about this as I never had a skincare product(s) do this before. Background: I have a small milia on my cheek for many months now ~ never goes away, small hard white bump that drives me bat-poo crazy-insane. Nothing will get rid of it. I received some Scinic products from Memebox to review and I am a bit cynical about Scinic (see what I did there?) due to their normally heavy floral scents. BUT, I wanted to try out a couple of items and they sent me four! I first used the Feel So Good Peeling Pads (pore care). These BHA pads smell like tea tree 🍃🌿and the alcohol ingredient is dead last in a long list of lovely herbal ingredients. I found these to be skin soothing without any irritation at all ~ and very hydrating too! Then I slathered on the Centella 100 All in One Ampoule ~ it has a bitter medical herbal 🌱🌱scent, which is fine by me, as I love those scents ~ I must have been an apothecary in a previous life!! This ampoule is really cool ~ it has little capsules that burst open as you apply it to your skin ~ I did decant it to a smaller pump bottle, because the lack of space in my bathroom is getting to be quite distressing!! So, I did this at night time and then off to sleep
THE NEXT MORNING:  I woke up and went to remove the remains of the night off my face. WHA? WHOA (in my best Keanu Reeves voice) That milia is GONE. Flattened out and disappeared or fell off, I don't know, but it is no longer on my face. What the whaty what what… Amazing. Was the combination of these two products or just one? I don't know but these items are fairly inexpensive for what you get ~ the ampoule is $25 for a huge 300 mL bottle and the pads are $19 for 70 pads.  I am going to get more of the pads, as the ampoule will last me a LONG time.
Ingredients: Water, Methylpropanediol, 1,2-Hexanediol, Butylene Glycol, Ethyl Hexanediol, Salix Alba (Willow) Bark Extract, Origanum Vulgare Leaf Extract, Chamaecyparis Obtusa Leaf Extract, Ethylhexylglycerin, Lactobacillus/Soybean Ferment Extract, Cinnamomum Cassia Bark Extract, Scutellaria Baicalensis Root Extract, Portulaca Oleracea Extract, Hamamelis Virginiana (Witch Hazel) Extract, Chamomilla Recutita (Matricaria) Flower Extract, Rosmarinus Officinalis (Rosemary) Flower Extract, Lavandula Angustifolia (Lavender) Flower Extract, Jasminum Officinale (Jasmine) Extract, Chrysanthemum Indicum Flower Extract, Melaleuca Alternifolia (Tea Tree) Leaf Extract, Aloe Barbadensis Leaf Extract, Melaleuca Alternifolia (Tea Tree) Leaf Oil, Sodium Hyaluronate, Allantoin, Trehalose, Betaine, Betaine Salicylate, Salicylic Acid, PEG/PPG-17/6 Copolymer, PEG-60 Hydrogenated Castor Oil, Glycereth-26, Disodium EDTA, Ammonium Acryloyldimethyltaurate/VP Copolymer, Polysorbate 20, Alcohol  cosDNA analysis

Final Thoughts
Out of the three products reviewed here, I will tell you to run, not walk and order the BHA pore pads if you have oily or blemish prone skin.  I think you will love them as much as I do!  The Gommage peeling pads are great for traveling or if you don't use peeling gels on a regular basis.  The Pore Clay mask pack is fantastic for oily T-Zones as it really unclogs pores and removes excess oil, while leaving my skin smooth ~ but don't use it on normal or dry skin as it can be irritating.  All of these products have nice scents to them and only the BHA pore pads have a stronger scent, but it is herbal.  I really am giving Scinic another look now, especially in their pore and troubled skin care line, as they have outdone themselves here.  I am also loving the soothing Centella AIO product, which I should have a review for that in another week ~ that stuff is fantastic and I mix it with other items to make a soothing and healing lotion.  Have you tried any of the Scinic products yet? Which ones and how did you like them?
Where To Purchase
In the USA ~ Memebox! Scinic is one of those brands that is very affordable
Savings at Memebox
Mardi Gras Sale ~ Good thru February 28th, 2017
Save 15% on orders $75+  MARDIGRAS15
Save 20% on orders $100+  MARDIGRAS20
Save 25% on orders $150+  MARDIGRAS25
[ disclaimer: products received complementary for an honest & unbiased review. blog post contains affiliate links ]