[ disclaimer: product received complementary for review purposes. contains referral link ]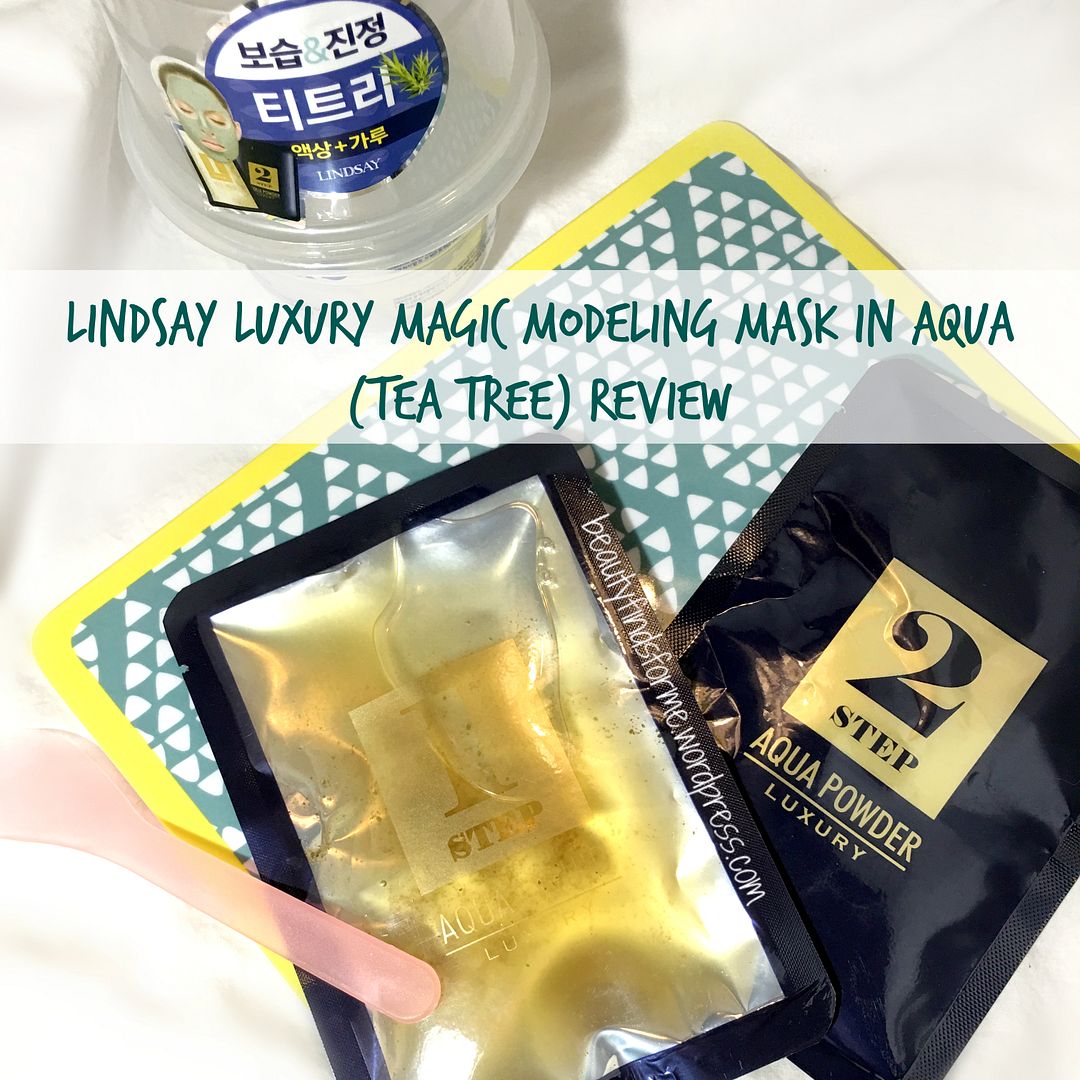 I was recently accepted into Keauty Picks reviewer program ~ Keauty Picks is a new online K-Beauty shop, where Keauty means Korean + Beauty (Keauties!)  They offer popular sheet masks and new brands that have innovative technology and ingredients.  Keauty Picks look to curate the best of Korean beauty products ~ skincare and makeup ~ to help keep your skin healthy and glowing.   The product they sent me was the Lindsay Luxury Magic Mask ~ they have three different types
Gold ~ This contains Collagen, Gold, Niacinamide, Pearl, Aloe Vera
Charcoal ~  This contains Charcoal Powder, Aloe Vera, Hyaluronic Acid, Witch Hazel
Aqua (Tea Tree) ~ This contains Tea Tree, Collagen, Hyaluronic Acid, Algae, Peppermint
I asked to try the Aqua one as it has Tea Tree and I do own the Charcoal ~ but I just haven't used it yet!! I will though soon and promise to review it as well.  This came the other day, all neatly packaged inside a mixing cup, two pouches and the stirrer.  Keauty Picks also sent me a ton of Klavuu and NōTS samples as well as NōTS Soothing Multi Gel Mask ~ I have never used NōTS before, so I am excited to try that out too!
What is this?  This is a modeling mask ~ I am familiar with these, as I have used the ones that just came with a cup and powder and you add liquid to it (review here).  However, it is hit or miss with those types of cups as sometimes, even when I follow the instructions exactly, the "rubber" mask is too watery or too thick, too clumpy or hard to remove!  I had one recently that was just awful, as I was scraping it off my face.  These luxury masks come with both a powder pouch and a liquid pouch ~ it isn't just water, either, but chock full of skin lovin' ingredients!  This takes the guess work out of liquid measurements too.
Modeling rubber masks are all the rage in Korean spa today, and they are the next level in "masking".  This product will conform to your face without losing any of the nutritious ingredients to evaporation.  The rubber will just lock  onto your face like an alien life-form until you are ready to peel it off.  This particular version ~ Aqua ~  is a marine facial spa treatment that you can administer yourself!
Ingredients of Note
Diatomaceous Earth is a fine powder made from a type of fossilized phytoplankton, called diatoms. It is used as a exfoliator as it is very gentle and it contains a bunch of happy-face minerals such as silica, magnesium, copper, phosphorus, calcium and zinc. It also helps draw out impurities from your skin, including excess oils.  
Tea Tree is known for its topical antiseptic and anti-fungal properties and help target and treat blemish-prone skin. It also reduces oil and sebum production on your skin, while not disrupting the moisture level
Collagen will deeply moisturize your  skin
Hydrolyzed Conchiolin is pearl protein and is supposed to brighten and even out your skin tone
Brown Algae (seaweed) will condition and hydrate your skin, while softening and detoxing. It is rich in essential vitamins, minerals and antioxidants, which will protect your skin from free radical damage. It also will help increase skin cell regeneration and elastin, as it contains alguronic acid.
Peppermint has anti-bacterial properties, cleanses and closes pores and contains salicylic acid.
Niacinamide (Vitamin B3) is a powerful antioxidant that acts as an anti-inflammatory, improves your skin elasticity, enhance the skin barrier function and also it helps to even out skin tone and reduce post-inflammatory hyper-pigmentation.
Centella Asiatica is a common herbal ingredient that is used medicinally to help speed up wound healing, such as blemishes and skin rashes. It also helps minimize the appearance of pores.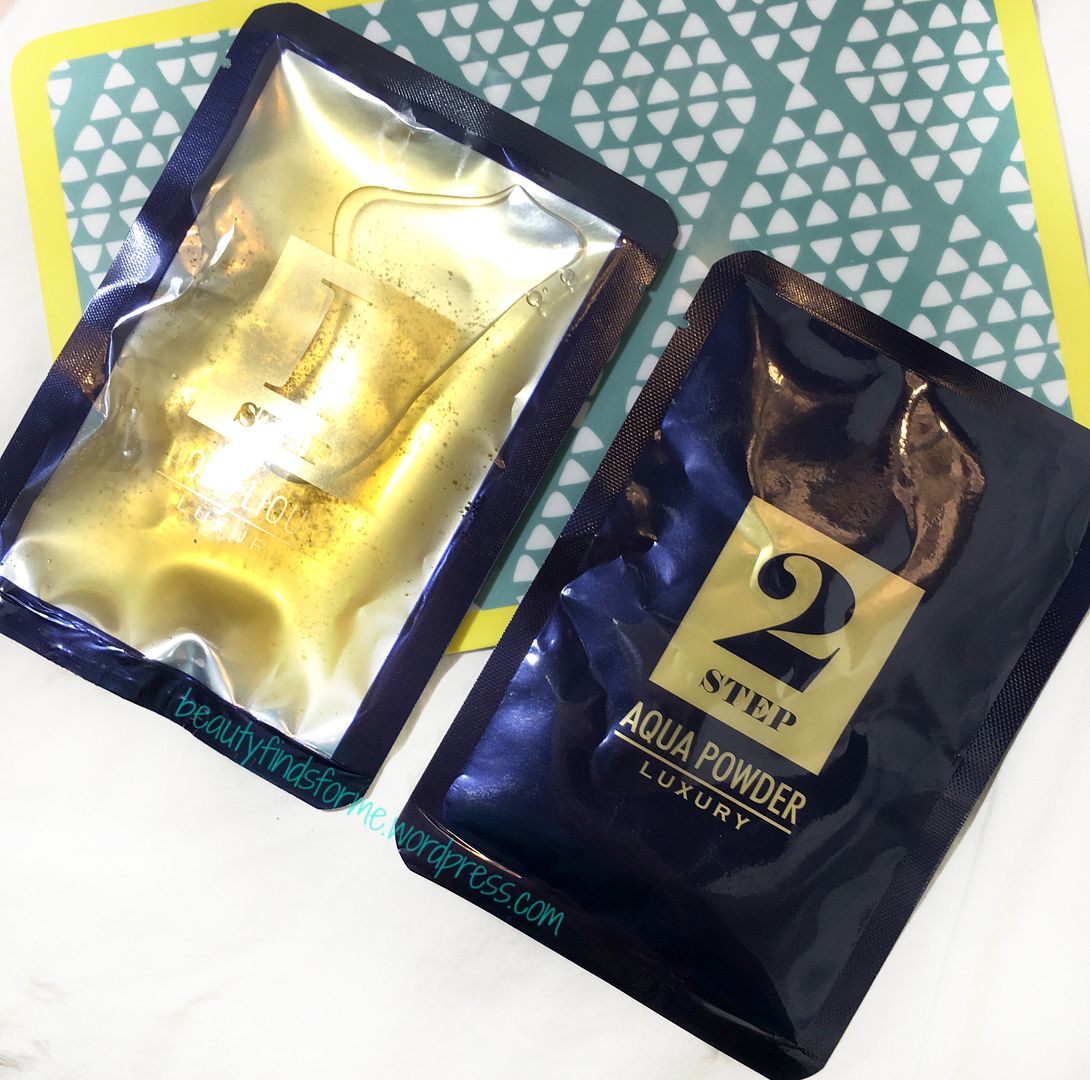 Ingredients
Step 1 (Liquid): Purified water, Butylene Glycol, Algin, 1,2-Hexanediol, Glycerin, Hydrolyzed Collagen, Hydrolyzed Conchiolin Protein, Niacinamide, Hyaluronic Acid, Adenosine, Portulaca Oleracea Extract, Aloe Vera Leaf Extract, Tea Tree Powder, Citric Acid, Disodium EDTA, Ethylhexylglycerin cosDNA analysis

Step 2 (Powder): Glucose, Diatomaceous Earth, Calcium Sulfate, Potassium Alginate, Tetrapotassium Pyrophosphate, Magnesium Carbonate, Hyaluronic Acid, Allantoin, Niacinamide, Betaine, Portulaca Oleracea Extract, Centella Asiatica Extract, Gold Extract, Brown Algae Extract, Peppermint Oil, Titanium Dioxide, Ultramarine, Chromium Oxide Green, Sodium Benzoate, Fragrance cosDNA  analysis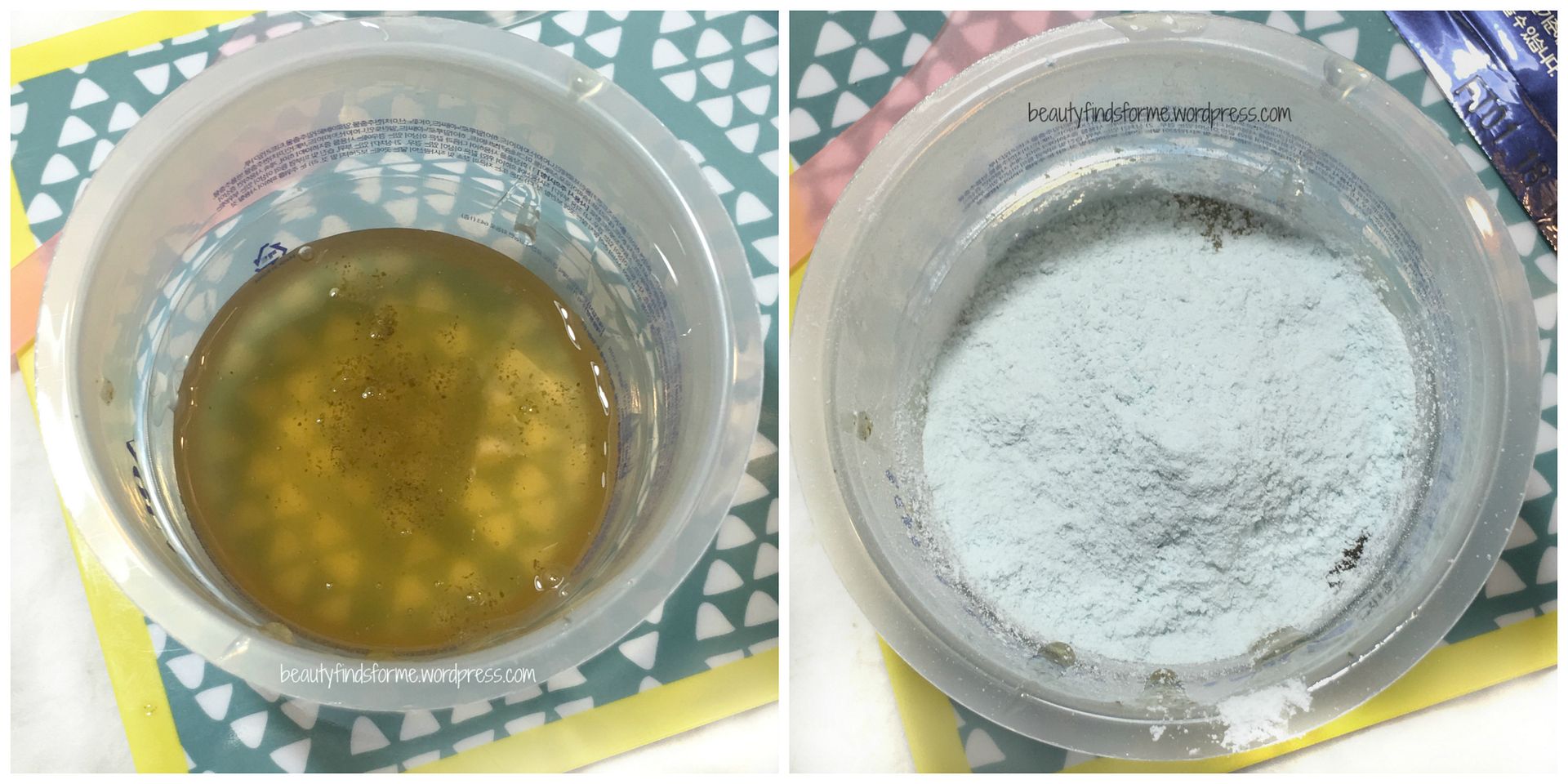 This is very easy to mix together.  First open up the Step 1, the liquid pack. The liquid seems to me to be scentless and it is gel-like in its consistency and thick.  It looks like there are little bits of herbal or maybe the pearl powder in here.  I thought it was gold at first, but the ingredient list doesn't include gold in Step 1.
Open up the next pouch and add the powder.  The powder is a pretty light blueish-green color and smells very much like peppermint, with a touch of medical tea tree lurking in the background.  Using the pink stirrer/spatula, mix the contents very slowly first as not to blow the powder all over the place.   It's just like making a cake ~ go slowly first to incorporate the liquid into the powder and then stir quickly, to get a nice smooth mixture.  Your final product will be a light sea green.

No clumping or unevenness ~ nice and smooth …..  Before starting all of this, make sure you are wearing an old shirt that you don't care about, make sure you face is clean and you can add toner before applying the mask.   Apply this mixture quickly to your face ~ it will drip and slide downwards as you apply it, and you will get it on your neck and on your clothes (hence the old-I-don't-care-about-it shirt).  I started to use the spatula  initially to apply, but I wasn't getting what I wanted on my face, so I just used my fingers. It will continue to slide downwards for a few minutes and then it starts to harden.  This is SO cooling and refreshing on my face, I really love how soothing this feels, despite my expression in the photo below ~ ahaha.  Yes, I do put this mask over my mouth as well, as it is a wasted battle to keep the mask from sliding over my mouth. It is going to settle there, so just accept that your mouth will be treated as well.

Now wait for 20 to 30 minutes for the mask to harden and firm up. It feels very smooth and cool to the touch, very rubbery.  I gently peeled this mask off, starting from the chin and working slowly upwards.  This mask is SO easy to remove, no clumps or hardened bits on my face.
Compared to the last modeling mask I used, it is easy-peasy to remove.  This came off in two larger pieces  ~ the lower and upper half of my face as I could not remove it in one pull ~ and a couple of smaller pieces.   It doesn't pull out any of my hair on my head or eyebrows.  If you manage to get the mask in your hair, like I did, just use a comb to remove it. I only have to rub lightly around the perimeter of my face where the mask was thinner – the thinner the mask, the harder it is to remove ~ so make sure you apply thickly!
Remains of the Day
Final Thoughts

My face felt nice and smooth after this mask treatment. Very hydrated and my pores were cleaned out nicely.  This is a fun mask to use on special spa nights, as it is very time consuming and messy.  However, the convenience of the pre-measured liquid pouch really is a win here for me, plus I love the cooling effect of this Aqua mask.   I have their charcoal ones and I will have to try those out in the next few weeks ~ I will review those here at my blog as well.
Have you tried any modeling masks?  Do you prefer the powder only and you add liquid or do you like the two step packages, where the liquid is already pre-measured for you and is more than just water?  Personally, I happen to like the pre-measured ones. It takes the guess work out of how much liquid to add as it seems that I always add too little or too much. However, these are just as messy to apply as any modeling mask, so that is the only easy thing about it!
You can purchase this or the other two versions of the Lindsay Luxury Magic Masks at Keauty Picks for $30.00 (click here to purchase).  This will include 5 modeling masks ~ 2 pouches each ~ plus a collapsible rubber bowl to mix your masks in.  If this is your first time purchasing at Keauty Picks, you can save 15% by using my referral link (click here)

[ disclaimer: product received complementary for review purposes. contains referral link ]