[ blog post contains affiliate links.  Some products might have been sent for review purposes & will be marked as such ]
As a skincare addict and beauty blogger, I try a lot of products ~ some full size, some deluxe.  Not all of them get a full review at my blog, but I do a mini-review/initial impression at my Instagram account.   I try to be just as through there as I am here, noting the that platform does not allow for a lot of "wordiness".  That said, one of the biggest frustrations of IG is that it is damn hard to find reviews of products there ~ I personally searched for product reviews on IG and I know that people ask me about a product that I have reviewed there.  I have a hard time finding specific information on IG ~ I am sure I am not the only one!! Instagram is a great platform for immediate needs, but it fails on its searching abilities.

So, along with my mask digests, which I post on a regular basis, I am going to start with my mini-reviews and makeup swatches that I posted on IG and reblog them here. I will try and limit each blog post to 10 – 15 products as even with a mini-review, I get wordy!! This helps me and others find a review and ingredients on products that might not be easily found. I might even do a brand mini-review series, as I have a lot of Manyo Factory items!  I will put them in categories and if you want to jump to that category, just click on the link below.  I have also linked the product name to where you can purchase it.

Hair Care
Modam Natural Fermented Modam Scalp Primer Shampoo Bar  I am a fan of shampoo bars for several reasons ~ they are great when you travel ~ just pop them in a travel soap dish and you don't have to worry about exploding liquids on the plane or heavy items if you are camping. They are lightweight, last a long time and very eco-friendly as there are no plastic bottles to deal with. I haven't tried one that is Korean and also fermented so that is why I really wanted to try this. This is made with 100% natural hanbang ingredients like ginger (invigorating), lotus (detoxifying), soybean/black bean (strengthening). This bar is also supposed to help protect your hair, prevent hair loss, and relieve any itchiness, leaving your hair shiny. This is packaged beautifully ~ it comes in this pink and plum box with gold letters, butterflies and flowers.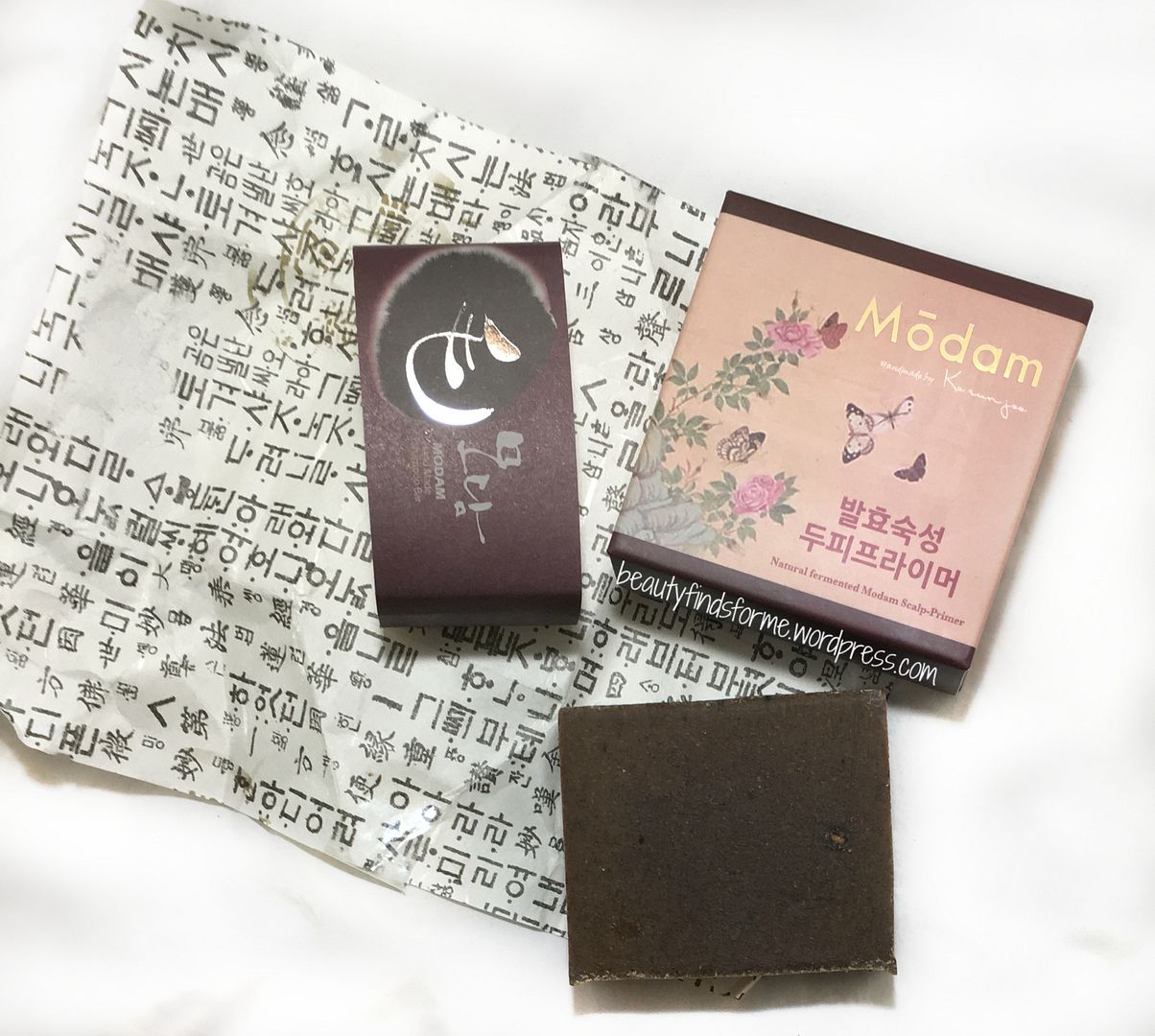 Inside, the bar is wrapped in paper with Korean lettering and then it is revealed to be a dark brown, very hard, very dense soap bar that does smell.. fermented. It does have a dark herbal medicinal scent. It also is textured, as I can feel its graininess and I can also see chunks of things ~ black beans & leaves in it. . I have been using this for almost 2 weeks now and my impressions are: it suds up WELL. Very well ~ I like how the grainy bits "exfoliate" my scalp ~ I just wet my hair and then rub this into my scalp and it foams up nicely ~ I leave in for 5 – 10 minutes as I do other things ~ wash face, exfoliate face, shave legs and pits, etc. I don't need a lot of this soap, btw, and when I am done with it, I rinse off and place away from direct line of water ~ it is so dense, it never "melts" like a bar of soap would. The scent doesn't seem to be anything that is transferred to my hair. After rinsing, I do need to condition. My hair is fine and straight and after using this, it is just like using a sulfate free shampoo ~ my hair is very tangled and matted. 
There are other brands that make conditioning bars, if you were looking for something like that. I just used my normal conditioner and my hair was tangle free and not matted. This soap cleans VERY well.  This really helped relieve itchy scalp as well.   This is a very cool shampoo and if you are looking to go a bit eco-friendly, more natural, traveling light or even dealing with scalp issues, I do recommend this shampoo bar.  This is an unisex product
Description: Shower your hair with love and luster! This super easy-to-use shampoo bar keeps our scalp healthy and our hair where it belongs- on our head and not on the floor! Thanks to this premium shampoo bar, washing your hair doesn't have to mean saying bye to a fistful of strands. This sudsy bar nourishes the scalp with 100% natural ingredients from traditional oriental medicine like invigorating Ginger, detoxifying Lotus Leaves, and strengthening Black Bean. This helps to protect each follicle and relieve itchiness, preventing hair from falling out and keeping your locks shiny and strong.
Ingredients: Ginger, Lotus Leaves, Persimmon Leaves, Black Beans, Black Sesame, Green Tea, Korean Angelica Root, Mint, Blueberry, Mulberry Leaves, Acorus Gramineus Solander, Pine needles, Carrier Oil (Coconut Oil, Palm Oil, Olive Oil, Castor Oil, Rice Bran Oil), Essence Oil (Lavender, Ylang Ylang, Lemon, Tea Tree, Clary Sage, Peppermint, Cedarwood)
Skin Care
Cleansers -> Cleansing Foams
Soap & Glory Face Soap and Clarity Vitamin C Facial Wash   I received this in my Target Beauty Box this month and I really have enjoyed it!  It is all used up now, but this is a low pH cleanser (5.5 ~ 6) whose light aqua gel contains orange colored skin polishing beads ~ don't worry, they are made from wax and are super soft beads that dissolves on your skin. This cleanser is specifically for oily and oily-combo skin and is made without parabens.  This 3-in-1 cleanser helps smooth, purify and clarify your skin and contains yuzu extracts ~ a  citrus fruit that contains Vitamin C as well as citric acid.  This gel cleanser gets some help from my pore brush to foam up, but I don't think you need a brush ~ this gel is quite foamy. It has a strong citrus-mint-lemongrass scent, so if you don't like strongly scented items, you won't care for this.  It has a wonderfully refreshing and cooling sensation on my skin This really cleansed my skin nicely and did not leave it feeling dry or stripped. I don't know if it brightens my skin, but my skin does feel soft and smooth after using this and I do love the scent!  This is really inexpensive and I already purchased a HUGE full size bottle of this cleanser.  Have you tried Soap & Glory Face Soap and Clarity Face Wash yet?  What did you think of it?
Ingredients: Water, Sodium Lauroyl Methyl Isethionate, Glycerin, Acrylates Copolymer, PEG-7 Glyceryl Cocoate, Cocamidopropyl Betaine, Coco-Glucoside, Glyceryl Oleate, Lauric Acid, Sodium Methyl Isethionate, Synthetic Wax, Dipropylene Glycol, Fragrance, Sodium Hydroxide, Sodium Chloride, Tetrasodium EDTA, Zinc Laurate, Limonene, Polyquaternium-7, Benzophenone-4, Amyl Cinnamal, Citric Acid, Butylphenyl Methylpropional, Linalool, Citral, Methylisothiazolinone, Citrus Junos Fruit Extract, Alpha-Isomethyl Ionone, Lecithin, Ascorbyl Palmitate, Tocopherol, Hydrogenated Palm Glycerides Citrate, Maltodextrin, CI 73360 (Red 30), CI 77891 (Titanium Dioxide), CI 42090 (Blue 1) 
Cleansers -> Scrubs/Exfoliators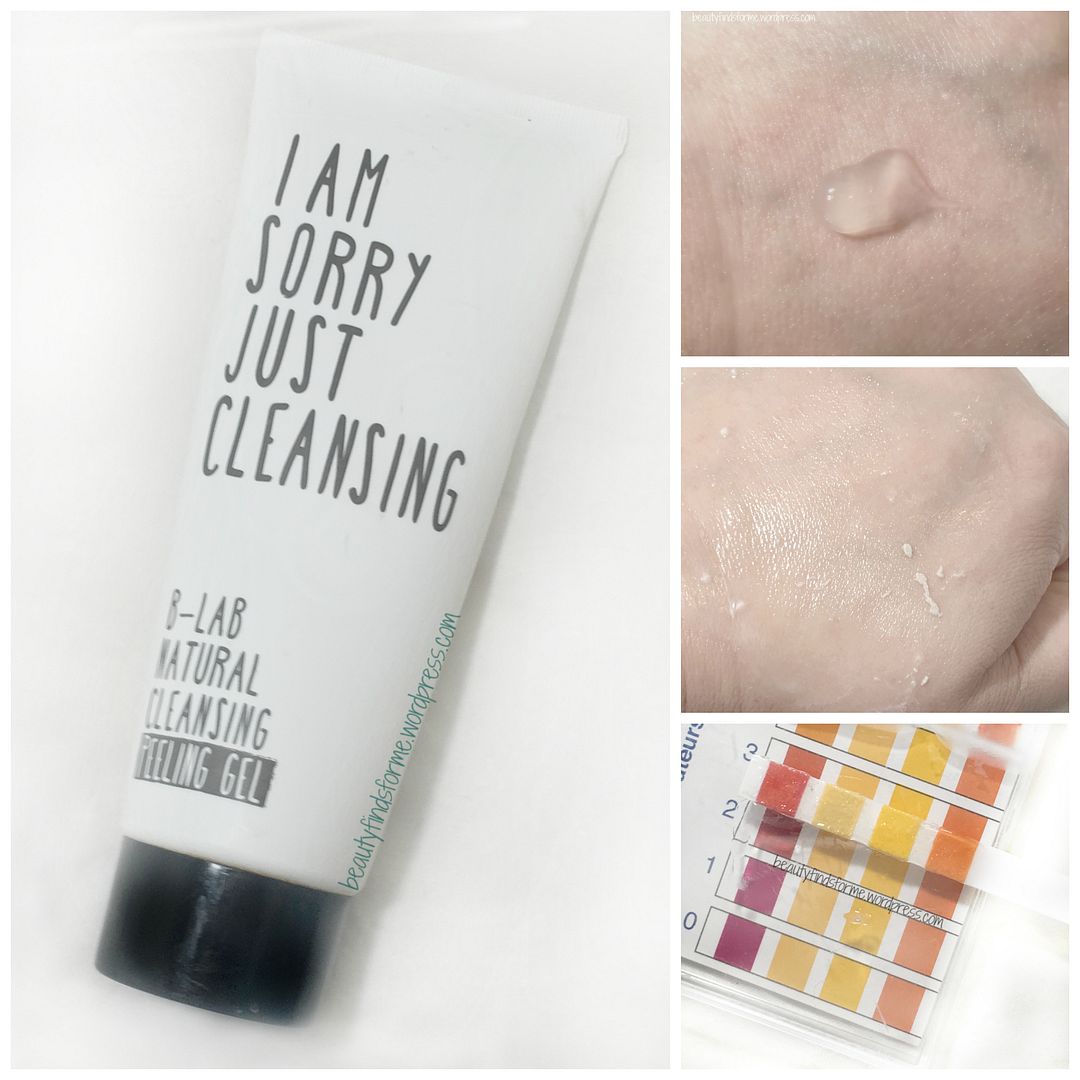 As with many things in life, I am driven by scent.  Scent plays a huge role if I love an item or hate it ~ it could be the same exact thing with one difference ~ how it smells.  Which brings me to this peeling gel by I Am Sorry Just Cleansing B-Lab Natural Cleansing Peeling Gel.  It is amazing. Truly, wonderful, beautiful!  It is a true peeling gel as it does form those "balls" on your skin, but if you try to rub it on a slick surface, like a plate, it won't ball up.  Those "balls" are the carbomer ingredients, which is the clumping material needed to trap and bind excess oil, dirt and dead skin cells together and gently remove them from your face, leaving behind  fresh, glowing skin.  This also is a true peeling gel as it has 3 different types of AHA's ~ lactic, citric and glycolic acids ~ to exfoliate and brighten your skin. It contains have glycerin which is a hydrating humectant and it does have a pH level of a 3, making it low enough to work both as chemical exfoliant and a physical exfoliant.  This also has salicylic acid (BHA), which also unclogs pores and oils, along with antibiotic propolis, anti-aging royal jelly, firming and repairing snail slime, antioxidant green tea and soothing & astringent witch hazel.  Sounds great, right?  Why this is my current HG of peeling gels ~ This stuff smells damn amazing.  Seriously. It is pine scented with just a hint of lavender. I don't know why it smells like pine as it doesn't have any pine ingredients in the list, but WOW, it smells great. I also love soft and refined my skin is after use. I feel that it actually is more hydrating than many peeling gels I have used, due to the snail filtrate, propolis and royal jelly ingredients ~ I can feel how moisturized my skin is by touching it after I use this peeling gel.  I first purchased this back in October at @beautibi and have purchased another one since then, as that is how much I love it.  Have you tried this gel yet?  Do you want to?  
Ingredients: Water, Glycerin, Quaternium-60, Propylene Glycol, Carbomer, Propolis Extract, Royal Jelly Extract, Snail Secretion Filtrate, Camellia Sinensis Leaf Extract, Hamamelis Virginiana (Witch Hazel) Extract, Lavandula Angustifolia (Lavender) Extract, Monarda Didyma Leaf Extract, Mentha Piperita (Peppermint) Leaf Extract, Freesia Refracta Extract, Anthemis Nobilis Flower Extract, Rosmarinus Officinalis (Rosemary) Leaf Extract,  Butyrospermum Parkii (Shea) Butter, Malva Sylvestris (Mallow) Extract, Primula Veris Extract, Alchemilla Vulgaris Extract, Veronica Officinalis Extract, Melissa Officinalis Leaf Extract, Achillea Millefolium Extract, Glycolic Acid, Citric Acid,  Lactic Acid, Salicylic Acid, 1,2-Hexanediol, Fragrance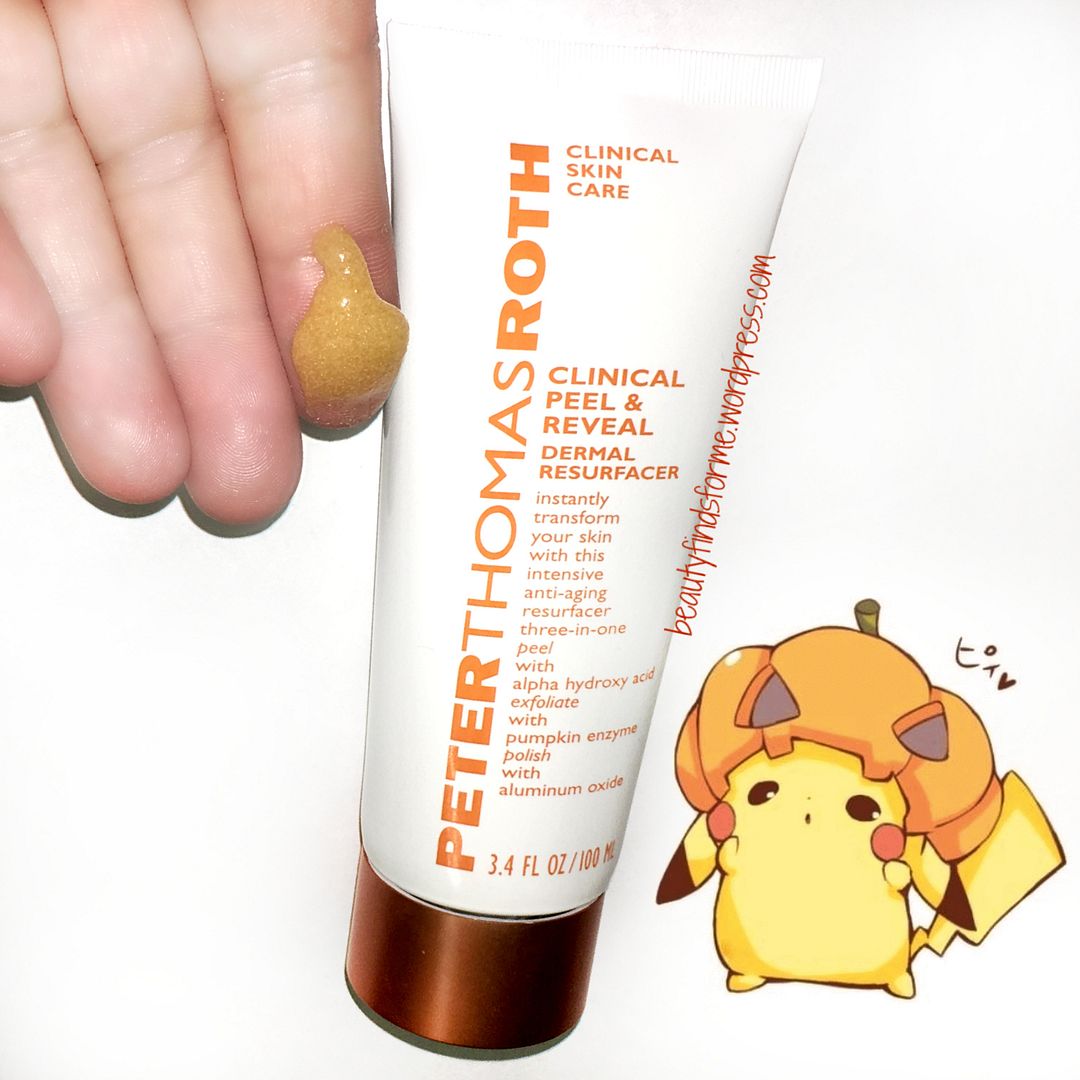 Peter Thomas Roth Clinical Peel & Reveal Dermal Resurfacer  Peel? Resurfacer? Fermented Pumpkin? Lactic Acid? Count me in! On the surface, this product sounds amazing!! It has fermented pumpkin extract, which contains enzymes that will help with gentle skin exfoliation and reduce fine lines & wrinkles. It also has AHA in lactic acid, to help smooth and refine your skin, encouraging cellular turnover, along with vitamin A. I have used this a few times now and I will say this is nothing more than a really wonderfully pumpkin pie scented micro-dermabrasion scrub for oily skin. I would never recommend this for dry or even combo skin, as this stuff is very drying and I have oily skin! The first time I used it, I used it all over my face and left it on for 5 minutes. I thought my skin had spent several years in the desert, it was so dry looking and on top of that, my skin was also red and sensitive ~ I had a stinging reaction just putting a toner on 😦 I was scared to try it again, but I did ~ this time only on my T-Zone (nose, chin & part of my forehead) and I only left it on my skin for 3 minutes. That was much better!! This scrub really cleaned out my pores, so they looked tight and invisible, while smoothing out my skin. Because I didn't leave it on my face for as long, my skin wasn't dried out. I will use it, as I think it is a good product for my pores (and I already have it) but I won't repurchase it. Have you tried this Resurfacer? What did you think of it?
Description: Peter Thomas Roth Clinical Peel & Reveal Dermal Resurfacer is an intensive anti-aging skin peel that reveals smoother, revitalized skin with each use. Pumpkin enzyme, aluminum oxide and alpha hydroxy acid work together to provide an intense peel that exfoliates and polishes, leaving an even skin tone and smoothed lines and wrinkles. This triple-action dermal skin peel removes dead cells, encouraging healthy cell turnover, making skin tone more even and improving texture. Choose Peter Thomas Roth Clinical Peel & Reveal Dermal Resurfacer for revitalized and rejuvenated skin.
Ingredients: Water, Alumina, Cucurbita Pepo (Pumpkin), Glycerin, Lactobacillus/Pumpkin Ferment Extract, Lactic Acid, Diazolidinyl, Urea, Retinyl Palmitate (Vitamin A), Sodium Hyaluronate, Carbomer, Propylene Glycol, Methylparaben, Propylparaben, Sodium Hydroxide, Fragrance
Cleansers -> Cleansing Water
illi Total Aging Care Cleansing Water  I love my cleansing waters and own several of them ~ and usually have a few open at the same time!  This is part of illi's Total Aging Care line, which includes cleansers and lotions.  I am a fan of their foaming cleanser and lotions and I have used the oil cleanser but prefer illi Deep Cleansing Oil, so I am familiar with this line.  illi is part of the Pacific Amore family and it has a lovely, light refreshing floral scent that is supposed to be ginseng flowers ~ I have never smelled ginseng flowers, so I cannot say if that is  true or not.  This anti-oxidant rich cleanser uses oriental herbs to help not only cleanse, but also has skincare properties:  green tea will help soothe and fight free radicals, ginseng will improve your skin's elasticity, natto gum (fermented soy bean) will moisturize and hydrate your skin,  camellia will smooth your skin as it is rich in vitamins A, B and E. This cleansing water removes my makeup and oil pretty nicely (stubborn eye liner & mascara aside) and it leaves my  skin nicely hydrated.  This has a pH balance of between a 5 and 6, so it is mildly acidic.  I love using cleansing waters first thing in the morning, to remove the remains of my night skincare products and when I get home from work, to remove the oil, dirt and grime from the day.  Have you tried this cleansing water?  What did you think of it?  My bottle is almost gone, but I did purchase a backup!!  
Ingredients: Water, PEG-6 Caprylic/Capric Glycerides, Panax Ginseng Extract, Camellia Japonica Seed Oil, Camellia Sinensis (green tea) Leaf Extract, Natto Gum, Glycerin, Butylene Glycol, Glyceryl Caprylate, Disodium EDTA, 1,2-Hexanediol, Fragrance cosDNA analysis
TonyMoly The Chok Chok Green Tea Cleansing Water I have been using this cleansing water for several months now and it is almost gone!! I decided to do a IG review on it with my thoughts. I purchased this because of Joan @kinsengnsq did a review on it and I thought it sounded fantastic. I love cleansing waters and wipes as they allow me to quickly remove makeup, oil and the daily grime from my face when I get home from work or first thing in the morning, to remove all of the residue from my night care products. This cleansing water from TonyMoly is made with fermented tea leaves (10,000ppm), which go through a one year, natural fermentation process ~ green tea is a great antioxidant which also acts as an anti-inflammatory. This has a very watery texture (some cleansing waters have weird thing going on, like being carbonated, this one does not) and it smells wonderful. I do not smell any green tea, but citrus ~ it cleanses thoroughly while leaving my face feeling hydrated and refreshed. This has a pH level of between 4.5 and 5, so if you are looking for a lower pH level cleansing water, this is a great one to try. Will I repurchase? I have several cleansing waters right now but if TonyMoly doesn't discontinue this, yes I will. It is pretty inexpensive at around $10.00 for a 300mL bottle at eBay and works really well. I like this a lot better than Innisfree Green Tea Cleaning Water as that one has a very strong floral scent.
Description:  This cleansing water contains the moisture of fermented green tea cultivated by sunlight, wind, and nature throughout four seasons.The fermented green tea ingredient that goes through one- year natural fermentation process keeps skin moisturized and healthy as it delivers excellent anti-oxidant and moisture storing effects to skin compared to fresh green tea. The water-type skin makes skin feel smooth and refreshed by moisturizing skin.
Ingredients: water, dipropylene glycol, alcohol, PEG-7-glyceryl cocoate, camellia sinensis (green tea) extract (10,000 ppm), PEG-32, citrus limon (lemon) seed oil, aniba rosaeodora (rosewood) wood oil, PEG-60 hydrogenated castor oil, sodium citrate, citric acid, disodium EDTA, ethylhexylglycerin, phenoxyethanol  cosDNA analysis
Rough Translation:  Green Tea growing in Jangheung, Jeollanam-do Province is  100% pure fermented green tea that has been fermented for one year in the spring season. The effect is delivered to make the skin more moist and healthier.
EWG Green 100% Safe prescription The safety of the ingredients is selected only for the green grade component corresponding to the EWG 0-2 grade, so it works well on sensitive and sensitive skin.
The water-type skin moisturizes and moisturizes the skin. The water-type skin moisturizes the skin and moisturizes the skin, leaving the skin smooth and refreshing. Moisturizing moisturizing lotion that gently wraps the skin and gently adheres to the skin with moisture, keeps moisture balance and prepares the skin moist and healthy.

Picking: Green Tea leaves Mid-April to late June Harvest wild green tea and dry in the sun.
Make into cakes: It is raised in half, dried in a high, warm sunlight, and then hung on an eaves or outdoors that does not rain.
Dry Fermentation: It is placed on a teapot, dried in warm sunlight, and hanged on an eaves or in a rain-free outdoors
Store and ferment: Put it in a jar and keep it for 1 year.
Toners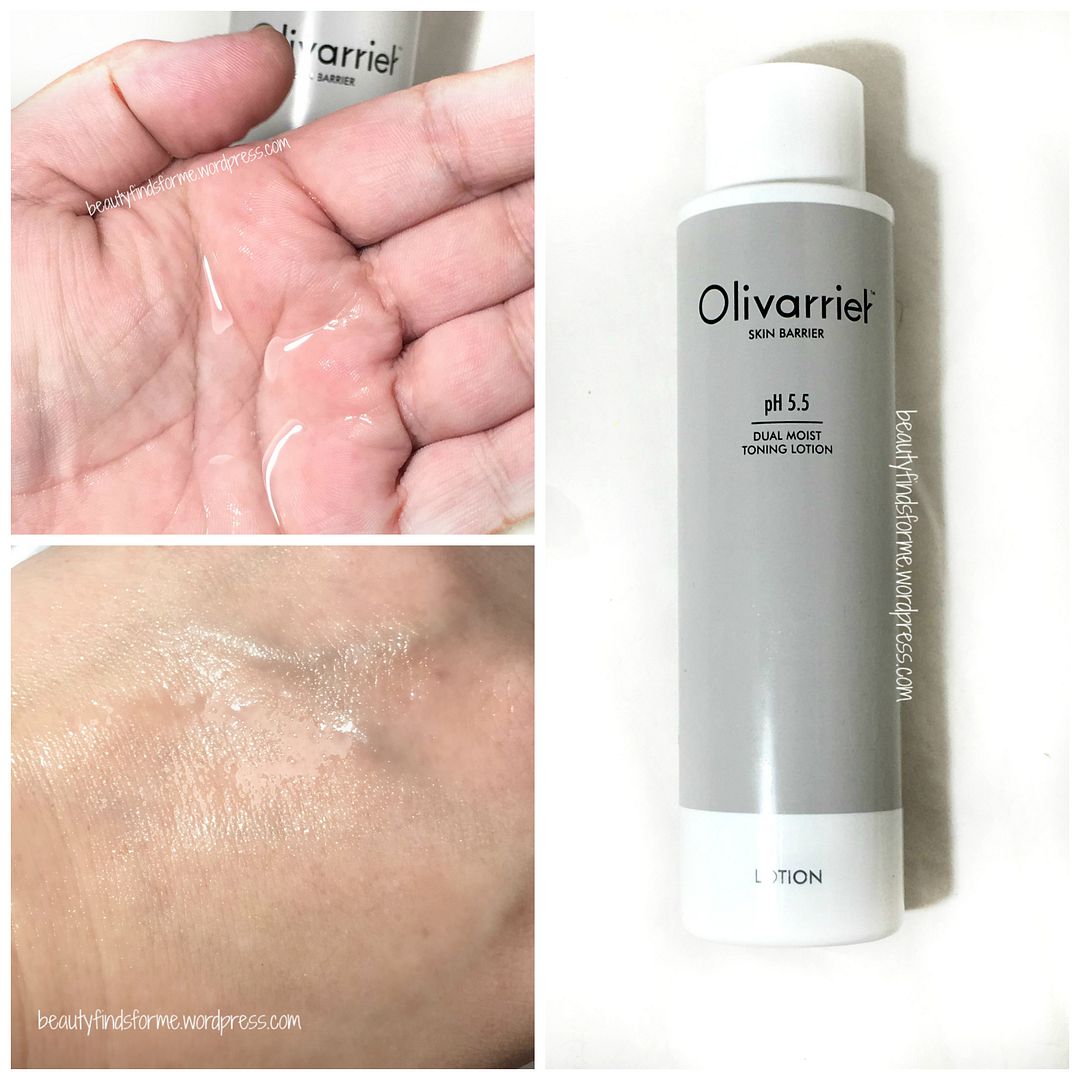 Olivarrier Dual Moist Toning Lotion I received this item from 0.8L_usa for review purposes. This is a toner, not a lotion, and it has some fantastic ingredients in it ~ triple hyaluronic acid to help keep my skin moist and hydrated, plus squalane, made from olives ~ which will help protect and repair my skin. It also has ceramides, broccoli and camellia extracts, all of which are very good for your skin ~ full of antioxidants and anti-aging properties. This toner is pH "balanced" for those who are interested in that. It is odorless and it has a nice viscosity to it, even though it is a watery toner. It just feels more "solid" ~ thicker than water. My skin just soaks this up and my face feels moist and hydrated. No breakouts, just a really hydrating and soothing product for my skin. You can also use this in place of an essence if you layer this toner 2 to 3 times on your face. It can be used as a facial mist too.  This does remind me a lot of Klairs Supple Preparation Facial Toner in terms of its hydrating and nourishing properties.
Description: Toning your skin is the ending of your cleansing routine and the beginning of your skincare. This toner will help remove dirt and dead skin cells but also balance and prep your skin for your exfoliators (AHA, BHA, Vitamin C) or help make a clean canvas for makeup. Has the same pH as your skin (pH 5.5) . Can remove dirt, fine dust, and makeup leftover from cleansing without damaging your skin. Quickly supplies hydration after cleansing with Micro Hyaluronic Acid. Deeply penetrates the inner layers of your skin while Squalane derived from olives protects your it. Made with skin healing D-Panthenol, moisturizing Madecassoside, calming Allantoin and soothin Oatmeal. No artificial additives and hypoallergenic.
What defines skin that is in need of "balance": Skin that is oily on surface but feels and looks dry. Skin that is not as firm because of lack of moisture. Excessive sebum (oily secretion sebaceous glands)
Perfect for people that: Are looking to balance their oily skin. Concerned about dry and/or sensitive skin . Have only used toners that dry out your skin. Really transform how you feel about toners!
Ingredients: Water, Glycerin, Glycereth-26, Butylene Glycol, Squalane, Sodium Hyaluronate, Panthenol, Madecassoside, Allantoin, Arginine, Olea Europaea (Olive) Fruit Oil, Ceramide NP, Olea Europaea (Olive) Leaf Extract, Portulaca Oleracea Extract, Brassica Oleracea Italica (Broccoli) Extract, Hydroxyethyl Cellulose, Avena Sativa (Oat) Meal Extract, Camellia Japonica Seed Oil, Sodium Citrate, Disodium EDTA, Octyldodecanol, Dodecane, Isohexadecane, Isoeicosane, Octadecane, PEG-60 Hydrogenated Castor Oil, Zanthoxylum Piperitum Fruit Extract, Pulsatilla Koreana Extract, Usnea Barbata (Lichen) Extract, Tocopheryl Acetate, Citric Acid, Tetradecane, Caprylic/Capric Triglyceride, Hydrogenated Lecithin, Linoleic Acid cosDNA analysis
Essences/Ampoules/Serums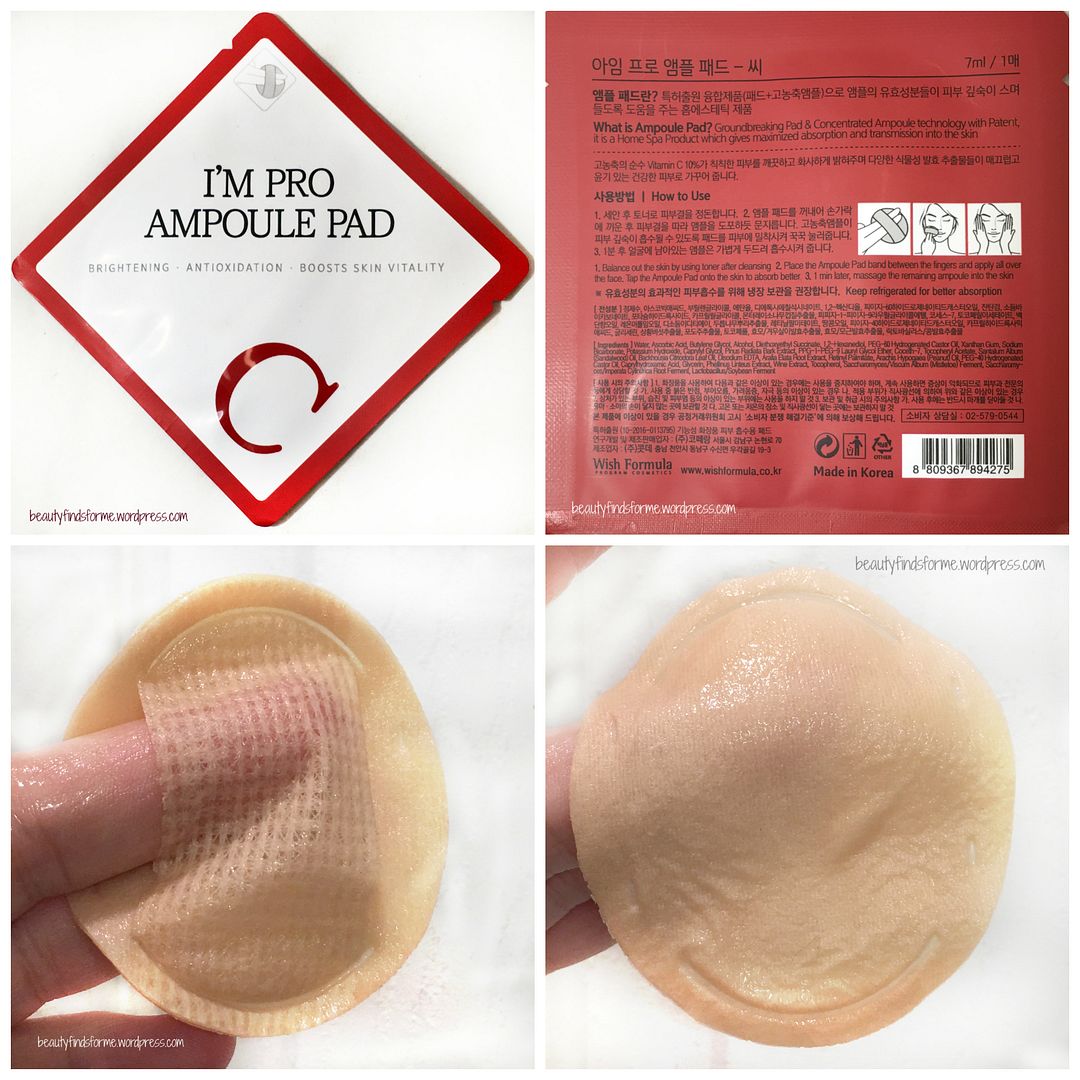 WishFormula I'm Pro Ampoule Pad ~ for brightening, antioxidants, boosts skin vitality.  So, this is an ampoule pad that is supposed to deliver the concentrated ampoule essence to your skin, with maximized absorption.  It has 10% vitamin C (ascorbic acid) that will help brighten your skin tone. I only received one of these from Jolse for review purposes,  so I can only give you an initial impression.  This is a 2 sided pad, where one side is more rough with the loop for your fingers ~ or in my case, finger, as I have fat fingers and couldn't really put two fingers in the loop without damaging the pad 😦  Damn you slim fingered people!! lol  The other side is silky smooth and you use this side to press the ampoule serum into your skin This pad is soaked with the serum, it is very wet ~ it is also very much an alcohol scent, which if you dislike alcohol in your skincare products, steer clear of this one!  I am a bit confused about why a moisturizing ampoule has alcohol so far up the list of ingredients and reeks of it?  Normally, alcohol is for oily/blemish skincare (hmmm) The pad was awkward to use as the loop was too small for me to stabilize it and the essence was really slippery and slick, so I had to use my thumb to hold it in place.   My skin was a bit sticky afterwards, but it is dry down to a very dewy finish, so despite the alcohol in this, I didn't find it drying at all.  Thankfully, I used this at night, as my face was very shiny!  Other than that, I didn't see any noticeable results, as it is just one pad.  What do I think about these?  I do like the individual packaging as I love these types of pads in general ~ my favorite is Neogen Code 9 Lemon ~  but those huge jars are not travel friendly ~ this is very travel friendly and keeps your ampoule pads moist and fresh until you need them. That said, I wasn't overly impressed with this ampoule pad and would not purchase them.  I would for Neogen if they came out with these individual packets for traveling! Have you tried these pads by Wishformula?  What did you think of them?
Ingredients; water, ascorbic acid (10%), butylene glycol, alcohol, diethoxyethyl succinate, 1,2-hexanediol, PEG-60 hydrogenated castor oil, xanthan gum, sodium bicarbonate, potassium hydroxide, caprylyl glycol, pinus radiata bark extract, PPG-1-PEG-9 lauryl glycol ether,  coceth-7, tocopheryl acetate, santalum album (sandalwood) oil, backhousia citnodora leaf oil, disodium EDTA, aralia elata root extract, retinyl palmitate, arachis hypogaea (peanut) oil, PEG-40 hydrogenated castor oil, caprylhydroxamic acid, glycerin, phellunus linteus extract, wine extract, tocopherol, saccharomyces/visum album (mistletoe) ferment, saccharomyces/imperata cylindrica root ferment, lactobacillus/soybean ferment  cosDNA analysis
Makeup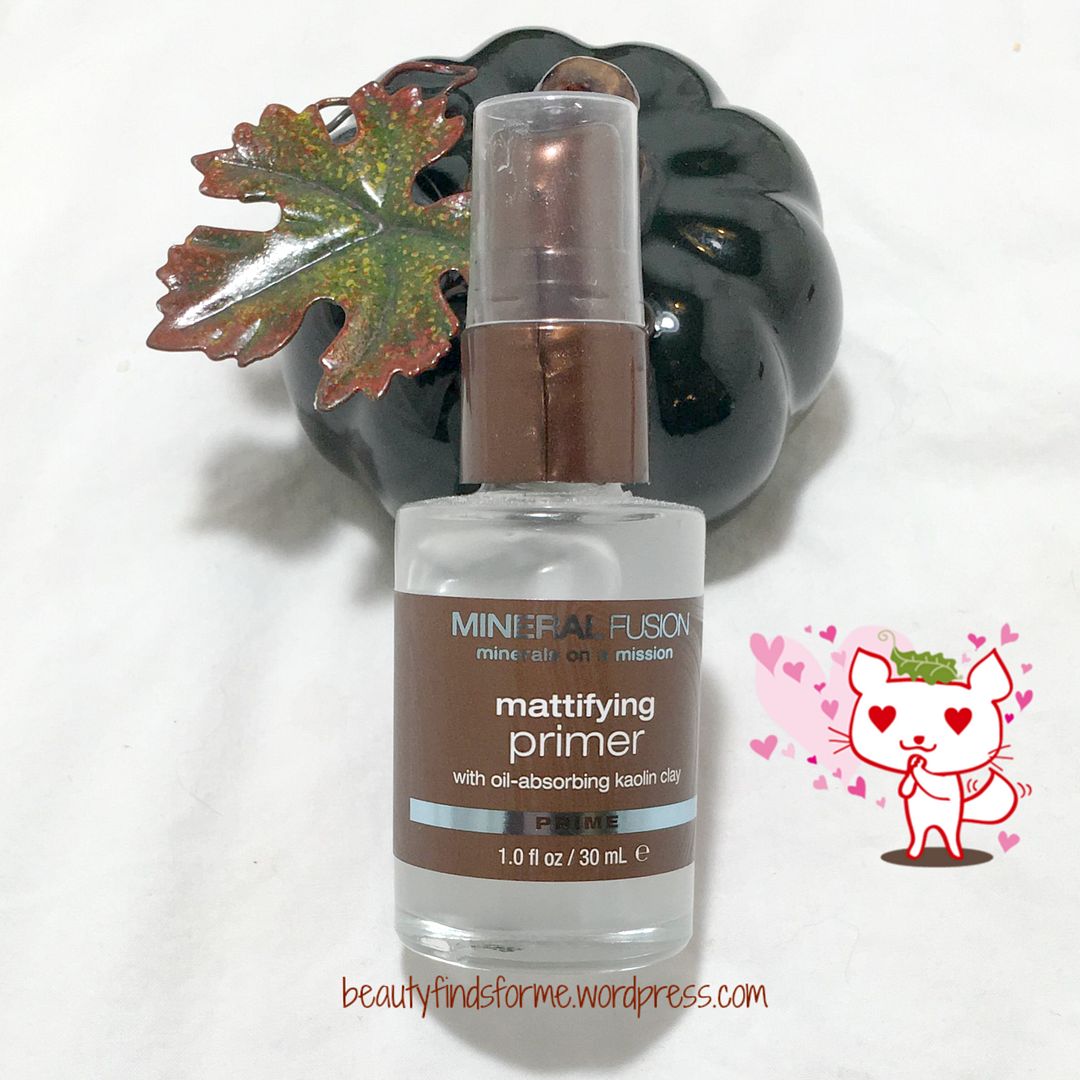 Facial primers: I have always had a love-hate relationship with facial primers. I know I should use them, as they will help with applying my makeup (my t-zone is the WORST ~ everything slides around), smooth over my pores and some are mattifying. However, either the primers I love are way too expensive OR I break out like crazy. Also, my oil breaks thru all the time and it is an extra step in my morning routine and who has the time for that? I saw this pretty ~ Mineral Fusion Mattifying Primer with Kaolin Clay ~ at Whole Foods a few weeks ago and decided, oh why not. I was going on vacation (no biggie, just back home) and figured I would test it out and if I broke out, well, my family wasn't going to care. This is actually really good. I mean, REALLY good. This is a lightweight, silky smooth primer made for oily skin, so it is mattifying. It also smooths over my pores and "fills" them in and I didn't break out where I applied this. I did have zits, but that had nothing to do with this product as those started before I began using this. I always get vacation-stress zits. This toned down any redness I had from my blemishes too. Also, I noticed that my foundation stayed on nicely where I applied this ~ one of my problems with my massive skin care regime is that my mattifying products aren't MATTE anymore as I now have a nice hydrated and dewy canvas – haha. So, my foundation also slides around a bit on my t-zone as that is dewy and oily and I have to use a brush to really blend it in. That didn't happen with this product and my foundation was smooth and neat looking (and I just used my fingers!) And finally, whereas my matte makeup didn't stay matte forever, my t-zone didn't look as oily after several hours ~ even after shopping for a couple of hours, my foundation still looked nice and satiny. That clay made a huge difference! This bottle was $21.00 at Whole Foods and is gluten free, 100% vegan, paraben free, cruelty free, artificial color free, phthalate free and hypo-allergenic. The only complaint I have is the design of the bottle ~ the pump is kinda wonky at times and I worry that I won't be able to get the last drop of this primer out of the bottle when the time comes. Have you tried any Mineral Fusion products before? I am like a kid at the candy store in their beauty section ~ eco-friendly organic skincare is my first love!! P.S  You can also find this at Target!
Description: Oil-absorbing kaolin clay reduces unwanted shine for a beautiful matte finish. This soothing formula fills in lines, controls shine, and evens tone and texture creating a smooth canvas for makeup application. This non-comedogenic primer prevents makeup and dirt from settling into skin, smoothing skin and minimizing the appearance of pores. Natural antioxidants and our wrinkle fighting, collagen-boosting peptide help minimize the appearance of fine lines. Ideal for oily skin.
Ingredients: Mineral Water (Aqua), Dimethicone, Emulsifying Wax, Aloe Barbadensis Leaf Juice*, Stearic Acid, Olive Squalane, Lecithin, Octyl Palmitate, Silica, Tocopheryl Acetate (Vitamin E), Ascorbic Acid (Vitamin C), Olea Europaea (Olive) Leaf Extract*, Sodium Hydroxide, Allantoin, Palmitoyl Tripeptide-5, Vegetable Glycerin, Ginkgo Biloba Extract, Rosa Canina (Rosehip) Oil*, Rosemary Officinalis Extract, Kaolin, Chamomilla Recutita (Matricaria) Flower Extract*, Camellia Sinensis Leaf Extract*, Phenoxyethanol, Natural Fragrance. * Certified Organic
I've been wanting a couple of palettes lately and I did purchase them ~ in this haul, I have the Viseart Theory Palette in Theory II Minx, which is a fantastic range of matte browns and sunset shimmers. I also picked up some free samples with Maison Margiela Replica perfumes and using a promo code, got a two pick ~ The Estée Edit Mattified Lipstick in Wrapped and REN Evercalm Mask. I will use the REN mask soon and post an IG review on it. Swatches from left to right
The Estée Edit Mattified Lipstick in Wrapped ~ this is beautiful ~ it looks patchy on my arm, but on my lips, it isn't patchy at all ~ this is a buildable lippie. This is a beautiful matte lipstick in deep raspberry that doesn't dry down to a cakey mess.
Viseart Theory Palette ~ Theory II Minx ~ light peachy orange shade (matte), light golden copper (shimmer), warm reddish yellow tone medium dark brown (matte), deep copper (shimmer), deep reddish brown (matte), deep burgundy-brown (shimmer). This palette is so pigmented and the colors are smooth to apply with little fallout ~ the lighter colors have more fallout than the darker shades, but it is not that much. This palette is perfect for those who love warm shades and this is a peach palette I can actually wear!! I love this
Anastasia Beverly Hills Modern Renaissance Eye Shadow Palette, which is a warm toned neutral and berry eye shadow palette with matte and shimmer textures. Kat Von D Everlasting Liquid Lipstick in Hawkwind (matte nude sienna) and Sanctuary (matte nude coffee) 
I wanted to experiment more with reds and deep sunset eye shadow colors, but most of them on the market are too garish or glittery. These are really nice and I think they are bold without being shocking. These are highly pigmented too and little fallout. My only complaint is the packaging. I wish they would have done a hard cover case that snaps shut, not a velvet box that does not stay closed. It looks pretty, but it is not practical if you want to travel with it. That is a shame because this is a very versatile palette ~ you can go everyday with a more natural look, be a bit more bold or really glam it up. I was afraid these colors might be too close to my recent Visart palette purchase, but it really isn't. It complements them nicely.  I took these photos outside in direct sunlight. Color descriptions are from Sephora

Top Row (L->R) Tempera (beige with an ultra-matte finish), Golden Ochre (earthy yellow with an ultra-matte finish), Vermeer (iridescent shell with a metallic finish), Buon Fresco (antique lavender with an ultra-matte finish), Antique Bronze (metallic sable with a satin finish), Love Letter (raspberry with an ultra-matte finish), Cyprus Umber (dark coffee with an ultra-matte finish)
Bottom Row (L->R) Raw Sienna (neutral amber with an ultra-matte finish), Burnt Orange deep orange with an ultra-matte finish), Primavera (shimmery gold with an ultra-matte finish), Red Ochre (sienna with an ultra-matte finish), Venetian Red (crimson with an ultra-matte finish), Warm Taupe (earthy gray with an ultra-matte finish), Realgar (brick with an ultra-matte finish)
Kat Von D Everlasting Liquid Lipstick in Sanctuary (nude coffee) and Hawkwind (nude sienna) Swatches. I think that Sanctuary has a better temperament than Hawkwind ~ Hawkwind looks a bit patchy there. But I LOVE Hawkwind ~ a lot. That is a great color. If you are scared of browns and rusts like this and think it is too dark for you, try this ~ put one layer on your lower lip and then press your lips together quickly and release. This should deposit the color on your upper lip, while evening out the shade, making it look a little lighter. You don't have to apply it thickly, like the swatches. See how the color tapers off on Hawkwind? You can get that lighter shade by following that tip.  I love Kat Von D matte lippies ~ I am obsessed with them!! Do you have any? What are your favorite colors?
So this is it for Edition 1 of my Instagram Mini Reviews!  If you  have questions on any of the products, please let me know in the comments below and I will do my best to answer you.
[ blog post contains affiliate links.  Some products might have been sent for review purposes & will be marked as such ]