ToGoSpa is a customizable subscription service, revolving around eye gels and face masks ~ with a special bonus product, called The Benefit, which can be skincare, body pampering, lifestyle.  Every month, we get a hint what the next month's Benefit theme is and it was "It'll be time to warm your heart".  At the end of each unboxing, I always try to guess what the next month's product will be and see how close I get to it.  I was leaning towards a food/drink product, like hot chocolate ~ either that or kittens!  Let's see what the Benefit is this month!
Before I head into the unboxing, I want to briefly tell you what ToGoSpa Society is, if you don't know.  If you do know, you can skip down a bit to my unboxing 🙂 I subscribe to ToGoSpa Society just to get their amazing eye gels monthly and they also add in a "benefit" product(s) that varies monthly.  The benefit product can be something from their own line or another vendor.    A bit more on ToGoSpa Society
A monthly membership that gets you EYES by ToGoSpa each month because we think you should use them ANYTIME if you want to – AND The Benefit,- a gift selected by us – just for you!
What is The Benefit?  It's a special gift from us to you!  On our never ending quest to discover the best of the best in "on the go" spa products, we find some extraordinary things! We want to share some of this booty with you, and The Benefit allows us do just that! Each month, along with your EYES,  you'll receive a unique and special gift of one of our favorite products. It could be a gift of our own ToGoSpa brand products, or another brand that we covet. The Benefit will be a full size, spa quality, awesome gift valued from $20 – $50. We won't tell you what it is, but we know you're going to LOVE it!

Which flavor of EYES will I receive?  Your call. You'll get to choose between Refreshing Ice Water, Rejuvenating Green Tea,  Anti-Aging Pomegranate and Replenishing Coconut.

I am on the $27.50 variety plan, but I have been grandfathered in, so I pay $22.00 a month ~ and will receive the same Benefit product as the other plans, so I am glad that I am not missing out on that! ToGoSpa makes it really easy to switch your plans online as well. The $27.50 variety plan will supply me 2 packs of eye gels  ~ randomly selected from Ice Water, Green Tea, Coconut and Pomegranate packs  with each pack containing 3 pairs of gels (6 treatments total) ~ plus  a "benefit" product, which could be one of their products or a product that they really like ~ valued at $20.00 to $50.00.  Save 15% off your first box by using promo code Unboxing15.

ToGoSpa Box Revealed!



Informational Card
I received 2 packs of gels, but you can read my in-depth review on the EYES in my original March post.  If ToGoSpa comes out with a new type, I will review those at that time.    I will state what I received and if you are interested about the full information on the EYES, please read my ingredient and description blog post on these eye gels. All of the EYES products have these benefits
Activated by the body's temperature, the nutrients stored in each flexible EYES by ToGoSpa® gel pads work together to aide stressed, tired and aging eyes and skin
Relaxes, calms, and pumps up hydration levels to new heights.
De-puffs and reduces the appearance of dark circles.
Reduces irritation and redness.
Minimizes pores with clarifying, cleansing oils.
Hydrates crepe-like skin and fine lines.
This month, I received Green Tea EYES The Energy Drink For Your Face AKA The Dark Circle Warrior and Ice Water EYES Perfect For Anyone With A Face AKA The De-Puffer (the one that started it all!) . Value $25.00 Total packs =2.  Total treatments =  6.  Value $25.00
The "Benefit" Product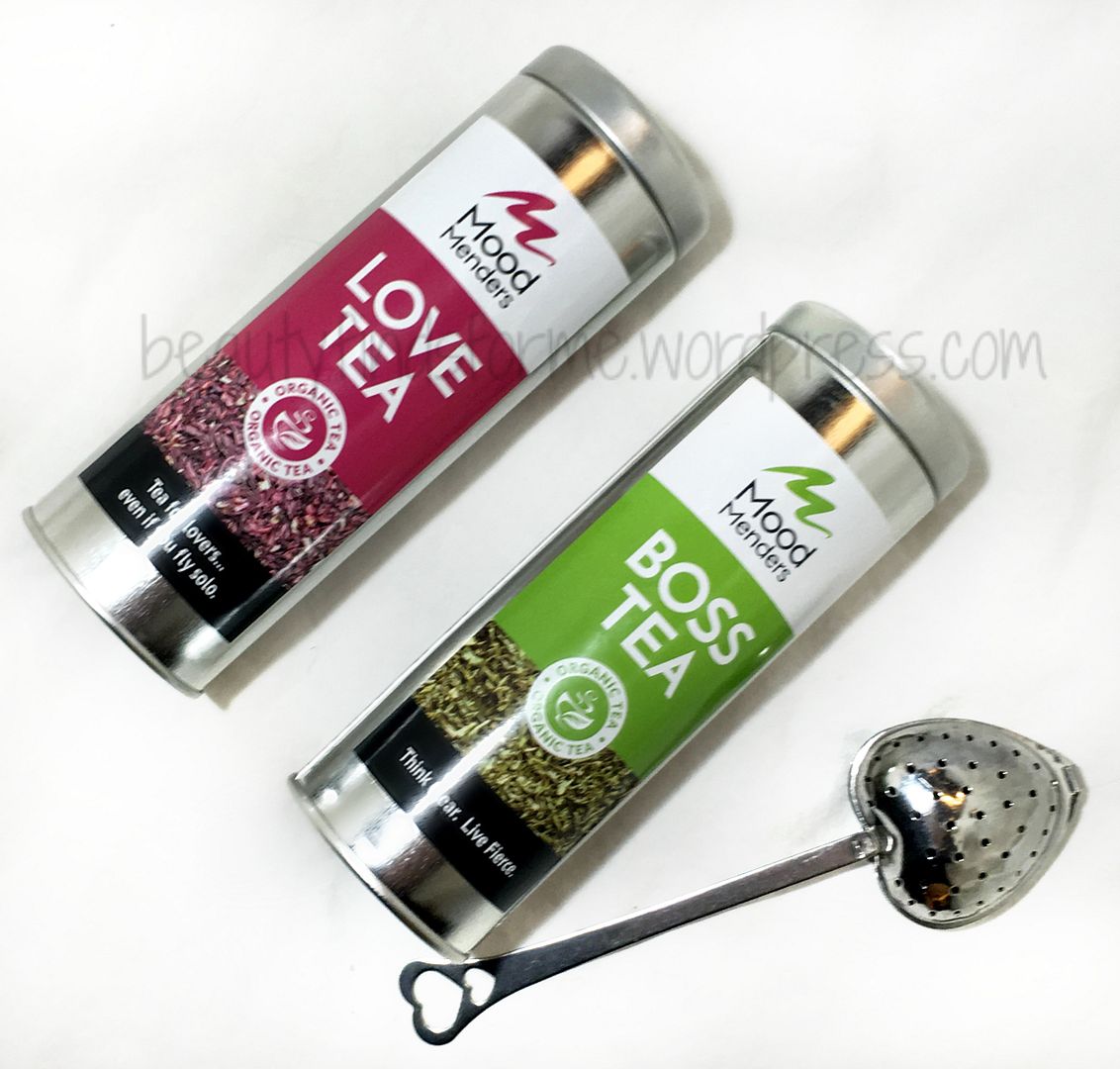 Mood Menders Teas It is not hot chocolate, but honestly, I think it is better!  I have to be really in the mood for cocoa, but I drink tea all the time.  I received two all organic teas ~ Love Tea and Boss Tea.  Love Tea is a fruity herbal blend and I can really smell the orange and hibiscus in it.  "Love Tea" description states it  "supports joy, calm and overall zest for the NOW" and it is a lovely mix of sweet and tart flavors. Hibiscus is one of my favorite tea ingredients and it is packed with antioxidants and also has a whiff of tart berry-like taste to it as well. It does contain rose hips, but strangely enough, I am not allergic to the "fruit" of a rose.  
Love Tea on the left, Boss Tea on the right
The next tea is "Boss Tea", which does contain actual tea ~ Young Hyson or Lucky Dragon Tea.  This is a Chinese green tea from Anhui province in China and uses young tea leaves that are harvested early.  I have never tried Young Hyson tea and the taste is described as full bodied, earthy, warm with a spring-like flavor and it is golden in color.  This also has some traditional Chinese medicine herbs in it as well ~ ginseng, ginger, licorice, centella asiatica and medicinal schisandra berries.  This has a warm earthy scent to it.  The description of Boss Tea is "supports clear thinking and expands courageous living".   ToGoSpa also thoughtfully added a tea infuser, shaped like a heart, as all of these teas are loose teas.  I am pretty excited to try these out.  Each tin is 50 grams and are distributed by ToGoSpa.  RV $25.00
Love Tea Ingredients: organic hibiscus, organic rosehips, organic orange peel, organic lemongrass, organic lemon peel, organic lemon oil
Boss Tea Ingredients: organic Young Hyson tea, organic eleuthero (Siberian ginseng) root, organic schisandra berry, organic ginkgo leaf, organic gotu kola (centella asiatica), organic licorice root, organic ginger root

More de-puffing more my eyes and two great teas for me to try ~ I love how varied they are in their tastes and one is an herbal tea and the other is not ~ a good mix there!  Plus the addition of the tea infuser ~ very nice touch.  I paid $22.00, which included shipping and received a value of $50.00. If you order before the 15th, you can still get this month's box.  Next month, ToGoSpa hinted that it will be "Orange you glad winter's almost over?"  AHHH, not in Boston it isn't! We've been getting hammered with snow lately.  That said, maybe a Vitamin C serum?  What do you think?
Are you interested in ToGoSpa Society?  If you are, let me know in the comments below and you can join here and tailor your monthly box to your needs!  Save 15% off your first box by using promo code Unboxing15.  I highly recommend this subscription.  If you already are a member, what did you think about this month's box?

 

[ description in italics from the linked product site ]
[ this blog post contains affiliate links ]