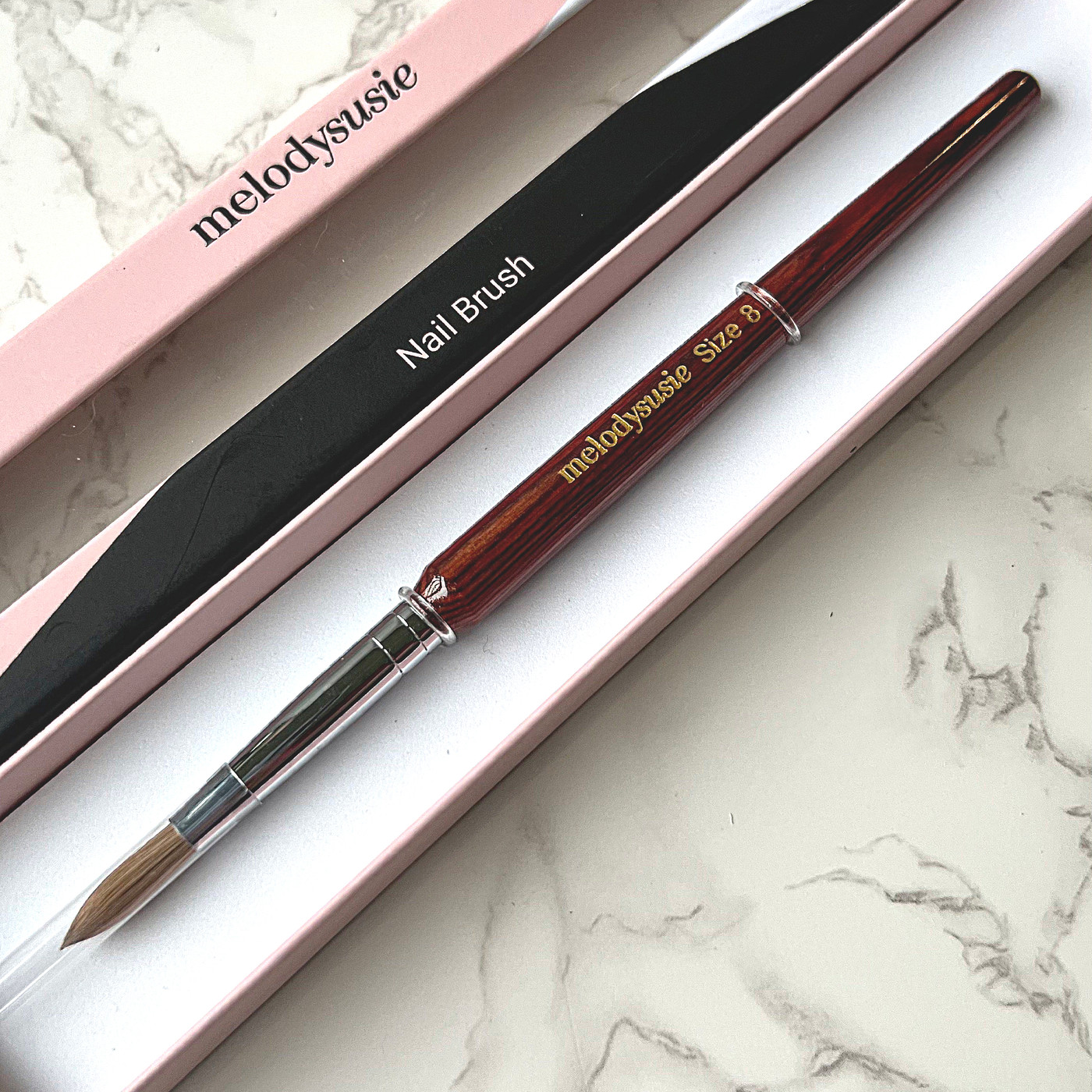 I have a love-hate relationship with my nails.  I love nail polish, I love the look of nicely manicured nails, but I hate the upkeep of keeping nice looking nails.  My nails do grow VERY fast ~ all those brain cells dying ~ hahaha. ~ but I do have a vitamin deficiency that causes them to break easily and causes ridges on my nails.   I have tried stick-on nails, but that seems to ruin my nail beds even further due to the glue that is used.  II have been very interested in gel nail polish, but my first few attempts to do it at home went badly, as I didn't know how to properly apply and cure my nails.   MelodySusie, an online store that specializes in nail tools, nail gels and nail art, had sent me a 2 in 1 UV LED Nail Art Lamp (review here), which I love!   They now sent me their new Kolinsky Arcylic Nail Brush, which is a step up from my cheapo nail brushes!  I have a personalized coupon for my readers ~ save 12% on all items at MelodySusie using beauty12
I received some of these products complementary to review and was not paid.  All reviews are my own honest opinion and  I never have been asked to write copy for a brand.  This blog post might contain promo codes, affiliate and referral links, which using my links will help generate a small commission that helps support my blog at no extra cost to you.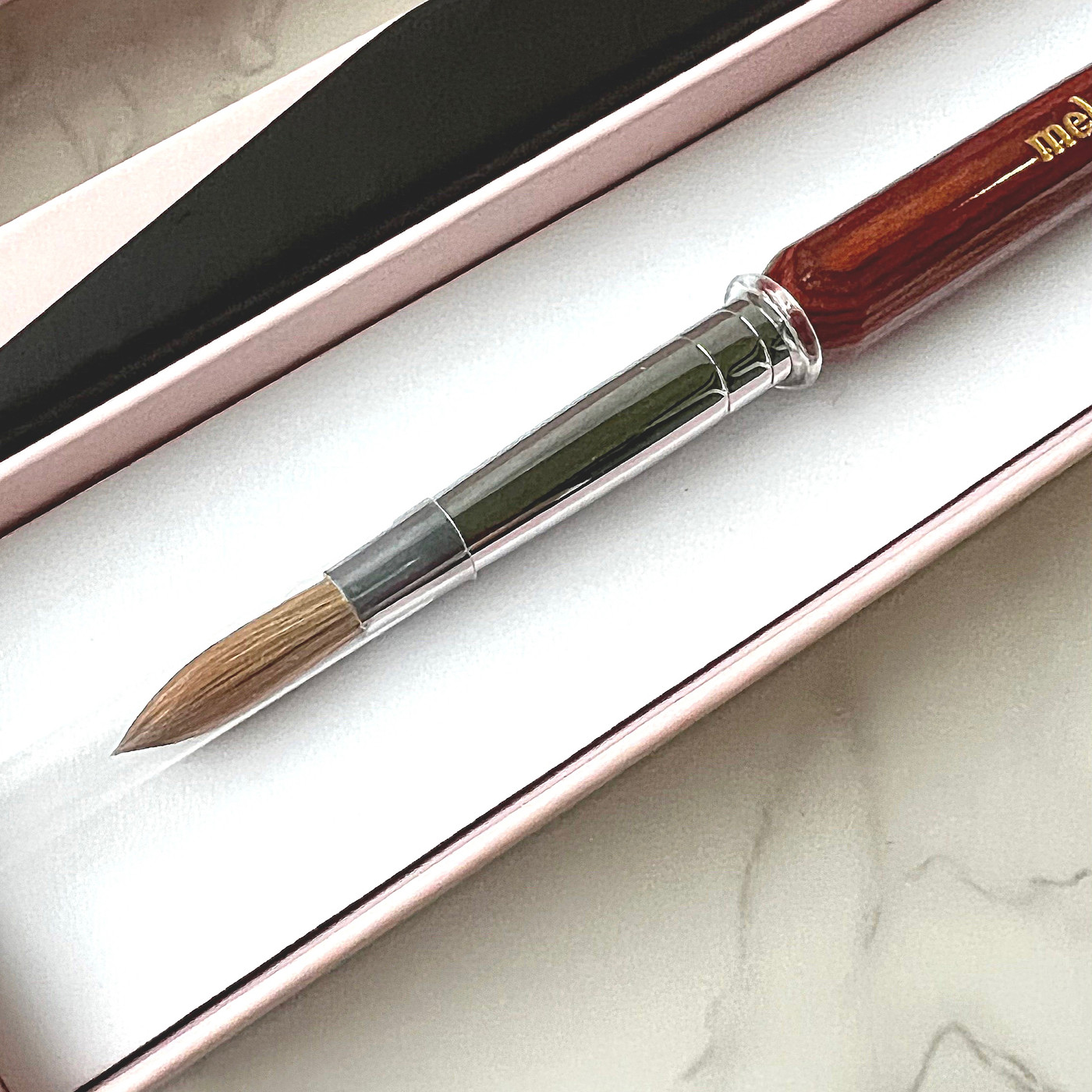 What is Kolinsky?  It isn't vegan material, but hair that is obtained from a weasel, mustela sibirica (kolinsky).  Most brushes are made with a mix of 60/40 ratio of male to female hair, but the top quality ones are made from male hair only.   I don't know what the ratio is for these brushes, but MelodySusie does state it is "premium quality", so it could be the male hairs only.  
Even though the name has acrylic in it, these brushes can be used fo other applications outside of acrylic applications ~ such as poly gel, UV gel, nail carving and painting.   These are brushes that are professional nail salon quality and great for home use as well.  They come in various sizes, and since I never owned a brush like this, I thought that size #8 would be good for applying my UV gel. As it turned out, it was just a bit too large and I should have used #6.  Now, I managed to use size #8, but because my nails are small, I did not have as clean as job as I would normally like on the edges  ~ but that is user error and is not a reflection on the quality or ease of this brush, so keep that in mind.
image from melodysusie
Features
100% pure Kolinsky hair, soft and smooth fibers

Choices of Redwood or clear acrylic handle

Ferrule metal tube in silver locks bristles in place firmly

Nine different sizes

The brush comes beautifully packaged in a box, which is great for gift giving!  Seriously, if you have someone who loves doing nails or is a nail technician, this would be a great gift for them to receive.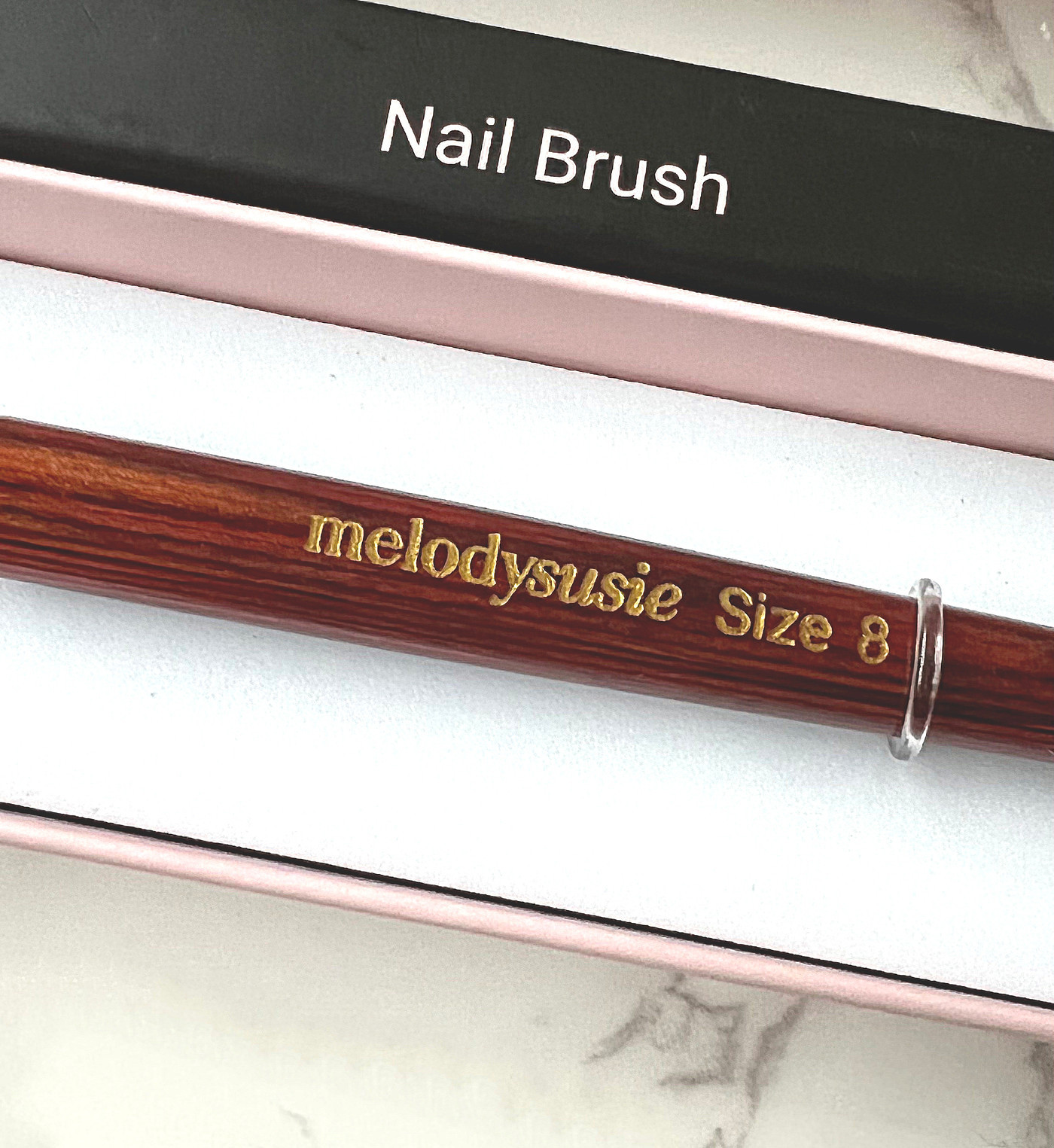 I chose the rosewood handle and it is smooth and warm to the touch, and easy to hold.   The bristles have a plastic cone to protect them and I wish I had kept mine as it is perfect for getting the bristles back into that pointy shape when it is dry.
image from melodysusie
The pointy tip makes it easier to use on smaller nails, but once you clean it, it will flatten out.  It can be reshaped again once it dries so it is wise to have several brushes on hand while you are doing your nails.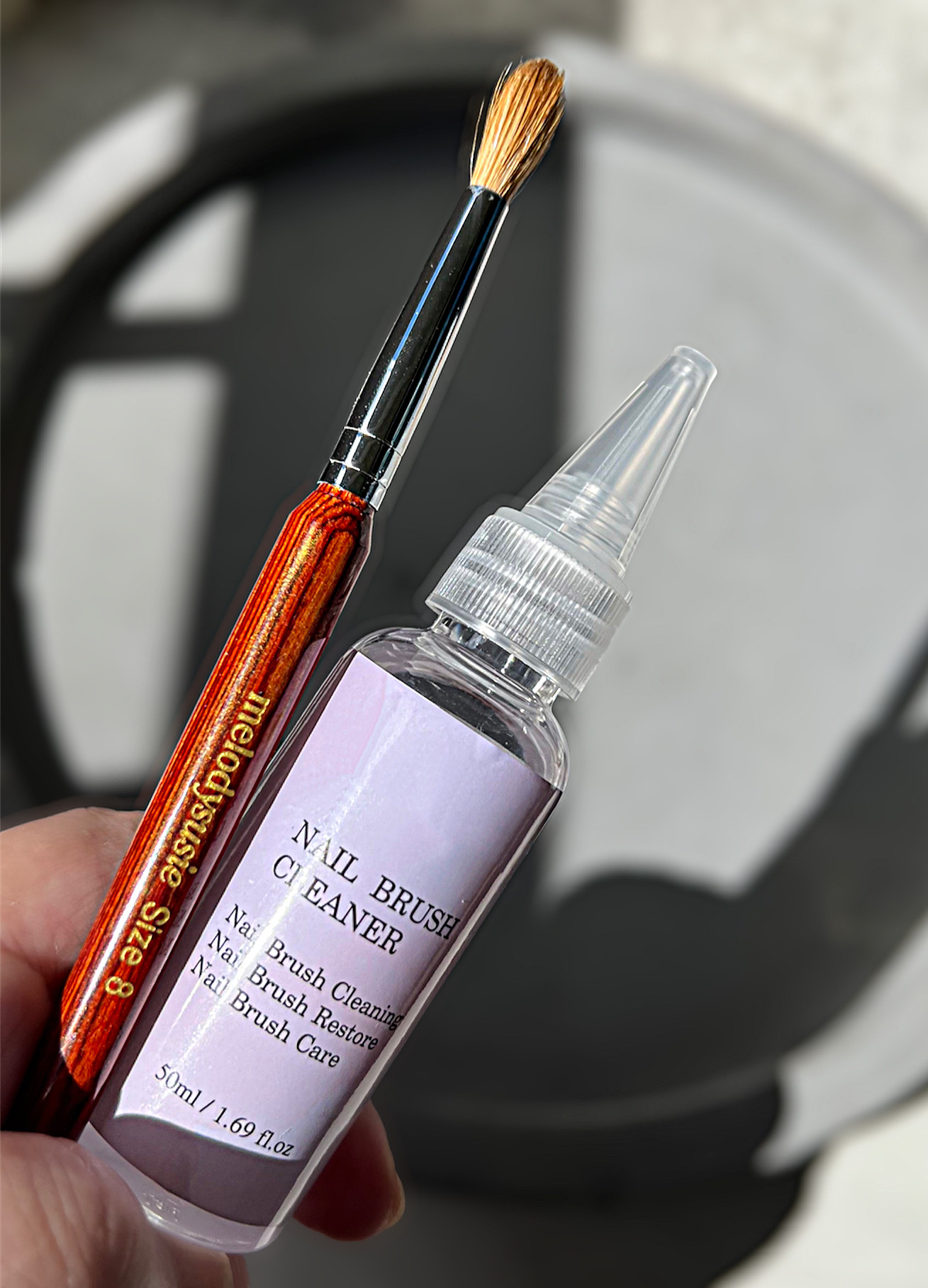 I recommend investing  in a UV gel brush cleanser for it and do not use nail polish remover to clean your UV/acrylic brushes. UV gel brush cleansers will dissolve UV gel/acrylic paint residue from your brushes without damaging the bristles.  Good ones will help increase the elasticity of the bristles, extending their life, should be oil based and should prevent the separation of bristles or bifurcation.  I use one that is an organic solvent and I just place some of the gel-liquid onto a cotton pad, place my brush head in that and leave it for a minute, pressing down on the bristles. I then wipe away the excess and then swipe  isopropyl alcohol 70% (rubbing alcohol), not 100%, over the brush until the oily residue is gone.  This only works on non-cured UV or acrylic powder residue on brushes, so make sure your brush does not come in contact with bright sunlight or UV lamp while you are working with it.  Yes, bright direct sunlight is UV light and I have cured my nails very quickly without knowing  why they cured, until I realized I was in the direct path of bright sunlight!!

The Kolinsky Acrylic Nail Brush picked up my solid gel really well, and I was able to flip it to its side, so I had a bit of control over where I applied the gel.  I did use traditional UV gel base, UV gel color in a rose pink shade and UV top coat.  The gel base and top coat are not interchangeable as the top coat gives the final high glass shine that you cannot get with the gel base.  As I used a traditional  UV top coat, after curing, I did a quick wipe down with isopropyl alcohol 70% over my nails to prevent that sticky residue that UV gels will have.  You can purchase no-wipe UV top coats, but I didn't have any at home at that time.   I did clean my brush in-between each step, which as you can tell by my finished nails, I did have issues with the gel spilling over to the cuticle and skin area.  That is because the brush was now "wet" after the base coat and had more of a flattened look.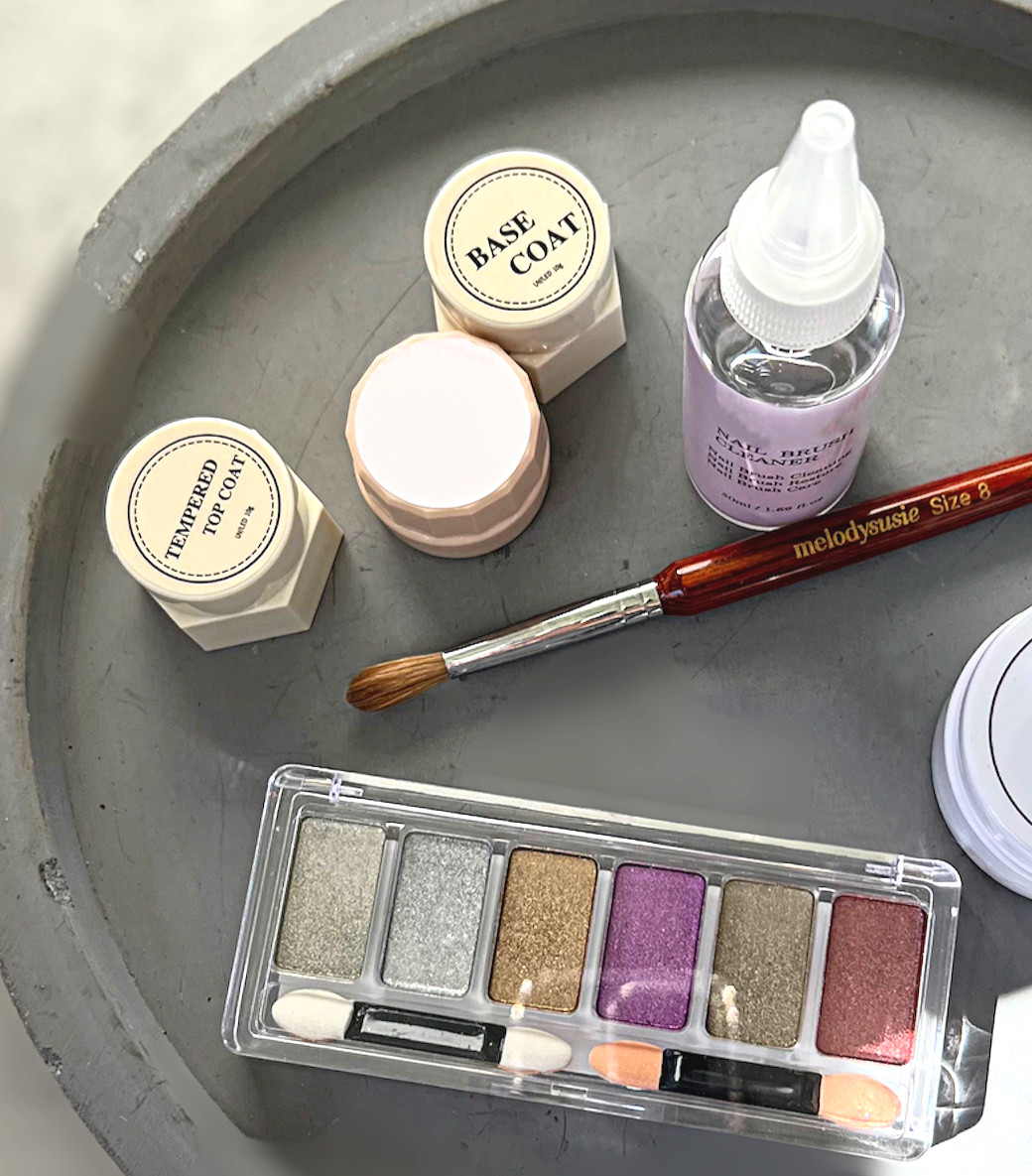 You might ask what that eyeshadow palette is and why it looks like I have purple glitter on my nails instead of just the rose pink shade.  That actually is a mirror nail powder set that after I cure my nail polish, I can apply and buff to a high sheen, which I love doing with the silver shade ~ it really looks like molten silver and I like to use it when I use some solid building gel on my nails.  I would normally take a small piece, a strip and place it on my nail, maybe form a circle or a squiggle, cure it and then apply the powder just on that raised bit of gel, cure that and then buff away for a high shine.   In this case, I wanted to add some interest to the plain pink shade by dabbing  the purple mirror powder just on the top half of the nail.  After that, I applied the final top coat, cured and wiped down with the rubbing alcohol.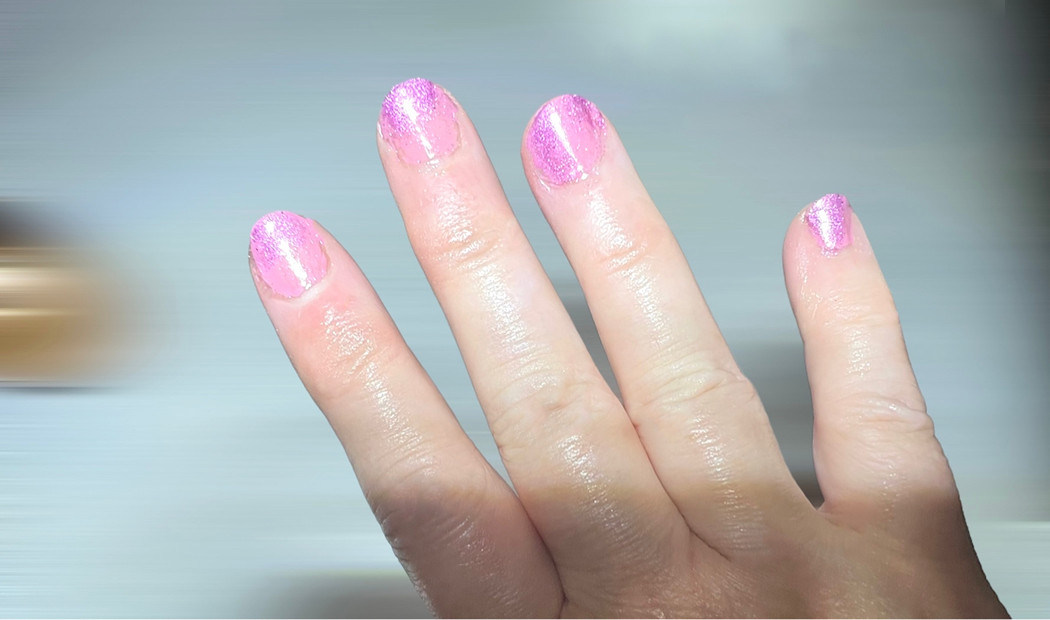 All in all, this brush is very fancy and I did enjoy it, but next time, I will want a number 6 brush instead of the 8.  If you have a larger nail bed or you first create your nail art on fake nails before applying them, number 8 brush is a great size.  I would love to see MelodySusie make even smaller sizes for their Kolinsky nail brushes too, maybe a .35 inch brush would be really nice.

Where to Purchase
MelodySusie has their own online shop, where you can use my promo code of  beauty12 to get 12% off everything on their website.  They also have free US shipping for any orders over $129.00.  If you love doing your own gel nails or nail art, you should check out their website, as they have drills, brushes, lamps and UV gels. 
The Kolinsky Acrylic Nail Brush (click here to purchase)  can vary in price from $19.99 to $64.99, depending on the size you choose.  The #8 brush is  $27.99 and you can use promo code beauty12 and save an additional 12% off.   
 [ blog post contains affiliate links ]