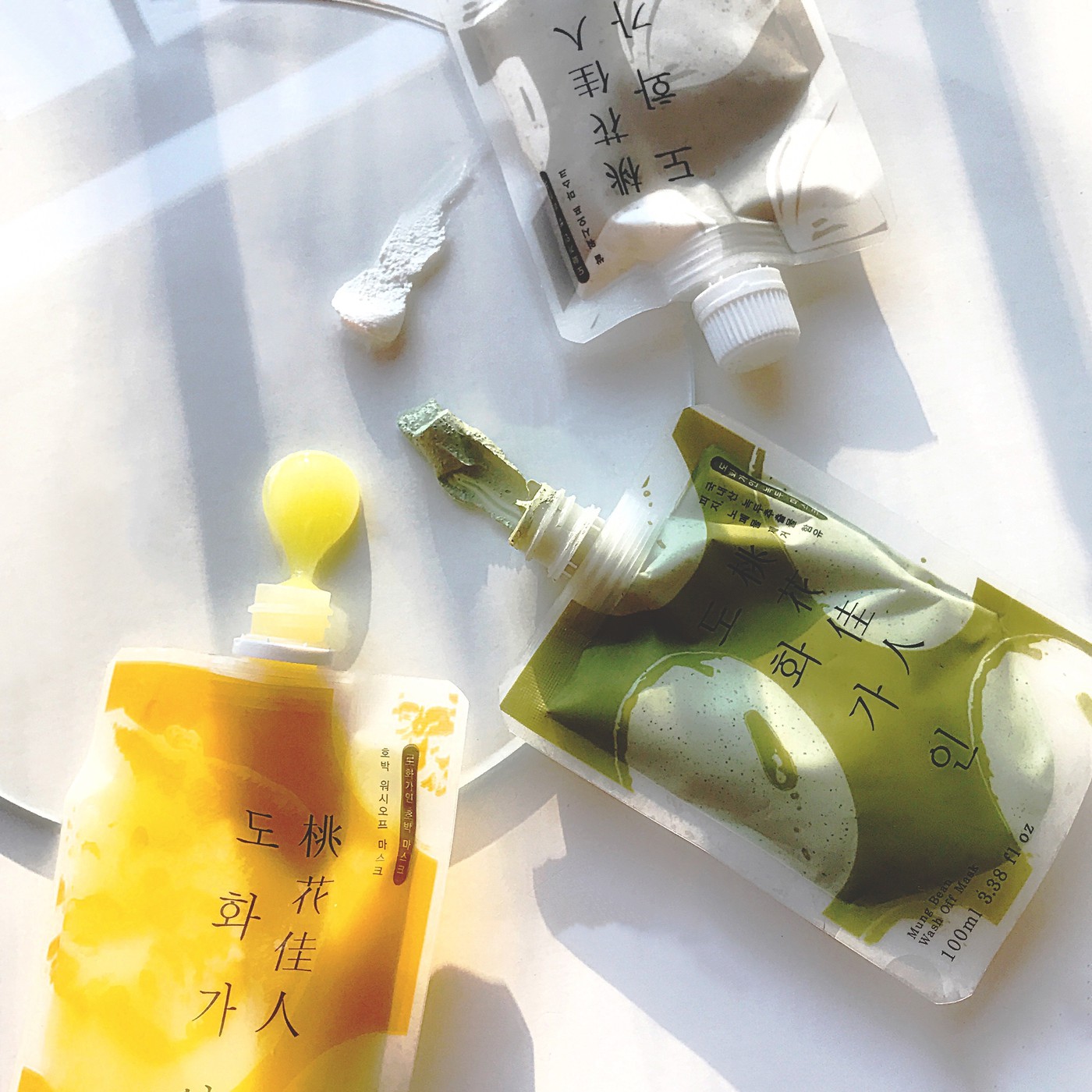 Courtesy of online K-Beauty store  Coreelle, I was offered a trio of their wash off mask packs from House of Dohwa.  "Dohwagain" (House of Dohwa) means a "person as beautiful as a peach flower" and this is an eco-friendly, cruelty-free skincare brand.  Their key ingredient is locally and ethically sourced South Korean wild rice,  blending nine of the best strains of rice bran extract that is grown using traditional methods. I reviewed several of their products last year and they recently came out with a new wash off mask, so I am doing a review-revisit on two of them and a brand new review on the latest one.  These products were received complementary in exchange for an honest review.
I received these products complementary to review and was not paid.  All reviews are my own honest opinion and  I never have been asked to write copy for a brand.  This blog post might contain promo codes, affiliate and referral links, which using my links will help generate a small commission that helps support my blog at no extra cost to you.
Skin Type/Concerns: Oily, blemish prone, dehydrated, aging, hyper-pigmentation, fine lines/wrinkles, pores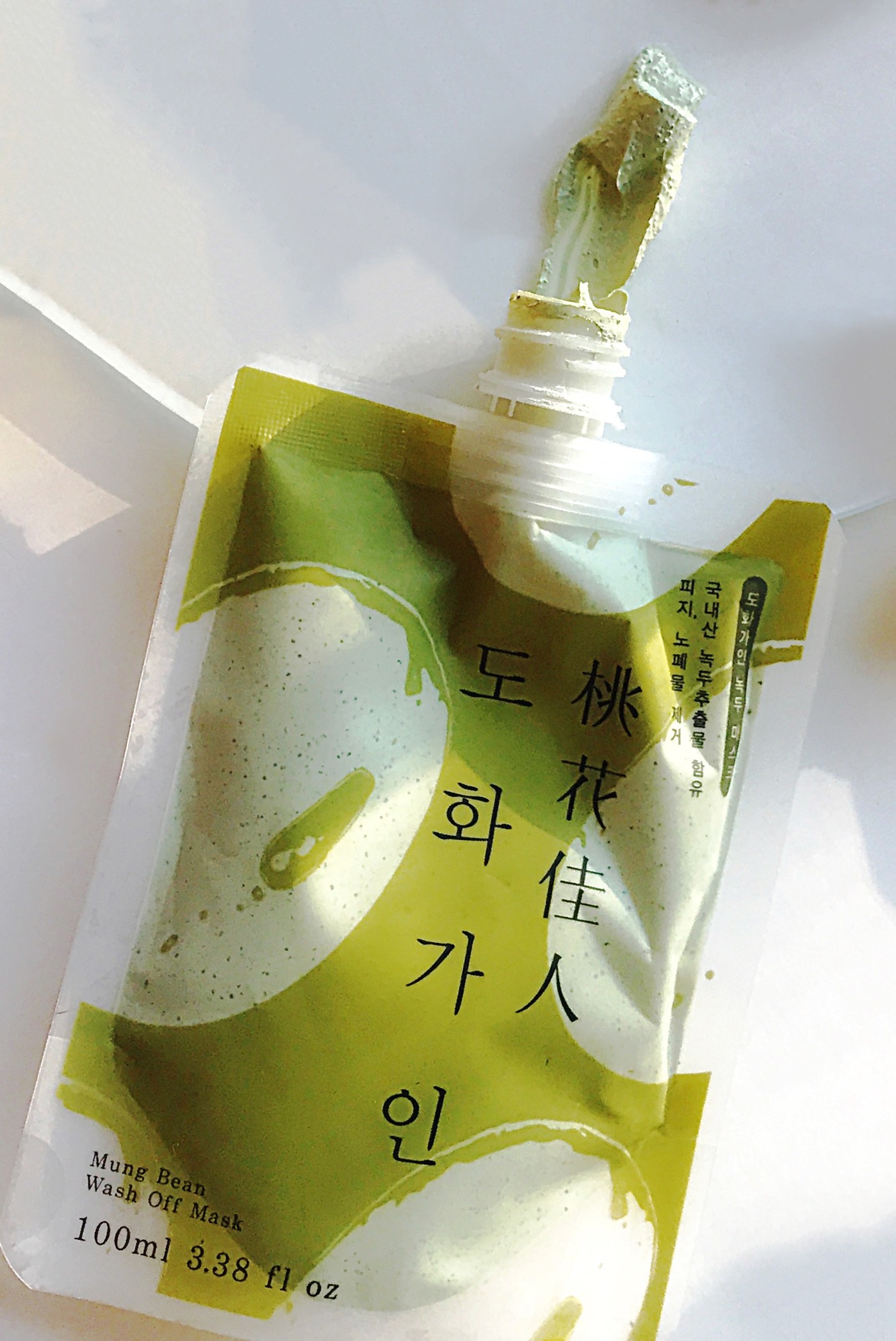 Mung Bean Wash Off Facial Mask is for oily skin and will help purify, cleanse and draw out oil, debris & dead skin cells from the pores.  The key ingredient is phaseolus radiatus or mung bean.  Mung beans contains copper, which is a powerful anti-aging ingredient ~ it helps reduce the appearance of fine lines, wrinkles and hyper-pigmentation. It has cooling and brightening properties and it is also an anti-inflammatory, helping to reduce swelling and redness, while calming the skin. 
This is a clay mask, so it does contain kaolin, a white clay that helps remove dirt and debris on your skin, while absorbing excess oil and reducing shine. Kaolin is very good for oily and blemish-prone skin. It also has bentonite clay, which is for smoothing, exfoliating, cleaning pores and improving overall skin tone. 
One of the key ingredients in the House of Dowha skincare line is rice: House of Dohwa uses a blend of nine, locally harvested South Korean wild rice:  Katuri Chalk, Gwolnado, Silk Chalk, Nami, Danduna, Pork Chalk, Red Tea Narak, Sukna, Heukgang.  No pesticides or chemical fertilizers were used to grown or harvest the rice grains.  This mask contains rice/oryza sativa extract,  full of amino acids, vitamins, minerals and other nourishing compounds to help clear your skin, treat acne and has skin brightening and firming benefits.  
This also has antioxidant polyphenols-rich green tea to helps reduce the appearance of fine lines and wrinkles. Centella asiatica is a common herbal ingredient that is used medicinally to help speed up wound healing, such as blemishes and skin rashes. It also helps minimize the appearance of pores.  Houttuynia cordata is a medicinal herb that is found in a lot in Asian skin care products. It is an antibiotic, which helps with preventing infection from skin problems, such as blemishes.  It also has powerful detox properties, is an astringent and anti-inflammatory.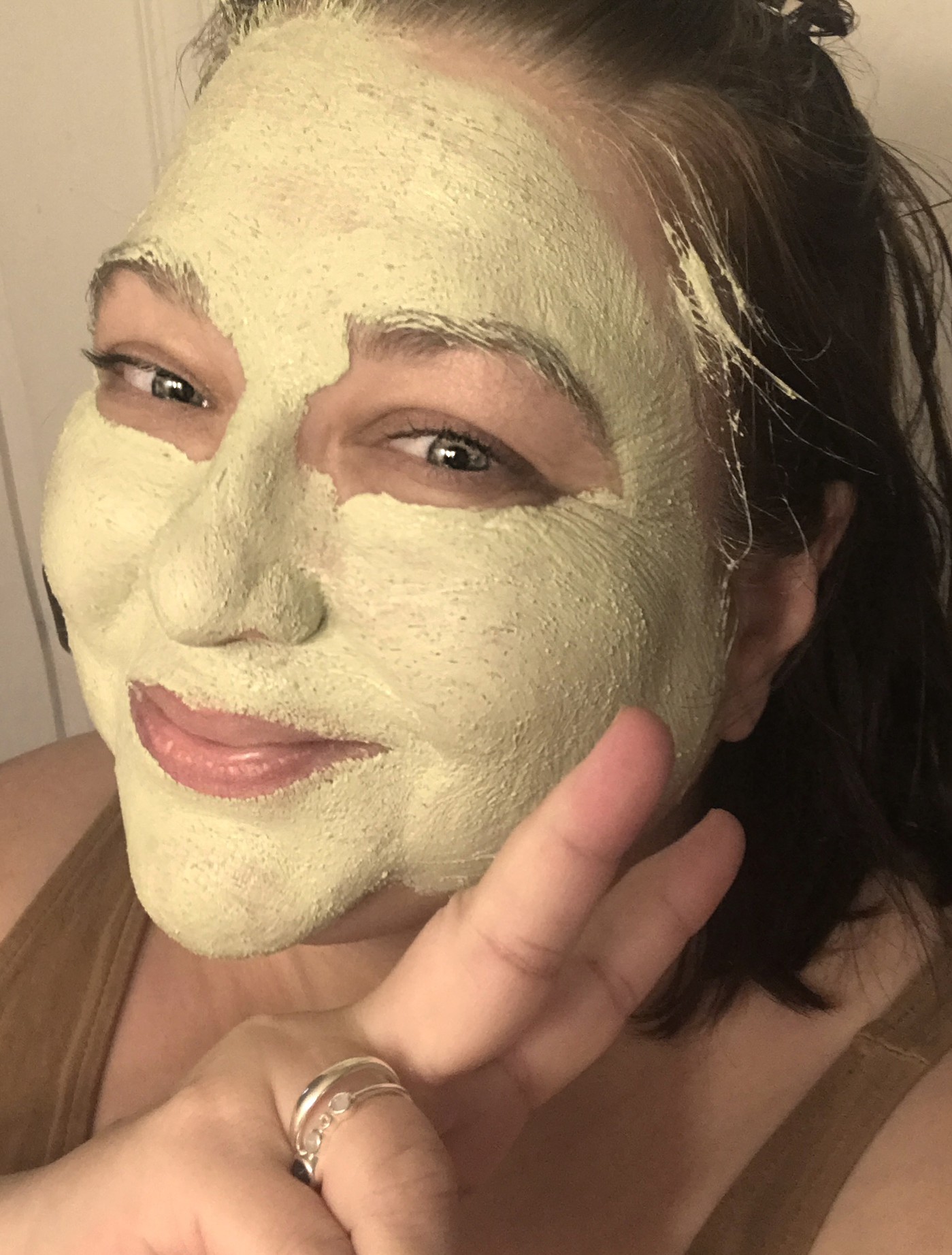 This is a green shade, thanks to the oxide greens & yellow iron oxide pigments in here, and I can see the seed powders from the  mung beans.  This also means that the mung bean will give some gentle physical exfoliation as I rinse off the mask.  This has a nice herbal scent to and it is very creamy and smooth, despite the bits of powder in it.   I found this mask to be very cooling and refreshing while wearing it  and rinsing off is easy ~ I always rinse off in the shower, so that means I mask in the morning before my shower.  It just makes life easier with clay masks.
My skin looked very clear and clean while feeling smooth.  I could see that my pores were unclogged and looked "tighter" while my skin didn't look as greasy.  This is a nice gentle clay mask for those who have oily skin, as it doesn't make the skin dry either. 
Ingredients: Water, Kaolin, Butylene Glycol, Glycerin, Bentonite, Phaseolus Radiatus Seed Powder, Titanium Dioxide (CI 77891), Dipropylene Glycol,, Hydroxyacetophenone, Polymethyisilsesquioxane, Caprylyl Glycol,  Silica, Dipotassium Glycyrrhizate, Hydrolyzed Hyaluronic Acid, 1,2-Hexanediol, Tocopherol, Camellia Sinensis Leaf Extract, Houttuynia Cordaila Extract, Oryza Sativa (Rice) Extract ,Centella Asiatica Extract, Chromium Oxide Greens (CI 77288), Yellow Iron Oxide (CI 77492), Ethylhexylglycerin, Disodium EDTA, Fragrance cosDNA
The Rice Wash Off and Pumpkin Wash Off Mask reviews are from my original review.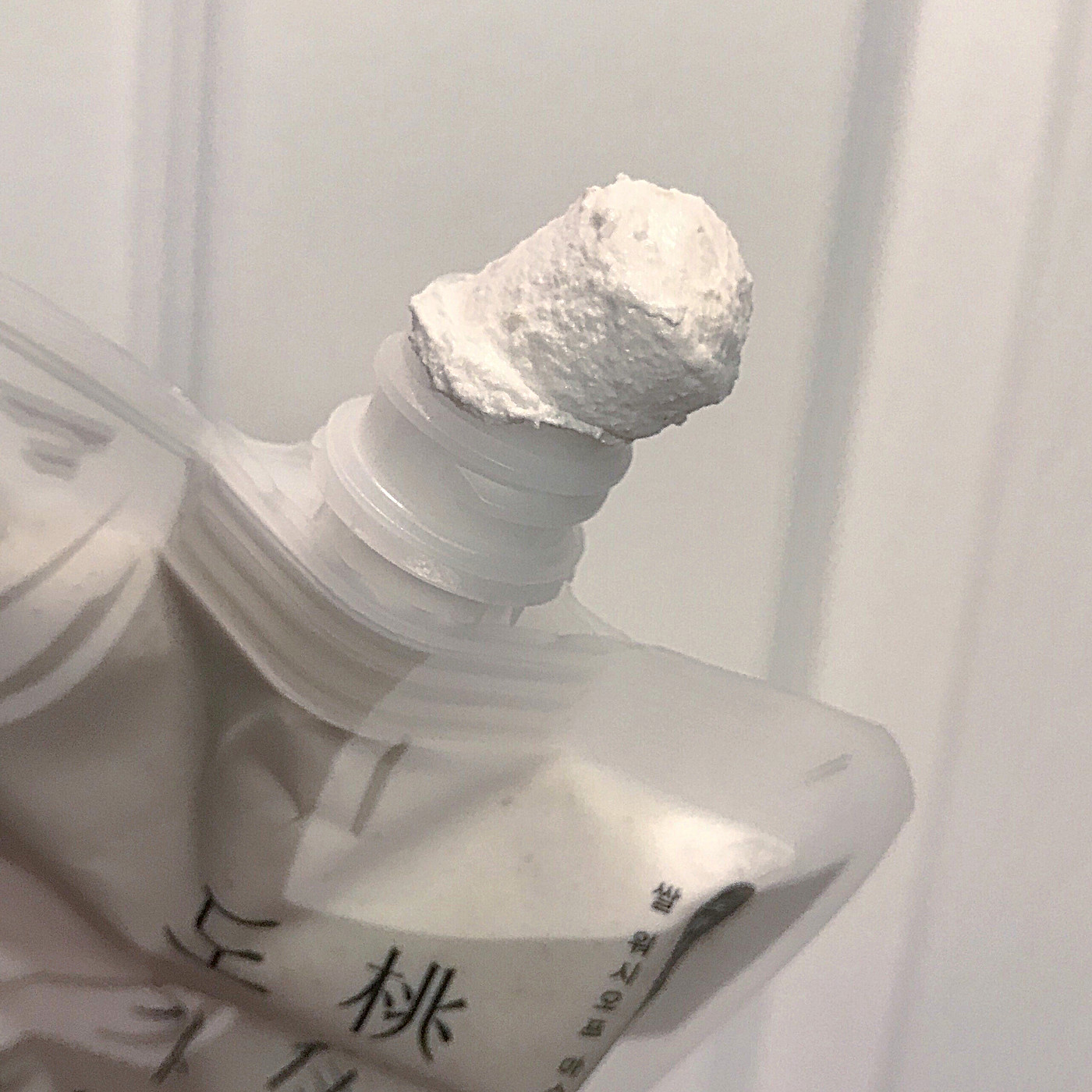 Rice Wash Off Facial Mask  is a creamy gentle mask that softly scrubs away dead skin cells.  This product contains all of the rice ingredients that House of Dowha produces, with rice/oryza sativa extracts and 
Rice/Oryza Sativa powder has been used in traditional Asian beauty skincare.  It has have exfoliating benefits, so rice powder helps remove dead skin, absorb excess oils and unclog pores, helping to refine and smooth your skin's texture.  
Rice bran water is full of amino acids, vitamins, minerals and other nourishing compounds to help clear your skin, improve the appearance of pores, stimulates cellular renewal, treat acne ~ and if that wasn't enough ~ has skin brightening and firming benefits.  Rice contains γ-oryzanol, which is a potent antioxidant that can slow the production of hyper-pigmentation and prevent freckles and age spots.  Rice contains amylase, an enzyme that initiates the breakdown of glucose bonds, which is that "glue" that binds dead cells with living cells. This will whisk away dead skin cells, leaving your skin feeling smooth and looking brighter.  It is full of antioxidant vitamins B1, C, E, minerals and ferulic acid.  
Saccharomyces/rice ferment filtrate is the fermenting of rice with yeast ~  saccharomyces, which is full of amino acids, essential minerals, vitamins, beta glucan. . Rice ferments, diluted with water, has been used for centuries in Japan as part of a skin care routine, due to its moisturizing abilities from kojic acid. It also will suppress the performance of melanin so that hyper-pigmentation is reduced and your skin tone is brighter.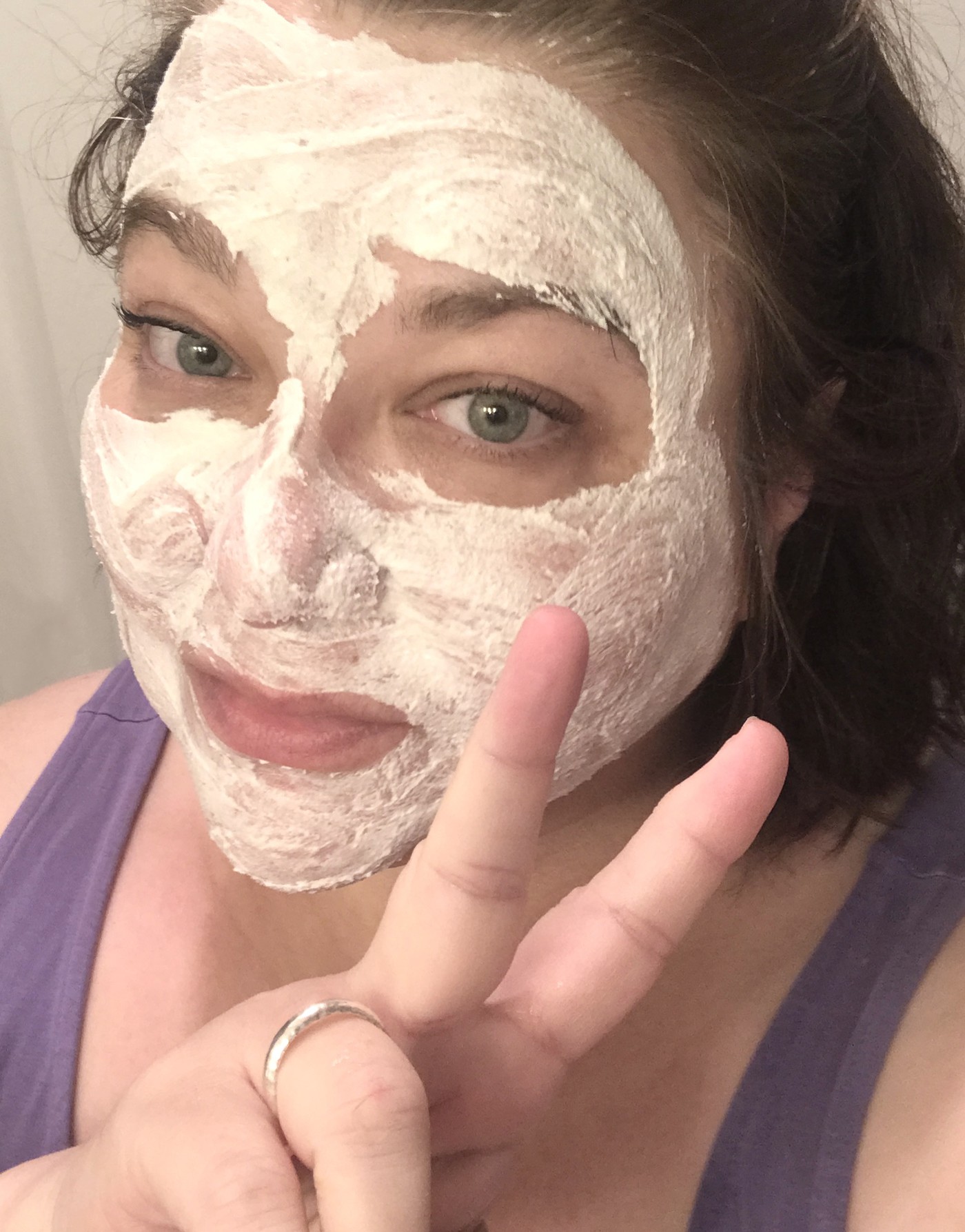 The white shade comes from titanium dioxide,  The rice is the star of the mask and not only does this have that soft texture, but it does smell like freshly cooked rice, making me hungry.  I use this in the morning when I need to whisk away some dead skin cells and flaky skin from my tret treatments.  It is not harsh at ALL.    I love the packaging for the wash off masks ~ they come in this flexible plastic bottles that remind me of IV bags, only smaller.  They are re-closable with a twist off cap.   These fit nicely in my shower caddy.
Ingredients: Water, Propanediol, Butylene Glycol, Glycerin, Cetyl Ethylhexanoate, Triethylhexanoin, Glyceryl Stearate SE, Sodium Polyacrylate, 1,2-Hexanediol, Oryza Sativa (Rice) Powder, Palmitic Acid, Titanium Dioxide, Polysorbate 60, Stearic Acid, Sorbitol, Sodium Polyacrylate Starch, Dimethicone, Xanthan Gum, Carbomer, Tromethamine, Oleth-10, Ethylhexylglycerin, Aluminum Hydroxide, Disodium EDTA, Methyl Methacrylate Crosspolymer, Triethoxycaprylylsilane, Fragrance, Caramel, Simethicone, Propylene Glycol, Saccharomyces/Rice Ferment Filtrate, Oryza Sativa (Rice) Bran Water, Oryza Sativa (Rice) Extract, Tocopherol cosDNA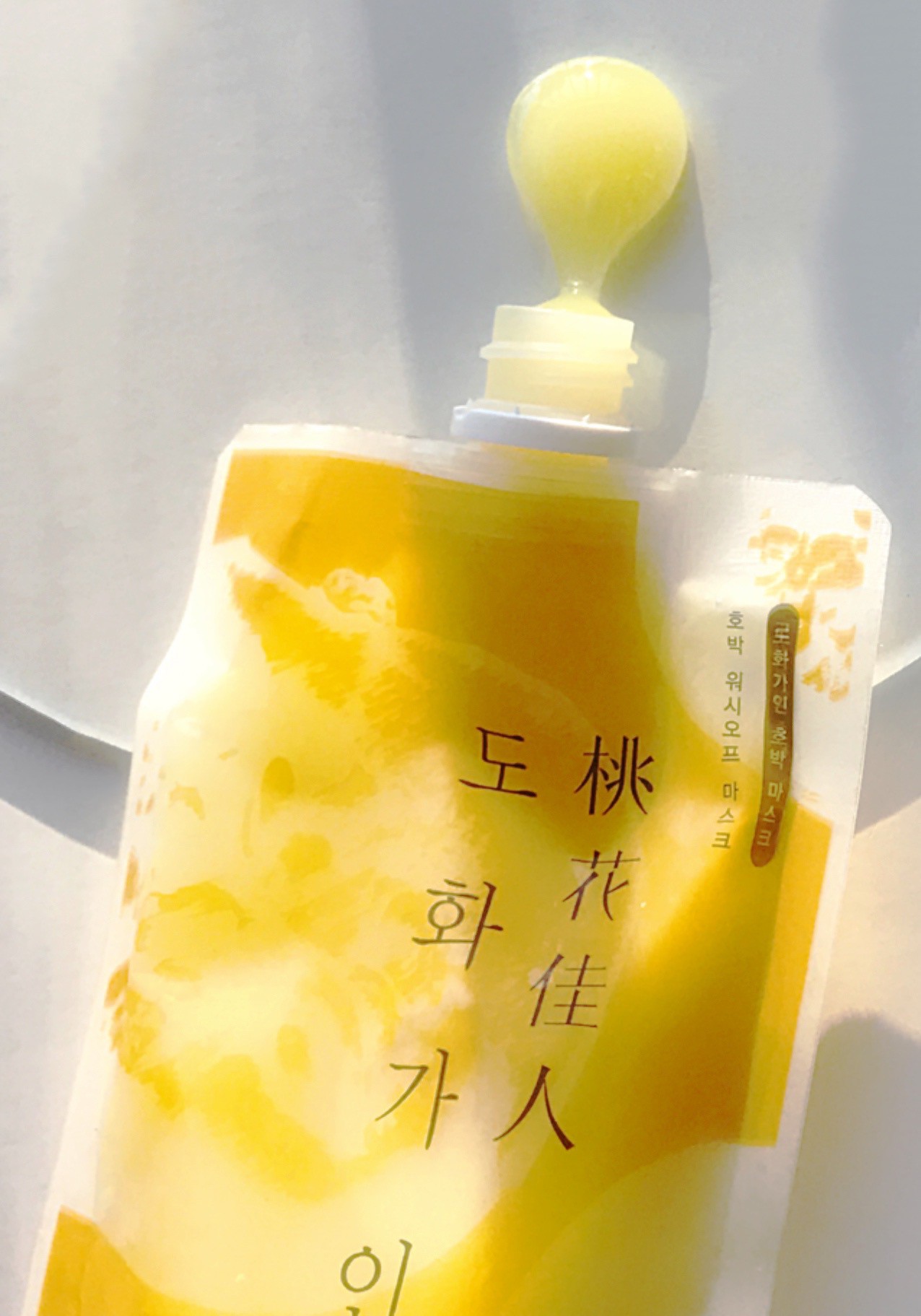 Pumpkin Wash Off Facial Mask  Nutrient rich pumpkin also contains some beneficial vitamins ~  antioxidant vitamins C and vitamin A, which combat and repair damage from free radicals, while soothing and softening your skin. Pumpkin also contains enzymes that will remove dead skin cells, unclog your pores so your skin is clearer and cleaner. It also can control excess sebum, reduce redness and swelling and prevent new blemishes from forming as it contains vitamin T(torulitine). It wouldn't be a House of Dowha product without rice, so this has rice/oryza sativa extracts which are full of amino acids, vitamins, minerals and other nourishing compounds to help clear your skin, treat acne and has skin brightening and firming benefits.  
To prevent your skin from drying out this not only has hydrating glycerin in it, but polyquaternium-51, a moisturizer that helps improve your skin's moisture retention and also prevents moisture loss from your skin, as it creates a protective layer over your skin.   There are lots of skin conditioning botanicals ~ traditional medicinal herb coptis japonica root,   antioxidant and skin-calming eclipta prostrata, antioxidant and hydrating coccinia indica fruit,  antioxidant rich passion fruit,  skin brightening, anti-aging  nympheaea alba flower, anti-inflammatory and skin brightening licorice, cleansing, antiseptic and antibacterial peppermint and finally, the motherload ~  ginger.
Ginger contains 40 antioxidant compounds that help with anti-aging, removes toxins and stimulates your blood circulation. It combats and prevents damage from free radicals, helping improve elasticity which makes your skin firm, toned and less wrinkles. It have anti-bacterial properties to help fight off infections, it is also an anti-septic and antimicrobial, which helps keep blemishes away and its anti-inflammatory properties help reduce redness and swelling of the skin. It also helps reduce the appearance of hyopigmented scarring ~ these scars are lighter than your skin tone and occur when your skin loses its pigmentation ~ it is the exact opposite of hyper-pigmentation. It also is a skin brightener and can help even out your skin tone by inhibiting the production of melanin.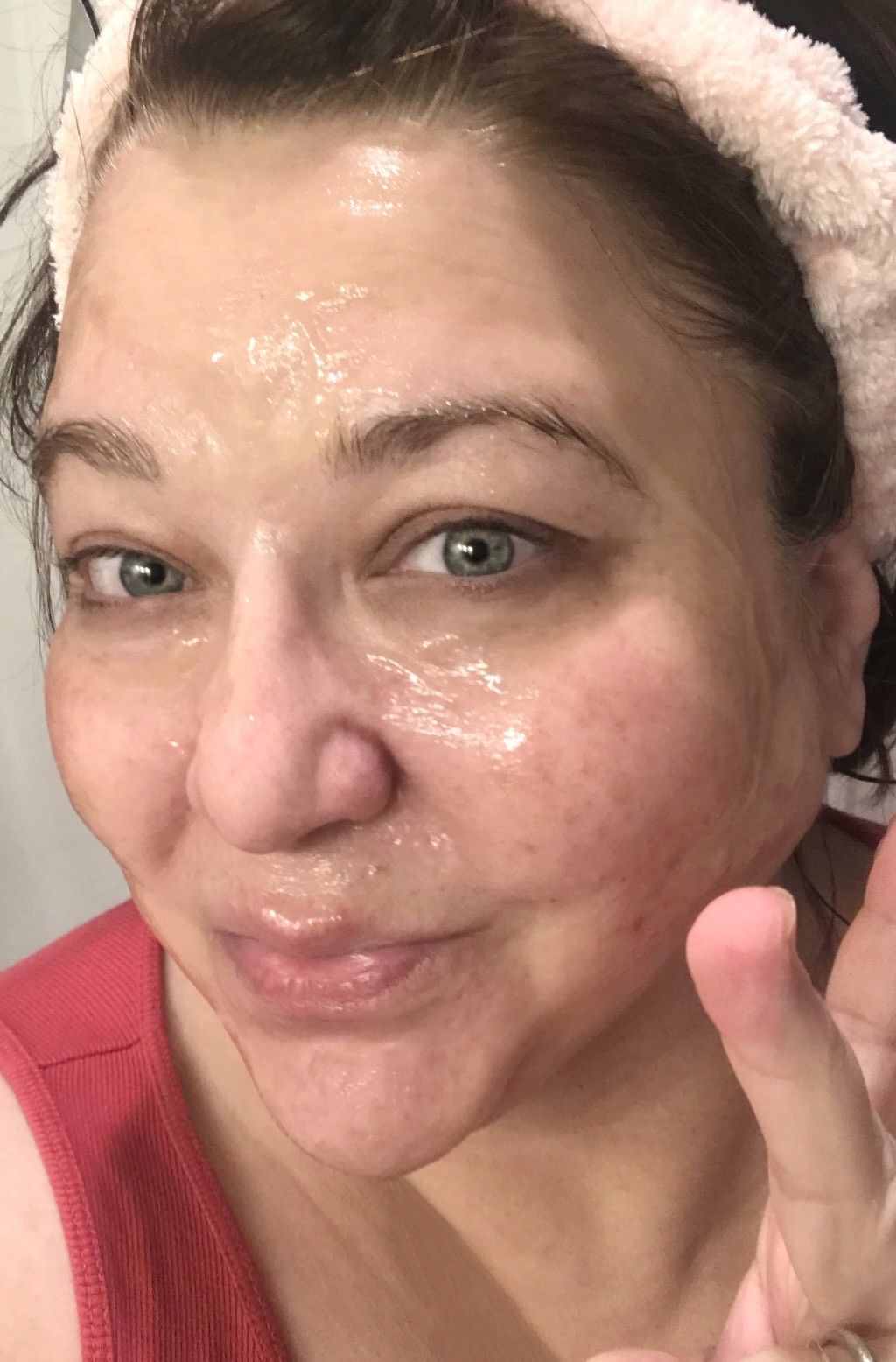 This wash off mask is in a watery gel like formula that is a light orange shade ~ it has a very faint yeasty scent to it,.  It is very runny and even with a thick layer, it looks like I didn't apply anything on my skin ~ haha.  I only use this around my T Zone, but it is so gentle, I could use it all over my face without any stinging or irritation.  It has a nice cooling effect and this has a pH level of about 5.5 ~ with enzymes, however, it isn't really about the pH level, like acids.   I felt that this did do a nice job of tidying up my T-Zone area, removing dirt and excess oils.  I found that my T-Zone pores looked smaller in appearance as well.
Ingredients: Water, Butylene Glycol, Glycerin, Diglycerin, Alcohol Denat, Sodium Polyacrylate, Polyglyceryl-10 Laurate, Dipropylene Glycol, Hydroxyacetophenone, Mentha Piperita (Peppermint) Leaf Extract, Zingiber Officinale (Ginger) Root Extract, Caprylyl Glycol, Triethylhexanoin, Diphenyl Dimethicone, Fragrance, Polyquaternium-51, Leuconostoc/Radish Root Ferment Filtrate, Disodium EDTA, Polyglyceryl-10 Myristate, 1,2-Hexanediol, Coptis Japonica Root Extract, Eclipta Prostrata Extract, Coccinia Indica Fruit Extract, Sodium Palmitoyl Proline, Cucurbita Pepo (Pumpkin) Fruit Extract, Propylene Glycol, Dipotassium Glycyrrhizate, Passiflora Edulis Fruit Extract, Oryza Sativa (Rice) Extract, Nymphaea Alba Flower Extract cosDNA
Where to Purchase
You can purchase the House of Dohwa at Coreelle ~ Coreelle's team has worked in discovering new brands in the heart of the K-Beauty mecca, Seoul.  They look for brands that are innovative and unique concepts.  You can read more about their story here.  All prices are in USD.
[ blog post contains affiliate links which provide a small commission to me at no cost to you ]