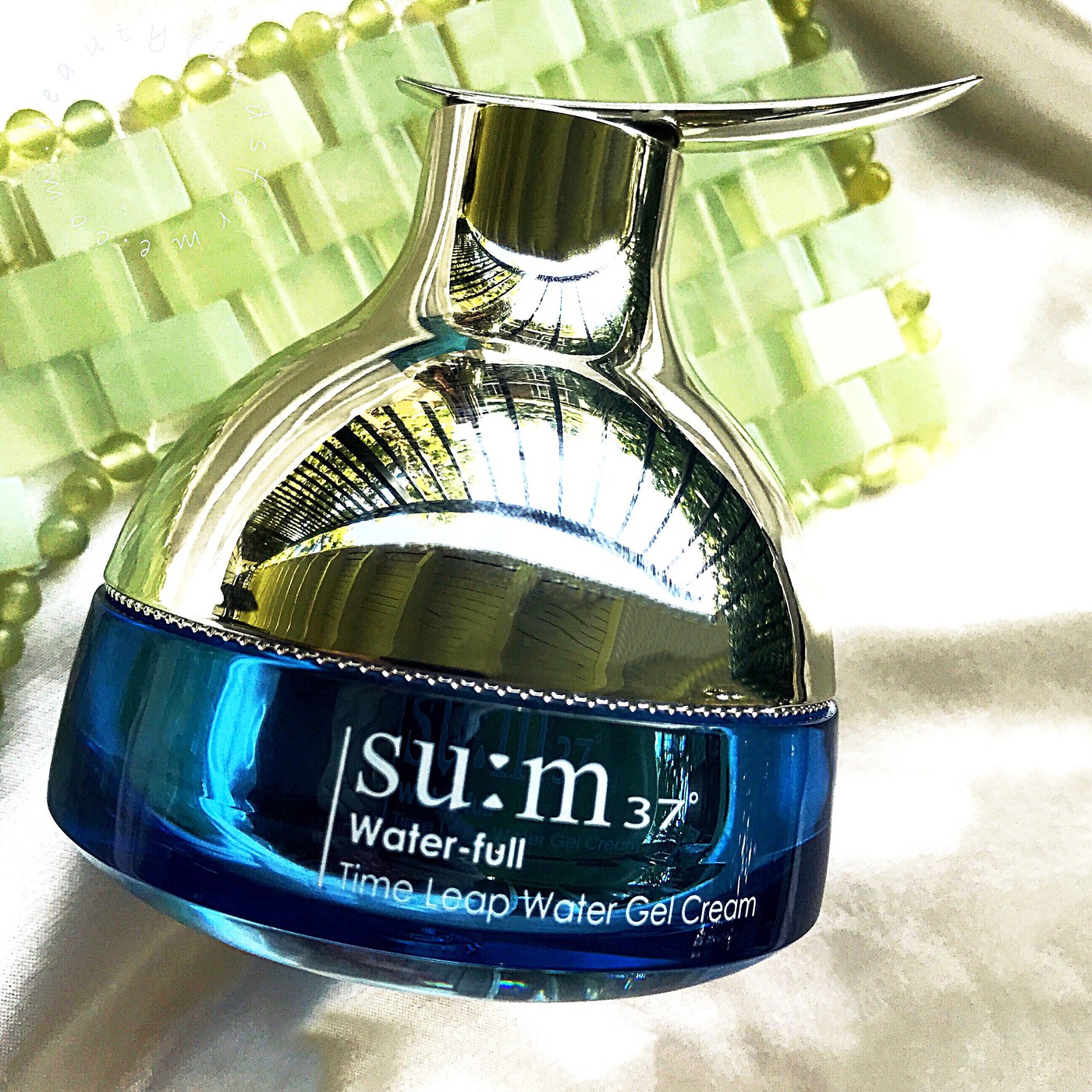 DAMN, I LOVE THIS SKINCARE BRAND. You can read all of my SU:M37º  reviews here and  if you haven't tried SU:M37º, what are you waiting for?  They have several skincare lines and if you have oily or oily/combo skin, the Water-full line is made for you.  I am thrilled to be reviewing another product from their Water-full line, the Water-full Time Leap Water Gel Cream (formally known as Water-full Timeless Water Gel Cream), courtesy of Jolse, a premier online Korean Beauty shop.   I received this product in exchange for a review.  
Skin Type/Concerns: oily, blemish prone, aging concerns, pores, fine lines/wrinkles, hyper-pigmentation
I received these products complementary to review and was not paid.  All reviews are my own honest opinion and  I never have been asked to write copy for a brand.  This blog post might contain promo codes, affiliate and referral links, which using my links will help generate a small commission that helps support my blog at no extra cost to you.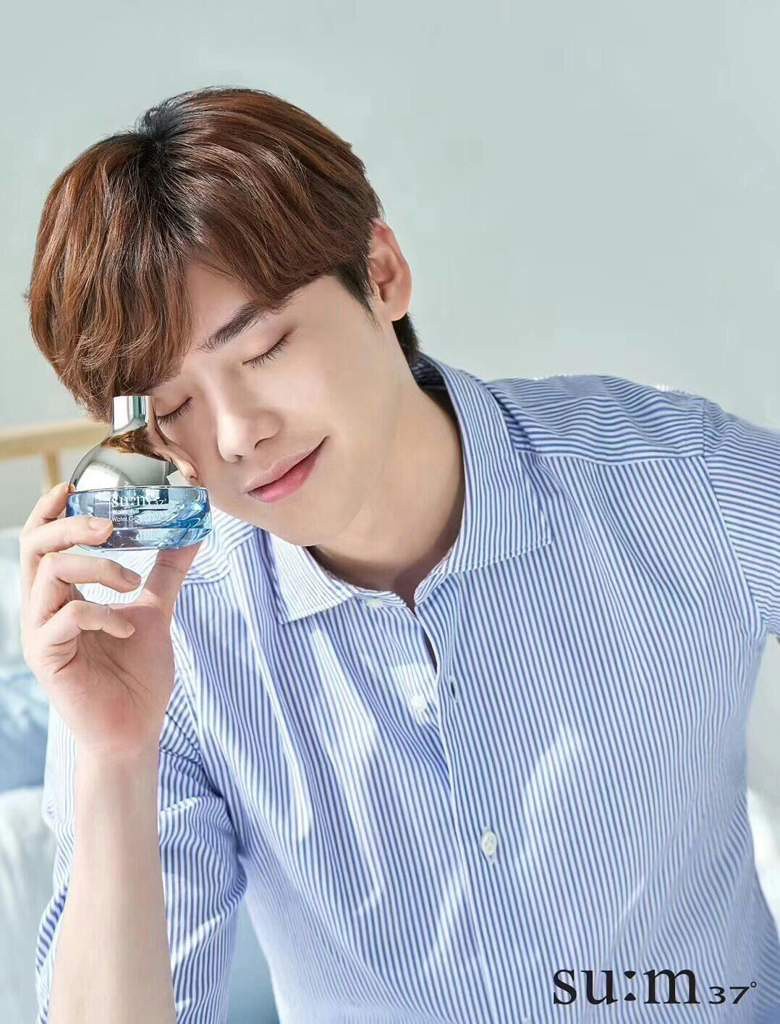 K-drama actor Lee Jong Suk (While You Were Sleeping) is the spokesperson for SU:M37º
About SU:M37º: Their name comes from the Korean word "breath" and the 37°C is the best temperature for fermentation. This brand focuses on fermented skincare, using only natural oils to scent their products and they are free of artificial colors and synthetic preservatives. SU:M37 has the only fermentation research institute in the country and they ferment 86 different botanical plants that are grown in countryside of Gangwon-do, South Korea. SU:M37º, whose name is derived from the Korean word for "breath" and the optimal temperature for fermentation, specializes in naturally fermented skincare and makeup, free of fragrances, artificial colors, and synthetic preservatives. Every season, the lab of the prestige brand — the only fermentation research institute in the country — slowly ferments every part of 86 different kinds of seasonal plants in the countryside of Gangwon-do, South Korea. The essence extracted from this fermentation is used in SU:M37º products.
Key Ingredients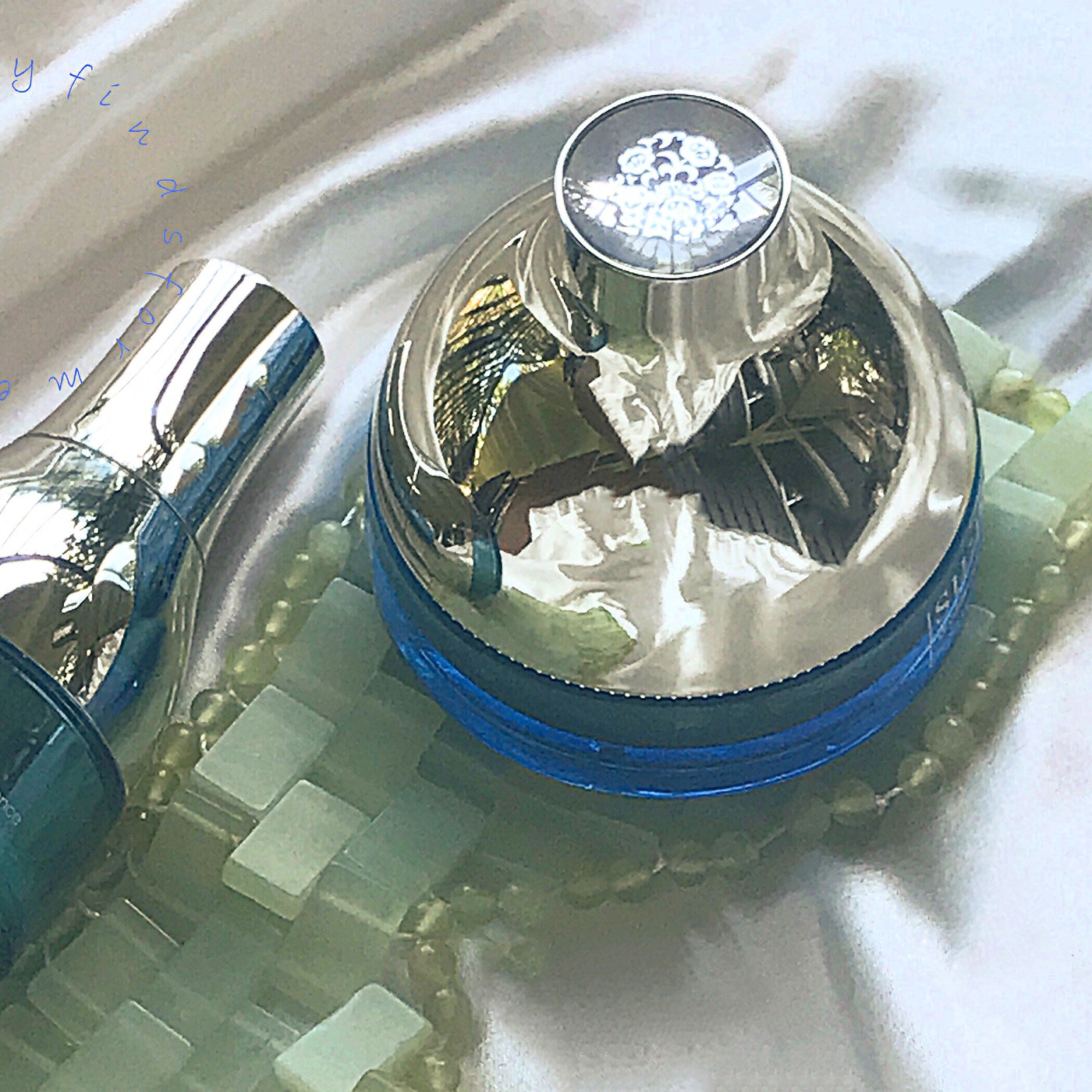 There are 16 fermented plant extracts ~ yep, there is a lot packed in here, along with herbs and essential oils.  The key ingredients are  fermented soybean extract and  fermented bamboo sap.  Fermented ingredients are great for sensitive skin, are antibacterial by nature, improve the effectiveness of the ingredient and is easily absorbed into the skin.  Fermented soybean  is rich in antioxidants and help tone, lift and give the skin the appearance of firmness.  Soy also  contains daidzein and genistein, which when fermented, helps aid in producing hyaluronic acid.  Soy can improve the elasticity of your skin, as well.  Bamboo sap  contains over 70% of silica, which is a crucial item when it comes to your skin's connective tissue, collagen and rich in amino acids. By stimulating certain cells, silica helps strengthen your collagen and elastin, which in turn will help firm and tone your skin and plump up your skin, so fine lines and wrinkles are not as noticeable. Bamboo is also known for an instant dose of hydration, anti-inflammatory, antioxidant and retain moisture.
Fermented ginseng helps with wrinkles and brightening effects without any irritation.  Ginseng is used in anti-aging skin care products, as it is can stimulate the skin and activate the blood flow, which will increase toning and production of new skin cells.  Ginseng detoxes your skin and leaves it radiant and glowing. Applied topically, it helps stimulate collagen production to promote cellular renewal. Its herbal properties and usage dates back over 5,000 years.  This also contains fermented hibiscus, which is a natural AHA and red clover, treating irritation and it has "estrogen-like" properties, which make it a great anti-aging ingredient too.  Trifolium pratense (red clover) has skin soothing, anti-inflammatory and  anti-oxidant benefits due to its high content of skin regenerating isoflavones.  It is packed with nourishing ingredients for your skin, like vitamin C, niacin, calcium and thiamine.   Honeysuckle is a soothing ingredient, that helps with skin irritation, improve uneven skin tone and it is anti-bacterial and antiseptic as well.  It also tones and balances your skin.   
This also contains squalane,  a natural compound found in our own skin and prevents transepidermal water loss (TEWL), while keeping our skin soft, smooth and supple.   It is a lovely oil as it is not heavy, doesn't clog pores and doesn't have a greasy residue. Squalane also has antioxidant benefits, helping to balance the oil-water ratio on your skin and has anti-bacterial benefits as it contains terrifen, a compound that helps sterilize. Ceramides are lipids (fats) which are important in helping to repair and protect your moisture barrier. They will keep your skin hydrated and plump as they retain water. Ceramides are found naturally in your body and you lose the ability to produce as you age, so adding them to skin care products helps with anti-aging.  
Anti-inflammatory panthenol helps with cellular renewal and is an effective moisturizer.  Panthenol is a natural humectant, which retains moisture and hydrates the skin. It also is a good lubricant on the skin, making skin look soft and smooth. Glycerin helps with healing of wounds, seals in moisture, maintains the skin's water balance on an intercellular level, which makes the skin look healthy, moist ~ not dry and scaly,  soft to touch, and is also an emollient, leaving your skin looking radiant and supple.   
SU:M37º uses Polymeric Technology so that this product can have the  best water-oil-mixed ratio along with a rich level of nutrients, resulting in strengthening and moisturizing the skin. Gelling agent hydroxyethyl acrylate/sodium acryloyldimethyl taurate copolymer not only is a thickening emulsifier, but it provides a refreshing sensation along with that "melts to water" effect when the gel-cream makes contact on the skin. Acrylates/C10-30 alkyl acrylate crosspolymer contains hydrophilic (water) and hydrophobic (oil) compounds so it can bind to both water and oil ingredients, acting as a protective barrier while providing a silky smooth texture to the gel-cream.  Carbomer is another stabilizing polymer that gives a silky texture. 
This does contain skin-softening  silicone cyclopentasiloxane, which gives this gel-cream a silky formula, gliding over dry patches and filling pores and wrinkles. Dimethicone is another silicone that helps provide moisture and a silky smooth texture while creating a protective film/barrier on your skin. Please note that there is alcohol in here, but based on the formula and texture, I do think it is to help thin out the product.  
Ingredients: Purified Water, Dipropylene Glycol, Glycerin, Cyclopentasiloxane, Alcohol Denat., Dimethicone, Lactobacillus/Soybean Ferment Extract, Caprylic/Capric Triglyceride, 1,2-Hexanediol, Vegetable Squalane, C14-22 Alcohols, Saccharomyces/Barley Seed Ferment Filtrate, Saccharomyces/Potato Extract Ferment Filtrate, Panthenol, Hydrogenated Polyisobutene, Butylene Glycol, Lactobacillus/Pear Juice Ferment Filtrate, Monascus/Rice Ferment, Lactobacillus/Panax Ginseng Root Ferment Filtrate, Saccharomyces/Xylinum/Black Tea Ferment, Lactobacillus/Water Hyacinth Ferment, Lactobacillus/Rye Flour Ferment, Lactobacillus/Wasabia Japonica Root Ferment Extract, Saccharomyces/Grape Ferment Extract, Citrus Unshiu Peel Extract, Citrus Junos Fruit Extract, Malus Domestica Fruit Extract, Musa Sapientum (Banana) Fruit Extract, Carica Papaya (Papaya) Fruit Extract, Diospyros Kaki Fruit Extract, Citrullus Lanatus (Watermelon) Fruit Extract, Prunus Persica (Peach) Fruit Extract, Ficus Carica (Fig) Fruit Extract, Chaenomeles Sinensis Fruit Extract, Eriobotrya Japonica Leaf Extract, Prunus Armeniaca (Apricot) Kernel Extract, Rubus Idaeus (Raspberry) Fruit Extract, Lycium Chinense Fruit Extract, Phaseolus Angularis Seed Extract, Panicum Miliaceum (Millet) Seed Extract, Hemerocallis Fulva Flower Extract, Brassica Oleracea Capitata (Cabbage) Leaf Extract, Morus Bombycis Leaf Extract, Perilla Frutescens Leaf Extract, Ipomoea Batatas Extract, Undaria Pinnatifida Extract, Raphanus Sativus (Radish) Root Extract, Brassica Rapa (Turnip) Leaf Extract, Daucus Carota Sativa (Carrot) Root Extract, Nelumbo Nucifera Root Extract, Allium Cepa (Onion) Bulb Extract, Glycyrrhiza Glabra (Licorice) Root Extract, Sesamum Indicum (Sesame) Seed Extract, Ginkgo Biloba Nut Extract, Actinidia Polygama Fruit Extract, Grifola Frondosa Fruiting Body Extract, Prunus Salicina Fruit Extract, Akebia Quinata Extract, Crataegus Cuneata Fruit Extract, Houttuynia Cordata Extract, Artemisia Princeps Leaf Extract, Sasa Veitchii Leaf Extract, Glechoma Hederacea Extract, Anthemis Nobilis Flower Extract, Equisetum Arvense Extract, Cassia Tora Seed Extract, Taraxacum Officinale (Dandelion) Leaf Extract, Carthamus Tinctorius (Safflower) Flower Extract, Allium Sativum (Garlic) Bulb Extract, Zingiber Officinale (Ginger) Root Extract, Beta Vulgaris (Beet) Root Extract, Curcuma Longa (Turmeric) Root Extract, Helianthus Annuus (Sunflower) Seed Extract, Lentinus Edodes Extract, Plantago Major Seed Extract, Cichorium Intybus (Chicory) Root Extract, Platycodon Grandiflorus Root Extract, Mentha Piperita (Peppermint) Flower/Leaf/Stem Extract, Citrus Aurantium Bergamia (Bergamot) Leaf Extract, Lippia Citriodora Leaf Extract, Rosmarinus Officinalis (Rosemary) Leaf Extract, Ocimum Basilicum (Basil) Leaf Extract, Melissa Officinalis Extract, Salvia Officinalis (Sage) Leaf Extract, Thymus Vulgaris (Thyme) Leaf Extract, Rehmannia Chinensis Root Extract, Lonicera Japonica (Honeysuckle) Flower Extract, Acer Palmatum Leaf Extract, Geranium Robertianum Extract, Schizonepeta Tenuifolia Extract, Portulaca Oleracea Extract, Trichosanthes Kirilowii Root Extract, Anemarrhena Extract, Cucumis Sativus (Cucumber) Extract, Spinacia Oleracea (Spinach) Leaf Extract, Codonopsis Lanceolata Extract, Centella Asiatica Extract, Acorus Calamus Root Extract, Camellia Japonica Leaf Extract, Lactobacillus/Pumpkin Ferment Extract, Lavandula Angustifolia (Lavender) Extract, Rosa Canina Fruit Extract, Saussurea Involucrata Extract, Camellia Sinensis Leaf Water, Yeast Ferment Extract, Inonotus Obliquus (Mushroom) Extract, Tricholoma Matsutake Extract, Cetyl Ethylhexanoate, Pinus Sylvestris Leaf Oil, Kluyveromyces Extract, Lactobacillus Ferment Lysate, Trifolium Pratense (Clover) Flower Extract, Lactobacillus/Hibiscus Sabdariffa Flower Ferment Filtrate, Bambusa Arundinacea Juice, Wine Extract, Lactobacillus/Punica Granatum Fruit Ferment Extract, Citrus Limon (Lemon) Peel Extract, Solanum Lycopersicum (Tomato) Fruit Extract, Macadamia Ternifolia Seed Oil, Butyrospermum Parkii (Shea) Butter, Ceramide NP, Cholesterol, Malachite Extract, Camellia Oil, Squalane, Triethylhexanoin, Hydrogenated Lecithin, Arachidyl Glucoside, Glyceryl Stearate, Stearic Acid, PEG-100 Stearate, Dimethiconol, Polysorbate 60, PEG-40 Hydrogenated Castor Oil, PEG-150, Hydroxyethyl Acrylate/Sodium Acryloyldimethyl Taurate Copolymer, Carbomer, Acrylates/C10-30 Alkyl Acrylate Crosspolymer, Trisodium EDTA, Tromethamine, Pelargonium Graveolens Flower Oil, Juniperus Virginiana Oil, Coriandrum Sativum (Coriander) Fruit Oil, Santalum Album (Sandalwood) Oil, Lavandula Angustifolia (Lavender) Oil, Anthemis Nobilis Flower Oil, Citrus Aurantium Bergamia (Bergamot) Fruit Oil, Citrus Aurantifolia (Lime) Fruit Oil, Limonene, Linalool, Citronellol, Geraniol, Citral, Benzyl Salicylate cosDNA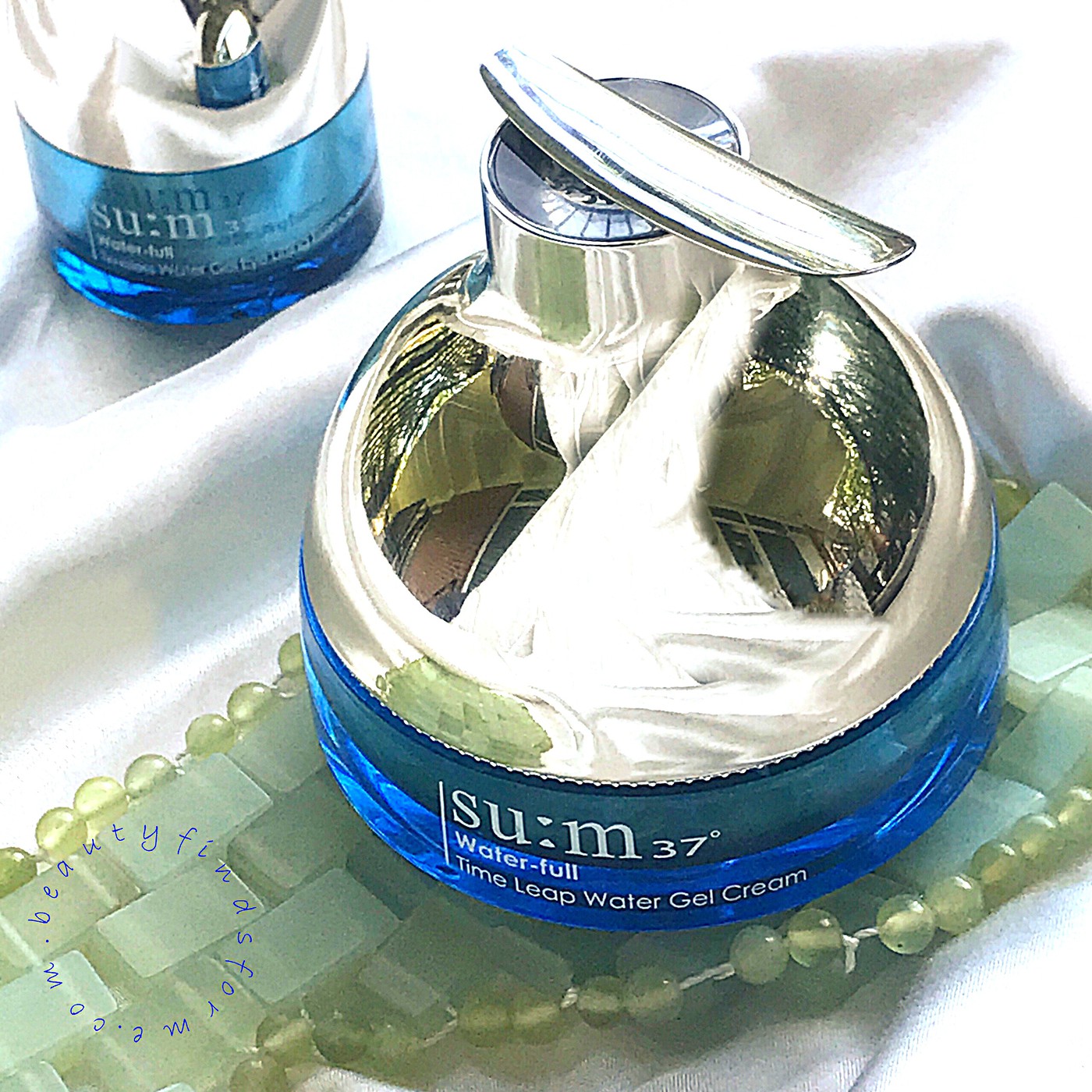 ARGGGG can we just look at that JAR?  It has a domed silver lid, with the lovely floral logo on the top and that Aegean Sea-blue bottom.  What is also REALLY cool about this jar is that it comes with a silver, slightly curved spatula ~ THAT IS MAGNETIC.  Yep, just place it on that floral logo and it snaps into place.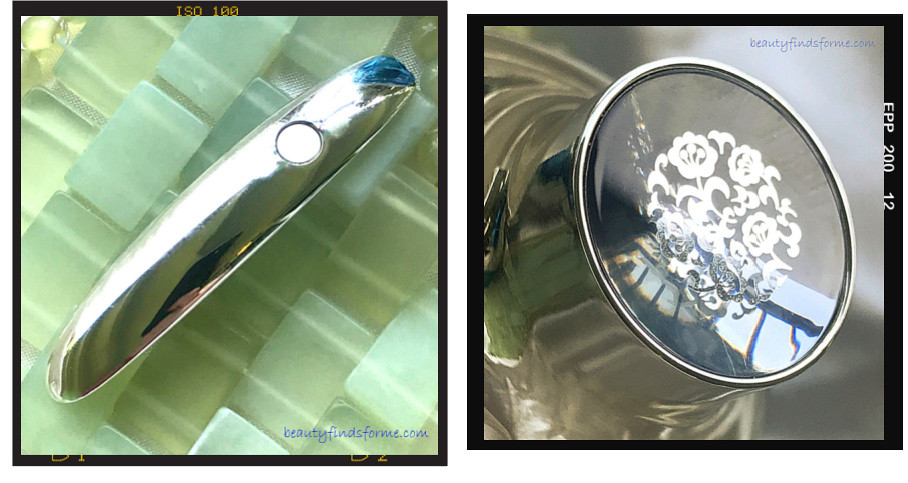 All creams could follow this route with this clever design of a magnetic spatula.  I love how it is curved and when it is put together, it looks like a piece of modern art with that winged spatula.  The gel-cream is this light aqua blue shade with that amazing Water-full botanical scent of herbal citrus.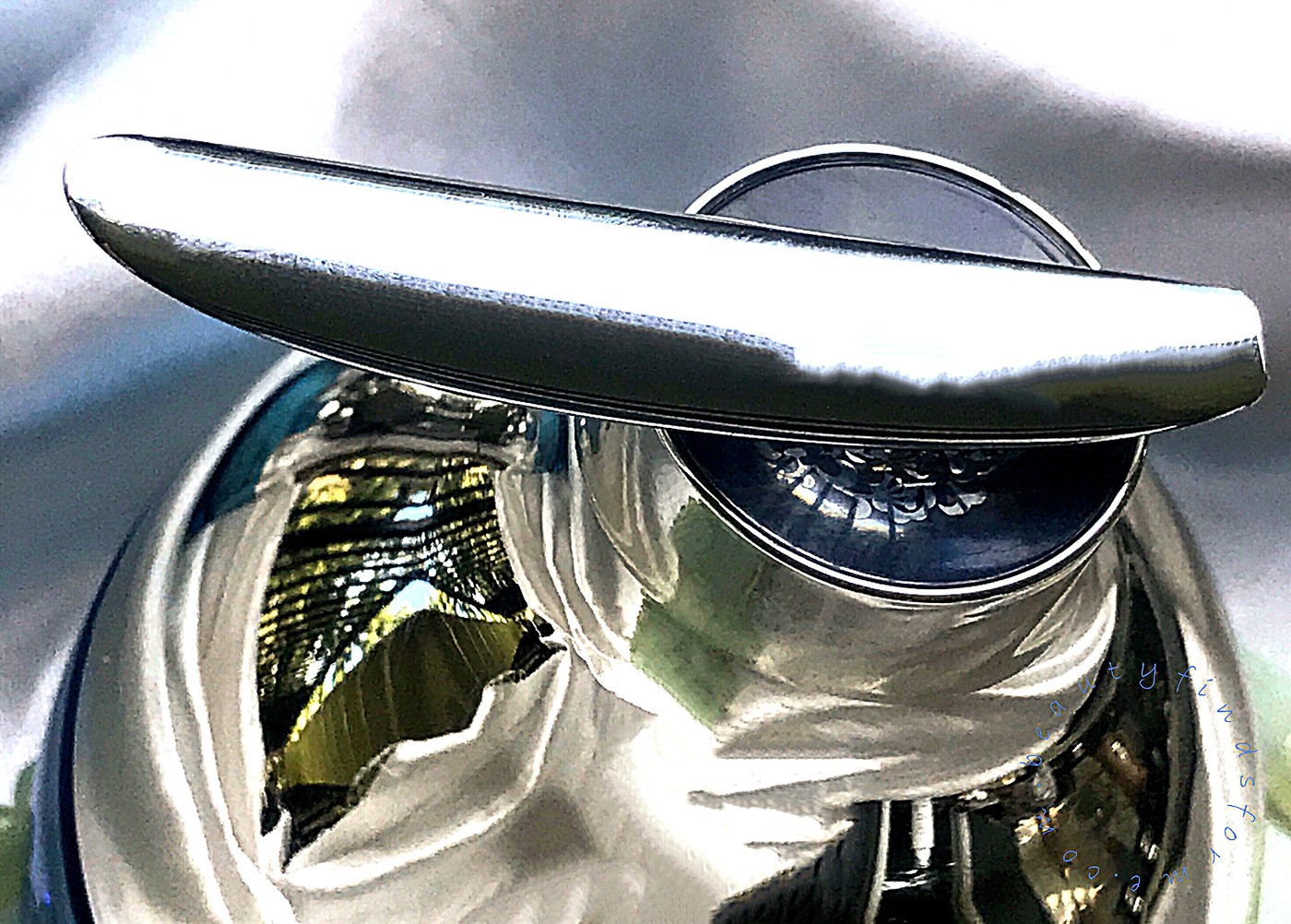 This is really a hybrid gel-cream ~ a lot of gel-creams are either gels or creams, whereas this really is the product of both ~ the lightweight, slippery texture of a gel and the deep moisturization of a cream.  It easily spreads around my face and because it is so moisturizing, I really do not need a lot.  It isn't heavy, but WOW, it really softens and hydrates my skin ~ If I use too much of it, it will have a sticky residue, so I am not as liberal with this gel-cream as I would be with a straight up gel.  

I love how refreshing it feels on my skin as well ~ it is a subtle cooling effect that is so pleasant.   I love how it immediately sinks into my skin and leaves it feeling fresh ~ I can also feel how smooth and supple my skin is as well after using this, as it does form a light protective barrier.   Now, is this mattifying?  No, if you are looking for a mattifying gel-cream, this isn't it ~ it doesn't leave my skin shiny or dewy, but it is not mattifying.  However, if you have oily, dehydrated skin or normal/oily combo skin, this will provide deep moisture without clogging the pores and leaving your skin feeling bouncy and fresh.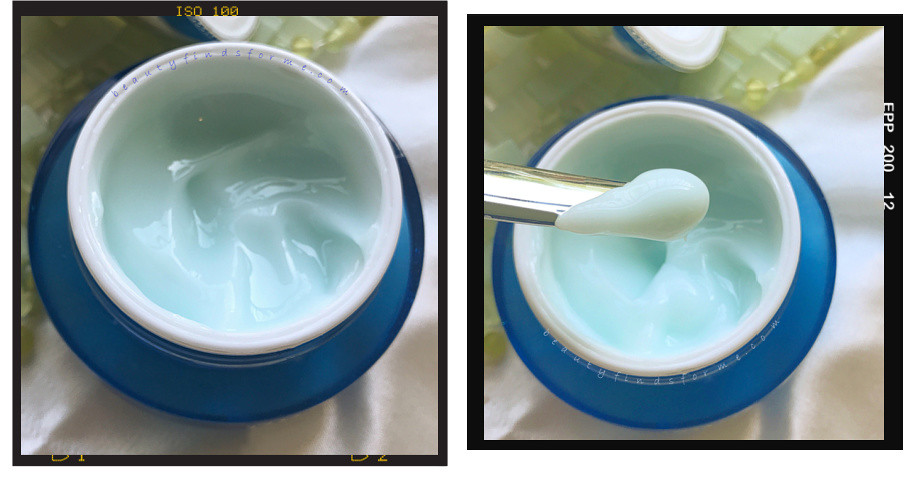 The Water-full Time Leap Water Gel Cream really is worth the money ~ you only get 50mL but you don't need a lot of this to really keep your skin moisturized ~ and it lasts as well ~ my skin hasn't felt tight or dry several hours after I use this.   This can also be used at night time too, even though SU:M37º does make a sleep pack ~ I feel this is moisturizing enough during the hot humid summer nights.  This reminds me a bit of Tatcha Water Cream but SO much better ~ no gold ingredients in here (pffttt hahaha), plus it has more fermented goodies and a lower price point if you purchase it from Jolse. 
Totally recommend this one for dehydrated skin ~ it is surprisingly fantastic!
Where to Purchase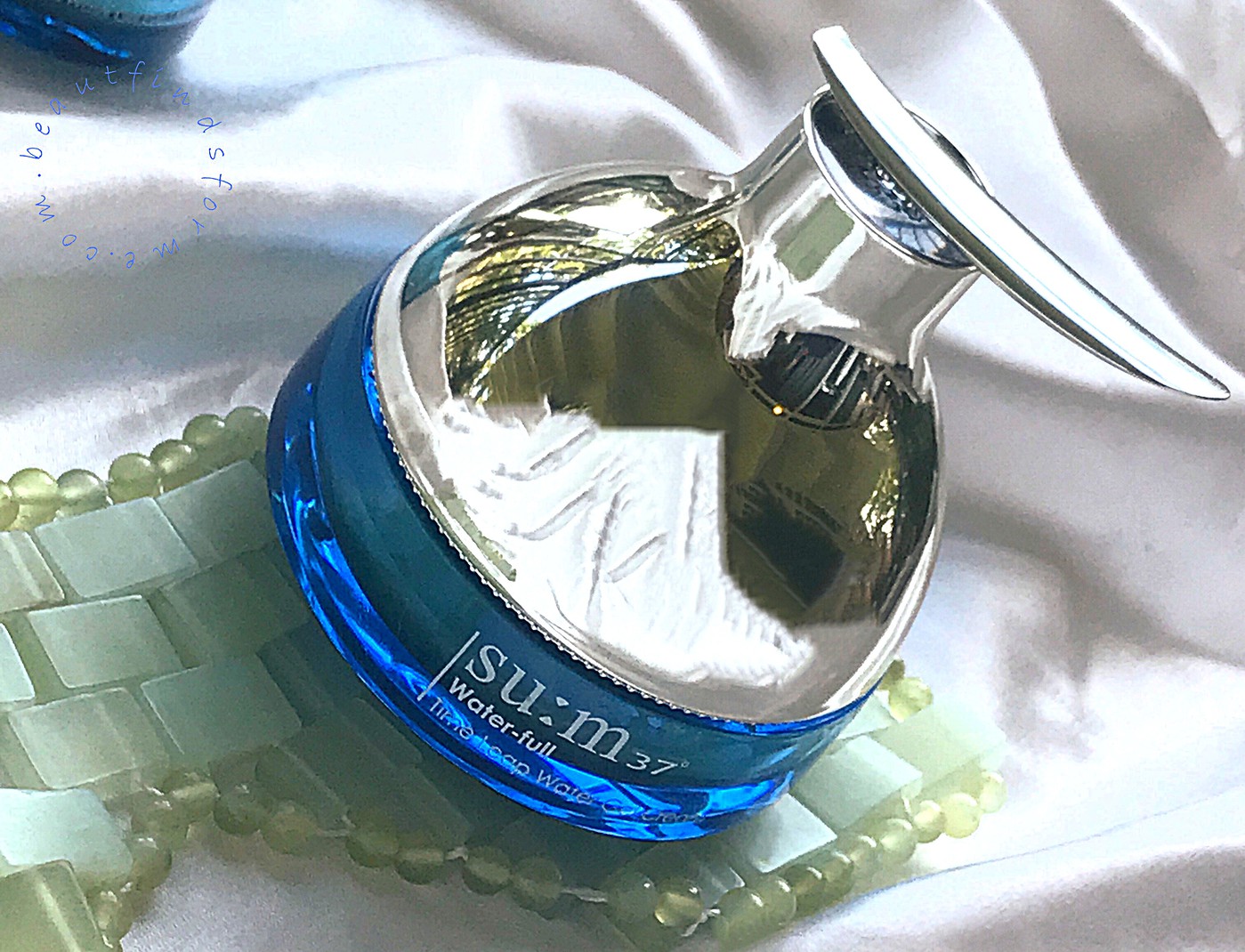 Jolse carries some of the SU:M37º  Water-full products. They still have this listed under the old name of SU:M37º  Water-full Timeless Water Gel Cream but it is the new SU:M37º Water-full Time Leap Water Gel Cream (click here to purchase) for $55.92 USD 50mL.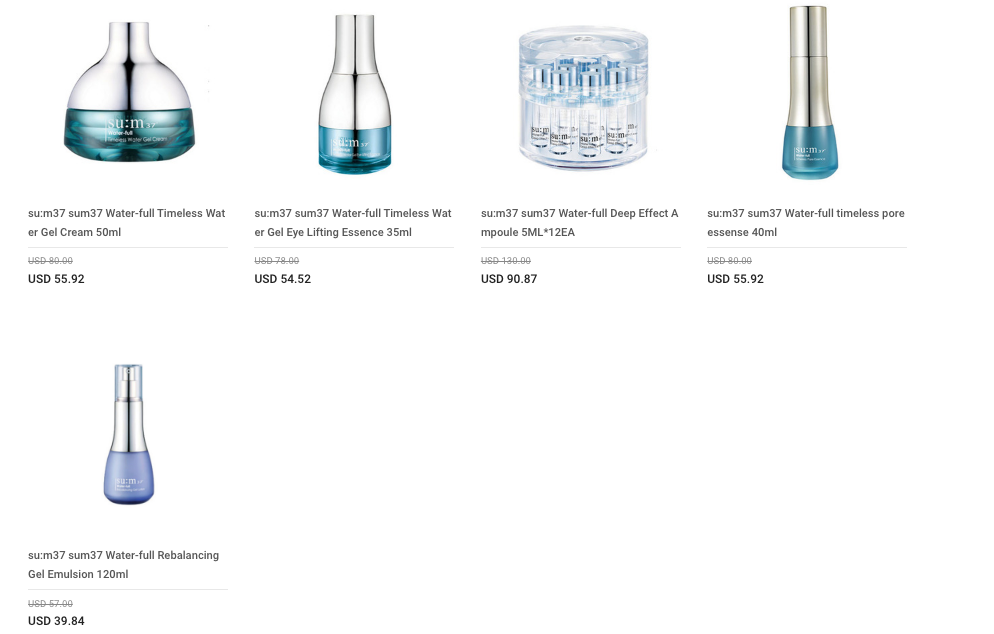 All prices are in USD ~   Jolse offers free global shipping plus gives a lot of samples out ~ the more you purchase, the more samples you get! Please note that the prices do fluctuate a little bit due to the WON to USD exchange rates. Make sure to check your coupon zone (click here) for money saving discounts. You need to log into Jolse first, then download the coupons before you use them. Coupon savings usually are $5.00 off a $50.00+ purchase, 5% off $100.00+ purchase and 10$ off a $200.00+ purchase

[ products received for review purposes.  blog post contains affiliate links ]