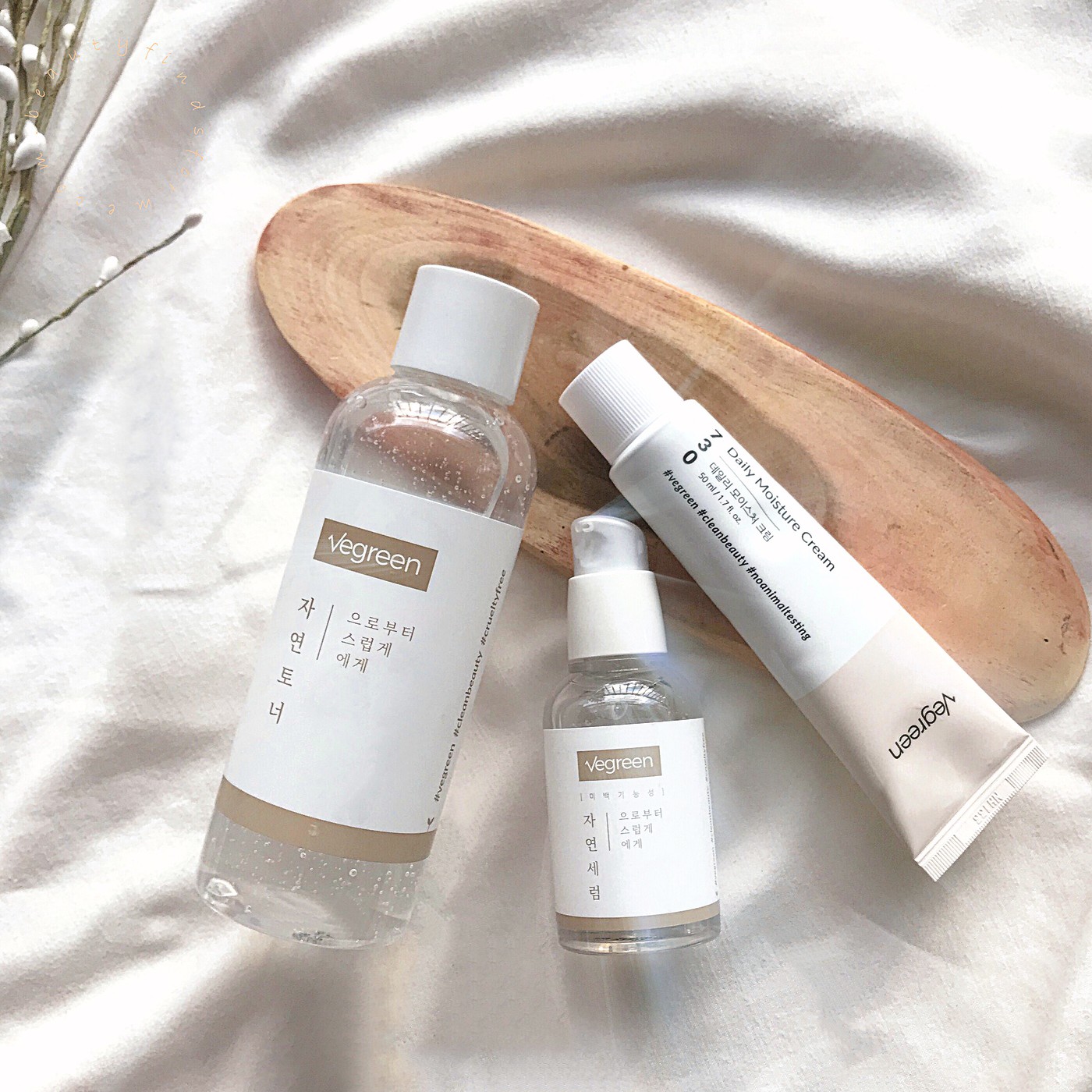 There is a new Vegan skincare brand straight outta South Korea that you should sit up and take notice of!  Vegreen is the brand ~ they choose their name by using vegetable and green.  Pretty clever!  Vegreen stands behind their cruelty free statement ~ they oppose products and services that are produced by exploiting animals. They also believe in ethical consumption, so they have chosen packaging that can be recycled ~ an easy-to-remove non-sticky label, their boxes are made of uncut wood and the by-product of sugar canes,  use soybean oil ink so that it can easily decompose and reduces  environmental pollution and they use paper buffers that are biodegradable.   Vegreen is also fragrance free, which a lot of my readers will be happy to hear!  Vegreen sent me their entire line complementary for review purposes, which currently consists of three products.
Skin Type/Concerns: Oily, blemish prone, pores, aging skin with fine lines/wrinkles and hyper-pigmentation ~ sun damage & PIH
I received these products complementary to review and was not paid.  All reviews are my own honest opinion and  I never have been asked to write copy for a brand.  This blog post might contain promo codes, affiliate and referral links, which using my links will help generate a small commission that helps support my blog at no extra cost to you.
Key Ingredient
The first two products rely on wild yam extracts.  Dioscorea villosa  is found in many anti-aging firming skincare products.   Wild yam is supposed to have a property similar to progesterone, called diosgenin and it also has estrogen properties. These hormones are very helpful, especially for women who are entering menopause, either peri, pre or post stages. There has been a study (source) that stated that wild yam can help restore the skin barrier in your epidermis, by encouraging the production of keratinocyte cells~ the main cells in our outer layer of skin. It also helps with hyper-pigmentation and can prevent sun spots, based on another study (source).   Wild yam contains 16 amino acids, proteins, vitamins, calcium, polyphenol and plant based mucin.  This protein polysaccharide phytomucin is similar to snail slime, helping to keep your skin moisturized, reduce irritation and helps with wrinkles and loss of elasticity and firmness.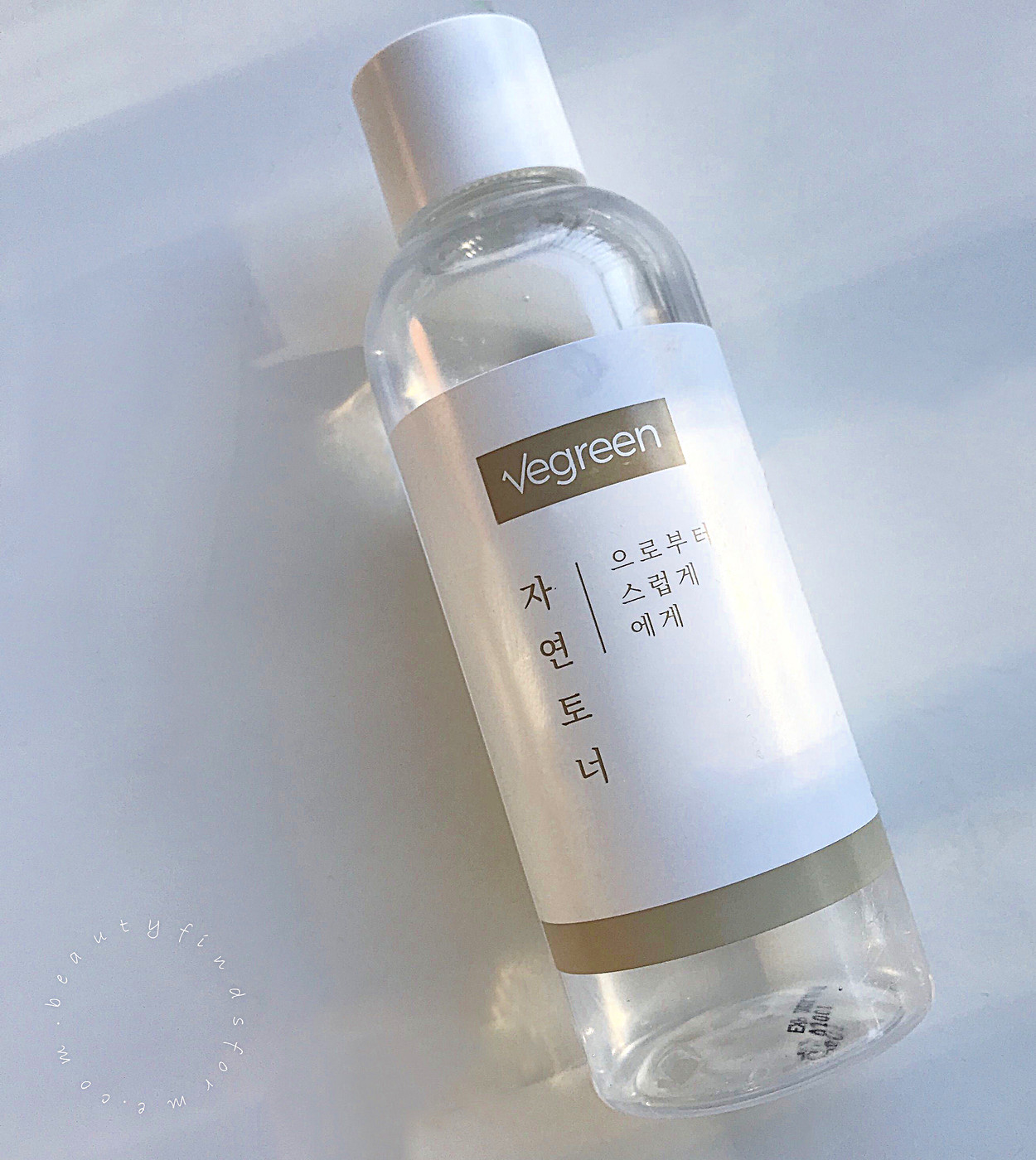 Vegreen Nature Mucin Toner is an alcohol free toner that contains 68% wild yam extracts.  This also contains a 5-Hyaluronic Acid Complex of varying molecular weights, from deep skin-penetrating low molecular weight to high molecular weight that sits on the skin's surface to hold moisture in order to protect the skin.  Sodium hyaluronate, sodium hyaluronate crosspolymer, hydrolyzed hyaluronic acid, hyaluronic acid and hydrolyzed sodium hyaluronate will provide the hydration your skin needs.  This toner also has healing, anti-inflammatory centella leaf water.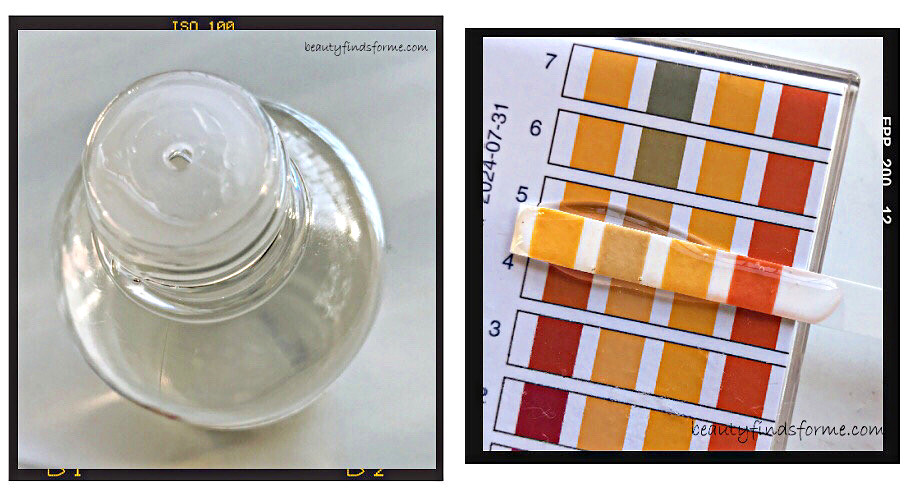 The toner comes in a large 250mL clear plastic bottle with a pin hole applicator.  My only complaint is that this will leak if not kept upright ~ I had this in a bag for a photo shoot, with the cap tightly on and it leaked all over the place. The toner has a viscous texture, very bouncy and is clear without any scent.  This has a pH level of 5, so it is mildly acidic and will be good for your skin.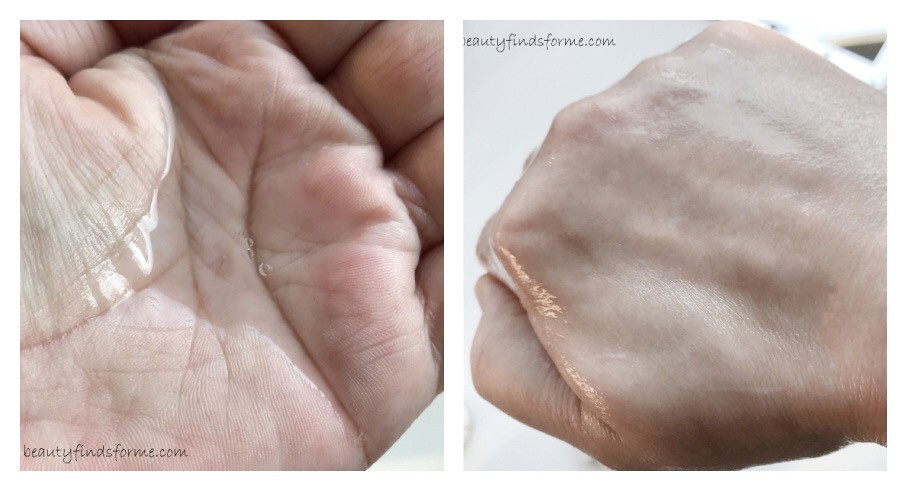 This toner is like a hug for your face.  I love bouncy toners ~ I have oily skin, but it is dehydrated, so having a toner that is not sticky or greasy yet has some "heft" to it makes me happy.  My skin drinks it up and looks more plumped up and hydrated.
Ingredients:  Dioscorea Villosa (Wild Yam) Root Extract(68%), Water, Butylene Glycol, Glycerin, Panthenol, 1,2-Hexanediol, Carbomer, Arginine, Pentylene Glycol, Sodium Hyaluronate, Sodium Hyaluronate Crosspolymer, Hydrolyzed Hyaluronic Acid, Hyaluronic Acid, Hydrolyzed Sodium Hyaluronate, Centella Asiatica Leaf Water, Ethylhexylglycerin  cosDNA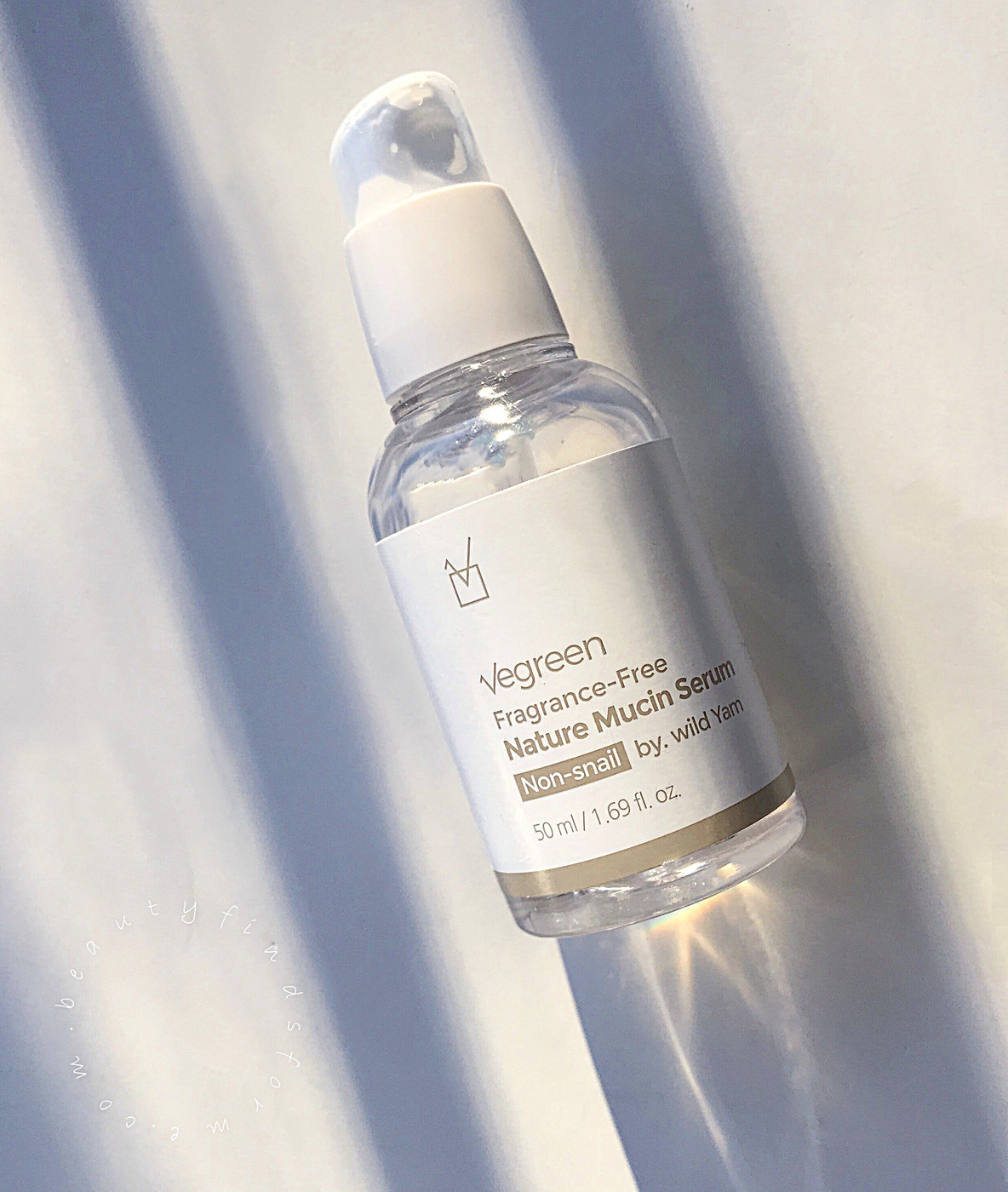 Vegreen Nature Mucin Serum uses 63% wild yam root extracts  ~  Did you know there are many plants out there that contain a high amount of mucilages (phytomucin), that goo that holds all of that water.  It is similar to snail slime mucin, so it has a slightly stringy texture as well.   This also contains 5% anti-inflammatory panthenol, helping  cellular renewal and is an effective moisturizer.  Panthenol is a natural humectant, which retains moisture and hydrates the skin. It also is a good lubricant on the skin, making skin look soft and smooth.  Skin brightening niacinamide is a powerful antioxidant that acts as an anti-inflammatory, improves your skin elasticity, enhance the skin barrier function and also it helps to even out skin tone and reduce post-inflammatory hyper-pigmentation.
Ceramides are lipids (fats) which are important in helping to repair and protect your moisture barrier. They will keep your skin hydrated and plump as they retain water. Ceramides are found naturally in your body and you lose the ability to produce as you age, so adding them to skin care products helps with anti-aging. 
There are a slew of peptides in here as well!  Acetyl hexapeptide-8 helps bind water to your skin, helps regenerate skin cells and reduce the appearance of fine lines and wrinkles while  copper tripeptide-1 aids in the production of glycosaminoglycans (GAGs) which help support and maintain the production of collagen and elastin, making your skin firm and retain moisture.   Palmitoyl tetrapeptide-7 and palmitoyl tripeptide-1 help aid in collagen production, repairing wrinkles and skin issues. Palmitoyl pentapeptide-4 is formally known as palmitoyl pentapeptide-3  and is also known as the collagen pentapeptide, is a mixture of fatty and amino acids, stimulating collagen and elastic production, helping repair damage to your skin and reducing deep wrinkles and lines
Ingredients: Dioscorea Villosa (Wild Yam) Root Extract (63%), Water, Panthenol (5%), Glycerin, Butylene Glycol, Niacinamide, 1,2-Hexanediol, Acrylates/C10-30 Alkyl Acrylate Crosspolymer, Arginine, Xanthan Gum, Acetyl Hexapeptide-8 , Copper Tripeptide-1, Palmitoyl Pentapeptide-4, Palmitoyl Tripeptide-1, Palmitoyl Tetrapeptide-7, Centella Asiatica Leaf Water, Caprylic/Capric Triglyceride, Ceramide NP, Hydrogenated Lecithin, Ethylhexylglycerin cosDNA

This comes in a  50 mL clear plastic pump bottle This has a slight viscosity to it so it has a bit of that stringy action going on, but not as much as snail slime.  There is no color or scent to this.  This is SUCH a fun serum ~ I like it better than serums with snail slime it in, as one of the issues I have with snail slime is that it doesn't always want to absorb nicely into my skin ~ This is more lightweight yet it packs a nice hydrating punch, along with all of the other goodies in here.  
This leaves my skin plumped up, soft and supple without any stickiness or tacky residue and it is a good step in-between the toner and moisturizing.   It helps protect my skin from being too dry before I applied the moisturizer and sunscreen afterwards.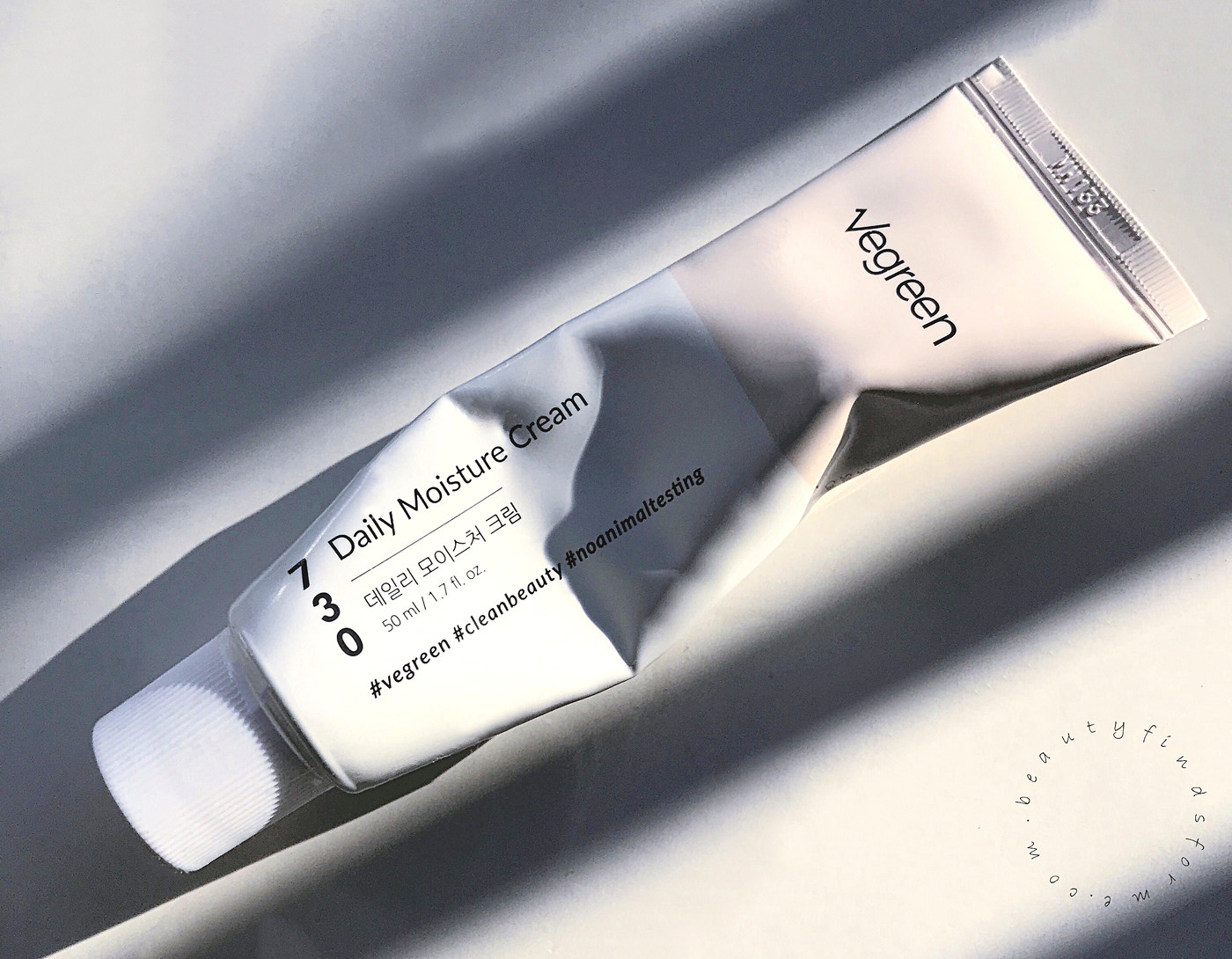 Vegreen 730 Daily Moisture Cream seems to be A REAL favorite amongst the K-Beauty bloggers!  And I can see why as it works for all skin types.  Its name 730 comes from using this twice daily, 365 days x 2 for both morning and evening routines.   This cream is a simple, plant based, nourishing cream with just eleven ingredients, including the star ingredient ~ squalane  
But not just any old squalane ~ Neossance™ Squalane.   This is not your normal olive oil based squalane, which is good news for those who can't use olive oil!  Neossance™ Squalane is made by US company Amyris and it is sourced from plant-sugars and fermenting yeast.  It is GMO-free and an ecologically green product, as it is sustainably sourced.  It is a stable emollient that won't oxidized and it is ECOCert-approved and USDA certified 100% bio-based product.   Squalane is a natural compound found in our own skin and prevents transepidermal water loss (TEWL), while keeping our skin soft, smooth and supple.   It is a lovely oil as it is not heavy, doesn't clog pores and doesn't have a greasy residue. Squalane also has antioxidant benefits, helping to balance the oil-water ratio on your skin and has anti-bacterial benefits as it contains terrifen, a compound that helps steralize. 
Ingredients: Water, Caprylic/Capric Triglyceride, Glycerin, Squalane, Glyceryl Stearate Polyglyceryl-2 Stearate, 1,2-Hexanediol , Stearyl Alcohol, Carbomer, Arginine, Caprylyl Glycol cosDNA

This comes in a 50 mL tube and it has such a lovely texture to it.  Very creamy, very silky on the skin with no scent.  It didn't clog my pores and it was a great moisturizer to top off the other two steps in this routine.  My skin felt silky and smooth, very supple and moisturized without a sticky or dewy finish.  Just clean natural skin with no grease!    I used these three products, plus an FTE (first treatment essence) and an eye cream for a while and I can say that if you are looking for a streamlined, vegan routine, you cannot go wrong with this one.  It is inexpensive, really moisturizes without being greasy and sticky, contains no scent and has no added coloring, plus it is vegan and cruelty free with eco-friendly packaging! Vegreen is great for everyone, regardless of age, gender or skin type.  
Where to Purchase
In the USA, you can purchase these products from Amazon USA with Prime Shipping
International shoppers can purchase Vegreen at eBay (click here) with free shipping
[ disclaimer: products received complementary for an honest & unbiased review. blog post contains affiliate links ]