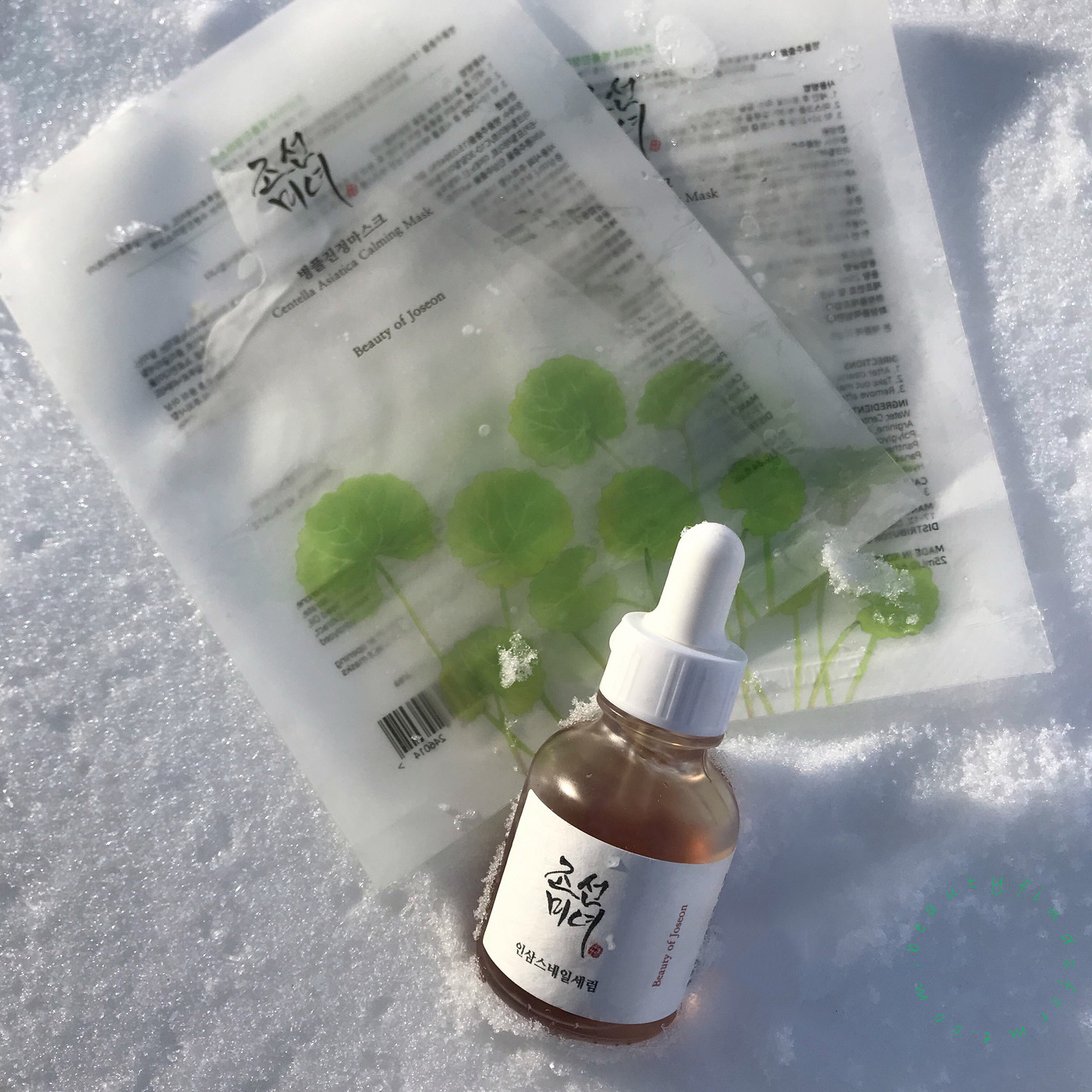 I had only tried two  Beauty of Joseon products ~ their Dynasty Cream, which I didn't like and their Revitalize Sleeping Mask, which I did like (review here)~ Jolse Cosmetic was kind enough to send me a couple more of the Beauty of Joseon products, including one of their brand new serums, for review purposes when I requested them.  If you haven't checked out this premier K-Beauty online store, you should!  Great service, free samples, free global shipping! 
Skin Type/Concerns: oily, blemish prone, aging concerns, pores, fine lines/wrinkles, hyper-pigmentation
I received these products complementary to review and was not paid.  All reviews are my own honest opinion and  I never have been asked to write copy for a brand.  This blog post might contain promo codes, affiliate and referral links, which using my links will help generate a small commission that helps support my blog at no extra cost to you.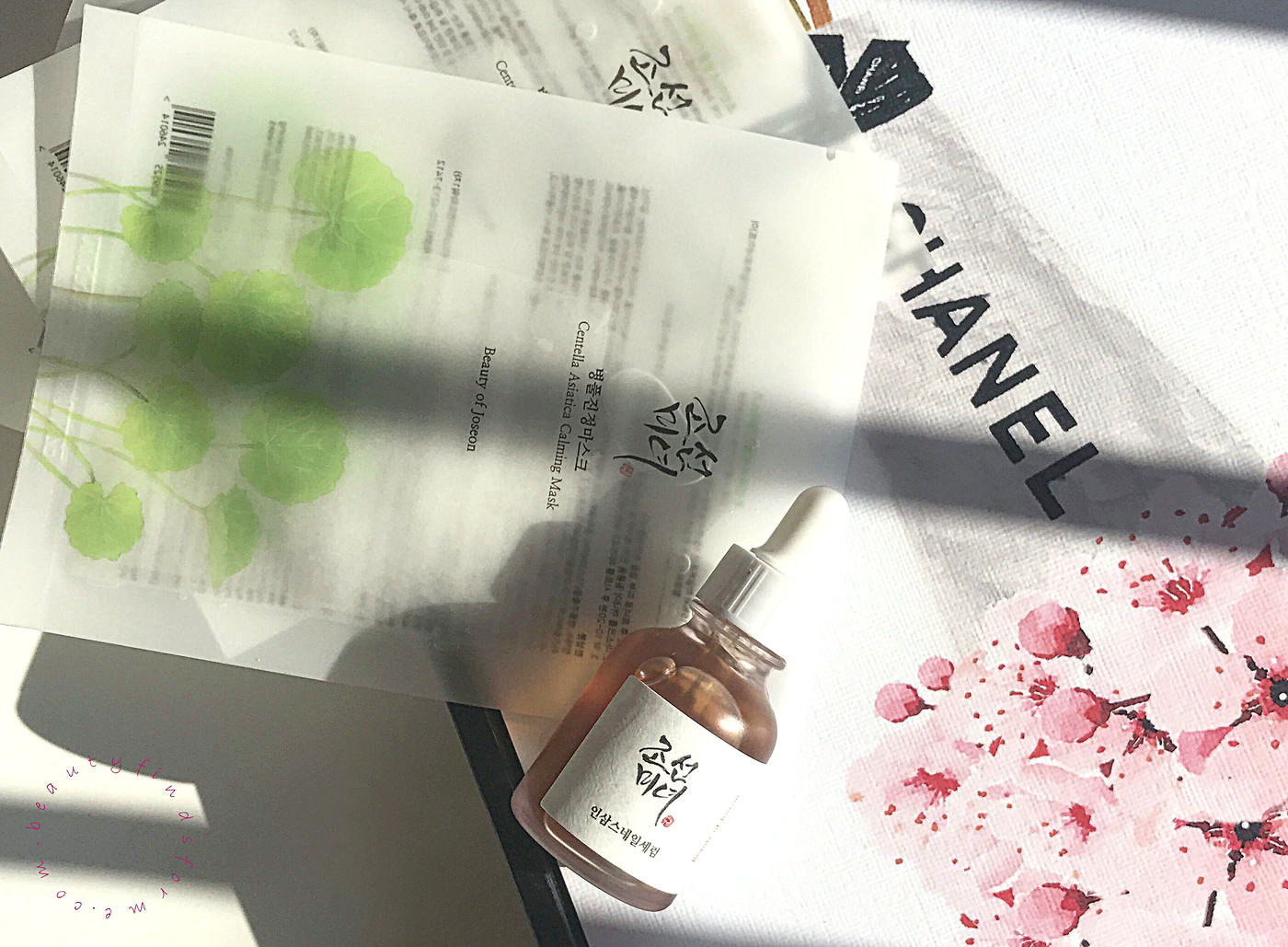 Brand Info:  The Beauty of Joseon had only a few products for years but lately, they have exploded with more products.  The inspiration for their products is the Joseon Dynasty ~ 1392 to 1897 ~ which is very famous and influential even today in modern Korea.  Beauty of Joseon users ingredients that were prescribed in a guide for women's cosmetics and makeup tools ~ Kyuhab Chongseo.  That book focused on skincare that would result in clear, clean skin, using traditional herbal and fermented ingredients ~ Hanbang.  The Kyuhab Chongseo had a section on beauty water ~ I find that amazing!   Joseon re-creates those formulas, using key ingredients such as honey, orchids, soybean, rice bran and apricots ~ which will nourish your skin.
image beauty of joseon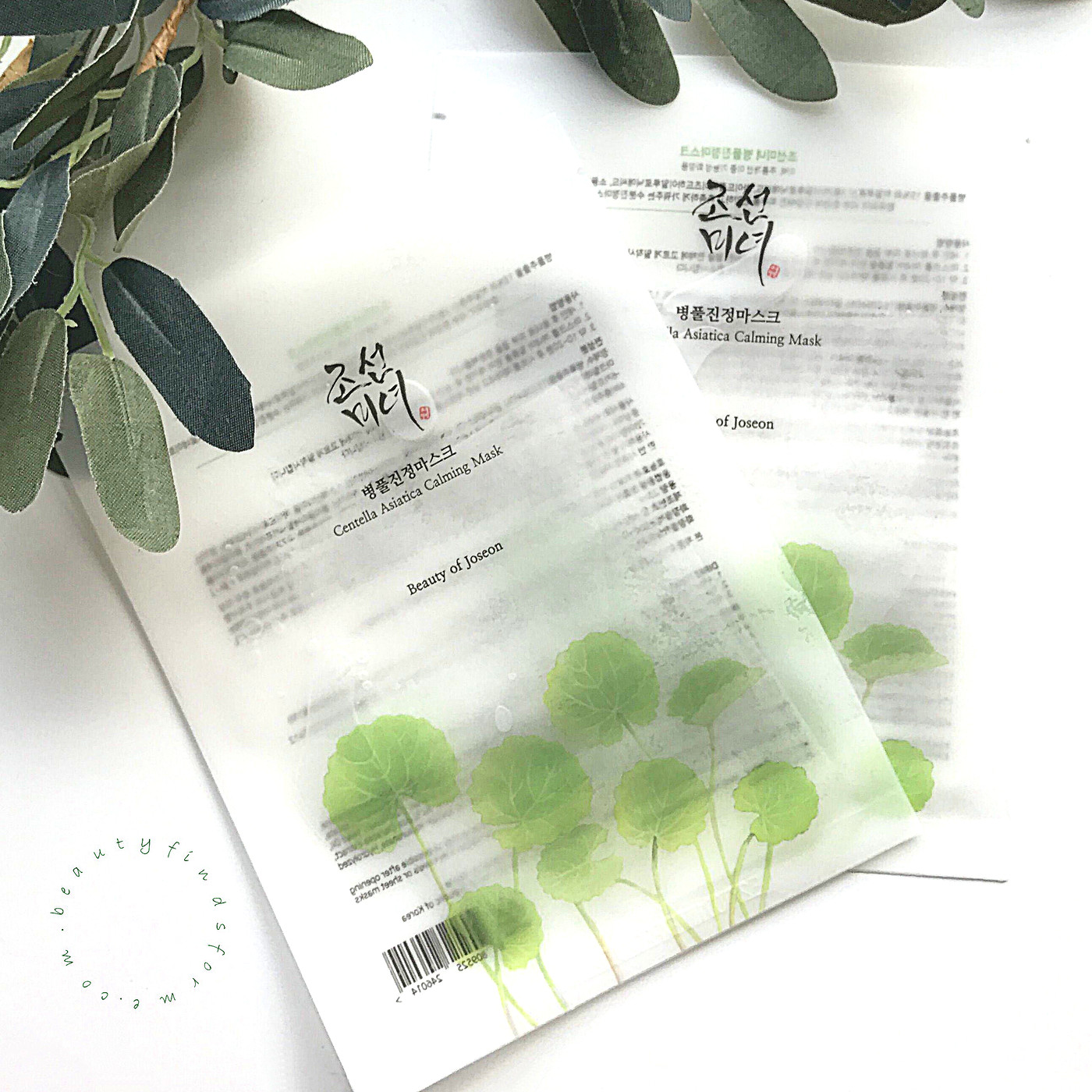 Beauty of Joseon Centella Asiatica Calming Mask  is their very first sheet mask offering!  Unlike their Dynasty Cream and Revitalize Sleeping Mask, this time the key ingredients are actually near the top of the list!  This contains 15% centella asiatica, a common herbal ingredient that is used medicinally to help speed up wound healing, such as blemishes and skin rashes. It also helps minimize the appearance of pores. This also contains soothing and healing mugwort, which has been used in traditional herbal medicine to help heal skin wounds and contains a rich source of antioxidants. It is famous for its skin purifying properties along with its anti-aging benefits, keeping the skin healthy. Its primary benefit is as an anti-inflammatory and it is quite soothing and gentle on the skin. Artemisia helps reduce redness, rashes and other skin issues, including allergic reactions. Mugwort helps heal skin wounds, such as blemishes, as it has anti-bacterial and anti fungal properties.
Goji berries are packed with antioxidants, vitamins and minerals and will help aide in collagen production and brightening skin. This also has a Triple Hyaluronic Acid Complex ~ sodium hyaluronate, hydrolyzed hyaluronic acid, hyaluronic acid ~ to help hydrate and protect your skin, attracting moisture while binding it into the skin.  The mask sheet is made from tencel, which is very thin and will adhere to the skin firmly without irritation.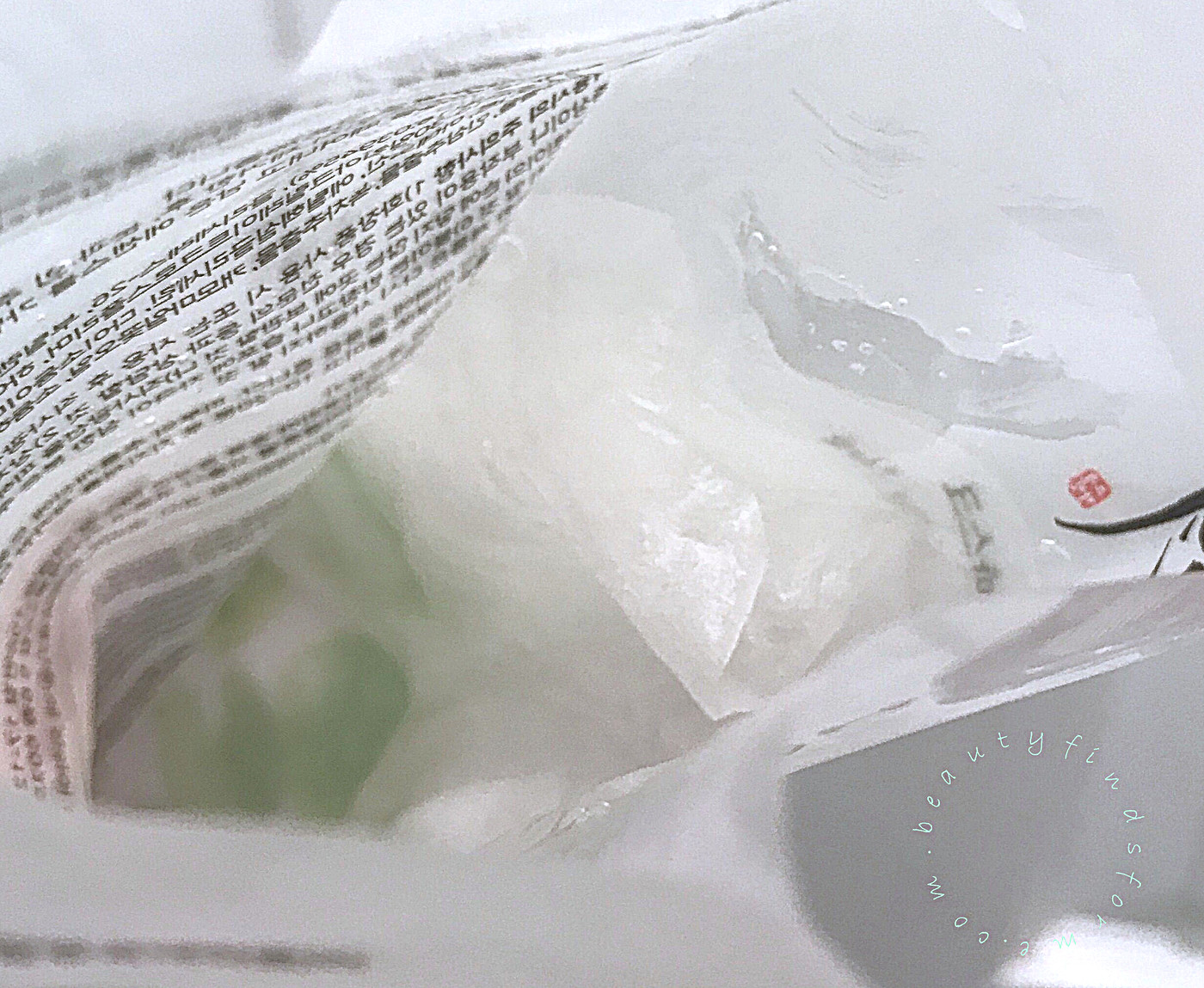 This is one mask that NEEDS a plastic protector ~ the sheet mask material is so thin and stretchy, as well as almost being gelatinous with all of the watery, lightweight essence that is being soaked up.   It was very hard to unfold and was bunched up a bit in the pretty translucent packaging.  I guess Beauty of Joseon wanted to show how much liquid was in the package ~ hint:  A LOT ~ with the sheet mask, but it made for an unpleasant mask unfolding and trying to apply it to my face.  The mask didn't tear at all, but it was stretched out of shape.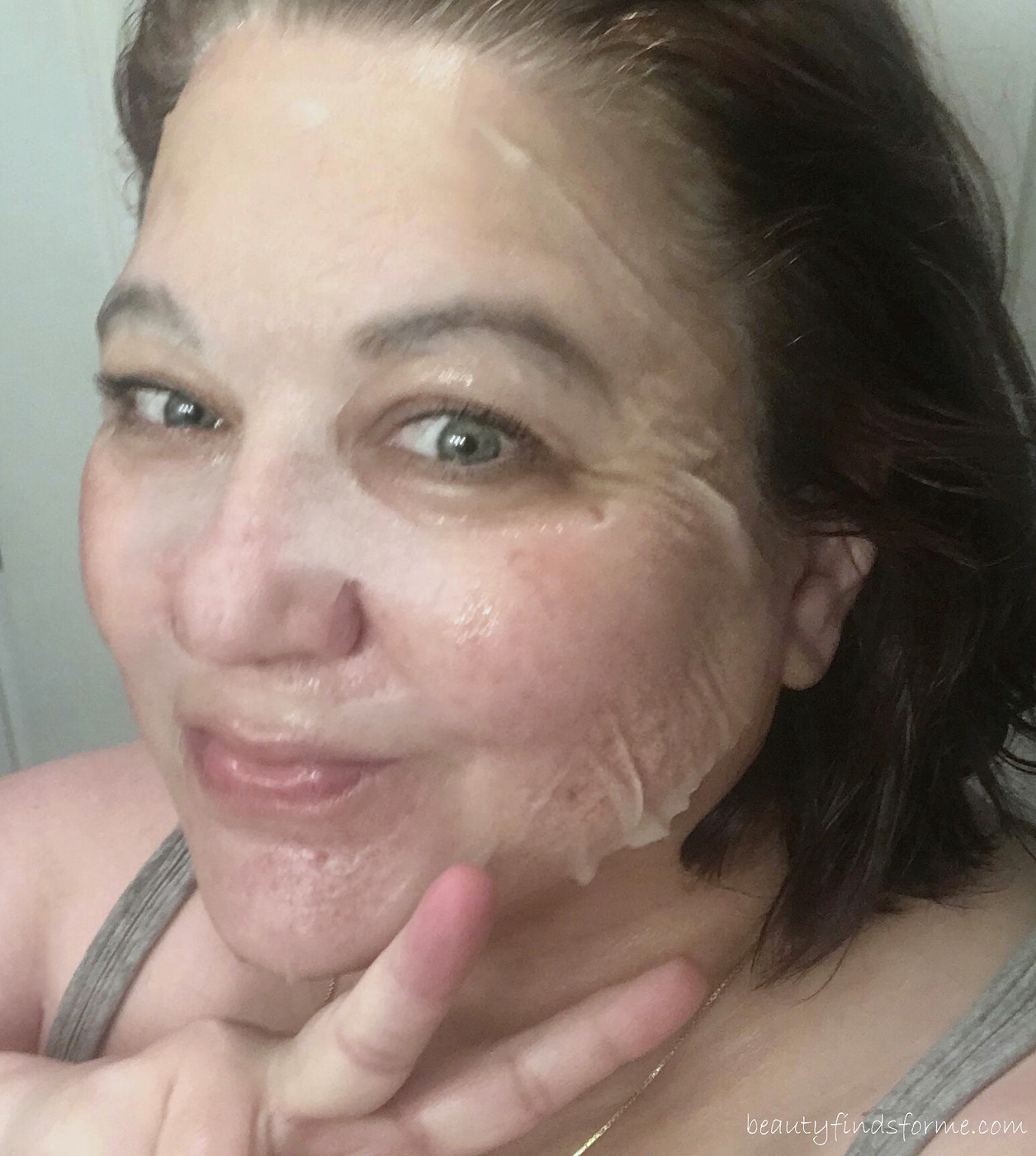 Despite all the essence, this mask did dry out quickly as the essence transferred to my skin.   My skin did feel quite hydrated, refreshed and calm with no sticky or tacky residue after a quick dry down period.  My skin felt supple and soft with a temporary brightening effect.  Although I have issues with the mask packaging, this is a really good soothing mask and I would use it more in the summertime, when my skin really gets overheated.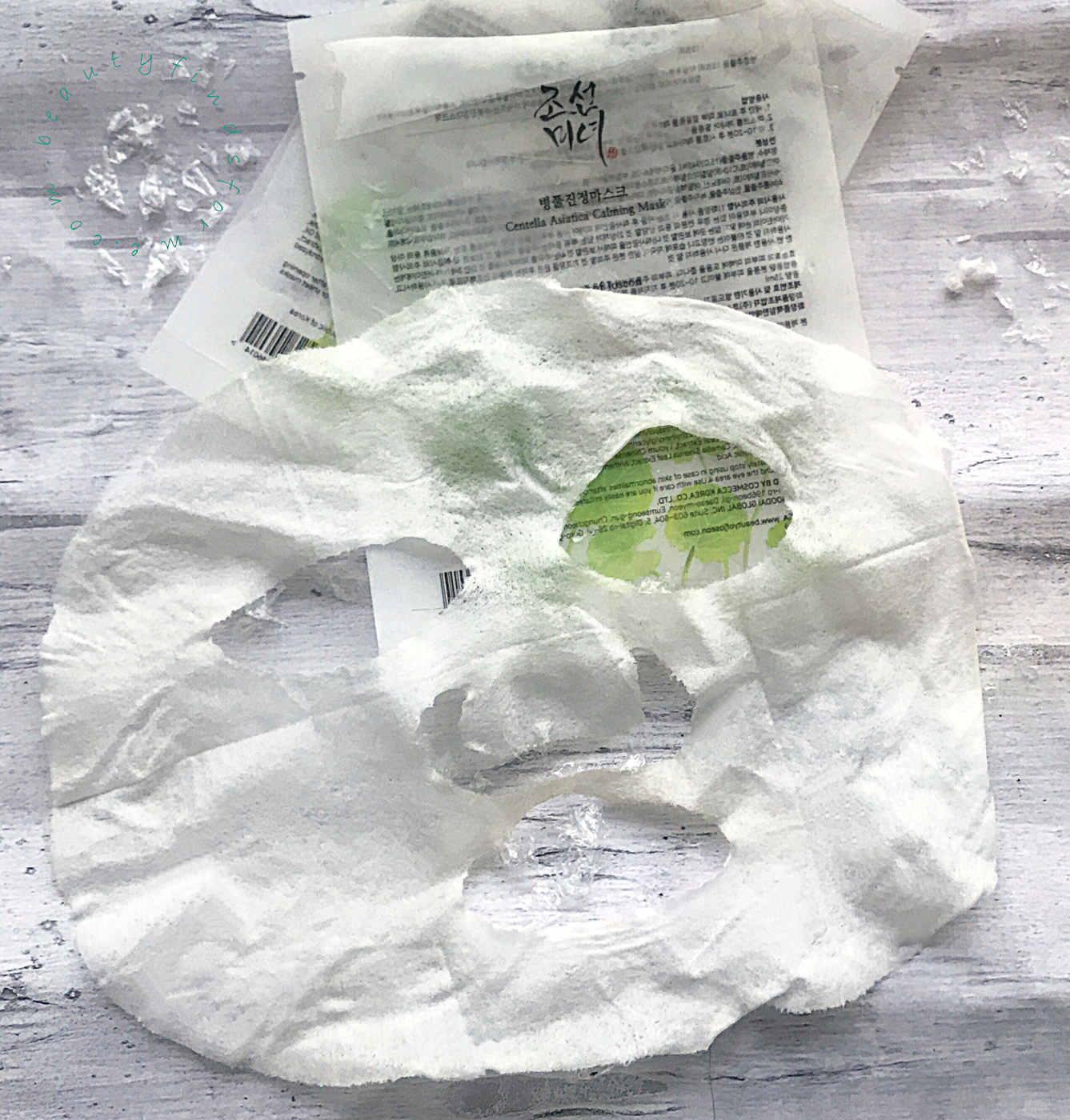 Ingredients: Water, Centella Asiatica Extract (15%), Glycereth-26, Butylene Glycol, Niacinamide, 1,2-Hexanediol, Hydroxyacetophenone, Arginine, Acrylates/C10-30 Alkyl Acrylate Crosspolymer, Hydroxyethylcellulose, Carrageenan, Polyglyceryl-4 Caprate, Polyglyceryl-6 Caprylate, Adenosine, Ethylhexylglycerin, Disodium EDTA, Helianthus Annuus (Sunflower) Seed Oil, Panthenol, Artemisia Princeps Leaf Extract, Lycium Chinense Fruit Extract, Propandiol, Portulaca Oleracea Extract, Panax Ginseng Root Extract, Camellia Sinensis Leaf Extract, Anthemis Nobilis Flower Oil, Sodium Hyaluronate, Hydrolyzed Hyaluronic Acid, Hyaluronic Acid cosDNA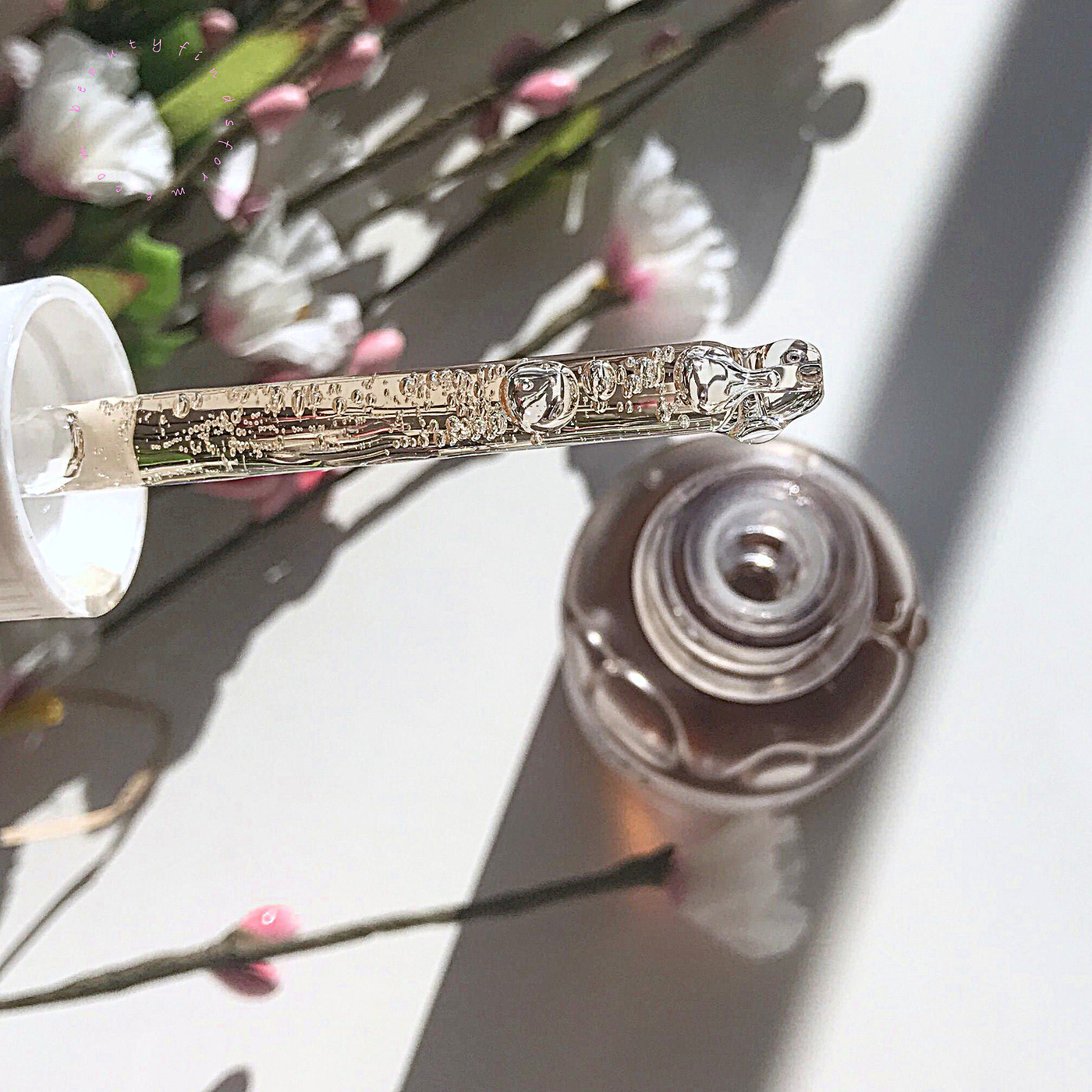 Beauty of Joseon Repair Serum  is one of three serums that were recently released: Glow Serum, containing 60% propolis and 2% niacinamide,  Calming Serum with 76% green tea and 2% panthanol and this one ~ Repair Serum with 63% ginseng root water and 3% snail secretion filtrate.  My friend and fellow blogger Christina at Christina Hello has reviewed all three of these serums.  She has dry skin and I have oily skin, so it wasn't surprising that her least favorite is one that works for my skin!
This has 63% ginseng root water ~ it is the very first ingredient! Panax ginseng is used in anti-aging skin care products, as it is can stimulate the skin and activate the blood flow, which will increase toning and production of new skin cells. It also has anti-oxidant and anti-inflammatory properties, due to natural carbohydrate called saponin, and will help reverse damage caused by free radicals, such as hyper-pigmentation and also combat free radicals to prevent new skin damage of fine lines and wrinkles. Ginseng detoxes your skin and leaves it radiant and glowing. Applied topically, it helps stimulate collagen production to promote cellular renewal. Its herbal properties and usage dates back over 5,000 years.
image from jolse
This also has 3% snail secretion filtrate, helping to increase skin elasticity and increase firmness, while  repairing skin from blemishes, reducing acne and working to lighten hyper-pigmentation scarring. Niacinamide is a powerful antioxidant that acts as an anti-inflammatory, improves your skin elasticity, enhance the skin barrier function and also it helps to even out skin tone and reduce post-inflammatory hyper-pigmentation, while yeast derived adenosine provides anti-wrinkle and anti-inflammatory benefits.  
image from jolse
Trehalose supplies concentrated moisture to your skin and helps retain moisture, preventing your skin from drying out. Glycerin will moisturize and hydrate the skin, leaving your face feeling smooth and soft.  This also has the Triple Hyaluronic Acid Complex to hydrate and soften the skin. Chickpeas, aka hydrolyzed cicer seeds, soothes and calms skin, while improving your skin tone.  
Tricholoma matsutake (pine mushroom) will hydrate, firm and brighten skin, while providing antioxidant protection from external stressors and pollution. Dipotassium glycrrhizate aka licorice reduces flakiness in skin, anti-irritant and anti-inflammatory.  Licorice soothes skin, reduces redness and can brighten and even out your skin tone.    This is cruelty free and with no added fragrances or dyes.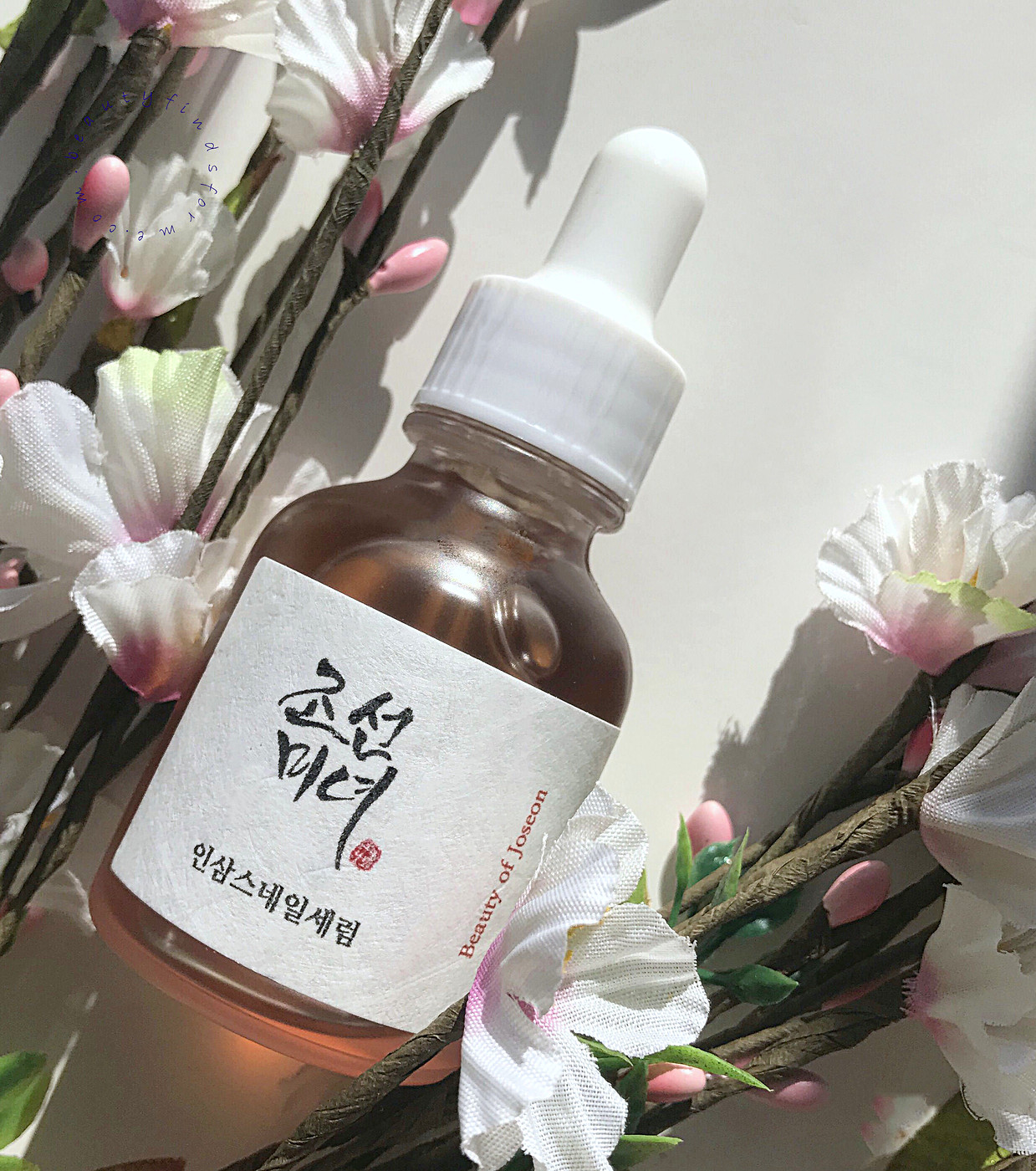 The serum comes in a squat little plastic bottle with an eye dropper applicator.  The serum is a beautiful amber shade, no scent and has a lovely watery texture to it.  It is lightweight and does not have that sticky stringy snail texture that I was expecting.  I found that the Repair Serum went on nicely, very silky, leaving my skin soft and smooth.  I was worried that it would leave my skin feeling tacky or sticky as initially, it does have that residue.  That said, once absorbed, it left my skin hydrated.  Is it a repairing serum?  Does it repair skin?  I have used this for a couple of months now and I think it DOESN'T HURT to use it, as it doesn't clog pores, but I find that it more on the hydrating side than a repairing ingredient. 

 Since it is inexpensive, that doesn't bother me too much, as I can use all the hydrating products I can get my grubby hands on.  I really like this serum a lot ~ if you have oily or combo-oily skin, you will enjoy the lightweight yet hydrating texture.  You get a HUGE amount of ginseng in here along with snail slime benefits without the stickiness.  I always feel like I am missing out on so many cool products with snail in it, as they can be too heavy, but this has the right amount for us oily skin types.   Jolse even gave this one their 2020 Best of Award. 
Ingredients: Panax Ginseng Root Water (63%), Butylene Glycol, 1,2-Hexanediol, Snail Secretion Filtrate (3%), Dipropylene Glycol, Water, Niacinamide, Glycerin, Propanediol, Trehalose, Xanthan Gum, Glycereth-25 PCA Isostearate, Glyceryl Acrylate/Acrylic Acid Copolymer, Ethylhexylglycerin, Carbomer, Adenosine, Theobroma Cacao (Cocoa) Seed Extract, Tricholoma Matsutake Extract, Tromethamine, Rhododendron Chrysanthum Leaf Extract, Disodium EDTA, Hydrolyzed Cicer Seed Extract, Hyaluronic Acid, Hydrolyzed Hyaluronic Acid, Dextrin, Sodium Hyaluronate, Phellinus Linteus Extract, Cornus Officinalis Fruit Extract, Glycyrrhiza Glabra (Licorice) Root Extract, Akebia Quinata Extract, Panax Ginseng Root Extract cosDNA
Where to Purchase
Jolse carries a lot of Beauty of Joseon skincare line, including their creams, cleansers and these products.  The Centella Asiatica Calming Mask sells for $13.99 for a 10 pack (click here)  or $3.99 individually (click here)  Beauty of Joseon Repair Serum is $11.49 for a 30 mL bottle (click here to purchase)  You can also find all three of the serums at Jolse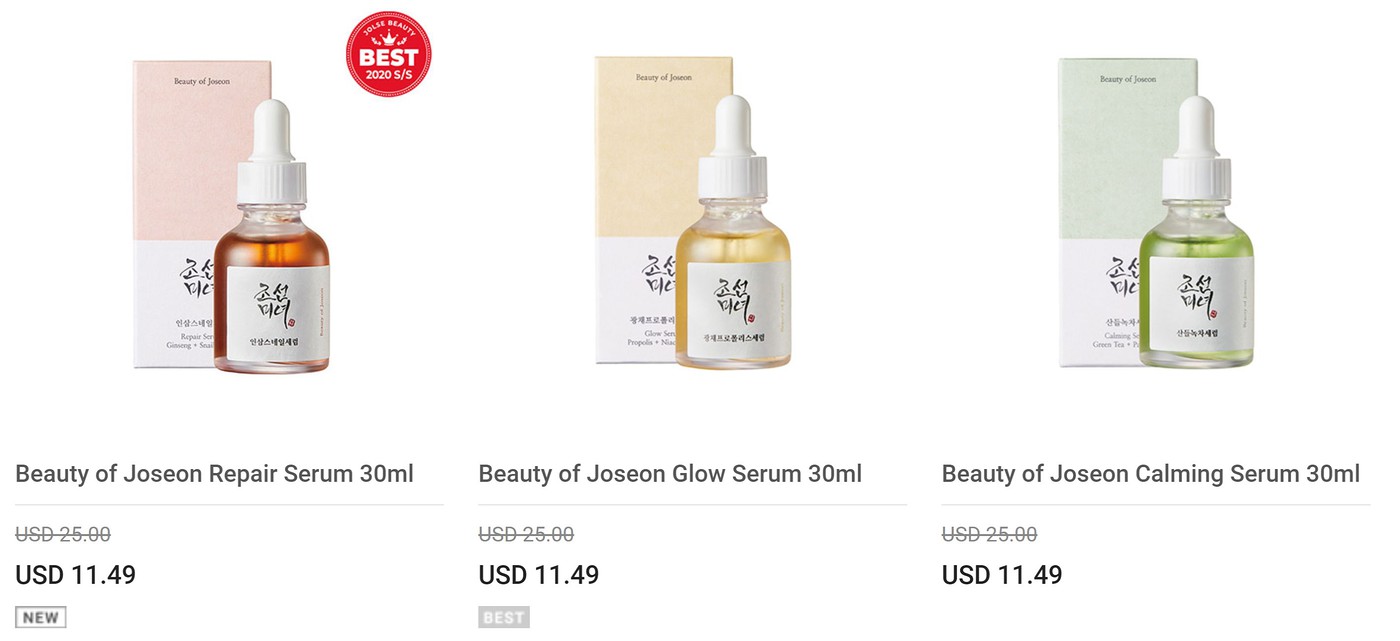 All prices are in USD ~   Jolse offers free global shipping plus gives a lot of samples out ~ the more you purchase, the more samples you get! Please note that the prices do fluctuate a little bit due to the WON to USD exchange rates. Make sure to check your coupon zone (click here) for money saving discounts. You need to log into Jolse first, then download the coupons before you use them. Coupon savings usually are $5.00 off a $50.00+ purchase, 5% off $100.00+ purchase and 10$ off a $200.00+ purchase

[ products received for review purposes.  blog post contains affiliate links ]