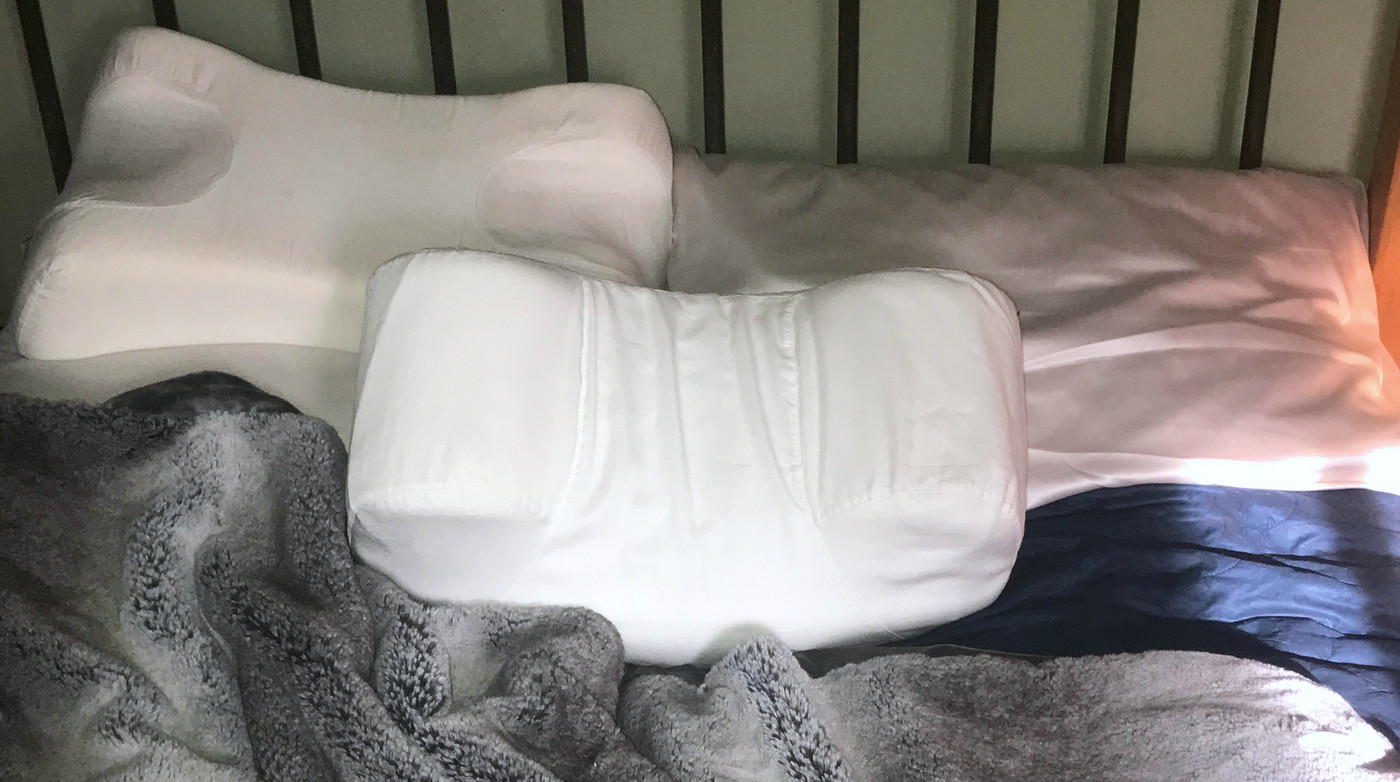 I have been happily using my Omina pillows from Sleep & Glow (review here) for a better night's sleep, when I received their new Aula pillow, complementary for review purposes.  The Aula pillow will help and train you to sleep on your back.   Sleeping on my back is difficult for me as I do love to sleep on my side.   
Some products were complementary to review and was not paid.  All reviews are my own honest opinion and  I never have been asked to write copy for a brand.  This blog post might contain promo codes, affiliate and referral links, which using my links will help generate a small commission that helps support my blog at no extra cost to you.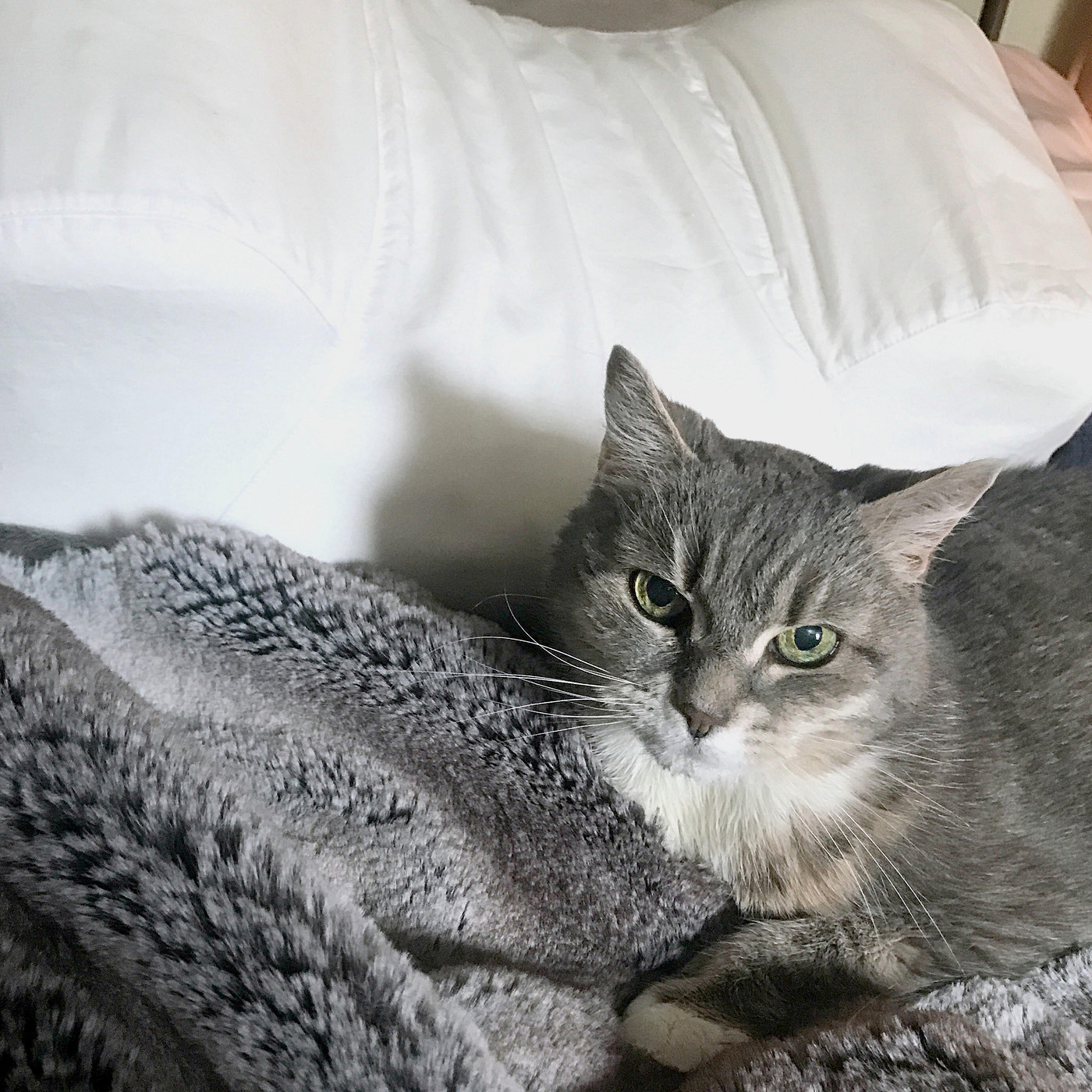 Tora cat not included
Sleep  & Glow pillows  are designed along with orthopedists, cosmetologists and sleep specialists, so I will have the correct body position while I sleep.  This pillow is patented in the USA, EU and Japan, designed and handmade  with the highest standards and European safety approved fabrics and materials.  The standard pillow case that comes with the pillow is made 100% natural Tencel, although they do sell a 100% silk pillowcase separately.  Tencel is a sustainable material, eco-friendly and made from eucalyptus fibers. Tencel has a lot of benefits
softer than silk and skin friendly

cooling

more absorbing than cotton, providing moisture control, reduces bacteria growth

naturally anti-microbial with silver ions, so it resists dust mites, bacteria and other allergens

washes easily in the clothes washer and hang to dry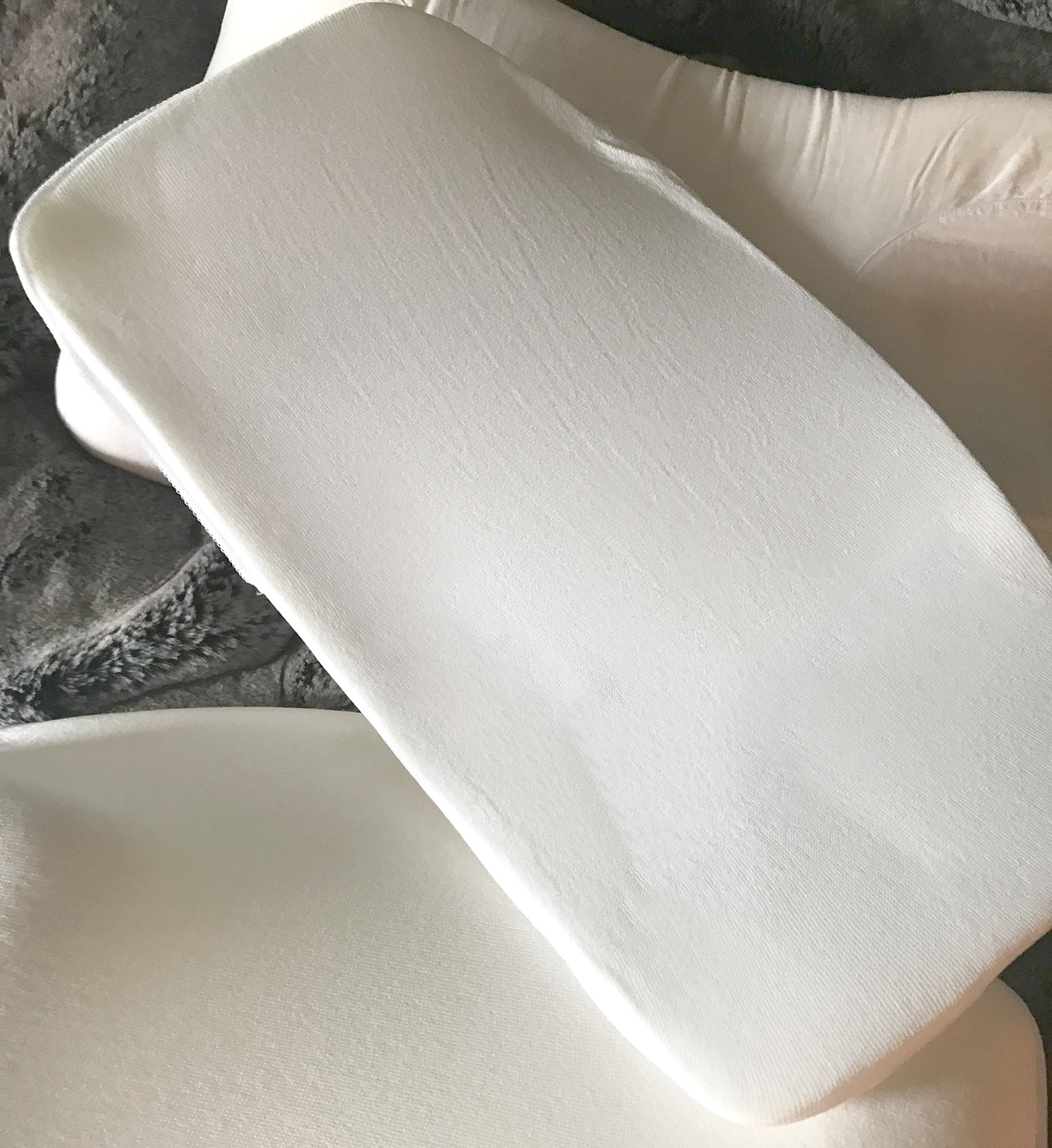 Sleep & Glow have revamped their pillows, so the original Omina will also have these features listed in this paragraph.  The pillow has two separate pieces now ~ both are made of 100%  Extra Comfort material, a new top quality "memory foam", with adaptive polyurethane form that contains silver ions.  This material was originally created by NASA for astronauts during space travel.  The memory foam will adjust to your head, neck and back as you sleep.  There is an additional foam insert that helps you adjust the height of your pillow if you want it and both pieces are now covered in a lightweight weight, stretchy  material that separates the memory foam from your pillowcase.
The Aula is an anti-aging pillow that will help aid you into sleeping on your back.  It has two high side bolsters (1) that will prevent my head from tilting to the side if I am on my back and the ergonomic design will support my head and neck in the correct position.  There is a neck support bolster (2)  along with a neck massage detail (3) with little soft raised dots in the memory foam.  The anatomical correct head support (4) will help support your head without being hot, as it has embossed details for air circulation (5).  And it has the additional foam layer (6) to adjust the height of the pillow.
By sleeping on your back, this will help reduce puffiness and prevent skin wrinkles.  I went over this in my original review for the Omina pillow, but this is good information to know, in case you didn't read that review.
image from sleepandglow
There are two types of wrinkles, expression wrinkles and then there are those caused over time from squashing squishing and smushing your face into your pillow every night.   Your skin gets stretched, causing creases, indentations and puffiness from all this tugging and friction.
Sleep wrinkles are normally temporary but they can actually exacerbate existing expression wrinkles, due to the location and normal creasing of expression lines.  Sleep wrinkles are normally vertical, but around the delicate areas, such as the skin around your eyes, they can be horizontal.  Sleep wrinkles and creasing usually go away once you wake up and your skin bounces back, but just like everything else, at some point and time, they won't go away and they will be permanent.  Looking at my face in the mirror, I know I have sleep wrinkles around the corners of my mouth.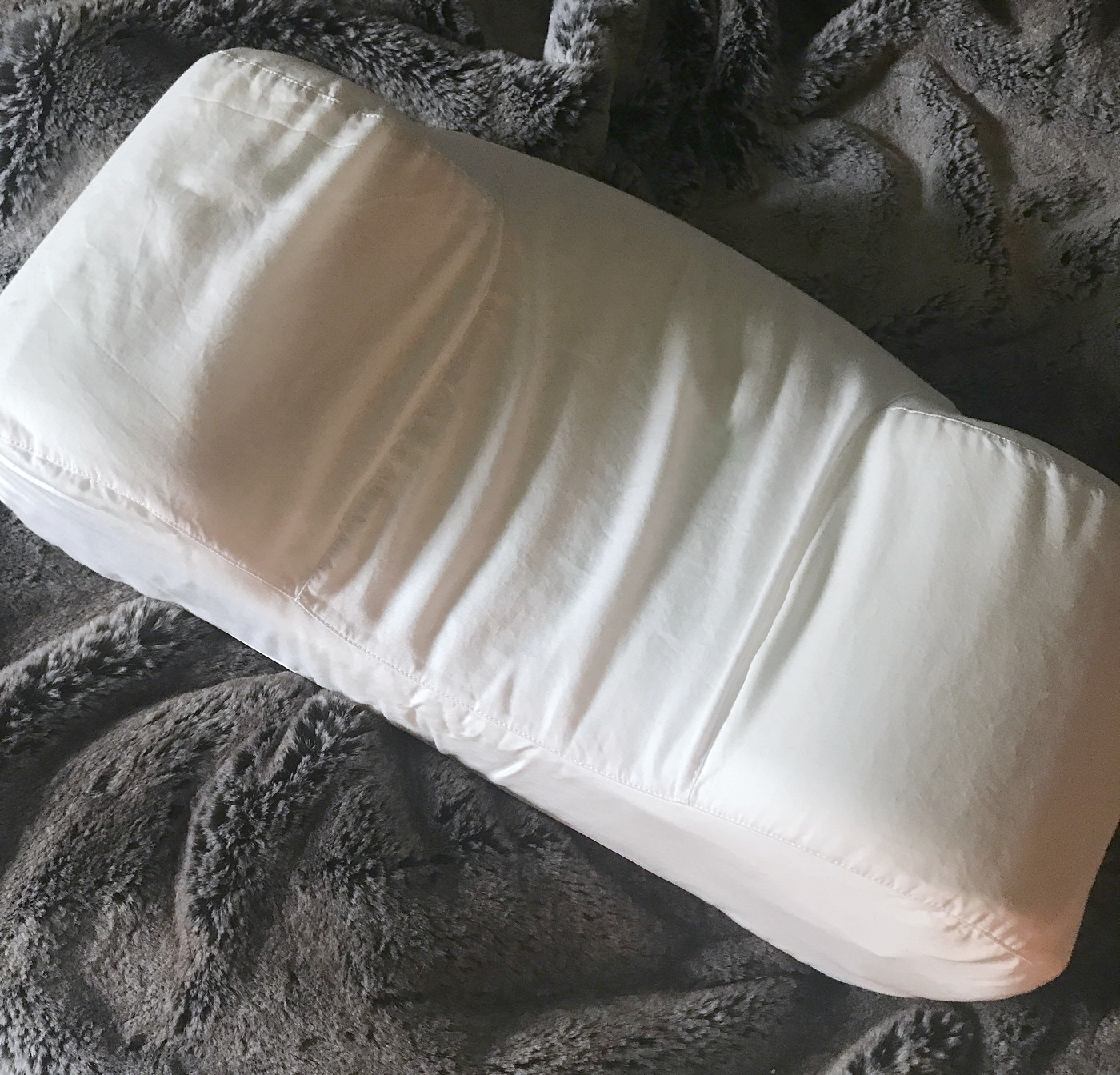 The head cradle space is also large enough to accommodate bigger heads or if you have to wear some type of headgear, whether it is braces or a CPAP device.  That space means that it is comfortable and my head doesn't feel like it is being squashed on the sides.   The embossed design on the sides of the head cradle also prevents the pillow from being hot, as air can circulate.  My favorite part of the Aula pillow is the massage neck feature.  It is quite delicate and barely noticeable as I settle in to sleep, but as I drift off, I can feel the little raised bumps against my neck, providing a nice touch.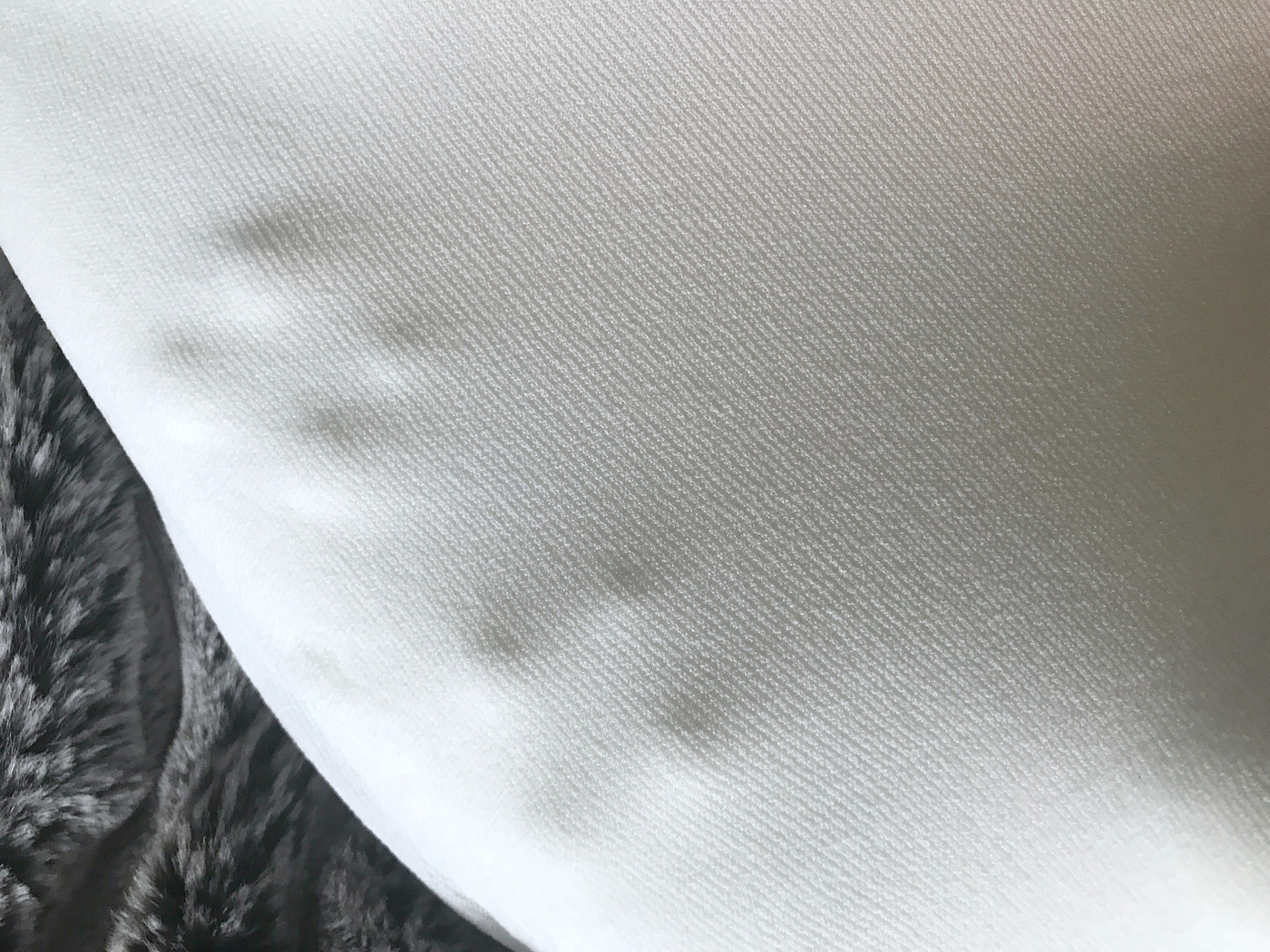 without pillowcase: details on the massage neck feature
Due to the way the pillow is designed, with almost a step down feature from head cradle to the neck cradle, this keeps my head, neck and back in a straight line, so my chin doesn't drop down, bending my neck.   Aula's design will prevent  circular neck wrinkles from forming.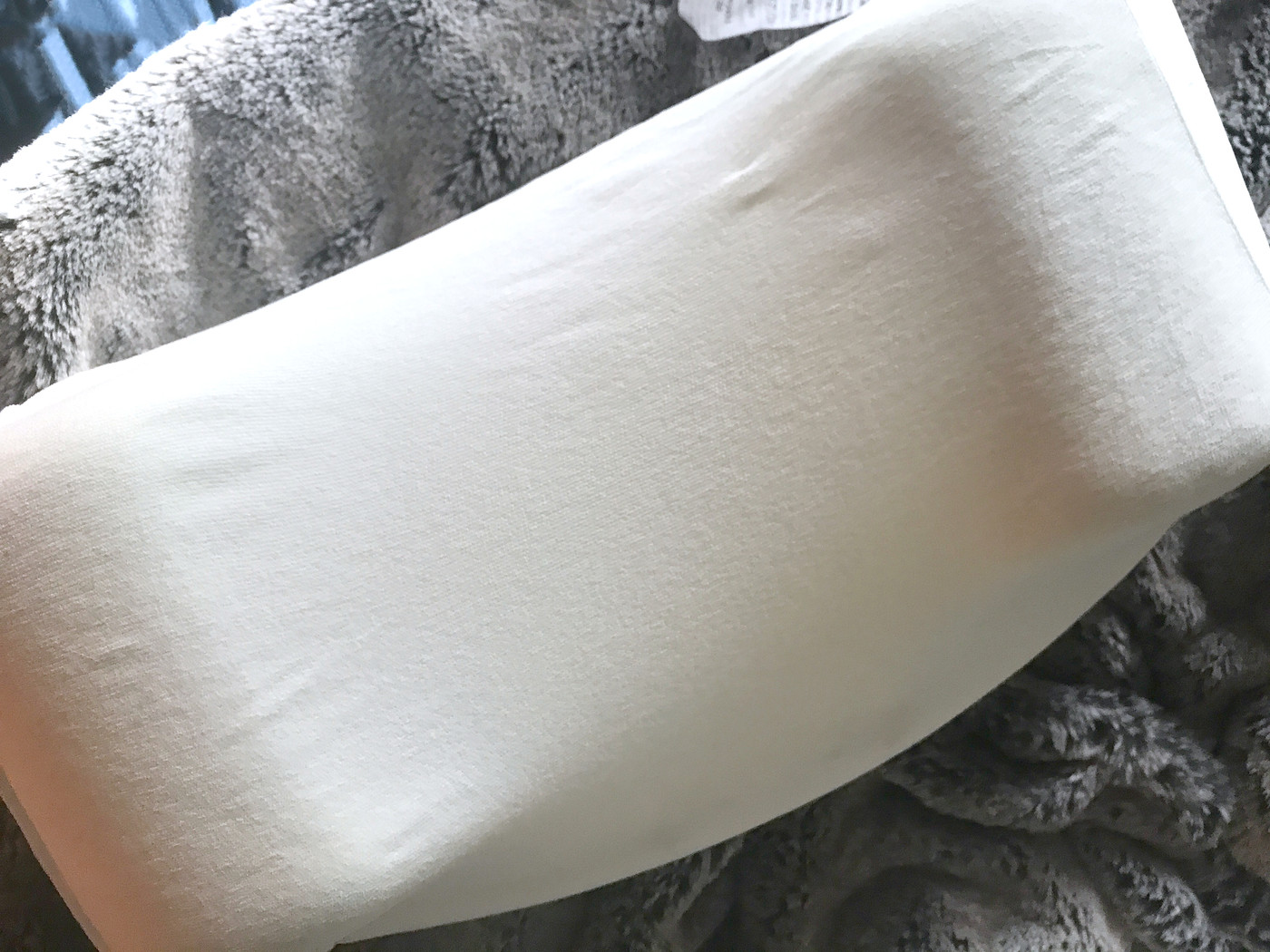 without pillowcase
I won't lie ~ it took me several days to get used to this pillow as I am not accustomed to sleeping on my back all night long.  In fact, Sleep & Glow recommends that you start out using it slowly to get used to it.  
The pillow does help me relax and keep me on my back for most of the night.  You would think sleeping on one's back would be a natural thing, but I have been a side/stomach sleeper for so long, that it is hard to adjust.  That said, this pillow is really doing all the work for me, gently supporting my head and making sure I can't move out of position.  Between this pillow and my weighted blanket, another device that helps me to relax and sleep better, I feel that my joints and spine do not ache as much.  Just like with the Omina, if you have eyelash extensions, they won't come into contact with the surface of the pillow so it can help extend the life of your extensions.  Please note, if you are a constant snorer, you should talk to your doctor about that.  My snoring is caused by sleep apnea, so that is why I wear a CPAP device to prevent that.  Sleeping on your back might cause you to snore more so keep that in mind. 
Quick Compare:  Aula vs Omina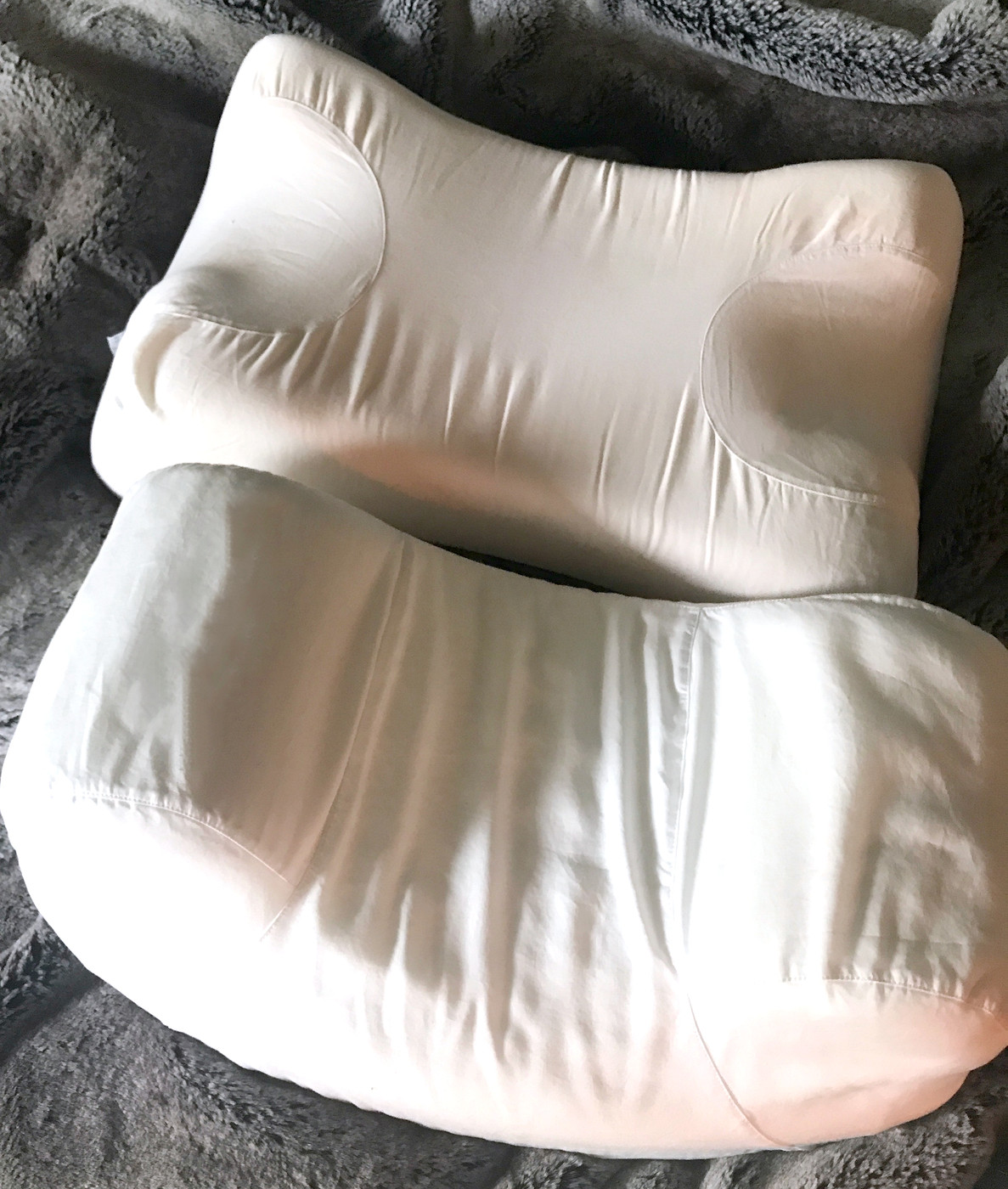 top: Omina bottom: Aula
The Aula is a deeper wider pillow in the middle and with high sides, plus a neck massager.  The Omina has a shallow head cradle with deeper side cradles for your face. The Omina will also you to sleep on your side with minimal face contact with those cradles.  You can sleep on your back with the Omina but the Aula really helps "train" you to sleep on your back, by cradling your head in-between two high side bolsters.  I have both and I do use both pillows, depending on my mood.  If you don't need to sleep on your back, the Omina is the pillow for you. If you want to be on your back and reduce the circular neck wrinkles, the Aula is the pillow to get.  Both pillows will help with sleep wrinkles, puffiness and adjusting your spine so it is not twisted while you sleep.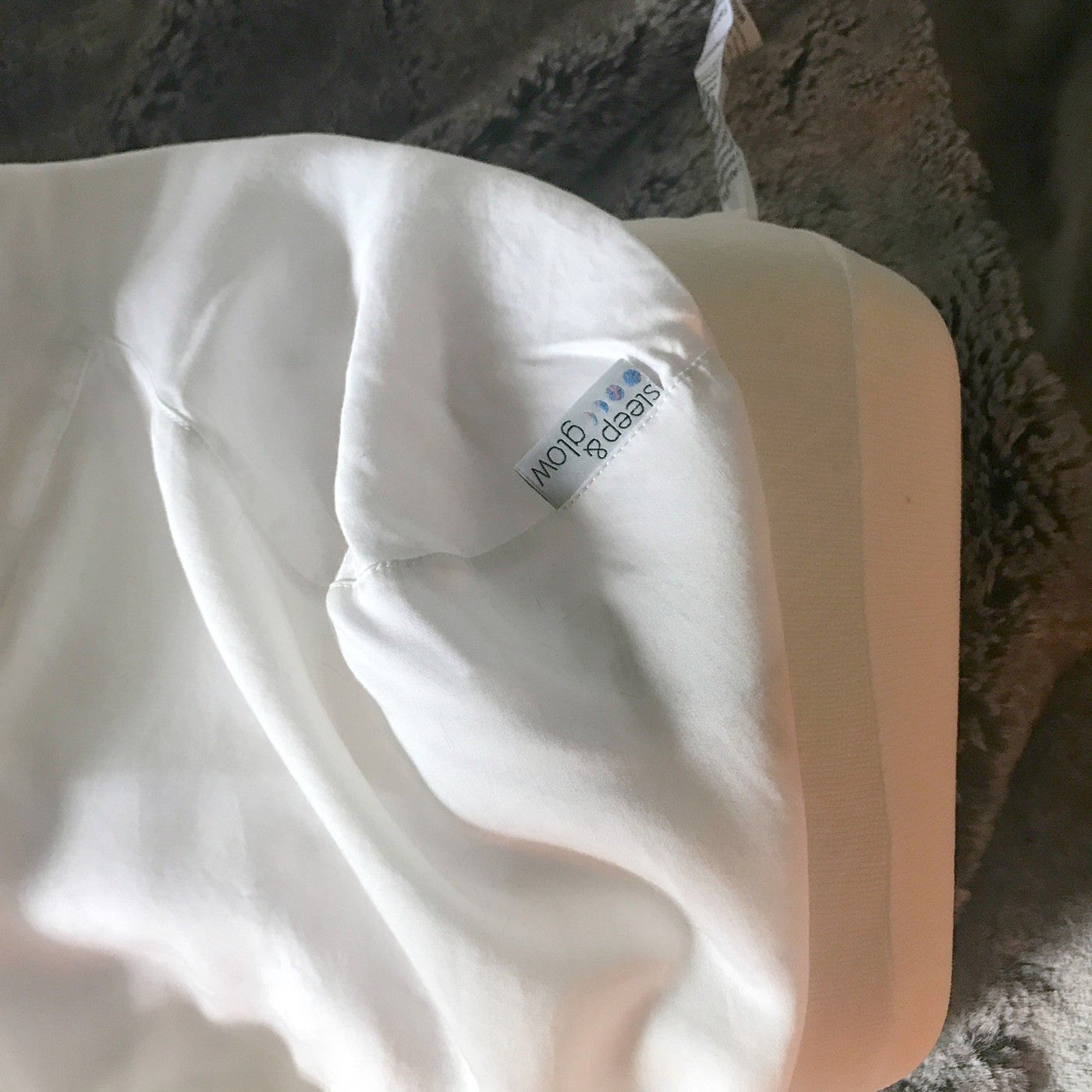 A tip on how to put on the pillow case because it can be confusing.  There is a Sleep & Glow tag on the pillowcase ~ do not cut that off.  There is also a long label on the pillow itself, you can trim that down if you want, but keep a little bit there.  Just make sure to have the label on the pillowcase on the same side as the pillow's label.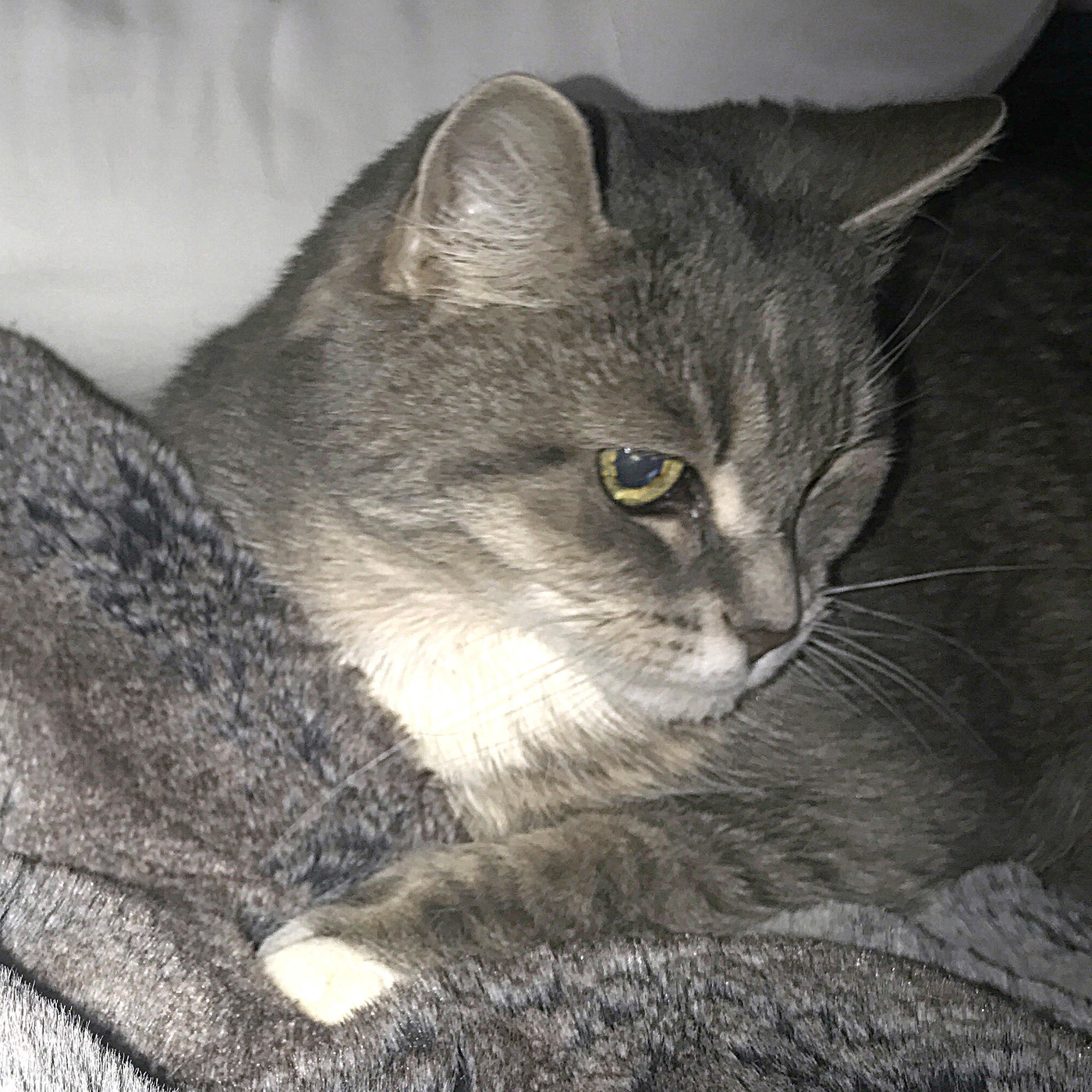 Sleep & Glow pillows are an investment but they will last for five years, unlike regular pillows that need to be replaced every 1 to 2 years.  The Aula Pillow with a Tencel Pillowcase is $165.00 USD and you can use my referral code of MICHELE10 or MICHELE to get $10.00 off that price!   This normally has a 30 day money back guarantee, but during the Holiday season in 2020, it has a 60 day money back guarantee.  It also has free USA shipping with orders $180.00 and over.  You also get a 3 year warranty on your pillow as well.  I now own 3 of Sleep & Glow pillows ~ the original Omina (gifted), revamped Omina (I purchased) and now the Aula (gifted).  I am very happy with my new pillows and I love the sleep flexibility that they give me.
[ disclosure:  products received complementary for review purposes ]